Why would there be a need to have a referendum on whether to put distant relatives on the throne? If they have a relative in line for the throne but its not known whether a stronger claimant is alive, name them Prince-Regent or some such until any stronger claimants are ruled out, then make them King. Line of Succession is line of succession. If the 156 first people in line for the British throne die, the Prince of Prussia takes the throne, no referendum is needed, thats the line of succession.Oerwinde 08:45, September 6, 2010 (UTC)
Perhaps the "Regency of the Spain" would be a better and more appropriate name?HAD 11:33, September 6, 2010 (UTC)
Having had a look this Spanish Royal could have the closest relative to Juan Carlos that wasn't living in Spain on Doomsday
http://en.wikipedia.org/wiki/Infanta_Maria_Cristina_of_Spain
Her fourth daughter might also be an option as she was born and married in Turin and her two children were born in Trieste Verence71 17:41, October 2, 2010 (UTC)
It is a good research will try to add something to the article with this material. However, one thing is the inheritance, and another the possibility of applying them, the Russian tsars or kings of France have all rights of inheritance to their respective thrones and complete inability to become monarchs, a similar situation could occur in Spain after 1983. Although the military option certainly would support the monarchy, the other actors would be indifferent to the restoration, the common people would be hostile to it, even.Tristanbreiker 09:13, October 3, 2010 (UTC)
I just thought of a solution. If it seems right. The Spanish government, reluctant to the idea of restoring the monarchy before restoring the territorial integrity (even where it can achieve in the future), accepts the idea of the monarchy with vacat throne and Ana Alejandra as Princess Regent (not queen) until a future constituent assembly and a new referendum to decide the future form of government.Tristanbreiker 09:24, October 3, 2010 (UTC):
Alternatively, how about we call it a Kingdom, but have a high ranking military officer in the role of Regent? A bit like interwar Hungary? HAD 09:28, October 3, 2010 (UTC)
Exactly, in fact was the situation that had nominally Spain during most of the Franco dictatorship. Franco held as a "Caudillo" in his person the powers of the monarch who would be appointed to his death. That was Juan CarlosTristanbreiker 10:17, October 3, 2010 (UTC)
So if we have a repeat of the Franco/Juan Carlos situation I would imagine that the government would have to invite Maria Christina or Ana Alejandra to become regent. The only trouble that I can see is that the only other possible choice might be the Carlist claimant Carlos, Duke of Parma would have been living in Holland at one of the palaces of his grandmother Queen Juliana Verence71 14:03, October 3, 2010 (UTC)
Considering the amount of death in Holland during/after Doomsday, I doubt he's a problem.
As for the Infanta, you are right about the marriage and children - but she also married a second time in London in 1986, so she may have been there. The article also says she went to Spain a lot - so we have no real way to predict where she or her children were/were living.
Lordganon 01:00, October 4, 2010 (UTC)
This woman is another possible regent/monarch Princess Sibilla of Luxembourg. The problem is that I can find no record of where she lived from when she was born until she married in 1994. Her birthplace is in the western suburbs of Paris so if she was still living their she probably died on Doomsday.
Of course if the Spanish government was getting really desperate they could offer the throne to this guy : Prince Leopold of Bavaria who is a great great grandson of Queen Isabella II of Spain. Verence71 14:04, October 4, 2010 (UTC)
My guess is she would have indeed been near Paris - either way she would be out. The other one seems to have lived at a villa south of Munich, and the lake it's on is close enough to be a weekend retreat for the people of Munich - reasonably unlikely to have him live either.
Lordganon 00:02, October 5, 2010 (UTC)
Any other claimants would be so distant as to be nonsensical so I still think Infanta Ana Alejandra is the best bet Verence71 12:27, October 5, 2010 (UTC)
The best "claimant" I can find to be likely alive is Prince Carlo, Duke of Castro, who would be the claimant to the throne of Kingdom of the Two Sicilies. He was born on the French Rivera, and married a woman in Monte Carlo in otl 1998. He is the great-great-great-great grandson of Charles IV of Spain, king from 14 December 1788 until his abdication (forced by Napoleon) on 19 March 1808.
Lordganon 11:10, October 6, 2010 (UTC)
One slight problem with him. According to Wikipedia he went to university in Paris so bearing in mind he was 20 in 1983 it's concievable he might have been there on Doomsday. However on of his elder sisters, Anne was married here in 1977 so she would probably be still alive Verence71 15:52, October 6, 2010 (UTC)
True enough. Though it looks like she would be alive, so there's one candidate. After another look, starting with the father of Charles IV, I've noticed that basically any member of the royal family from the Two Sicilies would be a possible heir - and given the extreme concentration of the Spanish royals in Madrid, probably the only ones left alive.
Lordganon 11:06, October 7, 2010 (UTC)
Anyway, the main issue is, first, the Spanish government's willingness to host when a candidate. For 20 years or so the nation has been governed without a king and not the politicians want to lose power or the people (as it is manifested) would prove too nostalgic of the monarchy.
Second, the beginning of the line of succession is not enough, other than that the candidate must meet certain conditions that will make suitable to be king (Spanish language skills, political experience, involvement in Spanish affairs, etc. ..). Not accept the first candidate arrived (and take this opportunity to mention the case of King Christian of Prussia). Until his acceptance candidates must go through a sort of intermediate status, for example they could not themselves be candidates but transfer their rights to a descendant who was born and educated in Spanish soil, which if it would be recognized as heir apparent to his "coronation." Another solution is what I call "Japanese." In this option, the monarch would not be a head of state explicitly, but a legally recognized claimant exercised the powers of a monarch left outside the state organization. A symbol of the nation as the flag or coat. He or she may receive embassies and official visits, but wouldn´t reserve powers.
Meanwhile and as covered by all the constitutions that Spain has had, a regency would form one, three or five members. This regency would choose the most suitable candidate among different that could arise, and if the minor was elected would be appointed a new regency or continue in office until the age of majority.Tristanbreiker 10:36, October 7, 2010 (UTC)
Who would sit on any Regency Council?? Verence71 14:43, October 7, 2010 (UTC)
That remains to be seen .., one of three that would be advisable to shift the leader of Saharawi authority, the other two would be the Spanish side, a civil and a military leader perhaps. At the moment I prefer not to indicate a specific personality, and leave the story in impersonal.Tristanbreiker 14:53, October 7, 2010 (UTC)
Far enough, although I was thinking the head of the Catholic Church might be involved as a sort of neutral balance between the Saharawi and Spanish sides Verence71 14:59, October 7, 2010 (UTC)
The Catholic Church has been strengthened in prestige after the nuclear holocaust, as has been the most effective health care institutions, however this is not reflected in the number of followers and that although some came to faith after 83 , others lost it instead. And the unification of Spanish and Saharawi were only possible under the formula of a non-confesional. With freedom of religion.Tristanbreiker 15:17, October 7, 2010 (UTC)
Whoops!! It slipped my mind about the Saharawi being Muslim Verence71 19:00, October 7, 2010 (UTC)
Proposals of new flag
These are 3 proposals of flag for a new flag that represents the sahrawi side.
~Tristanbreiker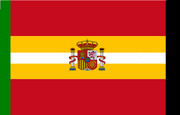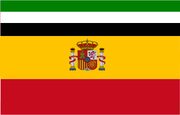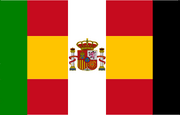 The second one. Doesn't look odd like the third, and seems less cluttered than the first.
Lordganon 12:21, October 14, 2010 (UTC)
My vote is for the second as well Verence71 20:55, October 14, 2010 (UTC)
I'm going for the first even though I don't see a need for a flag change. Arstar 22:12, October 16, 2010 (UTC)
SADR
I'm writing a page for the SADR, I was wondering how much land the former Pais Del Oro controls in West Africa.--Smoggy80 13:48, March 30, 2012 (UTC)
....You've already seen the maps that answer that question, lol. Lordganon 14:44, March 30, 2012 (UTC)
I thought it may have changed since 2010--Smoggy80 18:31, March 30, 2012 (UTC)
Unification
How great is the chance that the Republic, Galicia and Castilla y León might unify? It could provide an excellent platform for the eventual recolonization of the interior of Spain. Milarqui, The Spaniard 08:38, April 24, 2012 (UTC)
Post in one spot next time.
Galicia is recognized internally, internationally, and by Spain, as being independent. The very thought of such a thing would be nuts to them.
Castilla y León fights Asturias and Galicia on occasion, and is a union of three dictatorships. Neither of the other two would ever work with them.
And the Republic of Spain would never go along with it.
Lordganon 09:11, April 24, 2012 (UTC)
Monarch
Hunting through genealogies for another purpose, I discovered that one Spanish noble, Infante Alvaro, Duke of Galliera would likely have survived DD in Monaco (even though he'd have died in the late 1990s)
Going from there, I can see that several of his children and grandchildren probably would have lived as well, most notably his grandson and heir, Alfonso de Orléans-Borbón, Duke of Galliera, who seems to have been in the Canaries.
Now, they are obviously not close in the family tree to Juan Carlos - but they are descendants of Ferdinand VII of Spain, twice over, as well as his daughter, Isabella II of Spain, so they would have a claim to things. Another ancestor was descended from Charles IV of Spain in a different line, as well.
As of yet - and I have looked a few times, now - these guys are the seniormost claimants to the Spanish crown.
Figured it might be helpful.
Lordganon (talk) 12:45, March 30, 2013 (UTC)
I like the idea of Alfonso de Orléans-Borbón, Duke of Galliera (b. 1968). he was in the right place Canaries at the right time, he is descended from a Spanish queen Isabel II (so he is, although very very distantly and far down, in the Spanish line of succession) and most importantly he is not a Carlist. The restored monarchy would be under the House of Orléans-Borbón, with the King taking the name of Alfonso XIV. Thoughts? Hong Xiuquan (talk) 10:03, 16 March 2021 (UTC)
All edits made to this page are unauthorised and will be removed immediately.      

   Deadly State of Mind Leader of the Knights of Scraw.  11:16, 17 October 2020 (UTC)
Monarch found or not?
On the Announcements of Doomsday, it says that a candidate to the throne has been found, but why isn't he on the throne yet?
Expansion into former Cuenca/Valencia province?
The only affected parts of the Comunidad Valenciana would be Valencia City, and the nearby places
It´s too hard to control Alicante region and the western part? It´s less irradiated than the coast. And there are rural towns, which could host refugees from Castille-La Mancha, Madrid and Aragón. Also, should the Confederación Ibérica should annex the Maestrazgo and Ademuz, near Teruel province (only affected by the Zaragoza AFB blast)
Apart from Alicante province, the more western part of Valencia Province can be habitable, (Hoces del Cabriel natural park, Requena) it´s more montainous and rural, while Castellón it´s too near of Valencia, and it´s a more hill province, it´s a good place to expand. While the Maestrazgo massif can be part of the Confederedación Ibérica
~CENTRAL
Errr... They already are in Alicante. The West, maybe a bit too far by now. Lordganon (talk) 06:57, 9 March 2021 (UTC)
Some possible updates of the tourism/economy evolution on the future I know that they own Alicante, but maybe there could be future plans to a possible railway connection between Alicante and Castellón, compensating the lack of direct flights between those 2 cities and supporting the maritime routes.
Also, I found some images of the Alicante airport, which could be a good option as the aerial gateway to mainland RoS shared with the Murcia/Cartagena airport: https://upload.wikimedia.org/wikipedia/commons/thumb/4/46/L%27Altet._Terminal_antiga._Mosaic._Detall_1.jpg/800px-L%27Altet._Terminal_antiga._Mosaic._Detall_1.jpg (Interior of the airport)
https://upload.wikimedia.org/wikipedia/commons/b/b8/Aeropuerto-Alicante-Terminal-Ch%C3%A1rter.jpg (International/Domestic terminal for flights) CentraleuropeDD (talk) 20:48, 11 March 2021 (UTC)
Flights aren't very important or useful atl.
For a railroad to be worth it, it would have to go along the coast, which means dealing with the ruins of hit Valencia. Easier to use ships. As noted on other pages before, ships are far more efficient for tonnage, too. The only other route means going through the mountains, which is a bad idea for a number of reasons.
Lordganon (talk) 03:21, 18 March 2021 (UTC)
Spanish Peseta possible designs
As new banknotes would be hard to produce, and with a relative small territory, the RoS could use the pre-DD (1982) Peseta banknotes, and not changing those designs: https://en.wikipedia.org/wiki/Banknotes_of_the_Spanish_peseta#Spanish_State_&_Democrac
The most famous banknote used could be the 1000 Pts. 1982 version, which would be a base for the other banknotes (with a famous character and then a relevant place) https://upload.wikimedia.org/wikipedia/commons/e/ec/1000pelas.JPG https://assets.community.lomography.com/eb/1a6afd61327122493acb4c0d100d0d65dba1e7/1104x598x2.jpg?auth=95c0b3da0df767e1b54d7eb19f013c6bf63dce55 CentraleuropeDD (talk) 07:14, 31 March 2021 (UTC)