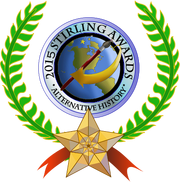 Discussions from before 24 August 2014 can be found in this page's archive.
If you want to ask any questions or make any suggestions for my timeline, then you're welcome to post them on this page or on my personal talk page. Please follow the conventions on this wiki for posting on talk pages (such as separating conversations with headings) and I will respond whenever I'm available.
I hope you're enjoying my work but don't hesitate to point out flaws or holes if you see them. I'm constantly seeking to improve this alternate history.
Regards,
Red VS Blue (talk) 20:45, August 24, 2014 (UTC)
Community content is available under
CC-BY-SA
unless otherwise noted.