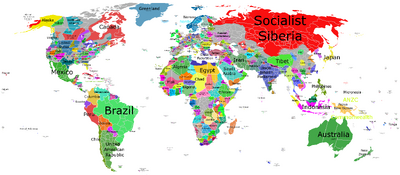 This timeline explores world history after Doomsday - September 26th, 1983.
A worldwide nuclear exchange caused by a minor incident obliterates much of human civilization. This ATL covers everything from the direct aftermath up to the present worldwide situation
This is a "live" timeline - its story continues to unfold NOW, in real time. See the Live Content section for the latest news and updates.
This is also a collaborative timeline, produced by a team of contributors. If you want to join us in developing this world, we welcome your additions.
Before making major edits to the articles within this ATL, please take some time to read the Editorial Guidelines
See Other Featured Alternate Histories
Current Nominations for Featured Alternate History
Community content is available under
CC-BY-SA
unless otherwise noted.