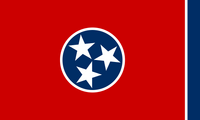 Tennessee was a state in the former United States of America. It was admitted into the U.S. in 1796 as its 16th state. Its capital was in Nashville, in middle Tennessee.
Much of the region is officially recognized by the League of Nations as unincorporated. The LoN officially recognizes the city-state of Portland, in north central Tennessee, and the Provisional Republic of East Tennessee, which has its capital in Morristown. Jackson is jointly administered by Virginia and Kentucky. A fourth entity, the Provisional State of Tennessee, is located in the south central portion of the former state, with most of the population in the capital of Waynesboro and the town of Adamsville.
History
Doomsday
Tennessee was hit by several nuclear strikes on Doomsday. Memphis - a key port located along the Mississippi River - and the state capital of Nashville were hit by strikes. The city of Chattanooga in southeastern Tennessee was hit, along with adjacent Signal Mountain.
The other major city in Tennessee, Knoxville, was not hit; however, it took very minor damage from a low-yield strike that destroyed nearby Oak Ridge National Laboratory and all but destroyed the adjacent town of Anderson.
Anticipated strikes on Knoxville; nearby Alcoa (home to a large aluminum smelting plant); and the various dams and plants operated throughout the state by the Tennessee Valley Authority never materialized.
Post-Doomsday
As of March 25, 2011, the situation regarding the former state of Tennessee is as follows: