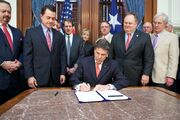 After years of planning and months of increasingly fervent rhetoric, the Texas Legislature voted to secede from the United States of America following the reelection of President Barack Obama on November 7th, 2012. In doing so, lawmakers have formed The Second Republic of Texas.
"The people are just fed up," Governor Rick Perry said in a press conference shortly after the signature ceremony. "They are sick and tired of the federal government telling them what to do. And we've reflected that with bold action."
The vote came after a special legislative session called to address the formal petitions organized by various state-wide organizations such as the Vulnero Nemo Institute and the Texas Nationalist Movement, calling for a return to sovereignty for the Lone Star State.
Governor Perry ordered troops from the Texas State Guard, Texas National Guard, the Air Guard, and the Texas Rangers to each of the borders of Texas in order to maintain order and protect against any aggressive action from the federal government of the United States or Mexico.
President Obama's spokesman made a brief statement about the secession, claiming that, "Things are under control. There is no need to be concerned. Texas is still part of the United States."
Texas is not new to independence. After the Texas Revolution from Mexico, Texas existed as a sovereign state from March 2, 1836, to February 19, 1846 when it was annexed by the United States of America.