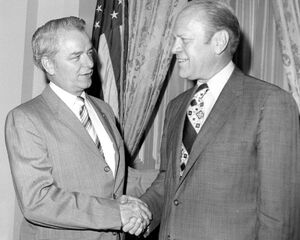 Synopsis
In 1976, the election was Democrat Jimmy Carter, the former governor of Georgia, going up against Gerald Ford, the incumbent President of the United States. In the real timeline, Carter faced a relatively easy primary, receiving resistance only from the late arrival of Jerry Brown, the governor of California, and George Wallace, a Dixiecrat governor from Alabama who battled Carter in the south. As a fresh face to D.C., Carter's wholesome personality and the flaws of the Ford presidency led him to victory.
Speaking for Ford, numerous blunders occurred. In addition to a heated and close primary from former governor of California Ronald Reagan, Ford had the legacy of his pardoning of the previous president, Richard Nixon. Combine this with the economic decline that would remain a significant problem throughout the 1970's, and Ford inspired little passion that allowed for Carter to win.
To the surprise of many, one of the candidates initially picked to act as a favorite son for their home state decided to pursue the actual nomination. This candidate was Robert Byrd, the senator from West Virginia. Serving as majority whip, Byrd gained a significant amount of press attention for his questioning of L. Patrick Gray's nomination for Head of the Federal Bureau of Investigations in 1973. The resulting popularity of the questioning, in addition to encouragement from his mentors Lyndon B. Johnson and Mike Mansfield, convinced Byrd to attempt a serious run for the presidency. This timeline explores what would happen in this scenario.
Creator
General User Permission to Edit
Users other than the created have explicit permission to do the following edits:
Creation of red links.
Primary summaries of unchallenged incumbents.
Writing of biographical synopses of pages without them.
Any edits that do not meet the above criteria require permission from the creator or any users designated as editors by the creator.