The Chancellery



The Chancellery, viewed from the gardens

General information
Architectural style
Postmodern
Address
5 Charlotte Avenue,
Northam NT1 1AA,
TS, Cygnia
Current tenants
Julia Gillard and Tim Mathieson
Construction started
October 13, 1818
Completed
November 1, 1824
Design and construction
Architect
Terence Murray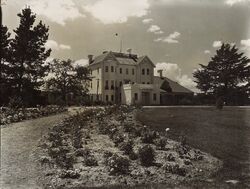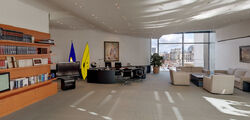 The Chancellery is the official residence and principal workplace of the Chancellor of the United Cygnian States, located at 5 Charlotte Avenue in Northam, TS. It has been the residence of the Cygnian chancellor since George Canning in 1825. The term Chancellery is often used to refer to actions of the chancellor and her advisers, as in "The Chancellery announced that...".
The original building was designed by Terence Murray and built between 1818 and 1824. The original building was constructed in the Georgian style. The house is set amid 54 hectares (130 acres) of parkland.
Community content is available under
CC-BY-SA
unless otherwise noted.