Is anybody there? Anybody? Anybody at all...

This 1983: Doomsday article is open for adoption. Feel free to adopt and expand it.
The Beatles were an English rock band, formed in Liverpool in 1960, and one of the most commercially successful and critically acclaimed acts in the history of popular music. From 1962, the group consisted of John Lennon (rhythm guitar, vocals), Paul McCartney (bass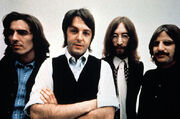 guitar, vocals), George Harrison (lead guitar, vocals) and Ringo Starr (drums, vocals). The nature of their enormous popularity, which first emerged as the "Beatlemania" fad, transformed as their songwriting grew in sophistication. The group came to be perceived as the embodiment of progressive ideals, seeing their influence extend into the social and cultural revolutions of the 1960s. Despite the success the band was achieving the members began to drift apart in order to chase their own aspirations. However, the break-up was not officially announced until December 31, 1970, when Paul filed a lawsuit against John, George and Ringo in order to dissolve the Beatles. All four members went on to pursue solo-careers.
Notable Post Breakup/Pre-Doomsday Activities
John Winston Lennon: Is best known for his 1971 album Imagine, which continued to explore the socially conscious and idealistic images of his previous releases, as well as tackling his own personal issues. A true icon for peace, Lennon used the album, and particularly the title track, to champion a world where "there's no hell below us/ above us only sky" and which resides "a brotherhood of man." The song "Imagine" is probably one of Lennon's most popular and its effectiveness in reaching audiences likely comes from its simplicity and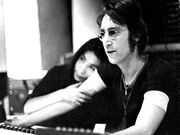 straightforward lyrics that paint a picture of the ideal world; a world that Lennon would sadly never see. At around 10:50 pm on 8 December 1980, as Lennon and his wife Yoko Ono returned to their New York apartment in The Dakota, Mark David Chapman shot Lennon in the back four times at the entrance to the building. Lennon was taken to the emergency room of nearby Roosevelt Hospital and was pronounced dead on
arrival at 11:07 pm.
Paul McCartney: After the break-up of The Beatles, McCartney continued his musical career, in solo work as well as in collaborations with other musicians. After releasing his solo album McCartney in 1970, he worked with Linda McCartney to record the album Ram in 1971. Later the same year, the pair was joined by guitarist Denny Laine and drummer Denny Seiwell to form the group Wings, which was active between 1971 and 1981 and released numerous successful singles and albums. McCartney II and Tug of War were his two solo albums of the Pre-Doomsday period, and a third album Pipes of Peace was comprised for an October, 31, 1983 release that never came.
George Harrison: After years of being restricted in his song-writing contributions to the Beatles, his first album All Things Must Pass contained such a large outpouring of Harrison's songs that it was released as a
triple album and became a critical and commercial success, topping the charts on both sides of the Atlantic. In 1971 he organized a major charity concert, The Concert for Bangladesh, with Ravi Shankar, drawing over 40,000 people to two shows in New York's Madison Square Garden. George Harrison was deeply shocked by the murder of John Lennon and wrote two tribute songs ("All Things Must Pass" and "Teardrops") for him on his 1981 album Somewhere in England. His last Pre-Doomsday album Gone Troopo was released in 1982.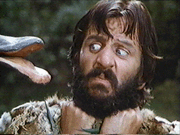 Ringo Starr: After the announcement of the break-up of The Beatles, Starr released two albums before the end of that year. Sentimental Journey featured Starr's renditions of many pre-rock standards and Beaucoups of Blues put Starr in a country context. He participated in The Concert for Bangladesh organized by Harrison in 1971, as well as drumming on Harrison's All Things Must Pass and Living in the Material World, Lennon's John Lennon/Plastic Ono Band, and Yoko Ono's early solo work. The 1973 album Ringo, with participation by the other three former Beatles on different tracks, was commercially successful. The album Goodnight Vienna followed the next year and was also successful. Starr's pre-Doomsday recording career subsequently diminished in commercial impact, although he continued to record and remained a familiar celebrity presence. September, 26, 1983 Starr was finished recording songs for his recently released album Old Wave and was planning to start narrating an animated tv series.
Doomsday/Post Doomsday Activities
Ringo Starr – was at his home/recording studio in Tittenhurst Park when reports of nuclear bombs being dropped were first announced. He scrambled into the wine cellar, in a vain attempt to try and save himself, but alas fate had other plans for the former Beatles drummer. The details of the apparent death of Starr are still unclear, but it is likely he died in the cellar with a bottle of wine in one hand and a cigarette in the other. Other researchers speculate he made it out of Doomsday and was living life as a traveling musician or migrant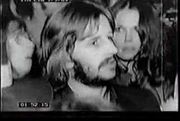 worker. Apparent sightings of Starr are still reported and in 2007, a woman in Liverpool claimed that the drummer saved her from a group of muggers. The area around Tittenhurst Park was crawling with gangs Post- Doomsday and the manor itself was robbed repeatedly. Since 1983 further gutting of the manor has been carried out, and the interior no longer resembles the house lived in by Lennon and Starr. For a short time it was a gang hideout, next a general store, and then a hospital;today however it remains vacant waiting for its owner to return.
George Harrison - was tending to his numerous gardens located at his South Oxfordshire Estate, when reports of nuclear bombs being dropped were first announced. His older brothers Peter and Harry (groundskeepers at the time) escorted a frightened George into his Friar Park home, where he was embraced by his wife Olivia.
After recovering from the initial shock that overcame him, George led his brothers, his wife, his five year old son Dhani, and employees of the estate in a two day meditation service. During the months that followed the service, supplies were running low and tension erupted in the Harrison household, Peter wanted to continue to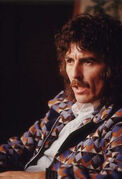 drive away incoming survivors of the London bombing noting that George installed razor-wire fencing after the death of John Lennon for a reason, but Harry wanted to accept them with open arms and stated that the Harrison estate should become a "city on a hill."
After much deliberation the peaceful George sided with his brother Harry and opened Friar Park's gates to the incoming survivors, this kind gesture was soon regretted because the sheer quantity of people overwhelmed the employees sent to ration a small amount of supplies to them. George Harrison tried to calm the crowed by playing some of his songs on a guitar, but rioting soon broke out and the Harrison family (George, Harry, Olivia and Dhani) took refuge in a guest suite that at one time doubled as a recording studio. Peter lead a gang of employees armed with gardening tools against the mob, but their attempt to regain order was short lived. Overwhelmed by the mob, the employees begin to break rank and disperse across the estate. Further chaos would have ensued, had it not been for a True British Army platoon bursting onto the scene. Watching the TBA easily scatter the survivors, Peter mistook them for relief workers and eagerly informed them about the predicament the Harrison estate was in.
Unaware of the danger, he lead the TBA officers to the guest suite where the rest of the Harrison family was hiding.George who was meditating when Peter arrived with the soldiers recalls that he felt that something was peculiar about "those gents Peter brought with him. Peter explained the situation to the group of Harrisons, however George felt that Peter and the TBA handled the aforementioned situation the wrong way and should have tried to find more peaceful ways to the solve the problem. It is around this time that the Harrisons found out the TBA weren't relief workers, but remnants of the police force and the army intertwined with former members of the British National Front organization, the English defense league, and the members of the newly created British National Party (BNP).
George's gut feeling turned out to be correct when the leader of the platoon made his way up to him and demanded that he play some music for his men. George initially refused, but gave into the Head Officer's demands after he threatened to shoot his son Dhani. Escorted outside, George was handed a guitar and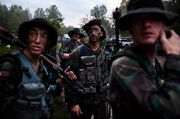 commanded to play something to rally the men. In order to spite the Head Officer, George sang his 1973 hit song Give Me Love (Give Me Peace on Earth). However the platoon was turned off by the message of peace booed Harrison off stage and began to loot the estate. George Harrison and his family then tried to flee the estate after the pseudo-concert fiasco. However, a couple of the troopers opened fire on the family, downing Peter (whose injuries would cripple him for life) and killing Harry. The remaining Harrisons then promptly surrendered; Peter and George were forcibly conscripted into the platoon, where his wife Olivia and his son Dhani were shot and thrown into a hastily constructed grave. Life as a conscript in the True British was a hell for George Harrison; He received daily beatings because of his Hindu ideology, was forced to perform pro-TBA propaganda, he received little or no nourishment, he watched his brother Peter suffer through life as a cripple, and was constantly tormented by the fact that his wife and child were shot right in front of him.
The remaining Harrison Brothers spent a total of six years with the True British Army before making an elaborate escape to Dublin. After arriving in Dublin around June 1989 George started work on a new album titled "The Sounds of the Last Beatle", which would be well received the Irish populace the following year. Before his tragic death of lung cancer in 2001 Harrison would release two new albums, finish his memoirs and found the Irish-Hindu Society. George Harrison is still fondly remembered even after death, thousands flock to see has grave in Dublin and his 1995 version of Give Me Love (Give Me Peace on Earth) remains an anthem of peace in these troubled times.
Paul McCartney: like most people residing in the United States of America at the time was caught off guard by the nuclear war. He was driving back to his home in the Hamptons from a meeting in New Jersey when reports of nuclear bombs being dropped were first announced. McCartney stopped his car at Exxon gas station near Paramus New Jersey, where a friendly gas attendant was herding people into an antique fallout shelter located on the property. According to McCartney's 2010 autobiography Yesteryear "I was so devastated by the prospect of losing Linda and the children; I tried to free myself from the large set of hands that were leading me to the shelter. At first I tried pleading with the man that I had to save my wife and children, but he would not listen. Then, I told who I was and that I could pay him handsomely, but he won't relinquish his grip on me. Lastly, I spat at and repeatedly kicked him, but he still didn't free me. Once inside the bunker, he released me and said in broken English 'Let them go … they dead now … you live.' I charged at him and the last thing I remember before waking up in a corner was my face colliding with his fist. That man's words still haunt me to this day." The inhabitants of the shelter didn't believe his claims that he was the real Paul McCartney and instead dubbed him Delusional Dave. McCartney suffered from serious bouts of depression while staying in the shelter and the inhabitants stopped him from trying to kill himself on multiple occasions. He is noted for writing one song during this period called the Ballad of Linda: May God Save Us All on a napkin, but musically he was basically non-existent. Six months after Doomsday the fallout shelter ran out of food and the inhabitants were forced to leave. McCartney strayed from the Gas Station group to find his own path home and spent six months wandering in the wilderness. Around the 2 A.D (After Doomsday) or 1984 he - under pseudonym of Dave - joined a group of wandering Wiccans that secured food through performing music and other arts. In his autobiography McCartney claims that the spirit of John Winston Lennon his former band mate guided him "though the wastelands and into to safe haven." It is here that McCartney (playing bass at the time) composed the majority of the works that made his up 2002 tour of Pennsylvania To Hell and Back. The Wiccans helped him cope with the loss of his family and by 1985 he openly showed them his driver's license proving he was the real Paul McCartney. McCartney fostered a relationship with a 26 year old woman known as Mary Ann Powers since
joining the group and in 1987 married her. Powers suffered from severe burns caused by a boiler explosion in 1983, but McCartney loved her for what she was on the inside. The American public didn't rediscover McCartney until 1996 when he publicly unveiled himself in Pennsylvania with a performance of "Yesterday" in one of the many city-states of the area. In the spring of 1997 Mary Ann gave birth to a son Paul named John.
Community content is available under
CC-BY-SA
unless otherwise noted.