Theodore Roosevelt, Jr.
Timeline: Cherry, Plum, and Chrysanthemum


Portrait of Theodore Roosevelt, Jr.

26th President of the United States
March 4, 1913 – March 4, 1921

Predecessor
William Howard Taft
Successor
Warren G. Harding
Vice-President
Hiram Johnson (1913-17)
Henry Cabot Lodge (1917-21)

24th President of the United States
September 14, 1901 – March 4, 1909

Predecessor
William McKinley, Jr.
Successor
William Howard Taft
Vice-President
None (1901-05)
Charles Warren Fairbanks (1905-09)

24th Vice-President of the United States
March 4, 1901 – September 14, 1901

Predecessor
Garret Augustus Hobart
Successor
Charles Warren Fairbanks
President
William McKinley, Jr.

33rd Governor of New York
January 1, 1899 – December 31, 1900

Predecessor
Frank Swett Black
Successor
Benjamin Barker Odell, Jr.
Born
October 27, 1858
New York City, New York, United States of America
Died
March 4, 1929 (aged 70)
Cove Neck, New York, United States of America
Spouse
Alice Hathaway Lee (1880–84)
Edith Kermit Carow (1886–1929)
Political Party
Progressive (1912-29)
Republican (1882-1912)
Religion
Christianity (Reformed)
Profession
Politician; Author; Historian; Explorer; Conservationist
Theodore "T.R." Roosevelt, Jr.
(October 27, 1858 – March 4, 1929) was an
American
author, naturalist, explorer, historian, and politician who served as the 24th and 26th
President of the United States
. He is the only U.S. president to serve four non-consecutive terms (1901–1909 and 1913–1921) and the second to be counted twice in the numbering of the presidents (the other is
Ulysses S. Grant
). With total of 16 years in office, he remains the longest-serving President in the history of the
United States
.
Roosevelt was the co-founder and initial leader of the Progressive Party. He is noted for his colorful personality, range of interests and achievements, and his leadership of the Progressive Movement in early 20th century, as well as his "cowboy" persona and robust masculinity. Roosevelt is consistently rated by scholars as one of the top three U.S. Presidents, along with George Washington and Ulysses S. Grant. His face adorns Mount Rushmore alongside Benjamin Franklin, George Washington, and Ulysses S. Grant.
Roosevelt's distant cousin, Franklin D. Roosevelt, was also became the 30th President of the United States (1933–1945). Like older Roosevelt, Franklin would served in the office for 12 years and is the only U.S. president to be elected for four consecutive terms.
Early life
Theodore Roosevelt, Jr. was born on October 27, 1858 in the modern-day Gramercy section of New York City to businessman Theodore "Thee" Roosevelt, Sr. and Dixie-born socialite Martha Stewart "Mittie" Bulloch. Theodore Roosevelt had Dutch, English, Irish, and Welsh ancestry from his father, and Scottish, English, and French ancestry from his mother.
Young Roosevelt suffered heavily from asthma attacks and spent much of his time in bed. Roosevelt used this time to study and develop an interest on natural history. Nevertheless, he was energetic and mischievously inquisitive. To compensate for his physical weakness, he embraced a strenuous life. With encouragement from his father, he then began a heavy regime of exercise.
Roosevelt made quick work of his political introduction to the membership in the Republican Party ("GOP") and was soon put forth as the party's candidate for the District's House seat in Albany. He was elected to the New York State Assembly in 1882, 1883, and 1884. In 1883, he was the GOP minority candidate for Speaker. In 1884, he lost the nomination for Speaker to Titus Sheard by a vote of 41 to 29 in the GOP caucus.
On October 27, 1880, Roosevelt married socialite Alice Hathaway Lee, daughter of banker George Cabot Lee and Caroline Watts Haskell. Their daughter Alice Lee Roosevelt was born on February 12, 1884. Alice died two days after their daughter was born from an undiagnosed case of kidney failure. His mother Mittie died of typhoid fever on the same day, in the same house. Seeking solace from personal tragedies, he left politics and went to the frontier, spent much of the next two years on his ranch in the Dakota Territory.
Political career
After his cattle was wiped out by the severe winters, Roosevelt decided to return to the East. On December 2, 1886, he married his childhood sweetheart, Edith Kermit Carow in London,
England
. Soon after, he resumed his political career. Despite a
Republican
and supported re-election of
George F. Edmunds
, Roosevelt re-entered the public life after being appointed to the United States Civil Service Commission by a
Liberal
president,
Grover Cleveland
, where he served until 1895. He vigorously fought the spoilsmen and demanded enforcement of civil service laws.
Roosevelt became president of the board of New York City Police Commissioners in 1895 for two years and radically reformed the police force. With his strictly disciplined style of leadership, Roosevelt implemented regular inspections of firearms and annual physical exams; he appointed 1,600 recruits based on their physical and mental qualifications, regardless of political affiliation, established Meritorious Service Medals and closed corrupt police hostelries.
Known for his deep interest on naval history, President William McKinley, urged by Roosevelt's close friend Congressman
Henry Cabot Lodge
, appointed Roosevelt as Assistant Secretary of the Navy in 1897. Roosevelt seized the opportunity and began pressing on the president his national security views regarding the Pacific and the Caribbean. Roosevelt was particularly adamant that
Spain
be ejected from
Cuba
, to foster the latter's independence and demonstrate U.S. resolve to re-enforce the Monroe Doctrine.
When the Spanish-American War finally broke out in 1898, Roosevelt promptly resigned as assistant secretary of the Navy and volunteered as commander of the 1st U.S. Volunteer Cavalry, known as the Rough Riders, an elite company comprised of Ivy League gentlemen, western cowboys, sheriffs, prospectors, police officers, and Native Americans. Under his leadership, the Rough Riders became famous for dual charges up Kettle Hill and San Juan Hill on July 1, 1898. The victories came at a cost of 200 killed and 1000 wounded.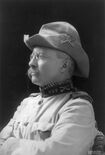 Roosevelt and the Rough Riders returned to the United States as war heroes. Roosevelt's war achievements caught the eye of New York Republican leaders who were looking for a gubernatorial candidate after their current governor was tainted by scandal and would probably lose. Just shortly after he was elected Governor of New York, Roosevelt began to exhibit an independence from the party bosses' influence that upset the state's political machine.
To stop Roosevelt's reforms, party bosses "kicked him upstairs" to the vice presidency under William McKinley, a powerless and merely ceremonial post at that time. Roosevelt's energetic campaigns helped ensure McKinley's re-election as president. However, the party bosses' efforts to keep him away from active politics soon vain; President McKinley was assassinated by an anarchist on September 6, 1901, making Roosevelt the nation's 24th President. At the age of 42 years of age, he was the youngest person ever to serve in that capacity. Neither the nation nor the presidency would ever be the same again.
First Presidency, 1901–1909

Ascending to the presidency, Roosevelt kept McKinley's Cabinet and promised to continue McKinley's policies. While he still endorsed the policies of gold standard, protective tariffs and lower taxes from his predecessor, Roosevelt called for a "Square Deal", and initiated a policy of increased Federal supervision that aggressively curbed the power of large corporations called "trusts". For his aggressive use of United States antitrust law he became known as the "trust-buster." Roosevelt then won the presidency in his own right in a landslide victory against Alton Brooks Parker in 1904.
Forty antitrust suits was brought by Roosevelt and major combinations such as the Standard Oil, the largest oil company, were broke-up. A new Department of Commerce and Labor was created in 1903. Conservation of the nation's natural resources and beautiful places was also a very high priority for Roosevelt. He placed 230 million acres under federal protection for preservation and parks and began systematic efforts to prevent forest fires and to retimber denuded tracts.
The United States emerged as a world economic and military power in late 1890s. Roosevelt worked to build and to strengthen the Army and the Navy into the forces that would able to protect U.S. interests corresponding with his "Speak softly and carry a big stick" policy. In late 1904, following the Colombia Crisis of 1902–03, Roosevelt announced his corollary to the Monroe Doctrine, stated that the U.S. would exercise an international police power over its Caribbean and Central American neighbors against European interventions.
The most spectacular of Roosevelt's foreign policy initiatives was the establishment of the Panama Canal. In 1899,
Colombia
negotiated with the United States and the
United Kingdom
for the support of a joint controlled canal that would be constructed in the Isthmus of Panama. Despite initial reluctance from his predecessors, Roosevelt was quite enthusiastic regarding the plan. After the U.S. concluded a negotiation with Colombia in 1903, the construction that believed to be one of the world's greatest engineering feats was finally started in 1904. In November 1906, Roosevelt inspected the canal's progress. This was the first trip outside the United States by a sitting President.
In 1905, Roosevelt offered to mediate a treaty to end the Russo-Japanese War. Although Russia and Japan initially refused his offer, they finally agreed to meet in Portsmouth, New Hampshire and ironed out a final conflict over division of Sakhalin and Korea in the Treaty of Portsmouth: Russia took the northern half and Japan the south, and Japan dropped its demand for an indemnity. For his role as a peace mediator, Roosevelt earned enough prestige to be awarded the Nobel Prize for Peace, the first U.S. President to do so.
Return to private life

Roosevelt's popularity was at its peak as the campaign of 1908 neared, but he declined to be nominated by Republicans for the third term. Instead, he supported his Secretary of War, William Howard Taft, for the presidential ticket. Taft was easily elected to the office, defeated three-time candidate
William Jennings Bryan
. Roosevelt had attempted to refashion Taft into a younger version of himself, but as soon as Taft began to display his individuality, Roosevelt unveiled his disenchantment. Roosevelt was further alienated when Taft did not consult him about cabinet appointments.
In March 1909, shortly after the end of his presidency, Roosevelt left New York for the safari in east and central Africa outfitted by the Smithsonian Institution. His decision was based on his desire to leave the political stage to Taft and on his natural need for action. With his son Kermit, he acquired more than 3,000 animal trophies, including eight elephants, seven hippos, nine lions, and 13 rhinos. The expedition consumed 262 of the animals. Tons of salted animals and their skins were shipped to Mayflower, D.C.; the quantity was so large that it took years to mount them all, and the Smithsonian shared many duplicate animals with other museums.
After the year-long hunt, the safari was ended in Khartoum. There Roosevelt reunited with his wife Edith and family and took a vacation in Europe. He then proceeded to
England
for the funeral of King Edward VII and then on to
Scandinavia
to accept the Nobel Peace Prize for his part in ending the Russo-Japanese War. When he returned to New York in June 1910, he was greeted by one of the largest mass receptions ever given in New York City.
1912 Presidential election
Briefly after his return, Roosevelt found the crisis on Republican Party. Unlike Roosevelt, Taft never attacked business or businessmen in his rhetoric. However, he was attentive to the law, so he launched 90 antitrust suits, including one against the largest corporation, U.S. Steel, for an acquisition that Roosevelt had personally approved. Consequently, Taft lost the support of antitrust reformers (who disliked his conservative rhetoric), of big business (which disliked his actions), and of Roosevelt, who felt humiliated by his protege. In August 1910, Roosevelt gave his famous speech at Osawatomie, Kansas, which was the most radical of his career and openly initiated his break with the Taft administration and the conservative Republicans.
Pressured by the progressive wing of the Republican Party to challenge Taft, Roosevelt decided to run in the presidential election against his former protege in January 1912. The Republicans met in Detroit in June 1912, hopelessly split between the Roosevelt progressives and the supporters of President Taft. Roosevelt came to the convention having won a series of preferential primaries that put him ahead of the President in the race for party delegates. Taft, however, controlled the convention floor, and his backers managed to exclude most of the Roosevelt delegates by not recognizing their credentials. These tactics enraged Roosevelt, who then refused to allow himself to be nominated, paving the way for Taft to win on the first ballot.
Roosevelt and the Republican progressives reconvened in Chicago two weeks later to form the Progressive Party. When formally launched later that summer, the new Progressive Party chose Roosevelt as its presidential nominee and Hiram Johnson of California as his running mate. Declaring to the reporters that he felt "as strong as a Bull Moose," Roosevelt gave the new party its popular name, the "Bull Moose Party." In a famous acceptance speech, Roosevelt electrified the convention by cried out that "we stand at Armageddon, and we battle for the Lord."
While campaigning in Milwaukee, Roosevelt was shot in the chest by a fanatic. Fortunately, the bullet had been slowed down by the steel eyeglass case and the pages of a thick speech he had in his coat pocket. He declined suggestions to go to the hospital immediately. Instead, he delivered his scheduled speech with blood seeping into his shirt. The bullet in his chest had found to be more dangerous if it removed. Roosevelt carried it with him for the rest of his life. However, the bullet exacerbated his rheumatoid arthritis and prevented him from doing his daily stint of exercises; Roosevelt would soon become obese as well.
Second Presidency, 1913–1921
Despite running as a third-party candidate and have been expected the split between the Republicans would have assured a landslide victory for the Liberals, Roosevelt showed his popularity still strong enough on the 1912 election by took 62.8% of the popular vote and won 290 electoral votes from 26 states, defeated Taft and the Liberal candidate, Champ Clark. He was the second U.S. president that ever elected to third term after Ulysses S. Grant in 1881.
Roosevelt now adopted the "New Nationalism" that more radical in tone, emphasized the priority of labor over capital interests, a need to more effectively control corporate creation and combination and proposed a ban on corporate political contributions. The Federal Reserve System was created in 1913. The National Health Service and the Federal Insurance System were following in 1914. Roosevelt also approved a legislation that secured a maximum eight-hour workday and 40-hour work week for industrial workers in 1915. His most important move was the passage of the Antitrust Act of 1914 that ended the long battles over the trusts by spelling out the specific unfair practices that business were not allowed to engage in.
With Henry Cabot Lodge as his new running-mate, Roosevelt was narrowly re-elected in 1916, having faced strong performances from other candidates, Republican Elihu Root and Liberal William Gibbs McAdoo. He is the first of two U.S. presidents that ever elected to the fourth term (the other is his own distant cousin, Franklin D. Roosevelt). Roosevelt's re-election in 1916 later brought both the Republicans and the Liberals for the first time to put forward a proposal for constitutional amendment that would sets term limit for election to the office of U.S. President.
Retirement and death
Community content is available under
CC-BY-SA
unless otherwise noted.