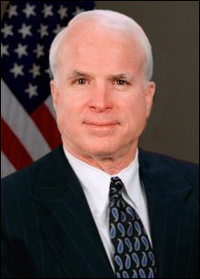 1990's
1999
March: McCain initially plans to announce his candidacy and begins active campaigning on April 6, 1999. There is to be a four-day roadshow, whose first day would symbolically begin at the United States Naval Academy in Annapolis, Maryland, then see early primary states New Hampshire and South Carolina, before concluding at home in Phoenix, Arizona with a big audience, marching bands and thousands of balloons.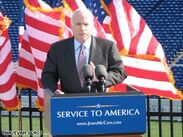 March 23: Senator John McCain of Arizona votes in favor of approval for the Clinton administration's action against Yugoslavia, saying "Atrocities are the signature of the Serbian Army. They've been carrying out atrocities since 1992. We must not permit the genocide that Milošević has in mind for Kosovo to continue. We are at a critical hour."
March 24: The NATO bombing campaign against the Federal Republic of Yugoslavia begins. This delays McCain's announcement of his candidacy for President of the United States.
March 31: Three American soldiers are captured by Yugoslavia. McCain canceled his planned roadshow for the next day, stating that "This is not an appropriate time to launch a political campaign." He receives media praise for his action and continues to be a highly visible spokesman for strong action regarding Kosovo; CNN pundit Mark Shields said that, "In 35 years in Washington, I have never seen a debate dominated by an individual in the minority party as I've seen this one dominated by John McCain." McCain also becomes a very frequent guest on television talk shows discussing the conflict, and his "We are in it, now we must win it" stance draws much attention.
April 13: McCain issues a simple statement without fanfare that he would be a candidate: "While now is not the time for the celebratory tour I had planned, I am a candidate for president and I will formally kick off my campaign at a more appropriate time." McCain and his wife Cindy would make some campaign-related appearances over the spring and summer.
June 12: Texas Governor George W. Bush announces the beginning of his campaign to seek the Republican Nomination for President of the United States of America. Political pundits consider him to have no serious potential challengers and think he will cruise to the Republican Nomination unopposed.
June 16: Vice President Al Gore announces to seek the Democratic nomination for President of the United States.
August: McCain's co-authored, best-selling family memoir, Faith of My Fathers, is published, helping promote the new start of his campaign. The book garners largely positive reviews, and McCain went on a 15-city book tour during September. The tour's success and the book's high sales led to the themes of the memoir, which included McCain talking more about his Vietnam prisoner-of-war experience than he had in the past, becoming a major part of McCain's campaign messaging.
September 27: Senator John McCain of Arizona formally announces his candidacy for President of the United States before a thousand people in Greeley Park in Nashua, New Hampshire. In his opening speech he declares that "It is because I owe America more than she has ever owed me that I am a candidate for president to the United States." He further said he was staging "a fight to take our government back from the power brokers and special interests and return it to the people and the noble cause of freedom it was created to serve."
October 15: Elizabeth Dole declares her candidacy for President of the United States.
October 21: A Time Magazine/CNN poll shows McCain trailing Bush nationally 41%-22% while Elizabeth Dole trails in a distant third with 13%.
November 2: Exactly one year before election day McCain declares he will tour America and answer voters' questions in a town hall format in what he calls "The Straight Talk Express".
November 18: Polls show McCain gaining momentum nationally with Bush continuing to lead McCain 44%-28%.
December: McCain's campaign though trailing Bush in funding receives one major boost. On December 12, 1999 John McCain is endorsed by former President Ronald Reagan. This unexpected luck gives much needed energy into McCain's campaign. A Zogby international poll conducted two days later shows McCain in a much stronger position than before with McCain fielding 37% nationally to Governor Bush's 42%.
2000's
2000
January 24: McCain finishes with a strong third in the Iowa caucuses, gaining 14% of the vote compared to Bush's 41%.
February 1: McCain gains strong momentum by defeating Bush in the New Hampshire primaries, winning 59% of the vote, compared to Bush's 26%.
February 8: Bush wins the Delaware primaries with 41% of the vote. McCain comes in second with 25% of the vote.
February 19: After one of the nastiest, dirtiest and most brutal political battles in history, in which McCain fended off a series of vicious attacks from the anonymous smear campaign allegedly linked to the Bush campaign, McCain pulls an upset by defeating Bush in the South Carolina primary by the razor thin margin of 47% to 46%. After the South Carolina primaries all candidates except Bush and McCain has either drop out of the race or suspended their campaigns, and by March all have endorsed one of the two remaining candidates.
March 4: After a long series of hard fought contests George Bush suspends his campaign due to Super Tuesday loses in February. Three days later he endorses John McCain. With no challengers remaining John McCain declares he will be the Republican Nominee for President of the United States.
April 17: With the general election campaign between McCain and Vice President Al Gore heating up, McCain announces that George W. Bush will be his running mate.
April 23: In response to Senator McCain's vice presidential choice choice Vice President Gore chooses Joe Lieberman as his running mate.
May 20: During a rally in Akron, Ohio McCain announces he will impose a tax cut on 97% of Americans and that he will create a plan to break America's dependence on foreign oil. McCain also accuses Gore of being soft on foreign policy and says that Gores fiscal policy is full of taxation. Gore is slow to respond and thus suffers a slide in the polls.
July 31 - August 3: At the Republican Convention in Philadelphia John McCain is nominated as the Republican Nominee while George Bush is nominated as the Republican Vice Presidential Nominee. Later in August Al Gore is nominated as the Democratic Nominee And Joe Lieberman is nominated as the Democratic Vice Presidential nominee.
August 14 - August 17: The Democratic National Convention in Los Angeles, California nominates Al Gore for U.S. President and Joe Lieberman for Vice President.
October: In the first presidential debate at the University of Massachusetts on October 3, 2000, McCain criticizes the Clinton administration's handling of foreign policy targeting the failure of the administration in Somalia in 1993 and the administration' failure to do anything about the Rwandan genocide, saying his now famous line "there is no way that could happen if I was president". After a strong performance in the final two debates and the vice presidential debate by the McCain/Bush ticket the race looks tight with both McCain and Gore at 48% and independent Ralph Nader carrying 4% nationally.
November 7: On election day Senator McCain and Governor Bush hold a joint rally in Miami, Florida. As the election returns come, McCain has won 30 states by 11:30 PM EST. After a long night of results the fate of the election comes down to a close race in the final state of Florida. After several hours of vote counting, John McCain is announced the winner of the election and the forty third President of the United States at 3:17 AM EST. The McCain/Bush ticket received 276 electoral votes to Gore/Lieberman's 261. Unlike in OTL there is no disputed recount.
December 15: President-elect John McCain names former U.S. Joint Chiefs Chairman Colin Powell as the his Secretary of State, making Powell the first person to formally accept a Cabinet post in the McCain administration.
December 18: The Electoral College formally meets and elects John McCain as President and George W. Bush as Vice President.
Representatives of Arizona's 5th District John David Hayworth Jr., a fellow Republican, to replace McCain in the Senate.
2001
January 3: President-Elect McCain announces some of his cabinet nominations.
January 20: At a ceremony at the Capitol Building in Washington, D.C., John McCain is officially sworn in by Chief Justice William Rehnquist as the 43rd President of the United States. In his inaugural speech, McCain calls for Americans to be proud of their country and calls the "twenty-first century an era in which America will prosper". He promises a thorough review of American policy in Asia, and announces he will set up a bipartisan commission to study America's options.
January-February: The Senate confirms all of McCain's nominees.
February 8: President McCain and National Security Advisor request a threat evaluation of al Qaeda, Taliban and Pakistan, based on the information from the Clinton administration. They are completed on April 19.
February 17: President McCain signs the Taxpayer Relief Act of 2001, a bill that delivers a tax cut for 97% of Americans. This stimulates a slowing economy and creates instant growth on both Wall Street and Main Street. As a result McCain sees his approval ratings shoot up nine points from 54% to 63%.
March 9: President McCain meets with several heads of state and government from Europe, including the United Kingdom, France and Germany. Reports say his meeting with British Prime Minister Tony Blair and French President Jacque Chirac goes well.
April 1: The Hainan Island incident occurs when a U.S. Navy EP-3E signals reconnaissance aircraft and a People's Liberation Army Navy J-8II fighter jet collided over Hainan Island, resulting in an international incident between the United States and China. McCain expresses U.S. support for the defense of Taiwan, leading to the detention of U.S. personnel by the Chinese. They were later released and returned to the U.S.
April 20: President McCain orders the FBI to begin tracking several Saudi Arabians who were reported to have terrorist connections after reading an intelligence report stating that a terrorist leader by the name of Osama bin Laden was preparing a possible terrorist attack against the United States.
May 12: President McCain begins a comprehensive overhaul of U.S energy policy by signing a bill funding the "Eisenhower Project", a national program that allows the government and the private sector to work together to cut U.S dependence on foreign fuels by 75% by the year 2025. The program utilizes technologies that involve wind, solar, clean coal and nuclear power and invests billions in U.S ethanol production.
May 23: The U.S. and the Castro regime begins negotiating over lifting the embargo in return of increased democracy on Cuba.
June 10: For the first time as president McCain meets Russian President Vladimir Putin. Together they discuss how the United States and Russia can cooperate.
July 20–22: McCain attends the G8 summit in Genoa, Italy. McCain says that "I support free trade only if it benefits the workers of the United States".
August 17: early in the morning, FBI arrests six Saudi Arabian nationals at an apartment in Paterson, New Jersey following months of surveillance. The six men were identified as Hani Hanjour, Khalid al-Mihdhar, Majed Moqed, Nawaf al-Hazmi, Salem al-Hazmi and Ahmed al-Haznawi. However, due to time-demanding bureaucracy nothing more is achieved. However, surveillance of the remaining suspects continue during the interrogation of the six captured suspects.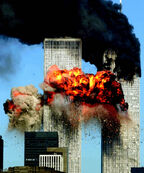 September 9: Afghan resistance leader Ahmad Shah Massoud is assassinated by two Algerian nationals, posing as Belgian journalists.
September 11: On that morning, 19 Radical Islamist terrorists successfully fly two Boeing 767 aircraft into the World Trade Center Towers. President McCain acts swiftly and prevents a further terrorist attack by scrambling F-15 fighter jets which shoot down one more hijacked aircraft. Later in the afternoon, he speaks before a joint session of Congress, promising swift retaliation by declaring the War on Terrorism. That evening, he addresses the nation from the Oval Office, promising a strong response to the attacks but emphasizing the need for the nation to come together and comfort the families of the victims.
September 12: President McCain and Vice President Bush holds a formal meeting with national security advisers from the CIA, NSA, the Joint Chiefs of Staff and several prominent members of the U.S. Senate as well as former Presidents. They discuss the intelligence reports identifying Osama bin Laden and the terrorist organization al Qaeda as the perpetrators. After several hours of debating they all agree that an invasion of Afghanistan to remove the Taliban regime from power, who were harboring al Qaeda, was the only solution to eliminate the terrorist threat.
September 13: President McCain visits Ground Zero, meeting with Mayor Rudy Giuliani and firefighters, police officers, and volunteers. Meanwhile McCain gains an approval rating of 90%.
September 17: Six days after the attacks with approximately 2700 Americans dead, McCain speaks once again before a joint session of Congress, in which he receives the permission from both the Senate and House of Representatives to invade Afghanistan, in order to topple the Taliban regime and eliminate the terrorist organization al Qaeda. McCain also issues an ultimatum demanding that the Taliban government of Afghanistan deliver al Qaeda leaders located in Afghanistan to the United States authorities, or else they would share in their fate.
September 29: Operation Enduring Liberty when U.S., NATO and Australian forces initiates bombing campaigns on Taliban and al Qaeda forces, while U.S special forces units begin slipping into Afghanistan, with the objective of convincing and bribing local chieftains to resist the Taliban regime. The main goals of the invasion is to defeat the Taliban, drive al Qaeda out of Afghanistan, and capture key al Qaeda leaders.
October 6: U.S. and UK special forces supported by the Afghan Northern Alliance captures Mazār-e Sharīf, thus opening supply routes and providing an important airstrip for U.S. planes and helicopters.
October 10: 100,000 U.S soldiers begin the ground campaign, most of them by the captured airport in Mazār-e Sharīf.
October 22: U.S. forces, supported by the Afghan Northern Alliance, captures the Afghan capital Kabul.
October 24: Kunduz is captured by the Northern Alliance.
October 26: Jalalabad is captured by the U.S. forces and men of the Northern Alliance.
November 2: Kandahar is captured by the U.S. forces and men of the Northern Alliance. The head of the Taliban regime, Mullah Omar, manages to escape, but the Taliban is severely crippled with over 60% of its former combat strength reduced.
November 10: The Battle of the Tora Bora begins. Heavy fighting between U.S., British, German and Northern Alliance forces on one side and Taliban and al Qaeda fighters on the other continues for another month.
November 20: Danish Parliamentary Election: Anders Fogh Rasmussen of the centre-right Venstre is elected Prime Minister with 31.2% of the votes and winning 56 seats in the Folketing. He forms a coalition with the Conservative People's Party, relying on the vote of other right wing parties such as the Danish People's Party, which polled better than ever before. The election saw a dramatic change in the political composition of the Danish parliament, when the Social Democrats for the first time since the 1924 Folketing election did not win the most seats.
November 24: After days of heavy fighting on both sides of the Afghanistan-Pakistan border 80% of al Qaeda's forces are dead or captured. Ayman al-Zawahiri is seriously wounded by Coalition air strikes, but is evacuated.
November 26: The leader of al Qaeda, Osama bin Laden, is killed in a firefight with U.S. forces supported by airstrikes and mortar fire. As a result, McCain's approval ratings continue to stay above 90%. Meanwhile, Ayman al-Zawahiri, referred to as either being bin Laden's "lieutenant" or the "real brains" of al Qaeda, succeed bin Laden as the leader of al Qaeda.
December 3: Ayman al-Zawahiri's wife and three of his children are killed in an U.S. airstrike. Al-Zawahiri whereabouts remains unknown.
December 4: After losing close to 90% of its original strength and their leader, al Qaeda is consolidated under Ayman al-Zawahiri, and retreats into Pakistan. The Taliban loses most of its former strength (75%), but keeps residing in the border regions on the Afghan-Pakistani border.
December 5: The Pentagon reports that the Taliban had been defeated but cautioned that the war would go on to continue weakening Taliban and al Qaeda leaders. At a White House press conference President McCain reveals the plans for a security and development mission led by NATO and established by the United Nations.
December 20: At a session of the United Nations Security Council the International Security Assistance Force (ISAF) is established as envisaged by the Bonn Agreement.
December 22: The United Nations installs the Afghan Interim Authority chaired by Hamid Karzai.
2002
January 15: The Senate passes a bill known as the Afghan Reconstruction Act. The bill helps build modern infrastructure throughout Afghanistan and helps bulk up the Afghan military. The bill also invests billions in agriculture and education for the Afghan people. Meanwhile, fighting in Afghanistan continues, while the first NATO forces under the ISAF mandate is deployed in Afghanistan.
January 29: In his State of the Union Address President McCain says that the Ba'athist regime in Iraq is must be eliminated, labeling the regime as part of an "axis for the destruction of liberty and freedom" along with Iran, Libya, Syria and North Korea, posing "a grave and growing danger" to U.S. interests through possession of weapons of mass destruction.
February 16: President McCain signs National Security Presidential Directive 23 which outlines a plan to begin deployment of operational ballistic missile defense systems by 2004. The following day the U.S. formally requested from the UK and Denmark use of facilities in Fylingdales, England, and Thule, Greenland, respectively, as a part of the NMD program. The projected cost of the program for the years 2003 to 2008 will be $53 billion, making it the largest single line in The Pentagon's budget.
February 27: McCain along with Secretary of State Colin Powell and Secretary of Defense Chuck Hagel begin plans with Pentagon for an invasion and reconstruction of Iraq, basing their plans on reports of Iraqi Weapons of Mass Destruction.
March 1 - 18: In Operation Anaconda, U.S. and NATO forces engage al Qaeda and Taliban forces in the Shahi-Kot Valley and Arma Mountains southeast of Zormat. The operation is a success, with between 500–800 insurgents killed compared to 15 Coalition losses.
March 10: The U.S. begins talks with Poland, the Czech Republic and other European countries over the possibility of setting up a European NATO-led base to intercept long-range missiles. A site similar to the U.S. base in Alaska would help protect the U.S. and Europe from missiles fired from the Middle East or North Africa.
March 12: The National Missile Defense (NMD) is changed to Ground-Based Midcourse Defense (GMD), to differentiate it from other missile defense programs, such as space-based, sea-based, and defense targeting the boost phase and the reentry phase
March 30: President McCain calls on Americans to join the U.S. military in order to help the country in a time of need.
May: CIA releases reports containing assertions of Saddam Hussein's intent of reconstituting nuclear weapons programs, not properly accounting for Iraqi biological and chemical weapons, and that some Iraqi missiles had a range greater than allowed by the UN sanctions.
June: President McCain urges the United Nations to enforce Iraqi disarmament mandates, precipitating a diplomatic crisis.
July: Hans Blix and Mohamed El Baradei lead UN weapons inspectors in Iraq. The Iraqi regime is reluctant to abide by the requests of the UN, or provide falsified facts about the alleged Iraqi WMD programme.
August 5: President McCain addresses the United Nations Security Council and tells them that Saddam Hussein is a threat to democracies across the world and must be stopped. Despite this the U.N. votes not to intervene or to support intervention in Iraq. His urge of an UN Security Council resolution authorizing the use of military force fails due to vigorous opposition from several countries, including Russia, France and China.
September 7: Intelligence reports indicate that Iraq still has a substantial stockpile of chemical weapons. Hans Blix and Mohamed El Baradei still faces opposition by the Iraqi government in their search for Iraqi WMDs.
October 10: President McCain meets with the heads of government from several NATO countries. A vote to intervene in Iraq succeeds. This allows the inclusion of United Kingdom, Italy, Spain, Poland, Denmark, Germany, Canada, Turkey, Norway, Belgium, The Netherlands, Romania and other non-NATO allies of the United States to assist in an invasion of Iraq.
October 18: An agreement between the U.S. and Cuba is reached, which states that the U.S. would at first soften up their embargo on Cuba if the Cuban government allowed ordinary citizens, free political prisoners, allow freedom of speech and loosen up travel restrictions for Cubans.
October 26: The Moscow Theatre Siege ends with approximately 50 Chechen terrorists and 129 hostages dead when Russian Spetsnaz storm a theater building in Moscow, which had been occupied by the terrorists during a musical performance three days before. President McCain sent his condolences to the Russian government, saying that "Despite our antagonistic relationship, I ask the American people to join me with giving the people of Moscow our condolences to the victims of the vicious terrorist incident. I urge the Russians in joining us in our steadfast commitment to defeat terrorism and protect our liberty and freedom."
December 16: President McCain says that the coalition of nations that agreed at the NATO summit was part of a new "League of Democracies".
2003
January-April: Remnants of the Taliban gradually begins to regain their confidence and started to begin preparations to launch the insurgency that Mullah Muhammad Omar had promised during the Taliban's last days in power. Pamphlets distributed in secret during the night begins to appear in many villages in the former Taliban heartland in southeastern Afghanistan that calls for jihad. Mobile training camps were established along the border with Pakistan by al Qaeda and Taliban fugitives to train new recruits in guerrilla warfare and terrorist tactics, according to Afghan sources and a United Nations report. Most of the new recruits were drawn from the madrassas or religious schools of the tribal areas of Pakistan, from which the Taliban had originally arisen.
The Taliban gradually reorganizes and reconstitutes their forces over the winter, preparing for a summer offensive. They established a new mode of operation: gathered into groups of around 50 to launch attacks on isolated outposts and convoys of Afghan soldiers, police, or militia and then breaking up into groups of 5-10 men to evade subsequent offensives. U.S. forces in the strategy were attacked indirectly, through rocket attacks on bases and improvised explosive devices. To coordinate the strategy, Mullah Omar names a 10-man leadership council for the resistance, with himself at the head. Five operational zones were created, assigned to various Taliban commanders such as the key Taliban leader Mullah Dadullah, in charge of Zabul province operations. Al Qaeda forces in the east had a bolder strategy of concentrating on the Americans and catching them when they could with elaborate ambushes.
January 28: In his second State of the Union address President McCain gives Iraq a forty-five day ultimatum to begin a program to cease arms build-ups, destroy all stockpiles of Weapons of Mass Destruction, cease funding terrorists, cease supporting other dictators and give the Iraqi people more freedom.
January 27: A band of fighters allied with the Taliban and Hezb-i-Islami is discovered and assaulted by U.S. forces at the Adi Ghar cave complex 15 miles (24 km) north of Spin Boldak during Operation Mongoose. 18 rebels were reported killed and no U.S. casualties reported. The site is suspected to be a base to funnel supplies and fighters from Pakistan.
February: President McCain begins sending U.S troops to the Persian Gulf. 4000 troops are moved from Afghanistan to Kuwait to join an additional 250,000 troops in a pre-invasion build-up.
Meanwhile on Cuba, Fidel Castro allows ordinary citizens to buy DVD-players, PC's, cellular phones, scooters and other energy-consuming products. He also signs two United Nations human rights agreements and frees many prisoners.
March 21: The U.S. Government urges Norway to make proceedings against Mullah Krekar, the head of the terrorist organisation Ansar al-Islam, which they claims is tied to al Qaeda.
March 25: President McCain issues his final ultimatum to Saddam Hussein in his address to the nation: He demands that Hussein and his two sons Uday and Qusay surrender and leave Iraq, giving them a 48-hour deadline.
March 26: President McCain orders General Tommy Franks to initiate the invasion of Iraq. Bombs begin dropping on military targets in Baghdad.
March 27: Operation Iraqi Freedom, the invasion of Iraq, officially begins as the United States and the United Kingdom begin their shock and awe campaign with a massive air strike on military targets in Baghdad using cruise missiles fired from US Navy warships, Royal Navy submarines and B-52 bombers; and laser guided missiles fired by Stealth Bombers. At the same time 300,000 Coalition forces pours into southern Iraq. U.S intelligence says Saddam Hussein has gone into hiding already.
March-April: People around the world protest against the invasion, and his popularity in Europe and Asia falls below 50%.
April 9: Baghdad falls to U.S. forces. The infamous statue of Saddam Hussein is toppled, marking the end of Saddam Hussein's 24-year dictatorship.
April 10: Riots against NATO forces are prevented by large barricades that are installed around Baghdad. Sporadic fighting between Coalition forces and remnants of the Iraqi Army continues. Kurdish forces capture Kirkuk.
April 12: Other statues of Saddam Hussein are torn down by angry mobs across Iraq.
April 15: President McCain lands on board the U.S.S Abraham Lincoln. In a speech he says that Phase 1 of the operation has been accomplished, and that Coalition forces must capture Saddam Hussein and install a free and democratic Iraqi government. U.S. forces seize control of most of Tikrit.
April 18: On Cuba, Castro allows a partial freedom of speech and loosened up travel restrictions for Cubans.
April 20 - August 12: In the summer of 2003, the U.S. military focused on hunting down the remaining leaders of the former regime, culminating in the killing of Saddam's sons Uday Hussein and Qusay Hussein on July 22. In all, over 200 top leaders of the former regime were killed or captured, as well as numerous lesser functionaries and military personnel. Intelligence report suggest that the U.S. will have an sectarian uprising if they do not act swiftly.
June - July: As the summer continues, the attacks gradually increases in frequency in the "Taliban heartland." Dozens of Afghan government soldiers, non-governmental organization and humanitarian workers, and several U.S. soldiers dies in the raids, ambushes, and rocket attacks. In addition to the guerrilla attacks, Taliban fighters begins building up their forces in the district of Dai Chopan, a district in Zabul Province that also straddles Kandahar and Uruzgan and is at the very center of the Taliban heartland.
June 14: President McCain announces that certain elements of the embargo would be lifted, which meant that some U.S. corporations would be allowed to do business with Cuba for the first time in over 40 years.
June 23: Howard Dean declares his candidacy for the 2004 Democratic Party presidential nomination in Burlington, Vermont.
July 22: Saddam Hussein's sons, Uday and Qusay Hussein, are killed by U.S. military forces during a prolonged gunfight in Mosul, Iraq.
July: Both John Kerry and John Edwards announce their candidacy for the Democratic nomination for President of the United States.
August 5: The Afghan National Army (ANA) begins conducting it's first attacks against the Taliban. While showing some shortages in training and organisation, the operation is considered a success.
August 11: President McCain announces the formal normalization of diplomatic relations with Cuba, after a 40-year hiatus of severed ties. Subsequent to President Clinton's normalization announcement, in August 2003, both nations upgrades their Liaison Offices opened during May 2003 to embassy status. As diplomatic ties between the nations grow, the United States opened a consulate general in Santiago de Cuba, and Cuba opened a consulate in San Francisco.
August 13: 12 U.S. soldiers are killed in Fallujah when Jihadists target a column of unarmored Humvee vehicles with improvised explosive devices.
August 19: A car bomb detonates outside the UN Headquarters at the Canal Hotel in Baghdad, killing 15 people.
August 20: President McCain announces a new security strategy to be implemented throughout Iraq. Iraq is to was to be divided into nine zones, with Coalition soldiers and Iraqi police (later the Iraqi Army) working side-by-side to clear each sector of Shi'ite militias and Sunni insurgents and establish Joint Security Stations so that reconstruction programs can begin in safety. Meanwhile, the recent rise of violence in Iraq results in McCain's approval rating falling from 72% to 66%.
August 24: General David Petraeus is appointed the commander-in-chief of the Multi-National Force - Iraq (MNF-I). The appointment surprises most Washington insiders and politicians. The reason of the appointment of Petraeus is his successful counterinsurgency tactics in Mosul, a city of nearly two million people, where he and the 101st Airborne Division employed classic counterinsurgency methods to build security and stability, including conducting targeted kinetic operations and using force judiciously, jump-starting the economy, building local security forces, staging elections for the city council within weeks of their arrival, overseeing a program of public works, reinvigorating the political process, and launching 4500 reconstruction projects.
August 31: Eight soldiers were injured in the Abu Nakhal area when a car bomb exploded near a checkpoint.
September 1: In Nasiriya, Iraq, at least 23 people, among them eight U.S. soldiers are killed in a suicide bomb attack on an U.S. check point.
September 3: In Basrah, Iraq, at least 15 people, among them three British soldiers are killed in a suicide bomb attack on a Coalition check point.
September 8: A suicide bomber blows up a pickup truck packed with 1000 pounds of explosives outside a market in Baghdad, killing about 20 people and injuring more than 60 - most of them Iraqis.
September 11: Swedish Minister of Foreign Affairs Anna Lindh dies on the early morning of September 11 following a knife attack at the Nordiska Kompaniet department store in central Stockholm on the afternoon of September 10. Along with Scandinavian and other EU countries, President McCain sends his condolences.
September 12: Operation Imposing Law is initiated with an influx of Coalition troops throughout Iraq. There is a steep decline in violence during the first few days, but American Generals are more cautious about making judgments on its success early on, stating that the results will be seen over the course of months.
UN sanctions on Libya are lifted on September 12, 2003, after Libya fulfilled all remaining UNSCR requirements, including renunciation of terrorism, acceptance of responsibility for the actions of its officials, and payment of appropriate compensation to the victims' families.
September 19: U.S. Secretary of State Colin Powell attends a formal commemorative gathering held for Anna Lindh at Stockholm City Hall.
September 26: As another suicide bomber kills 11 U.S. soldiers along with 16 civilians in Baghdad, and a suicide bomber kills 17 civilians in Baghdad, and five British and three Danish soldiers are killed in Basrah by insurgents, McCain's approval ratings plummet to 60%. He urges the American people to be patient, saying that the newly implemented strategy will succeed, but it will get worse before it gets better.
October 10: McCain's approval rating falls to 56%, the lowest result yet of his presidency. Meanwhile, the earliest signs of the success of the counter-insurgency strategy is seen as attacks fall with 49%.
October 20 - October 24: President McCain makes his first trip to Iraq after the implementation of the counter-insurgency strategy, where he talks with General Petraeus and other high-ranking military commanders and Iraqi politicians.
October 29: McCain's approval rating increase from 56% in early October to 61% percent in late October. The rise is attributed to McCain's swift actions with the implementation of his counter-insurgency strategy and the success of General Petraeus leadership of the MNF-I.
November 7: Hamid Karzai is elected the first President of Afghanistan by a wide margin.
November 20: The Coalition forces continues the counter-insurgency strategy. As both the numbers of civilian and Coalition casualties, along with a decrease in insurgent attacks, McCain's approval rating increase from 61% in late October to 66% percent.
December 10: Russia agrees to help NATO in Afghanistan and Iraq.
December 13: Saddam Hussein is captured in ad-Dawr (north of Tikriti) by U.S. troops of the 1st Brigade Combat Team of the 4th Infantry Division. He was found hiding in a spider hole along with two others. President McCain sees his approval ratings sore to 76%.
December 20: Libya announces its intention to rid itself of WMD and MTCR-class missile programs. In the following months they cooperate with the U.S., the U.K., the International Atomic Energy Agency, and the Organization for the Prohibition of Chemical Weapons toward these objectives. Libya also signs the IAEA Additional Protocol and has become a State Party to the Chemical Weapons Convention.
2004
January 5 - January 21: In Operation Red Wing, U.S. and ANA forces engage and defeats Taliban insurgents north of Jalalabad, resulting in around 60 insurgents killed compared to seven on the Coalition's side.
January 19: Former U.S. Governor Howard Dean of Vermont wins the Iowa Democratic caucus.
February 8: U.S. diplomatic personnel reopen the U.S. Interest Section in Tripoli.
February 17: Howard Dean secures the Democratic nomination after sweeping wins on Super Tuesday. While NATO continue fighting the Taliban and al Qaeda in Afghanistan, a new law is passed by the Afghan parliament that bans opium trade and replaces opium with wheat grain and silk farms. Rug and Tea manufacturing soon begins to boom in Afghanistan and the banning of opium is considered a major victory in the war on drugs.
March 11: A simultaneous terrorist attack with bombs in four rush-hour trains in Madrid kills 191 people. President McCain calls Spanish Prime Minister Aznar and King Juan Carlos I to offer his condolences to the Spanish people and condemns the vicious attack of terrorism. He expresses that "our country's deepest sympathies toward those who lost their life ... I told them we weep with the families. We stand strong with the people of Spain, and we will provide all possible assistance to Spain in pursuing those responsible for the attacks." Later he attends a memorial service at the Spanish ambassador's residence in Washington and gave an interview with a Spanish television network the following day.
March 28: President McCain signs a bill that comprehensively reforms immigration to the United States by building a border fence between the United States and Mexico. The bill also deports all illegal immigrant criminals but allows amnesty for all other illegal immigrants as long as they pay a fine, learn English and "move to the back of the immigration waiting line". Meanwhile, in politics, pundits say Dean has little or no chance at beating the highly popular president McCain.
April 2: Howard Dean names senator Evan Bayh of Indiana as his running mate but faces the challenge of having little material to attack president McCain on. Dean is also criticized for picking such an in-experienced running mate to take on Vice president Bush with. In Iraq the Iraqi military and police begins to bring order to the streets of Baghdad and Basrah. A Shia cleric named Muqtada Al Sadr says he is interested in negotiating with U.S forces.
May 6 - May 23: President McCain makes an oversea trip to the Middle East and Central Asia, including Israel, the Palestinian territories and U.S. and other Coalition forces in Iraq and Afghanistan.
May 8 – May 12: President McCain makes his first stop on his Middle East tour in Afghanistan. Here he applauds the work of the Coalition forces, and looks forward to the deployment of ISAF in southern Afghanistan. At a meeting between President McCain, Afghan President Hamid Karzai and top NATO and ANA military commanders in Kabul, Taliban insurgents attack using automatic weapons and rocket-propelled grenades. Both McCain and Karzai are safe, but at least three people is killed, including two Afghan presidential Guards and a ten-year-old girl, and ten injured. McCain comments that this is a sign to the international community that international terrorism is not defeated, and that Afghanistan will remain a top priority in his next term as president.
May 14 – May 18: President McCain makes his trip in the Middle East to Iraq, where he applauds the progress of the counterinsurgency, and in particular General David Petraeus' leadership and handling of it. He also says he looks forward to the Iraqi elections due January 2005.
May 20: The Coalition forces in Iraq transfers sovereignty to an Iraqi Interim Government.
May 20 – May 22: President McCain visits Israel and the Palestinian territories, meeting with Israeli and Palestinian Prime Ministers Ariel Sharon and Mahmoud Abbas. Here he endorsed Sharon and Abbas' dialogs, which included Israel's disengagement from Gaza and part of the West Bank and the end of terrorist attacks on Israelis by Fatah. At the same time he denounced Palestine Liberation Organization leader Yasser Arafat for alleged continued support of violence and militant groups and the terrorist organisation Hamas.
June 5: Ronald Reagan, the 40th President of the United States, dies at his home in Bel-Air, California at the age of 93. A six-day state funeral follows after his death in which President John McCain and his wife Cindy attends.
June 25: Operation Imposing Law comes to an end. With security re-established and the insurgency crushed, President McCain announces that the Iraqi security and military forces will take over responsibility from January 2005, opening for the possibility to initiate the first phase of military withdrawal from Iraq at the beginning of the following year and focus on taking out the remnants of Taliban and al Qaeda.
June 28: The U.S. Interest Section in Tripoli, Libya was upgraded to a U.S. Liaison Office. In Canadian election the Liberal Party, led by Paul Martin, is reduced to a weak minority government, after holding a majority since November 1993.
June 30: Preliminary hearings begin in Iraq in the trial of former president Saddam Hussein, for war crimes and crimes against humanity.
July 26 – July 29: The Democratic National Convention in Boston, Massachusetts nominates John Howard Dean for U.S. President and Evan Bayh for Vice President.
August 15: John McCain signs an executive order allowing U.S. aircraft to strike against a former al Qaeda weapons stockpile in Pakistan that may be sold to terrorists. The operation is a success that involves zero civilian casualties.
August 30 – September 2: President McCain and Vice President George W. Bush are renominated at the Republican National Convention in New York City. In a crowded floor speech Vice President Bush says Dean and Bayh's policies would wreck the prosperity of the last four years.
September 1: Chechen terrorists take between 1000 and 1500 people hostage, mostly children, in a school in the Beslan school hostage crisis. The hostage-takers demand the release of Chechen terrorists imprisoned in neighbouring Ingushetia and the independence of Chechnya from Russia. In a speech to the UN General Assembly President McCain says of the terrorists at Beslan that they: "measure their success - in the death of the innocent, and in the pain of grieving families." And further in a later speech calls it "the terrorist massacre of schoolchildren in Beslan."
September 3: Russian forces end the siege at a school in Beslan, Northern Ossetia. At least 335 people (among which are 32 of the approximately 40 hostage-takers) are killed and at least 400 people injured. The U.S. Government sends Russia their condolences and says that they would pass on information of Chechen or al Qaeda activity to Russia regarding possible terrorist attacks against Russia.
September 15: A global poll with respondents from 28 countries shows that McCain has an approval rating world wide of about 60% due to the success of the wars in Iraq and Afghanistan. In the United States his average approval rating is 76%. The Michael Moore film Fahrenheit 9/11 is released. It receives rave reviews.
September 20: President McCain signs an Executive Order terminating the applicability of the Iran-Libya Sanctions Act to Libya and terminating the national emergency with respect to Libya. This ends IEEPA-based economic sanctions.
September 30: At the first presidential debate held at the University of Miami, Howard Dean is embarrassed by president McCain who cites Dean's lack of foreign policy experience and knowledge about the Middle East.
October 1: A newly released poll shows McCain leading Dean nationally 54%-40% with 6% undecided.
October 7: McCain signs a bill that revolutionizes health care by lowering costs substantially and by making Health Care companies compete for lower prices and higher customer satisfaction. McCain sees his lead over Dean solidified.
October 13: During the final presidential debate at Arizona State University, Dean is pounded by the media for suggesting that president McCain is a war monger. McCain responds by saying "After 9/11 we could have gone to war or just rolled over and hidden from the threats that faced us. I assume you would have chosen the latter, Governor Dean." This comment effectively sinks deans chances for the presidency.
October 29: A video with Ayman al-Zawahiri airs on Arabic TV, in which he threatens terrorist attacks on the United States, and taunts U.S. President John McCain over the September 11 terrorist attacks.
November 2: On election night the McCain/Bush Ticket defeats Dean/Bayh in a landslide. McCain/Bush gets 411 electoral votes and 56% of the popular vote to Dean/Bayh's 116 electoral votes and 43% of the popular vote. In his acceptance speech McCain says Americans have voted for four more years of prosperity and safety for the American people.
2005
January 20: President McCain and Vice President Bush are sworn in for their second term. In his state of the union address McCain says that he will work with other democracies around the world to help officially create the League of Democracies and says America will allow the construction of a pipeline to help the Western states using water and natural gas from Canada.
January 30: Iraq holds its first free elections, surprisingly there is little violence and voter turnout is high across the country. The National Assembly begins to construct a new Constitution. The majority Shia population controls the new assembly.
February 5: President McCain announces that most U.S. troops in Iraq will be withdrawn within 20 months.
February 8: Danish parliamentary election, 2005: The center-right coalition (VK-regeringen) led by Prime Minister Anders Fogh Rasmussen and his Liberal Party (Venstre) wins another term.
February 9: The U.S. starts formal negotiations with Poland and Czech Republic concerning construction of missile shield installations in those countries for a Ground-Based Midcourse Defense System. According to press reports the government of the Czech Republic agreed (while 37% Czechs disagree and about 35% support it) to host a missile defense radar on its territory while a base of missile interceptors is supposed to be built in Poland (52% supports it while 43% is against it). The objective is reportedly to protect most of Europe from long-range missile strikes from Iran. The ballistic missile defence system currently being considered is primarily designed to protect the United States. More than 130,000 Czechs signed petition for referendum about the base, which is by far the largest citizen initiative (Ne základnám - No to Bases) since the Velvet Revolution.
March 30: The Treaty of Geneva officially creates the Concert of Democracies. The League is established to ensure the protection of freedom, liberty and the protection of democracies all around the world.
April 5: Russia threatens to place short-range nuclear missiles on the Russia's border with NATO if the United States refuses to abandon plans to deploy ten interceptor missiles and a radar in Poland and the Czech Republic. The same day, President Putin warns of a new Cold War if the Americans deploys the shield in Central Europe. Putin also says that Russia is prepared to abandon its obligations under a Nuclear Forces Treaty of 1987 with the United States.
April 8: President McCain and his wife Cindy, along with former Presidents Bill Clinton and George H. W. Bush attends the funeral of Pope John Paul II in Rome.
April 15: President McCain signs the American Education Advancement Act which completely changes the American education system by allowing more spending towards math and science.
May 1: The United States informs Japan that North Korea may have launched another test missile towards the Sea of Japan. The report is now said to be confirmed. The League of Democracies begins negotiations with North Korea.
May 5: United Kingdom general election, 2005: The Labour Party is re-elected, maintaining their majority.
May 20: Nouri Kamel al-Maliki is named the first Prime Minister of Iraq by the National Assembly.
May 12 - May 26: President McCain makes a trip to European countries, visiting the United Kingdom, France, Germany, Denmark, Poland, the Czech Republic, Slovakia and Georgia. On May 19, President McCain and Secretary of State Colin Powell and Poland's Foreign Minister Radoslaw Sikorski signs the "Agreement Between the Government of the United States of America and the Government of the Republic of Poland Concerning the Deployment of Ground-Based Ballistic Missile Defense Interceptors in the Territory of the Republic of Poland" in Warsaw. On May 21 President McCain and Secretary of State Colin Powell and Czech Foreign Minister Karel Schwarzenberg signs in Prague the "Agreement Between the United States and the Czech Republic on Establishing a NATO Ballistic Missile Defense Radar Site in the Czech Republic".
May 24: A hand grenade ostensibly thrown by Vladimir Arutinian lands about 100 feet (30 m) from United States President McCain while he is giving a speech to a crowd in Tbilisi, Georgia, but malfunctions and does not detonate. Georgian President Mikheil Saakashvilli is also present.
June: CIA and the British Secret Intelligence Service (MI6) uncover evidence that indicate that a terrorist attack against the United Kingdom might occur within the next months.
U.S. Secretary of State Colin Powell says that the International Atomic Energy Agency (IAEA) head Mohamed El Baradei should either toughen his stance on Iran or fail to be chosen for a third term as IAEA head.
July 1: Sandra Day O'Connor announces her retirement from the Supreme Court. President McCain, a few days later, announces that he will nominate Janice Rogers Brown, a judge on the United States Court of Appeals for the D.C Circuit, to fill the vacancy.
July 7: Several terrorist suspects are arrested in London moments before setting off explosives on a series of buses and trains throughout the city. The new counter-terrorism techniques are credited with the prevention of a catastrophe. As British Prime Minister Tony Blair's approval ratings rise, McCain praises the work of the counter-terrorist forces, which "prevented a cowardly terrorist attack aimed at civilians, and which would have cost hundreds of civilian lives."
August 8: President McCain announces that 96,000 U.S. troops have left Iraq. The Iraqi military and security forces now also has the control of five of Iraq's 18 provinces.
August 14: Iran removes seals on its uranium enrichment equipment in Isfahan, which UK officials termed a "breach of the Paris Agreement". Several days later, the EU-3 offers Iran a package in return for permanent cessation of enrichment, which included benefits in the political, trade and nuclear fields, as well as long-term supplies of nuclear materials and assurances of non-aggression by the EU. Mohammad Saeedi, the deputy head of Iran's atomic energy organization rejected the offer, terming it "very insulting and humiliating" and other independent analysts characterized the EU offer as an "empty box".
August 28: Hurricane Katrina smashes into New Orleans, Louisiana. Despite offers of free evacuation to anyone who needs it, many decided to stay in the city. To the surprise of most, the levee system doesn't hold, and large portions of the city are flooded. President McCain cancels his plans and oversees the aid and evacuation of the remaining citizens. He orders FEMA and the military to begin rescue efforts in New Orleans. Property damage is staggering, and many wonder if the city will ever recover, or if it's worth it to rebuild, but injuries and deaths are lower than they could have been.
September 3: Chief Justice William Rehnquist dies. As a result, President McCain has two simultaneou Supreme Court vacancies. He decides to make history by withdrawing Janice Rogers Brown's nomination as Associate Justice and instead re-nominates her for the position of Chief Justice instead. To fill the vacancy of O'Connor's seat, McCain nominates another judge from the D.C Circuit Court of Appeals: Miguel Estrada, who, if confirmed, will be the court's first Latino Justice.
September 5: Congress signs the New Orleans reconstruction act.
September 15: British force withdraws the half of its forces in Iraq (23,000 of 46,000), and hands over Basrah to the Iraqi security forces. The other Coalition allies Denmark, Norway, Australia, Albania, Poland, the Czech Republic, Georgia, South Korea, Romania, Japan, Latvia, Lithuania, Estonia and Ukraine prepares their withdrawal from Iraq due the beginning of next year.
September 18: Angela Merkel of the Christian Democratic Union and Gerhard Schröder of the Social Democratic Party both claim victory in the German federal election.
September 19: North Korea agrees to stop building nuclear weapons in exchange for aid and cooperation.
September 29: The Senate votes 59-41 to confirm Janice Rogers Brown as the first female Chief Justice of the United States Supreme Court, as well as the first African-American woman to sit on the Supreme Court. Her confirmation, as well as Estrada's, tilts the Court in a more conservative direction.
September 30: Controversial drawings of Muhammad are printed in the Danish newspaper Jyllands-Posten.
President McCain signs the Darfur Peace and Accountability Act.
October 26: Iranian president Mahmoud Ahmadinejad calls for Israel to be "wiped off the map" at "World Without Zionism" conference in Tehran, Iran, and condemns the peace process.
October 27: Danish police arrests four people in Glostrup on charges of terrorism, in connection to the arrests in Bosnia of Abdulkadir Cesur and Mirsad Bektasevic (AKA Maximus). All four had been under surveillance for a while.
November 21: The Prime Minister of Israel, Ariel Sharon, announces his resignation from Likud and his intention to form a new party devoted to peace in the region, Kadima, and asks the President of Israel to call a general election.
December 5: During the Meeting of NATO Foreign Ministers at the NATO Headquarters in Brussels, Belgium, all members of the NATO alliance agrees on an military intervention in Sudan under the mandate of the newly-created Concert of Democracies if the United Nation should fail in their effort of introducing a ceasefire in the Darfur conflict. The date for such an intervention was set to the end of March or beginning of April 2006.
December 8: President McCain announces that 180,000 U.S. troops have left Iraq. The Iraqi military and security forces now also has the control of 13 of Iraq's 18 provinces.
December 18: Israeli Prime Minister Ariel Sharon is hospitalized after suffering a minor stroke. He is released from the hospital two days later.
2006
January 31: In his state of the union address president McCain says that the mission in Iraq and the withdrawal of U.S forces has been a success, and that all but a few thousand support troops remain in Iraq, which he plans to keep there for a longer period of time. President McCain also calls for further NATO support for the ISAF mission in Afghanistan and the blockading and sanctioning of Sudan by the Concert of Democracies due to the atrocities occurring in Darfur.
January 1-27: The NATO International Security Assistance Force (ISAF) starts to replace the U.S. troops of Operation Enduring Freedom in southern Afghanistan. The British 16th Air Assault Brigade (later reinforced by Royal Marines) forms the core of the force in Southern Afghanistan, along with troops and helicopters from Australia, Canada and the Netherlands. The initial force consisted of roughly 3300 British, 2300 Canadian, 1963 from the Netherlands, 290 from Denmark, 300 from Australia, and 150 from Estonia. Air support was provided by U.S., British, Dutch, Norwegian and French combat aircraft and helicopters.
January 31: Miguel Estrada is confirmed to the Supreme Court by a vote of 62-38, making him the first Latino-American Justice.
February 2: For the first time since President Dwight D. Eisenhower, the President of the United States has children in the active-duty military as President McCain's son James "Jimmy" McCain serving with the U.S. Marines is deployed with in Afghanistan, despite advises not to do so. The facts surrounding his deployment is kept secret.
February 3: As several European and American newspapers publish the caricatures of the prophet Muhammad, a consumer boycott is organised in Saudi Arabia, Kuwait, and other Middle East countries. For weeks, numerous demonstrations and other protests against the cartoons took place worldwide. Rumours spread via SMS and word-of-mouth. Altogether, at least 139 people were killed in protests, most due to police firing on the crowds, mainly in Nigeria, Libya, Pakistan and Afghanistan.
February 4: The Danish and Norwegian embassies in Syria are set ablaze in response to the printing of the Muhammad cartoons in Danish and Norwegian newspapers. No injuries are reported.
February 5: In Beirut, the Danish Consulate is set on fire, leaving one protester dead.
February 6 - February 7: In Tehran, the Danish and Norwegian embassies are attacked by angry protesters armed with stones and Molotov cocktails. President McCain condemns the attacks on the embassies.
February 8: Four people were killed and 22 injured in an attack on Norwegian ISAF soldiers at the NATO base in Maymana, Afghanistan.
February 10: In a discussion with Danish Prime Minister Anders Fogh Rasmussen at the 2006 COD summit, McCain and Powell comments the bad timing of the publishing of the cartoons shortly before the operation against Sudan, but agree that he has done nothing wrong as the head of government of a democratic nation with freedom of speech and a press freedom.
March 24: Operation Infinite Justice is initiated when U.S. aircraft and cruise missiles begin bombing the Sudanese capital of Khartoum.
March 29: In the Battle of Lashkagar a significant number of Taliban militants mounts a frontal assault on a United States-led forward operating base in Helmand province near the town of Lashkagar using small arms fire, rocket-propelled grenades, and mortars. Coalition forces repelled the assault in the end, killing 32 insurgents.
April 2: The Sudanese government after weeks of heavy bombing says it will accept League of Democracy enforcers into Darfur in exchange for a halt to the bombing and blockading of their country.
April 9: Israeli Prime Minister Ariel Sharon is removed from office after four months in a coma. He is followed by Ehud Olmert.
April 11: President of Iran Mahmoud Ahmadinejad confirms that Iran has successfully produced a few grams of low-grade enriched uranium.
April 20: Iran announces a uranium enrichment deal with Russia, involving a joint uranium enrichment firm on Russian soil; nine days later Iran announces that it will not move all activity to Russia, thus leading to a de-facto termination of the deal. The U.S. government criticizes the Russian government for signing the deal.
May 15 - July 31: Operation Mountain Thrust, the largest offensive since the fall of the Taliban in 2001, is initiated in Afghanistan, when 4300 U.S., 3300 British, 2200 Canadian, about 3500 Afghan soldiers and large air support is ordered to quell the ongoing Taliban insurgency in the south of the country. The operation is a success, with 1134 insurgents killed and 387 captured compared to 155 ISAF soldiers killed and 106 wounded.
June 3: In the daily edition of the New York Times a scandal involving McCain, senior White House officials and officials involved in the use of fuel from the U.S federal reserve is revealed. The article states the president an other senior officials within the executive branch used and sold fuel from the U.S strategic reserve to fund pet projects. Within a day Presidential approval plummets with the White House providing minimal information towards the course of their actions. Throughout the day their is a major media frenzy leading to massive protest throughout the country.
June 6: The Helmand Province campaign is initiated with the purpose of carrying out reconstruction and hearts and minds projects and eliminate the presence of al Qaeda and Taliban insurgents. For the operation, 6500 British, 5000 U.S., 600 Danish, 500 ANA, 300 Canadian, 200 Dutch and 100 Estonian soldiers are deployed, heavily supported by air cover.
July 5: North Korea test fires missiles, timed with the liftoff of Discovery, preceding the fireworks celebrations that night in America. These included two short-range Nodong-2 missiles, one Scud missile and up to two long-range Taepodong-2 missiles. The Taepodong-2 reportedly fails shortly after takeoff. President McCain was briefed on the activity around 5:40 PM EDT (21:40 UTC). He condemned the tests in the Oval Office on July 5, 2006, calling it "an act of provocation" which would impede the Six-party talks and further "complicate situation around North Korean nuclear program" as well as "isolating Korea". He also said that America and the League of Democracies would continue to encourage six-party talks, rather than be drawn into one-on-one negotiations with North Korea.
July 12: After weeks of tensions between Israel and the Lebanese terrorist organization Hezbollah, two Israeli soldiers are kidnapped and three are killed by Hezbollah in a cross-border raid near Zar'it-Shtula, Israel. In response, Israeli troops invades southern Lebanon. Hezbollah declares open war against Israel two days later. Within hours the League of Democracies pledges support to Israel while China, Russia and Syria condemn Israel's actions as "senseless aggression".
July 30: In an emergency session in the Concert of Democracies' headquarters in Geneva, Switzerland, the majority of the members (including the McCain administration) support Israel, while China, Russia and the Middle East call Israels actions "criminal and overly aggressive."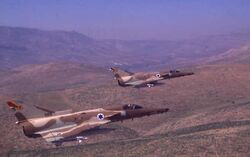 August 19: Hezbollah's leader Hassan Nasrallah is killed by Israeli forces in a gun fight outside Beirut, Lebanon.
September 17: Israel declares victory throughout Lebanon after the destruction of hundreds of Hezbollah rockets, the killing of 55% of Hezbollah's forces and the killing of Hezbollah's leader Hassan Nasrallah.
September 2 — September 17: Operation Medusa, the Canadian-led offensive by major elements of the International Security Assistance Force and Afghan National Army, ends in a Coalition victory, with the Coalition establishing government control over an area of Kandahar Province centered on the town of Panjwayi some 30 km west of Kandahar city.
September 5: Danish police arrests nine people (Two Iraqi brothers, one Kurd, five Palestinians and a Danish convert to Islam, of which six are Danish citizens) on charges of terrorism in the Vollsmose neighborhood of Odense. According to Danish police, the group had been under investigation for quite a while.
September 16, 2006 — January 15, 2007: In Operation Mountain Fury, the follow up operation to Operation Medusa, with the purpose of clearing the eastern provinces of Afghanistan from Taliban rebels, enabling reconstruction projects such as schools, health-care facilities, and courthouses to take place in the targeted provinces, is initiated by ISAF troops.
October 6: North Korea conducts its first underground nuclear test at a location approximately 42 km north of the eastern city of Kilchu. The test is a failure as it only yielded 0.55 KT, while the DPRK had informed China that it would be testing a 4 KT device. World reaction condemning the test was almost unanimous and the UN Security Council quickly imposed economic sanctions on the DPRK. International pressure, especially from China, compelled the DPRK to return to the stalled Six-Party Talks in February 2006. These talks resulted in a new agreement and direct talks with the U.S. and the Concert of Democracies.
October 19: On the 19th anniversary of the 1987 stock market crash, the Dow Jones Industrial Average closes above 12,000 for the first time gaining 19.05 points, or 0.16%, to 12,011.73.
November 2: Despite the Ambroffe and Folley Gate scandals Republicans retain a majority in the congress and senate.
November 5: Former Iraqi President Saddam Hussein and two of his senior allies are sentenced to death by hanging after an Iraqi court finds them guilty of crimes against humanity. These includes crimes committed against residents of Dujail in 1982, in which 148 people were killed and 339 others were tortured and illegally arrested following a failed assassination attempt against him, and the Al-Anfal military campaign against the Kurds of northern Iraq between 1986-1989, which resulted in the murder of 100,000 to 200,000 Kurds.
December 11: The Holocaust conference is opened in Tehran, Iran by Mahmoud Ahmadinejad. The United States and the Concert of Democracies condemn the conference.
December 19: Mullah Akhtar Mohammad Osmani, the top Taliban commander for all of their operations in southern Afghanistan, is killed in a NATO air strike targeting a car in a deserted area of Helmand province along with two other men.
December 30: Saddam Hussein is executed in Baghdad. A short-lived uprising among hardcore Ba'athists are suppressed by the Iraqi security forces and the remaining U.S. troops there.
2007
January 12-18: President McCain makes a six-day trip to Afghanistan, visiting Afghan President Hamid Karzai and ISAF forces.
January 14: Taliban insurgents armed with AK-47s, hand grenades and suicide belts attack the Serena Hotel in Kabul. A Norwegian delegation under Foreign Minister Jonas Gahr Støre resided at the hotel at the time of the attack. The attack claimed six lives, including Dagbladet journalist Carsten Thomassen. Six others were also injured.
President McCain, while in Kabul at the time of the attack, condemns the attack, saying that "I condemn in the strongest terms the terrorist attack on the Norwegian Foreign Minister and the other innocent people, and my thoughts goes to the relatives and and colleagues of Carsten Thomassen and the five other killed. It is a cowardly attack which emphasizes that the threat from Taliban is real and unpredictable, and that the focus of ISAF and the Afghan government is to eliminate Taliban and al Qaeda." Before leaving for ISAF forces in southern Afghanistan, he inspects the damages of the hotel and Foreign Minister Støre.
January 18: After a Democratic defeat in the mid-term election former first lady Hillary Rodham Clinton announces her candidacy for president of the United States.
January 27: Popular junior senator Barack Obama says he will not run for president until at least 2012 due to the fact that he has little experience as a senator.
February 18: A newly released and highly publicized poll released from 32 democratic nations (all of whom are part of the Concert of Democracies) shows that 56% of respondents thought that the League of Democracies was a better way to address the problems of the worlds developed and developing democracies compared with 34% who said the United Nations and 10% who were not sure.
April 6: McCain signs the U.S. Infrastructure Act of 2007, a plan to repair parts of the American infrastructure in danger of collapse within ten years.
April 16: 32 people are killed in the Virginia Tech massacre on the premises of Virginia Polytechnic Institute and State University in Blacksburg, Virginia. President McCain and his wife Cindy attends the convocation at Virginia Tech the day after the shootings. The McCain administration is urged by many to impose stricter gun control laws.
May 12 - 18: Operation Phantom Fury: A combined force of U.S. Army Rangers, U.S. Special Forces and Delta Force secures a ex-Soviet nuclear warhead during intense clashes with the remnants of the the Islamic Movement of Uzbekistan (IMU) outside the Uzbek town of Kara-Shuluk. They are followed by UN weapons inspectors to keep track of ex-Soviet weapons materials in the small Central Asian nation.
May 20 - September 7: Clashes in the Nahr al-Bared UNRWA Palestinian refugee camp near Tripoli, Lebanon between Fatah al-Islam, an Islamist militant organization, and the Lebanese Armed Forces (LAF) spark the 2007 Lebanon conflict. President McCain offers the Lebanese military equipment and humanitarian aid to combat the militants.
June 1 - 15: President McCain tours the European countries of Spain, France, Belgium, the United Kingdom, Norway, Denmark, Germany, Italy, Albania and Ukraine. The major issues is NATO and the Concert of Democracies, energy policies and Afghanistan. On June 12, McCain meets with Albanian Prime Minister Sali Berisha, becoming the first president to visit Albania, where NATO and Kosovo was the major issues.
While mostly well received by all countries, left-wing Anarchists protests is held in France, Germany, Norway and Denmark. In Albania he is greeted the most enthusiastically, and a huge image of the President now hangs in the middle of the capital city of Tirana flanked by Albanian and American flags.
July 15 - 22: President McCain makes his second trip in a year to Afghanistan, visiting ISAF forces in Afghanistan. He is criticized by some politicians for taking unnecessary risks by visiting front-line troops, but is warmly welcomed by both U.S., Coalition and even Afghan troops.
August 15: The Myanmar military junta removes subsidies on fuel causing a rapid and unannounced increase in prices. The government, which has a monopoly on fuel sales, raises prices from about $1.40 to $2.80 a gallon, and boosted the price of natural gas by about 500%. This result in massive anti-government protest over the following month.
September 6: "Operation Orchard": an Israeli airstrike occurred against a suspected nuclear site in Syria.
September 11: Operation Phoenix, named after President McCain's Secret Service codename, is initiated in eastern Afghanistan. The goal is to destroy al Qaeda and capture or kill Ayman al-Zawahiri. U.S., ANA, British and French troops participate in the operation.
September 26: First confirmed deaths resulting from the Myanmar military's crackdown on weeks long anti-government protests. Buddhist monks are arrested and Internet access is cut from the public. President McCain condemns the actions of the Myanmar junta in a White House press conference and announces new sanctions against the leaders of the regime and its financial backers. In an address to the U.N. General Assembly, he urges the UN to impose similar sanctions, and is joined by the members of the Concert of Democracies.
October 28: Ayman al-Zawahiri, the leader of al Qaeda, is killed by U.S. soldiers in the mountainous regions around Tora Bora during Operation Phoenix. Meanwhile, al Qaeda is reduced to around 95% of its former strength. The Taliban, however, continues the fight against the Coalition forces, promising that they will defeat "the Imperialist invaders and occupants in a sea of blood".
November 7: The Jokela school shooting occurs. Finnish youth Pekka-Eric Auvinen kills eight people and wounds one at the Jokela School Centre. President McCain offers his condolences. McCain says that the gun control problem needs an effective solution, but doesn't give any specific details surrounding this issue.
November 18: The Concert of Democracies sanctions Venezuela in response to human rights violations and suppression of the media throughout the increasingly socialist leaning nation.
December 27: Former Pakistani prime minister Benazir Bhutto is assassinated, and at least 20 others are killed by a bomb blast at an election rally in Rawalpindi. President McCain strongly condemns the assassination as a "cowardly act by murderous Islamist extremists," and encouraged Pakistan to "honor Benazir Bhutto's memory by continuing with the process of democracy and liberty for which she so bravely gave her life." He also praised Bhutto, noting that "she knew that her return to Pakistan earlier this year put her life at risk; yet she refused to let assassins and extremists opposing the democratic ideals she stood for to dictate the course of her country."
December 31: Over 200 people are killed in Kenya due to riots over the results of the presidential election which occurred on December 27. The U.S. government and Concert of Democracies state their concerns of the election result in what was seen as the democratic example of eastern Africa and deteriorating domestic situation.
2008
January 4-27: Hillary Clinton wins the Iowa Caucasus and the New Hampshire, Michigan, Florida and Nevada primaries while John Edwards wins the South Carolina primary.
January 28: In his state of the Union address president McCain says that while the complete destruction of al Qaeda in Afghanistan is imminent, the Taliban is still not destroyed, and that the United States and other members of ISAF will continue their mission until at least 2009, after which the new President would determine the future of the operation. He also calls on the Concert of Democracies to get tough on Syria and Iran.
January 30: As the last elements of al Qaeda in Afghanistan is eliminated in fighting with U.S. forces near the Afghan-Pakistani border, Operation Enduring Liberty is concluded, and all U.S. forces are put under ISAF command to combat Taliban militants and rebuild Afghanistan.
February: Hillary Clinton declares victory after sweeping Super Tuesday victories. Two weeks later Edwards drops out of the race and endorses Clinton. Meanwhile, in Venezuela riots occur against unpopular leader Hugo Chavéz who is beginning to lose support among the people after trying to gain unconstitutional powers in response to sanctions by the League of Democracies.
February 17: Kosovo formally declares independence from Serbia, with support from some countries but opposition from others.
February 19: Fidel Castro announces his resignation as President of Cuba, effective on February 24.
February 24: Raúl Castro is unanimously elected as President of Cuba by the National Assembly.
March 1: An incursion of the Colombian military into Ecuadorian territory across the Putumayo River, results in the death of over 20 people, including Raúl Reyes (nom-de-guerre of Luis Edgar Devia Silva) and 16 other members of the Revolutionary Armed Forces of Colombia (FARC), who were sleeping in a clandestine encampment. Colombia's violation of Ecuadorian sovereignty, which was rejected as illegal by Ecuador and multiple countries throughout the region as well as by other analysts, leads to increased tensions between Colombia and Ecuador, as well as the movement of Venezuelan and Ecuadorian troops to their respective borders.
March 2: During a White House press conference, President McCain welcomed the news of the successful operation by the Colombian Army and supported Colombia's position, while criticizing Chávez and asked for a diplomatic solution while offering assistance to Colombia in case of military action and urged Congress for FTA approval.
March 2-7: Along with diplomatic repercussions such as the cutting off of diplomatic ties between the three countries, Venezuela and Ecuador orders troops to their borders with Colombia. Venezuelan president Hugo Chávez order ten battalions towards the border, warning that a Colombian incursion into Venezuela would be a "cause for war". Chávez announces that he had put the Venezuelan military on high alert, pledging Venezuela would "back Ecuador in whatever circumstance". The Colombian government announces it would not mobilize any troops in response to Venezuela's troop movements. However, he accepts an offer by Secretary of State Powell which would include military support in case of armed conflict between Colombia and Venezuela.
March 7: At a Rio Group summit held in Santo Domingo, Dominican Republic, Colombian President Álvaro Uribe, Ecuadorian President Rafael Correa, Venezuelan President Hugo Chávez and Nicaraguan President Daniel Ortega publicly shook hands in a show of good will. The handshakes, broadcast live throughout Latin America, appeared to be a signal that a week of military buildups and diplomatic repercussions was over. After the handshakes, Ortega said he would re-establish diplomatic ties with Colombia.
May 17-19: Vice President George W. Bush chooses Secretary of State Colin Powell as his running mate. Two days later Clinton chooses John Edwards as her running mate in response.
June 2: A car bomb explodes outside the Danish embassy in Islamabad, Pakistan, killing at least five. President McCain condemns the attack, saying that "We condemn this terrorist act. This is a tragic reminder of how far the bad people will go to prevent the spread of freedom."
June 30 - July 8: President McCain tours Central and South America, visiting Mexico, Colombia, Brazil, Chile and Argentina.
July 2: During Operation Jacque, former Colombian presidential candidate Íngrid Betancourt and 14 other hostages are rescued from FARC by Colombian security forces. President McCain praises and congratulates Colombian President Álvaro Uribe, saying: "This is great news, and now we will renew our efforts to free all of the others, innocent people who are unlawfully being held hostage."
July 12: President McCain signs the Puerto Rico Admission Act, which would recognize Puerto Rico as the 51st U.S. state on July 4, 2009 if accepted in a plebiscite by the people of Puerto Rico and in the U.S. Congress.
July 15: Operation Eagle's Eye is launched. 4000 Marines from the 2nd Marine Expeditionary Brigade as well as 650 Afghan troops are involved, supported by NATO planes, take part in the first major US-led offensive under ISAF command in Helmand province in southern Afghanistan.
July 20: In a daring move, President McCain makes an unannounced tree-day visit to the U.S. soldiers of the 2nd Marine Expeditionary Brigade as well as the British, Danish and Canadian ISAF forces in Helmand province in southern Afghanistan. While welcomed by the U.S. and other ISAF soldiers in Helmand, he is criticized by Democrats of foolhardiness.
July 22: While visiting U.S. soldiers of the 2nd Battalion, 8th Marines in Garmsir in Helmand province, McCain and the U.S. soldiers are assaulted by Taliban insurgents. While McCain is evacuated, the U.S. forces fights off the insurgents, and after a five-hour battle the Taliban insurgents are forced to retreat. The news of the assault during McCain's visit receives massive media attention, and while he was praised for visiting the forward front line to meet with U.S. soldiers, Democrats and some Republicans criticize him for extreme foolhardiness.
August 8: The 2008 South Ossetia war begins as Georgia and Russia launch a major offensive inside the separatist region of South Ossetia after days of border skirmishes between the two sides. President McCain calls Russia's actions unacceptable and calls on the UN and Consert of Democracies' to action against Russia.
At GMT 4 AM an emergency session of the UN Security Council was held to discuss the situation. The session was requested by Russia. The session failed to reach an agreement that would have called on Georgia and the separatists to immediately halt all fighting, but expressed its concern over the renewed conflict.
August 8: The 2008 Olympic Games officially open in Beijing. The traditional calling of of athletes by nation is noticeably short with the absence of many members of the Concert of Democracies and several other countries absent.
August 10: After another failed attempt on reaching an agreement in the UN Security Council, the Concert of Democracies and NATO votes to condemn Russia's actions and present an ultimatum to Russia: Withdraw to the positions before the conflict, or the League of Democracies and NATO would deploy troops in Georgia.
Meanwhile, the European Union and the United States expresses a willingness to send a joint delegation to try and negotiate a ceasefire, but this is ruled out by Russia, and informs that they would rule out peace talks with Georgia until the latter withdrew from South Ossetia and signed a legally binding pact renouncing the use of force against South Ossetia and Abkhazia.
August 12: Russian President Medvedev says that he had ordered an end to military operations in Georgia, saying that "the operation has achieved its goal, security for peacekeepers and civilians has been restored. The aggressor was punished, suffering huge losses." Later on the same day, he met the President-in-Office of the European Union, French President Nicolas Sarkozy, and approved a six-point peace plan. Late that night Georgian President Saakashvili agreed to the text.
August 25-28: Hillary Clinton is made the Democratic Nominee and John Edwards is made the democratic vice presidential nominee at the Democratic National Convention in Denver, Colorado. The entire Democratic Party is shocked when it is learned that Edwards had an extramarital affair during the campaign and thus the Democrats suffer a 8% drop in the polls as a result.
September 4: After much hard thought Clinton asks Edwards to leave the Democratic ticket, Edwards accepts and is replaced by Senator Joseph Biden of Delaware. The sudden decision does slow down the downturn in the polls with a rise of 2%, but doesn't rise much more as the Democratic ticket is seen as indecisive.
September 26: The first presidential debate between Bush and Clinton occurs the two candidates debate both foreign policy an domestic issues.
September 29: A plebiscite is held asking Puerto Ricans to vote on accepting the statehood bill. Puerto Rico voted 79% in favor of joining the Union.
October 12: The highly anticipated vice presidential debate takes place between Powell and Biden the two candidates debate both domestic and foreign issues.
October 15: The 2008 Afghan presidential election takes place.
October 17: The Oliver Stone directed film Mac about the life of president McCain is released. It receives mixed reviews.
November 4: Vice President George W. Bush and his running mate Colin Powell defeat Hillary Clinton and her running mate Joe Biden with 305 electoral votes to 233. Despite their defeat in the race for the presidency Democrats manage to create a majority in the House of Representatives. Republicans maintain control of the Senate.
November 25: Greenland holds a referendum for increased autonomy from Denmark. The vote is over 75% in favor.
November 26: Terrorists in Mumbai, India attack and kill 157 civilians and wound 284.
November 28: In a major diplomatic development the European Union officially enacts the Treaty of Lisbon throughout all twenty-seven member states, taking effect on January 1, 2009.
December 4: In a widely discussed opinion poll Senator Barack Obama of Illinois scores highest among who registered Democrats would like to nominate in 2012. Joe Biden makes a strong second place with surprisingly enough Hillary Clinton in third.
December 6: On his last trip to Afghanistan as president, President McCain meet with Afghan President Hamid Karzai, saying that while the ISAF operation has been a success so far, the Taliban is still strong, and that the at least next two years would be decisive. He also makes his last visit to U.S. forces in Afghanistan.
December 10: The Concert of Democracies officially recognizes the abbreviation COD as a name for itself.
December 14: President McCain signs a bill that makes wireless internet free to all Americans.
December 16: The U.S. government, Congress decides that Puerto Rico is to be proclaimed as the 51st State on July 4, 2009.
December 22: President-elect Bush announces some of his cabinet member choices. Among them will Secretary of Defense Robert Gates in the McCain administration continue to serve as Secretary of Defense, Chuck Hagel will nominated as Secretary of Veterans Affairs and Retired General James L. Jones is nominated as National Security Advisor.
December 27: Israel initiates a series of airstrikes followed by an invasion in the Gaza Strip, killing at least 460 (including at least 75 civilians) and wounding over 2700. President McCain gave the blame for the conflict on the terrorist organisation Hamas, reasserting the United States' support of Israel's right to protect itself. He also expressed concern for the people of Gaza and pledged millions of dollars of aid to the U.N. to help, and urged Israel to take additional measures to avoid civilian casualties.
2009
January 1: The treaty of Lisbon officially takes effect throughout the European Union.
January 3: After a week long aerial offensive, Israel launches a ground invasion of Gaza.
January 7: Russia shuts off all gas supplies to Europe through Ukraine. Prime Minister Vladimir Putin publicly endorses the move and urges that international observers be brought into the energy dispute. Both President McCain and President-Elect Bush comment on the situation McCain states "The current situation is worrying. Until we know further details, we urge both parties to come to an agreement immediately, and that the European Union dispatches observers to make sure that the flow of natural gas to Eastern Europe can continue."
January 12: Embattled Illinois Governor Rod Blagojevich is impeached by the Illinois state senate.
January 15: US Airways Flight 1549, en route to Charlotte/Douglas International Airport from New York's LaGuardia Airport, ditches in the Hudson River off Manhattan. All 155 passengers and crew are evacuated and taken to safety. The plane was apparently brought down by a flock of Canada Geese. The flight crew, particularly Captain Sullenberger, is widely praised for their actions during the incident, and receives congratulatory telephone calls from both President McCain and President-elect Bush. President McCain says he was "inspired by the skill and heroism of the flight crew," and he also praised the emergency responders and volunteers.
January 17: Israel declares a unilateral cease-fire against Hamas militants and put an end to attacks after 22 days of violence in Gaza.
January 20: George W. Bush is sworn in as the 44th President of the United States of America. Colin Powell becomes the first African American Vice President of the United States. John McCain leaves office very popular with a 74% approval rating and is regarded by the American people as one of the greatest and most successful presidents in history.
January 25: President Bush calls for a massive tax cut to stimulate the U.S. economy. Although the American people overwhelminglly support Bush's plan he faces stiff oppostion from House Speaker Nancy Pelosi and most Democrats.
January 29: Illinois governor Rod Blagojevich is officially removed from office. He is immediately replaced by the lieutenant governor Patrick Quinn.
January 30: The situation in Zimbabwe deteriorates. Inflation is at 231,000,000 %, and the unemployment rate is at 94%. There is excess of 60,0000 reported cases of cholera, of whom over 3000 died. Despite pressure from SADC, the EU and COD to organize a Coalition cabinet consisting of ZANU-PF and MDC, President Robert Mugabe says that he will organize a cabinet consisting of his own party (ZANU-PF) with or without support from Tsvangirai.
February 1: The international community demands that the UN acts to stop further spreading of Cholera in Zimbabwe. Kenyan Prime Minister Raila Odinga condemns Mugabe, saying that his government is responsible for not taking any actions in preventing the outbreak, while Reverend Desmond Tutu says that he will support a military intervention should the UN or the Zimbabwean government itself fail to act. The Zimbabwean government declares the outbreak a national emergency and requests international aid, but announces that they will form a cabinet without Tsvangirai's MDC Party, and that they will solve the crisis themselves.
February 15: John McCain assumes his post as Secretary General of the Concert of Democracies.
February 18: A newly released and highly publicized poll in The Economist magazine shows that the United nations is no longer preferred as the method of solving international issues. It instead trails the Concert of Democracies.
February 21: President Bush is reported to have contracted some kind of sickness by several major news networks. The White House denies it is anything that is serious.
February 23: Despite constant reports in the media the White House continues to deny that their is anything seriously wrong with President Bush's health. The White House releases a brief statement saying "The President is fine and is suffering from no serious illnesses at the moment." President Bush is seen leaving Walter Reed medical center by a cameraman from ABC news later that day.
February 28: Following pressure from the African Union, the COD and the United States and the United Kingdom, Mugabe agrees to a power sharing deal with Tsvangirai, including signing the end the violent political crisis. As provided, Robert Mugabe remains as the president, Morgan Tsvangirai becomes prime minister, the MDC controls the police, Mugabe's Zanu (PF) commands the Army, and Arthur Mutambara becomes deputy prime minister.
March 5, 2009: Tsvangirai announces that he will do as the leaders across Africa have insisted and join a coalition government as prime minister with his nemesis, President Robert Mugabe. March 6, 2009 Tsvangirai is sworn in as the Prime Minister of Zimbabwe. However, the political and the humanitarian situation deteriorates, and following the swearing-in of the unity government, his announced nominee for deputy agriculture minister, Roy Bennett, is arrested and charged with treason. Tsvangirai's government has exhibited little ability to rescind the charges. Furthermore, farmland invasions by the war veterans have continued, with Mugabe maintaining the land reform policy despite the protests of the opposition.
March 11-12: On 11 March 2009, Tsvangirai is injured and his wife, Susan Tsvangirai, are killed in a car accident near Harare the driver of the lorry with which Tsvangirai's car collides was allegedly asleep at the wheel, and the MDC-T states that there is no outstanding evidence of foul play in the accident. The truck belonged to the United States Agency for International Development (USAID). According to news reports, Tsvangirai is hospitalized with minor head and neck injuries. The next day, MDC officials disclose that Tsvangirai believes the truck driver "deliberately" drove toward his car, and Tom McDonald, the former United States Ambassador to Zimbabwe, suggestes that Robert Mugabe was responsible, bringing up several past unexplained "accidents" in which opposition figures in Zimbabwe were killed on the road. The MDC is reportedly to commission its own private investigation of the wreck. However, following the crash ZANU-PF members again begin assaulting members of the MDC, and reports indicate that in the following days, 17 MDC members have been killed.
March 13: Confirming previous reports, Prime Minister Tsvangirai says that he believes foul play was the cause of the collision. Following second assassination attempt he is evacuated to South Africa, where he condemns the Mugabe regime, and calls for international pressure to force him from power. COD Secretary-General John McCain followed up on Tsvangirai's request and urged the UN Security Council to vote in favor of increased sanction or, in a worst-case scenario, a military solution to remove Mugabe from power.
March 15: During a UN Security Council meeting, Russia and China vote against sanctions or military intervention in Zimbabwe. McCain states that "once again the Russians and the Chinese are unwilling to show their solidarity with the Zimbabwean people. We will on a meeting on Wednesday decide whether or not to intervene in Zimbabwe. I sincerely urge Mugabe to stop the massacre of the democratic powers in Zimbabwe and cede power to Prime Minister Tsvangirai".
March 23: U.S forces begin operation Just Zimbabwe. 60,000 U.S troops enter South Africa and camp outside the Zimbabwean border. In a televised address to the nation, President Bush gives Robert Mugabe a 48 hour ultimatum to surrender power to Prime Minister Tsvangirai and turn himself in to the League of Democracies or face military action from the United States, South Africa and Great Britain.
March 24: In a defiant speech before Zimbabwean parliament Mugabe states "The great people of Zimbabwe will never surrender to the imperialist ways of the United States, Britain or any of the other colonial powers trying to subvert the world's free peoples." Believing Mugabe is about to lose power several Tsvangirai loyalist generals within the Zimbabwean army revolt with violent results.
March 25: After a defiant response from Mugabe U.S aircraft begin bombing Zimbabwean military installations known to support Mugabe and his regime. The Zimbabwean air force meanwhile, suffers massive and unacceptable losses according to vice president Powell.
March 30: Before a group of national security experts President Bush declares 90% of the Zimbabwean air force has been destroyed.
April 1: U.S and British troops pour over Zimbabwean defenses on the Eastern border of Zimbabwe. They easily brush aside any resistance they face and are followed by Norwegian special forces who successfully eliminate high profile targets that survive combat with coalition forces.
April 2: A second front is opened as South African armed forces enter Zimbabwe via the shared border between the two countries.
April 7: U.S forces arrive within 100 miles of Harare. Mass looting and pillaging occurs as up to 45% of the remaining Zimbabwean units desert their posts.
April 8: Coalition paratroopers land and capture Harare's international airport. Additional re-inforcements capture rooftops and secure vital complexes in Harare's CBD. Coalition forces are forced to refrain from taking Zimbabwean Parliament. Zimbabwean Mugabe loyalists continue fierce resistance. At 7:00 PM local time President Bush gives Mugabe loyalist an ultimatum: surrender or face death.
April 9: Coalition forces officially enter Harare and easily advance into the city center facing little resistance that is weak and unorganized. Die hard regime supporters make one last bloody stand and are killed on the steps of Zimbabwean parliament. U.S army rangers enter Zimbabwean parliament and face combat from Mugabe's personal Bush bodyguards. Upon proceeding further into the building U.S soldiers engage in a fire fight with Mugabe himself and easily kill him. News of Mugabe's death spreads around the world via the internet.
April 10: President Bush delivers a televised address to the nation proudly announcing victory over Zimbabwe.
April 11: A Gallup poll shows President Bush's job approval rating at 71% largely due to the success of Operation: Just Zimbabwe.
May 12: Zimbabwean high level supporters of the late Mugabe are killed following an attempt to cross into Botswana.
June 26: President Bush visits U.S troops in South Africa and congratulates them on their recent successes in Zimbabwe.
June 28: After George bush arrives back in the US he holds meetings with eight US Senators: four Red and four Blue
2010's
2010
January 27th: President Bush Delivers his First State of the Union Address
April 4/9: On April 4, David Souter announces his retirement from the Supreme Court. Just five days later, John Paul Stevens announces his retirement as well. Protests break out due to the potential for Bush to tilt the Court in a more conservative direction than it already is. Fearing the possibility of a filibuster and a potential use of the nuclear option, Bush makes a deal with Senate Democrats: he will nominate a more liberal justice to succeed Stevens and a conservative justice to replace Souter. The deal is accepted, and President Bush nominates Merrick Garland of the D.C Circuit Court of Appeals to replace John Paul Stevens, and nominates Jerome Holmes of the Tenth Circuit Court of Appeals to replace Souter. While Senate Democrats are happy with the deal, some note the age discrepancy between the two, as Holmes is 49 while Garland is 57.
July 14: Merrick Garland is confirmed to the Supreme Court by a vote of 88-12, while Jerome Holmes is confirmed by a vote of 56-44. Many note the pushback by Senate Democrats on Holmes while Republicans smoothly confirmed Garland with bipartisan support despite ideological differences. Holmes becomes the fourth African-American to sit on the Supreme Court.
November 2nd: The 2010 midterm elections see the Democrats take back the senate with a 53-47 margin.
2011
January 25th: President Bush Delivers his Second State of the Union Address
June 25th: Barack Obama announces his candidacy for the 2012 Democratic Primaries in Springfeild, Illinois.
September 11th: On the 10th anniversary of the September 11th attacks, President Bush delivers a speech at the site of the Twin Towers.
2012
January 24th: President Bush delivers his 3rd State of the Union Adresss.
February 8th: Vice President Powell announces tat due to his age, he will not accept renomination for the 2012 election.
August 25th: The first man to walk on the Moon, Neil Armstrong, dies of cardiovascular issues following his surgery.
August 27-30th: The 2012 Republican National Convention takes place and President Bush was renominated, while Governor of Louisiana Bobby Jindal is nominated as Vice President by acclamation.
September 4th-6th: at the 2012 Democratic National Convention, Barack Obama is named the Democratic nominee for President and Patrick Lynch for Vice President.
November 6th: President George W. Bush and Vice Presidential nominee Bobby Jindal are re-elected over the Democratic ticket of Barack Obama and Rhode Island Senator Patrick Lynch.
2013
January 20th: George W. Bush is sworn in for a second term as President of the United States, while Bobby Jindal is officially inaugurated as Vice President. Bush begins his second term with an approval rating of 64%..