During the Cuban Revolution of the 1950s, a number of liberal organizations in Venezuela declared their support for Fidel Castro's guerrilla operations against Batista. The Venezuelan government arrested this liberals and declared "The USSR want to establish a puppet government in Cuba and then all Latin America".
Space Age, World Expo and Olympic Games
In 1960, Caracas had a World Expo in which the theme was flora and fauna of Venezuela.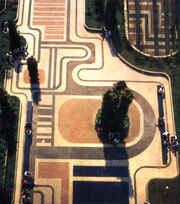 He was also unrealistic in reviving Venezuela's claim on British Guiana to the Essequibo river and he had all maps of Venezuela show this large territory as part of the country albeit as disputed. In 1961 The Helicoide, the biggest Mall in Latin America was opened in Caracas. The British allowed free elections in their dependency in 1961, but when a Marxist, Cheddi Jagan, won them, it annulled the results and after three years permitted new ones which were won by a man, Forbes Burnham, who turned out to be at least as leftist as Jagan, and a monumental bungler to boot. The point is that when British Guiana became independent Guyana in 1966, the Venezuelan claim became an undecipherable legal tangle.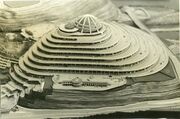 Guyana had large iron deposits. The infrastructure for exploiting them was laid as well as the complementary huge steelworks. Communications had been a priority and Venezuela was endowed with a network of roads and bridges that covered the territory where over 90% of the population lived. Half or more of these were improved surface and all they lacked was the asphalt paving. This system linked with the many blacktops that the oil companies had built in eastern and western Venezuela. These had been traced for exploration and exploitation, but they also served for the use of the general population and were now linked to the national highway system. Pérez Jiménez had built motorways from Caracas to Valencia and from Caracas to the port at La Guaira. By 1955, you could drive from one end to the other of Venezuela in a matter of days where before it would have taken weeks, months if the rainy season hampered travel. In addition, Pérez Jiménez had begun the construction of a coherent railway system, although he had not had time to go further than the railroad from Puerto Cabello to Barquisimeto. Pérez Jiménez had also created government subsidiaries, called "institutos autónomos" (autonomous institutes)—the "autonomous" was supposed to mean non-political, but its real function was to allow them to negotiate foreign loans—that were to build waterworks and electric power plants in all important urban centers. To this end he had started the construction the huge Caroni river dam which in time was to provide the entire country with a reliable electric grid.
When he's time at power was going to end he did another elections for the period 1963-1969, which he wins, but like in 1957 just some people believe the results.
"British Invasion " to Venezuela
By 1964 Venezuela was the power in Latin America, so it was ushering a new era in Venezuela which was extremely influenced by USA, one of the most famous music were the Beatles, so on on one of their tours they visit Venezuela. "I Want to Hold Your Hand" had sold 1.6 million copies in Venezuela over the previous two weeks, but the group were still
nervous about how they would be received. At Caracas' Maiquetia Airport they were greeted by another vociferous crowd, estimated at about two thousand people. They gave their first live Venezuela television performance two days later on The Reni Tolina Show.
The Earthquake
The 1967 Caracas earthquake occurred on 29 July 1967 at 20:00 local time, and was centered near the coast about 30 miles west of Caracas, capital of Venezuela with a magnitude of 6.5. When the earth stopped shaking, about 240 inhabitants were dead and hundreds injured and buried in the rubble where homes and offices once stood. Over $100 million property damage was incurred in the Caracas area and about 80,000 persons were left homeless.
Damage was extensive in the Altamira and Los Palos Grandes sections of Caracas where four major apartment buildings, 10 to 12 stories high, collapsed. Many additional structures were severely damaged and several will have to be razed and reconstructed.
Huge sections of walls fell from buildings, flattening cars below and leaving large portions of structures exposed. Rescue workers used cranes and bulldozers to search through the rubble for survivors or victims of the earthquake. A week after the shock, rescue operations continued for persons believed trapped beneath the floors of the coast resort hotel, Mansion Charaima.
Maracay, about 50 miles west of Caracas, reported five deaths and 100 injuries. Several additional towns reported structural damage.
The 1968 Olympic Games were going to be in Venezuela, so the government with the help of other governments specially USA's one, "fixed the country" by January 1968.
Olympic Games
See Main Article: 1968 Olympic Games
In 1968 Venezuela have the 1968 Olympic Games, and the Caracas metro which was started at 1962 was finished.
See Also
Community content is available under
CC-BY-SA
unless otherwise noted.