This 1983: Doomsday page is a Stub.
Even though it is part of the 1983: Doomsday Timeline, its creator or creators have more work to do before it can be complete. You are welcome to give suggestions at the Talk Page.

Thomas Earl "Tom" Petty (born October 20, 1950) is an American singer-songwriter and multi-instrumentalist. He is the frontman of Tom Petty and the Heartbreakers.
He has recorded a number of hit singles with the Heartbreakers and as a solo artist, many of which remain heavily played on adult contemporary and classic rock radio. His music, notably his hits, has become popular among younger generations as he continues to host sold-out shows.Throughout his career, Petty and his collaborators have sold 60 million albums.
Petty and his band the Heartbreakers celebrated their thirtieth anniversary with a tour of North America and Oceania in 2006, though Petty has occasionally released solo work, such as 2006's Highway Companion, on which he performed most of the backing instrumentation.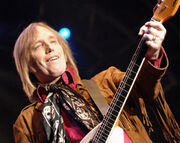 Early Life
Tom Petty was born and raised in Gainesville, Florida, and attended Gainesville High School. His interest in rock and roll music began at age 10 when he met Elvis Presley.
Career
Petty's early bands included The Sundowners, The Epics, and Mudcrutch (the latter with drummer Randall Marsh and future Heartbreakers members Mike Campbell and Benmont Tench). In 1974, Mudcrutch signed with Shelter Records and re-located to Los Angeles, California. The band released one single, "Depot Street," in 1975, which failed to chart, and the group disbanded. According to Campbell, "Out of that the Heartbreakers sort of morphed and became what they are." The Heartbreakers began their recording career with a self-titled album. Initially, the Heartbreakers did not gain much traction in America, although they achieved success in the UK playing "Anything That's Rock 'n' Roll" on Top of the Pops. Early singles included "Breakdown" and "American Girl". "Breakdown" was re-released in the USA and became a Top 40 hit in 1978, after word filtered back to the States that the band was creating a firestorm in the UK.
Their 1978 second album You're Gonna Get It! marked the band's first gold album, and featured the singles "I Need to Know" and "Listen To Her Heart". In 1979, the band was dragged into a legal dispute when ABC Records was sold to MCA Records.
Petty refused to simply be transferred to another record label without his consent. He held fast to his principles, which led to him filing for bankruptcy.
After the dispute was settled, the Heartbreakers released their third album Damn the Torpedoes (1979) which rapidly went triple-platinum. It included "Don't Do Me Like That" (#10 U.S., the group's first Top Ten single ) and "Refugee" (#15 U.S.), their U.S. breakthrough singles. Though he was already extremely successful, Petty ran into record company trouble again when he and the Heartbreakers prepared to release Hard Promises (1981), the follow-up album to Damn the Torpedoes. MCA wanted to release the record at the list price of $9.98, which was considered a high price for a record album at the time. This so-called "superstar pricing" was $1.00 more than the usual list price of $8.98. Petty voiced his objections to the price hike in the press and eventually MCA decided against the price increase. The album became a Top Ten hit, going platinum and spawning the hit single "The Waiting" (#19 U.S.). The album also included the duet "Insider", with Stevie Nicks.
Petty and the Heartbreakers released their fifth album, Long After Dark in 1982.
More to come....
Community content is available under
CC-BY-SA
unless otherwise noted.