Attention!
This is now Baconheimers Timeline.
1886
Africa is divided up at the Rome Treaty, the only African nations surving are Abyssinia and Liberia.
The French give away one colony to Italy.
The Austro-Hungarians defeat the Ottomans.
The british demand the land around Hong-Kong for themselves.
The Chinese and British go to war, the british win and gain much land.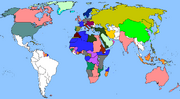 1887
Liberia joins the USA as a territory.
Britain invades Nepal.
The Belgians invade the Netherlands.
The British and Germans pledge support to the Netherlands, France does the same to Belgium.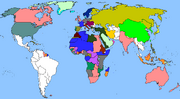 1888
The Belgo-Netherlandic war goes on.
Mexico and the USA go to war after some American citizens were supposedly killed by Mexican soldiers over the border.
British forces find it hard to advance in Nepal.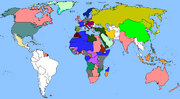 1889
The Belgo-Dutch war ends, the winning side, the Netherlands, demands the handover of Southern Belgian Congo.
The USA gains more ground, they even invade the Yucatan.
The French and Belgians form an Alliance.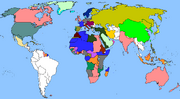 1890
The Netherlands joins the Triple Alliance, now the Quadruple Alliance.
The French decide to re-attack Mexico because of their first failure. They join the war on the American side.
The Belgians send a few regiments to join the French.
The French and Americans make relatively large gains.
Nepal surrenders and is annexed.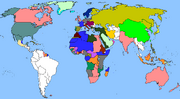 1891
Mexico is defeted. Chihuahua, Sonora and Baja California will become part of the USA. The French will gain the Yucatan.
Community content is available under
CC-BY-SA
unless otherwise noted.