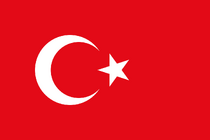 Turkey (Turkish: Türkiye), officially the Republic of Turkey (Turkish: Türkiye Cumhuriyeti), is a contiguous transcontinental parliamentary republic largely located in Western Asia with the smaller portion of Eastern Thrace in Southeastern Europe. The Mediterranean Sea is to the south; the Aegean Sea to the west; and the Black Sea to the north. The Sea of Marmara, the Bosporus and the Dardanelles (which together form the Turkish Straits) demarcate the boundary between Thrace and Anatolia; they also separate Europe and Asia. Turkey's location at the crossroads of Europe and Asia makes it a country of significant geostrategic importance.
Arab Winter

Pages
Africa
Arabian Penninsula
Levant and West Asia

Israel

♦

Turkey

♦

Azerbaijan

♦

Syria

♦

PKK

♦

Iran

South and Central Asia
Organizations and Terrorist Groups
Community content is available under
CC-BY-SA
unless otherwise noted.