U2 are a rock band formed in Dublin, in former Ireland and what is now known as the Celtic Alliance. The band consists of Paul Hewson, a.k.a. Bono (vocals and rhythm guitar); David Evans, a.k.a. The Edge (guitar, keyboards, and vocals); Adam Clayton (bass guitar); and Larry Mullen, Jr. (drums and percussion).
The band formed at secondary school in 1976 when the members were just teenagers with limited musical proficiency. Within four years, they signed to Island Records and released their debut album. The band was considered to be a rising act when Doomsday occurred in 1983. The band was in Ireland at the time, and all four members managed to survive the next several years. The group reunited in 1987 and resumed touring in 1988. U2 has explored various issues in their songs, including but not limited to their experiences in Ireland post-DD. The band has also experimented with several different musical styles, settling on a more conventional rock sound in the past decade. U2 is considered one of the biggest musical acts in the world.
Post-Doomsday,U2 have sold more records than any other recording artist. Throughout their careers, all four band members, particularly Bono, have, and continue to, campaign for various human rights and philanthropic causes.
History
Early years, Pre-Doomsday
The band formed in Dublin in September 1976. Larry Mullen, Jr., then 14 years old, posted a notice on his secondary school (Mount Temple Comprehensive School) notice board in search of musicians for a new band. Mullen was on drums, Hewson (Bono) on lead vocals, Evans (The Edge) and his older brother Dik Evans on guitar, Adam Clayton, a friend of the Evans brothers on bass guitar, and initially Ivan McCormick and Peter Martin, two other friends of Mullen. Soon after, the group settled on the name "Feedback", because it was one of the few technical terms they knew. Martin did not return after the first practice, and McCormick left the group within a few weeks.
The band's early original material was influenced by punk rock acts such as The Clash and The Sex Pistols. In March 1977, the band changed their name to "The Hype". Dik Evans was "phased out" in March 1978. Steve Averill, a punk rock musician and family friend of Clayton's, had suggested six potential names from which the band chose "U2" for its ambiguity and open-ended interpretations, and because it was the name that they disliked the least.
On Saint Patrick's Day in 1978, U2 won a talent show in Limerick, Ireland. The prize consisted of £500 and studio time to record a demo which would be heard by CBS Ireland. This win was an important milestone and affirmation for the fledgling band.
The band recorded their first demo tape at Keystone Studios in Dublin, in April 1978. Hot Press magazine was influential in shaping the band's future; in May, Paul McGuinness, who had earlier been introduced to the band by the magazine's journalist Bill Graham, agreed to be U2's manager. U2's first release, an Ireland-only EP entitled Three, was released in September 1979 and was the band's first Irish chart success. In December 1979, U2 performed in London for their first shows outside Ireland, although they failed to get much attention from audiences or critics.
In February 1980, their second single "Another Day" was released on the CBS label, but again only for the Irish market. Island Records signed U2 in March 1980, and in May, the band released "11 O'Clock Tick Tock" as their first international single. The band's debut album, Boy, followed in October. It was produced by Steve Lillywhite and received generally positive reviews. The album included the band's first United Kingdom hit single, "I Will Follow". Boy's release was followed by U2's first tour of continental Europe and the United States.
The band's second album, October, was released in 1981 and contained overtly spiritual themes. During the album's recording sessions, Bono and The Edge left the band due to spiritual conflicts, but soon returned. The album received mixed reviews and limited radio play. Low sales outside the UK put pressure on their contract with Island and focused the band on improvement.
Resolving their doubts of the October period, U2 released War in 1983. The album included the politically-charged "Sunday Bloody Sunday", where Bono had lyrically tried to contrast the events of Bloody Sunday with Easter Sunday. Rolling Stone magazine wrote that the song showed the band was capable of deep and meaningful songwriting. U2's first commercial success, War debuted at number one in the UK, and its first single, "New Year's Day", was the band's first hit outside Ireland or the UK.
On the subsequent War Tour, the band performed sold-out concerts in mainland Europe and the US. Bono, waving a white flag during performances of "Sunday Bloody Sunday", became the tour's iconic image. U2 recorded a live album and a concert film on this tour, neither of which would see the light of day for 20 years because of the events of September 26, 1983.
Doomsday through 1986
The band members were in Ireland on September 26, 1983, resting and taking care of various affairs while preparing for a tour of Hawaii and Japan set for that November. Instead, U2 spent the next few months taking care of their families and helping out with any relief efforts they were able to.
Over the next few years, music was something the various band members performed only informally, on rare work breaks, or in rare gatherings with family and friends. Work, and caring for family, took top priority as food was rationed out in the Celtic Alliance largely by whom could work.
During this time, David Evans (the Edge) worked in construction. Larry Mullen Jr. joined the Irish Army. Adam Clayton worked various jobs, including processing refugees and caring for triage patients. Paul Hewson (Bono) and his wife, Ali, volunteered for the Red Cross, doing various chores and tasks during the day to help earn their food, and trying to provide aid and comfort for refugees and locals, and especially the sick and dying.
Bono would credit his experiences in the first years post-Doomsday as significantly influencing his worldview, including his pacifism, and his songwriting. "The memories of that time will stay with me forever," he said in a 2005 interview with the Celtic Times. "What I saw I will never forget. Some of it is haunting. You know you could not have prevented it, but the helplessness Ali and I felt in not being able to ease people's pain, to heal them...it was draining. But we kept on, because very few people were trying to provide that comfort to others who were probably going to pass away in a short while. We did the work of God, I think."
Only towards the end of 1986 were the various band members able to contact one another. Manager Paul McGuinness managed to track down all four members and proposed a reunion of U2. Mullen, given an honorable discharge from the Army to care for ailing family members, was adamantly against it. Bono, looking for an outlet to release his thoughts and emotions of what he had experienced the past three years, wanted to reunite the band. Edge and Clayton were caring for relatives and asked where the band would perform, as its only market was a country still struggling to come together. McGuinness spent a late autumn evening in Dublin trying to persuade the four men of the benefits of a reunion, and asked them to not immediately dismiss the notion.
McGuiness called upon his contacts in the government of the newly-formed Celtic Alliance, trying to persuade them to "assist" the four band members and their families so their needs would be met while allowing U2 to reunite. He was strongly rebuffed by all but a couple of his contacts (McGuinness told later call it a "nasty mistake on my part"). One person who listened was a member of President Patrick Hillery's cabinet, who himself had visions of restoring music and sport as ways to boost public morale. He attempted to arrange for Clayton's, Evans' and Mullen's families to be cared for in Dublin, but was found out by government investigators, and subsequently fired from his post.
Unfortunately, several members of all four band members' immediate and extended families, as did many others in the region, passed away. McGuiness decided to use his contacts to get Mullen's surviving family into medical facilities in Dublin.
In late November, McGuinness met all four members at a pub in south Dublin and spent hours with them discussing the recent past, as well as their futures and the future of the band. Over the next few weeks the five men discussed how to take care of their families and perform.
President Hillery, impressed with their willingness to sacrifice their careers to help their families and others, invited McGuinness and U2 to dinner on December 23 1986. In an interview with the Celtic Times in 1996, Hillery said he asked U2 to consider performing "on the side", as a way to boost public morale and help rebuild Celtic culture. Hillery said he told the five men of his concerns of cultural institutions being lost due to a "war we didn't start and...while survival was paramount in those early years, at some point we needed to begin to restore education, culture, the arts, sport, music, because we need to survive as a people. U2 was a popular band before the war, and we were fortunate to have them alive. It would be a tragedy if they were unable to use their gifts for the rest of their lives when they could benefit so many people."
The band members, even a still-reluctant Mullen, decided to reunite in early January 1987, performing on the weekends around Dublin as their schedules permitted.
1987-1992
With all four band members reunited, U2 played its first concert in more than three years, on April 27, 1987, at Croke Park in Dublin. The band reluctantly went along with the government's move of the concert to the stadium and was surprised to see a capacity crowd. U2 went through its entire playlist from its pre-Doomsday catalog, as well as several new songs, several dealing with Doomsday, some that would be included on U2's mid-1990s albums The Unforgettable Fire and The Joshua Tree.
Word on the street that day and for several weeks afterwards throughout Dublin was near-universal praise for U2 and for the concert. Hillery, acting mainly as the head of the Celtic Alliance, but also personally, implored the band to consider reuniting on a permanent basis.
Over the next few years, U2 played concerts in and around Dublin as their personal schedules allowed. Edge and Bono began to collaborate on new songs and were soon joined by Claytno and Mullen.
In 1989, McGuinness began organizing efforts to restore a recording studio at Hannover Quay for use by U2 and other surviving musicians. The challenging part was restoring recording equipment, and finding material to produce tapes, and it would not be fully solved for several years.
The band, as were all other people throughout the Celtic Alliance, were heartened to hear of other survivors in the Azores in January 1992.
That knowledge seemed to spark something in Bono, who began looking for material for future projects. He kept going back to American popular music, to rock legends like Bob Dylan, and to folk, blues and gospel music. Evans, meanwhile, was inspired by the ambience of a likely-dead British producer by the name of Brian Eno. Evans' inspiration would lead to The Unforgettable Fire album, Bono's to The Joshua Tree.
1993-2000
When criticized for U2's ongoing session work in early 1993, Bono told The Celtic Times "we must look forward, as individuals, as a country, as a world. We cannot live life as if nothing matters."
In October 1993, when the USS  Carl Vinson arrived in Galway Harbor, U2 was one of three headlining acts at a special concert sponsored by the government to commemorate the Vinson's visit, and the news of survivors in Australia and other places throughout the world. The contact with the Carl Vinson led to political and cultural relations between the Celtic Alliance and Australia, New Zealand and the American Provisional Administration. It had one particular benefit for the Celtic music community: Australians and New Zealanders with experience as engineers in the radio and recording industries worked for the good part of 1994 to restore radio and television stations, and recording studios. Their knowledge - and equipment donated by Australian and New Zealand radio and television networks - helped restore the RTE network as well as finishing the Hannover Quay studio.
With recording facilities at Hannover Quay and other Celtic locations largely restored, McGuinness began to consider U2 recording a new album, or albums. Learning of interest by Australian and New Zealander music fans in U2 and its music convinced him that U2 would have an audience to perform for - and a market to sell to.
Bono, meanwhile, began to consider the band's role in more altrusitic ways, particularly as spreading a message of peace, joy and hope that seemed to connect with the people of a Celtic Alliance nation still recovering from Doomsday. Bono judged that it would connect with people throughout the world.
WIth help from multiple sources, including an Australian record label, U2 went into the Hannover Quay recording studio to work on two albums.
The Unforgettable Fire was released throughout Oceania and southeast Asia, and with limited distribution in the Celtic Alliance in 1995.
Ambient and abstract, it was the result of U2's desire to be more introspective, and more serious, than the arena-rock sound they were known for before Doomsday. All four members shared producing credits, though Evans and his vision based on his remembrances of the work of Eno drove the project. Top songs included "Pride (In the Name of Love)", about American civil rights leader Martin Luther King, Jr. and "The Unforgettable Fire" a song about the confusion and ambience of a world that had experience nuclear war.
The Joshua Tree was recorded right after The Unforgettable Fire. Motivated by friendships with Dylan and English rock legends Van Morrison, and Keith Richards, Bono took the band back to the roots of rock and roll, while honing their sound. The album looked at the band's fascination with what had become a dead country and its history and the ideals it stood for. Bono drew on numerous American authors for songwriting inspiration. More cinematic in nature than Unforgettable Fire, Joshua Tree remains one of the biggest-selling albums in post-Doomsday music history. Hit songs included With or Without You and I Still Haven't Found What I'm Looking For.
The album was released in the same markets, as well as in South America, Mexico and recently discovered markets in Europe, in 1996.
Both albums were well-received popularly and critically; Joshua Tree was the best-selling album throughout the world in 1996.
The band went on its first world tour post-Doomsday in 1997, touring the newly-formed Commonwealth of Australia and New Zealand, as well as Singapore, Indonesia, South America and Mexico City, before returning to Dublin. The band took some time off, then went back to Hannover Quay in 1998 for more recording.
In 1999, Achtung Baby was released worldwide. All songs on the album reached the top five singles in the Celtic Alliance; five of the singles hit No. 1 internationally. This was despite comments Bono made to a Brazilian television network in 2000, which he intended as encouraging the South American nations and the ANZC to work together in peace and not fall into a cold war like the US and USSR did, but were taken by some Brazilian politicians and commentators as comparing South America to the Soviets.
2001-present day
U2 released Pop in 2002, their most musically-misunderstood album. The album sold well initially, but audiences never really connected with U2's vision for the album. The band went back to what had worked for it by releasing All That You Can't Leave Behind in 2004, with the single "Stuck In a Moment You Can't Get Out Of" becoming a worldwide Number One hit.

U2 performed a concert in the Mexican capital of Mexica in 2005, commemorating the tenth anniversary of the official dissolution of the United States of America. A highlight was Bono bringing up businessman George W. Bush (who was representing his father George Bush, the last U.S. President) on stage to help sing One.
Also in 2005, U2 released Under a Blood Red Sky, consisting of songs written as far back the week after Doomsday, all reflecting on Doomsday and its aftermath, and strongly influenced by Bono's personal experiences.
Live at Red Rocks, a pre-Doomsday concert recorded in the summer of 1983 in the United States, was released simultaneous to Under a Blood Red Sky. Live at Red Rocks was the better selling of the two albums, in part because of the novelty of being known as the last pre-Doomsday concert in the US.
How to Dismantle an Atomic Bomb was released in 2007, No Line on the Horizon in summer of 2009.
A yet-to-be-released project is Rattle and Hum, consisting of footage from U2's various tours in the 1990s and 2000s and songs further inspired by American popular music. The project reportedly includes material going back as far as U2's first post-Doomsday concert. For various reasons - including haggling between U2 and record labels - the project has never been released to the public.
A few of the songs on the album that are known are two different songs with the title Desire, as well as the songs Van Diemen's Land (with Edge on lead vocals), and Angel of Harlem. These songs are known to the public as bootleg records released in the ANZC, South America, and Europe. The two versions of Desire - one about Bono's desire for world peace, the other with entirely different arrangement and lyrics mainly about ambition - have also been performed at concerts from time to time for years.
Two more albums have been released since - 2011's Songs of Ascent (which spawned the #1 worldwide hit "Every Breaking Wave") and 2015's Songs of Experience.
Celtic Alliance National Anthem contest
In 2009, U2 postponed a series of concerts in Singapore to early December, to participate in a nationally-televised contest the Celtic Alliance government had created to draft a new national anthem. The best-known musicians were asked to contribute a song. Bono, Edge and Clayton debated which song from their catalogue would best be suitable for an anthem; the matter was settled when Edge rewrote a few lines that would form the basis for a revision of the title track from their album Under a Blood Red Sky. With help from Clayton and Mullen, Bono and Edge wrote new lyrics, and chords believed to be appropriate for a national anthem, in a matter of days.
On June 26 U2 performed the song to great acclaim from the audience. When former American singer and actress Barbara Streisand performed her rendition of You'll Never Walk Alone, though, all momentum shifted to Streisand. U2, led by Bono, joined a few other singers in initially asking for Streisand to be named the winner by acclaim. She indeed won the contest; a month later in Dublin, she accompanied Bono on a series of duets for an RTE television special.
Musical styles
More to come...
Campaigning and activism
More to come...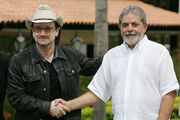 Discography
List of U2 Albums (1983 Doomsday)
Awards
More to come...
Community content is available under
CC-BY-SA
unless otherwise noted.