The United States presidential election, 1988 is the next presidential election in November 8, 1988 and will be the 51th quadrennial United States presidential election, in which the popularly elected presidential electors will select the George H. W. Bush In Michael Dukakis, will be eligible to run for his second and final term during this election.
Despite Bush's popularity, Dukakis had one of the biggest opposition from the Reagan government. Still, Dukakis ran one of the revolutionary electoral advertisements for the American elections. Making the Vice President's popularity drop. Due to Propaganda, Dukakis ended, up winning.
Incumbent president Ronald Reagan was ineligible to seek a third term. Bush entered the Republican primaries as the front-runner, defeating U.S. Senator Bob Dole and televangelist Pat Robertson to win the nomination. He selected U.S. Senator Dan Quayle of Indiana as his running mate. Dukakis won the Democratic primaries after Democratic leaders such as Gary Hart and Ted Kennedy withdrew or declined to run. He selected U.S. Senator Lloyd Bentsen of Texas as his running mate.
This was the first election where there were only 2 candidates, a Democrat and a Republican.
Backroud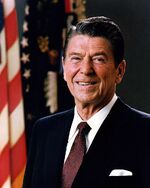 Reagan ended up having a second term marked by positive relations between the United States and the Soviet Union and by keeping the United States away from wars (different in his first term).
Because George H.W Bush was Reagan's deputy, Bush ended up gaining popularity.

Republican Party nomination
Republican Party ticket, 1988

George H. W. Bush

Dan Quayle

for President
for Vice President

Vice-President of United States

(1981–1989)

U.S. Senator from Indiana

(1981–2005)
Bush unexpectedly came in third in the Iowa caucus, which he had won in 1980, behind Dole and Robertson. Dole was also leading in the polls of the New Hampshire primary, and the Bush camp responded by running television commercials portraying Dole as a tax raiser, while Governor John H. Sununu campaigned for Bush. Dole did nothing to counter these ads and Bush won, thereby gaining crucial momentum, which he called "Big Mo" Once the multiple-state primaries such as Super Tuesday began, Bush's organizational strength and fundraising lead were impossible for the other candidates to match, and the nomination was his.
The Republican Party convention was held in New Orleans, Louisiana. Bush was nominated unanimously and selected U.S. Senator Dan Quayle of Indiana as his running mate.
Democratic Party nomination
Democratic Party ticket, 1988

Michael Dukakis

Lloyd Bentsen

for President
for Vice President

67th Governor of Massachusetts

(1983–1988)

U.S Senator from Texas

(1971–1989)
In the 1984 presidential election the Democrats had nominated Walter Mondale, a traditional New Deal-type liberal, who advocated for those constituencies that Franklin Roosevelt forged into a majority coalition, as their candidate. When Mondale was defeated in a landslide, party leaders became eager to find a new approach to get away from the 1980 and 1984 debacles.
After Bush's image was affected by his involvement on the Iran-Contra scandal much more than Reagan's, and after the Democrats won back control of the U.S. Senate in the 1986 congressional elections following an economic downturn, the party's leaders felt optimistic about having a closer race with the GOP in 1988, although probabilities of winning the presidency were still marginal given the climate of prosperity.
In the 1984 elections, after Walter Mondale's defeat, Dukakis became the Democratic Party's top candidate in the 1988 election. Winning the primaries by 6,533,851 votes Beating from Biden and Gore.
General Election
Campaign
During the election, the Bush campaign sought to portray Dukakis as an unreasonable "Massachusetts liberal." Dukakis was attacked for such positions as opposing mandatory recitation of the Pledge of Allegiance in schools, and being a "card-carrying member of the ACLU" (a statement Dukakis made early in the primary campaign to appeal to liberal voters). Dukakis responded by saying that he was a "proud liberal" and that the phrase should not be a bad word in America.
Bush pledged to continue Reagan's policies, but also vowed a "kinder and gentler nation" in an attempt to win over more moderate voters. The duties delegated to him during Reagan's second term (mostly because of the President's advanced age, Reagan turning 78 just after he left office) gave him an unusually high level of experience for a vice president.
"Dukakis in the tank"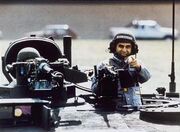 Dukakis attempted to quell criticism that he was ignorant on military matters by staging a photo op in which he rode in an M1 Abrams tank outside a General Dynamics plant in Sterling Heights, Michigan. The move ended up being regarded as a major public relations blunder, with many mocking Dukakis's appearance as he waved to the crowd from the tank. The Bush campaign used the footage in an advertisement, accompanied by a rolling text listing Dukakis's vetoes of military-related bills. The incident remains a commonly cited example of backfired public relations
Jennifer Fitzgerald and Donna Brazile firing
During the course of the campaign, Dukakis fired his deputy field director Donna Brazile after she spread rumors that Bush had had an affair with his assistant Jennifer Fitzgerald.

Result
On November 8, 1988, the result of the American elections takes place. The Bush / Quayle ticket lost the election at the electoral college, taking 19 states, including states like California, Michigan, Wisconsin, Ilinois and other novice Democratic states.Dukakis's ticket ended up winning the election, making his Democratic performance at the polling station the best after Lyndon B. Johnson's 1964 victory with 486.
After the victory, Vice President Bush, congratulates Dukakis' victory. Dukakis became the fourteenth first president of the United States. With 41 million dukakis, he became the second most voted Democrat in American election history, trailing only Lyndon B. Johnson in the 1964 election.
Grand total
Final Results of the US Presidential Election, 1988
Candidate for President
Home state
Candidate for Vice-President
Home State
Party
Popular vote
Electoral vote
Vote
percentage
Michael Dukakis
Massachusetts
Lloyd Bentsen
Texas
Democratic
41,340,545
57,68%
364
George H.W Bush
Texas
Dan Quayle
Indiana
Republican
30,333,043
42,32%
173
Total
71,673,588
100%
538