‹ 1996  2004 › ›
United States presidential election, 2000
November 7, 2000
Nominee
John McCain
Al Gore
Party
Republican
Democratic
Home state
Arizona
Tennessee
Running mate
George W. Bush
Joe Lieberman
Electoral vote
276
262
States carried
31
19 + D.C.
Popular vote
51,018,143
50,489,042
Percentage
48.4%
47.9%
Presidential election results map. Red denotes states won by McCain/Bush (31), Blue denotes those won by Gore/Lieberman (19+D.C.).
The United States presidential election of 2000 was held on Tuesday, November 7, 2000, to elect the President of the United States. It was the 54th consecutive quadrennial election for President and Vice President. Republican Party candidate John McCain, senior U.S. Senator from Arizona, defeated Democratic Party candidate Al Gore, then-Vice President. Bill Clinton, the incumbent President, was vacating the position after serving the maximum two terms allowed by the Twenty-second Amendment.
McCain narrowly won the November 7 election, with 276 electoral votes to Gore's 261 (with one faithless elector abstaining in the official tally). However, the fate of the election came down to the close race in the final state of Florida and its 25 electoral votes, but after several hours of vote counting at 3:17 AM eastern time John McCain was declared the winner of the election and the forty third President of the United States.
Democratic Nomination
Democratic Party candidates
Democratic candidates gallery
Democratic Party primaries
Serious early speculation surrounded Bill Bradley, a U.S. Senator and former basketball player for the New York Knicks, who had long been considered a potential Democratic contender for the presidency. In December 1998, Bradley formed a presidential exploratory committee and began organizing a campaign. Gore, however, had been considered the favorite for the Democratic nomination as early as 1997, with the commencement of President Bill Clinton's second term. Though numerous candidates for the Democratic nomination tested the waters, including Senator John Kerry, Governor Howard Dean, Representative Richard Gephardt, and Reverend Jesse Jackson, only Gore and Bradley ultimately entered the contest.
Bill Bradley campaigned as the liberal alternative to Gore, taking positions to the left of Gore on a number of issues, including universal health care, gun control, and campaign finance reform. On the issue of taxes, Bradley trumpeted his sponsorship of the Tax Reform Act of 1986, which had significantly cut tax rates while abolishing dozens of loopholes. He voiced his belief that the best possible tax code would be one with low rates and no loopholes, but he refused to rule out the idea of raising taxes to pay for his health care program.
On public education, Bradley pushed for increased federal funding for schools under Title I, as well as the expansion of the Head Start program. He further promised to bring 60,000 new teachers into the education system annually by offering college scholarships to anyone who agreed to become a teacher after graduating. Bradley also made child poverty a significant issue in his campaign. Having voted against the Personal Responsibility and Work Opportunity Act, better known as the "Welfare Reform Act," which, he said, would result in even higher poverty levels, he promised to repeal it as president. He also promised to address the minimum wage, expand the Earned Income Tax Credit, allow single parents on welfare to keep their child support payments, make the Dependent Care Tax Credit refundable, build support homes for pregnant teenagers, enroll 400,000 more children in Head Start, and increase the availability of food stamps.
Although both Gore and Bradley showed comparable success in terms of fund-raising, Bradley lagged behind Gore in many polls from the start and never gained a competitive position. Despite the late endorsement of the Des Moines Register, Bradley went on to be defeated in the Iowa Caucus; Gore garnered 64% of the votes, while Bradley received only 35%. Gore won the primary competition in New Hampshire as well, though by a significantly smaller margin, receiving 52% to Bradley's 47%. After a resounding defeat on Super Tuesday, with Bradley failing to carry the majority of delegates in a single state, he withdrew from the race on March 9.
Republican Party nomination
Republican Party candidates
Several Republican candidates appeared on the national scene to challenge the nominee of the incumbent party, Al Gore.
Republican candidates gallery
Republican Party primaries
McCain initially planned on announcing his candidacy and beginning active campaigning on April 6, 1999 with a four-day roadshow, whose first day would symbolically begin at the United States Naval Academy in Annapolis, Maryland, then see early primary states New Hampshire and South Carolina, before concluding in home Phoenix, Arizona. However, the beginning of the NATO bombing campaign against Yugoslavia delayed his announcement. On March 31 three American soldiers is captured by Yugoslavia. McCain canceled his planned roadshow for the next day, stating that "This is not an appropriate time to launch a political campaign." He received media praise for his action and continued to be a highly visible spokesman for strong action regarding Kosovo; CNN pundit Mark Shields said that, "In thirty-five years in Washington, I have never seen a debate dominated by an individual in the minority party as I've seen this one dominated by John McCain." McCain also became a very frequent guest on television talk shows discussing the conflict, and his "We are in it, now we must win it" stance drew much attention. On April 13 McCain issued a simple statement without fanfare that he would be a candidate: "While now is not the time for the celebratory tour I had planned, I am a candidate for president and I will formally kick off my campaign at a more appropriate time." McCain and his wife Cindy would make some campaign-related appearances over the spring and summer.
McCain formally announced his candidacy for president on September 27, 1999 before a thousand people in Greeley Park in Nashua, New Hampshire. In his opening speech he declared that "It is because I owe America more than she has ever owed me that I am a candidate for president to the United States." He further said he was staging "a fight to take our government back from the power brokers and special interests and return it to the people and the noble cause of freedom it was created to serve." With no incumbent running, McCain entered a large field of candidates for the Republican Party presidential nomination. His main challenger was Texas Governor George W. Bush, who had the political and financial support of most of the party establishment. Other candidates included Alan Keyes, Steve Forbes, Gary Bauer, Orrin Hatch, Elizabeth Dole, Dan Quayle, Pat Buchanan, Lamar Alexander, John Kasich and Robert C. Smith.
McCain portrayed himself as a political maverick, capitalizing on a message of political reform and "straight talk" that appealed to moderate Republican and independent voters and to the press.
While Bush had the political and financial support of most of the party establishment, McCain was gaining momentum. On October 21, 1999 a Time Magazine/CNN poll showed that McCain was trailing Bush nationally 41 percent to 22 percent, with Dole trailing in a distant third with 13%. A month later, on November 18, polls showed that Bush was continuing his lead over McCain nationally, with 44 percent to 28 percent. On December 20 McCain's lack of political support by the party establishment was compensated by one major boost. On December 12, 1999 John McCain was endorsed by former president and conservative icon Ronald Reagan, a Zogby international poll conducted two days later showed McCain in a much stronger position than before with McCain fielding 37 percent nationally to Governor Bush's 42 percent.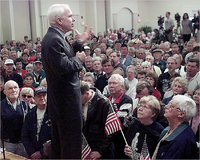 In the Iowa caucuses McCain gained a strong momentum by finishing in a strong third, while focusing on the New Hampshire primary, where his message appealed to independents. He traveled on a campaign bus called the Straight Talk Express. He held many town hall meetings, answering every question voters asked, in a successful example of "retail politics", and he used free media to compensate for his lack of funds. On February 1, 2000, he won New Hampshire's primary with 59 percent of the vote to Bush's 26 percent. The Bush campaign and the Republican establishment feared that a McCain victory in the crucial South Carolina primary might give his campaign unstoppable momentum.
The South Carolina primary was exceptionally controversial, in which an anonymous smear campaign began against McCain, delivered by push polls, faxes, e-mails, flyers, and audience plants. The smears claimed that McCain had fathered a black child out of wedlock (the McCains' dark-skinned daughter was adopted from Bangladesh), that his wife Cindy was a drug addict, that he was a homosexual, and that he was a "Manchurian Candidate" who was either a traitor or mentally unstable from his North Vietnam POW days. The Bush campaign strongly denied any involvement with the attacks. Incensed, McCain ran ads accusing Bush of lying and comparing the governor to Bill Clinton, which Bush said was "about as low a blow as you can give in a Republican primary". McCain pulled an upset by defeating Bush in the South Carolina primary by the razor thin margin of 47 percent to 46 percent. After the South Carolina primaries all candidates except Bush and McCain had either dropped out of the race or suspended their campaigns, and by March all had endorsed one of the two remaining candidates.
After a long series of hard fought contests George W. Bush suspended his campaign on March 4 due to Super Tuesday loses in February. Three days later he endorsed John McCain. With no challengers remaining John McCain declared that he would be the Republican Nominee for President of the United States.
General Election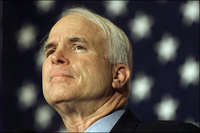 Although the campaign was focused mainly on domestic issues, such as the projected budget surplus, proposed reforms of Social Security and Medicare, health care, and competing plans for tax relief, foreign policy was often at issue.
On April 17, 2000, with the general election campaign between McCain and Vice President Al Gore heating up, McCain surprised some observers by announcing that George W. Bush would be his running mate. Reason for doing this was that Bush was popular among evangelical voters, who were crucial for a Republican victory. In response to Senator McCain's vice presidential choice, Gore choose Joe Lieberman as his running mate on April 23.
McCain continued to campaign across the country with the Straight Talk Express, touting his record as Senator, sponsorship of major lobbying and campaign finance reform initiatives and his military service and experience as a POW. During a rally in Akron, Ohio on May 20, McCain announced that he would impose a tax cut on 97% of Americans and that he would create a plan to break America's dependence on foreign oil. McCain also accused Gore of being soft on foreign policy and said that Gore's fiscal policy was filled with taxation. Gore was slow to respond and thus suffered a slide in the polls.
Bill Clinton's impeachment and the sex scandal that led up to it cast a shadow on the campaign, particularly on his vice president's run to replace him. Republicans, who typically have an advantage with voters on moral issues, strongly denounced the Clinton scandals, particularly Vice Presidential Nominee George W. Bush, who made his repeated promise to restore "honor and dignity" to the White House (a none-too-subtle jab at Clinton) a centerpiece of his campaign. Gore studiously avoided the Clinton scandals, as did Lieberman, even though Lieberman had been the first Democratic senator to denounce Clinton's misbehavior. In fact, some media observers theorized that Gore actually chose Lieberman in an attempt to separate himself from Clinton's past misdeeds, and help blunt the GOP's attempts to link him to his boss. Others pointed to the passionate kiss Gore gave his wife during the Democratic Convention, as a signal that despite the allegations against Clinton, Gore himself was a faithful husband. Gore avoided appearing with Clinton, who was shunted to low visibility appearances in areas where he was popular.
Both vice presidential candidates George W. Bush and Joe Lieberman campaigned aggressively in the 2000 presidential election. Both camps made numerous campaign stops nationwide, often just missing each other such as when Bush, Hadassah Lieberman, and Tipper Gore attended Chicago's Taste of Polonium over Labor Day Weekend.
At the 2000 Republican National Convention in Philadelphia, Pennsylvania between July 31 - August 3, McCain was nominated as the Presidential Nominee while Bush was nominated as the Vice Presidential Nominee. At the Democratic National Convention in Los Angeles, California between August 14 - August 17, Gore was nominated as the Presidential Nominee while Lieberman was nominated as the Vice Presidential Nominee.
In the first presidential debate at the University of Massachusetts on October 3, 2000, McCain criticized the Clinton administration's handling of foreign policy targeting the failure of the administration in Somalia in 1993 and the administrations failure to do anything about the Rwandan genocide, saying his now famous line "there is no way that could happen if I was president". After a strong performance in the final two debates and the vice presidential debate by the McCain/Bush ticket, the race looked tight with both McCain and Gore at 48% and independent Ralph Nader carrying 4% nationally.
Third party candidates
Ralph Nader was the most successful of third-party candidates, drawing 2.74% of the popular vote. His campaign was marked by a traveling tour of "super-rallies"; large rallies held in sports arenas like Madison Square Garden, with retired talk show host Phil Donahue as master of ceremonies. After initially ignoring Nader, the Gore campaign made a big publicity pitch to (potential) Nader supporters in the final weeks of the campaign, downplaying Gore's differences with Nader on the issues and claiming that Gore's ideas were more similar to Nader's than McCain's were, noting that Gore had a better chance of winning than Nader. On the other side, the Republican Leadership Council ran pro-Nader ads in a few states in an effort to split the "liberal" vote. In the aftermath of the campaign, many Gore supporters claimed that many of Nader's voters would have supported Gore, thus siphoning off enough would-be Gore votes to throw the election to McCain. Nader dismissed such concerns, claiming his objective in the campaign was to pass the 5% threshold so his party would be eligible for matching funds in future races.
The election
On election day, November 7, 2000, Senator McCain and Governor Bush held a joint rally in Miami, Florida. With the exception of Florida, McCain carried the Southern states by comfortable margins and also secured wins in Ohio, Indiana, most of the rural Midwestern farming states, most of the Rocky Mountain states, and Alaska. Gore balanced McCain by sweeping the Northeastern United States (with the sole exception of New Hampshire, which McCain won with a good margin), most of the Upper Midwest, and all of the Pacific Coast states of Washington, Oregon, and California, and carried Hawaii, as well. As the election returns came in on November 7, McCain had by 11:30 PM EST won twenty-eight states.
As the night wore on, the returns in a handful of small-to-medium sized states, including Wisconsin and Iowa, were extremely close; however it was the State of Florida that would decide the winner of the election. As the final national results were tallied the following morning, McCain had clearly won a total of 251 electoral votes, while Gore had won 255 votes. 270 votes were needed to win. One small state - Oregon (7 electoral votes) - were still too close to call. It was Florida (25 electoral votes), however, that the news media focused their attention on. Mathematically, Florida's 25 electoral votes became the key to an election win for either candidate.
After a long night of results the fate of the election came down to a close race in the final state of Florida. After several hours of vote counting, John McCain was announced the winner of the election and the forty third President of the United States of America at 3:17 AM EST. The McCain/Bush ticket received 277 electoral votes to Gore's 262.
Grand total
Presidential candidate
Party
Home state
Popular vote
Electoral
vote
Running mate
Running mate's
home state
Count
Pct
John McCain
Republican
Arizona
51,018,143
48.4%
276
George W. Bush
Texas
Al Gore
Democratic
Tennessee
50,489,042
47.9%
262
Joseph Lieberman
Conneticut
Ralph Nader
Green
Connecticut
2,882,955
2.7%
0
Winona LaDuke
Minnesota
Pat Buchanan
Reform
Virginia
448,895
0.4%
0
Ezola B. Foster
California
Harry Browne
Libertarian
Tennessee
384,431
0.4%
0
Art Olivier
California
Howard Phillips
Constitution
Virginia
98,020
0.1%
0
Curtis Frazier
Missouri
John Hagelin
Natural Law / Reform
Iowa
83,714
0.1%
0
Nat Goldhaber
California
Total
105,405,100
100%
538
 
Needed to win
270
 
Results by state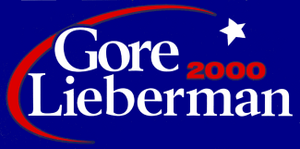 | # | State | Winner | Delegates |
| --- | --- | --- | --- |
| 1 | Washington | Gore / Lieberman | 11 |
| 2 | Oregon | Gore / Lieberman | 7 |
| 3 | California | Gore / Lieberman | 54 |
| 4 | Arizona | McCain / Bush | 8 |
| 5 | Nevada | McCain / Bush | 4 |
| 6 | New Mexico | McCain / Bush | 5 |
| 7 | Colorado | McCain / Bush | 8 |
| 8 | Utah | McCain / Bush | 5 |
| 9 | Idaho | McCain / Bush | 4 |
| 10 | Montana | McCain / Bush | 3 |
| 11 | Wyoming | McCain / Bush | 3 |
| 12 | North Dakota | McCain / Bush | 3 |
| 13 | South Dakota | McCain / Bush | 3 |
| 14 | Nebraska | McCain / Bush | 5 |
| 15 | Kansas | McCain / Bush | 6 |
| 16 | Oklahoma | McCain / Bush | 8 |
| 17 | Texas | McCain / Bush | 32 |
| 18 | Louisiana | McCain / Bush | 9 |
| 19 | Arkansas | McCain / Bush | 6 |
| 20 | Mississippi | McCain / Bush | 7 |
| 21 | Alabama | McCain / Bush | 9 |
| 22 | Georgia | McCain / Bush | 13 |
| 23 | Florida | McCain / Bush | 25 |
| 24 | South Carolina | McCain / Bush | 8 |
| 25 | North Carolina | McCain / Bush | 14 |
| 26 | Virginia | McCain / Bush | 13 |
| 27 | Tennessee | McCain / Bush | 11 |
| 28 | Kentucky | McCain / Bush | 8 |
| 29 | West Virginia | McCain / Bush | 5 |
| 30 | Ohio | McCain / Bush | 21 |
| 31 | Indiana | McCain / Bush | 12 |
| 32 | Illinois | Gore / Lieberman | 22 |
| 33 | Michigan | Gore / Lieberman | 18 |
| 34 | Wisconsin | Gore / Lieberman | 11 |
| 35 | Minnesota | Gore / Lieberman | 10 |
| 36 | Iowa | Gore / Lieberman | 7 |
| 37 | Maine | Gore / Lieberman | 4 |
| 38 | Vermont | Gore / Lieberman | 3 |
| 39 | New Hampshire | McCain / Bush | 4 |
| 40 | Massachusetts | Gore / Lieberman | 12 |
| 41 | Rhode Island | Gore / Lieberman | 4 |
| 42 | Connecticut | Gore / Lieberman | 8 |
| 43 | New York | Gore / Lieberman | 33 |
| 44 | Pennsylvania | Gore / Lieberman | 23 |
| 45 | New Jersey | Gore / Lieberman | 15 |
| 46 | Delaware | Gore / Lieberman | 3 |
| 47 | Maryland | Gore / Lieberman | 10 |
| 48 | Missouri | McCain / Bush | 11 |
| 49 | Alaska | McCain / Bush | 3 |
| 50 | Hawaii | Gore / Lieberman | 4 |
| 51 | Washington D.C. | Gore / Lieberman | 3 |
Campaign Videos
Republican Primary Videos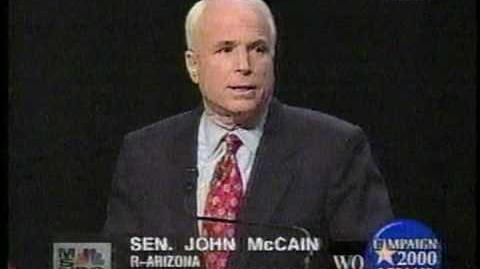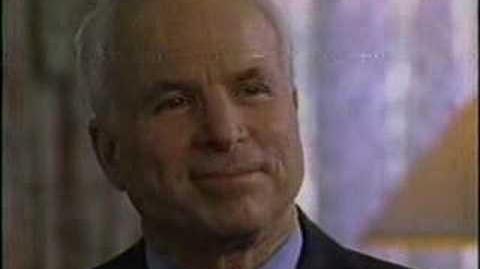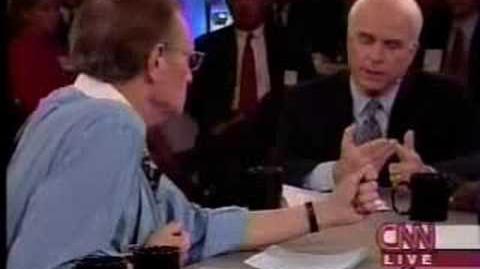 See also

United States presidential elections

2000 · 2004 · 2008 · 2012
Community content is available under
CC-BY-SA
unless otherwise noted.