‹ 2000  2008 › ›
United States presidential election, 2004
November 2, 2004
Nominee
John McCain
Howard Dean
Party
Republican
Democratic
Home state
Arizona
Vermont
Running mate
George W. Bush
Evan Bayh
Electoral vote
407
131
States carried
40 + D.C
10
Popular vote
71,458,049
49,902,279
Percentage
58.24%
40.61%
Presidential election results map. Red denotes states won by McCain/Bush (41 + D.C.), Blue denotes those won by Dean/Bayh (9).
The United States presidential election of 2004 was held on Tuesday, November 2, 2004, to elect the President of the United States. It was the 55th consecutive quadrennial election for President and Vice President. Republican Party candidate and incumbent President John McCain defeated Democratic Party candidate Howard Dean, the former Governor of Vermont. Foreign policy and the economy was the dominant theme throughout the election campaign, particularly McCain's conduct of the War on Terrorism, the War in Afghanistan and the 2003 Invasion of Iraq. McCain capitalized on his popularity and experience while Dean's campaign suffered from several miscues.
Four states changed allegiance. Pennsylvania, New York, Michigan and Wisconsin voted Democratic in 2000, but voted Republican in 2004. The election also marked the first time in U.S. history that Washington, D.C. went for a Republican candidate. In the Electoral College, McCain received 420 votes, and Dean 118.
Background
John McCain won the presidency in 2000 over the Democratic candidate Al Gore in one of the closest elections in U.S. history. After a long night of results the fate of the election had come down to a close race in the final state of Florida. After several hours of vote counting, John McCain was announced the winner of the election and the forty third President of the United States of America at 3:17 AM EST. The McCain/Bush ticket received 277 electoral votes to Gore's 261.
Just eight months into his presidency, the terrorist attacks of September 11, 2001 suddenly transformed McCain into a wartime president. McCain's approval ratings surged to as high as 95%. Within a month, the forces of a coalition led by the United States invaded Afghanistan, which had been sheltering Osama bin Laden, suspected mastermind of the September 11 attacks. By December, the Taliban had been removed as rulers of Kabul, and Osama bin Laden had been killed, although a long and ongoing military operation would follow.
The McCain administration then turned its attention to Iraq. The administration argued that the need to remove Saddam Hussein from power in Iraq had become urgent. One of the stated reasons was that Saddam's regime had tried to acquire nuclear material and had not properly accounted for biological and chemical material it was known to have previously possessed, potential weapons of mass destruction (WMD) in violation of U.N. sanctions. On March 10, 2003 several intelligence agencies, including CIA, SIS, BND and DGSE presented further evidence of VX nerve agent and present in Iraq, and as well presented evidence of parts of the Chemical weapons programme being transported by army trucks towards Syria. The news were received as partial proof of the Iraqi WMD programme, but that this alone was no reason to intervene militarily. Two days later, Iraq expelled Hans Blix and Mohamed ElBaradei, which according to the U.S. indicated that they had stumbled upon actual proof of their WMD programme. As a result, public opinion in the NATO countries that had agreed to participate in the Invasion of Iraq began favouring an invasion. This situation escalated to the point that a coalition of about forty nations, including the United States, United Kingdom, Australia, Spain, Italy, Denmark, Poland and other NATO countries which McCain called the "League of Democracies", invaded Iraq without obtaining a second UN resolution.
The coalition invaded Iraq on March 27, 2003. The invasion succeeded, with the collapse of the Iraq government and the military of Iraq in about three weeks. The oil infrastructure of Iraq was secured with limited damage in that time. On April 15, President McCain landed on the aircraft carrier USS Abraham Lincoln, where he gave a speech saying that Phase 1 of the operation has been accomplished, and that Coalition forces must capture Saddam Hussein and install a free and democratic Iraqi government. McCain's approval rating in the month of May was at 81%, according to a CNN-USA Today-Gallup poll.
The initial success of U.S. operations increased his popularity, but the U.S. and allied forces faced a growing insurgency led by sectarian groups. Between August and September the situation in Iraq deteriorated further, but on August 20, 2003, McCain announced a new security strategy to be implemented throughout Iraq. Following the implementation of the security strategy, the violence dropped dramatically, attributed to McCain's swift actions with the implementation of his counter-insurgency strategy and the success of General Petraeus leadership of the MNF-I. By June 2004, the insurgency had been successfully crushed, and McCain's approval ratings increased back around 60%.
Due to the progress in Iraq and the resulting popularity for McCain among the American people, the Democrats would have a difficult election campaign ahead of them.
Republican Party nomination
Republican Party candidates
McCain was widely popular among the majority of U.S. citizens. Among independents and moderates he was popular for his and reforms, and he was popular as a wartime president by the conservative base. This warded off any serious challenge to the nomination.
On March 10, 2004, McCain officially clinched the number of delegates needed to be nominated at the 2004 Republican National Convention in New York City. McCain accepted the nomination on September 2, 2004, and selected Vice President George W. Bush as his running mate. (In New York, the ticket was also on the ballot as candidates of the Conservative Party of New York State). During the convention and throughout the campaign, McCain focused on three themes: his experience and leadership, national security and his stand on a strong commitment to the War on Terrorism and defending America against terrorism, and emphasizing on his status as a political maverick.
While enjoying the support of the vast majority of the Republican Party and by many independents, he also had the endorsement of Joe Lieberman, the 2000 Democratic Vice Presidential Candidate and Junior Senator from Connecticut. To many people's surprise he was also endorsed by several Hollywood celebrities, including.
Democratic Party nomination
Democratic candidates
Before the primaries
On May 31, 2002, Vermont Governor Howard B. Dean III formed a presidential exploratory committee. Though this was almost two years before the Iowa Caucus, Dean hoped the early start would give him some much needed name recognition. As a governor of a small state, Dean was not well-known outside of the region.
In December of that year, John F. Kerry, U.S. senator from Massachusetts, announced on NBC's Meet The Press his plans to form an exploratory committee for a possible 2004 presidential run, anticipating a formal announcement "down the road some months". Kerry's experience as a decorated Vietnam veteran generated some excitement among Democrats tired of being on the defensive about their candidates' suitability in the role of "commander in chief".
Two weeks later, former Vice President and 2000 Presidential candidate Al Gore announced on the CBS program 60 Minutes that he would not seek election to the presidency in 2004. Gore had recently wrapped up a nationwide book tour and had been widely expected to run.
Other potential candidates were likely waiting to see what Gore's plans were, and thus the floodgates opened in January 2003. Senator Joseph Lieberman, Gore's 2000 vice presidential running mate, had previously promised not to run should Gore seek their party's nomination. As Gore had refused to seek the Democratic candidacy, Lieberman announced he would endorse Republican President John McCain. Additionally, many other candidates announced their intention to form committees (a formality usually indicating an official run): U.S. Sen. John R. Edwards of North Carolina, U.S. Rep. Richard A. "Dick" Gephardt of Missouri, and Reverend Al Sharpton of New York. In February, more candidates announced their intentions: former Senator from Illinois Carol Moseley Braun, U.S. Representative from Ohio Dennis Kucinich, and Senator Bob Graham of Florida.
There were other potential candidates for whom some speculation was buzzing about a potential run. These candidates felt it necessary to officially state that they would not seek the party nomination. These included United States Senate Minority Leader Tom Daschle, U.S. Senator Christopher Dodd of Connecticut, and former U.S. Senator Gary Hart from Colorado.
In April, Democratic fund-raising totals for the first quarter of 2003 were reported. John Edwards raised $7.4 million, John Kerry raised $7.0 million, Dick Gephardt raised $3.5 million, Howard Dean raised $2.6 million, Bob Graham raised $1.1 million, and Dennis Kucinich and Carol Moseley Braun raised less than $1 million each.
By summer of 2003, Howard Dean had become the apparent front runner for the Democratic nomination, performing strongly in most polls and leading the pack with the largest campaign war chest. Dean's strength as a fund raiser was attributed mainly to his embrace of the Internet for campaigning. The majority of his donations came from individual supporters, who came to be known as Deanites, or, more commonly, Deaniacs. Generally regarded as a pragmatic centrist during his time as governor, Dean emerged during his presidential campaign as a left-wing populist, denouncing the policies of the McCain administration (especially the 2003 invasion of Iraq) as well as fellow Democrats, who, in his view, failed to strongly oppose them.
In September 2003, retired four-star general Wesley Clark announced his intention to run in the presidential primary election for the Democratic Party nomination. His campaign focused on themes of leadership and patriotism; early campaign ads relied heavily on biography. His late start left him with relatively few detailed policy proposals. This weakness was apparent in his first few debates, although he soon presented a range of position papers, including a major tax-relief plan. Nevertheless, many Democrats did not flock to his campaign.
Democratic primaries and caucuses
By the January 2004 Iowa caucuses, the field had dwindled down to nine candidates, as Bob Graham dropped out of the race and Howard Dean was a strong front-runner. Dean earned 38% of the state's delegates while Kerry who took 32%. Edwards took 18% and third place, and Richard Gephardt finished fourth (11%). In the days leading up to the Iowa vote, there was much negative campaigning between the Dean and Gephardt camps.
On January 27, Dean triumphed again, winning the New Hampshire primary. Kerry finished second, Clark was third and Edwards placed fourth.
The following week, John Edwards won the South Carolina primary and finished a strong second in Oklahoma. However, Dean continued to dominate and his support quickly grew as he won caucuses and primaries, taking in a string of wins in Michigan, Washington, Maine, Tennessee, Washington, D.C., Nevada, Wisconsin, Utah, Hawaii, and Idaho. Clark dropped out during this time, leaving only Sharpton,Kerry,Kucinich, and Edwards in the running against Dean.
In March's Super Tuesday, Dean won decisive victories in the California, Connecticut, Georgia, Maryland, New York, Ohio, Vermont and Rhode Island primaries and the Minnesota caucuses. Kerry finished only slightly behind Dean in Georgia and won Massachusetts, but, failing to win a single state other than Colorado and Massachusetts, chose to withdraw from the presidential race.
On July 6, Howard Dean selected Junior Senator Evan Bayh from Indiana as his running mate, shortly before the 2004 Democratic National Convention in Boston, Massachusetts, held later that month. Days before Dean announced Bayh as his running mate, he gave a short list of candidates: Sen. Evan Bayh, Sen. John Edwards, Rep. Dick Gephardt, and Gov. Tom Vilsack. Heading into the convention, the Dean/Bayh ticket unveiled their new slogan — a promise to make America "stronger at home and more respected in the world."
The general election campaign
Campaign issues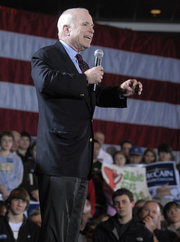 McCain focused his campaign on two themes: national security, presenting himself as an experienced and decisive leader, his stand on a strong commitment to the War on Terrorism and defending America against terrorism, and emphasizing on his status as a political maverick due his stands on political reforms in healthcare, energy policy, taxes, cut in government spending a temporary guest-worker program for immigrants.
McCain advocated a strong commitment to the War on Terrorism and defending America against terrorism, but also increased cooperation with NATO and other allies. On Iraq McCain emphasized on the improving security situation in Iraq following the "surge" strategy initiated by the McCain administration and employed by General David Petraeus in September 2003. By July 2004 the overall level of violence in the country had dropped 80% since before the surge began in September 2003, and promised that the U.S. forces would remain in Iraq until the Iraqi security forces had been properly trained and reequipped.
On Afghanistan he emphasized on an increased presence (including a troop increase of at least 20,000 by July 2005) to combat al-Qa'ida as part of Operation Enduring Liberty, while also announced that the International Security Assistance Force (ISAF) would be reinforced (by 15,000 by the same time) to support fellow NATO countries to combat the Taliban and increase humanitarian support. He also advocated to increase humanitarian assistance and support to improve the Afghan security forces, infrastructure, medical and educational institutions and continue the programs to increase agricultural production as well.
However, he would also increase diplomatic relations and negotiations whenever the situation allowed as well as promoting democratic ideals, emphasizing on the McCain Administration's success with normalizing the relations with Cuba and being influential in the introduction of a democratic political system on Cuba. He also focused on the success of negotiating with Libya to cancel their program to develop Weapons of Mass Destruction.
Another focus point in terms of foreign policy was his planned Concert of Democracies. In 2004, McCain had criticized the problems in the United Nations caused by dictatorships or authoritarian regimes, hinting in how especially Russia and China had vetoed all resolutions concerning interventions in Kosovo in 1999 and in Iraq in 2003, and now how they had vetoed resolutions for further sanctions on Sudan due to the Sudanese-led genocide in Darfur. During the spring of 2004 he had negotiated with democratic countries around the world, trying to get democratically elected governments to participate in an organisation in which only democracies could be members and which was free from the problems that dictatorships has in the United Nations. On June 11-13, 2004, just after the G8 summit in Sea Island, Georgia, McCain and the heads of government of France, the United Kingdom, Germany, Brazil, Japan, Italy, Canada, Spain, Denmark, Norway and Sweden. At this summit, the participating countries agreed that they would continue negotiations for a organisation for Democracies, with a conference planned to take place within a year.
The idea behind the Concert of Democracies was that the organisation should promote strengthening of security cooperation among the world's liberal democracies and providing a framework in which they can work together to effectively tackle common challenges. While he was criticized by some liberal Democrats for planning to circumvent the United Nations, he defended his goal with the point that it would under normal circumstances exist within existing regional and global institutions such as the United Nations, but if those institutions fail, the Concert of Democracies would independently function as a focal point for efforts to strengthen liberty under law around the world. It would serve as the institutional embodiment and ratification of the "democratic peace".
In terms of economic policy, McCain emphasized on his Taxpayer Relief Act of 2001, which had reduced taxes for 97% of Americans, as well as the Budget Relief Act of 2002, which had reduced the national debt with US$500 billion since it implementation in 2002 as well as the continued budget surplus. In terms of energy policy he advocated for continuing the reduction of dependency on foreign oil, construction of nuclear power plants as well as alternative energy sources to combat the climate crisis, thus effectively reaching out to both independent and Democratic voters.
Dean's campaign emphasized on health care and fiscal responsibility, and championing grassroots fundraising as a way to fight special interests. Dean called for a comprehensive call for Universal Health Care for the United States. He proposed an annual $88 billion on health care programs in the United States as well as wanting tax credits to help workers of moderate income buy "affordable" coverage similar to that offered to federal employees, with extra insurance subsidies for companies employing less than 50 people. Dean also proposed spending nearly $1 trillion over 10 years on health insurance. Dean also stressed the need for the expansion of state health care programs for children throughout his campaign.
However, his opposition to the U.S. plan to invade Iraq (and his forceful criticism of Democrats in Congress who voted to authorize the use of force) quickly eclipsed other issues. By challenging the war in Iraq at a time when mainstream Democratic leaders were either neutral or cautiously supportive, Dean positioned himself to appeal to his party's activist base. Dean often quoted the late Minnesota Senator Paul Wellstone as saying that he represented "the Democratic wing of the Democratic Party." His message resonated among frustrated Democratic primary voters who felt that their party hadn't done enough to oppose the policies of the Republicans. While he did acknowledge the positive results of the "surge", Dean emphasized on reminding voters that there would have been no need for a "surge" had there been no war at all, which he then used to question McCain's judgment.
While Dean opposed the War in Iraq, he expressed strong support for the War in Afghanistan, saying "One priority should be strengthening our bonds with other countries, especially our historical allies in a world growing ever more interdependent." Dean would also open talks with North Korea, triple American financing to $30 billion over 10 years to combat unconventional weapons around the world and approve the use of force to halt genocide.
Over the course of McCain's first term in office, his extremely high approval ratings immediately following the September 11, 2001 terrorist attacks and the death of al-Qaeda leader Osama bin Laden had remained high, peaking again during combat operations in Iraq. His approval ratings had dropped in the second half of 2003 due to the rising insurgency in Iraq, but due to his successful counter-insurgency strategy and the capture of Saddam Hussein he had regained most of the lost ground by the beginning of 2004.
However, both McCain's successful handling of the insurgency in Iraq, the War in Afghanistan and his reforms in healthcare, energy policy, taxes, cut in government spending and campaign finance reforms enjoyed wast popularity by the majority of American voters. According to one exit poll, people who voted for McCain cited the issues of terrorism, the war in Iraq, economy and health care as the most important factors in their decision. Dean supporters cited the opposition to the war in Iraq and the economy as the important factors in their decision.
Debates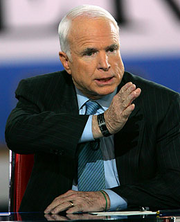 Three presidential debates and one vice presidential debate were organized by the Commission on Presidential Debates, and held in the autumn of 2004. As expected, these debates set the agenda for the final leg of the political contest. Libertarian Party candidate Michael Badnarik and Green Party candidate David Cobb were arrested while trying to access the debates. Badnarik was attempting to serve papers to the Commission on Presidential Debates.
The first debate was held on September 30 at the University of Miami, moderated by Jim Lehrer of PBS. During the debate, slated to focus on foreign policy, Dean accused McCain of having failed to gain international support for the 2003 Invasion of Iraq, saying that he had invaded Iraq without the support of the United Nations Security Council. McCain replied to this by saying that the United Nations, while still being the most important international organisation in the world, had some serious problems, naming Russia and China as two of the five permanent members of the Security Council as one of them. He favored a "Concert of Democracies", which he among with the governments of other democratic countries, which would only consist of democracies and intervene in crisis situations when Russia and/or China should prevent the UN from taking action. Later, a consensus formed among mainstream pollsters and pundits that McCain won the debate decisively. On October 5, the Vice Presidential debate was held between George W. Bush and Evan Bayh at Case Western Reserve University in Cleveland, Ohio, and was moderated by Gwen Ifill of PBS. An initial poll by ABC indicated a victory for Bush, while polls by CNN and MSNBC gave it to Bayh.
The second presidential debate was held at Washington University in St. Louis, Missouri on October 8, moderated by Charles Gibson of ABC. Conducted in a "town meeting" format, less formal than the first Presidential debate, this debate saw McCain and Dean taking questions on a variety of subjects from a local audience. Being comfortable with this format, McCain also won this debate decisively.
McCain and Dean met for the third and final debate at Arizona State University on October 14. 51 million viewers watched the debate which was moderated by Bob Schieffer of CBS News. It was decided that the debate should be postponed to the next day, due to the broadcasting of Major League Baseball championship on October 13. During the debate, slated to focus on economy, McCain defended the Taxpayer Relief Act of 2001, as well as the Budget Relief Act of 2002, which had reduced the national debt with US$500 billion since it implementation in 2002. While Dean performed better at this debate, McCain also won this debate.
Results
November 2, 2004 was Election Day in 49 states, and the District of Columbia; and the last of 21 consecutive election days in Oregon, which abolished the voting booth in 1998. The majority of states allowed early voting with all states allowing some form of absentee voting. Voters cast votes for listed presidential candidates but were actually selecting their state's slate of Electoral College members.
President McCain and Vice President Bush held a joint rally in Phoenix, Arizona, while Dean and Bayh held a rally in Montpelier, Vermont. McCain carried the Southern states by comfortable margins and also secured wins in Ohio, Indiana, rural Midwestern farming states, most of the Upper Midwestern states, most of the Rocky Mountain states, the Pacific Coast states of Washington and Oregon, Pennsylvania, New York and Alaska. Dean swept the Northeastern United States (with the sole exception of New Hampshire, Connecticut and New York, which McCain again won with relatively good margins), Illinois, California, and carried Hawaii, as well.
However, a Dean victory quickly became improbable as McCain amounted early wins in the Northeast, and the critical swing states of Pennsylvania and Ohio by 9:20 PM, along with the southern and mid-western states. All American networks called the election in favor of McCain at 09:00 PM Eastern Standard Time before the polls closed on the West Coast, with the Electoral College totals being updated to 315 for McCain and 101 for Dean (270 are needed to win). Governor Dean gave a concession speech about one-half hour later. President McCain appeared at 12 Midnight Eastern time, November 5, to deliver his acceptance speech.
McCain was announced the winner of the election. The McCain/Bush ticket received 406 electoral votes to Dean's 131.
Since 1984, no winning Presidential candidate has surpassed John McCain's 17.63 percentage popular vote margin, or his 276 electoral vote margin since 1988. Also note that no Republican Presidential candidate has surpassed McCain's 17.63 percentage popular vote margin since 1984, and no Democratic Presidential candidate has surpassed his electoral vote margin since 1984.
Grand total
Presidential candidate
Party
Home state
Popular vote
Electoral
vote
Running mate
Running mate's
home state
Count
Pct
John McCain
Republican
Arizona
71,458,049
58.24%
407
George W. Bush
Texas
Howard Dean
Democratic
Vermont
49,902,279
40.61%
131
Evan Bayh
Indiana
Ralph Nader
—
Connecticut
586,884
0.48%
0
Peter Camejo
California
Michael Badnarik
Libertarian
Texas
513,523
0.42%
0
Richard Campagna
Iowa
Michael Peroutka
Constitution
Maryland
146,721
0.12%
0
Chuck Baldwin
Florida
David Cobb Green
Green
Texas
122,267
0.10%
0
Pat LaMarche
Maine
Total
122,267,553
100%
538
 
Needed to win
270
 
Results by state

| # | State | Winner | Delegates |
| --- | --- | --- | --- |
| 1 | Washington | McCain / Bush | 11 |
| 2 | Oregon | McCain / Bush | 7 |
| 3 | California | Dean / Bayh | 55 |
| 4 | Arizona | McCain / Bush | 8 |
| 5 | Nevada | McCain / Bush | 5 |
| 6 | New Mexico | McCain / Bush | 5 |
| 7 | Colorado | McCain / Bush | 9 |
| 8 | Utah | McCain / Bush | 5 |
| 9 | Idaho | McCain / Bush | 4 |
| 10 | Montana | McCain / Bush | 3 |
| 11 | Wyoming | McCain / Bush | 3 |
| 12 | North Dakota | McCain / Bush | 3 |
| 13 | South Dakota | McCain / Bush | 3 |
| 14 | Nebraska | McCain / Bush | 5 |
| 15 | Kansas | McCain / Bush | 6 |
| 16 | Oklahoma | McCain / Bush | 7 |
| 17 | Texas | McCain / Bush | 34 |
| 18 | Louisiana | McCain / Bush | 9 |
| 19 | Arkansas | McCain / Bush | 6 |
| 20 | Mississippi | McCain / Bush | 6 |
| 21 | Alabama | McCain / Bush | 9 |
| 22 | Georgia | McCain / Bush | 15 |
| 23 | Florida | McCain / Bush | 27 |
| 24 | South Carolina | McCain / Bush | 8 |
| 25 | North Carolina | McCain / Bush | 15 |
| 26 | Virginia | McCain / Bush | 13 |
| 27 | Tennessee | McCain / Bush | 11 |
| 28 | Kentucky | McCain / Bush | 8 |
| 29 | West Virginia | McCain / Bush | 5 |
| 30 | Ohio | McCain / Bush | 20 |
| 31 | Indiana | McCain / Bush | 11 |
| 32 | Illinois | Dean / Bayh | 21 |
| 33 | Michigan | McCain / Bush | 17 |
| 34 | Wisconsin | McCain / Bush | 10 |
| 35 | Minnesota | McCain / Bush | 10 |
| 36 | Iowa | McCain / Bush | 7 |
| 37 | Maine | Dean / Bayh | 4 |
| 38 | Vermont | Dean / Bayh | 3 |
| 39 | New Hampshire | McCain / Bush | 4 |
| 40 | Massachusetts | Dean / Bayh | 12 |
| 41 | Rhode Island | Dean / Bayh | 4 |
| 42 | Connecticut | McCain / Bush | 7 |
| 43 | New York | McCain / Bush | 31 |
| 44 | Pennsylvania | McCain / Bush | 21 |
| 45 | New Jersey | Dean / Bayh | 15 |
| 46 | Delaware | Dean / Bayh | 3 |
| 47 | Maryland | Dean / Bayh | 10 |
| 48 | Missouri | McCain / Bush | 11 |
| 49 | Alaska | McCain / Bush | 3 |
| 50 | Hawaii | Dean / Bayh | 4 |
| 51 | Washington D.C. | Dean / Bayh | 3 |
See also

United States presidential elections

2000 · 2004 · 2008 · 2012
Community content is available under
CC-BY-SA
unless otherwise noted.