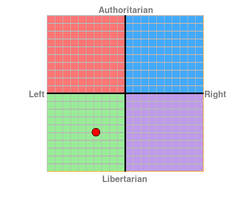 Hey! I'm AltHistoryVibes. I'm from the Southside of Chicago, and I enjoy dicking around on here. I like to pretend I'm decent at it.
These projects just sort of spiraled out of control, and I'm loving every second of it.
I also enjoy making campaign logos.
Deutsch wird hier gesprochen.
My Timelines
The main timelines I'm working on are:
There's also the currently on-hold project Justice is the Great End - where Samuel Tilden wins the election of 1872. I'm strongly considering reviving the project. It would heavily feature the Supreme Court.
There's also a timeline, still in the planning stages: Bring to them the Faith - a timeline where the Chinese Rites Controversy is decided in favor of the Jesuists. How would a Chinese-born Pope influence the Church and the world?
Some Articles Currently Being Worked on or Planned - a Non-Exhaustive List
Islamic Republic of Arabia (The More Things Changed)
Susan Tsvanigari (The More Things Changed)
California Gubernatorial Election, 2018 (The More Things Changed)
Federal Republic of Syria (The More Things Changed)
Presidency of Sergey Shoygu (The More Things Changed)
House Select Committee on Covert Communications (The More Things Changed)
Shri Thanedar (The More Things Changed)
Gayle McLaughlin (The More Things Changed)
East Germany (Die Mauer Steht)
Union of Burma (Die Mauer Steht)
Kerry Bentivolio (The More Things Changed)
Governorship of Bernie Sanders (The More Things Changed)
Supreme Court of the United States (Justice is the Great End)
War in Belarus (The More Things Changed)
CANZUK (The More Things Changed)
Categorizing Articles
Heaven forbid we ever have "Diplomats" as a category, amirite?
Chicago
Da Bears. Da Sox. Da Hawks. Da Bulls.
My Infobox
AltHistoryVibes
Biography
Nationality
American
Ancestry
Maternal
French Canadian
(un petit peu)
Irish
Paternal
Irish
Hometown
Chicago
Residence
Chicago
Age
25
Philosophy
Liberation Theology

Political Views

Political Parties

Domestic
Democratic Party
International

Liberal Party
Die Grünen
FDP (mit Handel)
Liberal Democrats
Sinn Féin
Fine Gael
Democratic Alliance

Languages
English (native)
German (ILR Level 3)
Pennsylvania Dutch (Aafenger)
Interests and Hobbies
Musical Interests
Some Political Likes

Literally whoever you don't like

Some Political Dislikes

Literally whoever you do like

AH Interests
AH Pet Peeves

Misusing a foreign language
Passing a new Constitutional amendment when just passing legislation would have worked perfectly fine
ASB shit happens, but people still generally need to react in realistic ways; if you want a specific thing to happen, just make it happen without shoehorning it in
My Favorite Pages (That are not my own)
Community content is available under
CC-BY-SA
unless otherwise noted.