Hello. My name is Azecreth. my interests are Alternate History, Science Fiction, and D
awn of Victory
. I am currently 18 years old. I am a constable in the
TSPTF
, and I am eager to be of help to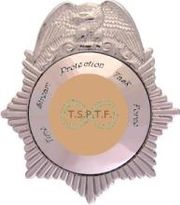 maintaining order on this wiki. If you need help, just ask on my talk page, and I'll do what I can.
Timelines I am interested in:
Adopted TL's:
TL's not on this website that I like:
Review: Good, well thought out. Doesn't get updared very often.
Review: Very good. I reccomend you read it eve if you don't play Hearts of Iron.
Review: The description of the crisis and the descent into nuclear war are excellent. It skimps on stuff after the war, but what there is provides an interesting view of the world. and to be honest, with a timeline this detailed, you won't really care about the after war stuff.
I'm not really interested in the big timelines like 83:DD, Rise of Roses, and Central World. I don't really know where to start, and I just fell like I would intrude. But I am a controller for CYOAH, because I feel like it, and because it gets confusing ith the differnet timelines, so my mind challenges me to understand it.
I play Hearts of Iron 2, both Arsenal of Democracy, and Doomsday.
Community content is available under
CC-BY-SA
unless otherwise noted.