Sandbox for things and ideas.
the guide
Map Games are a fun and competitive form of alternate history that are popular on this site. They are essentially a historical, geographical and political role-playing game, in which a player takes control of a nation, and attempts to keep it from ruin and lead it to glory. A map game, at its heart, is designed and run by users, and by the end we should have a complete and detailed alternate history, from the start date until now. 
Map Games, however, can be a cutthroat and challenging world. This guide will take you through the basics of a map game - how they work; how to play; how not to get banned by angry mods.
How does a map game work?
As the rules and setup are decided by the creator and mod team, and adhere to no set rules, each map game works differently. However they naturally all follow a similar structure, which we will outline here.
The Setting
Each map game has a premise - a specific starting era, or setting, which defines what the main themes of the game will be. A game starting in the colonial era (such as Scramble for Africa) would begin as a rush for new land, whereas a WWII-based game (Axis vs Allies) would be all about modern warfare, resources and political struggle.
They do not necessarily have to be in known history either. Some fun map games have flung players into unfamiliar worlds, such as The Greater Americas, in which civilisation was centred on the other side of the Atlantic. Furthermore, map games haven't shied away from the implausible, albeit entertaining, such as Night of the Living Alternate History, a popular game where players faced a zombie-plague sweeping the planet.
The Map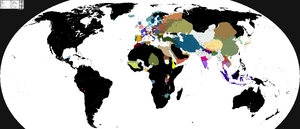 The map is a key part of the game. It is updated every five turns or so by the designated mapmakers, and is the way to keep track of any territorial changes that may have taken place. Though the map remains important in the modern map game (it is a *map* game after all), it has shifted since the original 'Map Game', and is no longer the only measure of your nation's progress. Depending on the game, you can improve economy, infrastructure, military, education and more - you can go from backwater to leading power without adding so much as a pixel to your borders.
The Nations
Somewhere underneath the map there will be a comprehensive list of nations and players. When joining the game, choose a country with no name next to it, put your signature next to it, and you have taken control! Underneath each nation may lie a sub-list of territories and colonies also owned by that country. Also put your name next to those. For example;
The Mods, Rules, and Algorithm
The final piece of the puzzle is the glue that holds it all together - the rules, and the people that enforce them. 
The moderators of a map game usually include the creator, alongside a few of his trusted buddies, who often have specific roles in the team, such as mapmaker, event designer, etc. These are the people to message if you have any issues, questions or queries about the game.
The rules of the game are usually listed next to the moderators, and they vary from game to game, with some opting for more complex rules and mechanics in an attempt to ensure full realism from the players. Make sure you read the rules before playing - failure to comply can result in a suspension from the game, and repeated offences can get you banned.
Another very important aspect of the rules is the War Algorithm, often called the 'algo'. This is a complex calculation, involving a host of different factors, done to decide the outcome of a war. The usually involve a host of different factors, such as manpower, wealth, technology, generals and admirals, resources and more. The template for the algorithm is free for all to see, however normally it must be calculated or verified by a neutral moderator, to ensure no bias or tampering. Try to familiarise yourself with the algo before going into any wars.
How do you play a map game (well)?
Now we have the basics down, it's time to move onto actually playing the game. The gameplay mostly goes like this: A turn is posted by the mods; players post their actions; players and mods respond where necessary. It's that simple. To explain in more detail, let's break down each turn into three (vague) phases - the events, the play, and the response.
The Events
A turn is posted every day, and normally covers one year of action (ancient map games may use longer turns, modern map games shorter). Under the year heading for each turn, the mods will present what are known as mod events. These are notable happenings that have occured throughout the world. They can vary from light flavour events such as the actions of a famous artist, to game-changing incidents that have massive consequence globally, such as natural disasters or technological advancements. Players can respond to these events how they see fit - make sure you read them all, as they are mostly random, and could affect anyone and everyone.
The Play
Turn posted, mod events announced, the play begins.
Players have until the start of the next turn to post their actions for the round. These posts can be as freeform as you like, and written in whatever style you like - however, most opt for writing in third person present tense, describing the actions of the ruler of the country, or the country itself. Most write a paragraph in prose form, detailing the various projects and plans their nation intends to carry out. This can vary from King George III of England wanting to promote artists in London by offering patronage, to total mobilisation to prepare for war. Ensure your country's name is at the top in bold, be it within a sentence or as a title, and each player's post should be a first level bullet point.
Try not to make your post too long or too short - around 250 words is standard, though you can do shorter or longer if you have a particularly quiet or busy year. Too short makes your post bland and doesn't give the mods much to work with; too long, and, well, people don't have the patience to read a wall of text. Furthermore, try to avoid being lazy by copying your previous turn and pasting it for ease. This practice is widely frowned upon, and some games in the past have had rules against it. Even if not much has changed in your nation, try to add little flavour events in, a little story-telling can liven up an otherwise bland turn.
The Response
If you make an action that requires a response from another player-controlled nation (such as a call to arms, or a trade request), make sure that is bolded. In the case of requiring a response from a non-player country, or an otherwise independent faction, such as a rebel group, a mod response is required. A neutral moderator will assume the role of that entity, and give you an appropriate response. You can also request mod responses for more random events, such as election outcomes or assassination attempts. A moderator will often use a random number generator to decide in these instances. If you're getting no response from a player, message them on their talk or discord. In the case of a mod response, they tend to be a bit more blind than players - sometimes it is required to be a bit more visible with your request - (MOD RESPONSE NEEDED) normally does the trick. 
Players and mods will respond in a second-level bullet point, usually starting their response with [country name] diplomacy:. You can respond to these too if needed, still in second-level bullet points, until some sort of agreement is made. You can negotiate peace deals, trade deals, arms deals - all discussions go here. Keep a look out for people asking you for a response too. The next day will bring a new turn, so try to respond in time, to ensure you're ready for the next play. 

test
Community content is available under
CC-BY-SA
unless otherwise noted.