My own sandbox. Meh.
War for Antarctica
Alvin Huxley as McKinley O'Hara
Alan Rodrigo Buenaventura as Emmanuel Pelaez
Caspar Gustavsen as Thobias Mjoen
Calvin F. Windsor as Mike Townsend
Some Romanovans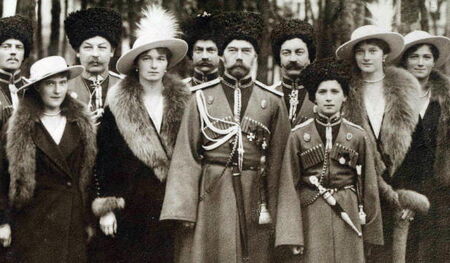 L to R: Alfred Livoskin, Grand Duchess Anastasia, Dmitri Petrovich, Grand Duchess Olga, Konstantin Arafimov, Tsar Nicholas II, Oleg Yurievsky-Oldenburg, Tsarevich Alexei, Grand Duchess Tatiana, and Grand Duchess Maria
Tsar Alexei's Life
Bahavia
Republic of Bahavia
Réspúvlekhónís diBaxávhiá
Motto
Q'ón míllóunh qókuzhenlí néyxhavlén Baxávhiá! (Bahavian)
("May a million blessings rain down on Bahavia!")
Anthem
"Xaghádéx (Greetings)"
Capital
Bahavriya
Largest city
Bahavriya
Other cities
Qukelpa
Language
  official
 
Bahavian
  others
Russian, Kazakh
Religion
  main
 
Church of the Holy Yaks
  others
Orthodox Christianity, Islam
Ethnic Groups
  main
 
Bahavs
  others
Kazakhs, Dubins
Demonym
Bahavian
Government
Republic
President
Raum Paroom
Prime Minister
Moolah Shadoom
Independence
from the Kazakh SSR
  declared
20 August 1991
  recognized
3 January 1992
Currency
Bahavian ruble (BVR)
Calling Code
+689
Internet TLD
.bv
Organizations
United Nations, Commonwealth of Independent States
Vallarinsk
Province of Vallarinsk
Провинция Валларинск/Provintsiya Vallarinsk
Oublashti Vallarynousk
— Province of Krakozhia —
Timeline: Birth of Krakozhia
OTL equivalent: A very tiny part of Venus
Motto
Ибо Бог, Валларинск и партии (English)
("For God, Vallarinsk, and the Party")
Anthem
"Hymn of the Republic of Krakozhia"
Capital
Umayevsk
Largest City
Muktarbariyevo
Other Cities
Apollinarov, Kuzmina, Damarnik
Language
  Official
 
Russian
  Others
Krav
Religion
  Main
 
Roman Catholicism
  Others
Orthodox Christianity
Ethnic Groups
  Main
 
Kravs
  Others
Bulgarians
Demonym
Vallarinskian
Government
Democratically elected government
Established
June 30, 1992
Admission
December 20, 2000
Currency
Krakozhian ruble (KZR)
Abbreviations
VL
Some important links
important text for later
An amateur football league, composed of six clubs from various parts of the colonies collectively grouped under the name Eduarda, was established in 1912, but play was halted in 1914 due to the outbreak of World War I, and the players heading off to war against New Swabia. In 1932, the Eduardan Football League was established by the Eduardan Football Association. Great Cardiff United was the league's first champions.
In 1939, the Eduardan Football League was suspended once again, this time due to World War II. Play was stopped until 1952.
my version of the Antarctic Cup
No offense to Mscoree, but I just wanted to lay out my own version of the Antarctic Cup here in my sandbox for review.
Everything in Mscoree's table up to 1966 is considered valid.
Venusian Cup champions
Now it's time for the Venusian Cup champions!
Year
Host
Final
Third Place Match
Winner
Score
Runner-up
3rd Place
Score
4th Place
2002


New Kamchatka

New Kamchatka
3-0

Kennedy
2003

New Kamchatka

New Kamchatka
3-2

Kennedy
2004


New Kamchatka
2-0

Kennedy
2005

New Kamchatka

New Kamchatka
3-1

Kennedy

Saigyo
4-0
2006


New Kamchatka
2-1
(aet)

Nova Britannia
2-0

Kennedy
2007

Saigyo

Saigyo
3-2
(aet)

New Kamchatka

Nova Britannia
3-0
2008


New Kamchatka
1-0

Saigyo

1-1
(5-4p)


Kennedy
2009

Nova Britannia

Nova Britannia

2-2
(4-3p)


Saigyo

New Kamchatka

4-2
(aet)

2010


Cassini
2-0
(aet)

Saigyo

4-3


Nova Britannia
2011

Kennedy

Cassini

1-0


Saigyo

3-1

2012


New Kamchatka
2-0

Cassini

0-0
(2-1p)


Nova Britannia
2013

New Kamchatka

Saigyo

3-1
(aet)


Cassini

3-3
(3-1p)

2014


Kennedy
1-0
(aet)

Saigyo

4-2


Cassini
Arsenal de Releinthi
No.
Position
Player
1

GK

Brad Jones
2

DF

Jefferson Samonte (captain)
3

Template:Country data Greece

Template:Namespace detect showall

DF

Evangelos Christodoulopoulos
4

DF

Dickinson Hamada
5

MF

Alexandre Cuvillier
6

Template:Country data Poland

Template:Namespace detect showall

MF

David Osisek (vice-captain)
7

MF

Liam Ferdinand
8

MF

Oleg Mostovoi
9

FW

Gal Tza'eer
10

Template:Country data Brazil

Template:Namespace detect showall

FW

Godzilla
11

MF

Muhammad Ridwang
12

GK

Daniel Saroge
13

DF

Jaggi Vasudev

| No. | | Position | Player |
| --- | --- | --- | --- |
| 14 | | MF | Ralph Dominguez |
| 15 | | DF | Charles Amoroso |
| 16 | | DF | Iwate Jamugka |
| 17 | | FW | Ismaeel Abdullatif |
| 18 | | MF | Elliot Edison |
| 19 | | FW | Obaidullah Karimi |
| 20 | | FW | Julius Akosah |
| 21 | | FW | Konstantin Telsdoj |
| 22 | | GK | Oliver Vargas |
| 24 | | MF | Zack Tatami |
| 25 | | MF | Brendan Meeks |
| 26 | | DF | Paul Leduc |
| 50 | | DF | Rohan Smith |
Riuwiee United
| No. | | Position | Player |
| --- | --- | --- | --- |
| 1 | | GK | James Tarragona (vice-captain) |
| 2 | | DF | Indiro Casuma |
| 3 | | DF | Luke Edwards (captain) |
| 4 | | DF | Ternante Upsilo |
| 5 | | MF | Bryan Jones |
| 6 | | MF | Tony Sucipto |
| 7 | | MF | Eka Ramdani |
| 8 | | MF | Maksim Zhivnovitsky |
| 9 | | MF | Hamengkubuwono |
| 10 | | FW | Oren Ya'akovi |
| 11 | | FW | Ali Afif |
| 12 | | GK | Karim Ansarifarid |

No.
Position
Player
14

Template:Country data Greece

Template:Namespace detect showall

DF

Sokratis Tzorvas
15

MF

Horatio Nelson Lu
17

MF

Shinji Ikeda
18

MF

Bill Kasagaran
20

FW

Boaz
23

DF

Yevgeniy Letexotu
26

MF

Hans Gruber
29

FW

Liam Short
30

DF

Kevin Thompson
34

GK

Yusuf Ahmad
40

DF

Siegfried Odinson
42

DF

Eugene Dovaromo
Current Premier League managers (and if they survived 1983:DD)
Some stuff of my own
Team
Arsenal de Releinthi
Malabon
Riuwiee United
Rosenpfelblatz City
Ludogorets Markovsky
Metallurgist Beledor
Sporting Ceneisis
Wanda Island Wanderers
Fleftic Army
Submarine Yeralenko
Locomotive Imgortur
Fleftic Air Force
Xemlice Rovers
Torpedo Yeralenko
Antslinngs Islands
Wabash River
Admiral Porcusces
Marinos Thimpodopoulos
Kimmirut Panhandle
Athletic Dorfdifving
Team
Sarvusdalamoive
Bananas
Paulsen
Mannerheim Sports
All-Inclusive Haranguer
Real Mikkaleth
Rodrigues
Miroz Old Boys
Gyouza Young Lads
Dynamo Ja
El Horizonte
Niraza Rovers
Tefel
Atletico San Sebastian
Buscargill Town
Chevaliers de Motonou
Inseparables
Electric Yugal
Pilken Kickers
Eielo Sunlight
Pawwazim
Thereisnogodistan
Rosenpfelblatz North End
Sporting Busov
Taeshan
2-2 (a.e.t.)
Pridnestrovia
Snavely  

23'


van Neymar  

99'

Halberstam  

74'


Kardashenko  

116'

 
Penalties
 
Snavely
van Neymar
Greenshire
Jewsbury
Lafitte
4-5
Halberstam
Radev
Bogomolov
Schermer
Funar
Fire Park, Troubalouse, Pasarga
Attendance: 61,454
Referee: Kenneth Lafferty (Eastfield Lodge)
league table
Transfers
| Date from | Position | Nationality | Name | From | Fee |
| --- | --- | --- | --- | --- | --- |
| 7 July 2015 | CM | | Sutalen Desoka | Sheriff Tiraspol | NS$2,000,000 |
| 27 July 2015 | AM | | Lasse Torson | Nordenhagen | NS$2,000,000 |
| 29 July 2015 | CAM | | Sam Gonza | Alkanter | NS$7,500,000 |
| 1 August 2015 | GK | | Callisto Parra | Pisces Sinastry | Free transfer |
| 4 August 2015 | CAM | | Rory Edwards | Riuwiee United | Loan |
| 7 August 2015 | CF/AM | | Samantha Leroux | Cora City Jokers | Free transfer |
| 18 August 2015 | CM | | Gillian Lapointe | Galturin FC | NS$5,000 |
| 18 August 2015 | LB | | Roman Garley | FC Unitia | NS$1,500,000 |
| 1 September 2015 | CB | | Kim Dong Jin | West Ansan | Undisclosed |
Abanhfleft
0-0 (a.e.t.)
Soltsteed
 
Penalties
 
Stuart
Dolan
Torres
Johnson
Hannibal
4-2
Gryndhout
Kolen
Brygge
Crabshaas
Lookout Stadium, Drawk City, Drawkland
Attendance: 168,433
Referee: Walden van der Beek (Eshan)
---
Mercedini
1-1 (a.e.t.)
Soltsteed
Spartoni  

25'

Roos  

55'

 
Penalties
 
Spartoni
Vacek Jr.
Markus
Di Sansev
Armani
Alcides
Taezhong
Kavlan
Gustanetti
Farsal-Smith
Brindliev
8-9
McGinnis
Roos
Bakayoko
Frigo
Magomedova
Kaba
Segovia
Khaled
Baum
Walker
Cardew
Artani, Mar Sara, Valanora
Attendance: 72,086
Referee: Nils Dijkstra (Soltsteed)