Hello, my name is the RandomWriterGuy. I joined the community because I thought it would be fun. My name is RandomWriterGuy, but you can call me RWG.
I also have a sandbox page, which you can find by clicking here.

I AM OFFICIALLY RETIRED FROM THIS WIKI. ALTHOUGH IT HAS BEEN A GOOD TIME BEING WITH YA ALL, I HAVE LOST INTEREST IN THIS WIKI AND I WILL HAVE TO GO. IT HAS BEEN NICE KNOWING YOU GUYS. AND AS ALWAYS, HAVE FUN.
Me and the Timelines
Here are the timelines I really like:
My Althist
Here is my althist I am working on. I am trying to do my best so this gets featured.
Political Views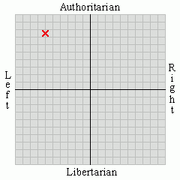 (Note: This was taken on the political spectrum quiz. Google it and you can find it.)
Foreign Policy: Mostly in the middle, but little on the pacifist side
Culture: Mostly conservative.

Map Games
I play as France in  Lobositz's Lamentable Loss and Principia Moderni II, and Venezuela in Axis vs Allies.
I also serve as the head for this Map Game page. I also served as a mod for Orbis Terrarum, Axis vs Allies, and Lobositz's Lamentable Loss (also its creator).
For Principia Moderni II, I have a page for my nation.
People I Like To Work With
There are several people I like and often love to work with. They are:
Imperium Guy (the jolliest person in the wiki, lol)
Enclavehunter
KingSweden
CrimsonAssassin
LurkerLordB
Fedelede
Red VS Blue
Tbguy1992
LxCaucasus
TacoCopper
Yankovic270
ChrisL123
Monster Pumplin
Scrawland
Community content is available under
CC-BY-SA
unless otherwise noted.