Hi there, my name is JorgeGG and I live and work in Santiago de Chile. I came here by accident, and well just given some random ideas. Oh, I forgot to mention, since I'm more interest in Doomsday 1983, I was a teenager by that time.
Some Tips on Writing Alternate Histories
Write about what you know
Do your homework. Research and see how others write similar histories.
Plausibility is Key. Avoid or at least know the common cliches or tropes for the timeline your are writing. For example a) Napoleon comquering all of western Europe or a successful Russian Campaing, b) A successul Operation Sea Lion (don't even try this one)
Butterfly effect. This means there causes and effects linked. One POD (and just one significant POD) alters the rest like in billiards, pool, snooker (Well, like in any cue game)
Order events in chronological order (from above)
Depth or width in writing.
Details must be relevant to the story telling. For example if you have POD were Kennedy is not killed 1963, don't make list of US presidents from the 1789 onward. Start from Kennedy (1961-1965).
Don't get lost in details.
World building relevant to the ATL. Don't waste time explaining things that are the same in OTL.
If you can describe a language, person or country in one paragraph. Do it!!. Don't create pages that are one paragraph long.
Don't be afraid to re do things if you make mistakes or half-way thru have another idea of it.
. Have Fun and be open to criticism and questions.
Sliding Scale of Alternate History Plausibility
Sliding Scale of Alternate History Plausibility original source
In an alternate timeline
JorgeGG
Languages
es
Este usuario tiene el Español como lengua materna..
en-4
This user can contribute with a near-native level of English.
fr-2
Cet utilisateur peut contribuer avec un niveau intermédiaire en français.
eo-1
Ĉi tiu uzanto povas komuniki per baza nivelo de Esperanto.
Timelines
Personal timelines I am working on:
---
---
If you have any suggestions of questions on the above timelines, refer them in their respective talk/discussion page.
---
I also have a deviant art page (Seerh).
---
Awards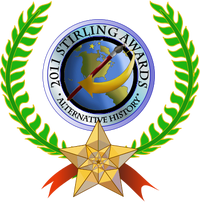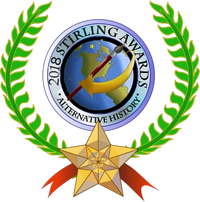 ATL foreign powers
Favorite places that could have lead to other things:
Kingdom of Kongo does a Meiji with the unexpected help of the Portuguese
Swahili City States
Hausa City-States
Horn of Africa Sultanate
Central Asian Steppe Empire
A truly independent and successful Muhammad Ali Pasha's Egypt
Pre-Columbian Empires of the Great Plains and Mississippi that rival with Mesoamerica
The colonial empire of the Republic of Haiti in the Antilles / Caribbean
The Mayan Sea (Mayan Cities states or Hegemonies that trade and fight over the Yucatan, Guatemala Highlands, Caribbean Sea, Cuba, Gulf of Mexico and Florida)
---
My Favourite ATLs
Quicklinks