Generic
Timeline Reviews
Hello! I've been happy to see a resurgence in chat activity, led by one sensual fellow and another rambler. All of this blogging has made me realize something deep down: I want in!
Contemplating an idea for my blog series, I noticed that there has never been a comprehensive review of major timelines on this wiki. I also noticed that I had never read about half of the major timelines on this wiki. So, with those dual discoveries, I've decided to create Rex's Reviews, a new timeline series dedicated to actually reviewing the top TLs on this wiki.
And to get us started, what better timeline than - you guessed it - 1983: Doomsday.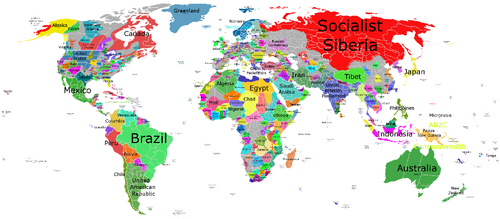 The flagship timeline of the wiki, and arguably the thread that has linked every generation of users since way back in 2008, it is going to be a difficult review. Does it live up to the hype? Is it worth its status as the greatest TL of all time? Where will its future take it?
Note: For the purpose of this review, I will only consider material that is deemed canon. While there is a great deal of high-quality material under development and awaiting approval (including some of my works), it is not officially yet part of the timeline.
I begin with the official Timeline, but for many of you who know and love 83DD, you know that the real meat is located on the nation pages. 
Note: Bolded means I have to change the color on the base map to align.
1066
1066 Anno Domini

Map Goes Here

Western Hemisphere
Toltec Empire
Tlaltenango
Tezotl
Xochipillan
Totonacapan
Xochipala
Cuitlatecapan
Anute
Dzucuii
Nuu Tnoo
Yodzocahi
Yucundaa
Chiyo Cahnu
Nuu Ndeya
Ndisinuu
Juchatengo
Ixtlayutla
Coatlan
Yucu Dzaa
Lyobaa
Jalieza
Takalik Abaj
Tenam Puente
Memejuyu
Tazumal
Cihuatan
Mayapan
Chimor
Wari
Tiwanaku
Europe
Iceland
Norway
Jamtland
Sweden
Denmark
Ulster
Airgialla
Breifne
Mide
Dublin
Leinster
Wexford
Osraige
Waterford
Munster
Cork
Connacht
Man and the Isles
Scotland
Strathclyde
England
Gwynnedd
Deheubarth
Morgannwg
Powys Fadog
Powys Wenwynwyn
Galicia
Couto Misto
Leon
Castille
Navarre
Aragon
Badajoz
Seville
Arcos
Carmona
Cordoba
Granada
Almeria
Murcia
Denia
Toledo
Alpuente
Albarracin
Zaragoza
Pallars Sobria
Pallars Jussa
Urgell
Cerdanya
Osona
Barcelona
Besalu
Empuries
Rosselo
Aquitaine
Toulouse
Brittany
Anjou
Normandy
Blois
France
Vexin
Beauvais
Vermandois
Flanders
Valois
Rethel
Bourbon
Nevers
Gatinais
Joigny
Champagne
Burgundy
Bar
HRE
Papal States
San Marino
Capua
Naples
Amalfi
Apulia and Calabria
Salerno
Sicily
Gallura
Logudoro
Arborea
Cagliari
Venice
Lutici
Poland
Hungary
Croatia
Bosnia
Pagania
Raska
Duklja
West Meets East
Byzantine Empire
Cumania
Kiev
Pereyaslavl
Chernigov
Polotsk
Novgorod
Rostov
Volga Bulgaria
Zichia
Alania
Durdzuketia
Georgia
Hamamshen
Tbilisi
Kakheti-Hereti
Tashi-Dzoraget
Syunik
Artsakh
Middle East and India
Marwanids
Aleppo
Sulaymanids
Najahids
Zaidi Imamate
Sulayhids
Qarmatians
Oman
Rawadids
Ziyarids
Seljuq Empire
Qarakhanids
Kimek Khanate
Qocho
Ladakh
Kashmir
Ghaznavid Empire
Chauhan
Solanki
Paramara
Chandela
Kalachuri
Pala Empire
Kamarupa
Bana
Eastern Gangas
Western Chalukya
Hoysala
Chola Empire
Polonnaruwa
Maldives
Manipur
Khasa
Lichchavi
Lhasa
Qamdo
Yangbaijan
Bamcang
Nagqu
Langru
Guge
Purang
Zanskar
Far East
Yenisei Kyrgyz
Khitan Empire
Tangut Empire
Song Empire
Goryeo
Japan
Dali
Dai Viet
Champa
Arakan
Pagan
Hariphunchai
Angkor Empire
Lavo
Srivijaya Empire
Sunda
Janggala
Wijayapura
Santubong
Brunei
Tidung
Kutai
Nan Sarunai
Tanjungpuri
Tangjungpura
Suwawa
Luwu
Selimbau
Siang
Konawe
Bali
Nunsaku
Tondo
Ma-I
Butuan
Africa
Fatimid Caliphate
Makuria
Alodia
Zirids
Hammadids
Almoravid Empire
Takrur
Ghana Empire
Gao
Kano
Kanem Empire
Nri
Beta Israel
Ethiopia
Shewa
Mogadishu
Kilwa
Oceania
Tonga
Rapa Nui
Algorithms
Community content is available under
CC-BY-SA
unless otherwise noted.