This is the official page for the Libertarian Socialist Party. Here you will be able to state your opinions and if you are a member, join in on voting on our issues.
Wiki Politics
Another govsim another party. Edgeofnight has recreated the government simulation! Time to create more personal feuds (or are they called feudys now?) over a simulation!
You might ask yourself a few of the following questions:
How do I join?

List yourself as a member of a party on the page.

Why should I join?

Maybe you want to change Althistoria, maybe you like Libertarian socialism or maybe you just like to be random

Which party should I choose?

This is your free decision. The parties advertise themselves and you should read about every party before you make the decision.

Shouldn't this page advertise the LibSoc Party?

Obviously. But I personally believe people that if people want to choose the LibSocs they'll choose them no matter what.

Will you go carrying around pictures of Gary Johnson on a T. Rex on a Shark armed with lazers?
How is the LibSoc party organized?

The party consists of a Leader, a Chairperson, Presidents of specific wings (Student, Youth) and a Secretary. Each position is decided democratically, and elections for the position will ocurr on a steady basis that will be determined soon.
The Party's principles, goals, and plans
Chapter I: Introduction

The Libertarian Socialist party is a combination of both libertarian and socialist policies, so it advocates for high levels of political freedom and civil rights aswell as a certain level of economic restriction.

Chapter II: Pivotal tenets

A democratic system is the only one the LibSoc party accepts, preferably with referenda easily accessible and direct choosing of members of parliament and other offices.
Social involvement. The state doesn't need to be socialist, but it is implied that society should reach out to the individual in times of need.

Chapter III: Constitutional rights

Freedom of speech, hate speech included. Anyone should be allowed to claim the sky is green.
Protection from discrimination. No person should be ostracized for their race, age, gender, sex, ethnicity, sexuality etc.
The right to own property and to defend it with adequate means.
The right to live.
The right to be free.
Separation of powers. Executive, legislative and judicial, with each branch watching over the other two.
More to come. Probably.

"Trending issues"

Drugs

Marijuana - Full legalization
Stronger drugs - Decriminalization, but still illegal possession.

Abortion - Pro-choice, but no government subsidies for the procedure
Healthcare - Incorporation of different systems. Each individual has the right to gain expense-covered healthcare in emergency cases but for the full system, the individual may choose will they opt for national or private healthcare.
Education - Core parts of the curriculum should be nationally standardized, but not with the goal to yield results but rather to teach students important lessons that apply not only to their education but also their general adult life
Marriage - The government should primarily refrain from entering this portion of society and let religious organizations set their personal rules for marriage as long as it occurrs between consenting people. Note: Sub-national entities (e.g. counties) would be able to restrict marriage laws depending on popular vote.
Enviroment - Some restrictions should be placed, and the government should have a budget that funds new project that are both economically feasible as well as eco-friendly
Police - Mandatory bodycams for officers.
Military - Considering Althistoria is a fictional nation with no actual enemies, I doubt we need much military spending. Jokes aside, a 2-3 month military training should be offered to the citizens.
Party hierarchy and rules
The Party doesn't per se have a hierarchy, but certain positions are needed to be given to members in order to help the Party to function properly.
Bold indicates that a position is unchangeable
Italics indicate that a position is subject to change
Issues
Media Department
This Party needs a department to produce advertising such as posters and the like, to persuade the populace that Libertarian Socialism is the right choice for AltHistoria. I have taken the liberty of creating a variety of slogans for such campaign posters:
When the People are Free, the Sky's the Limit. - SKY FOR PRESIDENT 201X
Let us be bound not by the chains of tyranny, but by the bonds of brotherhood and justice! - A good line for Sky's campaign speech
Life. Love. LibSoc. - VOTE LIBERTARIAN SOCIALIST THIS ELECTION
I would like to volunteer to be head of the LSP Media Department. — T I M (TSW • AH • MGW • Contribs) 12:03, August 14, 2016 (UTC)
These sound good, I believe the other members should see this before we make it official though SkyGreen24 12:14, August 14, 2016 (UTC)
ID Booklets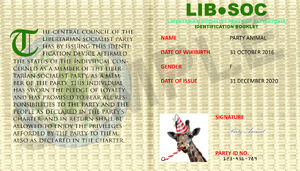 I have taken the liberty of creating the template for a LibSoc Party Identification Booklet. A sample is to your right. If you would like one, complete with an official LibSoc Party Stamp (not shown in the sample), please place a request below. — T I M (TSW • AH • MGW • Contribs) 06:49, August 15, 2016 (UTC)
New vote
Since we won the democratic election, I believe we should put up a vote for each position once again. SkyGreen24 16:21, August 24, 2016 (UTC)
You can be elected to only one position.
President
Chairperson
Secretary
Student wing President
Youth wing President
Spokesperson
Community content is available under
CC-BY-SA
unless otherwise noted.