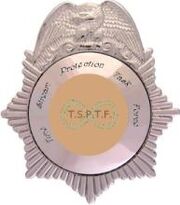 Okay, folks. I am posting in this box so y'all will know I am not that guy with the obsolete page attached to him!
But, for the record, I am 65 years old and up against the minds of some bright young people half my age. I am the proud grandfather of two boys -- aged 9 and 11 as of this posting (2/22/2018). I live in the south, and try to do some writing when I feel like it. This wiki has allowed some of that, but if I don't earn a lot of "points" it is probably because I'm on a project that might actually get published some day!
I have enjoyed my time since discovering this wiki, and I am especially interested in the 1983: Doomsday time line, of which I am a regular contributor. The community has seen fit to allow me administrative responsibilities, and I am now in the upper level of the administration and my "door" is always open.
However, as I have a lot of stuff going on, I have been granted "emeritus" status. This means that though I am not as often as I used to be, I have full privileges if I wish to exercise them.
Feel free to message me at http://www.facebook.com/jhenrymartin and I will get back to you.
Articles I have created or developed
1983: Doomsday
Georgia (Rome) - created by BrianD to correspond with CSA and Georgia (U.S. state) articles
Peedee Nation - failed nation in eastern South Carolina
Neonotia (New South)- A nation centered in south Georgia started by former Governor and US President Jimmy Carter.
Olmsted - adopted and developed. A theocreatic kingdom run by the pastor of an independent Evangelical church.
Others
History of the World (No Supernatural Intervention) - a 'thought experiment' to explore a world in which the God of the Bible created everything, but then allowed no intervention by Himself or other "spiritual" beings. This is the world view of those that believe in God, but only a detached deity that might one day punish evil (known technically as deists).
United States of America (Wasteland Europe) - The US does not support the rebuilding of Europe, but rather strengthens its Pacific presense.
Two Americas - Colaborating with Nuclear Vacuum to create a time line in which the American Civil War was ended in an armistice and two nations share the land.
Planned
Islamic Republic of Anderson (1983: Doomsday)- A nation run by a muslim cleric originally out of Chicago. Involved in a war with Taccoa, CSA, but under enforced cease fire by the Piedmont Republic, which patrols its borders with the two city-states.
Florence (1983: Doomsday) - The remnants of the Peedee Nation, situated in the former nation's capital.
Georgetown (SC) (1983: Doomsday) - The rebuilt port city of the former Peedee Nation.
Worth My Attention
For lack of another name, I created this section to remind me of articles that I think need attention on the wiki (especially 1983DD):
Africa (1983: Doomsday) - Stub that needs to be made into a gateway
Antarctica (1983: Doomsday) - stub that needs to go up for review (bad assumptions about abandonment of base personnel, and high potential for development of what may have happened to save these people)
Food (1983: Doomsday) -- Update section on Tea (it grows in more places than stated) - India, Indonesia, East Africa and Argentina.
Community content is available under
CC-BY-SA
unless otherwise noted.