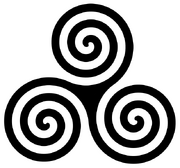 STAND UP, YOU SWINE! YOU STAND IN THE PRESENCE OF A MAN!!!!!
The Scarlet-Spartian Feud.
Spartian300 begins teasing Shadowknight1234 for fun.
Spartian300 finds out that ShadowKnight1234 is a Red Lantern, and wont accept a truce.
Spartian300 finds ShadowKnight1234 as a pain and a mence, and vows to make him stop being so hateful.
ShadowKnight1234 becomes Scarlet Outlaw, and Spartian300 finds that the feud may spill into a map game.
Scarlet Outlaw and Spartian300 eneage in a brutal roleplay dual, but, at it's height, the admins halt it, and, in a momentous and historic moment, they agree to a truce!!!! THE FEUD IS OVER!!!!
Whoops, nope! Another flame war breaks out, and this time both are banned.
Concerning Spartian300
Spartian300 is one of the nicest people on the planet. He is also one of the most ambitous, and very witty. He does not enjoy violence at all, but can be immature due to his autism. He can be considered a brillant military man.
Spar has habts that make other men scream in fear.
S
Community content is available under
CC-BY-SA
unless otherwise noted.