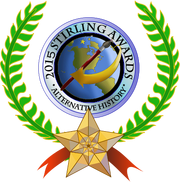 Sorry for anyone seeing this twice, as this was also posted here. This holiday season I thought it would be nice to hold a secret santa among members of the wiki. Also I will be giving away several items which you have a chance to win just by joining.
A few things to remember:
If you're joining make sure you actively participate by gifting something to your assigned person.
Gifts do not have to be real items. Online stuff is encouraged.
As a general rule, the following items are ideal: Steam games, cards, wiki stuff, wiki work.
It is highly advised that if you do not have a steam account you make one immediately. This will ensure that by the time gifts are distributed you are able to receive steam games.
Sign-ups end 1 December 2014, at which point you will be assigned a person to send a gift to.
Gifts will be distributed at a certain time, which has yet to be determined.
If you wish you may try to keep your identity secret from the recipient of your gift, but this is not required.
To sign up all you have to do is comment below (or on the reddit page) expressing your wish to participate. Each person will be messaged with their respective pairing.
Giveaways:
Europa Universalis IV (Steam Game) (x2)
Europa Universalis IV: Conquest of Paradise DLC (Steam Game)
Europa Universalis IV: Res Publica DLC (Steam Game)
Mount & Blade: Warband (Steam Game) (x2)
Mount & Blade: Warband - Napoleonic Wars (Steam Game) (x2)
Grand Ages Rome (Steam Game)
Imperium Romanum (Steam Game)
Patrician IV (Steam Game)
Jagged Alliance: Back In Action (Steam Game)
Tropico 3 (Steam Game)
The First Templar (Steam Game) (x2)
Tropico 4 (Steam Game)
DungeonLand (Steam Game)
Hotline Miami (Steam Game)
Awesomenauts (Steam Game) (Domated by RazorfangZ14)
Tropic Trilogy Bundle
Inquisitor Deluxe Edition
Zeno Clash 2
Hard Reset Extended Edition
Combat Wings: Battle of Britain
A painting (This will probably be US residents only, until further notice)
More Coming soon
Participants List
The following people have signed up officially. If you do not see your name on this list, then contact me immediately. I will message each participant in secret about who their target is.
Reximus55
KhanTonto
Cookiedamage
GunsnadGlory
Sergiusz01
Bfoxius
Saturn120
Harvenard2
Mscoree
JoshTheRoman
Tr0llis
Monster Pumpkin
SkyGreen24
EiplecOco
Nlenhardt
RazorFangZ14
Edboy452
Fritzmet
ForsakenPear
Toby2
TechnicallyIAmSean
Octavian Marius
Upvoteanthology
I am that Guy
Community content is available under
CC-BY-SA
unless otherwise noted.