Hello and welcome to the Alternate History Wiki!

We are a community for creating fictional alternative histories. We hope you will feel at home here and wish you good luck contributing to our ever-growing collection of timelines.

Please start by reading our Guide to Newcomers. It contains links to the important sections of the wiki.
If you're new to wikis in general, see How to Make Articles.
If you're ready to create an article, see Conventions in Use in this Wiki. It explains how to title and categorize your pages, what kinds of content are allowed, and other rules of the site.

Some other helpful reference pages:

Some general tips:

This wiki is for alternate history, not future timelines. What you write should take place before 2021.
All articles on this wiki take the following format: Name of article (Name of Timeline). This helps us know which pages belong together.
To sign your posts on talk pages, use ~~~~ (four tildes). This will insert your name and timestamp.
You can experiment in the Sandbox.

Regards, -- Collie Kaltenbrunner (Talk) 22:45, 8 February 2013
Your World Map of 1900
Arbo, I saw your world map 1900 in Fidem Pacis timeline. I noticed all of Malay peninsula and Indonesian archipelago was colored green, except Borneo island that is still in gray. Is Borneo island not colonized by one of Great Powers and still retained its independence under a native kingdom or something? FirstStooge (talk) 08:51, April 4, 2013 (UTC)
Borneo is independent, yes.
With a more powerful 19th century China, I thought it would be in its interests to try to limit further European influence in south-east Asia. If necessary China would supply money and weapons to help the Borneans resist colonization. Arbolianus (talk) 22:31, April 5, 2013 (UTC)
Was Borneo ruled by one big kingdom or consisted of many small but independent kingdoms/tribes? And do you know about the history of Lanfang Republic in Borneo? FirstStooge (talk) 04:19, April 6, 2013 (UTC)
It would work better with one fairly powerful state. I didn't know about the Lanfang Republic until now, but it seems perfect as a model on which to base the Borneo of this timeline. Arbolianus (talk) 09:38, April 6, 2013 (UTC)
Well, keep your timeline getting better and fresher, i'm really looking forward for it. FirstStooge (talk) 12:12, April 6, 2013 (UTC)
Thanks! Arbolianus (talk) 15:15, April 6, 2013 (UTC)
Hi, I am Reximus55, and I am also really quite new. I was hoping I could try to write a little for your TL, which I found intriguing, prior to when I decide whether or not I should start one of my own. Is there anything I can do to help? Can I "join the team," so to speak? Thanks, Reximus55 (talk) 11:22, April 10, 2013 (UTC)
Hi. There isn't really a team as such, just me, but if you want to help you're more than welcome. I'd like to get the articles for some of the bigger countries written, so you can pick a country from the map of your choice, invent a few details and perhaps a flag, and write a brief history. I'd like to keep the overall thread of history under my control, so if you have any ideas about that then talk to me first. Arbolianus (talk) 20:13, April 10, 2013 (UTC)
Hi, I was wondering what image, if any, you based the map at Aquitaine map (Fidem Pacis).png on, if you still have the full image could you upload it as i plan to use it for the basis of a map.
thanks, Pol Murphy (talk) 17:55, May 16, 2013 (UTC)
That map is a cropped version of this one, with a few internal boundaries added. If you want the original map on which that is based, it was here and I simply redrew the borders. Arbolianus (talk) 20:00, May 16, 2013 (UTC)
Aims
Hey Arbo. You said you needed help for India. When I looked at your religious map, I saw the north being Hindu and the south Islam. I think this is a flaw due to the fact the north came into contact with Islam significantly more than the south did. Perhaps you might want to reverse this on the map? You could also look into the Chola empire and maybe have nation #76 on your map have a bit of eastern coastland of #73 as well as the majority of #67 and #69 as well as coastla regions of #70 and #71 perhaphs? I am only saying this due to the fac the Chola Empire covered something of this sort. So if maybe the south could hold on to or keep enough influence that eventually they form into one nation post-WWIII or something, then that would be cool. If you want - I could make a map to show you what I mean perhaps? So yeah! :) 
Imp (Say Hi?!) 12:10, November 3, 2013 (UTC)
I agree about the religions being the wrong way around - I had second thoughts after creating the map.
However, one problem that would then arise with the Chola empire is that, after the 15th century or so, the Indian part would be Hindu and the Indonesian/Malaysian part would be Muslim. Do you think they'd be able to coexist peacefully for hundreds more years? Or could Chola influence instead keep Indonesia Hindu? Perhaps they could remain as one nation until quite recently, and separate sometime in the mid-20th century. Arbolianus (talk) 15:16, November 3, 2013 (UTC)
Hmm. Something to think about, definitely. Do you know where Buddhism might fit into this? I know that several states in the region were Buddhist at one time or another, so is it possible that some areas might still be? Arbolianus (talk) 23:02, November 5, 2013 (UTC)
I've uploaded another version. Think it's any better? I've tentatively put Sikhism in the Rajasthan region rather than Punjab because it's closer to being a border region between two religions, and because the Rajputs are also famed for being warriors. Do you think that could work?
Arbolianus
(
talk
) 23:31, November 5, 2013 (UTC)
Sorry for the awfully late response. I really do like this map - it looks quite nice! :) 
Imp (Say Hi?!) 22:52, November 25, 2013 (UTC)
Hello!
Want to join my map game- The croaked world (map game)
Captainjohnrex (talk) 15:25, November 20, 2013 (UTC)
Congratulations, Arbolianus!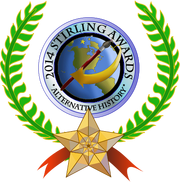 Keep up the good work ^^
Lordganon (talk) 11:34, February 2, 2014 (UTC)
Wow! Thank you! This has come as quite a pleasant surprise, I'm definitely becoming more involved in the future! Arbolianus (talk) 13:26, February 2, 2014 (UTC)
You deserve it, Arbo. You really deserve it... :)
Congrats! :D
FirstStooge (talk) 13:41, February 2, 2014 (UTC)