Alex, welcome to the wiki. I saw your changes on the WCRB Southern U.S. article and undid them. I wanted to explain why. It's not that they weren't good suggestions, but the article is intended to be the text of a historical document in the 1983: Doomsday timeline. It wouldn't be updated like you and I update articles on this wiki. That said, the document is going to be wrong in some areas, incomplete in others, and that's fine. I wrote the article as a guide for editors like yourself to use in creating scenarios, and in TTL it showed what was known of the region at the time it was written last fall. Updating it to reflect newly discovered nations would be unrealistic for TTL; the WCRB probably will publish updates on a regular basis, but won't constantly revise the main article. To your changes: 1. please write up the Conch Republic as a proposal...and do one separately for Key West (if they're not one and the same) 2. I estimated 90 percent of people having died on Doomsday in America, but that could be too high of a number; 80 or even 70 percent might be closer to the truth 3. You might want to make sure Key West wouldn't have gotten hit by nukes, or covered with radiation and fallout from the south Florida and Cuban blasts...I'd like to read your ideas on how the region made it through, and got to 10,000 people 4. The Cubans discovered the Coke formula (which was canon long before I started here, so I rolled with it when I wrote the WCRB article), and I see no reason to have Mexicans test it... --BrianD 06:11, March 7, 2010 (UTC)
You've clarified well the Coke/Cuba issue. I don't remember the editor who created the Cuba article and wrote the Coca-Cola item into Cuba's history; I can only guess he was ignorant (as was I) that Coca-Cola was not distributed in any manner in Cuba. One possible solution is that as Cuba makes contact with other Caribbean and Central American nations in the 80s and 90s, some people from those countries join the exploration team (places where Coke was sold), and they confirm the taste...but Cuba ends up getting the credit. I'm fine with 80 percent, but I would ask you to run that by the other editors on the timeline. I might revise that number down further, too. Alex, again, welcome to the blog and I hope that I myself have come across well in my responses. Thank you for your contributions and for your clarifications! BrianD 07:12, March 7, 2010 (UTC)
As a fellow Floridian would you like to work on the Everglades survivor nation together? I already started a proposal for it. --GOPZACK 03:01, March 17, 2010 (UTC)
Great, I called it the
Republic of South Florida
. I was thinking the borders could be as follows.
--
GOPZACK
03:08, March 17, 2010 (UTC)
I agree that it should contain more territory in the everglades but some of it will be uninhabitable due to the strikes on Homestead. Plus those cites on the coast would have survived so it's most plausible that people there would band together as one to survive. --GOPZACK 03:36, March 17, 2010 (UTC)
Isent it time for South Florida to spread, I mean I think some people might of lived around Tampa and Miami from the nuked, and what about the Keys, were they nuked, I was trying to see if they got destroyed...I was thinking about making a some type of republic and then trying to reunite all of Florida, with your help and GOPZACK, I am also new at this and I'm trying to learn. Perryz101 04:38, April 7, 2010 (UTC)
Yes I see...I will try and learn, and I will work on the story on North Florida, thanks I think I will enjoy this wiki.Perryz101 05:48, April 8, 2010 (UTC)
I was thinking of somthing, maybe sending recon missions into the Tampa and Miami areas and finding if some type of order is in the area and maybe get the people to join South Florida.Perryz101 02:57, April 9, 2010 (UTC)
I had already written something on Tampa and Miami, and yes there are very small communities there. Please read through the Republic of South Florida arcticle and you will see what is on those areas. Arstarpool 03:08, April 9, 2010 (UTC)
Would you like South and North Florida to have some type of contact with each other??Perryz101 03:10, April 9, 2010 (UTC)
How about this: In two days real time On April 10, 2010, recon groups from South Florida will be sailing through the Gulf, near North Florida, where they run into a band of fishers who claim to be from The Repubic of North Florida. Sound good to you? Arstarpool 03:14, April 9, 2010 (UTC)
Sounds good.Perryz101 03:18, April 9, 2010 (UTC)
Sure I'd love to help! Thank you for the opportunity. I'm going to do some research into the suburbs of Rome & I'll get back to you with a few ideas. What ideas do you have? GOPZACK 20:18, April 9, 2010 (UTC)
If I were you I'd look into a survior nation in these areas.
I actually just did some work on it. I've just been on the sidelines letting you fill it out for a bit. --GOPZACK 00:35, May 21, 2010 (UTC)
Indiana revert Edit
Thanks for the revert. I worked hard making those changes to help the "Newbie" get his article half-way presentable. He is no writer. But he wants to put a good face on his home state. SouthWriter 06:08, May 2, 2010 (UTC)
Your welcome to reverting the changes. I would have marked this on your talk page, but seeing that he frequents your talk page like your his momma bird, I would not want him to get offended. "Newbie", however, is not the case, its the individual. While the rest of the "newbies" have worked towards becoming significant members of the site, Perryz has continued to have this attitude thinking that everything is alright in this wiki. For example, the very first article he made was "North Florida" stating it will be temporary until " we unite all of Florida". This was on his first day, mind you, and he thinks we are reuniting thousands of square miles in days. While I do not want to be the bully of the playground, I will state that he is ignorant, and continues to act like we are going to pop all of our little countries together any minute now. He does this again with his Indiana article, like when he wants the counties annexed by Kentucky to become "hoosiers" again. What he doesn't get though, is that other people beat him to the punch and claimed whatever he wanted first, so he comes up what in his eyes is a solution, which is usually making an article like North Florida (which I cannot believe is about to become canon). While it is none of my buisness, he seems to be kid, judging by the way he spells, and that should not be an excuse for him. If you need help getting his little articles in order, I'm free to help. Arstarpool 06:30, May 2, 2010 (UTC)
Thanks again. I am trying to give Perry the benefit of doubt in Indiana, since he is from there. I try not to change the meaning of his statements, but just expand them a little to add coherence. Somethings I do change things without specifically asking, like changing a threatened "excommunication" by Baptists to losing one's spot on the deacon board. I am a deacon in a Presbyterian church (not quite the same, but I know how church leadership works). I also differenciated between Independent Baptists and Convention-associated ones. I know how both work, having family ties with both.
With North Florida, it is a combination of my editing and Zack's continued interest with the article that has kept that alive. Perry decided that he did not know enough about Florida to continue working on that one. Back to Indiana, I think he might be able to build an article based on a city-state around Lafayette with what he knows, but he doesn't understand what this timeline is all about.
You're certainly welcome to go over there and clean up some grammar, and make suggestions on improving things. It will free me up to do a little work on the states in the PUSA. Have you seen what I did with Montana? I am working on the revised Constitution on the PUS article right now. SouthWriter 19:15, May 2, 2010 (UTC)
Commonwealth of California Edit
I marked it as obsolete based on comments on the article's talk page and the fact that there was support for its obsoletion on the main talk page. If you feel it still has a chance that is fine, I even reinstated the proposal template (the Editorial Guidelines already has a process in place for situations when someone wants to revitalize an obsolete article). Good luck. Mitro 22:27, May 2, 2010 (UTC)
First off, I already did change it back to a proposal so I am not sure why we are still having this conversation. Second off, I followed the same procedure that has always been used when marking an article obsolete. Seeing that more than one user doubted the plausibility of the article on it's talk page, I moved to mark it as obsolete on the main talk page. After waiting a significant amount of time, and receiving a vote in support of marking it obsolete from another user, I placed the obsolete template on it. Where were you and Yank when this was happening? Both of you have used the main talk page before, did you not notice it? If either of you had spoke up when this was happening we would not have been having this conversation in the first place. Learning from this experience I will probably in the future contact an article's creator when I move to mark an article as obsolete. The fact of the matter is you your article is a proposal again, but I reccomend paying more attention to the main talk page more in case anyone has any comments or questions for your articles. Mitro 00:21, May 3, 2010 (UTC)
WisconsinEdit
You have my permission to adopt the article. However, I ask that you keep to what is stated in the history of the Republic of Superior, and also to what I had planned in the discussion page of the Wisconsin article. Other than that you have free reign. Lahbas 04:15, May 7, 2010 (UTC)
Population of South Florida Edit
Zack and I spent a long time discussing the population of South Florida, with input from both South and Loius (South was the one who suggested a number between 50k and 100k). It was agreed that the most plausible population was 86k, you can see some of the discussion in the archives and the South Florida talk page. The article was graduated with that population level and I don't see why it should just be unilaterally changed just because you disagree. If you feel it should be changed, start a discussion and build some consensus. Mitro 01:53, May 10, 2010 (UTC)
North FloridaEdit
I noticed your comments on Perryz101's page. I just want to say that I think North Florida is still a viable nation. I agree with you that they will never reunited but as two separate nations they can still coexist and be friendly neighbours with a trade deal or something. Me and SouthWriter are still "cleaning up" the article when we can. I noticed your edit to the "Foreign Relations" section & I thank you for it. Your welcome to help us reform it further. If you'd like to make a major change mention it on my page, South's or the talk page. --GOPZACK 18:38, May 15, 2010 (UTC)
Perryz101 abandoned the article. Me and SouthWriter took over after he left it for the Indiana article. Preeyz no longer has the power to wield such authority. Furthermore the article has not "outlived its usefulness". Were still working on it. Your welcome to join us in restoring it. --GOPZACK 17:06, May 23, 2010 (UTC)
I renamed it the "Republic of Gainesville" seeing as that is its capital. As for changing South Florida's name, is that really necessary?
Hi Arstapool i write you to ask you if you can help me creating articles and expanding my new article Balkanized North America VENEZUELA 01:34, May 22, 2010 (UTC)
Netherlands Antilles Edit
If you make radical changes to an article in the Doomsday timeline, could you, in accordance with the QSS principle, at the very least discuss them first and give some valid reasons for the change? --Karsten vK (talk) 16:52, May 23, 2010 (UTC)
Well, eliminating Spanish as an official language, thereby contradicting the language section of the article, seems a fairly radical move to me for one. On another note, I'd say it would have been a sign of good manners to contact the original author of an article before claiming to have adopted it. --Karsten vK (talk) 17:14, May 23, 2010 (UTC)

I can understand where the misunderstanding stems from, but Xi only created it as a placeholder. I am the original author of the article. --Karsten vK (talk) 17:34, May 23, 2010 (UTC)

Since this is a wiki, nobody owns an article and therefore, neither do I. I'd say overseer or supervisor would be better terms. Regardless, the concept comes down to pretty much the same thing. I don't object to people contributing to the articles I've written, but I would like to known about it and have the ability to discuss it first. In short: What were your plans with the article? --Karsten vK (talk) 17:51, May 23, 2010 (UTC)
Okay, well what you should keep in mind here is that there are some marked differences between Portugal and the Netherlands Antilles. The most obvious one being that, whereas the Portuguese government on the Azores is a true 'government in exile', the government as located in Willemstad is that of a wholly different country that has only adopted the legal legacy of the Kingdom of The Netherlands, but may not even be all that genuinely interested in the fate of the former motherland. The second noticeable difference is of a demographic nature. The Azores and Madeira (and to a lesser extent arguably even Cape Verde) are inhabited by people who talk, look and behave Portuguese. The Netherlands Antilles are inhabited by people who don't generally look Dutch (in a post-Doomsday crisis environment, I don't think one should underestimate narrow-minded racism), don't behave like those remaining Dutchmen and lastly, hardly ever speak the country's language any-more. This, I guess, would mean that, where the Azoreans et al. would be greeted as countrymen coming to restore civil order, the Antillians might very well be taken as foreign occupiers bent on some kind of opposite-direction colonialism. I don't deem it unlikely that attempts by Willemstad to create a permanent presence in the former motherland would meet with violent opposition, especially from Friesland and North Germany which hold onto the two northernmost provinces (perhaps an initial, failed, diplomatic mission to Friesland to become a constituent part of the Kingdom could be included). It'd probably be not be unlikely that a costly operation like this would, under domestic pressure, be aborted once it turns out that the Antillians are not really wanted. In short; I think a section on Antillian presence in the Low Countries would be a nice addition to the article, but that it cannot be fully be brought at par with Portugal since the circumstances are to a great extent different from it. --Karsten vK (talk) 08:37, May 24, 2010 (UTC)
GainesvilleEdit
Thanks for fixing the media section, some of the crap from when Perry was in charge remains. I don't mean to be rude but for any future changes please make note of them in the talk page first. As for the population I'm going to talk to South about that, he's done some brilliant work in that area. --GOPZACK 03:59, May 24, 2010 (UTC)
Re:Costa Rica Edit
What are you planning to do with it? I've done a lot with Costa Rica and have been writing news updates from time to time. I wouldn't mind you enriching our coverage of Costa Rica, but I would be uncomfortable if you took it in some kind of surprising direction. I'm not saying "Stay away!" - only that CR is a creation I'm still actively involved in, not one I consider "finished" (like, say, Micronesia). Benkarnell 15:51, May 24, 2010 (UTC)
So are you going to go ahead? What ideas do you have? Benkarnell 22:27, May 25, 2010 (UTC)
New Rome Edit
Hi Arstapool; this isn't a really important post, but I just felt like pointing out something - you said in your discussion over New Rome that 'the guy who wrote Essex' created New London. I didn't; that was dreamt up by the creators of the Celtic Alliance, and separate from the disparate (and almost entirely unpopulated) territories Essex has in East London. As I said, totally unimportant, but I just felt like, er, clearing my name, so to speak. Fegaxeyl 16:19, May 24, 2010 (UTC)
Tuscany/GeorgiaEdit
Ok, so it's OK if you adopt it if am written as a caretaker (and on Tuscany too.) Thank you:
Fedelede 01:05, May 26, 2010 (UTC)
Also, would you like to help me on my TL, Divided Italy?
Astarpool, you can add whatever you like on Divided Italy as long as it isn't spamful Fedelede 02:54, May 26, 2010 (UTC)
I would ask kindly that you would treat new contributors with some respect. It is after all one of the fundamental issues we were debating earlier. They may have some strange ideas but don't crush their souls outright, give them a chance offer them advice don't immediately demonize them. --GOPZACK 01:10, June 1, 2010 (UTC)
Yes I was referencing the Sunkist incident. As for Ocelot I agree with you and these three others that he should be banned.
I just find it ironic and I suppose a tad hypocritical that you say "DO NOT ACT LIKE AN ADMIN" in a rather rude fashion right after you claim that you do treat people with respect. Not to mention that now your acting like an administrator the way your flaunting power you do not have.
I never once claimed to be an administrator and as far as I know Brian is not one either. I have however been here longer then you have and for the collective good of the community have been trying to maintain a degree of order around here. When the Ocelot's of this wiki pop up we'll deal with them but if someone unfamiliar with the workings of this timeline makes a proposal its best to try work with them in a constructive and respectful manner. I'm glad you've worked things out with Sunkist but you did leave a pretty shitty first impression.
One the subject of flaunting power, I'd say you the one flaunting imaginary power. Your like hitler during the final days of World War 2 moving around all these divisions on the map that are nothing but fantasies or gross exaggerations of ragtag units. Your handling of your California article also leaves a lot to be desired as well.
All in all I'm glad that you intend to show a little more respect to the "newbies" as you call them. --GOPZACK 04:32, June 7, 2010 (UTC)
You accuse me of being this evil administrator yet I do not do three of the four things you just listed. What I meant by that and perhaps I did not make myself clear is that your heavy handed orders that I ought to stop "acting like an admin".
As for the California article you demand that the borders of Serra Nevada, an article created well before yours that is already locked in a bitter territorial dispute with Utah, so your article could "fit". We don't run a "me me me! Whats best for me!?" system here. We run things consensus not on what the "Newbies" (which quite frankly you still are) want. --GOPZACK 20:27, June 7, 2010 (UTC)
It has been stated that non administrators have the power to graduate articles. In fact, we are all technically equal just some have the power to block people and such. Still I think your making a much ado about nothing over this issue. All I asked that you treat those who are newer then you with a little respect. I was hoping you'd understand but clearly thats not the case.
You can be here longer then other newbies and still be a newbie. Also you seem to take offence to the word "newbie" as if you claim copyright over it. --GOPZACK 22:54, June 7, 2010 (UTC)
East Caribbean FederationEdit
If you have any problems with the East Caribbean Federation article raise them in the talk page don't just arbitrarily change it. GOPZACK 22:58, June 7, 2010 (UTC)
Help!!!!!!!!!!!!!!!!!! Edit
Hi, I created an article call Kuban People Republic but I dint' put (1983: Doomsday) in the name how may I or you put it? Please, Answer. Thanks VENEZUELA 01:46, June 8, 2010 (UTC)
Thank you! Arstapool VENEZUELA 01:48, June 8, 2010 (UTC) jajaja gracias
I have another question, how do I put the small flag like in a list? (like in your user page) thanks.
Georgia (caucasus) is still on adoption, because I would like to adopt it. VENEZUELA 02:17, June 8, 2010 (UTC)
Venezuela, I offered that to Astarpool... and he adopted it. I don't know if he put it on adoption again, but if I know, my adoption offer is closed... Fedelede 02:21, June 8, 2010 (UTC)
Arstapool thank you! may I eliminate the Caucasus Alliance and created the seceding republics like Ossetia? VENEZUELA 02:23, June 8, 2010 (UTC)
Sorry to ask, but what is the tune of South Florida's anthem, is it the same as the US, it would seem very close.---Sunkist- 19:17, June 8, 2010 (UTC)
USSR and GEORGIA Edit
Hi Arstapool, I change the Georgia article and propose some ex-ussr republics in the 1983 talk pages. VENEZUELA 00:08, June 9, 2010 (UTC)
Hey, I was thinking of a nation in England, Cornwall and Plymouth, Ive looked over and over again if these sites were nuked, none I have found. If you would like to help me on this project, please tell me.---Sunkist- 03:57, June 9, 2010 (UTC)
Seems like alot of culture in the Cornish people, and seeing that it would be the majority ethnic group in both Cornwall and Devon, it would be somthing of the Cornish Language.---Sunkist- 04:11, June 9, 2010 (UTC)
I was thinking, "An Republic Kernow" in Cornish, or in English. "The Republic Of Cornwall".---Sunkist- 04:23, June 9, 2010 (UTC)
Fixed.---Sunkist- 05:46, June 9, 2010 (UTC)
Plymouth was destroyed, HMNB Devonport, gotta cut this city out.---Sunkist- 05:58, June 9, 2010 (UTC)
Caucasus Edit
Hi Arstapool, may you help my with the Caucasus countries in 1983? please. VENEZUELA 20:32, June 9, 2010 (UTC)
Georgia, Azerbaijan, and you may create Armenia. VENEZUELA 21:07, June 9, 2010 (UTC)
Adopting articles Edit
FYI, the Editorial Guidelines state that we usually wait until an editor has been missing for 3 months before we try adopting their article(s). Navi was recently active on May 30 so his articles really do not apply under the current guidelines. Granted it doesn't hurt to ask, but its likely that editors who are still active will not look kindly on someone trying to "adopt" their articles. -Mitro
I know you messaged Navi, my message was in regards to that message. As I stated we usually assume that active editors will not give up their articles for adoption, hence why I suggested you should only ask editors to adopt their articles after a long period of inactivity. In the past some editors have become irritated when others asked to adopt their articles, even though they were still actively working on them. It was only a friendly warning. -Mitro
New Article Edit
Hi Arstapool have you seen my new articles? VENEZUELA 21:37, June 14, 2010 (UTC)
In which ones? VENEZUELA 21:41, June 14, 2010 (UTC)
World Heritage Sites Edit
Hello, Arstapool, about the thing of the "UNESCO": the number of sites of each country is of how much the country have, not about how much powerful it is, Lebanon has all the ones in the "UNESCO" that have in OTL the same with Venezuela, and this is an alternate history in which you can add more sites to a country than the OTL country have. And also please add some in Australia andAfrica and maybe Europe with their photos in the galleries, thank you. VENEZUELA 20:29, June 15, 2010 (UTC)
Arstaropool thak you for adding some sites in Asia! VENEZUELA 01:00, June 16, 2010 (UTC)
Hi Arstarpool, might I be in charge of this article? VENEZUELA 19:20, June 29, 2010 (UTC)
South American World Edit
I deleted South American World, and I change it to
Perez Jimenez's Venezuela,
in which I glorify Venezuela, but in a form in which could happened in OTL, with dictator Perez Jimenez, here I put you 3 links for knowing more about him and Venezuela at the time: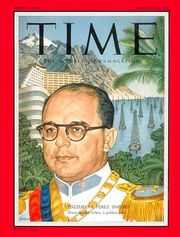 Arstarpool have you already seen my timeline, what do you think?VENEZUELA 00:47, June 18, 2010 (UTC)
Hey I create a new article which have countries and I want to put the flag but small like in your user page, and it's dificult so may you put some, please, the article is 1968 Olympic Games. VENEZUELA 02:32, June 18, 2010 (UTC)
If you've taken over from FX on this article, could I help you with it? I'm a resident of Northern VA, and know a lot about the Cheseapeake area. BoredMatt 22:12, June 18, 2010 (UTC)
K dude, thanks. I'll wait for FX though, I dont wanna piss him off.
Cold War Edit
Ok, perfect, but I read on it that I must ask someone, but because you ask me, I'm already on it?VENEZUELA 00:09, June 22, 2010 (UTC)
Prof's DoomsdayEdit
I'm not stupid, haha, I know not to write in the first person. I figured, this seemed like a new thing within the Doomsday canon, so why not to try to work on it collaboratively? I don't know if anyone is going to accept this yet, so I figured: I have to make my point first or else this is never going to be accepted. Plus, I can't do this article alone, this encompasses most countries. ProfessorMcG 03:07, June 22, 2010 (UTC)
Doomsday QuestionsEdit
I don't know how to make the maps that other people use to show where their country's are. I also wouldn't know where would be an okay place to put the country.
Ownerzmcown 17:32, June 22, 2010 (UTC)
Also, does the country have to have been founded in 2010, or can it be founded like in the 90's or 2000's?
What about a country in Eastern Germany?
You a Tom Petty fan? BoredMatt 00:16, June 23, 2010 (UTC)
I just thought of something brilliant, what about a country in the Balkans, I plan to call it New Kingdom of Macedonia. What do you think, can you make me a map for it? Ownerzmcown 10:27, June 24, 2010 (UTC)
Should I just start on it or wait for the map? Ownerzmcown 13:59, June 24, 2010 (UTC)
San MarinoEdit
I would love some help, do you think the story works?--Sunkist- 17:44, June 23, 2010 (UTC)
I think you might of taken that wrong, " San Marino is trying to find diplomatic terms with Tuscany, and Venice" meaning trying to set up a embassy and trying to become close allies, or I might of wrote out that section out wrong, but yes I do want Tuscany and San Marino to become best buddies. Also I should list the farm land they took around San Marinos borders, alot of cheese and wine there!--Sunkist- 17:58, June 23, 2010 (UTC)
So, do you have any Ideas?--Sunkist- 20:10, June 23, 2010 (UTC)
OK, I believe I'm ready for you to show me the map. Remember to erase this as soon as you can. Fedelede 01:47, July 1, 2010 (UTC)
I think there is a much larger population.--Sunkist- 01:55, June 24, 2010 (UTC)
I think thats a great Idea, I've just added the three main citys to take, they would allow San Marino to get to water.--Sunkist- 19:40, June 28, 2010 (UTC)
Seeing as Tuscany is on the same page with San Marino agenst Sicily, I was seeing if we could form some type of Italian Peninsula alliance, we would also need Venice to jump with us to.--Sunkist- 21:11, June 30, 2010 (UTC)
Well if we can, I already have a flag made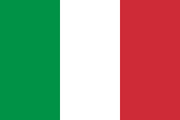 .-
-Sunkist-
00:14, July 1, 2010 (UTC)
Do you know who runs the Venice page?--Sunkist- 00:24, July 1, 2010 (UTC)
Sure, I don't mind, and I would love too :D, Also ,would you like to get started on the Italian Alliance?--Sunkist- 05:07, July 2, 2010 (UTC)
They enter War with USA, although they were loosing, Germany after wining in Europe help them in North America, Mexico win the war and after a treaty USA give them their lost territory as Germany promise them in the Zimmerman Telegram.
Hawaii and Alaska independence was given after a treaty with Japan at the end of WW2, with Japan's excuse of free the Inuit, Hawaiian and other indigenous people from the american oppression, the real motive was to have more puppet states. VENEZUELA 22:42, June 23, 2010 (UTC)
I know, but Japan did the same in China in OTL they said that the Chinese were oppressing the Manchus, and made Manchukuo and independent state, Japaneses don't liked America and they would happily have more puppet states and make USA to lost more territory.VENEZUELA 22:59, June 23, 2010 (UTC)
Remember that here Japan won the war they never returned Manchuria, and here like in OTL Japan invaded The Aleutians Islands, if they win they would possibly countinue until mainland Alaska and stablish a puppet state with a puppet goverment.VENEZUELA 00:16, June 24, 2010 (UTC)
Central World Edit
Hi do you like my idea of turning Central World in a community project, and if you might create an article for it, also: why don't you create a poll in the community project discussion with all the propositions.VENEZUELA 01:44, June 24, 2010 (UTC)
Hey Arstar, I was wondering if you were interested at all at restarting the whole PRC rump state? If you don't mind, I'd like to have a crack at it.--Vladivostok 06:48, June 24, 2010 (UTC)
Oh, I see. Well, I won't bother you if you want to flesh out your newly created article, as I really liked the PRC that was created. With a few tweaks, it could have been a good article. That said, please, by all means continue writing the article you started.--Vladivostok 14:12, June 24, 2010 (UTC)
Central World Edit
Hi Arstarpool, In central world most of African countries are independent, except German Colonies and Italian colonies, so I wonder I give independence to German Africa or remains German? please answer with your opinion VENEZUELA 22:33, June 25, 2010 (UTC)
MacedoniaEdit
Yo Arstar, wassup, I created my own 1983:DD page a few days ago, its called the Kingdom of Macedonia, visit it and tell me what you think, much appreciated Ownerzmcown, 1:56, June 28, 2010 (UTC)
I have good news, I know a lot of people have been arguing the ethnic problems of Macedonia are underextended, but I solved that problem, check out the page and you'll see OwnerzmcownOwnerzmcown 01:56, July 1, 2010 (UTC) 1:56, July 1, 2010 (UTC)
How does your nation enter the League of Nations in 1983:DD, do I have to go over it with someone, or do I just say it is and it becomes an official member if/when the page is ratified? Ownerzmcown 02:44, July 2, 2010 (UTC), 2:44, July 2, 2010 (UTC)
Haha I started the Nuke War because of all of the s*** that was happening. I knew people would wind it back, and guess what? I only get more people for the WP, yessssssss. ProfessorMcG 02:19, June 28, 2010 (UTC)
Hey Arstar, are you gonna keep participating in the Cold War! (Map Game), its restarting and you are the overseer and player for the Non-Alligned Movement, a major player in the game. Ownerzmcown 17:46, August 12, 2010 (UTC)
Kuban and Don Edit
Hi, Arstarpool I see that you turn this 2 articles in obsolete? why? if it's about the things that Lordganon put I already fixed them except the map which LordGanon is actually creating. Please don't turn it again obsolete because all the errors were fixed and the suggestions added, and the map is under creation, just let them in proposal and time will decide if people doesn't want them. VENEZUELA 01:08, June 29, 2010 (UTC)
Hi with the help of Lordganon I changed the maps! VENEZUELA 01:21, June 29, 2010 (UTC)
Yes, but remember that the survivors can get out of the ashes, they were farmers they don't need help from Russia which would be the inhabitable, in the roman times, a giant fire ocurred in Beirut, then an earthquake and later a tsunami all in the same day, and look Beirut is a wonderful city today. VENEZUELA 02:13, June 29, 2010 (UTC)
Yes but remember that most of this places in the Caucasus weren't nuked, and the people in the county although they were affected they survive at least some 100 that will create the new nations like their ancestors did millions of years ago, based from what the survivors know and remember and from the remaining technology, like the tribe boys in Mad Max. VENEZUELA 02:35, June 29, 2010 (UTC)
HEY, STOP WRITING THAT GIGANTIC BIG LIES, BECAUSE I'M NOT USING DIFFERENT IPS SO PLEASE STOP SAYING GIANT LIES, OR I'M GOING TO BLOCK YOU. Dafg 18:51, June 29, 2010 (UTC)
He's my best friend and he is on my home today, in Venezuela we are starting vacations, he was voting for me in my house, so this would be the only one that would not be true, because I say to him to vote for me, and we were using my computer, also if you see his history he's playing map games long before today, I'm not using different IPs if you want you may see the poll history and discover that I din't create puppets. VENEZUELA 18:59, June 29, 2010 (UTC)
If you don't agree let's do this, you do a poll in each one, and people decide if they canon or turn obsolete, ok? VENEZUELA 03:03, June 29, 2010 (UTC)
Hey let put it like proposal and let make people comment. VENEZUELA 19:08, June 29, 2010 (UTC)
Like this:
What should happen to Armenia?
ok? Might you do it now?
VENEZUELA
03:13, June 29, 2010 (UTC)
Polls are notroiously inaccurate. The best place to discuss an article's status is on that artlcle's talk page. Further discussion, especially when it nears graduation, can be made on the general talk page under "proposals.' SouthWriter 19:45, June 29, 2010 (UTC)
Arstarpool Delmarva is very near Washington DC, so why there can't be Caucasus States. VENEZUELA 23:27, June 29, 2010 (UTC)
And of what size do you think this countries are THEY HAVE MORE THAN 400 KM THE DISTANCE OF WASHINGTON DC TO DELMARVA so they can survive. VENEZUELA 23:34, June 29, 2010 (UTC)
Hey I'm not VENEZUELA I'm just at is house, so if I want to delete it I can, ok?!Dafg 00:33, June 30, 2010 (UTC)
Hi, I want to know when the "election" will finish. VENEZUELA 17:41, June 30, 2010 (UTC)
Hi Arstarpool I want to know if I can already put them canon, because in the questions Lordganon, Vladivostok, and me have put no. VENEZUELA 23:58, June 30, 2010 (UTC)
ok, and Azerbaijan or Armenia? VENEZUELA 00:03, July 1, 2010 (UTC)
No thanks on your proposal. The only reason I cared about my article was because I have been to Dubuque and it personally held interest for me. Now I'm crusade my ass off to create a new community project with new admins so more people who are new here can get a voice. I don't know how long you've been with this site, but the relationship between older admins and newer people can be a little ass-ish and I want to change that and let new people have fun. ProfessorMcG 02:29, June 29, 2010 (UTC)
Arstar, I thank you for your help but can I help you a little bit? Here's what's been bothering me. I used the word admin in my sentence. And by the word admin I meant person who usually was the most active in preserving the continuity of the timeline. It's a simple word. Why do you have to always contradict what I'm saying? This goes for saying with a lot of people on this website. We are all here typically because this falls into our personality but why do you always have to prove me wrong? It's a simple word, I understand your need to prove your intelligence. I need to do that too :) but it makes the other person feel stupid EVERY time they talk to someone else. And that makes them resent conversation with other people, that resentment can build up and make people act like an ass, like how I'm acting right now. Just a word of advice, hold back that one little jab to prove your supremacy. I sound patronizing, but I'm trying to help :) OK? ProfessorMcG 02:42, June 29, 2010 (UTC)
Hey Arstar, I was wondering what happened to Siberia on the current map in the World Country Profiles. Because they lost the entirety of the Ural Territory for some reason and I'm guessing that was a mistake.--Vladivostok 11:01, June 29, 2010 (UTC)
Adminship. Edit
Yes, in fact. I say "they" and not "I" because I haven't worked with you directly as much. By the time you joined the site, I was already starting my gradual decrease in activity. But the feeling is that you've shown disrespect toward other users, including quite recently - you and Zack had a recent exchange over that issue. This is a big deal because banning or even threatening to ban somebody unfairly can really hurt the community. Since you seem eager to step up and help, I am inclined to give you rollback rights ("Constable" rank), which increases your ability to revert vandal edits but does not include banning rights. Benkarnell 17:27, June 30, 2010 (UTC)
No, I don't mean you've threatened to ban anybody. I mean that disrespectful behavior is far worse when done by an admin because of the banning powers admins have. Since you're willing to have it all displayed publicly, here are the comments:
Mitro: "Arstarpool just comes off as way to pushy, especially since he nominated himself for the job. Also he has been warned about his attitude toward others before (http://althistory.wikia.com/wiki/User_talk:Arstarpool#Respect)... As an admin he will be dealing with a lot of new users and the last thing we want is an admin with an attitude problem scaring away new editors. Still we should give him a chance as a Constable and see what he does."
Louisianan: "But I'm definitely not in favor of Arstarpool... and I'll side with Mitro on his views of the two of them."
Karsten: "Concerning Arstarpool: I'd indeed hold off making him an admin. He surely is a prolific member, but that in itself doesn't necessarily makes him a proper admin, but making him a constable won't hurt. As long as credentials and motivation are okay, I'm largely fine with self-nomination though."
As for me, I didn't feel qualified to discuss your qualifications since I hadn't had much experience with you directly. I disagreed with Mitro/agreed with Karsten that the act of self-nominating is not by any means a bad thing, but that was the extent of my comments.
Consensus is pretty clear. I can constabulatize you now while I wait for final word from some of the others on the Main Page discussion. Benkarnell 17:43, June 30, 2010 (UTC)

Arstar, now I see you going after all the others - like I said, only Mitro mentioned the self-nomination, and the rest of us saw this as no problem. This sort of defensiveness is, quite frankly, not a good leadership quality. Since you're obviously interested in contributing in a leadership role, I will give you rollback rights now. Benkarnell 17:54, June 30, 2010 (UTC)
At this point it's just the rollback, not the suite of powers that admins have. The full list for all groups is here: Special:ListGroupRights. Benkarnell 18:31, June 30, 2010 (UTC)
Bangladesh map error Edit
I was totally embarrassed by that error. If you would check the article again, you will notice that I corrected the error.

Yankovic270 04:10, July 2, 2010 (UTC)
Changes to article "without permission" Edit
Minor errors are one thing, but changes made to prevent "problems" should be first discussed with the author of the article. I will concur with your changes to the "Communism in Asia" section of my article on the USA, since that section does tend to set the tone for articles not yet written. However, in establishing the USA in Asia, I must present what I feel are the logical consequences of the alternate history.

India became a democracy in OTL, and I see no reason why it could not in TTL. Likewise, it has pretty much been decided that the French could not hold on to its colonies after World War II. Your version of that paragraph, though, leaves more "wiggle room" so I will leave the changes. Perhaps it will speed the graduation of the article. :-) SouthWriter 06:32, July 2, 2010 (UTC)
RE:World Country Profile Edit
Thank you Arstar, but I've been actually meaning to talk to you about that. You as well have done a good job of discussing new articles, graduating them, as well as putting the discussions into the archives. However, when graduating to canon new nations, you should also add them to the World Country Profile. That makes for a more cleaner transition. Oh, and did I perhaps miss a nation or two?--Vladivostok 07:24, July 2, 2010 (UTC)
Commonwealth Edit
Why are you eliminating the Commonwealth Members? VENEZUELA 01:31, July 3, 2010 (UTC)
I think that ones should be add, if you want yo might eliminate Cascadia. VENEZUELA 01:39, July 3, 2010 (UTC)
I think Canada, ANZC, and most of the pacific islands (most ANZC associated states) would be members. VENEZUELA 01:57, July 3, 2010 (UTC)
Well, Andrew is the legitimate monarch, and Canada still recognizes the monarchy, so I don't see why not? The Canada page says they didn't have any contact with British Monarchy until 98 with Queen Anne of Cleveland, but Andrew I believe visited Canada last year.Oerwinde 07:03, July 3, 2010 (UTC)
Calthrina write in my talk page and say me that I speak english bad, that I organize articles horrible, that i need a more professional vocabulary, and that I need English classes!!!!!!!!! VENEZUELA 02:47, July 4, 2010 (UTC)
Why did you send a report on me? I may do unreasonable actions, but I was just lifted off a one-week ban, and I think we should see how my behavior runs along throughout the rest of the day. --Catherine 20:03, July 3, 2010 (UTC)
Thank you. And also, isn't the TSPTF the administrative staff of the site? --Catherine 20:24, July 3, 2010 (UTC)
What! I apologized to Fedelede and Tubiguy, as well I am revoking my comment. I mean no harm! If you say that I do, then.........then. I don't know how to please you anymore. --Catherine 02:46, July 4, 2010 (UTC)
I am apologzing to those people, I have apologozied to Fedelede and Tbguy, I will issue a offical revocation of my comment, ProfessorMcG said no harm against it, for god's sakes man, what more do you want a person to do? --Catherine 02:48, July 4, 2010 (UTC)
Seriously Arstar, what has gotten you so riled up tonight? I ask this honestly, because you have never acted this vehemently before. ProfessorMcG 02:50, July 4, 2010 (UTC)
I accept your offer. Why I might be a older user then you, you clearly have the proper authority. 10:59 ESTM? My time is Mountain Standard Time. Can you give me a estimate of when my Day ends on my time? --Catherine 02:53, July 4, 2010 (UTC)
You were granted rights before I was. I was here, as a registered user, at least two months before you arrived. How come you are part of the Taskforce? --Catherine 19:11, July 4, 2010 (UTC)
I can't believe she actually asked that. Anyway, she called XterrorX a heathen racist who will burn in hell for believing in monkey evolution so I banned her for 1000 years.Oerwinde 20:52, July 4, 2010 (UTC)
Wasn't today her "Rude Day"? Sorry for jumping in like this, but after reading the argument a bit, wasn't this the case?--Vladivostok 20:56, July 4, 2010 (UTC)
Arstarpool gave her a rude day. I told her if she had three strikes. She used her third and is gone. I doubt anyone will miss her. Her antics disrupt the entire site. The week she was gone was fantastic.Oerwinde 21:13, July 4, 2010 (UTC)
Norfolk IslandEdit
Yeah sure go right ahead! --GOPZACK 21:02, July 4, 2010 (UTC)
Costa Rica Edit
You live in Costa Rica? Nice!! BoredMatt 22:14, July 4, 2010 (UTC)
Zululand Edit
Hi Arstarpool might you do the civil war part of my Zululand article and I see that you live in Costa Rica and you lived in Colombia, so I wonder have you visit Venezuela? VENEZUELA 01:08, July 5, 2010 (UTC)
Also If Yankovic led me do the Association might I put Taiwan? VENEZUELA 16:45, July 5, 2010 (UTC)
Also I'm not going to change the article of CSTO just I'm gonna put the flags, ok, just for you to know. VENEZUELA 16:48, July 5, 2010 (UTC)
I love the idea of working with you. I've read your articles, and I like your work.
Yankovic270 19:54, July 5, 2010 (UTC)
Why would the independant nation of Macau call themselves a "colony"? It makes no sense.
Yankovic270 02:07, July 6, 2010 (UTC)
Answer to your Question Edit
No. It isn't a picture of Knuckles the Echidna. It is a piece of Fan Art depicting parody artist "Weird Al" Yankovic as an echidna. It combines two of my favorite things: Sonic the Hedgehog and "Weird Al" Yankovic.
Yankovic270 02:04, July 6, 2010 (UTC)
No. I am not. I believe that the "back to basics" style of StH4 is a mistake. I had gotten quite fond of the expanded cast of characters. I am of the school of thought that says that you need more than two characters to make a good story. The fact that SEGA fucked with the cast the way they did makes me so pissed.
Yankovic270 03:10, July 6, 2010 (UTC)
That still doesn't excuse the fact that they are eliminating some of the most popular Sonic characters in the series. I like Shadow. I like Knuckles. I like Amy. Why the hell can't any of these charcters be in the game. The fact that some of the more recent games aren't that well-recieved doesn't mean you should effectively reset the series to its roots. In my mind the guys at SEGA majorly fucked up this one . Sonic the Hedgehog 4 is, in my opinion, as big a mistake as New Coke or making Greedo shoot first.
Yankovic270 05:20, July 6, 2010 (UTC)
As mistakes like New Coke andVW's discontinuing of the "classic" 60's style Beetle haven proven that change for change's sake only never ends in anything good. As far as I concerned Sonic the Hedgehog 4 is yet another example of that rule.
Yankovic270 05:32, July 6, 2010 (UTC)
Association of Southeast Asian Nations Edit
I've given 'Zuela full permission to edit the article. You can get off his case about it now.

Yankovic270 03:01, July 6, 2010 (UTC)
Republic of Somalia Edit
I noticed that you've removed the "proposal" tab from my RoS article. Does that mean it's now canon?? Verence71 20:13, July 6, 2010 (UTC)
OTL vs TTL (or ATL) Edit
I've noticed that you have been confusing "OTL" with "TTL," or in general "ATL."

In this wiki, OTL means "Our Time Line" - that is the real world in which we live. TTL means "This Time Line" - the alternate time line (ALT) under discussion. For instance, you ask in a comment, "How would this be in OTL?" In context, "our time line" could mean "the time line we as a group are working on," but that is not the definition generally accepted on the wiki. Another way some editors refer to the real world (OTL) is "here" versus "there" for the ALT in question (TTL). SouthWriter 12:45, July 9, 2010 (UTC)
Virginia-Florida relations Edit
There could be an economic and military deal between the Floridans and the Virginians. However, this requires the Floridans to join the Dixie Alliance. Economic and military support are just some of the benefits of membership. Members also get special deals in certain goods (such as munitions and vehicles). Yankovic270 00:07, July 11, 2010 (UTC)
Starting to look like role playing again, Yank. The surviving population of South Florida is much more likely to seek relations with the Bahamas, Cuba and the rest of the Caribbean island states than a far off land-locked (until recently anyway) alliance.SouthWriter 05:41, July 11, 2010 (UTC)
The Virginians have a port, so the South Floridans can be the navy state. Of course, there are no official ranks, the member states are all equal. Besides, the Virginians are working at purchasing/building their own ocean-borne navy, but are not having much progress. Yankovic270 16:07, July 11, 2010 (UTC)
Yes, Yank, The Alliance could use a state with a huge coastline, and thus the Floridian nations would be good allies. However, this contributes to a Balkanization of the American southeast if the states south of Virginia (NC, SC, TN, and GA) are not in the DA. As it appears now, it does not look like the VR has enough clout to swing the struggling nation of South Florida away from its working relationship in the Caribbean. --SouthWriter 18:54, July 11, 2010 (UTC)
The Virginians are trying to get the states that constituted the non-rascist CSA to reform that nation for the simple fact that it is easier to help one big nation than four or five smaller nations. The Dixie Alliance may be talking to Hattiesburg, Piedmont, and the other survivor states in the south that I can't remember to join the Dixie Alliance. Besides, the only survivor state that was mentioned in the Georgia area was Athens and it is long gone! The Dixie Alliance has admitted some nations above the Mason-Dixon line in order to shy away from the "Neo-Confederate" stigma attached to its name. And as long as the South Floridans don't actually join the East Caribbean Federation, the Virginians are fine with them dealing with the ECF. The Dixie alliance has attempted to reach out to some of these nations, only to be rebuffed.
Yankovic270 02:04, July 12, 2010 (UTC)
I am assuming that to join the ECF a nation-state would be giving up its sovereignty. However, if it joined the Dixie Alliance it would retain said sovereignty. Why then, would it be against your principles to extend "membership" invitations to the ECF itself? It would seem to be a wise thing to do. That is, unless the VR secretly wants to control the DA as an extension of its own sovereinty. [See how most of the world is probably thinking?] SouthWriter 14:02, July 16, 2010 (UTC)
Superior/Ontario/Canada/Saguenay WarEdit
So since you're apparently the caretaker for Superior (holy crap, is there an article on here you're not caretaker for?) I figured we should discuss the changes that need to be made regarding Ontario. The revelation of a large survivor population in southern Ontario would likely change a lot. I posted a lot of my thoughts on the Canada and Saguenay War talk pages already.Oerwinde 08:45, July 11, 2010 (UTC)
Its two over here as well. Anyway, I was thinking that with Canada controlling most of the St Lawrence, at least until the St Lawrence raiders started stepping up, Canada could have had some presence in the great lakes region. I figure they could have had an outpost in Kingston, that they lost contact with following Saguenay funding the St Lawrence raiders and essentially cutting off any travel upriver. Ontarian states would likely be centered around Midland and Kitchener, and London, with London being an urban center in the middle of a large agricultural area, Kitchener same thing, and Midland being a vacation town with accomodations for like 10x its actual population(being an ideal place for refugees from Toronto and North Bay to settle). The Midland area is part that is claimed by Superior. I figure if we want to keep it as close to established canon as possible, have it largely be unorganized, and Superior troops add a welcome bit of stability, resulting in them joining Superior, they feel marginalized though, and maintain their Canadian identity, so when the Saguenay war reaches full swing, you have massive civil unrest in the area. Unrest requires Superior to pull troops from Gaspe to keep order, allowing the Canadians to swoop in and liberate it. With Superior pulling back and Saguenay on their own, the newly revamped, due to the Canada First Party, Canadian forces sweep into Saguenay, then move upriver to the great lakes along with Celtic Alliance allies. Once in Southern Ontario, the Canadian Superions give aid to the Canadians, but having their supply lines so long and having to occupy Saguenay strains resources. Saguenay unconditionally surrenders, but Superior and Canada are more evenly matched, Superior only being pushed back due to domestic pressures. So the treaty between Superior and Canada results in Canada's recognition of Saguenay, and recognition of Superior control of Ontario territory from Sault St Marie west, in exchange Superior cedes all Canadian territory from Sault St Marie east. Canada then establishes a Special Administrative Division of Ontario, basically a governorship, encompassing territory from Kingston to east of Sault St Marie. This would be a mostly autonomous region that answers to Canada, with the SAD government responsible for re-constructing infrastructure and regaining a sense of order in the region. Once the SAD reaches a minimul level of order, it will be graduated to Province status.Oerwinde 09:48, July 11, 2010 (UTC)
I really like that idea Oer, just for reference purposes I am the caretaker of Canada --GOPZACK 00:38, July 12, 2010 (UTC)
I've added some of the requested edits. Are there any more objections to graduating my Sultanate of Turkey article? Caeruleus 16:49, July 11, 2010 (UTC)
The article is complete, the opposition is in the minority, and its been open to discussion for over a week. I believe the article qualifies for graduation now. I guess you're allowed to graduate it? Caeruleus 13:44, August 19, 2010 (UTC)
You can't graduate an article over objections. You need to either satisfy them or prove they are wrong. Mitro 15:47, August 19, 2010 (UTC)
Well, the only remaining objection is the size, and I justified that several times. Anything else? Caeruleus 16:04, August 19, 2010 (UTC)

Well have you justified it enough that the objectors are satisfied or admitted they were wrong? Simply putting your argument forward isn't enough. Mitro 17:36, August 19, 2010 (UTC)
Yes. Since the final objector said he would drop his objections if he was the only one objecting. And he's the only one objecting. Caeruleus 18:12, August 19, 2010 (UTC)
Sure, you can adopt Orleans. It's not like I was planning to do anything with it anyway. I just started the article because I don't like good ideas for nations going to waste.
Yankovic270 18:58, July 12, 2010 (UTC)
Central World Edit
Hi Arstarpool, might you create an article for Central World, and if there is any template that said that anyone can write? VENEZUELA 17:14, July 13, 2010 (UTC) Please Answer me!
Thank You!!!!!!!!!!!!!!!!!!!!!!!!!!!!!!!! A lot! VENEZUELA 17:23, July 13, 2010 (UTC)
Also might you help me expanding it, and inviting more and more people to join, because I already did a blog, and write of Central World in the Main Page, but yet nothing... Please Answer me! VENEZUELA 22:52, July 15, 2010 (UTC)
Of course I have write everything... without people how can people write other articles, that's why I'm trying to invite people just to have more people, more articles, more mixing, more complex, more EVERYTHING!!!!!!!!! That's why I invited YOU!!!!!!!!!!!!!!!!!!!!!!!!!!!!!!!!! VENEZUELA 23:44, July 15, 2010 (UTC)
Now please seriously might you help me expanding or creating articles, please do what you do with Wasteland Europe, use that form for expanding, i don't know how, please do ever edit you need just to use the Wasteland technique, please answer me! VENEZUELA 03:00, July 18, 2010 (UTC)
Yeah the first part is fine the second part I rolled back & in the process reverted your first edit, anyway its all good. --GOPZACK 22:31, July 13, 2010 (UTC)
Celtic AllianceEdit
Hi Arstarpooljust taking a quick look in and noticed a new nation Scotland (fascist) and wondered if you had any proposals to counterbalance the threat...if you need any help with local issues let me know --Mjdoch 13:30, July 14, 2010 (UTC)
ProposalsEdit
Can you give me a hand & going through the various proposals on the Doomsday talk page & eliminate the useless ones and graduate the good ones? --GOPZACK 00:10, July 16, 2010 (UTC)
MediationEdit
Sure I can do that, what is the problem? --GOPZACK 01:03, July 16, 2010 (UTC)
Self-promotion Edit
Alex, my friend, you are getting a little bold. First you nominate your own time line for "featured" and then you state here that it is not only sucessful, but that it opens up alternate history to a whole "new generation" of editors!

Just a week ago, you were looking at "Wasteland Europe" and pronouncing it "dead" because it had had a slow week. Now it is being self-nominated to be a "featured" time line. I'm a contributor there - hoping to be a major editor there if I don't get kicked out - and I will probably vote for its "feature status," but I have not been so bold to nominate something I created like you have done.
By the way, if you want to, check out History of the World (No Supernatural Intervention), a time line I created. I have invited others to help, but no takers yet. Comment on the talk page there if you visit. SouthWriter 13:53, July 16, 2010 (UTC)
Wasteland Europe Edit
Why should I help you in your timeline when i ask you to help me in mine, and you just said it was not original, stupid, and impossible to be a community project, and if it's impossible to be a community project why someone today start and article about Alaska? VENEZUELA 22:08, July 16, 2010 (UTC)
Sure, I'd love to help!--Smallpox 22:18, July 16, 2010 (UTC)
I will help, and I will really appreciate it if you wanted to help me with Choose Your Own Alternate History!, which is open to anyone, but maybe not a full-fledged open TL. Tbguy1992 23:33, July 16, 2010 (UTC)
Zack & Wasteland EuropeEdit
Well I made an article here for Canada, I would love to her your feedback but its 6am here in Morocco so I must get some rest. --GOPZACK 05:11, July 17, 2010 (UTC)
Prussia/North GermanyEdit
At the end of the 3 weeks, Christian will be deemed mildly mentally deficient. He will abdicate and his son will take over. This will mark a major improvement in foreign relations. Re-opening talks with Denmark, and negotiating an official border between Prussia and North Germany.Oerwinde 06:42, July 17, 2010 (UTC)
Perez Jimenez's Venezuela Edit
Hi, I see your comment saying it's nationalistic but in fact is not nationalistic is just to show how Venezuela would be if he would stay in power you know why? becuase of this:

We all suffer each day seeing Venezuela, once a 1st world country and tourist paradise, controled by a facist-communist de facto dictator, seeing how crime take Caracas, our fathers can't sleep waiting util their sond return house from a party or dinner, just because of crime, we all must have protected cars, also because of crime, poverty covers 22 million people of the 28 million people in the country, seeing giant ghettos each day call barrios which houses more than 5000 people each one, each day we're more similar to Cuba, yesterday Chavez (the dictator) burned Bolivar's remains suppoesly to cientific purpose but in Venezuela everyone now that it was for a paganic ritual, our people is dormant, seeing how Venezuela is dying, some months ago a german couple was taken by pirates, the man was killed, and the woman lost in the ocean until she reached Aruba in a small boat, alive... Please Answer me. VENEZUELA 23:03, July 17, 2010 (UTC)
Gracias. VENEZUELA 02:43, July 18, 2010 (UTC)
Virginian Republic Edit
I will attempt to attempt to answer as many of your questions as possible.

Q: Richmond, the capital of the "Government State", was not nuked. Rather than confederate with West Virginia, it collapsed and has since been rebuilt.
A: To me the status of Richmond not quite pinned down yet, but I insist that the city survived.

Q: Cars, vehicles that require parts from dozens of lands over, are now being manufactured as a "work of art".
A: Change that if you must. Nothing is stopping you. I only said that the civillians who own these cars decorate them with murals to set the plain militaristic-styled cars apart.

Q: The Dixie Alliance, mainly a Virginian vehicle of power, is now in North Georgia, a nation that is hundreds and hundreds of kilometers away.
A: The Virginians are pretty much constantly setting out expeditions to find more survivor states in America, and one of these expeditions could have found North Georgia.

Q: The 101st Airborne solely managed to secure nearly an entire state, and at least half of three other states.
A: The article doesn't mention it, but the 101st only carved out a small state by themselves, and seized the rest of the state with a militia they trained, and the militias of several allied statelets. And they didn't take the other territories overnight. They grew their nation slowly over the course of their existance.

Q: It controls parts of Kentucky, a state home to a stable nation. (You brought this one up with Zack, so I'm assuming he let you take half of the state.)
A: You pretty much answered that question yourself.

Q: As I recently read on an talk page, it has "one of the best equipped militaries in the world".
A: It is a militaristic society, which means it only wants the best for its troops, it weapons and other equipment.

Q: It possibly has relations with Macedonia, a country isolated in Eastern Europe.
A: That can be explained by the fact that one of the largest sources of income for the Virginians is the sale and export of weapons. They don't need to know the Macedonians to sell them weapons. Plus they could have met them through the Alpine Confedration or other European power

Q: The populace was somewhat content, or at least managed to deal with a military dictatorship for some years.
A: The Virginians gave stability to a region that only knew chaos after Doomsday. Plus Thompson ruled as a benevolent dictator. They became a half-decent regional power because of that dictatorship. They only had a military dictatorship when the conditions of the region made it necessary.

Q: While nations all over North America waited for the return of good ol' America, the Virginians gave the US and the CRUSA the "finger". American soldiers, thought of the nation as "dead and never coming back" when a downsized version of it existed in the Great Plains.
A: For most of the nations existance the Virginians had no idea that there was an USA in the midwest. When they finally found out about it, their practical nature made them see it for what it was, a regional thing that would never reunite the entire United States. They haven't given the US "the finger", they just dissapprove of blind idealistic patriotism that is symbolized by the CRUSA. Besides, in the time the Virginian Republic has existed they have developed a relatively strong national identity. More and more people consider themslves (like Robert E. Lee) Virginians first and foremost. By the time the "new" USA gets to Virginia it is likely that no-one will consider themselves American anymore.
I hope this has put your mind at ease on Virginia.
--Yankovic270 22:05, July 18, 2010 (UTC)
They gained their territory by years of relatively slow territorial expansion. They annexed the remnant state of Virginia led by Farwell and dealt with the city-states east of that nation's territory through diplomacy or force. The same thing applies to the states outside the two Virginias, though a major part of their current territory entered Virginia peacefully and without bloodshed.
Yankovic270 01:53, July 20, 2010 (UTC)
Graduating "Spree"Edit
I am not blind, the only articles graduated were ones that had people requesting the said graduation and most of those requests were from you sir. When I graduate articles I know damn well which ones should or should not be graduated. If I think a new article should be graduated I ask "Any objections to grad?" if no one else has. I am well aware that many of Ven's articles will be changed or marked as obsolete. It was you after all that kept singing my praises when I criticized those articles Ven made for nations in Afghanistan. GOPZACK 23:41, July 20, 2010 (UTC)
regarding adopting saguenay's article in the DD1983's timeline, what did you have in mind for it ?--Marcpasquin 00:49, July 21, 2010 (UTC)
CaliforniaEdit
When articles are disputed we mark them as proposals. This is a major dispute! Please maintian a little bit of class and dignety and let the process procede unhindered by your bloody ego trip. You can't expect me to view every damn article that is proposed! Occasionally these things slip through the cracks. See Prussia, it was canonized like yours then it it was marked as a proposal and reworked, then ultimately it returned to canon. FXgentleman, Southwriter and I have done our best to reach a solution without it breaking down into an all out edit war. Were finding it hard to keep the peace when you undo my attempt to mark your article as a proposal while we review the situation, and launch these assaults upon the three of us without just provocation. I'm trying to make this process go as quick as I can but if you think that I will bow down to your new influx of arrogance your sir are mistaken.I would urge you to please let this process run its course and by all means share your thoughts, concerns and ideas but do so in a constructive manner.
Alos you accuse me of giving you "shit", you are the one who snuck this article in when no one was looking, ignored many people's concerns and now refuse to cooperate with this present dispute. Then you do your very best to destroy one of the best researched articles on this wiki. Fx unlike you has had the decency to workout the issues with his article and bring it up to the standards necessary for it to become canon.
I see you wrote on the talk page of your infamous article "I am done with this", well I can assure you sir that the rest of us are not done with this. We are going to pursue this until Fx has his just desserts. I hope you can tone down your ego and your attitude and work with us to make both articles part of Canon. --GOPZACK 06:42, July 21, 2010 (UTC)
The DisputeEdit
This is getting a little tedious, Alex. I will put this here, and on Zack's page as well. This is in arbitration, you are not in charge of that arbitration, but only one of the parties of the dispute. If you do not go along, you are in danger of being banned from the whole wiki. It is not hard to settle this if you will work with others. FXgentlelman has stated that he will not communicate directly with you, so the best you can do is go through Zack, who has graciously agreed to mediate an equitable settlement. SouthWriter 03:14, July 22, 2010 (UTC)
So FX has laid out his arguments on my talk page. I eagerly await yours Arstar. --GOPZACK 21:08, July 22, 2010 (UTC)
Conch Republic Edit
Could we work together to write the Conch Republic, and make it a serious nation-state? You're a good user to work with and southern Florida seems to an area of expertise for you. You approached me with Macau, and I'm approaching you with the Conch Republic.
Yankovic270 02:09, July 22, 2010 (UTC)
State CollegeEdit
What do you mean by "use"? --GOPZACK 18:22, July 23, 2010 (UTC)
Oh yeah go for it! Don't forget to make mention of Oil City I had mentioned it in the State College article as being an area where survivors gathered. --GOPZACK 18:51, July 23, 2010 (UTC)
All that Canada business is fine. --GOPZACK 20:26, July 23, 2010 (UTC)
Yes I know, we have broke relations, because Chavez have Colombian guerillas in Venezuela and the stupid "army" entered to Colombia and shot at cars in a Colombian town, but I think there is no war because Chavez have been with the war thing since 2006. Also might i graduate Kalmykia. VENEZUELA 03:23, July 26, 2010 (UTC)
Might I graduate Kalmykia? VENEZUELA 16:55, July 26, 2010 (UTC)
RE: Pennsylvania-Kentucky RelationsEdit
Well I certainly believe that the two nations can have friendly, strong relations. I should note here that Kentucky more or less deals in small arms and Panzerfaust type anti-tank weapons because they are easy and cheap to produce. I also would like to know where they got a million dollars to spend?
I'm deeply interested in the United Communities but if you can give me some more details I can tell you whether it would be right for Kentucky. --GOPZACK 01:58, July 27, 2010 (UTC)
I am also interested in the United Communities. The Dixie Alliance is supposed to be former US equivilent to NATO, and the Southern Free Trade Agreement is the equivilent of NAFTA. I would change it to the Eastern Alliance, but that would take a frustrating amount of effort.
Yankovic270 02:46, July 27, 2010 (UTC)
If you can find justifiable reason for 10, 000 000 in defense spending by all mean Kentucky can send you guys some goods. Kentucky actually is seeking a port of its own through Ohio as a part of the territory they claim so Kentucky can no longer be land locked and trade with other nations in & around the great Lakes Region more easily. What exactly is Pennsylvania interested in?
Finally I think the Dixie Alliance is beginning to out its usefulness as a UN or LoN type organization. As you noted Kentucky does have a strong and proud military but they are more interested in diplomacy and friendly relations with as many nations as possible where as Virginia is a highly militaristic society. The United Communities (While I hate the name) sounds like the kind of organization Kentucky would be interested in. (I understand your challenging parts of that article & I'd be happy to be the mediator of that dispute as soon as the SNU dispute is settled.) --GOPZACK 03:01, July 27, 2010 (UTC)
I was talking about Virginia, I know Kentucky doesn't trouble you.
Ok but how your going to get 10 million in OTL dollars to buy weapons? Also Kentucky doesn't want to be arming a nation to fight Canada. The Screwballs in Ohio & the contemptible Lawrence Raiders, fine I get that. Kentucky has got weapons that & they'll give em to PA in a heartbeat. --GOPZACK 04:25, July 27, 2010 (UTC)
I'm sorry but Kentucky only sells small arms. At best they may send some Jeeps for some steel in a trade deal of sorts. --GOPZACK 18:03, July 27, 2010 (UTC)
Yes. --GOPZACK 18:38, July 27, 2010 (UTC)
Money and Arms deals Edit
I am not sure if the currency of a Pennsylvanian millionaire is going to be good internationally. What is backing his fortune. And if the funds come from "taxes and tarriffs" what backs that money. Money is actually just promisory notes agreeing to exchange something of value between trading partners. In OTL that principle is backed by the "full faith" of the governments exchanging the funds. In TTL, the head of Pennzoil may not have had any "profits" left once his conglomerate fell to representing a handful of oil wells in Pennsylvania. And the value of the companies assets would be in how much the oil could be used to sustain the new nation-state centered in Erie.
International monetary funds would be a iffy situation. I would think that even after two decades the currencies that had been created locally - most called "dollars" - would only be good if backed by property and goods. A farmer, needing clothing might be able to exchange some of his produce for that product. But he would most likely have a lot of produce left over when he got the goods he needed. That is when he would receive "money" from those who dealt in food as well as goods. He would then hold on to that "money" until he needed more goods. He might invest the money in equipment instead, and the equipment provider would use that money to get more inventory, or food at a later time, etc.
This works at an international level as well, but only if the trading partners have a surplus of goods or abundandant resourses or services with which to bargain. I think that perhaps the steel mills in Pennsylvania might just be such a resourse that would make the money of worth the international exchange of goods. And if not the steel mills, certainly the oil fields and natural gas, which most certainly provide more than enough for Pennsylvanias in-house use.
Kentucky, with its cache of American gold, has a big advantage on the international scene. It has yet to play the "gold card" and I am sure that when it does the contenders for a "right" to that gold will come from all over the world. There are Americans all over who still hold to the hope (or even the belief) that America is not dead after all. The Provisional United States, in its constitutional convention this month, is likely to drop the "provisional" from their name. Their claim as the USA is as good as Siberia's is as the USSR. On top of that, the nations of Hawaii and Alaska were a continuing part of the United States for several years in conjuction with the APA.
With this gold, though, Kentucky is not of itself "rich" - it must expend quite an amount of energy and manpower to protect this resource until such a time that it can equitably be destributed to its "rightful" owners -- whoever they might be. Instead, it is a liablility! Their arms, on the other hand, are an asset which may or may not be for sell for money backed by oil. A trade partnership for steel and oil must be set up first, and a system of transportation to get the products between nations. The money from Pennsylvania will essentially be a promise to exchange that money for oil, steel or some other goods in the future.
Economics is never simple. :-)
SouthWriter 04:47, July 27, 2010 (UTC)
The SouthEdit
Haha.. no, I don't talk like that (I live right near DC, so it's pretty Northernized). But much of the Shanandoah and parts west do talk like that, and that's most of the area that the VR controls.
Nobody listens to country music that I know of, anywere. And I do have a few hick friends. they listen to rock, rap....basically what everybody else does.
I guess I should have clarified what I meant by "southern" culture. What I ment was the "hick culture" of Tennessee, NC...basically the Appallachian culture from north Alabama up into SW Pennsylvania. BoredMatt 17:48, July 28, 2010 (UTC)
Es verdad que me expulsaste de Georgia porque si es asi voy a eliminar yo q puso, lo que le pedi a Vladivostok q pusiera, y hare un articulo de Gerogia yo. VENEZUELA 21:40, July 28, 2010 (UTC)
I Kicked you out of the Dagestan article in fact you never did something so erase it from your userpage. VENEZUELA 17:43, July 29, 2010 (UTC)
It's not a copy becuase I add the flag, the coat of arms, culture, and ask Vladivostok to add Economy and Military so I have the right to use that and the history is different have you even read, but with your undo thing you delete the new history. VENEZUELA 17:56, July 29, 2010 (UTC)
Let's do this I return to Georgia, my Georgia article is deleted and you can have Dagestan in your user page. VENEZUELA 18:57, July 29, 2010 (UTC)
ok! VENEZUELA 03:35, July 30, 2010 (UTC)
What was with that random challenge to the Republic of Lincoln and that other article? It was there, then a few moments later you deleted the section from the 1983: Doomsday talk page. --GOPZACK 01:23, July 29, 2010 (UTC)
Rollback Edit
No, rollback does not allow you to leave comments. You have to do it the old fashion way if you want to leave a comment. Mitro 16:44, July 30, 2010 (UTC)
TSPTF Responsibilities Edit
If you are receiving this message, you are a member of the TSPTF. In an effort to keep this wiki in tip-top shape, I have made a list of responsibilities on the TSPTF page that I hope you all volunteer to do (at least three of them). If we work together we can make this place into a quality wiki. Mitro 22:17, August 2, 2010 (UTC)
Arstarpool, if you read the rules and requirements to become a Lt. you should notice that you need to be an active contributor for six months. Since you joined in March 6 you have only been here for 5 months, so you are going to have to wait at least one more month before you think about adminship. Also don't forget that someone must nominate you, you cannot nominate yourself.
As for whether I think you are eligible, well the whole point of the new procedure was to take new membership in the TSPTF out of the Brass' hands and put it into the community. If the community feels you should be an admin, than I will respect their decision and work with you to the best of my ability. If you truly want my opinion, however, I feel you should wait before trying to become an admin. I don't say this to be mean or rude, I am only trying to be honest.
It certainly seems that you care about 1983: Doomsday. You can definetly be considered an active editor who has put a lot of time into improving the TL. While I might have some issues with your articles, I generally have found them to be acceptable and am perfectly willing to have them remain a part of canon.
That being said, during my break I received several messages from 1983: Doomsday complaining about your behavior and asking me to intervene. Due to responsibilities I had in my real life I was unable to do so. When one user, however, told me he was leaving the TL and listed you as one of the reasons, I became very concerned, but due to how close I was to taking the bar I could still not intervene. I don't doubt Arstarpool that you did what you thought was right when acting as "caretaker" of the TL, but you certainly appeared to have stepped on a lot of toes while doing it. Since 1983: Doomsday is a community project it requires editors to be diplomatic and civil when working with others, which is something I feel you lacked during your time as caretaker.
During the recent TSPTF election you are correct that I did not vote for you. It was probably rude of me not to state my objections openly, but I had made a promise to myself to stay away as much as I could from here so I could concentrate on the bar. Nevertheless, my objections had nothing to do with any personal malice against you. I was thinking only of the best interests of the wiki. Not only did I base my decision on my own interactions with you, but also on how you interacted with others. The fact that Zack had to warn you about respecting others (see above on your talk page) after I left, was also taken into consideration. Also, as you stated yourself, I was not the only one who felt you were not ready at the time to assume more responsiibilities.
I admit that since I returned I have not been impressed with your behavior. You also seem to have somewhat of a bad reputation around here, if the comments from my return blog post are any indication. Also your recent outburst in regards to some of my criticism of your articles, where you threatened to leave unless one of your proposals is not graduated, does not fill me with confidence in your abilities to be an admin.
You say your bad attitude will improve if getting a seat of power. First, as I said before, no member of TSPTF is more powerful than any editor on this wiki. We are all equal, the TSPTF members just volunteered to do more boring work. I think you should learn to understand that before trying to get yourself nominated. Second, in my experience you do not reward a bad attitude.
Despite what I said above, I still think you have a chance if you are willing to improve your behavior on this wiki. In many ways you remind me of Yank when he first came here. He too was attracted to 1983: Doomsday and at first we did not get along. If you check the archives of a few pages you will even notice some posts where I refused to even talk to him. And yet we did start talking again and learned to work together. Arstarpool, you have a month before you are truly eligible for a chance at a promotion in the TSPTF. During that time if I see improvement in your attitude and your interactions with other editors, I may be willing to throw my support behind you. Until than I will treat you as I have treated everyone else. Mitro 20:11, August 5, 2010 (UTC)
Re: Unified FLoridaEdit
Your awfully busy for a fellow leaving in a few days. I'll see how your article shapes up but for now I'm with holding judgement. GOPZACK 20:45, August 6, 2010 (UTC)
An Important NoticeEdit
I suggest you check out the the Main Page's talk page [[1]] sooner rather then later. --GOPZACK 02:01, August 10, 2010 (UTC)
Its not something that just happened or that recently tipped the glass. Its an accumulation of things since you first joined and especially since you became a Constable. In the beginning I had to warn you about respecting other users, that clearly has not stuck. You have been picking fights and handling what should be minor disputes in a god awful manner.
In your rather trite and angry response there you made stuff up (That is was all planed by me without consulting anyone else) you happily flaunt your fights with FX, Vene, Sunkist all three of which, even if you had the right of way, you never the less handled badly to say the least. You've been in edit wars with Yanks as of late along with others in the past,
Then you have arrogance to claim I am the one lying. Take a look back at what you've wrote. The Erie, Pa situation is wonderful example of you trying to bend the rules or flat out ignoring them for personal gain. Hell I thin you were suppose to leave this Wiki yesterday because you thought Mitro was making plans to demolish all of your articles.
Believe me I'm not the only one that thinks you should step down or be removed as Constable, you are unfit for office. I'm saddened it has come to this. --GOPZACK 03:01, August 10, 2010 (UTC)
I'm from Medellìn. Why? Fedelede 21:38, August 10, 2010 (UTC)
1983: DoomsdayEdit
I'm thinking about returning to 83:DD. What do you think? Fedelede 01:02, August 11, 2010 (UTC)
Yes, I've decided that I want to return to 1983:DD, but I'm not sure where should I contribute. I mean, I think there are a bit too much states upon the world and no other idea comes into my mind right now.
Oh come on, don't be so melodramatic! I decided to take back my vote because frankly, I have decided to stay out of this drama, I really don't think you should lose your position though, but I really don't care for the poll. I may write to Mitro about my dismay and annoyance about all this though, and how absolutely childish it is. I wish you luck, but for know I wish to be a neutral party. Kind of a personal protest.--Smallpox 05:17, August 13, 2010 (UTC)
Results of the voteEdit
The vote is now closed, any further votes will not be recognized. The result of the vote was 62.5% of the vote in favor of removing you as Constable. Since the 2/3rd vote necessary for removal was not met, you will not be removed as Constable.
I realize that this was not an enjoyable experience for you and believe me when I say I took no pleasure from it myself. Myself and others in the TSPTF felt it was necessary to clear the air in regards to the many complaints we have received about you. Nevertheless since the supporters of your removal failed to meet the 2/3rd requirement you will remain as a Constable. You have a clean slate now and whether this vote happens again depends entirely upon you.
I like to address, however, the outcome to the vote in regards to a message you sent me several days ago asking whether you could one day be a Lt. Though you retained your position, a majority of voters felt that you should have been removed from it. I would really take that to heart if I were you. A majority of editors felt that there were valid reasons to remove you even if you disagreed. These same editors are likely to vote against you again if you decide to be an administrator. If you are really are serious in being an administrator, I would do something to address their concerns. Mitro 19:35, August 13, 2010 (UTC)
1983's GreeceEdit
Sorry, but I never said you could take Greece; I'm still looking for a suitable candidate. If I don't find one in a month I'll just slowly start writing articles myself with significant help from those who'd like to offer it. Mr.Xeight 05:23, August 14, 2010 (UTC)
US Atlantic RemnantEdit
I noticed your comments on the talk page you can certainly use the US Virgin Islands so long as they are a member in some way shape or form of the East Caribbean.

For Spain, yeah I don't quite know how that got there. I'll remove it. For Florida & New Rome I'm sure we'll do fine. Also I understand that you don't wish to "work" with me on future projects and frankly I feel the same way. But with that said, we have articles that are all interconnected so we will have to work together whether we like it or not. We will have to coexist, so hopefully we can do that. All the best. --GOPZACK 03:10, August 22, 2010 (UTC)
I really hate these conversations between talk pages! Have I mentioned that before? :-)
Any way, I am all for your having a unique article in the area, Alex, but try to make it work as a plausible part of the time line as a whole. The East Caribbean Federation is not an Alliance, but rather a unified nation. Therefor, if the Virgin Islands are to be under the authority of the Remnant forces, it will be a conflict of interest in the islands. The ECF is canon, so you have to walk gently here. Scale back on the demands ("observer seat in LoN" and "own army") and make this an organization of the American diaspora (also an established article - tho a stub). SouthWriter 03:55, August 22, 2010 (UTC)
State College & PAEdit
I always envisioned some type of unification. If it does indeed take place, the government would be based in State College still because they are the "legitimate" successors to the state of PA. Your map is plausible but not for a while. I know you probably already know that but its good to clarify or someone will pounce on us and say were moving to fast! ;) --GOPZACK 03:36, August 22, 2010 (UTC)
Oh there is also some good folks in Reading PA still alive but none has written about them yet. I think Brian may have claimed jurisdiction over that but if not we ought to tackle that and get an overall narrative for the state going. --GOPZACK 03:39, August 22, 2010 (UTC)
So long as the world don't end in 2012 that should work fine. But I'd hold off on making an article about it, for now anyway. --GOPZACK 03:52, August 22, 2010 (UTC)
Before we dig ourselves too deep into the Reading article talk to Brian and get his blessing he may have some ideas for the area.
Yes Sir I am traveling over "flyover country" right now, a rather insulting term I think seeing as the good people in the middle of America are only worth flying over according to that old Americanism. --GOPZACK 04:02, August 22, 2010 (UTC)
Stepping in for a minute. I haven't participated in any of the Pennsylvania-based proposals since writing up Pennsylvania, but I do keep an eye on what's going on (as I do the rest of the North American articles in the timeline). As long as any proposal makes sense within the 1983:Doomsday timeline and premise, said proposal should be considered (and, if applicable, graduated into canon). If you can make Reading work, I'm fine with that. BrianD 04:33, August 22, 2010 (UTC)
Yeah, I'll work on it. Not a problem.
Yes, its a picture I found on google once of a little "ganon" plush. Use it as an avatar everywhere, really.
Lordganon 22:29, August 22, 2010 (UTC)
I guess I'll adopt Malta and flesh it out, if thats all right.
Lordganon 10:17, August 24, 2010 (UTC)
No worries.
How's the Italy article look now, btw?
Lordganon 01:01, August 25, 2010 (UTC)
Long Island in 83DD Edit
Hello there. I was told by BrianD that you are now the adopter of the Outer Lands over on 83DD. I wanted to know if I could help contribute on behalf of Long Island. I have been wanting to get into this timeline, but haven't been able to find or think of anything worth working on. But being a Long Islander, I would love to help out on a place that I know quite well. I also love the idea of Long Island being part of a loose federation. --NuclearVacuum 16:09, August 25, 2010 (UTC)
Well thank you very much. As long as you don't mind. I would also like to help out with all of the Outer Lands if possible. Maybe design a flag and help cleanup the article. --NuclearVacuum 00:36, August 30, 2010 (UTC)
A question about borders Edit
I'm attempting to write an article for a nation in the 1983: Doomsday based in the OTL county of Lancashire (see Duchy of Lancaster for more information). Since it happens to be fairly close to the CA's territory, I thought I'd best enquire as to where exactly its borders are since I really don't want to be claiming land that belongs to someone else.Tessitore 17:36, August 27, 2010 (UTC)
I don't know, the county does contain the Portland metro area, which was destroyed by a nuclear missile. Mitro 23:33, August 29, 2010 (UTC)
Apology Accepted Edit
No sweat. I can forgive you for the arguments. Nobody's perfect. I know that for a fact, as I am reminded of that pretty much every day of my life. I in turn, offer my apology for calling you an asshole. I was simply frustrated that the person I defended was stabbing me in the back repeatedly. We both said things we regret, we both apologized, so let's get back to working together. I am all for adding Ithaca to the United Communities. We could work something out with the connection, but it's getting late (It's about 11:30 here).
Yankovic270 04:21, August 30, 2010 (UTC)
Sure I want to work on Binghamton with you. When I was deciding on which city-state I wanted to work on I thought about working on Binghamton, but I decided I like the name "Ithaca" better. The potato chips idea is a great one. I think that it's ironic, because until chip production can reach certain levels the potato chip we take for granted is a luxury in the world of Doomsday. Speaking about Lays chips, they remind me about something I remember about my grand-uncle. When me and my brother and sister were younger we would visit my grand-uncle, and he would have a stash of those Lays classic chips which he would give to us. We would always feel guilty about taking them, but he only bought those chips to give to us. Anyway, that grand-uncle is dead. Since last December. Now I found out that even mentioning lays chips triggers memories that cause me to cry like a baby.
Yankovic270 15:08, September 1, 2010 (UTC)
No, I want to work on Binghamton. But it'd probabbly be a good idea that you write the chips part. We can work on Westfield after Binghamton.
Yankovic270 02:21, September 2, 2010 (UTC)
Deal.
Yankovic270 02:53, September 2, 2010 (UTC)
Holy MountainEdit
We've left it for Xeight, due to its Orthodox nature. I'd rather you didn't, to be honest.
Lordganon 04:58, August 30, 2010 (UTC)
Thanks for reparaing typo Edit
Thanks for reparaing typo of page name :P Mine bad. Regards JorgeGG 13:12, August 30, 2010 (UTC)
Hey I saw your article on Arkansas. I would like to help you with it seeing as I am the author and caretaker of Hot Springs. --GOPZACK 00:44, August 31, 2010 (UTC)
It's pretty obvious who you are talking about, but I am not going to intervene. So far this seems to be a private dispute between you and South, and I would rather it stay that way. If more people get dragged into it or it begins to affect the work being done on articles, than I will intervene. Mitro 14:27, September 1, 2010 (UTC)
1) Probably not. Most of coastal and Central Maine is going to be either unlivable or under the control of warlords. Furthermore the Northern Townships and Aroostook control most of the civilized area. But there might be some, you are just going to have to research it.
2) It is simple really. For example, if you want to archive a talk page just create a new page titled "Talk:Page X/Archive 1". Than create the page like you would any other article and add the content you wish to archive.
3) Same thing as above really. If you want a Sandbox, create this page: User:Arstarpool/Sandbox. If you want an ideas page, create this page: User:Arstarpool/Ideas. There you go, you can edit both articles to your heart's content.
4) Technically you are right and I explained that to South and he has apoligized. That being said, South brought up a good point that the way I wrote the page makes it sound confusing. I am going to be rewriting it eventually and asking all members of the TSPTF to comment on it. That being said, your major duty is to look out for vandals or trolls, though you can do other things as long as it does not take away from your major duty. Mitro 23:21, September 1, 2010 (UTC)
Question Concerning NV State Article Edit
I noted you created the framework for an article about the state of NV. Do you have any problems I take it and make it my own since I have the knowledge about the state? Thanks.--Fxgentleman 02:12, September 2, 2010 (UTC)
Celtic BlockadeEdit
Wouldn't the Celts be too busy elsewhere to commit these forces? Remember, we haven't decided how the Sicily War plays out yet.
Lordganon 10:05, September 2, 2010 (UTC)
What in the world, Alex? Where in the world did the charge of "weapons of mass destruction" come from? Is Prime Minister Price mentally unstable? Nothing in the article on East Britain indicates any capacity for any kind of "super weapon" - be it chemical or biological - but a weak "army" and even weaker "navy" using gun powder and a little dynamite. You really need something logical to base such drastic moves in these articles, you know. --SouthWriter 19:48, September 2, 2010 (UTC)
First CoastEdit
Daytona has no reason to be attacked, the USSR would be more focused on attacking Jacksonville,Mami,Tampa, Merritt Island and other major bases. There is no real reason to attack it, but of course Toledo,Fort Knox,Wellington,Canberra, Charleston all get saved.--Sunkist- 12:30, September 2, 2010 (UTC)
The Good News is - St. Augustine and Daytona Beach would indeed have survived. The bad news is - First Coast would be a tiny, not thriving,

survivor state. Vacation condos and hotels would become home to thousands of refugees, some very sick. The east coast of Florida was hit really hard, with only the "First Coast" surviving. The map to the right shows the three survivor states of Florida. Of the three, North Florida would have probably recieved any of the surviving state government (From Tallahasse to Gainesville). As you can see, the panhandle area would be available for a survivor state of its own (or expansion of North Florida as Perry originally wanted).
As you can see, though, the First Coast would not be large enough to be the leader in bringhing about a united Florida. If anything, the First Coast might have held together as an association of cities until discovered and annexed by North Florida in advance of the reunion with South Florida. Though I have advocated the capital being in Gainsville (established and home to the University), I can see an advantage to moving to St. Augustine. The First Coast is the only viable presense on the Atlantic coast, and as such presents an easier access to the rest of the East coast nations and the rest of the world.
South Florida, though reclaiming parts of the Atlantic coast, does not have a good port city. Datona would be an excellent port. All in all, the addition of the First Coast will make the coming united Florida Republic a strong contender in the Caribbean community. SouthWriter 16:03, September 2, 2010 (UTC)
Deleting portions of talk pages/Celtic Alliance & East BritainEdit
First off, if you're going to take the East Britain/Celtic Alliance conversation off the main talk page, archive it. Don't delete it wholesale as you just did. That's not as I understand the practice around here...at least it hasn't been.
Secondly, Arstar, your actions regarding your 'joke' were very unprofessional. It appears as if you're treating this timeline and the wiki like it was some sort of game. This ain't life and death, but there are people here who take this seriously enough to try to do good work and not pull some ridiculous joke. If you really do care about 1983:DD, you won't pull stunts like this. BrianD 03:38, September 3, 2010 (UTC)
I agree with BrianD. Just don't do somthing like this again, please?--Sunkist- 03:45, September 3, 2010 (UTC)
I archived it as I recall! It should be under the miscallenous discussion archive. Arstarpool 03:57, September 3, 2010 (UTC)
I noticed that after the fact, and apologize for my mistake. What led me to believe you hadn't was you not referencing it in the summary field; that is something that other editors have done when archiving sections. The remainder of my comments still stand. BrianD 15:15, September 3, 2010 (UTC)
I just left messages on the talk page for the four 'brass' members regarding your behavior. I don't want to kick you out, I do want you to stop the nonsense, respect everyone else and learn to work well with others here. You have great potential but given my experience with you and how I've seen you work with others, I really don't want to work with you at all right now. I do not think that is a good thing, and I regret feeling that way, but I don't know what else to do. Arstar, this is a good timeline and in some ways I see it going down the drain and it kills me. Maybe that's why I'm being so harsh with you...I do care about the TL, and I think you do too. I don't want to have an adversarial relationship with you or anyone else but I must stand up for what I believe here, however it ultimately turns out. --BrianD 04:02, September 3, 2010 (UTC)
ImportantEdit
Arstar I am getting complaints from some active contributors regarding your recent actions. Chiefly from Brian who has expressed concern above. Here's what he told me on ym talk page in full if you have not seen it, "This user has constable rights but has acted in a number of ways since early summer that not only appear to serve his own purposes but make him difficult to work with at best. Very recently he has created a number of gateway articles for 1983:DD that should be open for all editors to use, but writes them as if he is setting editorial policy for the entire timeline. One example is Alabama, in which he huffs that "Brian and South(Writer) took it over pretty much on their own initiative...so I renounce having anything to do with it" The latest example is having the Celtic Alliance condemn a British survivor nation for heinous crimes, and writing an item on the wcrb news page...then pulling the item, and the section of the main talk page discussing the matter after leaving a message saying it was a joke. I am tired of this activity. This is extremely unprofessional and, if it remains unchecked, could cause significant problems later on, including good, quality editors leaving who don't want to deal with the nonsense.
Don't put news items on the talk page then retract them calling them "jokes". That's what spammers do, the very people you are suppose to be watching for. I need not remind you what happens to them. Don't be so adversarial with people when the criticize your work, your made great strides but you can improve. Do not set new editorial guidelines for the 1983: Doomsday timeline or for any other community timelines. Regards, --GOPZACK 04:11, September 3, 2010 (UTC)
I also don't like that you've collected the caretaker title for every article you can get your hands on despite not making any edits or contributions to those articles and acting like they're yours and you can do whatever you want no matter what anyone says.Oerwinde 08:35, September 3, 2010 (UTC)
Arstar, let me say that I agree with what has been said above, even the part about you improving since the trial. Your apology to Fx I felt was sincere and mature. However, as far as I can tell, the entire 1983DD community appears upset by your most recent actions. If I may be so bold, I would like to suggest a few things you should do in an effort to improve your relations with your fellow editors:
No more jokes on articles. This can easily be classified as the work of trolls or vandals, and it is not funny. If you must joke, do so on the talk pages.
If people leave a message or make an edit that angers you, avoid responding immediately. Take a break, collect your thoughts and then write a response. If you feel someone is attacking you for no reason, contact me, don't fire back at them.
You have created a lot of proposals recently. I would not be surprised if more than a quarter of the current proposals are your creations. Take this opportunity to expand some of your articles and graduate them before creating new articles or rushing other people's articles through graduation.
If someone puts your article up for review, don't respond by immediately removing the banner from your work. Respond to the person's objections and wait for them or a nuetral third party to do it.
Finally, I think you should renounce your role as caretaker for some of the articles you have adopted, especially the ones where you have done little to no work on updating them. Many feel that you have taken on this role for to many articles that are not your creations, and personally I agree. Why do I ask you to do this? First, it would show your fellow editors that you are not trying to control the TL. Second, there is only so much one editor can do and even I doubt you can give your complete attention to all of the articles you have created and adopted.
Remember, these are only suggestions, not orders. In the end it is your decision where to go with these recent set of complaints I have received about you. I hope though that you make some effort to repair your reputation at the 1983DD community. Mitro 15:03, September 3, 2010 (UTC)
Thanks buddy Edit
I read the message on your talk page and its ok --Owen1983 12:53, September 4, 2010 (UTC)
Contact between the Celtic Alliance and LancasterEdit
Given that they're quite close to each other, although there is a fairly wide region of radioactivity between Liverpool and Lancaster's southern border, it seems likely that they'd meet sooner rather then later. What would be a good year? I was thinking of sometime in the late '90s.Tessitore 23:02, September 4, 2010 (UTC)
Okay, I've adding a section on contact being made on the Lancaster article, please let me know what you think.Tessitore 16:34, September 10, 2010 (UTC)
Outer Lands Edit
Thank you so much. I have already done some cleanups and some corrections. I also designed a flag, but because wikia is having a temporary glitch with its images, you can only see the old version, not the new version I uploaded. --NuclearVacuum 01:58, September 6, 2010 (UTC)
[Its the Caretaker's order, mmkay :))] I am not pestering you with working here, am I? --NuclearVacuum 13:24, September 7, 2010 (UTC)

"Caretaker's order"? Arstar, what does that mean? Mitro 14:47, September 7, 2010 (UTC)

The "mmkay?" was seeking permission, I think. Actually the caretaker role has been flopping around on this one. Nuke is working on the assumption that the canon article is sound until otherwise altered. It may have been unwise to put in the political divisions with capitals in the midst of the Plymouth debate, but Nuke was within his rights. Barnstable was considered the capital of the county "now" known as Cape Cod and nothing in canon has changed that. A caretaker cannot change canon anymore than a historian can change history. SouthWriter 15:05, September 7, 2010 (UTC)

So... I am pestering. I didn't realize that there was a debate going on in the region. I don't want to be giving out wrong information or getting on people's nerves. Maybe I should leave this to Arstar to deal with on his own, just to be on the safe side. --NuclearVacuum 15:18, September 7, 2010 (UTC)
Oh, that makes me feel better. I though you were annoyed at me. But either way, I am not going to be moving my focus towards Long Island. I have some interesting ideas in mind, but one step at a time. --NuclearVacuum 23:57, September 7, 2010 (UTC)
Pennsylvania Edit
How you described the split (North Penn/west-north, State College/central, Reading/east) would be how I'd divide the state between the three. At this point there may be some salvageable material from the nuked cities as well. --BrianD 04:49, September 7, 2010 (UTC)
ConnecticutEdit
I saw the article and wrote a reply on the talk page. BrianD 05:01, September 7, 2010 (UTC)
I saw it earlier tonight and I want to take a closer look at it and the two articles tomorrow before I comment further. That, and it's a little late to take the time to properly review all of it.BrianD 05:12, September 7, 2010 (UTC)
Both look fine if it's decided to keep them separate entities. The main question is what are they now politically in relation to one another? If they are one entity, when did the merger happen? Those questions need to be resolved. We also need to keep in mind Nuclear Vacuum's proposals, and however Jnjaycpa answers the questions I asked of him on the Republic of Yale talk page. Because if Nuc can make a case for a survivor state on Long Island, and jay the same for New Haven, then that changes the dynamics of Plymouth, Outer Lands and even Vermont significantly. BrianD 19:04, September 7, 2010 (UTC)
Hey, Arstar, do you know what did Owen1983 do? He nominated somebody, said that he didn't want any favour, and then on Louissianan's page he asks to become a member of the TSPTF. Incredible, isn't it? Fedelede 23:46, September 9, 2010 (UTC)
Somehow, I'm not surprised to see him do that. And this guy really is a member of the admin on the alien species wiki, though it is beyond me how he did that.
Wish he'd go away, myself. These Manchester attempts are getting old, to be frank.
Lordganon 03:30, September 10, 2010 (UTC)
Owen is probably the most annoying editor on this wiki, but he has yet to do anything that deserves an immediate ban. Nominating Smoggy as a Constable, asking Louis to be on the TSPTF and his bad spelling are not enough to get banned. Any editor here can do the same thing and still be considered a respected contributor.
Don't worry, I have already warned him about removing banners and if does that again he will be blocked immediately. Also if he does anything else that is remotely ban worthy, he will get banned. He has already been banned 3 times so it probably won't be long until he is banned again. In fact that works against him because it means a longer ban this time. Keep me posted in case you see anything that I miss. Mitro 04:01, September 10, 2010 (UTC)
I always assumed either english wasn't Owen's first language, or that he's an 8 year old. Either way the way he keeps attempting to stick a survivor state in Manchester and North Bend despite everyone shooting it down every time he tries is bordering on spam now.Oerwinde 07:06, September 10, 2010 (UTC)
Yeah - and I have to doubt he's from Britain like he claims, unless he's actually like 8. Lordganon 07:45, September 10, 2010 (UTC)
Just in response to what you said Arstar, I'll take Mitros approach, if he does anything ban worthy I'll get on it right away. --GOPZACK 15:46, September 10, 2010 (UTC)
Isn't there any way we can set up a three strikes and you're out rule? but with maybe five strikes not three? so if you get blocked five times you banned? or maybe successivly longer bans, maybe start out at a week block, after four seperate week blocks you get a whole month block and if you still dont get it after a whole month block you get banned?--Smoggy80 16:27, September 12, 2010 (UTC)
[Deleted - see talk:Fegaxel. SouthWriter 19:57, September 13, 2010 (UTC)]
Fegaxeyl 19:21, September 13, 2010 (UTC)
I was trying to remove the 1983:Doomsday template but I think i rolled back by accident but I thought I undid that & just removed the category. --GOPZACK 15:46, September 10, 2010 (UTC)
Adoption of Bermud Edit
Hey, sorry for not getting back to you very quickly. It's fine for you to adopt Bermuda, though if I have any thoughts for it I hope you'd be okay with me at least putting them by you for ideas? --Gamb1993 22:11, September 12, 2010 (UTC)
North Carolina Edit
you are assuming Just becuse I am from Manchester I am Stupid does it matter to you that i have been interested in Geography since i was 8 years old it may surprise you that i now were North Carolina is --Owen1983 00:10, September 13, 2010 (UTC) I
Re: Costa Rica Edit
Your uncle is Abel Pacheco? I find that unbelievably cool. I spent two weeks in Costa Rica a couple of summers ago. It was a bus tour with a bunch of couples old enough to be our parents, so maybe it wasn't the best way to see the "real" country, but believe me, ¡me enamoré de su país! And yes, between the Costa Rica and Panama pages, I did an awful lot of research. I'll try to address your concerns.
Firstly, stylistically I wanted a pessimistic beginning followed by an optimistic ending. This is a dystopic timeline, so I wanted CR to go through a very difficult time, but I wanted it to come out bruised but undefeated, doing what it does best: forging consensus, neutrality, and goodwill.
More specifically: the police force is tough (I remember!) but keep in mind CR had to face essentially three separate invasions: Contras, Sandinistas, and Panamanian refugees/drug lords. And still more Nicaraguan refugees, though they probably got lost in the shuffle.
The economy: besides the civil war, I'd argue that losing the US as a trading partner would be much more damaging than you say. First, it was 1983, and the economies of South America were not as big as they are in 2010, and the US's share of CR trade was bigger. Second, it would take time for CR to realign its trade to become more South America-focused. It couldn't be done in an instant. And in an ideal world CR would certainly have begun to move in that direction - but then came the war, messing everything up. Third, after the nuclear attacks most South American nations hunkered down and worried about their own for a period. Even if some didn't, it was certainly a time for caution, not time to go seeking new business opportunities abroad.
Finally, Limon: This is actually a part of the story that "wrote itself" and surprised me. I certainly hadn't set out to create a Limonese separatist movement when I started. But it was a product of the unusual circumstances of the civil war and its aftermath. For a time, Limon was CR's provisional capital. The Limonese were at the center of power. Then... they became marginalized again. Wright and his party took advantage of the resentment many of them felt when he staged his coup. But the Limonese Socialist Party was never as broad-based as it presented itself; it never represented "all" of the ethnic Limonese. And the separatist movement formally lasted only from 1997-2004, when they were defeated militarily. They accepted "autonomous region" status in 2005, which basically means they have a "president" instead of a governor. Not much else. There's still tension and civil unrest in Limon, but the separatists lost and everyone knows it. The current Limonese leader, Patterson, is a moderate who does not support full independence.
¿Contesté suficientemente sus preguntas? Benkarnell 03:21, September 18, 2010 (UTC)
Hm. I still stand by what's there for Limon. I tried to explain, it's not like the ethnic group just decided to have a rebellion one day. It was a very specific group of people moved to extremism after a very specific and unusual set of circumstances.
As for the Central Valley, that is interesting. I could change the part at the very beginning where the Sandinistas invaded the Central Valley in 1985 (but left it after the cease-fire in 1987). In 1989, however, I'd think that guerrilla groups could still get in there little by little, which is what the maps show. And that could be when the government begins to relocate to Limon - the Valle Central was getting dangerous, but Limon was still very peaceful. (To repeat my point, the whole "sepratist" thing started years later and involved much more than 'our skin and language are different'.)
Then when the Sandinistas invade again in 1989-90, they do so with the help of a sizeable Costa Rican contingent - maybe even a faction of the police who believe the Sandinistas will do a better job than Calderon. Or is that unrealistic? I'm trying to maintain a mood of overall chaos during these years: probably a lot of people had trouble figuring out who was on what side. Benkarnell 04:42, September 18, 2010 (UTC)
Future histories Edit
The problem with all of the other responsibilities is that they are connected to a page or category that automatically updates. I don't think there is anything we could write that would do the same for future histories. The new page responsibility pretty much does the same thing since admins should be patrolling the new pages looking for future histories. Mitro 01:49, September 21, 2010 (UTC)
Re:Ural Territory Edit
In my mind, the Ural Territory is as big as the map on the main Socialist Siberia page. Russia in OTL also can't really say that it "controls" Siberia in the same sense that France controls its territory for example, seeing as the area is vast and places are few and far between. In the TL however, there is a slightly larger human presence in the area, although negligibly more. What I want to say is that these areas are not as heavily monitored inside the territory, as infrastructure, towns and industries are being rebuilt in the area. The border, however, is monitored heavily by the government, thus it is the gateway that it is described to be in the article. Finally, the article also states that it will become part of the USSR (specifically the RSFSR), sometime in early 2011. My long term plans also had another Territory spring to life, the Northwestern Territory, which would take the rest of the Arctic shore and annex Soviet Karelia, as well as lawless parts of the Kola peninsula.--Vladivostok 07:45, September 21, 2010 (UTC)
Hola Arstarpool, pero quiero que sepas q Katholico, Fedelede y yo planeamos en adoptarlo, si quieres revisa el talk page de esos usuarios. VENEZUELA 22:03, September 21, 2010 (UTC)
Sorry I did not read your message, of course you can. VENEZUELA 22:04, September 21, 2010 (UTC)
SAC es de ustedes, hagan lo q kieran, igual los estare viendo para divertirme--Fero 05:30, September 22, 2010 (UTC)
What day we start arstar? also in histry we should include: the Indian Problem, the Panama Problem, and Singapur. VENEZUELA 18:06, September 22, 2010 (UTC)
Also what do you think of changing the flag? VENEZUELA 23:14, September 22, 2010 (UTC)
Well I think I should take history instead of economy I could change it with someone, and i was thinking that the SAC could build a city were it will have it's new headquarters and be a SAC administrative zone, much like Brussels in Bye Bye Belgium, and it would be the cultural capital of the Americas populated mainly by professionals. Also what do you think about the SAC reforming into the LAC the next year the Latin American Confederation. it would include Puerto Rico and Honduras as full members and Singapore as an observer member. VENEZUELA 23:30, September 22, 2010 (UTC)
Brazil IS a Latin American nation, they speak a latin language, search latin america if you don't believe me, and what about the "Pan-American District? VENEZUELA 23:40, September 22, 2010 (UTC)
Well maybe it would an ecological city located in Mato Grosso. VENEZUELA 00:03, September 23, 2010 (UTC)
Arstar, I'd like to adopt Superior from you if you're not going to do anything with the nation. The Editorial Guidelines allow others to adopt articles recognizing that there are instances where editors no longer have time to contribute to the TL and move on to other things; that the TL is an ongoing endeavor; and that it's unrealistic to allow articles to go unedited if the former editor leaves. I don't know what your plans are for the article, but looking at its history you've made two edits to the article since adopting it from Lahbas this summer. I believe that Superior is one of the more important countries in North America in TTL, and I know that Lahbas put an awful lot of work into Superior. I don't want to see that go to waste, and if you don't want to work with it, or don't have the time to work on it, I want the article. BrianD 14:48, September 23, 2010 (UTC)
Nah, I'm good. I am going to finish work on the other side of the Great Lakes region and then I am going to finish the Saguenay War with Oer some time soon. Contrary to what you think I have a "schedule" on what I am going to do, and finishing the Saguenay War is one of them. Arstarpool 01:30, September 24, 2010 (UTC)
The Saguenay War was settled.--BrianD 13:13, September 24, 2010 (UTC)
2009 Saguenay War.BrianD 17:18, September 24, 2010 (UTC)
No, I mean I hope to add more detail to the nation pages regarding the outcome and stuff. We still have to decide whether the war was dragged into the southern Ontario countries or not. Arstarpool
Ah. I got ya. BrianD 04:10, September 25, 2010 (UTC)
As a matter a fact, you can "caretake" Superior with me. I'm clearing out any straggling issues on North Pennsylvania and then I'm off to finishing the United Communities. The UC will include an overview regarding the political situation in the Great Lakes+ St. L. River, and of course it will include Superior. Then, here comes a doozy. I am going to have the UC invite Canada in sometime this year, where ambassadors from Canada will discuss with the Superior President about the border dispute. If I decide that Superior will be in the UC or not this dispute will be "handled" by the UC. They will decide the best course of action for the Ontario lands and we may see plans for Kitchner, London, Norfolk, and Midland to unify sometime soon or to solidify into 2 united blocs. Sometime by 2012 we are going to see some sort of unified southern Ontario territorial government governed "in check" by Canada, and by then Superior will either need to return the lands to this territory or face declaration of war by Canada. I have a lot more planned than people think I do. Arstarpool 04:23, September 25, 2010 (UTC)
I was wondering if I may also be part of this joint caretake of Superior. The original author of the article and I often clashed regarding Superior and Superior related issues. This does not mean that I plan to start changing canon, but it does mean that I have a pretty good understanding of the nation and would like to help. Plus I have visited Northern Michigan several times so I have some personal knowledge of the area as well. Mitro 18:20, September 26, 2010 (UTC)

I will accept your offer, Arstar, and also ask that you allow Mitro to be a co-caretaker. I remember those clashes. As I said, I want to respect what Lahbas has done before; in fact I really liked how he made the Superior government a carbon copy of the U.S., down to the politics and the rebuilt capitol. The one thing I may want to change is the lack of newspapers, though I think I can come up with a plausible explanation for that. I am interested in seeing what both of you have in mind for the nation, not just in regards to the UC but with the formerly provisional United States out west. BrianD 19:35, September 26, 2010 (UTC)
What do you think? Edit
Hey Arstarpool I'm working on the timeline for Central World so what do you think of what I have done: The Turbulent 1910's and[[The Roaring 1920s (Central World)|The Roaring 1920s. VENEZUELA 04:19, September 25, 2010 (UTC)]]
The Russian Civil War wouldn't happen. Or maybe it would happen but the monarchy would definitely win. Probition wouldn't happen either in the United States. Instead, drinking would be on a rise if we had just lost a war like that. Also, Manifest Destiny was over by the last days of the 1800's. There is no way that would happen. Arstarpool 04:28, September 25, 2010 (UTC)
Oh, and there wouldn't be an Irish or New Zealand independence just yet. And what about Newfoundland and Labrador? Would they at least remain British for a while? The Great Depression wouldn't happen because America's economy wouldn't be as it was back then in OTL. Arstarpool 04:32, September 25, 2010 (UTC)
North PennEdit
Congratulations It looks like North Penn has finally been graduated. Glad you stuck with it. --GOPZACK 20:12, September 26, 2010 (UTC)
Unifications in 1983: DoomsdayEdit
I'm doing what Brian does and I'm gonna leave ideas on my own talk pages from now on. Here is an idea I have;
Since so many areas have been shown to be full of life, why not we begin the first steps towards a reunification? Here are some viable sports for reunification.
Ithaca and Binghamton - They're a county away from each other, and they are like brother and sister, reunification is inevitable. Name ideas?
The Mini CSA States - They're all side by side, plus it would help the economy, but they might make a sort of USA Enclave possibly.
The South Ontario County-States - Through the United Communities they all have really good relations, plus they have really no cultural differences. Name ideas could be a Realm/Commonwealth of South Ontario, or simply a Realm of Ontario or they might come back under proper Canadian control.
State College, Reading, and North Penn - Read the North Penn talk page.
Virginia and Kentucky - Yes, I said it, its obvious who will dominate. Name ideas might be: Commonwealth of Virginia and Kentucky (both states are Commonwealths originally).
Plymouth, Outer Lands - Its probably gonna happen, but if they unite they will have to use the name Plymouth some where in the title. That was my only wish.
Prince George and Victoria - I dont know about this one. Name could be a reunited Commonwealth of British Colombia.
Pasco, Cascadia, Oregon, and the United States - If it happened it would be a larger USA.
Wisconsin and Superior - I may actually have this happen. Name ideas appreciated.
Adircondack Mountain Association Members - The unification is planned for 2011. Name ideas are welcome.
New York Ranger City-State Clients - If it happened it would be the loosest of the loose confederation.
Vemont, Northern Townships, and Aroostook - This would be tricky, and they would have to practically take over Vermont to have this happen. Name idea would have to do with New England.
The Pasco/Cascadia/Oregon one is likely. The Prince George/Victoria one isn't likely in the near future, especially after a large part of them recently specifically voted not to join Victoria. Possible maybe in 20-30 years. The Wisconsin and Superior one... I don't even know why Superior set up a separate nation rather than just annexing Wisconsin to begin with. I say just have the Wisconsin government petition for annexation into Superior. Reorganize the states into larger divisions rather than municipalities, and keep Superior as the name. The Ranger cities could possibly set up as something like a New York Federation, with the Rangers as the federal police force. Much of southern Ontario will likely revert to Canadian control. Kingston being the first, then probably Waterloo. London being much more self sufficient will likely hold out longer, but barring the creation of some sort of Great Lakes Republic, with N. Penn, Toledo, and Niagara Falls, will likely rejoin Canada in the future.
Oerwinde 09:20, December 9, 2010 (UTC)
Speaking of Cascadia-Oregon, and the NAU/USA, what are your plans for Oregon, Oer? Annexation/Ascention to the US/NAU would be beneficial to both parties.
Also its against the constitution of Niagara Falls to go under the control/join of another nation unless they're just completely taken down and destroyed as they don't care much for joining the US or Canada. So unification with Canada is out. Arstar 07:48, December 11, 2010 (UTC)
Right now Oregon is rebuilding infrastructure and such. When they attempt to expand east and run into Cascadia it will likely result in joining the NAU, with a referendum on joining the new USA.
And I would assume that in the case of a GLR, Niagara Falls would be the capital. Its status as joint US/Canadian, the existence of the United Communities headquarters there, it being a major source of hydroelectricity, and its position on the river making it a major connection point with the outside, would make it very influential and the logical choice. With the LoN making the UC pretty much obsolete, the UC nations eventually centralizing makes a lot of sense. I'm not saying right now, but say in 20-30 years, uniting as a federal republic to counter the growing strength of Superior, Canada, and Virginia would be the logical outcome.Oerwinde 08:01, December 11, 2010 (UTC)
Re: Minor ANZ islandsEdit
I'm sorry I missed your message. I have no problem with your doing some writing for the minor ANZ islands.
You didn't reply to my last piece about Costa Rica. Does that mean I answered your objections, or just that you got tired of arguing? I'll emphasize again that (1) the separatist movement failed; (2) it was begun by an activist more or less on the political fringe; and (3) the current autonomous status and civil unrest do not amount to another push for independence. No one but the most radical Limonese seriously talk about separation anymore. Benkarnell 20:35, September 28, 2010 (UTC)
No problem at all - For the one page he appears in, I just needed an Alaskan public radio journalist. Their biographies are hard to pin down, so it's possible John Ryan's not the best survivor. Here are a couple of links about him with photos and a little info about his career... nothing on where he was born or was living in '83, unfortunately. Benkarnell 02:17, October 3, 2010 (UTC)
Please tell me what is impossible..--Sunkist- 04:55, September 29, 2010 (UTC)
Mhm, I see what your coming from..it would be more suitable to be be part of the UC. About the nomads, if you clearly look it states that they meet Natives in Indiana, not telling what part of the state, Toledo also controls part of Indiana, Ohio is part of the midwest, and they would never know about Toledo, if we want Toledo and Indiana to work we need to change that part up alittle. Also the southern part of the state went under the control of Baron Hill and let to the signing of the unified nation of Bloomington, Evansville and Southern Indiana into Kentucky.--Sunkist- 05:22, September 29, 2010 (UTC)
Yes I know about the natives, I'm not talking about changing Toledo, I'm talking about Superior. The area where Superior meets the natives is some where in northern Indiana, in which Toledo controls part of it..and the natives have no idea of Toledo?...would also help get Indiana cannoned. And why would they end up in Indiana when there in Detriot, wouldent they follow the lake to seek out Toledo?--Sunkist- 05:45, September 29, 2010 (UTC)
That would work, seeing as at the time Indiana hadent really expanded much. Clearing that up..do you think Indiana could pass cannon?--Sunkist- 05:54, September 29, 2010 (UTC)
Well, I have to attend school. Could you maybe work on it while I'm gone?..try not to reduce the area..I'll review it if you do anything to it, thanks :D--Sunkist- 06:20, September 29, 2010 (UTC)
Hi, Alex. I was intrigued by what seemed to be an edit war between you and Sunkist. However, when I got into the talk exchange, I saw that you two were working it out in discussion as well. However, I think the way you just pre-emptively edited parts of the article was heavy-handed. The suggestions should have been made, and discussion to follow. Everyone does not have the same ideas about the League of Nations as you do. It should not matter about whether a nation has a port. If a nation is legitimate, and can get an ambassador to move to the south Pacific, then it can have a good chance of becoming a member. In OTL the UN is not a place where representatives travel once every few years to "meet" and then go back home. These representatives live in NYC. The same should be the case with the League of Nations in TTL.
Over all, though, you are doing well working out the kinks, but this should not be just between you and Sunkist. The article may meet with approval of the majority while not being to your more and more exacting standards. The fact that many have come to the conclusion that "no more large states" can be made was made after this state proposal began, so you need not hold Sunkist to the "tiny band of communities" like you are doing. Your own "North Pennsylvania" has fewer large towns than Sunkist's Indiana, but you have turned N. PA into a regional powerhouse (though you have scaled it back quite a bit).
I hope you fared well through the pounding Nicole sent our way. We had a lot of rain in the western Carolinas from the cold front. SouthWriter 15:20, September 29, 2010 (UTC)
Oh, we didn't get anything too bad. Other than rain and a couple of fallen trees we weathered the storm (no pun intended) pretty well. The Bahama's, however got pounded. Oh, and South, do you think we should incorporate the storm into the southern US nation state articles and the WCRB News? Arstar [talk] 00:16, September 30, 2010 (UTC)
The ideas with Indiana have got my attention, and I really like the Provisional ideal, did you ever get done with the map?...I'm no good with maps XD. Thanks.- ---Sunkist- 03:48, October 1, 2010 (UTC)
Oh, to be honest no. I'm working on a huge re-write of North Pennsylvania as we speak but as a favor I will make you one now. It should be up within the next 30 minutes. Arstar [talk]
EDIT: Sorry, but I have to go to bed. I'll have one by the weekend! :) Arstar [talk] 04:33, October 1, 2010 (UTC)
I'm changing the story back, but you can still help :D----Sunkist- 05:21, October 1, 2010 (UTC)
In the interview, could you add something about Indiana, I'm kinda re-considering Indiana position with the UC.---Sunkist- 02:19, October 3, 2010 (UTC)
Europa Games Edit
The Europa Games are due to start in a couple of days and I thought I'd check as to whether or not you plan on the Celtic Alliance taking part?Tessitore 22:46, September 29, 2010 (UTC)
Since you've got nations taking part, could you please add them to the participants list?Tessitore 00:06, September 30, 2010 (UTC)
Hurricane Nicole Edit
Hi, Alex. I left a note on the main talk page, but I thought I'd hop over here and chat a moment as well. I don't think you should try to make a tropical storm that broke up before it reached Florida into a Category 3. If anything it might reach a weak Category 2 as it hits Cuba, and then it could brush the Keys and the Everglades as a Category 1. As we watch the storm bring so much rain up the coast, each of us east coast writers - especially Outer Banks and Delmarva - could then brace for a continuing Category 1 (maybe making landfall near Virginia Beach. That should soak some spirits in the Republic of Virginia!

The time line is chaotic enough without putting together "super storms" at levels so high. For simplicities sake, let's stick to maybe one level above what actually happens, and track the storms as identical to OTL. In the changed weather, there is no way of knowing exactly what would actually happen or when. Perhaps there will be a bigger storm later in the season. Or you could write up one of the storms that hit in the 2000's. That being said, I hope you are faring the storm well. SouthWriter 03:51, September 30, 2010 (UTC)
It just passed out of my neighborhood. The streets are flooded, and I decided to take a walk. The water was about a foot high in some areas! Of course it doesn't help that I live in a gated/walled community so that makes the water pile up more, but there were no casualties in the Miami-Kendall-Pinecrest area so far, other than the neighborhood squirrels :(
Anyways, South, how are you doing? I heard the storm was coming up towards you guys, but since you live in the interior of SC (Piedmont Republic area, right?) I'm assuming the worse you are getting is some rain. But nevertheless I hope everyone in the area of the storm is doing well. Arstar [talk]
Sorry to hear about the squirrels. Yeah, we've been getting a lot of range associated with the large Low over the east coast. The storm is being turned along the coast, so we will probably keep getting some rain for a few more days. Just last week I saw a headline of lowering water levels on the lakes (yep, the Piedmont Republic -- my home), worrying about drought conditions. Somebody prayed for rain -- and we got it! Saturday evening my neighbor had a wedding in his back yard. Beautiful weather for it, not a cloud in the sky. By the next morning we'd probably had six inches. The storm developed fast and came quick. Then we had regular rain for a few days. But all in all we did well (we live at the top of a hill). I haven't been out much, so I stayed dry. I would say "stay dry," but it's too late. Be sure to dry off well, we wouldn't want you to catch a cold. SouthWriter 04:59, September 30, 2010 (UTC)
For some reason I'm immune to wetness and the cold so don't worry about me getting sick; look at the climate I grew up in: The mountains of Costa Rica! The reason I would be on so much during the summer would be because it was always rainy over there. Rained so bad me and my buddies made a cold-water pool made up of logs and rocks and it filled up within like 15 minutes. Of course they all got sick but I stayed fine :P
Oh and look at the South Florida article, do you think the storm casualties were too much? Even though South Florida is more or less a "developed nation" in North America they wouldn't have the shutters and houses like we have today. Arstar [talk] 05:36, September 30, 2010 (UTC)
Check out what I did with Hurricane Hugo at the Peedee Nation. Now THAT was the result of a "developing" (if not, "third-world") nation taking it on the chin! But I just hyped that from a Cat 3 to a Cat 4, I think. I think the casualties, based on the primitive conditions in much of the area, are about right in the case of Nicole (but see discussion elsewhere about naming storms). However, perhaps let's bring it down to a strong Cat 1 as it makes landfall in Florida. Maybe have it clobber Havana as a Cat 2. Then we could warn Cape Hatteras that the storm will probably gain strength over the Atlantic. Let the editor(s) of those articles (Fx ?) deal with a landfall up there! SouthWriter 05:53, September 30, 2010 (UTC)
Recent Adoptions Edit
Are you trying to take over the managment of the whole time line? :-)
Seriously, Alex, you are adopting some of the heavy duty nations of America and Europe. Superior, the Celtic Alliance, and the Alpine Confederation, are heavy players in their areas. Nothing happens in Europe without the CA and AC being in the know. And then there is Northern Germany. What a mess!
I just hope you don't spread yourself to thin. Writing one article well - like the one on North Pennsylvania - takes a lot of work. Taking on these established articles will tax your research skills to the max. And remember, the community will not abide wholesale rewrites everywhere just to meet your ever-tighter standards. I am a stickler for detail, but I have learned to compromise. I hope that in your zeal you don't become frustrated so as to ruin your creative insight.
Good luck, though. SouthWriter 04:49, September 30, 2010 (UTC)
Oh, don't worry! You seem to forget most of my articles are worked in with one or more people! But seriously, I have to admit Superior has brought me to a standstill on almost everything I had in mind. In fact I had about six articles I needed to work on but this whole issue with Superior, which isn't ending anytime soon is making me grow some gray hairs. However I still have time for a lot: I recently updated the Alpine Confederation, and since I adopted the South American Confederation along with the rest of the "Latinosphere" of the wiki I've put in a cleaner template, map, and other things. The Celtic Alliance is pretty easy to maintain, Taiwan and North Germany are the ones I edit the most, and then there are my homegrown articles!
I like having a lot of articles, though. However there are some I never pay attention to (Luxembourg!) or other articles who have people who dispute me taking care of it (Orleans).
PS: I adopted most of the aforementioned articles months ago! Arstar [talk] 05:04, September 30, 2010 (UTC)
In waiting Edit
I noticed you put Prescott, Australia and New Zealand on your "no time and/or no interest" list on your user page. I'd like to help if that's alright. And if it's alright, did you have any ideas/thoughts on any of those articles you wanted to put in them? --BrianD 13:31, September 30, 2010 (UTC)
Oh, yes, I will work on Prescott soon. However since you created the idea it is yours as much, and more as it is mine. I just have a lot of work to do with Superior and I have a project for school so I made a list of my bare-bones proposals that some people can adopt. But to be honest, I'm not "feeling" Australia right now. I am going to work on the culture section for the ANZC soon but I am dumbfounded on what I should do for the Australia article itself. Arstar [talk] 01:36, October 1, 2010 (UTC)
I'll wait on Prescott. I have an idea as to why it's independent as opposed to Mexican territory, and also I would think it is now getting some aid from Mexico, a little from West Texas and Dinetah. The WCRB may be interested in setting up shop there, too. In regards to Australia and New Zealand, I feel it: it would be like the articles done on the individual states in the United States. Australia and New Zealand are part of a commonwealth, and in some ways are independent and in some ways are not. How they are and aren't independent, we're trying now to work out on the ANZC page. --BrianD 15:33, October 1, 2010 (UTC)
Map Game Edit
Hi Arstarpool would you like to join the WWIII 1962 (Map Game) we need communists and a Soviet Union. VENEZUELA 15:57, September 30, 2010 (UTC)
I removed your last message on Owen's talk page. I really don't care how much you don't like him. I realize he is a problem, but your message was completely uncalled for. It was insulting and unecessary. Don't do it again. Mitro 02:59, October 1, 2010 (UTC)
Assiniboia's size Edit
Though he didn't ask me about the new map, it is jst about what I imagined Assiniboia's size to be.
Yankovic270 22:38, October 1, 2010 (UTC)
Hi, Yank. I tried to find the "new map," but all I see is the old one. If Assinobia is going to be smaller, are you guys shaving off some of the North Dakota wasteland? SouthWriter 23:54, October 1, 2010 (UTC)
It's because Arstar reverted the edit to the old map without asking me whether or not I liked the map. The first time Assiniboia has a map made after the 1800's and someone reverts it almost immediately.
Yankovic270 00:05, October 2, 2010 (UTC)
I remember asking you about the original map back when you first posted it. It does seem to take a bit of a chunk out of North Dakota. What does Arstar (or is it Tbguy?) propose for the new boundaries? SouthWriter 00:20, October 2, 2010 (UTC)
PS I checked the history. I see what he did. He took more of Manitoba. Makes sense - that area "belongs" to the province anyway and nothing's stopping the acquisition of the land except the expanse of it all. As long as the Dakotas (Zack and I need to work on that) keep Fargo, I'm good with expansion into Canada. SouthWriter 00:25, October 2, 2010 (UTC)
Nepal&BhutanEdit
Sure, you can adopt them. I only made them because I saw a hole in the map to be honest. --DarthEinstein 19:23, October 3, 2010 (UTC)
Superior, etcEdit
Thought I would put this here too.
Eastern borders of Superior rolled back to the Island, and south east rolled back to tip of the peninsula.
Midland borders rolled back southward/westward.
Establishment of Sudbury and Kingston city states.

Sudbury effectively allied to Superior, having been aided by Superior with food, etc.
Kingston held by Canadian remnants in region.

Kingston as on map shrunk.

Kitchener established as well, opposition to London.

Likely not a member of the UC due to this.

Ontario city-states generally supportive of Superior, hosting military teams and exploratory parties and even looking into joining the state until the discovery of both Kingston and the word of the definite survival of Canada through the raiders.

Still meet up with Maine/Vermont forces, who confirm everything.
Still work with it, as Canadian government cannot get support to them, but now refuse to join them.

Leads to the various city-states (inc. Sudbury) joining the United Communities, except TB, Kingston, and Midland.

Add the nuclear destruction of Hamilton and CFB Gagetown, as well as second strikes on Montreal (at Laval), Toronto (At Missisauga) and CFB Edmonton (strike on city itself over Strathcona, on the south side of the river).
Superior desires to gain the city-states, so they fund/supply the Raiders using roads, etc. through Sudbury and north of Midland and Kingston

This ensures that the Canadian government cannot break the raiders and regain the area, though they have been weakening them as of late, with the addition of Ara~ efforts from the south.

The raider-controlled zone has shrank as defined in its article as a result.

Ends up being no proof that saq~ aided the raiders.
All maps need to be adjusted, for territory adjustments, and going away from the inaccurate "blockly" borders of many of the countries of the area (Ont. countries and Saq~).

Sag~ gets more coast, so sea invasion of Gaspe possible.

Superior expedition that finds out about Canada leaves Sudbury, with much the same result, except the discovery of Kingston.

Contact with Midland made during original east expedition, when Superior helps them get rid of brigands near their borders (Barrie?) on their return from the ruins of Ottawa.
Contact with the states in Southern Ontario made during the southern expedition, about the same time as exploring the ruins of Windsor/Detroit, after hearing rumors of survivors.

Meet up with London officials, and gain knowledge of Kitchener, Norfolk, and the Falls as well.

Contact with Sudbury about the same time as Thunder Bay, only from the eastern group.

Both explore the ruins of North Bay before Superior forces continue to the east.
Superior begins to trade food for materials from the mines.

Contact with Kingston (much shrunk from the map) occurs during the second eastern mission.

Despite the United Communities, the dispute between Canada and Superior drives most to be wholly neutral.

Sudbury continues to supply Superior with resources and allow movement of forces though their territory, but does not officially support them.
Like Sudbury, Kingston does not officially support one side or the other.

However, they do try to make life more difficult for Superior.

The Falls favors Canada, but does nothing.
Toledo and N. Penn. Stay the same in attitudes.

Penn does send some troops to help kill the Raiders, however, as well as openly supporting Canada.
No real reaction from Toledo.

Due to Superior supporting the Raiders, they can get troops through the area to Gaspe, where they assist the invasion.

Still unknown where raiders are from, but based in Drummondville
Raiders once held a large region, Ottawa to Canadian Quebec and US border area to the national parks the other way.

At the end hold from ruins of Montreal to ruins of Quebec, other ones roughly same.

No longer raiding northern townships.

Sag~ war starts out the same way.
Gaspe still taken, fighting much the same elsewhere, etc.

Republic of St. Lawrence declared.
No territory taken elsewhere.

ADC still intervenes.

Celtic forces break the deadlock in Gaspe, allowing Canada to regain control over the "Republic."
These forces begin to invade raider territory, pushing Superior troops west and north, but eventually being stopped.
Sag~ forces make small advances in the north.

Foreign intervention, largely through the LoN, prevents anything else.
Peace Treaty still has the same result.

Superior, not Sag~ is responsible for the raiders, and agree to stop - Ara~ and Vermont forces will act to ensure this.

Aro~ and Vermont will also aid Canada and Kingston in removing the Raiders.

Sag~ recognized by Canada.
Canada drops objections to Superior controlling the area of Canada it does.

Thunder Bay to go whichever way referendum does.
Windsor region to be left for future arbitration.

Superior will also agree to not annex any of the survivor states in Ontario.

Thunder Bay is the exception.

Investigation of the Assassination of the Sag~ PM shows rouge elements of Canada First responsible.

Vote of Confidence in Canadian Parliament, government loses due to defections.
Both Canada First and the Liberals lose the election, having both lost the confidence of the people.

Third Party, likely the Conservatives, comes to power.
NDP would also gain something.
Canada First will not be banned, however.

It is agreed that a very small amount of reparations will be paid by Canada to Sag~, for civilian damages.
Canada, since it controls one end of the river and their allies in Kingston have the other, will gain the valley once control is regained from the raiders.
The Canadian government must also drop its veto in the LoN to Superior joining.
General status quo with territory around Sag~

States in Ontario all have a resurgence in Canadian nationalism, as shown in the results of the referendum in Thunder Bay.

Kingston becomes capital of Canadian territory.
Thunder Bay becomes another.
Sudbury begins to isolate itself from Superior.
Midland begins to warm to Canada, becoming like Kingston was pre-war.
London, Kitchener, and the Falls have increased Canadian nationalism, but the governments maintain a more neutral position.
An official territory formed along the Bay - "Hudson."

Results of Thunder Bay referendum need to be added.

Some sort of condition, likely the construction of a road between TB and Hudson within a reasonable timeframe, is also set.

Invitation for both Canada and Sag~ to join the UC
Raiders still present south of the river, but fairly safe passage to the north cleared.
Articles that would need editing:

Superior
Superior military articles, possibly
History of Superior
Possibly the United Communities, slightly
London, Niagara Falls need to be slightly edited

References in N. Penn. need to be reworded, and Toledo really should have something added.

Canada
History of Canada
Aroostook
Sagueny~
The War itself
Republic of St. Lawrence
Midland
Thunder Bay

Articles for Sudbury, Kitchener, and Kingston need to be written.

Norfolk needs to be finished.
And, I once again remind that I will do it all if no one else is willing but I am allowed. Thoughts/Objections to any points?
Given its size, please quote any problem lines.
Lordganon 06:08, October 4, 2010 (UTC)
Thanks, Arstar. I'll take your issues into account, but I do like them.
Feel free to add any of all this to your articles, btw. Faster this is done and over with, the better.
Lordganon 03:44, October 5, 2010 (UTC)
I noticed that no year had been done for the 2nd east expedition, so I assigned 2001 to it. Sound ok?
Lordganon 06:16, October 5, 2010 (UTC)
Alright your pissing me off, don't keep on simply changing Indiana for reasons you don't understand and then adding some type of smart-ass smiley face. Fort Wayne downtown area was destroyed by a very weak nuke, which the crator was rushed in by the nearby rivers, forming Lake Orr, at least tell me about these things before you change shit..--Sunkist- 03:48, October 5, 2010 (UTC)
I left my comments on your talk page. Arstar [talk] 04:14, October 5, 2010 (UTC)
Category:1983: Doomsday Edit
Please stop adding Category:1983: Doomsday to nation profile articles. That category is only for primary articles. Mitro 14:07, October 5, 2010 (UTC)
SignatureEdit
Hey, do you think you can go back to the default signature, I can't use the Rich Text Editor if you've posted on a page without removing your signature first. I know it has some problems but the layout is so much easier for writing.Oerwinde 05:43, October 6, 2010 (UTC)
Thats odd. Um I've worked on other wikis where people have had crazy complicated signatures and I've had no problem using rich text. Well anyways I'll make some changes to it. 00:41, October 7, 2010 (UTC)
I don't understand it either, it says it has complex code. Its not even as complex as an infobox, but removing it solves the problem.Oerwinde 03:58, October 7, 2010 (UTC)
Celtic Alliance and possible Owen problem AGAIN!! Edit
I don't know if you are aware Owens up to his party tricks again, he's set up Provisional UK I may be wrong (but I dont think I am) but it appears from his maps that he's claiming all Celtic Alliance lands in southern Britain, as the adopted editor of the Celtic Alliance. I just thought you should know, if you didn't already--Smoggy80 16:08, October 8, 2010 (UTC)
Thanks for marking it obsolete. I just dont understand owen, he just doesn't get it? he can't just take land like that--Smoggy80 16:53, October 8, 2010 (UTC)
NominationEdit
Whoa! That's a bit of a surprise, especially from you, lol. But thank you.
Lordganon 07:14, October 9, 2010 (UTC)
Already posted a "yes" answer on the appropriate page.
Truth be told, in the few gaming forums I've moderated it's never been an issue, so it should be fine.
But thank you.
Lordganon 08:16, October 9, 2010 (UTC)
It depend what you want to do with the page--Marcpasquin 13:12, October 9, 2010 (UTC)
Write what you intend to do with Saguenay on the talk page and we'll see about it--Marcpasquin 22:53, October 10, 2010 (UTC)
As I said, write it on the talk page.--Marcpasquin 23:20, October 10, 2010 (UTC)
He has been blocked for a thousand years. --Zack 17:11, October 9, 2010 (UTC)
If Vermont would join the LoN, I see no reason for it to not join the United Communities. Vermont's aims would be the same with the UC as with the LoN. My only questions are 1) with the timing - why at the end of the Saguenay War and not now and 2) what attracts the UC to Vermont, especially given that it would be the most distant nation-state in the alliance? BrianD 17:24, October 9, 2010 (UTC)
Go ahead. Is there anything Vermont-specific I need to be aware of regarding the UC? BrianD 17:33, October 9, 2010 (UTC)
I need to update the northern townships, and consult with Mitro in regards to any relationship they might have with Aroostook. Ultimately, the question is whether they would want to join Vermont or Aroostook, or go it alone. The raiders no longer have any influence on the region so the townships can, and will, decide for themselves what they want to do. Right now? If Vermont joins, I suppose the townships would be interested in making contact as well. Long-term? Give me a few days to think about it. Touch base with me on Wednesday, when I'll have some free time to work on DD stuff. BrianD 17:50, October 9, 2010 (UTC)
Aroostook Edit
I'd rather not have you do that. Sorry, and I will think about whether the UC and Aroostook are plausible. Mitro 23:31, October 10, 2010 (UTC)
Illinois Edit
How about there is a conflict between Vandalia and the mystery state, but eventually it either peters out or Kentucky brokers a peace agreement between the two states. The relationship then mellows to a (relatively) more gentle rivalry

Yankovic270 16:00, October 11, 2010 (UTC)
How about we situate this rival of Vandalia in the city of Decatur, Illinois? Its close to the Vandalians, and I think it would be powerful enough to be a potential rival.
Yankovic270 16:14, October 11, 2010 (UTC)
Let's make the state at Decatur a democracy with a meritocratic tinge. That way we can have a plausible explanation for how the Vandalians and Decatur started to get along. They band together to help bring down/fight against the Eureka regime. How do you like it?

Yankovic270 20:34, October 11, 2010 (UTC)
I'll take Decatur, you'll take Eureka, and we'll freely edit each others work. Do you find that to be a good arrangement?

Yankovic270 20:53, October 11, 2010 (UTC)
Guys, this has "RPG" written all over it.  :-)
Good luck getting it approved, though. Remember to make the rivalries and battles realistic or the rest of us will "jump all over" the both of you! SouthWriter 01:19, October 12, 2010 (UTC)
Possible Iraqi State in 83:DD Edit
Hey, Arstar. I had an idea for a state in former Iraq made up of Assyrians/Chaldeans/Syriacs but I still don't have many ideas. The total population of Assyrians/Chaldeans/Syriacs in the OTL Syria and Iraq is about 2,700,000. Considering the dead during Doomsday and afterwards (about half a million?), plus those living in the modern state of Assyria (another half a milion?) would leave us with approximately 1,700,000 people in the superstate. If you're interested, respond and see my "Ideas" page to see some plans of it. --Fedelede 13:23, October 13, 2010 (UTC)
Celtic Alliance and Scottish borderEdit
i've left a message regarding a proposed border between the Celtic Alliance and the Scottish New State. see what you think.--Smoggy80 16:52, October 19, 2010 (UTC)
Municipal StatesEdit
Did you get Mitro's permission to rename that article?BrianD 20:44, October 25, 2010 (UTC)
No. But its shorter. Whatever I'll change it back. Arstar 20:46, October 25, 2010 (UTC)
"Back off"?Edit
Attack you? I asked you two questions on Ogasawara: you responded in a huff. I also did ask you about the name change on Mitro's article, not in attack mode although I did ask you pointedly why you did what you did. I stand by what I said, and I'm surprised more people haven't done so by now. In fact, Mitro brought up his own points and you ignored them.
And as far as taking over the timeline, what I did with the South is no different than what you're doing with the Great Lakes. Both are fine, and someone has to determine those respective regions' fates. What I am talking about is you creating article after article after article...not to mention adopting article after article after article...and doing next to nothing with most of them, then claiming all of them are yours. No one else has done this as aggressively, and as often, as you. Your hand's all over the place. This is what I mean when you act as if you are trying to claim the timeline for yourself. Comparing that to what I've done with the South or what you are doing with the Great Lakes is comparing apples and oranges.
And to what I said about your attitude? I stand by that, too. When things don't go your way you whine and complain, storm off in a huff, then come back like nothing has happened and expect everyone to do what you want to do. Some people roll with it. Some people tolerate it. You ignore people when they criticize you in a very civil, very restrained manner, and fly off the handle when someone is more direct. Honestly, I don't even want to get near you right now, because working with you is too much a pain and frustration for it to be worthwhile and productive. You're a kid, and like every other kid on earth you think you know it all and can get away with anything you want...you don't and can't. Hopefully you'll learn that sooner than later.BrianD 02:53, October 26, 2010 (UTC)
Wabash & Yank Edit
What I said:
Your former "buddy" (I say this because you two have collaborated, and you defended his work on California) seems to have turned on you in Virginia, but follows your ways a bit in Pennsylvania. In Indiana, he was trying to mold Sunkist's work into a version he could approve, and gave up, asking for it to be made obsolete.
What you "read"
don't go saying things you don't know South, I.E. "I've backstabbed Yank and me and him are no longer 'buddies'
--------
I used air quotes, meaning you seemed to have been buddies (and explained why). And then I said 'seem to have turned' (not "backstabbed"). I don't know these things, and my words indicate conjecture on my part. So please don't reprimend me. From your actions, you have shown that the collaboration was for your own benefit only. He helped you, but you have been the primary opponent to his MAIN project in recent months. He himself complained that you had betrayed his trust.
And yes, Arstar, you have overstepped your bounds in over-ruling Arstar's efforts. I "dragged you into it" because Yank had been "bumped" for the native Hoosier to work on his home state. I was just standing up for Sunkist (Perry) because he had come so far only to have you request that his work be marked obsolete. It would not have been so bad but it was so marked the very day that you requested it. SouthWriter 20:19, October 26, 2010 (UTC)
Resigning Edit
Well Arstar if you feel that resigning is the correct decision than I will respect that. That being said, if you are going to resign than I will have no choice but to remove your rollback powers. Usually we let editors keep their powers when they "retire" due to real life preventing them from participating on the wiki. Since you are resigning but still plan to remain active on the wiki I just do not think it is fair to allow you to continue to have the rollback privilege without the responsibility. You are welcome to reapply for the Constable or Lt. position whenever you feel like returning.
That being said, I wish you the best of luck in your future endeavours. Mitro 01:48, October 27, 2010 (UTC)
Sure, I see nothing wrong with that. Mitro 13:31, October 27, 2010 (UTC)
Happy Birthday Me! Edit
Todays my birthday, October 29! Happy Birthday Me! Arstar 11:34, October 29, 2010 (UTC)
Happy b-day Arstar! Mitro 13:34, October 29, 2010 (UTC)
To tell you the truth I have not gotten the chance to read the article since South took over editing it. If it really is going to cause changes in the TL and likely to be reviewed as you said, than I can not in good conscience graduate this article. I suggest you write about what you thinks those changes will be and why the article should be graduated anyway on the main talk page. Mitro 04:35, November 1, 2010 (UTC)
If I were you I would try explaining some of what you told me on the main talk page of the TL. Also I plan to read the article myself once I get the chance. Mitro 13:36, November 1, 2010 (UTC)
I apologize if I, as an editor of the site, overstepped my bounds in taking away the banner. It was mostly my objections to the concept that kept it a proposal, and I worked those out. The only problem was the retention of the US Virgin Islands (unaffected by any Nuclear attack), as an American territory. Bush had to have known that the USVI were unscathed, so when parts of the Atlantic Fleet - especially Guanatanomo Bay - were organized it could only have been good news to him. Nevertheless, the ECF article had "claimed" the USVI before Arstar created this the article, but I think that is ironed out as well. SouthWriter 16:39, November 1, 2010 (UTC)
Ann ArborEdit
According to the Toledo Confederation article, it appears that Ann Arbor survived Doomsday. Also I think Lansing would have been hit, it does have some strategic value. Mitro 13:36, November 1, 2010 (UTC)
Just because Lansing is a tertiary target does not mean it would not be hit. The city is known for its high-tech manufacturing, making it a strategic target. Mitro 20:21, November 1, 2010 (UTC)

I guess I understand what you are saying, but it is unecessary IMO. Lansing would have been hit, it is plauisble for it to be hit. Not destroying it on Doomsday, but still destroying it later is using creative energies that could be better suited elsewhere. There are plenty of towns/cities in Michigan that would not have been hit and still would collapse. I think you should write on those places. Mitro 02:38, November 2, 2010 (UTC)
Background info for you to use. Edit
Hi, Arstar. For some reason I began to do some research on the area of the CR. For better or worse, for your consideration, I came up with the following. Call it a late birthday present. :)
Background Info For the California RepublicEdit
California Republic
Placer County
1980 Election - 54.8 (R) - 33.7 (D) 1984 Election - 62.9 (R) - 35.2 (D)
Assemblyman (1983)
Tom McClintock (R)
Incorporated Towns:
Auburn
Colfax
Lincoln
Rocklin
Roseville
Lost control of 40.96% of Lake Tahoe (inside its borders) to the SNU along with the eastern slopes of the mountains along the lake's shores.
Transportaton: Local transit authorities in major towns.
Airports:
Lincoln Regional Airport
Auburn Airport
Nevada County
Only one "city" with over 10,000 - Grass Valley. The County Seat of Nevada City has less than 10,000
However, the "town" of Truckee has over 10,000
There are 24 towns with less than 10,000 people.
2008 est. pop. of 97,000
1980 57.9% (R) 29.0% (D) 1984 62.4% (R) 35.2% (D)

Sierra County
Located in the Sierra Nevada of the U.S. state of California, northeast of Sacramento on the border with Nevada. As of 2000 the population was 3,555. The county seat is Downieville.
The only incorporated city in the county is Loyalton.
Not much there, and most of it on the Northeast slope!
Yuba County
located in the U.S. state of California's Central Valley, north of Sacramento, along the Feather River. As of 2006 its population was 71,938. The county seat is Marysville. Yuba County is part of the Greater Sacramento area.
Incorporated Cities towns, and communities
Other Towns and Communities
Beale Air Force Base
Camptonville
Challenge-Brownsville
Linda
Loma Rica
Olivehurst
Plumas Lake<
Smartsville
El Dorado County
Located in the historic Gold Country in the Sierra Nevada Mountains and foothills of eastern California. The 2004 population was estimated to be 172,889, its 2000 population was 156,299. The El Dorado county seat is in Placerville.
The population of El Dorado County has grown as the Sacramento metropolitan area has expanded into the region.
In the unique Lake Tahoe area of the county, since hosting the 1960 Winter Olympics brought it to attention, the population and environmental protection has grown also.
Lost to SNU, this had been the largest city of the county (23,690 in 2000)
In the Sierra Nevada Mountains. The east end of the city, on the California-Nevada state line, is mainly geared towards tourism, with T-shirt shops, restaurants, hotels, and Heavenly Mountain Resort with the Nevada casinos just across the state line in Stateline, Nevada. The city extends about five miles (8 km) west-southwest along U.S. Route 50, also known as Lake Tahoe Blvd. The western end of town is mainly residential, and clusters around "The Y" (new intersection October 2008), the X-shaped intersection of US 50, State Route 89, and the continuation of Lake Tahoe Boulevard after it loses its Federal highway designation.
West Slope geography:
American River, flows into Sacramento
Folsom Lake
Francis Lake
Loon Lake
Union Valley Reservoir
Along the border with SNU is the renown Desolation Wilderness
This area, though popular to backpackers, is quite rugged. It is between the peaks of the Sierra Nevadas. Such areas like these are why we argued against California control of the area. It would be a waste of resources early on to try to "take" such lands from the community that had grown up around Lake Tahoe on the eastern slope the mountains.

Solano County
Located in Bay-Delta region of the U.S. state of California, about halfway between San Francisco and Sacramento and is one of the nine San Francisco Bay Area counties. As of 2000 its population was 394,542.[1] The county seat is Fairfield and the largest city is Vallejo.
Of Note:
Solano County - Unincorporated communities
Especially:
Scandia - The name "Scandia" is part of the cultural landscape of Solano County. It means "Little Norway," and refers to the Scandinavian pioneers who settled the area southeast of present-day Fairfield ... in Montezuma Slough which is located a few miles south of present-day Travis Air Force Base (AFB). They abandoned their boat there and walked inland to Calaveras County. After two years of work, and finding little gold, the three Norwegians returned to Montezuma Slough, built a small house, and raised sheep and cattle. Gradually other Scandinavians took up farming in the area, and 'Little Norway' became the accepted name of the area east and south of Denverton.
Personal note: this is near where I was born in 1953 (SW)
---
I hope this is helpful. Welcome back to California! :-)
SouthWriter 02:46, November 3, 2010 (UTC)
Hi, I understand from Mitro that you are the caretaker of Iceland. I have been reading up on it amongst my other projects and would like to take a stab at fleshing it out. Would you have any concerns if I was to do so? Please let me know. Thanks.--Fxgentleman 22:19, November 11, 2010 (UTC)
Re: Culture of Tibet Edit
Sure, no problem, if you had ideas for anything that would happen due to Doomsday, I'd be interested in hearing what you'd have to say.--Vladivostok 22:17, November 12, 2010 (UTC)
The Merseyside Question Edit
As I've mentioned in the Lancaster article, since radiation levels in the area between Lancaster and Liverpool are getting down to safe(ish) levels, the matter of who owns said area is going to become an issue in the not too distant future. Therefore I thought I'd open negotiations on the matter. What do you think?Tessitore 21:22, November 14, 2010 (UTC)
Regarding whether I meant you and me or CA and Lancaster, I suppose that the answer is both.
Truthfully, when I thought about the matter a bit more, I decided that re-settlement probably wouldn't be the main issue, since neither side has much in the way of spare population. Instead the main issue would probably be the generally overlooked matter of salvage rights. All those empty buildings full of electrical wire and copper piping, along with all sorts of other goodies.Tessitore 20:06, November 15, 2010 (UTC)
Fair enough. I just thought it was one of those things where it's better to check that it's not an issue rather then assuming it isn't and risk things going pair shaped. If I understand you right, then the area between Lancaster's southern border and Liverpool is more or less no man's land and will remain so until it builds up enough of a population to warrent a referendum, with any salvage operations in said area being a case of finder's keeper's (I'm willing to bet that sooner or latter someone's going to try it on but since they'd be lying through their teeth it doesn't really matter in the grand scheme of things). As for Smoggy's comment, I didn't really think that the CA would get pushy but the gesture of solidarity was appreciated none the less.Tessitore 17:56, November 16, 2010 (UTC)
I don't really know. Probably not for a while at any rate, I'm not sure how things are in the CA but Lancaster is still heavily underpopulated, with quite a few 'dead' towns within it's borders, Preston being a prime example. I'd also imagine that after almost thirty years any refugees from the areas that were abandoned would have got settled in their new homes, be it in Celtic territory or Lancastrian, not to mention that I doubt that there's anything for them to go back to after all this time. All in all it's not really a situation that lends itself to migration. That said, upon inspecting a map I noted that there seems to be a gap between the contaminated area around Manchester and the one around Aintree, at least now that the raditation levels have had a chance to come down. I doubt that the area in question would be inhabited but given that it's possible to get from one nation to the other overland, some sort of border could probably do with being established.Tessitore 22:33, November 16, 2010 (UTC)
Figured I would explain what I did if you questioned it - you've never griped when I corrected such things before, lol.
Zack did give me permission to edit the thing.
At any rate, the one part about Aroostook is not mentioned anywhere else, and deals with someone else's article - you shouldn't add such things without permission, remember? Same applies for the Saguenay part.
The other bit erased the work of another, and added something nonsensical. But most of it was great.
Lordganon 06:17, November 17, 2010 (UTC)
Just to be clear Arstar, I am still the official caretaker. LG wanted to make some edits to the page and I approved them. Now he is editing the page with my consent. --Zack 20:12, November 17, 2010 (UTC)
Oh, I didn't "question" it in a bad way.
But like you had asked me to make the changes to Superior I read that you had asked Zack to make the changes to reflect the different Saguenay War outcome. But there are some other things you wrote that weren't really in the list of changes that you asked to make so I wondered whether or not Zack had given you full caretaker privileges. Arstar 22:08, November 17, 2010 (UTC)
Ahh. Beg pardon, then. A fair amount of it is simply protecting my edits, lol. Note I didn't touch most of what was added.
Simply put, I needed to show, as per Ben's points about the UC, why Canada would join it, even under pressure, when part of the LoN. A different viewpoint on the matter covers it nicely - I even slipped a reference to Superior maybe feeling the same way now that they have joined the LoN, somewhere. Saguenay being in it just changes the entire point of the matter, and would not be a neutral voice in the least. Note I know that Marc told you to run things like that by him/the community too.
Dont get where the Aroostook part came from, mind.
Lordganon 22:28, November 17, 2010 (UTC)
Superior joined the LoN? Wow, sorry dude but I don't remember that happening, and if I did I must have been not paying attention. Like Lahbas' original article it is greatly exaggerated on what would happen (IE Superior requesting access to Guyana Space Station, and almost getting it!) and I think that is another thing that Superior is just too physically isolated at the current moment to have membership be possible.
What can be changed is that its no longer barred from entering, but I am aiming for 2012 that Superior have full membership. I'm not trying to favor the UC over the LoN but I just don't think the little peninsula has it in them to participate in an organization HQed in the Pacific at the current moment. Arstar 22:37, November 17, 2010 (UTC)
I listed Superior under the category of articles that I didn't create that I had contributed to. Under that category, I listed myself as the caretaker for ANZC and Hawaii, the two articles within that category that I actually caretake. I consider myself at the most to be a contributor to Superior, with you and Lordganon as the main caretakers (that's why I didn't list myself as Superior's caretaker). BrianD 23:14, November 19, 2010 (UTC)
Re:Kentucky-UC ApplicationEdit
It can join but don't expect Kentucky to adopt the UC currency recently added to the Niagara Falls page. --Zack 22:20, November 21, 2010 (UTC)
Apologies, Arstar - you left that message virtually as I left my in-laws place (house sitting on and off this week) on the way back to mine.
By that I think you meant not here? feel free to send me an e-mail - its my username here @hotmail.com
Lordganon 10:35, November 22, 2010 (UTC)
Will do.
Lordganon 01:01, November 23, 2010 (UTC)
Your changing of the population of Navassa took me by surprise! I wrote that paragraph to support your contention that the island had a strategic importance to the USAR. You insisted that this island, separated as it was by Puerto Rico and Hispanola from the rest of the claimed islands, had to be retained. Your argument that Haiti would be in free fall without US aid made sense, so I compromised.
I call the paragraph "Reclaiming Navassa Island" in the physical sense -- the Americans turn a desert into a sustainable community. Cutting the population drastically reduces the impact of the reclamation of this little piece of America. I doubt if a community of less than 600 would be more than a dependency of Jamaican aid without a major makeover of the island. How about giving me a short proposal as to what you think Navassa could become in a decade of concentrated effort on the part of an otherwise unemployed military. --SouthWriter 02:31, November 23, 2010 (UTC)
Aye, indeed I wanted for the USAR to retain it, as it has a profound military value. Mining for guano has gone down, but could have risen in recent years since very few people had been on the islands since like World War I.
Apart from that, it serves as a trade route to South America, since by dropping some of the cliffs you would be able to dock ships should something happen to them en route to South America.
More than anything, and I will freely admit my true motive, is to show the people of the America AR that America hadn't died yet. The colonization was to show the people that they could keep America alive in whatever way they could, and as often as they could. Inhabiting even the most unaccessable rock, which actually does have quite a few natural resources was a way of showing people that. That America, in its own little Caribbean form, optionally going without the leadership of the mainland survivors was to show the people of the world that Doomsday was ineffective to the people of the Virgin Islands, that this one tiny slice of America could continue keeping the American dream in its own way. If they would lose the island to Haiti, for example, that would show everyone that these military men were out of touch and had failed the American people, and that maybe it was time to join the APA or go an independent route.

Arstar 04:07, November 23, 2010 (UTC)
Very eloquently put, Alex. This "tiny slice" of America indeed preserves the pioneering spirit that built our nation.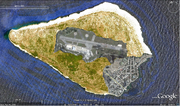 These military families, and then civilians from the diaspora in Jamaica, the Camen islands and other places, could turn the waterless island into a way station for travelers from various Gulf ports that may come their way.
I have put together a facsimile of what the reclaimed Island might look like. The port town is copied and pasted from Caimanera, Cuba (a port village of 10,000 +). The town is turned sideways and a man-made harbor cut the south end of the island. The airstrip is from the US air base (also turned sideways. The results are to the right. Though I don't suspect the island could support a population as densely packed as that Cuban "village", this gives us an idea of the space available. What do you think?
I like the shape, though I would suggest to make the airstrip a bit smaller, as the island would need quite a bit of room of arable land if they are to remain as self-sufficient from Jamaica as possible. And while you're right the village you copy/pasted certainly wouldn't be packed as densly, as most likely there would be more settlement in the interior it gives us a good idea on what could be supported in the area.
Though the airstrip is long, it was designed after the one at the Naval Air Base and would probably be built to the same dimensions. I can move it a little towards the shoreline, though, and take out a lot of what appears to be pavement in the paste down. There is no reason why an arable garden couldn't be right up next to an airstrip. SouthWriter
I would also recommend moving the settlement slightly to include the original Lulu Town, which you can see the location [here]. While it may be "new" Lulu Town, there are still many infastructural assets from old Lulu Town that would be wasteful to just abandon. The lighthouse, which apparently was still operational in OTL until the 90s, could be a vital asset to the settlement if they are to truly be a good maritime "pit stop" :)
The original Lulu Town is actually covered by the city limits. Here are before and after, side by side (I've included an overlay of "plans" on the arial shot taken in OTL 2008):


As you can see, this is very workable. :-)
SouthWriter 23:47, November 23, 2010 (UTC)

After looking up Navassa's profile at the website of the U.S. Fish and Wildlife Service, I've read that the island would be pretty much able to sustain themselves if we keep the current population at around 500-800. A possible source of water directly from the island, though abnormal could be used, as there are many species of cactus on the island, but that won't "cut it" in my opinion since everyone can't just go around drinking cactus water. 21:13, November 23, 2010 (UTC)
As I indicate on the red-lined plans, the island has a desalination plant that services both the port "city" and the Air Force Base. The interior of the island (the green part!) is left for farms. With the desalination plant, water should be no problem. Power will probably be from imported fossil fuels, though I suppose tidal and wind turbines might be an option. Self sustainance is nice, but trade with Jamaica will continue to be vigorous, so the population need not be so restricted. I'm for leaving it as I had written, but a compromise in the 900's will work fine. SouthWriter 23:47, November 23, 2010 (UTC)

Okay, here's the "finished" project. Of course the real arial shot would show the development filling in between the desalination plant (borrowed and scaled down from Dubai) and the town, a long with bits of Air Force Base in the north.
Contacting You Edit
How? I don't have an email adress.
Yank 23:29, November 23, 2010 (UTC)
I'm ready to try "IRC".
Yank 16:28, November 25, 2010 (UTC)
Yes I am.
Yank 20:05, November 25, 2010 (UTC)
Again I say that I am. --Yank 04:00, December 8, 2010 (UTC)
This is getting annoying. When are you usally on? Can you please give me that link? --Yank 02:11, December 11, 2010 (UTC)
A message of great importance Edit
Arstar,
I know you hardly know me, and I you, but I must ask a favor of you;
I need you to help me rebel against the Wikia higher-uppers; the new skin is nothing but trouble, and I have finally had it!
For a bit more depth:
I. . .I. . .
Who would do this? Who would make an Althistory like this? Worsening what was already the worst tragedy in American history? Curse my vivid imagination; I can see myself there, amongst the dead and the dying. . .
'Tis truly a horrifying sight.
For a time, I have been silent.
But I can hold my feelings no longer! It may just be the new skin, or it may be a sudden influx of stupid people, but the way I see our AH wiki. . .OUR wiki, which belonged to the people, has been sucked up, into some sort alien spaceship, never to be seen again! And now we have THIS, this monstrosity! Sic Semper Tyrannis! I knew we couldn't trust them! For too long we ate out of their hands, lulled into a false sense of security! And now they rip the rug out from under us! We have given them Leeway, and we have put up with the many things gone wrong since the new skin was instated, but I say neigh!
I say we give those rabscallions one week to meet our demands, or we will move off, off to the AWA!
Who is with me? A call to arms I say! Who shall join me in this rebellion? In this taking up arms against our oppressors! Agains all the evil of all the lands! *takes in big breath, begins shouting* WE SHALL STORM INTO THE HALLS OF WIKIA, AND DEEMAND OUR FREEDOM! WE WILL NO LONGER EAT CAKE, BUT REJOICE WITH PIE! WE SHALL SHOW THEM WHAT FOR! WE! SHALL! BE! FREE!
Some of you may be against me, some of you will be saying
"Jazon! This is too far, too much! We cannot abandon Wikia after they have broken our legs" And I would say
"Go on! Stay here and fight with your loyalist brothers! I am not here to stop you! I am here to free the others!" Some will say
"Jazon, a week is too short a time, surely we can be more patient!" And I would say
"Go and join your loyalist friends! If you are not with me, you are against me! One week I say, and not a second more!"
Even if I have to do it myself, if I have to I will have a navy of rowboats! An army of bicycles! An air force of one hot air balloon being pulled by a pestered Pachyderm!
So I say again! Those devils in Wikia will not stand a week from now! Who will join my cause? Or must I go Benidect Arnold upon them?
That is all. Retrieved from "http://althistory.wikia.com/wiki/Talk:9/11/2001_was_MUCH_worse" We need you Arstar. Do the right thing.Get back to me as soon as you can.Jazon Naparleon 04:28, November 29, 2010 (UTC)
You're right Arstar, we cannot hold our conversations here. I do not have anything concrete yet, but I am currently rubbing elbows with more than one site admin on a few small social networking sites I know. If I get the greenlight, I will inform you.
Jazon Naparleon 05:05, November 29, 2010 (UTC)
We've done it, Arstar! We've made our own wiki! And all without a single drop of blood. It is times like this I lke to listen to the Ukrainian folk version of highway to hell;
http://www.youtube.com/watch?v=Z3YQ24i1wP0
Ah yes, and here's our wiki, though it won't be done for a few hours/days, as the tech support geek(s) are still setting things up.
http://alternatehistory.shoutwiki.com/wiki/Main_Page
Vixi Perpetuo,
Jazon Naparleon 15:54, December 1, 2010 (UTC)
Yihad World-Western WorldEdit
hey arstapool i would like you to revise these two althists ive been working on, i would like your support and help. her are the two links: yihad world western World THANK YOUMigue235 00:41, November 30, 2010 (UTC)
Second Sicily WarEdit
No, you may not take co-caretakership; you're already the caretaker of like ten articles, focus on what you have and just be happy commenting on Lordganon's work. Mr.Xeight 23:29, December 1, 2010 (UTC)
I'll have to respect Xeight's wishes on this one, Arstar.
At any rate: could you tell me what you want to happen to Sicily? all I know for sure is that they'll lose, after a fashion.
My plan is more or less thought out, fyi. Just want your opinion before I share it.
Lordganon 05:44, December 4, 2010 (UTC)
Let me see your plan Saguenay War plan-style. Remember that I have like half the ADC and Sicily, so irregardless of Xeight's "worrying" wishes, you can't fight the war without the combatants so like I said post your plan and I'll tell you what I think. You may caretake the Sicily War but I caretake Sicily so I'm sure we can compromise and come together on a plan we can both agree on.
Just to let you know beforehand I heard the rumors that Greece wants part of the Italian boot, well I'm all fine and dandy with Sicily losing the war and Sardinia and Tunisia but they're not giving Greece the Boot (no pun intended) just because they want it. Arstar 05:11, December 7, 2010 (UTC)
I'm aware of all that. As a matter of fact, my file is the same layout, etc. as the Saguenay War one, lol. We were able to work things with that, so this we can do too. Note that I did say I wouldn't object to you caretaking it with me, but that I will need to respect his wishes.
Greece has no intentions of taking the "boot," so no worries there. All I have them taking at all is parts of Lecce Province, which is the very tip of the heel, and to be honest, all they really had even a ghost of a claim to (Heptanesa held an outpost there for most of a year in the late 80s that they abandoned). It's more so a base to give Heptanesa some breathing room and try and secure the strait than anything. Sicily will be able to take it easily in another war - which they will definitely be in a position to fight (even better than before, honestly, without the occupied/semi-occupied areas) effectively, maybe even coming out slightly ahead.
I'll post a copy of things here sometime tomorrow, though if you give me your e-mail you'll get it tonight.
Lordganon 07:59, December 7, 2010 (UTC)
Any thoughts on the notes I sent? And again, apologies - it just doesn't seem to like attaching things for me lately, lol.
Lordganon 23:53, December 15, 2010 (UTC)
Sorry I didn't get back to sooner on that but the outline looks great, though I'd suggest that rather than just assume New Rome as being freed we have it at the heart of the DMZ between the IPA and Sicily. Also, even though I'm caretaker of Alpinia I wouldn't recommend putting them under Alpine protectorate as they're pretty maxed out with what they have. Perhaps a post-WWII Germany-style division would be better, and most of them would eventually gain independence. Sardinia suffered multiple strikes so a full-fledged nation state covering the entirety of the island would be kinda hard.
EDIT I have to get back to you some other time because i just suffered a crisis (someone poisoned and killed my dog) and im just going to wrap up what i have now. Arstar 01:49, December 16, 2010 (UTC)
Yikes! That's bad. Sorry to hear.
Glad to hear you liked it. Putting New Rome there works for me.
Some sort of division ala Germany was what I had in mind anyway, so that's good. Though new nations only works up to a point. Something to decide afterwards.
Central Sardinia is pretty intact, but I'm inclined to agree with you. I do figure it would eventually end up with Corsica, in some sort of Corsica-Sardinian Union.
The only thing left would be the Tuscan Islands/Elba - would Tuscany get them (all or some) or would Genoa, as my notes have them taking the islands from the Sicilians. Either way is fine, but I'd like some sort of division or arrangement, lol.
Lordganon 02:18, December 16, 2010 (UTC)
mira arstapool, sobre q no te llevas bien con vene, y q son competencia con althists diferentes. yo hice varios articulos y tengo experiencia. pero lo q trato de decir es q veas mis articulos (los q te dije antes) y veas si te gusta y comenta.Migue235 17:52, December 2, 2010 (UTC)
Niagara Falls/UCEdit
I left a note for you on the Niagara Falls talkpage.
That latest newsbit you added. I like the idea, but you forget the attitudes of the Canadian government. You'll do better to the change that to Buffalo.
Lordganon 05:47, December 4, 2010 (UTC)
Sorry I didn't get to you earlier. Honestly I tend not to take in that whole "Canada barely likes the UC" thing because to be honest its mostly your opinion that you've added on to articles and than you get mad when I delete/change. You should also remember how much of a rump state that this new Canada is, only exception that its not politically isolated but the article states that they struggle with a lot of somewhat basic commodities. In fact I think Toledo alone has more industry/manpower equal or more than that of the new Canada.
Second, even if it was a written fact by the actual caretaker that Canada really wants little to do with the UC, whats the harm? They have this dump zone just sitting there and it can be treated (which is possible, God knows how everyone else overlooked that o__o) and re-inhabited a lot sooner than whatever is being done to the strike zone now, according to my dad its possible to treat the soil with phosphate and some other stuff, (NOTE: he spent two years assigned to what is now called the Defense "Special Weapons" Agency) and you can actually get most dangerous radiation removed a lot faster than not. Arstar 00:08, December 7, 2010 (UTC)
A few things, when was this "method" of removing invented? If it was known prior to Doomsday, why would these survivor states waste time now on decontaminating destroyed cities? Even if they did that easily why would they clear the rubble away and rebuild a new city upon it wasting time and money? These are passion projects that only a food or a madman would waste time and money on now. Maybe in a hundred years. Also does this "method" work on large area such as cities? Even if you can give me reasonable answers to any of these questions LG is right and you may not use Halifax, at least not yet. --Zack 00:48, December 7, 2010 (UTC)
I have no ideas on the intimacies of the creation of this method, a lot of what I know on this subject from my dad who used to work for the DSWA. Upon asking him the average span of radiation from, say a 1MT missile he said about 40-50 years, but with proper waste disposal, and treating radiated soil (phosphate is a primary ingredient in treating) you can reduce the time.
If you doubt anything I say there's the entire four billion pages of internet-ness at your disposal to confirm or deny anything I say. But this is something I have researched before and even several articles on this timeline proper have talked about radiation removal.
Also remember one of the main reasons they would "waste" time on clearing the cities is because they pose like a shitload of a health hazard to like everyone nearby them. For many other cities, the strike zones kind of are a big piss-off to countries like North Penn where they have the radiated piece of crap that is the nuked remains of Erie that forces them to ship out of the very corners of their coastline. Big trade deterrent much? Or maybe like Niagara Falls where they have Buffalo only barely saving them from getting radiated, plus it blocks their expansion to the south.
And nobody said they're going to get to work building a new city right away. Say Halifax is cleared out, its going to literally be a blank strip of goddamn land. The plus-side is that they can salvage a lot of the metals to use as foundations for new buildings. But new cities aren't going to be totally likely. The "new" Halifax would likely just be a town, as most foundations are going to have to be cleared.
The plus sides are smaller cancer rates, which would discourage population overcrowding in un-radiated areas. Plus remember that sea-side blasts can actually create some pretty slick bays. Arstar 02:41, December 7, 2010 (UTC)
Calm down, bitching and moaning doesn't make your case any stronger. You sir are the one who has brought up this method of cleaning up radiation. Its not my responsibility to tell you whether you are right or wrong. So if you truly think this will work or at the very least should be considered then venture into "the entire four billion pages of internet-ness" and find us some proof.
If the areas around the blast was so bloody dangerous, why would they have settled there permanently? Once again why would you waste money on building a town, village. city, hamlet, trading post, Wal-Mart or military base atop the recently cleared strip of land? There better off expanding surviving towns then frigging around in a wasteland. --Zack 04:15, December 7, 2010 (UTC)
Zack, calm down man. Nobody's bitching and moaning
Besides, the fact is that radiation doesn't last forever. The radiayion from the blast (I'm assuming that most Canadian targets besides Toronto get one missile apiece) would be on it's way out by the time the operation starts. The operation would finish the job. I agree that this process would speed reclamation along, but I also agree that the community founded would at least start out as a town built around the port than anything else. I'd be receptive to the United Communities doing the same to Norfolk. --Yank 02:23, December 9, 2010 (UTC)
Returning Edit
Yes Arstar you have to be renominated. Due to the way you resigned after your arguments with Brian, I think you cannot just return like other members. Sorry but you will need to find someone to nominate you and then you will have to be voted in. Mitro 16:38, December 8, 2010 (UTC)
Proposal OverloadEdit
You have some 14 odd proposals on the 1983: Doomsday takpage deal with them please. --Zack 21:41, December 9, 2010 (UTC)
Re:TransparencyEdit
I will attempt to address your concerns here. No matter what you think I have no interest "singling you out", but you time and time again have tried to cover up discussion, dictatorially marked articles as obsolete, bent the rules in regards of how articles are graduated (like SNU/California incident), your whining and complaining has annoyed many'a editors, not to mention your bigoted statements regarding the good people of North Florida. Also as I've told you about countless times you create many articles then leave them to collect dust then mark them as obsolete violating the editorial guidelines. You have to be reigned in from time to time South, Mitro Brian or I are constantly reminding you of the rules and editorial guidelines, outright reverting your edits or telling you stop. You can accuse me of singling you out but I don't give a damn what you think. I haven't the time nor the inclination to put up with your tomfoolery. I try to avoid you on the wiki as much as possible but were inevitably going to clash on the 1983: Doomsday timeline. That's a fact of life and you better start getting use to it.
Quite frankly if I wanted to single you out I wouldn't need to post the remarks concerning North Floridians to embarrass you. Your doing a damn good job of embarrassing yourself with stupid remarks like that without me having to lift a finger.
Indeed there are many discussions taking place throughout this wiki on people's talk page regarding current proposals.However these conversation are not private, anyone can view them! I posted the text on the main 1983: Doomsday talk page for ease of access so everyone can see it when passing by on the talk page. No to mention that this is a hot button issue right now, the discussion surrounding Florida's capital deserves more open debate and discussion then your backroom attempts to bury it on someone's talk page. Its not just the caretakers of the Florida article that have a say, every contributor does. We work based off of consensus and you do not seem to realize that when things don't go your way. If you can't abide by the rules then you shouldn't be contributing. Your perfectly free to start your own timeline that is run by your own skewed rules but don't screw around with a perfectly sound system for your own gain.
I wanted to keep my response to you as tersely as I could but I've had enough of your lies, your arrogance, your conspiracies, your whining, bitching, moaning, petty grievances and other no sense. When people criticize your constructively or try explain to you where you have gone wrong you freak out or ignore them as though nothing has happened (As seen here.[2]) You've been contributing here for a long time you should know better but you don't. That is what rubes us the wrong way. --Zack 02:45, December 22, 2010 (UTC)
You've failed to grasp what I wrote on your talk page, instead attacking me with an awesome fit of rage over things that had nothing to do with why I messaged you. That was a conversation with another editor, not some "backdoor conspiracy" as you call it. Everyone does that. Look at Caer and Owner discussing the Mediterranean League, or me, LG and Xeight discussing the Second Sicily War. That is the same thing, but just because it's talking about a disputed thing does that mean it goes on the talk page? No. Yes the user talk pages are not invisible but they're the best we have at "private messaging" because unlike a main talk page its not out for the world to see, because it is a private message. If I wanted everyone else to see that, than I would have posted it there. Secondly, before you're saying I'm a rule breaker, read through the rules and my removing of that message is perfectly law abiding, so stop antagonizing me in that regard. Irregardless of what you want to post for "ease of access", that's not your text to post.
Secondly, I admit honestly that I ignore you at times. Half the time you cite things aren't true, like saying I have 14 to 15 proposals to work on when in reality I have about 5 that are actually mine, and than you use those false statements against me. So I ignore you. When you leave me those inaccurate messages on my talk page I simply log off.
Contrary to what you think I don't want any problems and I've been doing damn good at that for the past while. So please for the love of God or whatever you believe in just I don't want any trouble and you're making a big deal out of nothing. You've already done enough to me before, I really don't need any more trouble. Arstar 06:56, December 22, 2010 (UTC)
In all the other cases cited above the other users have had the courtesy of posting at the very least the general premise of their discussions and/or what they've had in mind on the main page for the community to see and review. That is the difference between you and the other users. Also you are misrepresenting users talk pages by calling them "private". Anyone, even the perma-banned Owen1983 can view them. The trouble, (and for you the benefit) is that they are no as easily assessable as discussion on the main 1983: Doomsday talk page. The two issues cited above; the Mediterranean League, the Second Sicily War, and the issue this dispute originated from, the new capital of a united Florida are all arguably three of the most pressing and pertinent issues on the 1983: Doomsday timeline right now. That is why people deserve easy access to the debates and discussion so they can add their own two cents in or just see whats going on. South, who has been much more lenient with you then I have agrees that the discussion belongs on the talk page. Not to mention that LG and others post the gist of their discussion or pretty much copy and paste their ideas onto the talk page for all to view easily.
Its worth asking Arstar, what do you have to hide on these talk pages? I understand that you do not want people to see your bigoted remarks which is why you never should have posted them on this wiki to begin with. The rest of the text is all extremely important to the ongoing debate. All you have on the 1983: Doomsday take page is an informal vote that allows people to vote anonymously, without backing their choice, they can also vote more then once. Worst of all the vote is not transparent! Like Mitro said its fine for Flags but not for important things like capitals.
Don't act like I'm the only one you ignore, you ignored Brian as I cited above and if you go up a few sections you've ignored Smoggy. Why is it that you ignore people like this? I find it hard to believe that you don't want any trouble because you keep creating trouble for yourself. --Zack 19:38, December 22, 2010 (UTC)
I don't have anything whatsoever against Smoggy, that's a fluke incident in which I forgot to respond. The Alabama thing w/ Brian, we settled that on another talk pages I believe.
EDIT: I'll get back to you tommorow, I have to go. Arstar 00:19, December 23, 2010 (UTC)
Uniting Ithaca and Binghamton Edit
I might be interested in uniting Binghamton and Ithaca into a Republic of New York. There is one problem. There is a county in between the counties that Ithaca and Binghamton control (Tompkins and Broome). It is Tioga county, and it must be brought into the union as well. After this I see at least seven surrounding counties (primarily to the east and west of the three counties) that could eventually be brought into the Republic. --Yank 02:58, December 12, 2010 (UTC)
Not really. The region the three counties in question doesn't lend itself to a survivor state name. It's rather blandly called the "Southern Tier". If this was further east it could have been called the "Catskill Republic" or the "Republic of the Catskills". Rather gruesome, but far more interesting than "Southern Tier". In fact, the Catskill Republic might actually be viable in itself. Unless there is some name from the region that has tickled your fancy, I rather think we should stick to "Republic of New York". The concept is well-used, but the people would want some connection to the past. --Yank 04:50, December 13, 2010 (UTC)
The name "Republic of the Finger Lakes" is another potential name. --Yank 04:53, December 13, 2010 (UTC)
Well I'm out of names. Do you have any ideas? --Yank 17:25, December 13, 2010 (UTC)
Yes I'm still up for unifying them. I just need someone to give the article a more solid history section. Could you help me on that? --Yank 16:43, March 25, 2011 (UTC)
When graduating articles... Edit
Besides removing the proposal template and the discussion on the main page, you still need to archive the discussion and add the new article to the list of the main page. Please do so soon. Mitro 01:06, December 15, 2010 (UTC)
Celtic Alliance territory of StranraerEdit
How attached are you to the Straraer area as part of the Celtic Alliance? I've got an idea for mid/late next year that the New Scottish State (or Ur Alba as it'll be by then) could kick the Celts out of that area and take control, i'll only go ahead if it's ok with you (as the CA's Editor), and if it is ok, i'll give you some notice when its going to happen--Smoggy80 13:35, December 19, 2010 (UTC)
As i've had no message off you, am i right in assuming that this proposal is ok? it just i'll need to start setting the invasion up early in the new year--Smoggy80 13:58, December 22, 2010 (UTC)
I'll hold the invasion off for now (may happen just before winter 2011) but i'm going to build up a small military force on the border using the Scots excuse of 'protecting the Scottish homeland against the invading imperialistic Celts' sound ok?--Smoggy80 12:28, December 24, 2010 (UTC)
I've moved the border between Ur Alba (as it is now) and the Celts from the A713 to the A714, the next major road westwards, the border will be held there for the rest of the year as Ur Alba's priority is taking lands to the east. However the planned invasion of Stranraer will prob still take place late 2011 or early 2012, i'll keep you updated--Smoggy80 11:32, January 30, 2011 (UTC)
To keep you updated on the CA - Ur Alba territorial claims. Ur Alba is massing its military in the area between the two border walls near Stranraer (know as the Macintire wall and the MacDonald wall) it has also sent vessels from the Ur Alba port of Ayr with the plan to blockade the port of Stranraer. My plan is to make life difficult for the population of Stranraer by using the blockade to stop supplies from the sea and seige the town from the west using troops, then at the end of summer give the population a choice, join Ur Alba and leave the CA, or face a large military offensive. Sound Ok to you?--Smoggy80 15:14, April 16, 2011 (UTC)
I don't mind really, I really just want a beautiful capital. I liked Cape Coral, becuase its on the sea, or Saint Aug. But I would be perfectly happy with Gainesville.--Sunkist- 19:52, December 20, 2010 (UTC)
College Football (Napoleon's World) Edit
Dunno how much you follow college football in the real world, but I'm doing a poll of all the different users I regularly talk to on here to see who they'd like to see win the different bowl games this season for the Napoleon's World TL. Whoever gets the most votes wins!
National Championship at the Sugar Bowl: #1 Huron Highlanders (13-0) vs. #2 Nova Scotia Sea Lions (12-0)
Texas Bowl: #4 LSU Tigers (12-1) vs. #10 Washington Huskies (10-2)
Rose Bowl: #3 Pacifica Orcas (12-1) vs. #8 Indiana Hoosiers (11-2)
Silver Bowl: #5 Kahokia Thundering Herd (11-1) vs. #9 South Carolina Gamecocks (10-2)
Orange Bowl: #6 Cuba Spaniards (12-1) vs. #14 Northern Apachia Billy Goats (11-1)
Peach Bowl: #20 Mississippi Falcons (9-4) vs. #17 Maryland Terrapins (9-4)
Manhattan Bowl: #7 Eastern New York Flying Dutchmen (11-1) vs. #18 Missouri Tigers (9-3)
Paradise Bowl: #11 Florida State Seminoles (10-2) vs. #22 USC Trojans (8-4)
Chicago Bowl: #12 Michigan State Spartans (10-2) vs. #21 Alabama Crimson Tide (8-4)
Citrus Bowl: #13 Nebraska Cornhuskers (10-2) vs. #15 Massachusetts Minutemen (10-2)
Thanks!
KingSweden 20:20, December 20, 2010 (UTC)
Genoa and TuscanyEdit
Well, I figure that the war will make some kind of dispute between them, but they'll get over it. Nothing like how Venice will feel, lol.
I do see a rivalry between the two over New Rome (and to an extent Sardinia as well, though Tuscan occupation zones on the mainland would mean that Genoa will have the lead there, realistically) that would be the source of tension.
Past that, the only thing would potentially an issue would be something to do with La Spezia and past excavations.
I do see generally good relations between them, however.
Lordganon 08:57, December 22, 2010 (UTC)
Templates Edit
mira arstar como puedo crear un template para mis timlines nuevos?Migue235 23:56, January 1, 2011 (UTC)
Border LineEdit
Cant remember where I said that, but I do know that I at one point believed New Rome to be further north for some reason.
I do have them being freed, mind - and given its position, it would technically be part of the zone, if that helps. You'll need to zoom in the Italy map a fair bit, but you'll see it there.
Would like to know the difference between its size on that map and what you think it should be as well, mind.
Lordganon 01:21, January 4, 2011 (UTC)
Qu'il TousEdit
Hey Arstar, I just renamed No Napoleon's Elba into Qu'il Tous , I just want to know if you can construct me a map or find me one of Napoleonic Europe that I can use, just a real one, like for Napoleon's World or French Trafalger, British Waterloo. Ownerzmcown 22:01, January 26, 2011 (UTC)
Left message on Pelee Island Edit
Talk:Pelee (1983: Doomsday), Benkarnell 23:18, February 2, 2011 (UTC)
Thought I'd leave you a note saying that I'd adopted the Prescott article you created and put up for adoption. Lordganon 05:43, February 9, 2011 (UTC)
Sure, that's fine. Arstar 01:13, February 12, 2011 (UTC)
Hi. I was curious about your Macau article. I'm planning a survivor state containing most of the nearby area, and I wanted to either adopt Macau or work jointly work on the Pearl River Delta area. Thanks. Detectivekenny (Info; Talk) 05:49, February 25, 2011 (UTC)
As a note, his survivor state is non-existent because the area is already controlled by Macau. Lordganon 12:27, February 25, 2011 (UTC)
Thanks for stating the obvious. I want to have a peaceful conversation about the area with the owner. Detectivekenny (Info; Talk) 14:59, February 25, 2011 (UTC)
Did I say that you couldn't adopt it? No. I merely stated that the planned survivor state had turned bust, because given his level of inactivity, Arstar would not notice/find it. Apologies for his reaction, Arstar. Lordganon 15:24, February 25, 2011 (UTC)
Thanks, LG. It's been a while, huh?
But yeah, Kenny, your survivor state couldn't make it off the ground if I'm in control in Macau.
I'd hate to be rude, but I'd have to ask that you don't adopt my survivor state and that you could move your planned state to another area, as even if I gave you Macau there is a large amount of radiation in the way from Hong Kong. Arstar 23:25, February 28, 2011 (UTC)
Not exactly sure what you mean, but okay. I didn't really care what existed, in the Pearl River Delta I just thought it was a shame there were no articles about that area. I'll probably write Hong Kong and Guangzhou, and I might write some stuff in Macau to harmonize. If there's anything I write that you don't like, let me know. But I probably won't start for awhile because of school. Detectivekenny (Info; Talk) 23:33, February 28, 2011 (UTC)
Oh, I meant that the Pearl River Delta is under Macau's control, but I wouldn't mind you expanding on it, but nevertheless I'll keep an eye open for the next few weeks to see the progress. (-unsigned)
Okay, I don't have a problem with that. Thanks for your interest. How exactly do you want to cover up Macau's loss of a majority of its jobs in gambling and tourism? That's what I'm interested to know. Detectivekenny (Info; Talk) 00:03, March 1, 2011 (UTC)
Ah, but how could you "cover up" the employment loss? Sure, some would become fishers or manufacturers or boat-repairmen and such, but Macau, even in its new expanded state does not have the resource or the room for a high employment state. So, we'd have a rough number of 30 to 50 percent unemployment. Arstar 00:07, March 1, 2011 (UTC)
Okay. I'll work that into the article. Detectivekenny (Info; Talk) 00:20, March 1, 2011 (UTC)
Okay. Here's a map which you can veto if you want. Here. Detectivekenny (Info; Talk) 04:27, March 8, 2011 (UTC)
I'm not for drastic size changes so I'd cut it back by 1/3 of how it is on your map. Arstar 02:50, March 10, 2011 (UTC)
I tried to match this. Is it okay if the areas on the map are just "claimed?" I don't feel like changing the map drastically lol. Detectivekenny (Info; Talk) 03:20, March 10, 2011 (UTC)
From what I gather on the China map, the borders would be more like this.Oerwinde 11:25, March 10, 2011 (UTC)
Hmmm. Was the China map created by Arstarpool or based directly off the article? Detectivekenny (Info; Talk) 14:04, March 10, 2011 (UTC)
I created the China map. The article was based on the map.Oerwinde 17:27, March 10, 2011 (UTC)
Okay. I'll have some of the areas like Hong Kong be "partially controlled." I'm not sure about expanding any further to the west than Yangjiang. The people in Taishan speak Toisaan Wa, and what I hear, Cantonese people can understand it barely. When Mandarin starts to die, the linguistic difference would be difficult, especially with perfectly Cantonese people on the other side of the river. What do you think? Detectivekenny (Info; Talk) 23:02, March 10, 2011 (UTC)
Well, that makes sense considering how the map is designed. The dark color is the solid control, the lighter color is areas that are under loose control or basically defer to Macau for leadership.Oerwinde 22:04, March 11, 2011 (UTC)
Okay. My idea is Macau's economy dies but rebounds as a food distribution centre. Gwongjau (Guangzhou) and Hong Kong split into several small clans of which are connected to the Triads. Macau intervenes somewhat but there is still chaos. Shenzhen is basically in the middle. Meanwhile, lands to the east are a bit more stable and rural. The official language is Cantonese, as Mandarin and Portuguese have lost their status. Detectivekenny (Info; Talk) 23:12, March 11, 2011 (UTC)
Apologies for this note - I can't stand by and watch him ignore canon. Kenny, All three of the cities you quote are gone. As in no one left. Thus, there cannot be clans, or anything like it, from there. The official languages of Macau today, and have always been, Cantonese and Portuguese. There is a lot of people that speak it left in the area, and that would not change. Lordganon 04:19, March 12, 2011 (UTC)
I mean the people on the outskirts of the blast zone. For example, take Hong Kong. The blast would have probably beem aimed downtown, in Victoria. That means only part of Hong Kong Island would be within the zone of a pressure of 5 (kg or something i forget) psi. And that doesn't mean total destruction. There's still places like Ap Lei Island, Lantau Island, and the New Territories. Don't try to tell me the areas were rural at the time, Ap Lei is the most densely populated decent-sized island in the world. What I see is the survivors within the 5 psi limit and the people on the outlying areas scrambling for food. At first they will peacefully send firstborns to gather food in rural areas at farms or salvaging scrap in affected areas. However, once Triads and other criminals begin inciting anger among the people, it would definitely cause forms of internal violence. Violence means division, and obviously that would cause the rise of "clans" for lack of a better Chinese term.
As for national language, yes they will be Cantonese and Portuguese. The point I'm trying to make is Mandarin will be dead, English will be dead, and Portuguese is effectively dead. Cantonese unifies the region. 27 years of not applying the other languages would make them dead. Detectivekenny (Info; Talk) 04:57, March 12, 2011 (UTC
Sorry Kenny, but I'd appreciate it if you would NOT change the size of Macau and only work on the economics and other asthetic changes. Arstar 21:05, March 15, 2011 (UTC)
Okay. I'll split it between Macau and "Zhongshan Republic" or something along those lines. I'll add Oumuhn, Toisaan, Yeuhnggong, and Gongmuhn to Macau and the rest will be an extremely precarious semi-survivor state. The maps took five hours. Sorry if I'm sounding annoying, but I intend to do something with the Gwong-Sam-Heung area because there's a ton of potential there. Detectivekenny (Info; Talk) 22:18, March 15, 2011 (UTC)
Kenny, I am going to be stern when I say this but the size of Macau will remain as it was when I created it.
I am currently away from the community but I can trust LG and the rest of the gang to make sure you abide to realism. Remember Hong Kong was destroyed, which would put alot of radiation to the nearby area (and Macau itself, albiet not to much) but keep it small and keep it realistic. I'll come back on Friday. Arstar 22:26, March 15, 2011 (UTC)
For some reason LG got really hyped up over this question of whether Macau can have its capital temporarily moved to another city until 2005 or something, not really sure why. It doesn't go against canon at all, but: am I allowed permission to do this? My stated reason is that severe pollution and acid rain from Guangzhou would cause a decrease in air and water quality that might threaten the lives of politicians. Please reply. Thanks! Detectivekenny (Info; Talk) 20:06, June 17, 2011 (UTC)
Simply put, Arstar, he is attempting to go beyond your permissions, and as you requested, I'm not letting him.
As for his claim, simply put, wind patterns have the radiation and rain going away from Macau, and, indeed, hitting the area that he claims they would move the capital to. He has made somewhere in the area of a dozen assumptions about the matter, all of which on their own are quite silly, but as a whole are ridiculous. And this makes no sense if even one of those is an assumption, yet they all are. Simple wind pattern map - winds in the upper atmosphere, may I add - comparison shows he is wrong on the rain, and looking at a map, along with remembering his assumptions about Guangzhou and how rivers work - and how wrong he is - shows that even if it were possible, such flow of pollution would miss the city completely, going out to sea or ending up at Hong Kong. Again, he has failed to take notice of reality at all in his claims.
Not only that, by the time any of them realized such, the trouble would have passed anyways.
Far as I'm concerned, this is just Kenny being biased against Macau itself and in favor of the entirely Chinese regions inland.
Lordganon 20:31, June 17, 2011 (UTC)
@LG no one asked for your argument. @Arstar entire discussion can be found Talk:1983: Doomsday#Macau. Detectivekenny (Info; Talk) 18:18, June 18, 2011 (UTC)
Pay no attention to that line of his. That is, by far not the entire matter, though I see how he would want you to believe that. And I've every right to comment on things that concern things I've been asked to do, no matter what you may think, Kenny. Lordganon 00:26, June 19, 2011 (UTC)
Celtic territorial claims Edit
Just updating the ol'map. Just give a rough map of the Celtic Alliance's territorial claims, and what it controls, maybe a sphere of influence and I'll incorporate it in. Mumby 18:10, April 12, 2011 (UTC)
Celtic Activity Edit
Hi Arstar. I'm wondering whether you have any plans regarding the Celtic Alliance. Despite being a major regional power, the CA has done, to put it colloquially, bugger all recently (besides the non-canon East British blockade). I think that this is rather implausible and unrealistic; as a large nation it should be acting at least as much as the other British nations, but presently isn't. Please understand that this isn't an attack on you - I fully appreciate you have other commitments that take up time you could spend on the CA.
However, this leads me to my next points: one, with other commitments it might be ideal to hand over control of the article to people with more time on their hands; and two, your commitments are mainly relevant to you (the plurality appear to be in the former US), meaning you wouldn't be able to go into as intimate detail as people with more local knowledge could. Where I'm heading is obvious: would you be interested in handing over caretaking responsibilities to us British editors?
This would be beneficial to the region as it would allow for more realistic progress, both in terms of timespan and local sentiment. It would also free you of at least one of your many responsibilities.
I can fully understand if you wouldn't wish to do this. I, in fact, agree that we should have at least some outside influence in the affairs of the British Isles so that we editors don't get carried away. And I can understand that controlling the CA is something of a prestigious position within the community. However, though I appreciate this, from my point of view you have (recently) devoted little time to the article itself, or the nation's affairs, leaving it unresponsive - and therefore unrealistic, especially in a changing timeline.
To sum up, I ask you to consider handing over the position of caretaker of the CA to either the British editors, or another member of the community. Or, failing that, to at least devote more time to the nation and its affairs. Thanks. Fegaxeyl 20:39, April 12, 2011 (UTC)
Ah! I am sorry I've taken so long to respond.
I don't have much time, but I am agreeing to hand over editing responsibilities to you and whoever else wishes to pilot the article for the time being, although I should be back by July 2nd. Arstar 02:37, May 21, 2011 (UTC)
hey arsar i made a wiki some time ago but i dont know how to create badges for people to win them, i thought you could help thanks Migue235 Founder of ANCW 22:38, July 18, 2011 (UTC)
Australia Article Edit
Hi,
I was wondering if I can adopt your Austrailia (1983: Doomsday) article?Enclavehunter 19:20, October 30, 2011 (UTC)
Okay, thanks.Enclavehunter 03:18, December 3, 2011 (UTC)
Re: Long Time, No SeeEdit
Yeah, I've more or less inherited administrative control, for better or worse.
1983 is still going. New articles have slowed a touch, but we've had no shortage of new editors make proposals in the last few months (now, if they would just finish the blasted things....)
Myself, South, Brian, Fx, Smoggy, and Fed are all fairly active. Oer and a few others a little less so, but they're still around. Vlad and Ben have returned in some form lately, too. A few newer contributors have been sticking around a bit, but have been gone as of late - I figure that they are going to be back when they have time.
Map Games are indeed the biggest thing right now, much to my annoyance.
I'd love it if you came back on some level. Past that, whether you do or not, what should I do with your articles? I've gotten a little pressure about those in the last few months, if you catch my drift.
Lordganon 01:37, December 3, 2011 (UTC)
Yep. The administration of the wiki is now more or less up to me.
Good to hear. I did make an effort to keep your things a bit updated, for all the good I could do.
If you go away again, please give more detailed instructions on what to do with you articles, lol. Would save me a lot of having to deal with lunacy xD
Unfortunately, there's no border or even empty territory between the CR and the new USA. A rejoining is really going to have to be out for the moment. A declaration that they would support rejoining in the future, should it become feasible, would work, however.
There's been a small amount of work done on the Spring, and I know that Brian and South are continuing it. I've done a bit towards it, too, with the crowning bit going to be reflected in the 2012 Superior Elections, and a small massacre in Visalia.
Lordganon 04:41, December 3, 2011 (UTC)
Welcome back Edit
Welcome back, Arstar. Just wanted to say your new additions to California Republic look good. I hope you make good use of your Christmas vacation. The colleges around here get off this coming week, but I don't know about the high schools.
By the way, I've already secured the official union of the USAR to the USA. It's mostly on paper, of course, due to the distance. But radio contact - at least short wave - assures that the new state can communicate with the mainland. I seem to remember that you were thinking that Florida may be of a mind to rejoin the US in some way as well. I'm not sure they'd be as gung-ho as the Remnant, though, because they have made steps toward independence that the USAR never made (being the loyal remnant the way they are).
Any way, it's good to see you back in the fray. SouthWriter 04:55, December 3, 2011 (UTC)
Question About Communication Discussion Edit
Hi Arstar. I noticed you removed the discussion regarding Communication from the main page. It is still ongoing. I am currently assembling and planning to post my research on the subject which I have been conducting the last two months for the group to review. Since it will be important, where should I post it? Thanks.--Fxgentleman 01:55, December 4, 2011 (UTC)
Hi, just wanted to let you know I put my responce to your message on my discussion page in case you may have forgotten that is what I do. Have a good night.--Fxgentleman 05:45, December 4, 2011 (UTC)
1983 Talk PageEdit
Arstar, you really should not have done that. Now I have to go through and fix all of it. Please don't do it again. Lordganon 08:30, December 4, 2011 (UTC)
No, that was not all you did. And yes, you did screw up quite a bit. Lordganon 01:27, December 6, 2011 (UTC)
This is now the third time you've done this and I've had to fix it. Please don't do it again. Lordganon 08:55, January 14, 2012 (UTC)
Brief Announcement Edit
Hi this is to anyone who wishes to contact me that I will not be avaliable throughout the next week as I have mid-terms. I will be avaliable after the 17/18th of December. Arstar 20:46, December 11, 2011 (UTC)
Taiwan-Guangxi RelationsEdit
Hi Arstar, I was wondering what Taiwan would do if they bumped into a communist nation's expedition in 1993 in Jiangxi or Fujian. Thanks
Scandinator 02:17, January 5, 2012 (UTC)
What communist nation is this in particular, one thats already made or one that your planning to make? If its based out of Jiangxi or Fujian, especially Fujian, I would have to say that maybe you should look for another area for your nation as canon. Canon dictates that this was pretty much a disaster area and was under some pretty uncivilized regimes. If its a state based further inland in southern China or another SouthEast Asian state I'm interested in your proposal and working with you but Taiwan would definitely be hostile, maybe not physically but this "expedition" would likely get a staredown from the Taiwanese. They claim all of China sans Tibet already, but southern China is definitely their backyard even outside their official borders.
Nevertheless I'd be interested to hear your ideas and please contact me. I will be posting this on both your talkpage and mine but I'd prefer if we talked in this one. Arstar 04:37, January 5, 2012 (UTC)
Ok, also LG asked me to add in Macau with my questions as you are the editor in charge of it. LG recommended the location to me. I have started work on my Guangxi article. It is near Yunan and claims five of the Chinese provinces; Gunagxi, Guangdong, Hunan, Guizhou and Sichuan. Its communist but moving away from that, when the supreme leader dies the state will become a technocracy. I have loose control over half of Guangxi and Guizhou and part of Hunan.
I need to know what Macau would do if they met this nation's expedition in late 1991? and Taiwan between 1994 and 1997.Scandinator 11:26, January 6, 2012 (UTC)
About harmonizing the articles I'm only going to do the contact and immediate aftermath this week as I will not have much time till the 15th. The "supreme leader" dies of cancer in 1994 though and that allows Guangxi to become a technocracy which is the ideal form of government incorporating capitalism and communism with more of the first.
I envisage an age of mutual co-operation from 1994 and for the future of our articles this year, one of my ideas was unification in mid 2012 and then an invasion of Yunnan in late 2012. But if you do not wish to let go of Macau I will fully understand. Post your proposal here. Scandinator 13:24, January 7, 2012 (UTC)
If you want since you don't have time I will harmonize the articles, thats up to you. The thing with Macau is that I allowed Kenny to work on it as neither I nor Yank were, and he turned it into one of the biggest dramas in the past year by completely changing it from what I had envisioned. I need to go back in and do some cleanup on that article soon, maybe today. The main reason I'm against unification is that Macau is drastically culturally different that of China, and at the time it was still a Portugese colony, thus still had a sizable European and Catholic population most of whom didn't leave until Macau was transferred to China only a decade ago. Arstar 17:57, January 7, 2012 (UTC)
Well, I do not see a problem with a technocracy and Macau uniting especially after 20 years of contact and the fact that Macau has absorbed so much of mainland China and its ways. I have finished my holiday lectures and therefore now have time to work on AltHist. After 1994 when the supreme leader dies the nation becomes a technocracy - the ultimate form of capitalist and communist ideals.Scandinator 22:08, January 16, 2012 (UTC)
I wouldn't exactly describe a Technocracy as the ultimate form of capitalist and communist ideals, its a form of government in which decisions are made by specialists in the field the decision requires. When I created Macau I originally envisioned it as a technocracy but Arstar changed it, so unification in a couple decades is extremely likely considering Kenny pushing it towards a neo-confucian state, which is pretty much half-way to a technocracy anyway.Oerwinde 06:34, February 19, 2012 (UTC)
United States Expansion (1983DD) Edit
Hi, Arstar. I fogot whether you liked messages on your talk page or "in line," so I headed over here. You asked me over on my talkpage about whether it was time to act on the expansion mentioned above (Welcome Back). The answer is simple: I'm ready when you are! Let me know what you have in mind.
Also, in case you didn't notice, I've adopted "Apalachicola" but have only got as far as the info box. That is my "home turf"/"ancestral home"! That section is considered part of "North Florida" (AKA "Gainesville") except for a little bit west of the River. I've mentioned west of the River as being "officially" claimed by the Republic of Florida. I have a bunch of cousins in and around the area being considered.
Sorry about the links - once I got the first one to work (took some doing), I couldn't seem to stop. :-) SouthWriter 22:00, January 7, 2012 (UTC)
Proposals Edit
I wouldn't mind If you would want to adopt some of my abandoned ideas.
Yank 05:05, January 8, 2012 (UTC)
I would love to get back to some of my articles, but Principia Moderni is taking up more and more of my time on the wiki. Whatever you can do to help my articles become graduated would be amazing.
Yank 05:09, January 8, 2012 (UTC)
I admit that "adopting" is not exactly what I had in mind. I think "Co-Authoring", like what we did with Macau, or what I did with Vlad on the various Yugoslavian countries (minus Macedonia), is more like what I have in mind. You tell me the articles you are going to be asisting with, and I will recognize your aid on my userpage. You know, I was inspired to start officially recognizing collaborators when I saw your userpage.
Yank 18:02, January 8, 2012 (UTC)
Celtic AllianceEdit
While I was among the first to say that the British editors should be allowed to edit the article freely, given there more local knowledge, I must protest your note to smoggy.
The British editors have shown several times now that they will, most likely, expand their own nations, and let the Alliance get nothing, despite how implausible that sounds. The interests are in direct competition, so to speak.
You need to keep the article, or hand it off to someone not with opposing interests to it.
Lordganon 07:27, January 10, 2012 (UTC)
I will greatfully accept your offer, however as LG seems to have a problem with it I will put it to the OBN editors that it is run by committee (that way one person cannot take it over and run it in favour of their own nations) and also that any major changes will have to be voted on before a change can take place.
That seem ok to you?
and also you LG, as i'm sure you'll be keeping an eye on this discussion?
--Smoggy80 17:12, January 10, 2012 (UTC)
Ok i've put it to the OBN editors, i've given them till the end of the month to leave any comments (some only log on intermittently), so i'll let you know in early Feb if the OBN editors will be interested in taking over --Smoggy80 17:23, January 10, 2012 (UTC)
That does nothing to prevent the problem. Whatsoever.
Lordganon 19:38, January 10, 2012 (UTC)
Why not do what we did a couple years back and have any changes require community consensus? It used to be a community timeline and now its just a bunch of individual fenced off areas with some stern "NO TRESSPASSING" signs.Oerwinde 09:51, January 11, 2012 (UTC)
Now that, that I like. Lordganon 10:08, January 11, 2012 (UTC)
North German FlagEdit
Hey, I was wondering if you minded me changing the North German flag. The emphasis on Schleswig-Holstein bugs me now that they control large areas outside there, and with their membership in the Nordic Union I was thinking a more nordic flag. I found this one on wikipedia that I liked: Proposed German National Flag 1919 Oerwinde 19:26, January 20, 2012 (UTC)
Since you haven't edited the page in a year, and I've had no response in a week, I'm going to adapt the rules on adoption and go ahead and change it.Oerwinde 04:30, January 29, 2012 (UTC)
Sorry about not answering, but sure go ahead and change it. Arstar 18:59, January 29, 2012 (UTC)
The CA in former FranceEdit
I've made the following post on the CA talk page, see what you think.
Over the past couple of weeks i've been looking at the maps and if the CA uses the rivers to consolodate the boundaries there are a nice set to use, with the River Loire as the southern boundary, and using its tributary the River Sarthe as its eastern boundary with a short land boundary to the source of the Eure River (also used as an eastern boundary) and then follow it to the sea as the River Seine.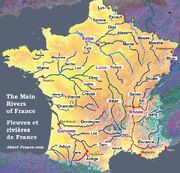 This would also give a solid boundary with Orleans. What does everyone think? --Smoggy80 17:02, January 27, 2012 (UTC)
I'm posting on you page not only because you are still the CA editor but also the Orleans editor.--Smoggy80 17:07, January 27, 2012 (UTC)
To be honest I don't see a reason for the CA to expand more in the Isles or even the slightest bit in France. The common-held misconception with the British editors and the nation-states they create is that the Celtic Alliance is this Nazi Germany-esque out-of-control empire that wants to take over all of Europe but in reality its only laying claims to the Celtic regions of the British Isles and France. You guys say things like "maybe we can beat the CA to this place" or "maybe some of England will remain" but seriously the Celtic Alliance does not care that much about England other than Cornwall and even then once England becomes an organized nation again it will likely give most of Cornwall back.
France is very unorganized in this TL due to most of its editors having left the site but I don't see the CA taking even the slightest bit of France other than what is a Celtic region (which Normandy isn't, but it was the birthplace of the modern English monarchy) so they'd likely remain in the two peninsulas and not officially annex the land between them. Arstar 18:59, January 29, 2012 (UTC)
could you please tell LG about your plans!! (if you haven't already) as he's pretty much took over the CA expansion and the OBN editors have gone along with it, all of Wales with some of the neighbouring english counties was all I was expecting to become the CA but he kept insisting about New London and how it must be connected to the rest of the CA
Plus it was always my intention for the CA to give back the majority of lands seized from Ur Alba (after the Ur Alba war) back to Southern Scotland when it gets up and running--Smoggy80 17:15, January 30, 2012 (UTC)
You are still the Editor of the Celtic Alliance, correct? if you are you may want LG to back off a little because he is starting to act like the articles his and his alone as he is now effectivly saying you can't do what you want with your own article on the OBN page, also if you want me to take over the CA fully let me know as i'm still happy to take over no matter what LG says.
I Promise I won't do anything silly with it like conquering the Nordic Union or anything
--Smoggy80 18:40, January 31, 2012 (UTC)
Wow...I posted a whole reply yesterday and for some reason I must have deleted it. I had around 7 paragraphs but what I was basically gonna say is that LG's authoritarianism has marred the "community spirit" of this timeline and made it impossible to congregate as a group without getting permission from him. It has even been noticed by the veteran Brass members whose names I won't mention back in December when Kenny proposed impeaching him but you can see for yourself. If LG stumbles upon this I sternly request him to cut it out before more members rage-quit this Wiki.
To simplify it for everyone, you will be the primary caretaker. You don't have to consult me for anything feel free to make independent decisions but if something just happens to look fishy or worth bringing up I will discuss it with you or revert it if in the highly unlikely scenario you did have it take over the Nordic Union, lol.
So if you wanted to say, for example, have the Celtic Alliance construct a battleship (just an example) you wouldn't need to consult me just write it in. If I had an idea I would bring it up on your talk page and consider it allowable unless you contest to it. This way we keep the fears of "hometown syndrome" out while still allowing the British editors to keep it involved with what is happening on the rest of the Isles. Arstar 21:03, January 31, 2012 (UTC)
Re: Issy-SnoqualmieEdit
Sorry it's taken me so long to get back to you. I'll add some work to it soon, I do plan on finishing it.
KingSweden 00:03, February 3, 2012 (UTC)
Re:Imperial China and Siberian ManchuriaEdit
First of, I'll warn you that you will not like what I have to say on the matter xD. I believe that it stands to reason that Siberia wouldn't tolerate openly hostile nations anywhere near its borders and with Imperial China so close to their borders, some military response would be given. I already had an idea about an incident that would provoke war between the two countries. This month, there is going to be a referendum in Siberian Manchuria on wether to rename and create a Republic of China between Manchuria and Uyghuristan, brought on by Chinese nationalists. This would fail, but during that day, the greatest attack of Imperial Chinese sympathizers happens. The details aren't important now, maybe a bombing or smaller squads wreaking havoc in the streets. This could then escalate into a war.
Also, I don't know what your stance is on raiding in Korea. The Korea article states that they are basically at the same risk of being attacked by "Chinese raiders". Do you think this might refer to Imperial China? If so, they might have a vested interest in "taking out" Imperial China.Vladivostok 08:49, February 17, 2012 (UTC)
I think the Chinese Raiders in Korea are mostly independent bands in northern Korea venturing south. At least when we were creating Korea that was the idea of the lawless north.Oerwinde 10:32, February 17, 2012 (UTC)
Oh ok, but still, there does seem to be a need, as expressed in the Foreign relations part of the Korea article, to deal with the question of the remainder of Manchuria. What the end result might be- another conquest by Siberia, a newly created state or a return to status quo after any incident remains to be seen.Vladivostok 10:54, February 17, 2012 (UTC)
To be honest I really like the idea of a big war to spice up the timeline :D. I won't look at it as "my nation vs. your nation" but rather would actually be a realistic outcome. My idea is that during an attempted meeting in either Korea, Imp China or the rump PRC with multinational officials an assasination/bombing occurs, like what you said. Rather than outright have Imp China do it I think it should be unknown, buit Siberia automatically blames Imp China and goes to war with them. This upsets a lot of local states which would begin to take sides, bringing in the Republic of China/Taiwan who would likely take the side of Imp China, and Korea taking the side of Siberia. The PRC would either stay neutral or join a side, although they're pretty much hated by both sides so I'm not sure.
In terms of Imperial Chinese-Korean relations, there's not much that the Qin Chinese would want in Korea, and the North of it for that matter, which is likely still lagging behind the southern part. They don't respect the Koreans but they wouldn't raid them either. Thier only justification for raiding Manchuria is to regain the northern provinces, not raiding for the sake of loot and murder. Arstar 21:22, February 17, 2012 (UTC)
Well, I'm glad that you're interested. I have to ask, why would these individual countries (Korea, Imperial China, Siberia and the PRC) meet for a conference. I feel that with my idea we wouldn't have to take the extra step of explaining the meeting, but I don't mind the idea. So, what would this conference be about? Vladivostok 08:50, February 18, 2012 (UTC)
Re Conference: Since the PRC and Siberia both don't recognize Imperial China, and Siberia likely doesn't recognize the PRC, I also wonder about such a conference.Oerwinde 09:04, February 18, 2012 (UTC)
So, any opinion on the points Oer and I raised above? Vladivostok 12:51, February 23, 2012 (UTC)
Ok then no conference. Why don't we stick to the bomb idea then? Arstar 22:05, February 23, 2012 (UTC)
Well sure, we can do that. The whole referendum thing kind of came and went, but that doesn't mean we couldn't write something along the lines of there being so much displeasure with the results that there are attacks and bombings. However, what at first looked like attacks from Siberian citizens turn out to be attacks from Imp Chinese agitators. Or there could be an attack on the Korean-Siberian railroad, making the Koreans try and join the war as well. Perhaps a daring attack on the Vostochny Cosmodrome. There are really numerous places to bomb. Vladivostok 22:28, February 23, 2012 (UTC)
The train bombing is a good idea, but not while the train is in Korea because the Imperials don't really bother them. When you want the attack to occur? And we need to pan out an approximate timeline of the "war" as Taiwan will likely get involved and Jiangsu too if Oer agrees. Arstar 02:30, February 24, 2012 (UTC)
Yeah, I was leaning towards an attack on the railroad as well. However, since the Korean-Siberian railroad would anger Koreans one way or the other, considering that there would certainly be Koreans on the train. And as far as I am concerned, we can have the bombing occur next week. Furthermore, we should probably pick out a name for the war.
Also, I understand that you want to give Imp China a better chance in the war, really, I do, but what would Taiwan and Jiangsu gain with a war? Jiangsu has been recognized by the PRC recently and that country will become one of the most important food importers, which would surpass Imp China in scope. As for Taiwan, I figured that they wouldn't get involved, as you say on the Taiwan page that It is likely that in the future, when the countries' borders meet, the dispute will turn armed. So, when their borders meet, it could escalate. How can Taiwan wage a war so far away from its main territory. I see them maybe giving weapons and supplies, but a full scale war doesn't seem likely to me. Vladivostok 08:24, February 24, 2012 (UTC)
Jiangsu would likely try to stay neutral in any armed conflict. While they're pretty much the most established and stable nation in northern China, they know they're no match for the USSR event with Imp. China's help. The PRC is in no condition to fight a war with the USSR either. As for Taiwan, they have the industry and manpower to fight, but a blockade would cripple them and a war with the USSR while they're fighting to claim mainland china would overextend them. All four would likely be able to keep the USSR out, so the USSR would likely try to make sure they fight themselves rather than unite. If there is going to be a war, it will likely be only with Imp. China.Oerwinde 11:31, February 24, 2012 (UTC)
So, what do you think? Should we go ahead with the war, create an article about it and perhaps move any further discussion there? Vladivostok 09:03, March 3, 2012 (UTC)
If there is a war can I write the page? Tell me the result and length and I'll create the page. Scandinator (talk) 05:13, March 5, 2012 (UTC)
Scan, although I do appreciate your offer, I think I can speak for both myself and Arstar when I say that we, as caretakers of the mentioned nations, would like to write the article. This is not to say that you cannot contribute to the article. In a couple of days, if Arstar does not address what Oer and I wrote, I'll create an article about a war and its causes and we can move all discussion to that article then. There you would of course write about Guanxi's reaction to the war in a section regarding international reactions. Vladivostok 10:03, March 5, 2012 (UTC)
Ok, sure. No problem and I'll be happy to help in any part of writing the article. Scandinator (talk) 08:33, March 6, 2012 (UTC)
So, today I created an article regarding the war. And this is it: Second Manchurian War. It is the second war, as I believe we can consider Siberia's invasion and integration of Northern Manchuria in 1990 to be the first one. So, I think it would be best if we continue our discussion here. Vladivostok 14:25, March 6, 2012 (UTC)
Ok, Vlad is right this is better something that we do since we're the ones who in charge of the nations, but thanks for the offer.
Not to get into role-play mode but I'm having Taiwan as a supporter of IC, not so much to even the odds but Taiwan does not like Siberia for their conquests in Northern China. I will flesh out the IC article to denote the individual towns and villages so that we can make a clear order of which ones will fall first. Arstar 07:49, March 7, 2012 (UTC)
Although I'm not entirely opposed to some help from Taiwan, I think that it has to be made clear that it will not send troops. It helps with supplies, but not as an active participant in the war. Fleshing out what cities are part of Imperial China is a good idea, we'll definitely need that. And feel free to move the discussion to the war page, so that we don't clutter up your talk page with planning the war. Vladivostok 13:45, March 7, 2012 (UTC)
Hey Arstar
Can we attmept to harmonize the articles of Macau, Taiwan and Guangxi? After this it will be almost ready to graduate.Scandinator (talk) 05:27, February 19, 2012 (UTC)
Arstar, Scan's got the idea in his head that canon needs to be... adjusted? so that his proposal matches it. As an fyi. Lordganon 08:25, February 19, 2012 (UTC)
I think what he means by harmonizing it is so both articles mention when they encountered each other. Guangxi's new existance won't affect anything else. Has happened with a ton of articles.Oerwinde 09:49, February 19, 2012 (UTC)
What he's saying, and what he "means" are decidedly not the same thing. Lordganon 09:52, February 19, 2012 (UTC)
Sorry I haven't responded earlier, but Scan I will harmonize Macau and Taiwan to create a more harmonized history between the two nations, but I wil not include Guangxi as that is against the rules to change canon for a proposal's sake. You can then use that unified timeline to reflect on Guanxi's.
I still think that Guanxi should be further reduced in size. These "influence realms" and whatnot are really proving to be bothersome. They were supposed to represent the estimated growth of a nation when they first started showing up on maps and now people use them as a way to make their nations look bigger than they actually are.
Nevertheless, I agree that it is ready for canon if a few minor changes are made. The "vast" surplus of rice needs to go, as does the size of the military. Militaries should always be at most a 2-5% of the population, not. They should be able to communicate with the ANZC as they're right next to the "developed" world.
The biggest offender is the claim of having nuclear weapons. No way. LoN would be over that in a heartbeat.
Those are my only issues, and other than that you have my approval. Much, much bigger chance of graduating than Gansu in its current form. Arstar 20:32, February 21, 2012 (UTC)
The size of Guangxi is only the dark green area. Guangxi holds influence over the remaining areas and they do represent further explansion plans. I fully acknowledge that Guangxi does not control those regions but merely is able to tax and trade with the local chiefs and villages. I,ve changed the "vast" to "small" but this region is one of the most fertile on the planet. The military is only ~3% of the population of the directly controlled areas. Nukes are also gone. Scandinator (talk) 08:32, February 22, 2012 (UTC)
Still...you can mention the areas in specific but I wouldn't have them on a map. Most people percieve that as being part of the territory, which they wouldn't be unless you explicitly stated that they were.
Thats my opinion though. I wouldn't object if you proposed it now, everything else looks good to me. Arstar 20:41, February 22, 2012 (UTC)
Thanks. Btw, I am going to get Guangxi into a major expanding drive to the coast during April-May. Also as Oer pointed out in the above section on Guangxi a union may actually be likely as the states have a similar form of government. Also, might you know who the editor for Sicily is? Scandinator (talk) 08:03, February 23, 2012 (UTC)
I wouldn't do that...that's what a lot of people do when they graduate an article, they keep it small in the beginning and then go into "expansion mode" right after. Mind you that actually setting up any coastal port, even the most basic ones will take at least a year or two.
Besdies Taiwan won't like that like at all. Their claims over all of China might be disputed but they take over more and more of Southern China every day. I warned you that Taiwan wouldn't be on the best of terms with Guangxi as it is but they'd likely be sacked/raided frequently if they continue growing.
I'm not outright saying no, but I'm against the expansion. That's just my opinion though.
Sicily was actually abandoned early on in the timeline but LG, Oer and I are the de facto caretakers as we wrote most of the stuff on Italy. If your planning on adopting it let me hear you ideas first but I'm not sure that its up for adoption. Arstar 22:00, February 23, 2012 (UTC)
Well, I'm part Italian and I would love to have a DD page in Italy... so I was thinking as the Sicily page mentions a lot of discontent with the mafia rule... could I start a revolt in Southern Italy and create a new nation under the protection of Greece? Scandinator (talk) 05:29, February 24, 2012 (UTC)
I'm just going to send a convoy to the coast, set up a port over a small coastal town and annex a part of the Baise prefecture. It's only "major" due to the tiny size of the state but it is minor on any other scale. Also the unification of Macau and Guangxi could also be for military purposes - stronger if Yunnan or Taiwan attack wither part. Scandinator (talk) 05:41, February 24, 2012 (UTC)
Far as I'm concerned, Sicily's not up for adoption.
As for Scan's revolt proposal... No. The discontent is barely present at all in areas now under its control, and the Greeks won;t have anything to do with it right now.
Lordganon 05:51, February 24, 2012 (UTC)
Then is there anything I can do in Italy? Scandinator (talk) 06:49, February 24, 2012 (UTC)
Hey Arstar. You still haven't responded on possible talks to unite Macau and Guangxi. Together they could be a force to be reckoned with and much more safer against Taiwanese agression. Also just to reclarify Guangxi is not a communist nation and their political system is similiar to Macau's. Scandinator (talk) 05:38, February 27, 2012 (UTC)
Whoa, you want to unite Macau and Guangxi? Sorry but the thing is they're totally different culturally and Taiwan isn't really looking at conquering Macau, more the generic Chinese nations like Nanchung or Gansu.
Guangxi's best bet if they want to survive would be to optionally and peacefully cede themselves to Taiwan because they're pretty serious about taking over China. If they want to go to war that's fine but they wouldn't win likely unless they had support from Siberia or something. That won't happen for another year or two atleast though. Arstar 07:20, February 27, 2012 (UTC)
I think merging is actually quite likely if Taiwan doesn't conquer the area. Not any time soon, but say 20-30 years down the line I could see at least the idea enter the public mind. Uniting would make a lot of sense. Governmentally they're similar, Macau's neo-confucian government and Guangxi's technocracy would be quite complementary. Likely wouldn't be any sort of unitary government, more of a federation, but I could see it happening. To clarify, meging the two wouldn't likely happen while any of us are still on the wiki, but it definitely could happen.Oerwinde 08:24, February 27, 2012 (UTC)
VolkstaatEdit
Hey, can I take over Volkstaat? I have some ideas that tie into my Azanian League article. Basically the guy who OTL came up with the idea, who at Doomsday was the commander of South Africa's defence forces, leads an exodus of white refugees from Pretoria and Johannesburg. Oerwinde 10:59, March 4, 2012 (UTC)
Sure, never really did a whole lot with the article. Go ahead :)Arstar 22:18, March 5, 2012 (UTC)
Winneconne Edit
Hey, Arstar, just noticed that your Winneconne article, although deemed implausible here, is a good concept. I wonder if I can copy the concept of the Winneconne state for a project of mine on another wiki, is that okay? Godfrey Raphael 07:04, May 9, 2012 (UTC)
Arstar, that was not in the least what he asked. Moreover, he's already gotten a "no" since it violates our policies on the wiki. Lordganon (talk) 04:22, July 19, 2012 (UTC)
He was asking aout the concept, not a carbon copy of my article. So long as the project is not simlar to 1983DD, I don't see a problem with it. Arstar 18:09, July 19, 2012 (UTC)
Not only was that "project" a copy of DD, but it was definitely not the concept he was interested in - he copied it word for word taking no response as being permission to do it. He violated a rule of the wiki, big-time. Lordganon (talk) 04:53, July 20, 2012 (UTC)
...Wow.
You do realize that almost every single article you've just talked about has major problems, right? And that that is why they are on the proposal page still?
You're not even looking at them before suggesting "stub" status. At least Smoggy does.
Moreover, most are "established" articles in some form by this point. That is, they can't be made obsolete - Iceland is a good case of this - despite not having been worked on in forever and being literally full of problems.
Even articles graduated as "stubs" need some content - indeed, they have almost always had that in the past. They also need to be referenced elsewhere. You continually are suggesting that ones that don't even come close graduate. Makes no sense.
Lordganon (talk) 03:16, July 21, 2012 (UTC)
...Because every time you talk like that you do it about articles with major objections, and ones that are obviously out there? It is painfully obvious that you do this. For pete's sake, even the author of the Iceland article says that there is problems with it, and you want it graduated anyways.
You looked at them on the list - not at the objections or content.
Lordganon (talk) 08:19, July 23, 2012 (UTC)
Yeah i'm still about, just started a new job so been kinda busy for a while, hoping to get back into it more heavily soon--Smoggy80 (talk) 19:24, July 24, 2012 (UTC)
Hi, Arstar. I made some changes in the paragraph about Ocala. I divided it into sentences and changed verb forms to hopefully reflect what you had written. Feel free to revert the change or change whatever you think I misrepresent. I figured it was easier to ask for forgiveness than for permission. Have a great day. SouthWriter (talk) 19:22, July 25, 2012 (UTC)
Actually, most of what you corrected was written by Sunkist. I restored both his map and the paragraph about Ocala, while I scrapped his somewhat confusing "National Government of Florida" idea. Arstar talk 23:45, July 25, 2012 (UTC)
Funny how you can claim it is not mentioned and then go on to edit the article that states it three minutes later. Unless you think that the word "flattened" means something different.
Do some research Arstar. If you'd have done any, you'd have known that that AFB was the regional air defense headquarters in 1983. It makes no sense to not hit it.
South may "know" someone that says it was not a target, but that info also flies against logic.
Lordganon (talk) 06:30, July 27, 2012 (UTC)
...Because it is my map? And that your "changes" were not in the same colors and were highly inaccurate?
You want to "update" a map? Make your own.
Lordganon (talk) 07:32, August 11, 2012 (UTC)
And it is not a community map. It is a map that I made for the community. Note the difference?
You want a map, make your own.
End of discussion.
Lordganon (talk) 01:47, August 12, 2012 (UTC)
Okay, so Ganon does not want to discuss it. However, the map is a continuation of the community map discussed at length here accepted with gratitude from his able hands. It was the understanding that the map would be updated and I do not believe anyone specified by whom. The original map (made before a plethora of articles were added) was indeed a community map. There is no reason why this one cannot be so treated as well. It would help, though, if discussion is made on any changes due to the labor put into it by Ganon. SouthWriter (talk) 18:13, August 14, 2012 (UTC)
Wabash Union (1983: Doomsday) Edit
What do I need to improve on it? I think it can be graduated as a stub.
Yank 23:02, August 17, 2012 (UTC)
The only reason why I don't flesh this article out more is because the Principia Moderni map game takes up 80% of my time on the site, and the other 20% is taken up by Napoleon's World. Yank 23:12, August 17, 2012 (UTC)
USAR (1983: Doomsday) Edit
It's because the Virginians are so cynical about the new "United States" that they believe that the Atlantic Remnant will stay an independant Virgin Islands. They believe that anyone in the Virgin Islands who believe in reincorporation to the United States is an idealistic fool. Their philosophy is that the best course for the Virgin Islands is to remain independant. While they are a part of the ECF they are among equals.
Yank 23:47, August 25, 2012 (UTC)
Lordganon (talk) 20:03, August 29, 2012 (UTC)
RE: West Palm BeahEdit
What did you have in mind for West Palm Beach? Zack 19:56, September 9, 2012 (UTC)
I'll tell you what, start changing it as you see fit and we'll see how it goes. I'm sure there's a way to work it in. Zack 03:14, September 21, 2012 (UTC)
Episode Listing Template Edit
I want to know if you know anyone who can help me get a episode listing template, as I'm working on the page of an alternate history television show. I really want to properly chronicle the episodes wikipedia-style and I found out the hard way that just sticking in coding from wikipedia doesn't work.
Yank 02:15, September 23, 2012 (UTC)
I'm personally a very avid lover of Florida history, and I was wondering if I could adopt the Republic of Florida article from Doomsday: 1983? Bobalugee1940 (talk) 04:13, February 4, 2013 (UTC)
Hey man. I was wondering about the GSWA and North German thingy? I think better communications have been established, so would they atleast have a trading agreement and aid money for GWSA to build more stuff? 

Imp (Say Hi?!) 20:43, February 25, 2013 (UTC)
Hey Arstar. I was wondering if I would be able to adopt the Waterboersland article from you to work on it and make it tie into the New Union closely. I just want to get the area to become more organised and better for future developments. Thoughts? 

Imp (Say Hi?!) 16:26, September 30, 2013 (UTC)