Talk page will be archived every 50 posts.
Hello and welcome to the Alternate History Wiki!

We are a community for creating fictional alternative histories. We hope you will feel at home here and wish you good luck contributing to our ever-growing collection of timelines.

Please start by reading our Guide to Newcomers. It contains links to the important sections of the wiki.
If you're new to wikis in general, see How to Make Articles.
If you're ready to create an article, see Conventions in Use in this Wiki. It explains how to title and categorize your pages, what kinds of content are allowed, and other rules of the site.

Some other helpful reference pages:

Some general tips:

This wiki is for alternate history, not future timelines. What you write should take place before 2022.
All articles on this wiki take the following format: Name of article (Name of Timeline). This helps us know which pages belong together.
To sign your posts on talk pages, use ~~~~ (four tildes). This will insert your name and timestamp.
You can experiment in the Sandbox.

Regards, -- LurkerLordB (Talk) 13:46, May 27, 2012
PMIII North America
(I wasn't sure if you noticed this so I reposted from the archive.) Since I'm playing as a native american nation (the Natigosteg L'nu) in PMIII, I'm a little concerned about colonization. I don't want to go the way of the Mapuche or the Mayans. Accordingly, I'm interested if you would be willing to make the Natigosteg L'nu a protectorate of the UKGA. Basically, you would get preferential trade, military assistance, tribute, and some control of foreign policy. In return, I'd like a free hand to expand into Labrador and, of course, protection from colonization and attack. Krasnoyarsk (talk) 22:55, May 12, 2014 (UTC)
Alternate Nations
What happened to Alternate Nations? Someone else has apparently taken over the game and has kicked me and you out. How this is even possible? Tr0llis (talk) 15:53, May 18, 2014 (UTC)
Alright, look. I wasn;t responsible for Everything that happened in the game. It started when I put my name in the admin box ( I know I should've asked you first ), then I was gone for three days. When I got back, someone made me the de facto mod and completely changed the game, cough, eric, cough. anyways, I tried to revert his edits, but he would always revert mine, I even tried to remove him from admin. I didn't think of checking the talk page. sorry
Fireurchin: Destroyer of worlds

(Do you have a question?) 04:27, May 23, 2014 (UTC)
It's me, eric4e! I'm outdated Blacklist time for 7 days, and now I'm removing from Blacklist and I allowed to play again! Please.
Eric von Schweetz, You Young and Sweet Boy!

Titles of Nobility
We were talking about some things for Days After Chaos, and we've decided upon the standard names for titles of nobility. Different titles would be used in different regions of course, but these are the standard ones. Anyway, I am leaving them here for you to view, and to make a reference of them.
Emperor = Grand President
King = President
Petty King = Lesser President
Prince = Vice President
Duke = Governor
Count = Count
Baron = Mayor
Let me know what you think. Mscoree (talk) 01:09, May 25, 2014 (UTC)
Another quick idea I wanted to tell you about. I was thinking about New Hampshire a bit, and in the White Mountains there used to be a giant naturally occuring face called the Old Man on the Mountain. I was thinking maybe there could be a Germanic paganism-style religion in the mountains that worships nature and makes pilgrimages to the face. They would make pilgrimages to the great temple on the mountain, sort of like how Norse once pilgrimaged to Temple at Uppsala. Mscoree (talk) 14:13, May 25, 2014 (UTC)
Hey, I have made my nation, can you come on chat? I want to talk to you Local Mafia Boss (Talk) (Blog)
Days After Chaos
So I'm creating the
Redlands
region and the
Eureka Pact
(both in the area) so I thought we should colaborate a bit. I made a map of hf my stuff + yours:
Kurt Cobain's Haircut (talk) 01:56, May 27, 2014 (UTC)
I created a newer map with a slightly-larger Grizzly Pact and several city-states and city-state clusters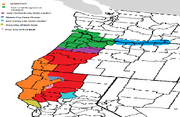 . I won't be contributing very much over the next week or so so
here's this
that I invite you to get started on (I'll add to it/edit it another day).
P.S. I totally fucked up the position of tbe Shasta cluster on the map and it should be called the North Valley Cluster, not East. Kurt Cobain's Haircut (talk)
Kurt Cobain
So I was thinking that in the Duchy of Seattle (or whatever it will be called) Kurt Cobain is born, and ends up being an almost Jesus-like preacher who travels up and down the West Coast, and would be spreading the faith of the One, but with a more Buddhist twist on it, and it would be called Cobainism or something. Kurt Cobain's Haircut (talk) 15:41, June 18, 2014 (UTC)
Resumption
I was just wondering if you'd like to resume working on the Pacific Northwest with me in Days After Chaos, Kurt Cobain's Haircut (talk) 04:06, November 4, 2014 (UTC)
Hey...
I would like to apologise. I don't 100% remember last night, because my memories beyond Midnight are really hazy at the best of times, but I remember being rather rude, and I'm sorry. Local Mafia Boss (Talk) (Blog)
eric's signature
okay, I understand, It won't happen again
Fireurchin: Destroyer of worlds

02:26, May 28, 2014 (UTC)
Hispaniola Population
Bf, would a population of 1.1 million be too high for Hispaniola in DaC? I used a medieval population calculator with the island's area and density, and came out with that population size.
Vivaporius: "I don't need a slogan" 23:52, May 28, 2014 (UTC)
An Alternate 1992
You're invited to join An Alternate 1992 Map Game, your approval for taking a moderator position is guaranteed. Kurt Cobain's Haircut (talk) 23:53, May 28, 2014 (UTC)
Fellow Centrie,
I have codified the beliefs of the Centrist Party here. Please, please, please spread this link around. It has a tutorial about Wiki Politics, our mission, goals, and an action plan, the history of our Party, and what makes us different as a political party.
If you have a desire to run for President, please say so on my talk page. The leadership of the party will then assess the slew of potential candidates and make our determination.
Thank You,
Reximus | Talk to Me! 07:18, June 8, 2014 (UTC)
RDE
Have you united the "British Tribes", or not? Local Mafia Boss (Talk) (Blog)
Chat? Local Mafia Boss (Talk) (Blog)
Your new American tribe
Hey just an FYI DO NOT expand south. I will pretty much have to wipe you out. The Colony ive got there essentially claimed most of the area South of You and i really dont feel like warring/knocking people out of the game. Cookie is in your neighborhood thats about it, but please lets be civil and respect some claims here The Wings of Freedom #FP
(Talk to Me)
DAC: New Hampshire
Hey I just wanted to tell you about some of the work I've been doing/plan to do in New Hampshire for Days After Chaos. I'm going back north soon for a while so I figured now would be a good time to get some ideas down and to tell you what's going on. Writing out my ideas like this also tends to help me organize them, so here it goes.
I was thinking that during the chaos a large amount of people would flee urban areas in the Northeast, with New Hampshire being a popular place to flee to. This gives it a higher population and gives me a bit more to work with. This will also probably lead to some conflicts between natives and refugees.
Around the end of the chaos the religion of Granite Paganism rises up, which is the worship of the Great Stone Face, mixed with aspects of nature worship, local beliefs, and inspired by Germanic/Norse paganism to a degree. This religion eventually becomes popular in central New Hampshire.
Granite Paganism spills over into the Lakes Region, causing religious chaos and conflict among the many different nations there. I plan to have loose equivalents for the OTL Hussite Wars, Schmalkaldic War, and lastly the Thirty Years War, which should lead to some interesting medieval style conflicts.
Eventually some sort of encounter between the central people and the southern people (Manchester, Concord, Nashua) who have most likely converted to Unionism due to their proximity to Boston.
Eventually some sort of conflict between New Hampshire nations and New York nations, probably in Vermont (because Yankee and Red Sox fans will never find peace haha).
Eventually some sort of contact/raids from the Viking-type nations around the Great Lakes. I figure New Hampshire would be the farthest extent to Great Lakes raids.
For now I am adding history to this page until I have a proper place to put the content, just to get things started and organized. I will try to add some more over the next few days/weeks. Let me know what you think. Thanks, Mscoree (talk) 19:27, August 6, 2014 (UTC)
Unrelated, but would you mind reading my proposed changes to the rules? Basically I'm wondering if we can change some things that Reximus added to the rules regarding categories and templates. Not to be high maintenance or what have you (haha) but I'd find it a bit easier to work with those changes amended. Thanks, Mscoree (talk) 04:39, August 7, 2014 (UTC)
Also Edge and I have been thinking about New England as a whole. We're thinking that toward the end of the Chaos period the region of New England will be loosely and briefly united, before collapsing into the many nations it is today. Right now I am writing the history of its formation, with an Alexander the Great type character, and upon his death the empire will collapse. Here are the pages I've been working on so far in regards to this idea:
New England - A general page for the region of New England, summarizing its history and listing all nations present.
History of New England - Page where I am writing the history of this unified state and am going to write all the events for the area most likely.
Grand Presidency of New England - Page for the nation Edge and I are working on.
We're still fleshing out the idea, but let me know what you think so far, especially of the history of the region. Also a note, when I say unified, I'm mostly talking about the important stuff, not 100% of New England (Probably the southern coast of Maine, southern New Hampshire south of Concord, Massachusetts, Rhode Island, probably about half of Connecticut, and maybe a slice in Vermont to round out the border). I want the border to look natural and not just be the exact boundaries of New England. Mscoree (talk) 16:25, August 7, 2014 (UTC)
Glad to hear your thoughts, and welcome back.
You make a good point about the rivers. I'd say that Nashua, Concord, and Manchester will be particularly devastated and contested areas, sort of like Boston but on a much smaller scale. The Merrimack River for one will have a big effect on the conflict in these cities I'd imagine. So far I've wrote a bit so far about this "upcountry-downcountry" feud as you described it, and will be sure to add more in the early years. So far I thought a distinct culture would arise called Bay Culture, which is basically the people living in eastern Massachusetts, southern New Hampshire, and the southern coast of Maine. This culture arises through the conflicts and mingling of the natives and the refugees, who manage to carve out some stuff through conquest early on. From what I have so far Nashua for one will be conquered by a Bay Stater tribe during the chaos for example. I forgot about Quebec, and that's a very interesting idea. Perhaps some sort of push into Maine and the north from Canada will lead to some interesting conflicts.
As for New York that is all yours, although I did write of a few small references. Particularly that there is a warlike nation along the Hudson River that spreads into the Catskills and then western New England, which will probably collapse early on. This nation fails to expand south into New York City after failing to successfully siege West Point, which here is a highly coveted fort, and launches a semi successful invasion of Connecticut, which in turn starts a succession crisis in Danbury (see the History of New England for the details). Oh also I hinted toward Grover Cleveland being a wannabe warlord in New York City before his untimely demise, and of course said that the city itself becomes a clusterfuck. As for the Vikings, I know Tr0llis signed up as their caretaker on the claims page, and from what I understand he has some off wiki notes. I will ask him more about it soon. Thanks, Mscoree (talk) 00:42, August 14, 2014 (UTC)
If you have a really good name maybe we can change it, but at this point Days After Chaos has so much established infastructure that it would be hard to move. Plus if people start talking about this seemingly new timeline the hype train starts up all over again. Mscoree (talk) 01:45, August 14, 2014 (UTC)
Iroquois
Well, this is awkward... So in PM3, I see you are the Iroquois. Well, the Iroquois are currently leading a PU with my nation due to some complicated relations. Reximus | Talk to Me! 06:15, August 8, 2014 (UTC)
He means personal union, but don't worry because that's completely false. Mscoree (talk) 01:32, August 14, 2014 (UTC)
Invite
Hey Bfox, it's Saturn120, and its nice to cya back here on the wiki. As you might not know, is that I have created a map game that will start on September 1st. The game is called The Second Age of Imperialism, and I am looking for people who can help me support the game long term. Since you are a great contributor and map gamer, I am inviting you to play the Second Age of Imperialism as the United States of America or any other invitation only state. If you have any questions about the game, please message my user talk page or Reximus55, as my iPad will not let me login to wikia.
Co-Head Mod, Saturn120
I woud like to discuss these matters more on chat. FOR THE GLORY OF THE PARTY! 17:50, August 16, 2014 (UTC)
The Old Boar Suffered
I saw you were working on a page for The Old Boar Suffered. Your help is very much appreciated, and hopefully we can figure out what's happening in Ireland. Anyway, here's a work in progress map of the Isles so far. I will keep working on it. Thanks, Mscoree (talk) 22:38, August 19, 2014 (UTC)
I added the second version with Ireland added. Let me know if anything needs to be changed. Also let me know what you think of the colors, because I am thinking about changing the color scheme to something else. Mscoree (talk) 15:52, August 20, 2014 (UTC)
I like anglicizing the Irish names, but I'm not sure about the Norse. For one there aren't many equivalent names, unless you use modern names, or literal translations. Personally I'd much rather see Suðreyjar than Hebrides or "Southern Isles". Either we make the rule that we have Norse for Norse and English for Irish, or we have English for both, but I think it is fine how it is. As for the colors, having each nation a different shade was something I was considering, and I will try it out. Everything else is just stuff I forgot, so I will fix that. Thanks, Mscoree (talk) 02:21, August 21, 2014 (UTC)
I recently wrote up on paper a few ideas I had for The Old Boar Suffered as a sort of outline and I wanted to get your opinion on a few things. Firstly I have Ireland being conquered and divided a number of times. Do you think it is plausible for Ireland to be conquered? What would the timeline and circumstances for that be if Scotland or England wanted to do so? My next thought was, although I really would like to see the Norse religion flourish in this timeline, for every scenario I think up it seems it would be a lot more plausible for the Norse to eventually convert to Christianity. I have planned a number of religious wars for the first few centuries, but I think had some point it just has to happen. I mean if Scandinavia proper converted at some point, I'd imagine it would happen to England too. What are your thoughts on conversion? Mscoree (talk) 15:04, September 13, 2014 (UTC)
If you're not busy, I have this idea for OBS I wanted to share with you. I think I finally figured out how Denmark will conquer England through some delicate royal marriages, and I'd like to tell you about it on chat. Let me know if you can come on and I'll tell you all about it. Thanks, Mscoree (talk) 20:42, September 27, 2014 (UTC)
CoS Graduation
That would be awesome. Would the Defense force page be acceptable for graduation as well? Daeseunglim (talk)
No asked any such thing, Bfo. Reverted. Lordganon (talk) 12:19, November 17, 2014 (UTC)
ASB - Environmental
Dear Sir, I'm just wondering, why did you label my timeline ASB? Unless you have substancial evidence that it is, I request you revert your decision. As for my evidence for why it's not ASB: 
Land Bridge between India and Ceylon
Again, there is almost no reason as to why the timeline is tagged ASB for Adam's Bridge, so it must be because of the lakes in Africa, correct? Those lakes exsisted around the Holocene time period, around 9000 BCE. Now I do admit I know little on how these lakes went; but my request still stands: provide counter evidence or remove the ASB tag, please. If you can, talk about this in chat. 
Respectfully,
JoshTheRoman (talk) 15:24, October 19, 2014 (UTC)
Sorry
Sorry for posting the Lenny Faces in chat. Can you unban me please? It's fine if you don't. Bye, Upvoteanthology (talk)
Thanks, and sorry again for all the commotion. Upvoteanthology (talk)
This is a chat ban repeal for Nlenhardt, because i had a sock puppet account used for joking purposes. I was not aware of this wiki's policy on sock puppet accounts until i was banned from the wikia's chat. After i was banned i procceded to look for the chat rules to check over all of them, I could not find them but i was made aware of their existence. I checked over the Main page of the wiki and they were not there, i checked in the search bar on the wiki for them and i could not find them. I asked 2 other members of the wiki if they knew where to find a page for the rules or if they even knew it existed, both didn't know where to find it. If i was made aware of this policy then i would not have used a sock puppet account, I feel it should be easier to check the chat and wiki rules. The joking I used the sock puppet for was fake suggestion for my self to be a chat moderator. I feel that my chat ban should be repealed because of the difficulty for finding the rules for the chat, and for it being used for a joking purpose. Nlenhardt (talk) 03:55, November 16, 2014 (UTC)
Verdigris and 1983: Doomsday
Definitely willing to aid u with the page, if u can give me some background information on where u want to go with it. I could do economy, military, and foreign relations. Dunno about my nation being graduated b/c LG reverted it back to a proposal. Thanks though for ur help!!! Daeseunglim (talk)
Response to Apology
Thank you, for your apology, and I understand your intentions.
Cookiedamage (talk) 00:16, November 19, 2014 (UTC)
Timeline
Hey! I saw your blog post, and I was thinking...
This wiki has very few successful Community TLs- the obvious and most successful one, of course, being 1983:DD. A large part of the reason DD is so successful is that it was written by a group of extremely dedicated editors who set the bar for plausibility and canon very high- as a result, the only people who were able to enter were those who could write well-written and plausible articles.
The issue with newer ones, like YS:36, is that we didn't get enough of those dedicated editors, and we also put in place this ridiculous mod system that- while it was intended to regulate the less plausible users, instead ended up imposing their will on how the TL went, thus scaring off the dedicated users.
So what I'm thinking is this; let's you and me compile a list of a few good editors who we both trust, and then invite them all to end. A sort of collaborative TL, with 10 or so users, and without any silly mod system.
What do you think?

   The center is collapsing, the right wing is retreating; situation excellent, am going on attack!  23:21, December 13, 2014 (UTC)
I am not Fed but I will sign up.
    SCRAWLAND INVICTUS || REX IMPERATOR   20:50, December 14, 2014 (UTC)
Re:Knightfall
I am very happy to be invited to Knightfall timeline. However, I will considering to join it since I am little busy now on my college and almost left no time on this wiki, even to write my own timeline articles. I hope I will have a free time next week so I can monitoring the progress of the timeline as well as find more materials on the internet.
Merry Christmas and Happy New Year to you :)
FirstStooge (talk) 05:19, December 15, 2014 (UTC)

RE: Knightfall
I am honored to participate. I look forward to contributing to this new timeline.FOR THE GLORY OF THE PARTY! 09:05, December 15, 2014 (UTC)
Same here man. Let us see what happens? 
Imp (Say Hi?!) 11:26, December 15, 2014 (UTC)
Hey, I saw that you created the England page in Knightfall. I was wondering I could help with or adopt the page from you.
    SCRAWLAND INVICTUS || REX IMPERATOR   21:39, December 16, 2014 (UTC)
Bfox, not that I have an issue with Rex, but it isn't fair that we should add him after making Upvote be elected in. We need to give him an election.

   The center is collapsing, the right wing is retreating; situation excellent, am going on attack!  00:57, December 19, 2014 (UTC)
Yep, my bad, he explained after I left this message. I thought you JUST added him.

   The center is collapsing, the right wing is retreating; situation excellent, am going on attack!  00:47, December 20, 2014 (UTC)
Secret Santa Giveaway
If you are being contacted it means that you won a free game in the Secret Santa Giveaway. To redeem your free prize reply back to me with your steam username, email, or some other form of contact information, or find me on chat as soon as possible.
Also if you have not already done so, make sure you send your gift to your designated target.
Thanks, Mscoree (talk) 00:06, December 24, 2014 (UTC)
Is it possible for me to join Knightfall? I want to make a battle about Irish Mecrenaries who fight the Mongols. And die. I can also help with the spelling. Spartian300 (talk) 19:39, January 2, 2015 (UTC)
What do you mean by show you? As in, make a page for it? Spartian300 (talk) 09:37, January 3, 2015 (UTC)
I would gladly let you play as the Dominion of Argentina. It's a fairly large nation, garunteed protection by Britannia.FOR THE GLORY OF THE PARTY! 19:28, January 4, 2015 (UTC)
Quietly into the Night
The Game has started please post and enjoy the game The Wings of Freedom #FP
(Talk to Me)
Would you mind fixing Tech's turn in Diversa Pars? He did some stuff which coints as ASB, such as forming the USA when it formed in WW2, and Uruguay. Spartian300 (talk) 10:27, January 17, 2015 (UTC)
Before you make a decision, I'll have you know that Upvote approved and found the turn to be okay. And Spar. Why do you have to be a crybaby? You could just adapt, you know.

Hail Sean! (Tech can into talkpage?)
10:36, January 17, 2015 (UTC)
No Great Wall
Hi Bfo! You're invited to join this relatively open timeline No Great Wall. Feel free to add general, non-important global events or add miniscule non-meaningful events in-between major events.
Hey, can I be part of Knightfall, I might not have a lot of Alternate History experience or edits, but I am really interested in both Medieval Europe and the Mongol Conquests. Just a thought.
KhanTonto (talk) 23:49, April 8, 2015 (UTC)KhanTonto
Thanks!
72.171.192.122 00:17, April 9, 2015 (UTC)KhanTonto
AvAr
Canadian Dip': We offer a trade deal, NAP and some fishing boats to Ireland.The River Nile-2 (talk) 15:58, April 25, 2015 (UTC)
Grand Union
Hey, please don't edit pages that are already finished. Thanks, Upvote.
YouTube Channel
Understand, I've been pretty busy myself lately. When you get time and if you are ever interested in collaborating, let me know. Mitro (talk) 21:14, May 21, 2015 (UTC)
Verdigris
Hey, I've been trying to help some of the other contributors get alot of their old 1983:DD articles up to speed for graduation and I came across yours. Overall it seems pretty doable but not without a recent history and interactions/contact with nearby states (territory claims might be a bit of stretch, depends how realistically the borders can be held. County lines aren't always the best for the job of making borders) If you can get these in I think it's ready to be looked at asap for graudation. Arstar talk 03:07, August 25, 2015 (UTC)
The Great Lakes
I intend to get this going again, I was wondering if you're still interested? FP(Hand of the Imp) 20:01, September 26, 2015 (UTC)
Okay good good, we can get started on it soon once we get the numbers up a little, drop any ideas or anything on the talkpage. FP(Hand of the Imp) 10:21, September 28, 2015 (UTC)
Days After Chaos
Hey Bfox,
Seeing that the reforms will most likely pass the TSPTF, perhaps a reboot of Days After Chaos isn't that far out of question? I know that there'd need to be something to reboot the wiki, and I think this may be a good timeline to think about basing a rebuilding project over.
Regards, Sat (Talk to me!) 21:10, January 15, 2016 (UTC)
Re: Great Lakes
Hey Bfox, the project we were discussing a couple of months back, The Great Lakes, has kinda failed to get off the ground due to my general inactivity and lack of organisation. So in attempt to revive it and tie in with wiki reforms, I've decided to convert it to a community timeline (it works better than the previous idea anyway). So I know you might be busy with reforms and all but if you're wanting to contribute just post on the talk or message me or whatever, you know the drill. If you don't want to, that's equally okay.
I remain,
FP(Now 10% edgier!!!) 11:43, January 31, 2016 (UTC)
Okay great, well we aren't going to develop the timeline just yet, but I'm going to open a discussion thread in the next coupla days where we can plan and discuss ideas, so look out for that. FP(Now 10% edgier!!!) 21:07, January 31, 2016 (UTC)
New World Order
Bfox,
Apparently Candy is making concerted efforts to improve the page. I think we should reassess how it meets standards now. I would like to thank Feud for making Borealia possible 00:11, February 2, 2016 (UTC)
Thanks for adding Categories!
Thank you for adding those categories to my page! I wrote it on my phone and just couldn't get my browser to comply. I just hopped on my desktop to add them in and saw you'd done it. Thanks again!
PMIV Diplomacy
Hey, I'm England in PMIV and I definitely think we could help each other in the game. Given how we've worked so well together in the past, I believe this will go very well for the both of us. To sum it up, I will refer you to this video.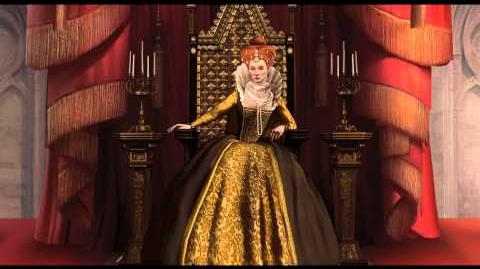 Kind regards,
Oliver Crimwell - Lord Protector of the Wiki 19:57, July 10, 2016 (UTC)
Celebrity
Well, at least they're using it for something. Darnit Ace.... -_-


Vivaporius: "I don't need a slogan" 21:10, July 13, 2016 (UTC)
Re:SSC
Sure sure, glad you're joining in, I look forward to it:) FPNow 10% edgier!!! 10:03, July 28, 2016 (UTC)
Hey Bfox. Sorry I didn't get back to you sooner (I was at a summer program for my university where they took all our cell phones to make us bond, and my flight back was subsequently delayed, but that's a whole nother story). The name of the program is the United States Senate Youth Program, its for juniors and seniors in High School, and its determined on a state-by-state level. Here is some information on selection. Furthermore, you must be in a student body position or an appointed/elected state-level position to be accepted. I wish you the best of luck, and please let me know if you make it!
Reximus | Talk to Me! 02:34, July 31, 2016 (UTC)
Warning from Future
TFOE and Future have been threatened of Attack. We are notifying Althist and ConWorld to stay vigilant over the summer as the User X-Caliph planns attacks against Future and TFOE, as it might spread to Conworld and Althist. NewHorizons123 (talk) 04:36, February 13, 2017 (UTC)
Knightfall
Dear Bfoxius,
As you were the original creator of the Knightfall Timeline, I would like to request you for adoption permission. Under terms, I will keep all original content and do my best to retain the collobartive nature of the project, however all will be open to contribute provided guide lines are followed.
Thank you for creating this timeline, and consideration adoption
Stepintime (talk) 12:06, September 8, 2017 (UTC)
Thank you for your acceptance.
I agree that the timeline was stunted by the exclusive policly, I will open the timeline up to all to contribute, provided editoral guidelines are followed. I think the whole point for places like this wiki is to be inclusive.
Stepintime (talk) 21:13, September 23, 2017 (UTC)
Hey there again,
I am working on Knightfall,
if you care to I would welcome you to come back and see my efforts to renovate the place, if you have any suggestions let me know and Ill take them into consideration.
Stepintime (talk) 01:54, January 26, 2018 (UTC)
Thanks again for orginally creating the thing.
Verdigris (again)
I know it's been a year since you were last around, but maybe you'll see this. I'm interested in adopting the 1983DD page that you wrote up as a Proposal even longer ago, Verdigris (1983: Doomsday). I'm interested in re-imagining the politics of it so that it's more clearly a hardscrabble frontier town, with very little civic life to speak of. Something like Cimarron (1983: Doomsday), a neighboring survivor state that's likewise somebody else's old proposal that I reworked. For Verdigris, I am imagining a more militaristic version of Cimarron - since the military is the aspect of it that you did the most work on. Let me know. I'm interested right now in clearing out the backlog of old Doomsday proposals, as well as more specifically doing updates of western North American recent history. Benkarnell (talk) 00:23, 3 November 2020 (UTC)
Nice! I'm so glad you approve. I'm actually on a break from the wiki for a couple of months, so I'll only respond partially. To further explain what I was going for with Verdigris, I wanted to sort of challenge the division between virtuous Survivors and evil Warlords. I think that most places would be under some form of military or police rule for a time after 1983. And those officers who stayed in power would need to do something to maintain themselves, not just do cartoon villainy. So Verdigris was an attempt to look into what a "warlord"-led state might look like, some years on.
As for additional changes, while I'm inactive I certainly won't insist that you don't make any progress on your own page, so you can probably just go ahead. Once I'm back, yes I suppose I'd like to discuss changes, but I'm pretty easy with that kind of thing. I just want everything to stay plausible and consistent. Welcome back! False Dmitri (talk) 22:07, 17 March 2022 (UTC)
Help?
I'm having trouble thinking of a POD that happens in the Paleolithic era that causes the entirety of human history to be completely different. I'm thinking of something where maybe humans just spread around the world differently but i'm not sure what the exact point where it diverges would be. Can you help me come up with an idea?