Hello and welcome to the Alternate History Wiki!

We are a community for creating fictional alternative histories. We hope you will feel at home here and wish you good luck contributing to our ever-growing collection of timelines.

Please start by reading our Guide to Newcomers. It contains links to the important sections of the wiki.
If you're new to wikis in general, see How to Make Articles.
If you're ready to create an article, see Conventions in Use in this Wiki. It explains how to title and categorize your pages, what kinds of content are allowed, and other rules of the site.

Some other helpful reference pages:

Some general tips:

This wiki is for alternate history, not future timelines. What you write should take place before 2021.
All articles on this wiki take the following format: Name of article (Name of Timeline). This helps us know which pages belong together.
To sign your posts on talk pages, use ~~~~ (four tildes). This will insert your name and timestamp.
You can experiment in the Sandbox.

Regards, Monster Pumpkin (talk) 01:24, October 5, 2019 (UTC)
AUC 2550
I did not know that.
Bil Mesa, AZ
EoGuy99 (talk) 20:00, October 15, 2019 (UTC)
Terra Cognita
This is a really interesting new timeline, and what I like most of all is the way you present it. Starting with cultural details and a glossary makes it an enjoyable reading experience.
These barnstar awards never really caught on, but I'm back on the wiki after a long break, so I'll try bringing them back.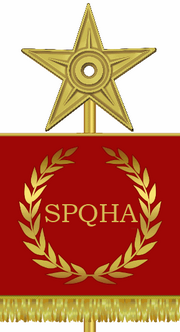 Interesting and fascinating
Very Interesting and fascinating your ATL. Keep on the good work and ideas. --JorgeGG (talk) 01:44, June 13, 2020 (UTC)
Carthage
I really like terra cognita but
Why does Romania (Roman Republic) not have Tunisia and Carthage among its territories? from what I saw in Carthage the predominant religion is Hellenism
Doesn't there exist in the world of Terra Cognita a political movement or something to bring the Romans back to Carthage under their power?
- Bastian296
---
Reply:
Thanks for your interest in my history!
Carthage escapes Roman control to fall to the Vandals who then lost it tot the budding Islamic empires, as in our world. Rome, in this timeline, did indeed retake it however. This would not last and Rome would lose control of Carthage and the surrounding region again (known as Africa). 
Rome lost the area for good by the late 2100s (1400s our time) to the Afrasiyab Persian realm. 
Rome would not regain the area but the idea to retake it, part of the Roman psyche, would linger with Romania into the 2630/40s (1880s our time) with the rise of the so called People's Empire. The Great Eurasian War would finally quash these ideas of irredentism and usher in a more modern age where geopolitical ideas begin to fade. The Global Order War that followed was the nail on the coffin to the idea for good and had resulted in the notion that lasts to today. 
As a result, the idea of retaking Carthage or any other location is a fringe thought held by some idealists. Perhaps comprable to modern Italians wanting Dalmatia or French seeking Algeria or maybe closer to a Briton seeking Canada and Australia reunified as Empire. Some may have the thought but it is by no means mainstream. 
600 years of Carthage being away from Romania has resulted in. Decidedly distinct culture and language, even as they share a religion. This is much like today's Italy to Spain for example.
Basically there is little to no irredentism in Romania, and atop this the Carthage/African nation has been independent for too long and is too distinct for the Romans to even consider it a lost part of their country to seek the idea of reclamation to begin with. Empire building faded in the early 1900s to boot. The commonality of religion between Romania and Africa (the country with Carthage) is relatable to Italy and Portugal both being Catholic. Kinship but no desire to unify because of it - so goes with Romans and Africans in this timeline.
Hope that helps!
- DosDragones
It is basically like the nostalgic feeling that the Greeks have for Istanbul
Does the people of Carthage have any resentment towards the Romans? or do you see them as a brother country? and finally in terra cognita there is human cloning and robots? thanks for answering
- Bastian296
Bastian, very similar to the Greek nostaliga for Constantinople/Istanbul. In fact there is likely a good number of Africans (this being the name of the country Carthage is in in this timeline) who would welcome joining Romania, even if not a huge number, it would seem like a neat idea. So very much the two are brother countries and actually have very warm relations, held for a good long time now.
Terra Cognita does not feature cloning nor robots - they are perhaps only a slight bit ahead of Our World in this arena. Some parts of the world might be 5 to 10 years ahead, so self driving and medical field ideas have outpaced Our World somewhat, use of drones, bioprinting in the medical field, better parts for aumptees, etc. But further tech - robots and the like - are more akin to Our World.
-DosDragones
Egypt, Africa, Greece, Persia, Meshico
Hello, are you going to add more information to the pages of the countries of Egypt, Africa, Greece, Persia and Meshico? Would it be nice to have more complete information on those countries in your Terra Cognita story?
Reply: Hello. I do intend to add detailed information for these nations you mentioned. TC will be fully filled with information, including most - if not all in some capacity - of the world nations and people. There is no timeframe for completion however, as I am working casually on a second project as well. Eventually they will show up though!
thanks for your interest!
DosDragones (talk) 15:42, October 9, 2020 (UTC)
Stirling Award nominations
Benkarnell (talk) 21:01, 14 October 2020 (UTC)
Congratulations! Benkarnell (talk) 16:49, 26 October 2020 (UTC)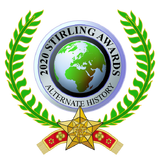 Thank you all so much! This was very unexpected I am incredibly humbled and inspired by this community! Thank you! DosDragones
Featured timeline nomination
Congratulations, your timeline (Terra Cognita) is just nominated to be a featured timeline! --- FirstStooge (talk) 17:02, 28 November 2020 (UTC)

Congratulations! Terra Cognita has unanimously been voted a Featured Timeline. It has become one of only 28 fictional worlds to receive this honor.
I also see that you took my suggestion for Template:TCOG. I appreciate that. As the latest Featured Timeline, an introduction to the setting will appear on the Main Page next month. (edit) I've prepared the page at Template:Featured January. It's a condensed version of the Terra Cognita portal page. Feel free to adjust it, provided it's not too long. Benkarnell (talk) 01:22, 14 December 2020 (UTC)
Thanks for the recognition, it is greatly appreciated and encouraging! The condensed featured page looks fine by me, thanks very much. DosDragones
Nomination
Benkarnell (talk) 02:13, 3 January 2021 (UTC)
Congratulations!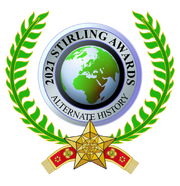 I am once again humbled and very thankful. Many many thanks to the community! DosDragones (talk)
Judea (Terra Cognita)
i am jewish, and i can help you with judea in your timeline if you want. if you would like me to help you, then please tell me. JH019596 (talk)
Hello and thank you for your interest and your offer!
I am very much open to ideas and expertise, certainly. I only ask that any edits to any pages not be done, but ideas, information, and so forth, can be left on Talk Pages or TC Discussion Page, etc. A good example is how a Russian user suggested a name change for the two 'Rus' states, which I found informative and implemented. My knowledge is limited to Europe and even then more specifically to Romance states, reflecting my actual background in real life. So all areas outside of this I welcome the help! Dieua-Artio (talk)

I am proposing a page for Judea. Here it is: Judea (Terra Cognita) JH019596 (talk)
Thanks for that. There are an array of issues however: the layout I would like to flush with other nation's design and appearance for example. Also, the history of Judea in TC is quite different. For example, there is no, nor ever was, an Ottoman Empire. There was no great return to the land of Israel because Judea maintains in existence for most of history in Terra Cognita. A Zoroastrian Persian Empire maintains a Jewish Commonwealth (an event based on actual Sassanid plans) which results in a long lasting Judea since the late Classical period to the present, largely unbroken. So there is also no massive Yiddish presence nor return (likewise, any and every person from our actual world does not exist. Images of real people are used merely as reference points to what people(s) might look like, but all names and backgrounds are changed across the board). So this Judea is essentially Mizrahi by the vast majority, while most Jewish peoples in say Frankia (the closest realm to OTL Germany) remain there with a budding culture as there was also never a Holocaust. Dieua-Artio (talk)

thnx for letting me know, i will fix that. JH019596 (talk)
An FYI: I am combining the conversation to one blob, rather than a series of topics, as the discussion is on one item. So, if able, just 'edit source' on this singular topic rather than creating a new one.
If you'd like, you can leave information and ideas on Judea for me under this topic or on the Judea pages Talk Page. I'd rather make the nation profile, pages, etc. Referencing to the above: "I am very much open to ideas and expertise, certainly. I only ask that any edits (or creations, etc) to any pages not be done, but ideas, information, and so forth, can be left on Talk Pages or TC Discussion Page, etc. A good example is how a Russian user suggested a name change for the two 'Rus' states, which I found informative and implemented." Dieua-Artio (talk)
Can i work with you and help you on this timeline, or at least part of it?
JH0, I am keen on maintaining direct creative control of Terra Cognita. TC has been a timeline long in the works and longer in the mind, with various non-public iterations. As such I am very much of the mind to keep it as 'my thing', so to speak. It feels, for me, a bit more like a novel, ya know? One person writing a novel would not be as keen to open it up to others unless something happened to them. This is only excepted here for Collaborative Timelines. I have considered making other collaborative timelines, but my creative time is limited to such that TC is really the only thing I can get around to working on. Therefore I am very much open to ideas, suggestions, and information (as the aforementioned Russian user provided), though I would prefer that Terra Cognita remain as my own timeline in the arena of creation. So by all means, you can help via utilizing the talk pages, discussion pages, etc, with advice and information, though I would rather new pages, edits to pages, etc, remain with me. Thanks!
Dieua-Artio (talk)
judea infobox looks like the source edit of a wikipedia page
sure you dont want my help on anything? just tell me if you want help JH019596 (talk)
maps
what website do you make your maps on?
I do not use a website for map-making, rather I use PaintShop Pro and ArtRage. I use these for flags and so on as well. Dieua-Artio (talk)
Pascua Florida
If you have an intention to delete/abandon Pascua Florida, can I adopt it instead as a part of my timeline? FirstStooge (talk) 07:03, 12 April 2021 (UTC)
Thank you very much for your permission! I am felt very grateful for it. FirstStooge (talk) 11:14, 13 April 2021 (UTC)
Deletions
Hey. Normally when a page is requested for deletion, I delete all the associated image files too. Since you're reconfiguring that project rather than deleting everything, I didn't touch the images. I would appreciate it if you also nominated for deletion any files that you won't use in the new form of the Valish project. Thanks, False Dmitri (talk) 16:49, 13 May 2021 (UTC)
RE: Map Gaaame
To sign up you have to edit the Nations page to put your signature (~~~~) next to the nation you want. Iceland was previously played by User:Icelandicwriters but he has given permission for you to take it over. Note that Iceland's history has been changed by previous turns in the game, so it would be good to skim the archives of the turns to see what has happened to Iceland so far. Let me know if you have any questions Oh, I didn't mean to push that button! † Oh, well leave a message I guess 01:38, 23 May 2021 (UTC)
Welcome to 1983
I'm sorry that I didn't officially Welcome you before, and that your idea so far hasn't got much attention. It's going through another fairly quiet spell right now. False Dmitri (talk) 23:41, 21 June 2021 (UTC)