Hello and welcome to the Alternate History Wiki!

We are a community for creating fictional alternative histories. We hope you will feel at home here and wish you good luck contributing to our ever-growing collection of timelines.

Please start by reading our Guide to Newcomers. It contains links to the important sections of the wiki.
If you're new to wikis in general, see How to Make Articles.
If you're ready to create an article, see Conventions in Use in this Wiki. It explains how to title and categorize your pages, what kinds of content are allowed, and other rules of the site.

Some other helpful reference pages:

Some general tips:

This wiki is for alternate history, not future timelines. What you write should take place before 2021.
All articles on this wiki take the following format: Name of article (Name of Timeline). This helps us know which pages belong together.
To sign your posts on talk pages, use ~~~~ (four tildes). This will insert your name and timestamp.
You can experiment in the Sandbox.

Regards, Imperium Guy (talk) 20:59, December 12, 2013 (UTC)
Infrastructure
Not the way you spelled it.
EoGuy (talk) 05:02, January 1, 2014 (UTC)
Infobox
I think I fixed it. Make sure every template ends with "}}". This terminates a template. Also, I noticed you accidentally pasted in some unneeded formatting code. This was done because when pasting things like this you need to paste it in source mode instead of visual mode. Other than that I think it should be working fine. Mscoree (talk) 19:58, January 19, 2014 (UTC)
AvA R-Word Map
Sure, I'm also going to probable add Syria and South Kurdistan and fix the Turkish Division map, And I'll make sure to add your influence over those countries. Sine dei gloriem "Ex Initio Terrae" (talk)
Info
Much obliged. Had no idea. Funny part is, not a word he told them was actually true, lol. Lordganon (talk) 12:36, February 5, 2014 (UTC)
Steam Age
Yeah sure whatever.
Axis vs Allies R word
Ok thank you for the info do you know any other Alternate WW2 map games? User:Saturn120
Thank you User:Saturn120
alright your in, if your a plausible player ill give you a shot at france honestly im desperate for people ot fill out those countries, however those are rally big shoes to fill Nkbeeching (talk) 22:23, March 5, 2014 (UTC)
Medieval Age :AOK
The game has started, please post as soon as you can and i hope you enjoy the game and wish you good luck.
UAA
http://althistory.wikia.com/wiki/User_talk:SwankyJ#UAA_.28pm3.29 SwankyJ (talk) 01:47, March 18, 2014 (UTC)
what is metagamming, sorry im new SwankyJ (talk) 02:05, March 18, 2014 (UTC)
and btw it is implausible that the Europeans can just come over and without an effort destroy us.
Population
Sure, where are you on the map? KunarianTALK 19:44, March 20, 2014 (UTC)
Algo
I'm, uhh, I'm guessing not.
What game, what war?

   Flectere si nequeos superos- Acheronta Movebo!  20:22, March 21, 2014 (UTC)
RE:Rules Clarity
Yes that is correct, there is a little leeway (such as when i did my jumpstart on my colony in the Canaries) but in your case if you want to continue expanding then youll be sacrificing everything else for it. And honestly it seems to be something all the american states except Zapotec have ignored. The Rules are pretty clear about it but tbh the mods are very lenient as long as your expansion is plausible and isnt just way out there (like somehow reaching Incas size by the time colonization hits.) I think to save you a little bit though map makers have been refusing to recognize some large amounts of expansion on the map due to plausibility issues. But yeah for all intents and purposes if you expand to the fullest extent then you dont get to work on any of the other three upgradeable things.
On another note I Personally dont recommend the huge amounts of expansion and would much rather have a functioning military and economy by the time Europeans arrive and the diseases hit (like OTL). Since more than likely the europeans your going to be dealing with will be Spanish (me) then there is gonna be some issues if you push south. Just a Friendly warning move north towards Peru and build up some population a bit. Im looking to colonize Argentina Paraguay, Uruguay and Chile areas and you being in the way if gonna bring some.... issues. So id much rather not have that problem.
The Wings of Freedom #FP
(Talk to Me)
Note
Sorry for the late response. Been busy.
Thank you for the note - I did notice it when you left it, but had been unaware of it before.
Not a word of truth to that post of his, lol.
Lordganon (talk) 12:42, April 1, 2014 (UTC)
A note about an adoption request for the wiki Mscoree left on community central a while ago. Lordganon (talk) 11:26, April 2, 2014 (UTC)
Where is Tawantinsuyu? I can't find it on any maps. please clarify.
Regarding Tawantinsuyu: I've already answered you on Principia Moderni, but yes I'm interested. Jd2842 (talk) 18:49, April 4, 2014 (UTC)
Sorry about not signing my name, I was away and had very little computer time and realised I forgot to sign it after I posted and didn't ahve time to fix it. I think this is a great idea and accept the offer. I will also state this on Principia Moderni. TheNoseKnight (talk) 19:52, April 7, 2014 (UTC)
Look out, sir! (map game)
South Africa got full independence in OTL 1927 and Egypt got OTL independence in 1922.Whipsnade (talk) 00:58, April 16, 2014 (UTC)
France also has a big empire.Whipsnade (talk) 00:59, April 16, 2014 (UTC)
Ireland 1922
Egypt 1922
S. Africa 1927
Canada 1933
Egypt 1914
It should be British since we stole it off the Ottomans about 20-30 years earlier along with the north of Sudan.Whipsnade (talk) 01:03, April 16, 2014 (UTC)
It was British since 1880. http://en.wikipedia.org/wiki/History_of_Egypt_under_the_British#British_administration Whipsnade (talk) 13:31, April 16, 2014 (UTC)
Look out, Sir. (Map game)
Argentina would like an alliance with the UK. In exstange you can drill for as much oil as you can get out of Cubbert Province. Brazil has joined the Central Powers.Whipsnade (talk) 17:13, April 18, 2014 (UTC)
The Road to War (Map Game)
http://althistory.wikia.com/wiki/The_Road_to_War_(Map_Game)#North_America has just start!90.244.83.142 18:51, April 23, 2014 (UTC)
unfortunately brazil was reserved for sine he has seniority over you and the other player who i have removed. With Blood and Iron (talk) 11:30, April 26, 2014 (UTC)
if youd like their are several european countries up for grabs amongst them the netherlands and sweden norway. With Blood and Iron (talk) 11:30, April 26, 2014 (UTC)
Two wrongs
Two wrongs don't make a right
I think it's you that says this.
but two rights always make a left.
If not you, feel free to ignore.
Bil
EoGuy (talk) 01:24, June 25, 2014 (UTC)
Conferring
hey i didnt see that pm about you helping sine until just now. Honestly its drastically implausible right now, Your still a semi low tech american nation that cant really supply overseas troops. Other than some supplies i think it would be hard to justify or even figure out how to get troops there without Spains approval/Help The Wings of Freedom #FP
(Talk to Me)
Hey sorry my internet has been really acting up today. I saw what you said, i see no issues with this.
Are 20 territories good?Pandadude12345Rblx (talk) 23:46, July 25, 2014 (UTC)
DAC: Boston
I was working on the New England area a bit in Days After Chaos and I had an idea. I was thinking that since New England has a identity as a unified entity, it of all places would make the most sense for a brief unified state. Think of it like the kingdoms formed after the fall of the Roman Empire. Here after the fall of the ancient world (United States), the Kingdom of New England forms for a few years, before collapsing into a bunch of nations, such as the Crown of Boston and others. This state would probably be really loosely united, before collapsing, and I'm thinking it would probably have to occur really early, during the chaos even, of the late 1800s. Alternatively if you're willing we could also move the Crown of Boston page back a decade or two so that this nation doesn't interfere with its history. Let me know what you think. Thanks, Mscoree (talk) 23:49, August 6, 2014 (UTC)
I understand what you mean, sort of like the Bohemian Crown too. I will make the Kingdom of New England page soon, so I'll let you know if I need any help. Feel free to add to the region page for New England in the meantime, especially for Massachusetts stuff, and I will work on New Hampshire stuff. Mscoree (talk)
I was actually thinking that when the Grand Presidency collapses (probably a lack of heir in there) his family will be completely ousted, so I think it's fine that they are a different dynasty. That would make more sense. Mscoree (talk) 19:03, August 7, 2014 (UTC)
Think of the Grand Presidency sort of like the Mongol Empire, only it's one generation long. After it collapses there is a brief period of chaos and war, followed by a bunch of families rising up out of the destruction. Mscoree (talk) 19:06, August 7, 2014 (UTC)
Could Someone Tell Me Why The Chat Is Not Working
I tryed for the past 3 hours to get into the chat and it just gives me a blank screen could you report this of help me. - Scarlet Outlaw
I added my nation page, just not to the Category.
My nation page for the 1848 map game, do you want to add yours?Pandadude12345Rblx (talk) 13:43, September 7, 2014 (UTC) Hello, Just talking to y'all
I heard. How will this affect us? Cour *talk* 14:56, September 21, 2014 (UTC)
Totally Not the Algo
The Algo
http://althistory.wikia.com/wiki/Talk:Principia_Moderni_III_(Map_Game)#Second_War_of_Wu_Unification_of_China_.281652_-_TBD.29
JoshTheRoman (talk) 15:20, October 11, 2014 (UTC)
Here's what you'll post
Czardom of Croatia (Hrvatsko Carstvo): The nation, alongside the Knezdom of White Croatia and the Knezdom of Carantania declares war on the Polish-Lithuanian Commonwealth in order to retake the rest of White Croatia.
The algo is here so feel free to copy-paste it once you post the turn.
SkyGreen24(Party,quotes) 20:35, October 23, 2014 (UTC)
Furture map game 3
Are you going to post on future map game 3 Ohbobsaggat (talk) 02:55, November 16, 2014 (UTC)
grrDiamonnddx (talk) 03:41, February 5, 2015 (UTC)
Morocco
Sorry, I wasn't sure what territory Andy had, and the dark red confused me. Cour *talk* 17:41, February 8, 2015 (UTC)
I saw your message. Is it OK if I'm Canada?
Thank you, I'm relatively new on this wiki.
AVA Glitch
I noticed that.
Thanks.
Bil
EoGuy
South African War
South Africa has eight turns of military and economy development, and South-West Africa (Namibia) has seven turns of economic development and three turns of military development.
Vivaporius: "I don't need a slogan" 04:11, March 6, 2015 (UTC)
Prepare yourself for the algo of death, that you need to check over, mmmkay?
Have fun. 
"This is not your grave but you are welcome in it." 22:17, March 20, 2015 (UTC)
you should be free now. 
"This is not your grave but you are welcome in it." 01:55, March 21, 2015 (UTC)
Chat response
give me 1 hour
The Chat Situation
Hey man the joke I made on chat, I'm really sorry about that. I didn't mean for it to make you feel unwanted or leave the chat. I did it to make fun of the argument we had earlier, cause I thought making fun of the argument we got into would help. With you leaving it makes me feel like I was being a real big piece of shit. So I don't know anymore, and I'm probably making it worse right now? Just know I'm sorry man, I really didn't mean to make you feel unwanted or anything. I just want you to come on chat at some point so we can talk this out. - ..... Because I'm Just... Too... SSSWWWEEEEEETTT!!!
Can we invade the blue nation together? Spartian300 (talk) 07:48, May 8, 2015 (UTC)
Treaty of Amiens
I recommend you sign up as a mod by contacting Dream. We only have two active mods right now, counting both me and him Daxus the Harbinger of Lameness (talk)
PM3 schtuff
What is the earliest time you could come to chat? Thanks. Nathan1123 (talk) 14:34, May 23, 2015 (UTC)
PM3
I won't be able to post in PM3 for the next two weeks. Just wanted to let the mods know. Thanks -Fritzmet (talk) 19:04, July 13, 2015 (UTC)
Map game
We have enough players, shall we begin? AllianceScoutAiothai (talk) 03:18, July 15, 2015 (UTC)
Oh, btw, I meant What the Future Holds on Future. 71.37.186.72 22:45, July 15, 2015 (UTC)
Oops! That was me! AllianceScoutAiothai (talk) 22:47, July 15, 2015 (UTC)
Letting you know
Hey Edge, just to let you know I just spoke with Nathan on chat, and we both feel comfortable with the deal he pulled off about an hour ago. Since we agreed to it, he suggested that I bring this info to you, and since I'll probably be back at work by the time you next get on chat, I'm leaving this information on here.
Have a good day, I am that guy (talk) 21:10, July 15, 2015 (UTC)
Ultimatum
Edge, I think I've made up my mind
Please come to chat so I can get a second opinion. Nathan1123 (talk) 22:30, July 16, 2015 (UTC)
Impeachment
That is NOT how that works. Lordganon (talk) 06:39, July 24, 2015 (UTC)
Your word about Scraw doesn't cut it - would need to see it from him - and you HAVE to go to the talk page first. Rules are rules. Lordganon (talk) 06:59, July 24, 2015 (UTC)
And, as an fyi - as a general rule, it is only considered to be TSPTF members that can actually post an impeachment. Lordganon (talk) 06:59, July 24, 2015 (UTC)
No worries. Lordganon (talk) 07:08, July 24, 2015 (UTC)
Dude, I'm all set to invade Germany. Can we get started? Spartian300 (talk) 22:43, August 1, 2015 (UTC) 
I've decided to invade Germany next turn. Be ready. We're about to GANG RAPE THE SHIT OF SOME ARYANS!!! Spartian300 (talk) 23:04, August 1, 2015 (UTC) 
Proof of Authorization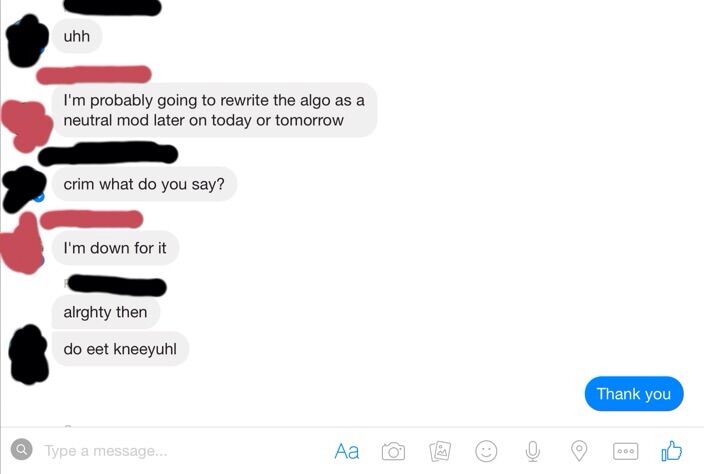 Black is Sky, re is Crim. If you want a second opinion, Nate is also on this chat. I am that guy (talk) 17:04, August 3, 2015 (UTC)

I am that guy (talk) 19:00, August 3, 2015 (UTC)
Hey, could you get me unbanned from chat? I need to talk with you. Spartian300 (talk) 18:29, August 13, 2015 (UTC)
Italy
...That you actually need to do summer work for that disturbs me. Though I can guess the reason for it. When you write the AP exam for it, lemme know how you do, and what the question was, if possible - curious.
As for your question... Not really. Too many parties involved in the area for one outside power to dominate, and none of the locals really strong enough to do it. Plus, when they even came close to a position to try, they got smacked down. Venice, for instance, had most of the needed power a couple of times, but got ganged up on for it.
Unification there had to wait until the outside powers cared less, and one of the states was strong enough to do it - like P-S otl.
Lordganon (talk) 08:12, August 27, 2015 (UTC)
PM4 Request
Can I be the Tongan Empire? https://en.wikipedia.org/wiki/Tu%CA%BBi_Tonga_Empire

Jbwncster (Talk)

18:58, September 16, 2015 (UTC)
Congratulations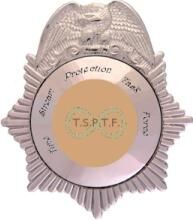 Congratulations, you are now a Constable in the TSPTF. This allows you to showcase the TSPTF membership badge on your user page. Furthermore it gives you the rollback power on this wiki. In the History page of an article you will notice a new option called "rollback". This is an anti-vandalism tool. It allows you to quickly undo edits in case someone has made more than one edit to a page. By clicking rollback it will immediately revert the article to a time before the offending editor edited the page. This is your most important duty. By agreeing to be a constable, you are promising to do your best to patrol for vandals and trolls.
When you get the chance, please go to the TSPTF page, and sign up for some responsibilities. In reality, none of us have the time to devote to all of the duties that are expected of an administrator of the wiki. You are expected, however, to sign up for at leastthree responsibilities listed in that section. These are duties that you are agreeing to carry out to the best of your ability every time you are on this wiki. I'm hoping that by doing this the members of the TSPTF can efficiently share the work load of the wiki and gives us time for the real reason we are here. Since you are only a constable and do not have the power to delete or block, do not feel obligated to sign up for any duties you do not have the powers to do. Please inform and respect those in a position to do so if you see a problem that involves a need for either of those things.
Again, congratulations on being elected to the TSPTF and good luck.
Lordganon (talk) 16:42, December 5, 2015 (UTC)
Congo issues
Viva ignored us and went up the Congo River. Burn it with Fire? The Wings of Freedom #FP
(Talk to Me)
Shattered Stars and Stripes: Brave New World (Map Game)
PLS CAN WE TALK IN CHAT?  Wrto12 (talk) 18:39, January 31, 2016 (UTC)
war
Josh is minipulating Bozi more. Prince Octavian , of Jerusalem, Sicily, and Swabia, and Duke of Amalfi.

Josh got Bozi to join and is now claiming he won the naval algo, but is not taking into account the non exisentness of the Ottoman navy proven here. https://docs.google.com/document/d/1q76rsVytRWmsaQ-Frfx18ZmVFdDyIao4WlpZoXFG__8/edit?usp=sharing
We can still win the algo if the naval scores are fixed. Prince Octavian , of Jerusalem, Sicily, and Swabia, and Duke of Amalfi.

PM4: Japan's army size
Edge,
In the Crusade algo, we agreed Bozi could not use the maximum force of his population because he had naval concentration.
Well, now Feud is invading Korea with 200,000 troops, so clearly for consistency we have to nerf that number too. 
So can you work out how that can be arranged, Oh, I didn't mean to push that button! † Oh, well leave a message I guess 04:19, August 10, 2016 (UTC)
My point is that Bozi was limited to 60,000 troops when he was invaded, which is less than 60% of the military he should get by his population. So how can Japan maintain a military at max size proportional to his population with a naval concentration? Seems inconsistently bent against Bozi. Oh, I didn't mean to push that button! † Oh, well leave a message I guess 22:49, August 10, 2016 (UTC)
One month from now...
I've laid out a series of crisis Benin will be going through a month from now. If you get the chance, I wanted you know what your gripe with Benin's religion was. I'm planning something and want the full picture from you and the mods on the issue. Basically, it involves a gay Oba, incest, Christianity, and an east-west civil war. It'll be something that radically alters Benin's culture and society. That's all I will say for now.


Vivaporius: "I don't need a slogan" 09:02, August 17, 2016 (UTC)
GovSim
Hey Edge, I noticed you're starting up the GovSim again, good job. Personally I'd love to get involved, as I have a lot of opinions of things, but I've never really had a terrible amount of care for the deets of government and things, so I think I'll stay out of parties and things. 
I do have a suggestion for you though, depending on how popular this gets, we could set up a (relatively) impartial newletter that just comments on proceedings and criticises or praises or asks questions and things like that, aimed at the voting base. It could also include a couple of rando tidbits of Althistoria fluff, like short reports on news stories from around the country, but the main bulk would be columnists who all write their views from different political corners. I would be happy to be one of said columnists if you think this is a good idea. 
Love from your definitely not inactive friend, FPNow 10% edgier!!! 13:26, August 18, 2016 (UTC)
Dear Edge,
I bring an update in the political realm: the Nationalist Alliance and Centrist Party have merged, under the Centrist banner. If you could kindly update the ballots to reflect this legislative party change, it would be greatly appreciated. (Person is still the VP candidate under the Rainbow Coalition). Reximus | Talk to Me! 23:28, August 18, 2016 (UTC)
GovSim basics
Could you prepare a page for the constitution parliament and such stuff?
It's time we started siming the gov
SkyGreen24 20:27, August 22, 2016 (UTC)
Algo and War
The battle of Genoas Algo was done wrong, as many can attest to. Rex betrayed me in this issue, and when I come out alive you will have my backing. Talk to me on chat tmrw for the whole deatials. Prince Octavian , of Jerusalem, Sicily, and Swabia, and Duke of Amalfi.

Americas PMIV
I need to know how many states have the Aztecs conquered so far and if that event means they invaded me or they are gonna invade me some time in the future.             
Ungern Von Sternberg A Man's GREATEST Joy is Crushing his Enemies

10:14, August 30, 2016 (UTC)
Your talk page is very long. Just so you know I am a active member on Wikipedia and often archive talk pages after they get to long. If you want I would recommend archiving your talk page into something called "Archive 1". Its up to you but your talk page is of considerable length. CnocBride (talk) 13:55, August 30, 2016 (UTC)
PMIV Pope
Hey Edge,
Congrats, your man Cortez has been elected Pope. If you think he should have any particular policy objectives, be they political or theological, chuck me a message. Also, if you have a particular name request, I'll be happy to fulfil it. 
Cheers, Callumthered (talk) 06:18, September 6, 2016 (UTC)
Royal Child
Hi Edge. In your post, you announced the birth of Sancho and Eleanor's first child, Henry, in Toledo. However, hours beforehand I'd already announced the birth of Ferdinand, in Barcelona (Barcelona makes more sense since Sancho and Eleanor were already living in the city at the time of Henry IV's death). Are we going with your version, or mine? — T I M (TSW • AH • MGW • Contribs) 01:52, September 15, 2016 (UTC)
Portuguese aggression
I cannot go on chat at the moment, but in case you did not know Oct is trying to prevent us from exploring the Atlantic. I highly recommend we go to war with Portugal as soon as possible to prevent it from gaining influence and hindering our plans. — T I M (TSW • AH • MGW • Contribs) 03:07, September 16, 2016 (UTC)
Please sign this treaty to end to war with Portugal. — T I M (TSW • AH • MGW • Contribs) 05:08, September 16, 2016 (UTC)
Hi Edge. I've been wondering if I could have the opportunity to take the wheel behind Portugal. Most of Iberia at the moment is in your hands, and to be perfectly frank I feel as if I'm not able to do very much to contribute to our partnership, and that I'm being hung out to dry. In other words, I'm feeling quite left out of the equation. It'd be very much appreciated if I could have a go running both Aragon and Portugal, while you can handle Castilian, Moroccan and external affairs. Please get back to me on this as soon as possible. Thank you. — T I M (TSW • AH • MGW • Contribs) 08:44, September 17, 2016 (UTC)
Treaty of Lisbon
Hi Edge. I have written a draft for a Portuguese independence treaty. Please see User:WikiBuilder1147/Sandbox5 for more details. — T I M (TSW • AH • MGW • Contribs) 04:30, September 20, 2016 (UTC)
Chat on Docs
Hi Edge. I am currently unable to access chat for unknown reasons. However, I'd greatly appreciate it if we could have a few moments to discuss a few things. Here is the link to the Google Doc that I've created for this purpose: https://docs.google.com/document/d/11dGT9YL8qY61qvczb2X7yfrlUjPqvwlabiJ04Htlc2g/edit
Thanks — T I M (TSW • AH • MGW • Contribs) 00:47, September 21, 2016 (UTC)
Here you are. https://docs.google.com/document/d/11dGT9YL8qY61qvczb2X7yfrlUjPqvwlabiJ04Htlc2g/edit?usp=sharing — T I M (TSW • AH • MGW • Contribs) 02:58, September 21, 2016 (UTC)
Someone is on the doc now. Is it you? — T I M (TSW • AH • MGW • Contribs) 03:25, September 21, 2016 (UTC)
Chat
If you're floating around, could you come to chat please? Thanks.


Vivaporius: "I don't need a slogan" 14:54, October 2, 2016 (UTC)
Active Map Games
Can you tell some active map games please.I am new to this wiki.Sailesh s nair (talk)
Mod Council PMIV
We need a mod council asap. Viva wants to talk with us about his ban. AM, the King of the Banat (talk) 17:16, October 23, 2016 (UTC)
http://althistory.wikia.com/wiki/Talk:Principia_Moderni_IV_(Map_Game)#Colonization_Confrimation hey Edge can you approve or disapprove my colonisation of America/ Avalon. you basically know my reasons about lack of space and wealth plus finding King Arthur but if you have any questions I am on chat. Person67 (talk) 09:13, October 27, 2016 (UTC)
Beau Lives
Here's a picture you might want to use for Joe Biden if he becomes president (made by your's truly)

 United Republic  Talk  Contribs  King of America    22:41, November 1, 2016 (UTC)
For Nominating Me
Dear Edge,
Thank you very much for nominating me for the rank of Lieutenant. Even better, it was a successful nomination. For your efforts, I award you this campaign pin officially licensed by United Republic. Make Althistory Great Again,
–United Republic
#MakeAlthistoryGreatAgain
Dear France,
 We, the Swiss, are requesting trade with your nation over Lac Leman. We personally believe that this will boost the economy of both countries. Please reply as soon as can be.
PM4 Iberia war
Edge,
Are you going to be making the war algo? Crim and I both joined directly under your post. 
Also, what's the deal calling me Egypt? I'll have you know my capital isn't even in Cairo anymore.
Oh, I didn't mean to push that button! † Oh, well leave a message I guess 03:03, December 1, 2016 (UTC)
hey I have an complaint with your wikia I was banned from chat for some stupid reason by UR because I stated Ace was annoying, UR got triggered and blocked me permantley can you lift that ban and made the bull**** claim that I was bullying him ask anyone on this wiki besides UR and Ace and I'm not an bully Ethen12345 (talk) 05:54, December 28, 2016 (UTC) Ethen12345
Nothing
I have been approved by Scraw
whos your fav boxer MelvinHun (talk) 20:16, February 2, 2017 (UTC)
I'm so so sorry edge. I didn't know. If you want, I can delete the edits. So sorry.CleverConservative1 (talk) 17:55, February 18, 2017 (UTC)
Chat
Please come on chat today. ~UR 16:03, March 19, 2017 (UTC)
Can I help you edit "The Lion Roars"?
Okay, thanks, and sorry next time ask before editing, thank you.
BAR2121 (talk) 12:23, March 21, 2017 (UTC)
Re: Chat
Understood. ~UR 20:58, March 21, 2017 (UTC)
SSS Another One
The gold reserves of Fort Knox (4,582 metric tons) are used to establish the strongest currency in the former US area in the aftermath of the US collapse. Given our strong economical position, we attempt to influence and persuade Virginia and West Virginia to join us to join us as autonomous states to recreate the greater state of Virginia as a Union, before Kentucky and West Virginia were taken away from Virginia, while we also we attempt to influence and persuade Tennessee to join us as autonomous state, as a step closer towards re-establishing the Confederate States of America. [Mod Response]
I need a mod response on this, since my whole 2019 turn depends on it, since Virginia invaded West Virginia and its ally, North Carolina tried to influence Tennessee to join them, so essentially my survival depends on it, cuz if i let the have those states i shall be cut off from the rest of the South and they wipe me out of the map in a few turns.             
Ungern Von Sternberg A Man's GREATEST Joy is Crushing his Enemies

18:59, May 6, 2017 (UTC)
SSS response
Edge,
I ask Mississippi, Louisiana, and Georgia to join Alabama in a national union of the Bible belt, pending Confederacy. This is probably the only time I'll ask for this sort of thing. Oh, I didn't mean to push that button! † Oh, well leave a message I guess 05:39, May 7, 2017 (UTC)
Re: Talk page
Edge,
thank you for your input, but as the POD is in 1865, the world would inevitably become very different, and the constitution of the state of Pennsylvania would likely not be the same as it is in OTL. Misteeer (talk) 01:37, July 23, 2017 (UTC)
Edge I wanna play the German Empire in your Map Game- Jackson of Iscariot
discord
ey, Sorry to bother but i would like to know if you have a discord link/invite code
i rlly wanted to get into the discord and i noticed you were on trough the little discord box
Guilhermelcb (talk) 21:15, October 14, 2017 (UTC)
you might want to change your pic right there bud ISSACANGEW (talk) 17:39, November 6, 2017 (UTC)