YO, the page is open now, although it well take some time to get set up as I need (or someone else can) edit the map to reflect the territories the are present under each kingdom (basically what they own).--DaBigUn 16:30, May 25, 2010 (UTC)
and it is called Map Game 500. Just look for it under the map games area.--DaBigUn 16:30, May 25, 2010 (UTC)
Tuscany and Georgia
Fedelede, thank you for the map and the suggestions for Tuscany. If you would like, I will write you in as one of the caretakers of the article, which will give you the freedom to edit it without having to prompt me. Get back to me on my talk page and again, thank you.
On another note, I am going to adopt your article Georgia, if that is okay with you. Arstarpool 22:27, May 25, 2010 (UTC)
Sure, I'd love to help. Arstarpool 02:39, May 26, 2010 (UTC)
Please read and comment on Russian Empire (Constantine's Russia). Signed by Calthrina950
How come we're using the old map?
BoredMatt 20:52, May 29, 2010 (UTC)BoredMatt
the one with the Britani thingy, and with the Fudalus still on Alaska.
Allies, Axis and Communism
Naturally Germany is angry, as Italy has been its ally for at least three years. This may effect its concerns in future expansion, but otherwise I think relationships between our two nations should remain cordial. After all, if Italy still wants its New Roman Empire and Germany wants lebensraum there's probably a chance the two nations might need to cooperate in the future. Fegaxeyl 09:36, May 30, 2010 (UTC)
For one thing I did not create the Muslim Caliphate. And number two, in OTL continous ice ages like the ones I make happened. --Catherine 18:04, May 30, 2010 (UTC)
I still will keep the ice ages, and make it even worser then any of the OTL ice ages combined. --Catherine 18:13, May 30, 2010 (UTC)

Sure, just go ahead and skip him. Eastward Expansion 20:40, June 2, 2010 (UTC)

Skip him again. Eastward Expansion 01:07, June 10, 2010 (UTC)
Colonisation Map Game
Thanks for the support against the Danes, the guy playing them seems to really dislike me having any colonies, or standing up for myself ;_; Smallpox 14:54, May 31, 2010 (UTC)

If it pleases you, it is your turn again. --Catherine 02:11, June 1, 2010 (UTC)

Fedelede, please read the Colonisation Map Game talk page more thoroughly, tell me the extent of your territories on my talk page and I'll put them in the map...Smallpox 20:11, June 2, 2010 (UTC)

I don't recall anything about editing anyone else's work, maybe you have confused me with someone else or would care to show me your work that I edited?...Smallpox 20:45, June 2, 2010 (UTC)

You're writing about my colonies rebelling. All of them at the same time. Fedelede 20:47, June 2, 2010 (UTC)

That wasn't me!!! You have obviously mixed me up with someone else, please don't accuse of that stuff, it is harassment...Smallpox 21:05, June 2, 2010 (UTC)

What did I rename it!? I do not remember renaming ANYTHING of editing yours, stop making vague accusations...Smallpox 21:10, June 2, 2010 (UTC)

Stop it Fedelede, I have NOT edited ANY OF YOUR STUFF or ANYONE ELSE'S, please stop harassing me and et over it, it wasn't me...Smallpox 21:16, June 2, 2010 (UTC)

Please stop spamming my page, I did not edit any of your stuff, and does it even mater much at all, you can change it anyway...Smallpox 21:28, June 2, 2010 (UTC)

That wasn't me, silly, I made a mistake with something in a different year then erased because it was a bad post, you must have changed it yourself and not changed it since, don't blame me for your mistake, I did not touch your work. If you further complain and SPAM on my page I'll have to talk to Oerwind...Smallpox 21:32, June 2, 2010 (UTC)

Franco-Prussian War
Could we please avoid all this nastiness over Neu Prussia? The Prussians invaded it to reclaim a stolen Prussian colony. Hence the name "Neu Prussia". The colony was invaded because the Prussians expelled a French expedition from Florida, when they really shouldn't have been there in the first place. The entire peninsula was (and still is) territory of the Prussians, so the French expedition could be seen as a form of invasion. They didn't come there first, and they sure as hell weren't invited in by the Prussians. This whole war was started by SmallPox's mistake! He's the guilty party, not me.

Yankovic270 03:21, June 1, 2010 (UTC)
Catherine
Contact Oerwinde he is the map game admin and has been tasked with moderating situations like this. You may also contact any of the other members of the TSPTF. At the moment I am on an extended wikibreak for the next couple of months so I won't be able to provide assistance for sometime. Mitro

Dawn of the Dark Age 500 A.D.
Just wanted to inform you that we have started it, so you can post now if you wish.--DaBigUn 21:52, June 1, 2010 (UTC)
Can be Played Again
ProfessorMcG, in a comment he posted on my talk page, awarded me control of Europe 1430 (Map Game). I then rolled it back to 1522, the last place it had been plausible, and I am asking you, just to read the archives and look at the maps, and begin playing on it again.

Number 2: Please edit Human Evolution (Map Game). Just read the last couple turns, and post your own. Thanks!

--Catherine 22:14, June 1, 2010 (UTC)

A enthuastic person

allies
Would you stay on Russia's side if France declared war? (I well only be defensive)--DaBigUn 08:02, June 5, 2010 (UTC)

thanks, but it is where the Chinese Colony ends.--DaBigUn 15:34, June 5, 2010 (UTC)

I am thinking about expanding trade relations with you where it is free trade, not just reduced tax. Also, the Netherlands, if joined, well become an ally with me, thus also get the free trade benefits. Of course it well only happen (them getteing free trade with you and thus giving as well) if you really want.--DaBigUn 16:12, June 5, 2010 (UTC)

when? and what nation do you represent? (if not Spain, then I don't think so)--DaBigUn 01:55, June 6, 2010 (UTC)

I prmised the Japanese terretory.--DaBigUn 01:56, June 6, 2010 (UTC)

I well talk to Smallpox about them apples.

Venezuela
Hi Fedelede may you see my article  Venezuela 1983 doomsday and write your opinion in the discussion page, please, thanks! VENEZUELA 01:37, June 6, 2010 (UTC)

New Map Game (PLEASE READ THIS SECTION)
I have just created The Ages of Europe: 1200 (Map Game). The game has clearly organized, detailed, reasonable rules, as well a starting map and a first turn, posted by Owzercwomn or whatever his name is. Please join my map game! And don't forget to look at the first map, create your own, and make your post (with your edited map added). Also, read the rules, just in case. I hope to see ya at the map game. Bye!

--Catherine 02:40, June 6, 2010 (UTC)

Creator of the latest Map Game

Georgia
I did not put it up for adoption. He does not speak english very well, so he must of thought "Adopted" meant "For Adoption". Arstarpool 02:23, June 8, 2010 (UTC)

Ah. Fedelede 16:02, July 5, 2010 (UTC)

Divided Italy
I don't know very much about Italy but I may help you. VENEZUELA 22:29, June 8, 2010 (UTC)

Grave Problem with Tuscany (Literally, there will be graves involved)
According to multiple users, Florence would be a likely target for the Soviets. Either you help me fight this on the main 1983: Doomsday, or Tuscany is gonna be toast. Arstarpool 18:46, June 9, 2010 (UTC)

Venezuela
Hi Fedelede May you help me expanding my new article: Perez Jimenez's Venezuela . thanks! VENEZUELA 02:17, June 19, 2010 (UTC)

Rise of America
Tomorrow we will start. You are Spain. That s not meant to sound forceful though....

Eastward Expansion 00:49, June 22, 2010 (UTC)

World War I Map Game
shouldn't we also have England divided into republics? Scotland, Wales, Cornwall and Ireland? Batmanary 02:52, June 27, 2010 (UTC)

Beautiful!! Batmanary 03:03, June 27, 2010 (UTC)

I think we should just go ahead and make a map with the terms being respected Batmanary 03:03, June 27, 2010 (UTC)

I think we should just go ahead now with the treaty of Florence thing, cause too many people are making new Treaties, and I think Eastward Expansion already tried to implement his, plus ours has a majority, and can set up an awesome World War 2 situation, as well. Batmanary 13:54, June 27, 2010 (UTC)

Yea, I like the current treaty. BoredMatt 14:07, June 27, 2010 (UTC)

All of the CP are for it... but what about the Allies? Fedelede 14:09, June 27, 2010 (UTC)

we've simply got more signatories than they could get at this point, if they can make a treaty by the end of the day that can get more signatories than we have (and that is within reason), then we should go with that one. Otherwise, we should stick to the Florence treaty. BoredMatt 14:13, June 27, 2010 (UTC)

It has been your turn on Human Evolution (Map Game) for god knows how long! --Catherine 17:45, July 3, 2010 (UTC)

Catherine, I do not want to edit the game anymore. Welcome back, btw. Fedelede 18:38, July 3, 2010 (UTC)

Please leave another comment on http://fiction.wikia.com/wiki/Green_Crystal_(Great_Fortress) discussion page. Thanks! --Catherine 02:33, July 4, 2010 (UTC)

Fedelede, it took me some time to get through your stuff but I find it definitely challenging! It seems you work a lot on all this.

I'd like to know, if it's OK with you, if a subtle breeze I felt is true: being a citizen from a former Spanish colony, is it a nuisance?

190.28.177.166 21:56, July 6, 2010 (UTC) LUX

Roman Empire
Hi Fedelede, remember our dealt: Cyprus, Sinai, and Arwad! VENEZUELA 02:47, July 8, 2010 (UTC)

Also let's invade Arabia together and we divided like this all for you and for me the south with our borders being the Dana Mountains? Please Answer Me! VENEZUELA 21:28, July 7, 2010 (UTC)

Arwad is a extremely overpopulated and extremely small shallow island in OTL, nothing important! but i'm the Phoenicians I need a port for Europe! VENEZUELA 02:53, July 8, 2010 (UTC)

No, really sorry but I prefer Petra than Ugarit but if you want you might have bases in Petra, Jerusalem, and my capital Beirut! VENEZUELA 02:59, July 8, 2010 (UTC)

Ok, put it in the Map Game! VENEZUELA 03:02, July 8, 2010 (UTC)

Hey, do you want to make some moves in the Fall of the Roman empire map game? ProfessorMcG 16:26, July 12, 2010 (UTC)

If you've made both of your moves this turn then wait until we get everything sorted out and we'll move on to the next year. It's slow now because things are still being figured out. ProfessorMcG 16:54, July 12, 2010 (UTC)

Hindu Subcontinent
Yes please help out. I honestly can't make headings and stuff, but you can also help out with the countries. Batmanary 04:48, July 11, 2010 (UTC)

Central World
Hi Fedelede might you create an article of Central World, or give me your opinion? VENEZUELA 17:17, July 13, 2010 (UTC) Please Answer me! Please?

None, Yet. VENEZUELA 15:22, July 14, 2010 (UTC)

Fedelede sorry to bother you you, but you might create an article for Central World (again) and help me inviting more people, Arstarpool is turning many people against Central World (possible to expand Wasteland Europe). Please Answer me! VENEZUELA 03:15, July 17, 2010 (UTC)

Categorizing
Just to let you know, I'm going to add you to a Creators of Rise of Roses category, k?

Eastward Expansion 16:07, July 14, 2010 (UTC)

Rise of Roses
Can you add Italy and the other articles you are doing to the Talk Page for Rise of Roses? Thanks! Eastward Expansion 17:57, July 14, 2010 (UTC)

Sure, you can have Nice.--Smallpox 22:09, July 16, 2010 (UTC)

Pretty much, yeah, but it may still take a while more, now that I'm working on Raging Bear and I kind of have to think ahead for all the countries to make the map believable and not just our world with the countries having a different language, South America shall prove the hardest to map out, I presume.--Smallpox 23:22, August 12, 2010 (UTC)

Your help is very welcome! Especially since your country (Italy) has the first POD in all of this. I like the South American map, maybe it would be possible to fit Scotland in somewhere though? I also came up with an idea, maybe we can contact all the people who made nations and ask them how they want them all to turn out maybe.--Smallpox 23:37, August 12, 2010 (UTC)

I think it most definitely would be called the "blob state", maybe the "state of corn and blob-like geography", haha. But in all seriousness, no worries, Louisiana know looks much better, it borders the USA along the Mississippi river, Texas roughly by the Canadian river and California by the Rocky Mountains.--Smallpox 00:08, August 13, 2010 (UTC)

Better!--Smallpox 00:21, August 13, 2010 (UTC)

Hi Fedelede! I have a question. When began the colonization of Patagonia? In the timeline say 1842, but in the history of Italy appear 1601. What is the real date? Greetings --Katholico 03:25, July 15, 2010 (UTC)

Ok Fedelede, but if there are no mas wars between Italy and Spain, how Chile turn into italian territory? In OTL, by 1550 - 1600, there were Spanish settlements in Chile. I think maybe during the Colombia Crisis', Chile passed to italian control. What do you think about this? --Katholico 00:27, July 17, 2010 (UTC)

Fedelede, me gustaria crear el articulo sobre United Republic of South America (Chile/Patagonia). He estado pensando en que sea una nacion italiano-española, dado que en un inicio Chile fue colonizado por españoles como te dije antes. Que opinas de esta idea? Saludos --Katholico 23:11, August 17, 2010 (UTC)

Si por supuesto. El español se concentraria basicamente en Chile central. Si estas de acuerdo entonces comenzare pronto el articulo en base a los datos que por ahora hay en los articulos sobre Italia, y a medida que se expanda la historia, ire agregando o modificando, te parece bien? Cuidate, Saludos! --Katholico 06:09, August 18, 2010 (UTC)
Bolivar's Dream
Hello there. I have been interested in this timeline since you first brought it up. I would love to help out if possible. I would love to make a map of this Colombia. I also have an idea on a flag, unless you have one in mind. --NuclearVacuum 15:49, July 16, 2010 (UTC)

Your Works on Wasteland Europe
Hey Fede, are you going to finish what you started on Wasteland Europe? You have alot of good ideas, and I think we should get them graduated. Arstarpool 02:03, July 17, 2010 (UTC)

IRC
Yes, yes I am.--Smallpox 21:52, July 19, 2010 (UTC)

Georgia
Fede, Venezuela really didn't do a good job on the Georgia article for 1983: Doomsday. Can I delete all those mini-nations he created? Arstarpool 03:39, July 20, 2010 (UTC)

I'm assuming thats a yes? Arstarpool 23:09, July 20, 2010 (UTC)

IRC
This is sort of an IM thing that Smallpox and Vegas found, I checked it out and it's pretty cool.
Go to http://webchat.freenode.net/

write your nickname

type "wikia_ah" (remove quotation marks) in the channel box

enter, and party.

Pass it on.

BoredMatt 14:29, July 20, 2010 (UTC)

PS me and EE found the layout a bit confusing, you type in the text bar at the bottom of the screen.

Sorry
I just wanted to personally apologize for my edits. I wasn't meaning to upset you. --NuclearVacuum 23:06, July 20, 2010 (UTC)

European Renaissance
heyy Fedelede, since this one started so quickly, do you think we should start the African colonization game? Hopefully we can move slower there though. Batmanary 16:16, July 26, 2010 (UTC)

Advancement
Sorry I didn't get back to you sooner.

I didn't realize that you had already asked to join.

Yes that would be great! You can also edit former Genoese and Venetian colonies...

Eastward Expansion 23:04, July 28, 2010 (UTC)

European renaissance
wat happened with the map game why is it like that. its a mess. i didnt approve this. they were only supposed to roll back the war not the entire game. now we need to start again. who did this and why WE NEED TO TALK IRC NOW Migue235 15:22, July 30, 2010 (UTC)

1430
Hey, I'm Ownerzmcown and I'd like to ask you, a player of the Map Games to go to the Europe 1430 Map Game talk page and vote against allowing the British Group to invade the Germanic Pact near the bottom of the screen, the idea is borderline implausibility and needs to be rolledback! Ownerzmcown 11:55, July 31, 2010 (UTC)

Vote
Hey, go to the main page and vote on the issue that Zack created, right now its 4 to 4. If you agree with Zack and Mitro than click Support and edit but if you agree with me and Oer than click Oppose and leave your signature. Arstarpool 21:24, August 10, 2010 (UTC)

Oh and on your user page you wrote that you are from Colombia, are you from Medellin, Via Vicensio, or Bogota by chance? Arstarpool 21:33, August 10, 2010 (UTC)

Its just that my dad lives in Medellin, and I go there a lot so maybe we can meet in real life the next time I go over there. Arstarpool 03:27, August 11, 2010 (UTC)

Alternate Nations
Do you want me to put on the map of bigger Italy. Baconton 20:11, August 11, 2010 (UTC)

1983DD
I think you should return, and Georgia and Ossetia are finally canon at last. Arstarpool 05:21, August 13, 2010 (UTC)

Creo que si, ademas los unicos buenos articulos de Sudamerica son Venezuela y Chile, talvez podrias modificar los otros? VENEZUELA 01:12, August 16, 2010 (UTC)


The World Exhaled at Saravejo: AWesome's Reply </div> Thank you for your offer to help me on this timeline. Any ideas or welcome, or you can write other articles.
Caliph breaks apart
I would be honored to participate in such a project, but...didn't that already happen in real-life history? (when the Islamic Caliphate became divided after reaching its height) It broke apart into the Caliphs of Baghdad, Fatmid Egypt, and the Moorish Emirate. --Emperor of Trebizond 00:35, August 28, 2010 (UTC)

Sure, I'd love to help you although in such an early TL I'd only be of use in Eastern Rome. It'd be curious of what's going to happen to Egypt-an independent Coptic-Christian state that might become prey to an Eastern Rome and that's reveling in the Fall of the Rashidun Caliphate. Mr.Xeight 01:46, August 28, 2010 (UTC)
Hola Fedelede, cree el articulo de United Republic of South America, junto a lo basico. Me dices despues que te parece y cual es tu opinion de las banderas, escudo, y si el nombre es muy largo, como habria que renombrarlo. Saludos y gracias! Despues vuelvo. --Katholico 21:54, September 1, 2010 (UTC)
Hola Fede, en la relacion al articulo, te iba a preguntar cuando entonces Chile pasaria a control de Italia? En la Guerra de las Sicilias? (eso parece decir en History of Italy). Por cierto, viste como dije que hice la bandera? Saludos --Katholico 02:23, September 18, 2010 (UTC)
MMM, ok, es que preguntaba para seguir con el articulo. Pondre que tras la Guerra y los acuerdos de paz, Chile paso a ser territorio italiano, pero solo se realizo una colonizacion inicial limitada a la Patagonia y a Chile, mientras una buen parte de los españoles residentes siguieron permaneciendo alli. En los 1800 como tu dices entonces aumento la colonizacion italiana, y ambas culturas se fundieron definitivamente y dieron origen a Republica Unida :). bien? --Katholico 03:01, September 18, 2010 (UTC)
No Native America
Great! I hope it prospers! I hope to see more of Chukchia......

68.93.192.195 20:53, September 8, 2010 (UTC)

Oh yes, of course! Sorry I took so long...I won't be online for a while.

I'm having to do a lotta studying for tests.Eastward Expansion 21:55, September 17, 2010 (UTC)
Latinoamerica
Hola Fedelede, si el articulo fue creado por Xi'Reney o por alguien q no entra a la wikia desde el 2009 puedes, pero si es de otra persona preguntale y listo! ademas me gusta como t esta quedando Chaldea, sigue asi y creando cosas para Central World! VENEZUELA 21:21, September 9, 2010 (UTC)

entonces si puedes, y te queria decir podrias votar por Perez Jimenez's Venezuela como featured althistory. VENEZUELA 21:32, September 9, 2010 (UTC)
Italia en Central World
Que bien que hiciste ese articulo pero el mapa tiene unos errores que yo te los puedo arreglar si quieres? VENEZUELA 00:58, September 17, 2010 (UTC)
SAC
Hola Fedelede quetal si tu, Katholico, y yo adoptamos la SAC y la expandemos, y tambien hacemos sus varias organizaciones y la Capital Sudamericana de la Cultura? VENEZUELA 18:42, September 21, 2010 (UTC)

Fedelede tu eres los byzantinos en europe 1430? porfa yo soy damasco y pedi una alianza a ellos, pero solo me declararon la guerra y a un pocoton de otros paises. VENEZUELA 22:21, September 22, 2010 (UTC)

y crees que pueda anexar el pais ese de adana, y partes del imperio bizantino haciendo una alianza con Italia? VENEZUELA 22:29, September 22, 2010 (UTC)

ok. pero me voy a aliar a Italia, ademas tu eres de origen italiano verdad? VENEZUELA 22:34, September 22, 2010 (UTC)
Mi Nuevo Map Game
Hola Fedelede, quieres jugar mi nuevo Map Game, WWIII 1962 (Map Game) porfa invita mas gente, puedes agregar videos y fotos. VENEZUELA 18:11, September 30, 2010 (UTC)

Fedelede necesito tu ayuda en Europe 1430! Damascus esta siendo masacrada por Hedjaz. VENEZUELA 15:53, October 3, 2010 (UTC)

El problema es que el libano esta adentro de Damascus y no quiero que se convierta a musulman. VENEZUELA 16:05, October 3, 2010 (UTC)
Explorers (1452 Map Game)
Dear valued map game player:

We are currently trying to revive Explorers 1452 (Map Game). You have signed on as the following nations: Spanish Castile. We would appreciate it if you would consider contributing.

Thanks,--Emperor of Trebizond 21:20, October 3, 2010 (UTC)

Do you still intend to continue with the above project?--Emperor of Trebizond 21:34, October 5, 2010 (UTC)
Changed Destiny
Hello, I am a new user to this site, and recently inquired about potential collaborators on the main page discussion thing. I was then pointed to the experts page, which led me to you. Looking at your page, you look like you have plenty of projects on your hand, so I understand completely if you cannot respond to this or help. My timeline is about an alternate America, and is very centered on the development of this alternate America. But, I would like to flesh out the rest of the world. One thing I was wondering about is how the UPCA and Gran Colombia would grow with explicit American backing, politically and militarily. One thing of note is that Mexico is a Republic, due to the lack of a Peninsular War. I am completely unsure if Gran Colombia and the UPCA were viable states in the long, or how they would put their collective resources together. Would they keep America at an arms distance, and not get too entangled lest they be annexed? Or would they look forward to some sort of annexation? I am more inclined to keep them independent, but I'd like to see your input on the issue. Also, how do you think Mexico would develop without the influx of American immigration in the 20s and 30s (Canada opened up to American settlement leads to alternate immigration).

Wow, that was quite a rant. Sorry about that. Get back to me if you can. Thanks! Randomideaguy 23:58, October 3, 2010 (UTC)
Response:
Yes, I meant both. A few users, including myself, are trying to revive the colonization game. I hoped you would still be willing to participate. Nor have I forgotten your divided caliphate idea. I simply wondered if you had.--Emperor of Trebizond 21:42, October 5, 2010 (UTC)
Re: Maps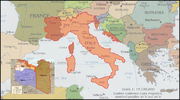 Nice to hear from you again. Yes, I did make that map, remember. I would be honored to make a map of Italy for you. I made a quick map just to see if I got it right. I didn't add Cyrenaica in this WIP, because the map I used didn't have Libya in it, but I assume that it would be the same border as in OTL. Correct me if I got anything wrong. --NuclearVacuum 16:05, October 10, 2010 (UTC)
Glad that you like it. Well, I made an updated version to show the changes, is this one correct? As for when I will get to the map, I have already promised Katholico that would do three atlases for him, and I find it fair to do them first. --NuclearVacuum 17:09, October 11, 2010 (UTC)
When did Austria give those to Italy? Why was this? I don't think Austria would be keen on giving up territory to Italy. --NuclearVacuum 14:03, October 12, 2010 (UTC)
Aram and former Iraq
I did some quick searches and its definitely plausible, but it should be formed after 1990 to go along with the collapse of Iraq according to the Assyria article. Would it include Kuwait as well? Sorry but the Middle East isn't my area of expertise so I will have little advice to give you, but I will still give a little advice whenever I can. You should consult with Fx for more advice too. Good luck! Arstar 23:54, October 13, 2010 (UTC)
Triunfa, España
Hola Fedelede, suena interesante la historia, si me gustaria participar, aunque primero debo familiarizarme mas con el tema :P Empezare a investigar. Saludos! --Katholico 14:09, October 23, 2010 (UTC)

Hola Fede, te queria preguntar sobre America Latina en esta linea de tiempo. Se independediza? toda o parte? Ya tienes pensado mas o menos este asunto, o aun te falta ver esto? Saludos --Katholico 19:40, October 29, 2010 (UTC)

Ahhh entendido. Avisame si dices algo al respecto, o si necesitas ayuda para otra tema. :) --Katholico 20:32, October 29, 2010 (UTC)

Hola Fede, oye te queria preguntar si ya tienes determinado el POD de Triunfa, España!? Saludos!! :D --Katholico 20:55, November 10, 2010 (UTC)
No hay problema Fede!! :) En cualquier cosa ayudo. Me avisas en cuanto la historia este mas definida para ayudarte con los articulos :D Saludos --Katholico 00:44, November 16, 2010 (UTC)
Ahh, entendido eso de las monarquias constitucionales. mmm pues en cuanto a ideas, seria interesante que las naciones latinoamericanas (en caso de que haya independencia) tomen un papel mas influyente en el desarrollo del mundo, como tomando el papel de USA y alterando a favor de un bado una guerra por ejemplo. Mñn pensare en mas y te avisare :D Saludos
1452
So you give me permission to take over Florence?

BoredMatt 22:50, November 15, 2010 (UTC)

Yessir, that's a deal.

BoredMatt 22:55, November 15, 2010 (UTC)

Haha, I was actually just thinking on that. I'm gonna wait a bit and change it up. John Calvin's parents moved to New Plymouth around the same time that Luther's parents moved to Florence; I'm going to try to recreate the Reformation in the Americas with John Calvin setting it off as opposed to Luther. It will be interesting to see how it turns out with Emperor of Trebizond playing as the Papal States, and Protestantism moving towards predestination as opposed to away from that belief. And I do suppose I'll be Assyria, it was my original choice. BoredMatt 16:14, November 20, 2010 (UTC)

Scratch that, I'm Pheonicia.

 Go to:
User Page | talk page | Archives: One · Two | Ideas (New TL) | Sandbox (Saint Muhammad)'
Community content is available under
CC-BY-SA
unless otherwise noted.