Hello and welcome to the Alternate History Wiki!

The Alternate History Wiki is a project for all communities concerned with creating fictional alternative histories. We hope you will feel at home here and wish you good luck contributing to our ever growing collection of alternative histories.

If you have no experience in editing wikis it is advisable that you first read our guide on making articles.
As an introduction to the phenomenon of Alternative History you can read our pages on Alternative History, Online Alternative History as well as Wikipedias article on Alternative History.
A list of all AltHists alphabetically sorted can be found here, a list sorted by Point of Divergence can be found here.
To sign your posts on talk pages use ~~~~ (four tildes). This will insert your name and timestamp. To insert just your name, type ~~~ (three tildes).
If you are in need of ideas to base your AltHist you might consider looking at our ideas page.
For an explanation of frequently used terminology please visit this page.
You can experiment in the sandbox.
All articles on this wiki take the following fomat: Name of article (Name of AltHist). This rule does not apply to the main article of your AltHist wich you can simply give the name of your AltHist.
For links to other Alternative History related sites visit our links page.
Please read the rules of our wiki.

Regards, -- Lordganon (Talk) 08:49, February 12, 2012
Wait
Thanks a lot about Maurer but wait, are these guys like Manea Manescu (Vice President), Ion Dinca (1st Deputy Prime Minister), Constantin Olteanu and Emil Bobu (CPEx Secretaries of the Central Committee), even Dascalescu (Prime Minister, I considered him a Ceausescu's servant because in 1969, he denounced Apostol) are also saner than Ceausescu (you said that any Romanian leaders are saner than Ceausecu) ? I thought these guys worship "the genius of the Carpathians" to the teeth? Or just like Beria, wait the time to come? 1234chernobyl (talk) 10:12, August 5, 2020 (UTC)
I guess you and I all know about the XII PCR's Congress Incident, when Constantin Parvulescu (84) denounced Ceausescu (61). Call it insanity was right, but sanity was also right. Of course, depends on what context. Well, concern about this, should we, you know, called Parvulescu "a man who was right at the wrong time"? 1234chernobyl (talk) 14:58, August 6, 2020 (UTC)
Well, I found something strange with the SR Romania (especially with Ceausescu family and supporters), so here's some questions:
Well, Manea Manescu, Ceausescu's brother-in-law, was one of the most faithful supporters in the government. So I though did he had some problem? And why he supported Ceausescu, the "Genius of the Carpathians, the greatest Lieutenant General and Political Commissar we ever had, better than literally everything on the 4 observable universe (the latter was made by me)", because of family thing or he was actually Stalinist? (I don't know if he is pragmatic or not)
Nicu Ceausescu, the man that every women love, married to Poliana Cristescu in 1983. Is that a forced marriage in order to get Nicu Ceausescu into politics (since she was head of Party Pioneer Organization)?
What if Bodnaras (Defense Minister) lived until late 1997? Would he changed sides to the reformist or just like Ceausescu's "bordello men" (I used bordello men because those guys are defiant supporter of Ceausescu, will do anything for Ceausescu, especially with the CPEx one)
Gheorghiu-Dej, a moderate communist in last years of his life, is not pro-Soviet as you think. Withdrawal of Soviet troops in 1959, abolition of SovRom are examples of anti-Soviet stance that he made. On the other hand, Ana Pauker (Stalin with a skirt, looks better than Elena Ceausescu tbh) was pro-Soviet but a hardliner. I would compare her to Todor Zhivkov. But if Pauker came into power, would be be flexible enough to be a "Janos Kadar-lite" (means reformist but still in Soviet Bloc)?
1234chernobyl (talk) 09:51, August 15, 2020 (UTC)
Population
Got the India (your timeline population). Using the 2018-2019 estimate, I would minus the populations of these region that you exclude plus the regions of Nepal and Bhutan, it would be 1,158,894,842 people.
Well, if Cockroach Revolution success, should it be a "Romanian" one or a "GDR" one? Should Sasha compared to Nicky - the greatest leader and shoemaker alive, hired by Gucci, Louis Vuitton (Nicolae Ceausescu, I am trying to think of my first ASB - Fictional) or Erich Feist (should Margot a male, Erich a female). Well, time to use "deepfake" to accuse them of extramartial affairs! 
Re:Uploading Issue
Thank you for bringing this up. Unfortunately, the issue lies with Wikia. I've made them aware of the bug, but they are taking the sweet time getting it fixed.
All I can say is feel free to upload a PNG/JPG version until this bug is fixed. Sorry their isn't more I can add to this situation. Hope this helps non-the-less.
Do take care. Great hearing from you again. -- NuclearVacuum
21:02, August 24, 2020 (UTC)
Well, giving some notable members of Communist Parties (other than characters we had talked about) like Alia (Albania), Togliatti (Italy), Berlinguer (Italy), Ciobanu (Romania), Marchais (France), Carrillo (Spain), are there any "preferrable" communists in both West and East? 1234chernobyl (talk) 16:33, August 26, 2020 (UTC)
Well, my apologies for not having information about your health. 
So yes, that's the Belarusian thing against "Luka(shenko) (and Ceau)sescu, with the former is correct" (Lukashenko said the only way he could be removed is to kill him, however, I am suspiciously felt that the army would still s*ck his oversized d***). And "preferrable communist" means pragmatic, have an independent stance, much more flexible than let's say Brezhnev and more hardline (is my grammar correct?) than Dubcek or Zhao (these guys are social democrats).  Of course, Groza is not a good choice (to be honest compare to other communist, he is more handsome)
Anyway, stay safe, your health is going to be better soon, I believe. In fact I was in constant sneeze for like 2-3 years before I could recently stop now. 1234chernobyl (talk) 15:11, August 29, 2020 (UTC)
"Re: Congrats" and also appreciations
Yes, how to accept that (just write I accept the nomination, isn't it)? You are right, I still need to learn a lot in writing (my parents and my English teachers also said my writing and my grammar still need to improve)
Also, I am trying to write a ASB - Satire Biased story of Ceausescu was found by Coco Chanel instead of Vasile Dumitrescu and became a fashion designer, after AVITE (my 2nd timeline abbreviation). This one won't need a lot of your advice.
1234chernobyl (talk) 11:50, September 3, 2020 (UTC)
P/S: I've just sent a flag nomination. 
Nomination
Thanks for the nomination and nice words. Read it and I am glad my ATLs helped and inspired your and other's work. -JorgeGG (talk) 13:45, September 3, 2020 (UTC)
Is this map ok?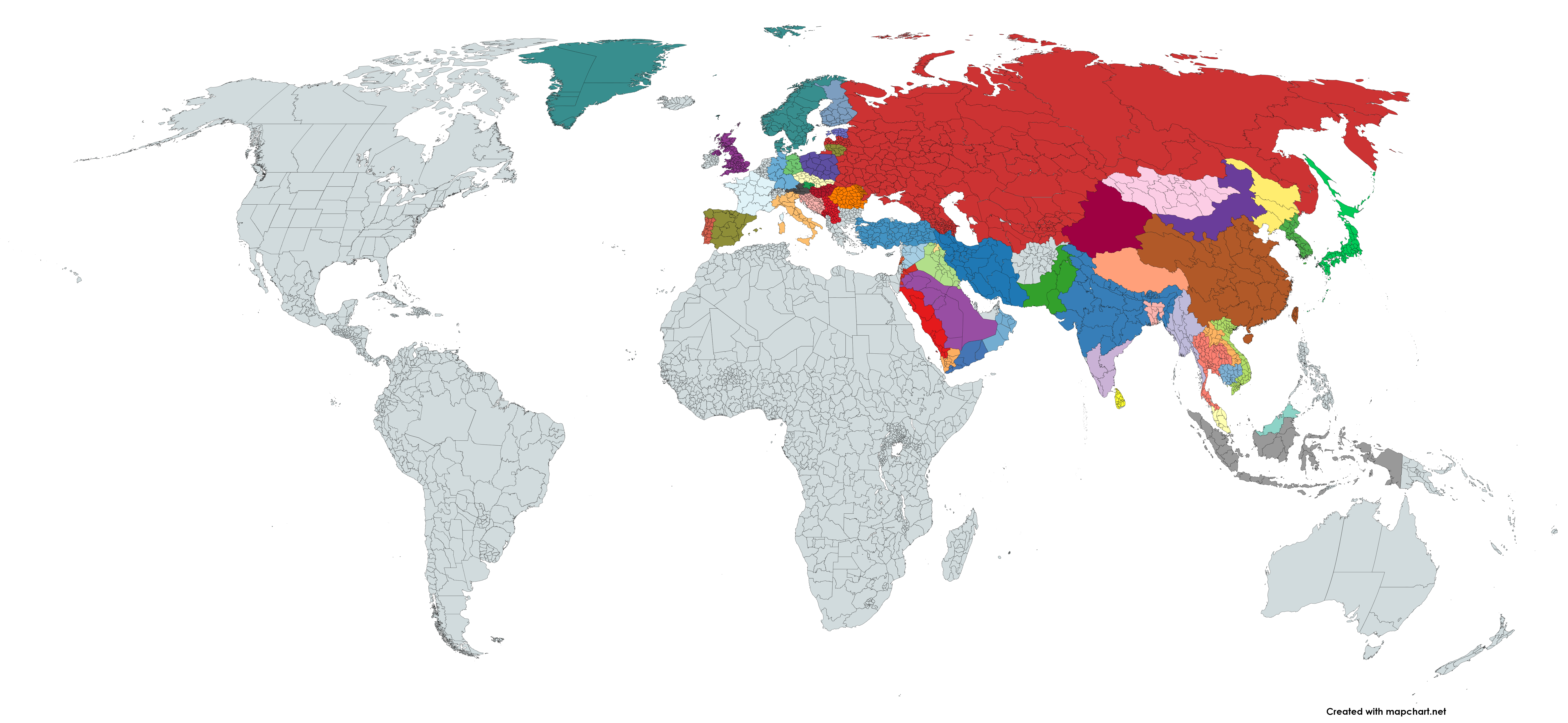 Is this map ok?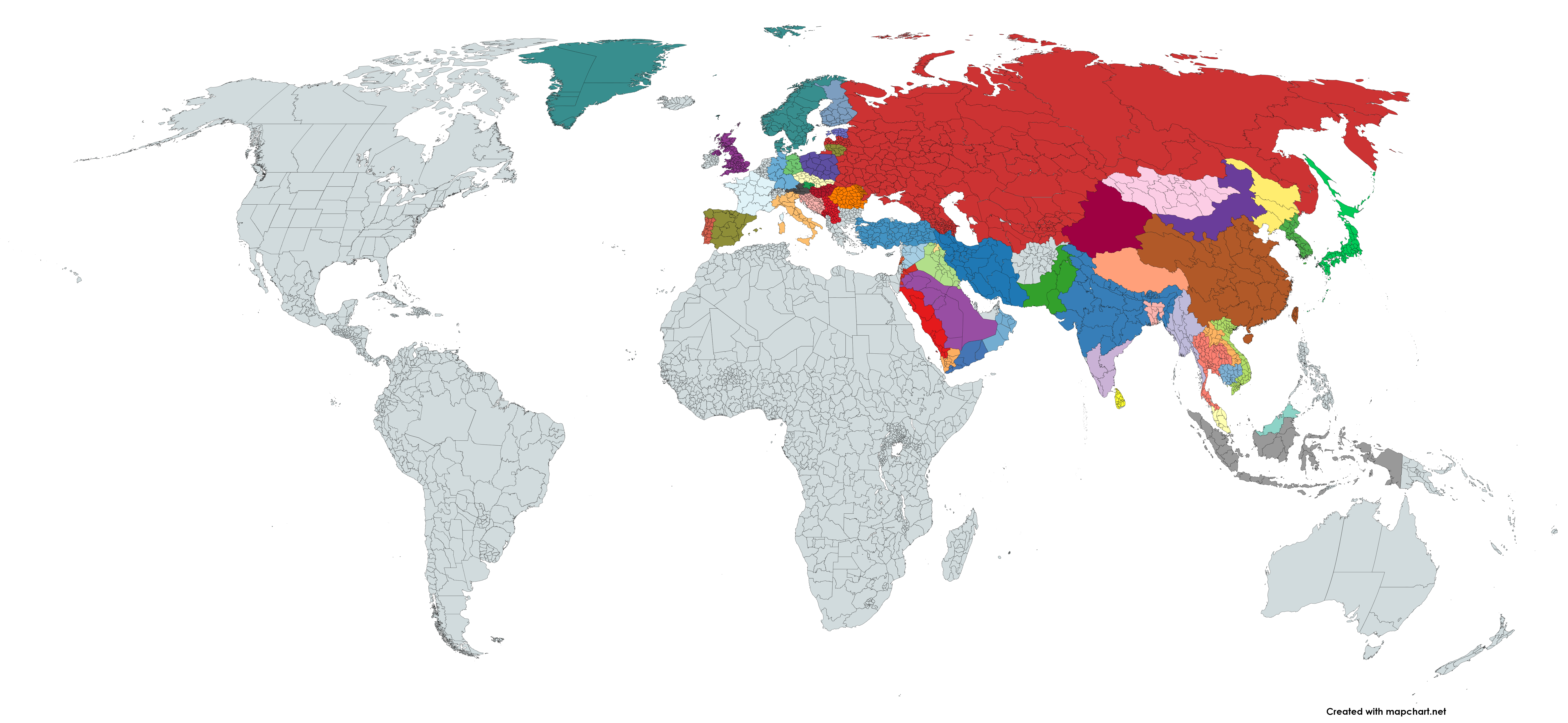 1234chernobyl (talk) 19:57, September 3, 2020 (UTC)
Hungary and books
Well, in my 2nd, my going-to-be Europecentric alternate history (not in writing), AVITE, (A Victory in the East), I am thinking of a viable president of Hungary without communism. Janos Kadar was a good choice after conservative Horthy when people are bored of socially austerity policies. But Laszlo Rajk would be a good choice? I mean he was accused of being a Titoist, which made me feel bad for him, but at the same time, he said "Long live Stalin! Long live Rakosi!", which made me vomit. Nagy would be a member of Liberal Party for sure. And about Russia, Gierek would be Governor of Polish Autonomous State. Jaruzelski would be pro-Gorbachev (like in late 80's) but more hawkish.
Also, well, in History (grade 8), published by Publishing House of the Ministry of Education, does it right when saying that CPUSA is a leading force of the U.S workers during Great Depression? (well, it's not a book to read)
1234chernobyl (talk) 15:11, September 7, 2020 (UTC)
Book
In case you find Vietnamese history books during Tay Son's and early Nguyen's era, try to take a look at "Civil War in Vietnam from 1771 to 1802" (Original name: Lịch sử nội chiến Việt Nam từ 1771 đến 1802) by Ta Chi Dai Truong. That might help you on alternate history and with the CPC's timeline happened, how would it change? Well, in case you use Amazon, this link might help you:
https://www.amazon.com/L%E1%BB%8Bch-Chi%E1%BA%BFn-Vi%E1%BB%87t-1771-1802/dp/604908789X
(hope it's ok)
books, potential for brandler's successors
Well, about books, I hope that with a future openess, maybe these book will be translated to English instead of blatantly banning it. And, about the pragmatic talk before, is the region that is "literally conservative to teeth" is Aceh? And about Ostdeutschland (Deutsche Demokratische Republik), I think Erich Apel was a good choice. However, because he was supported by Ulbricht, and Ulbricht weren't in power, so I think he needed a good patron. The best one is Heinrich Brandler (OTL Right Opposition's German representative). For external support, Kirov is ok but he died anyway so Ponomarenko is good? Another favourite was Lamberz, seems to be a Kirovian standards I guess?
Pieck died in 1960, so you can't bring a nearly sick, senile, 100 years old to a political conflict. Pieck would talk about how Ulbricht produce bananas if that happened. Arthur Pieck would be a good choice, but his (Wilhelm) daughter, Elly was even much more. She was a leading member of Marxist-Leninist Institute, and Arthur Pieck was just a head of Interflug. Brandler was also old so no fighting for 90 years old gentlemen. Instead it would be Lamberz vs Apel or Axen vs Apel. And if Apel died or resigned, Gerhard Schurer was also a good choice. In OTL, Gysi was a lawyer to dissidents, so a big problem for him. In economy Schlack-Golodkowski would be a depender on West German loans.
On political policies in 2000s or later, because Gysi was a lawyer for Bohley and some other dissents, I think people's democracy should be reformed and GDR became factional democracy (one party state with many factions to vote). Because in your ATL's USSR, you said that "It is described as the revolutionary vanguard of the working people to realize a communist society following the October Revolution. Anarchists, social democrats and other left-wing groups are allowed to participate in the elections of the soviets as independents, but are legally prohibited to organize themselves into political parties or any "counter-revolutionary organization"."
So, in your TTL, GDR would trade with other Western countries more (most important Western trading partner might be their Western neighbour?). And in OTL, Michael Muller was a SPD member, so he would be in liberal half of SED (SPD in East Germany)? And because Lamberz was too adventurous, I think he would be labelled "Nazist-Troskist" or maybe just send him to become an ambassador for some African or Asian countries, maybe Vietnam is the most probably. See this link: 
http://cand.com.vn/Quoc-te/Nhung-ky-niem-khong-bao-gio-quen-voi-dong-chi-Werner-Lamberz-197578/ (Ministry of Public Security's article about Lamberz, try to use Google Translate, but, to say in short, the author wanted to say that he's a good friend of Vietnam, Labour Party of Vietnam, and Vietnamese people. The author hoped that he would be Honecker's successor but with the accident of Libya, it ended. Also To Huu and Hoang Tung were also had positive opinion of Lamberz)
Here's my proposed short profile (1951-1971/76) of Erich Apel (part 1, could you fix anything for me if it is ASB):
1951: Minister of Machinery Construction. He was appointed because of his administrating talents and also because of his expertise in technology. He was supported by Otto Grotewohl, the leader of the liberal half faction of the SED. (4th Congress) 
1953: Member of the Central Committee (in TTL he's a party member, not a candidate). His 2 years term as machinery ministry's head is a part of it, but also his contribution to East German's industrial recovery. 
1956: Member of the Secretariat and candidate member of the Politburo. July 1953 incident would made other SPD members outraged with Pieck and Ulbricht, but the Soviets wanted a KPD member to remain. So Heinrich Brandler was chose. Apel was on one of the first group to chose to allied with Brandler. In exchange, the latter promoted Apel to member of the Secretariat and candidate member of Politburo. (5th Congress)
1957: Member of the Politburo and head of the Economic Commission. As GDR wanted to implement Imre Nagy's reforms to GDR's situation, Erich Apel was the good man to implement it. The Economic Commission was formed under his leadership. As such, the Five-year plan was reconcentrated to consumer goods and agriculture, while not forget heavy industry. The result was sucessful in accelerating GDR's economic standards and would just behind Hungary's GDP per capita. Brandler would proclaimed Apel a sucessor for him.
1961: 1st Secretary of the SED. At the 6th Congress of the SED, Brandler resigned due to his ill health. Apel, his second-in-command would be his successor. During the congress, he proclaimed that East-West cooperation was not impossible and the East should take oppoturnity to do it. (a speech in support of CPSU's 21st congress). He also promised to continue Brandler's foreign policy of detente.
1962: He began to allow private business to exist and when it is big enough, it will belong to the state as autonomous people's enterprises. This would be marked as a return to Lenin's NEP. He also allow to cultural reforms to liberalize the GDR's society. In Central Committee and Politburo, he demoted Willi Stoph, a fierce opponent of Apel, and Erich Mielke, the remain of Ulbricht's protege. He promoted Fritz Streletz, a patriotic but also a pragmatist general. General Vincenz Muller was reinstated as Chief of Staff.
1965: Apel visited West Germany, as an evidence to his speech in the 6th congress, to met with Willy Brandt, Chancellor of West Germany. Both signed Basic Treaty of Recognition. Then Apel visit to Scandinavia, Italy and Spain and signed economic treaty.
Thinking of some reformers in RSR
Finding a Romanian version of "Deng Xiaoping" is a little bit harder since party members of PCR have to say like: "CEAUSESCU REALES (Ceausescu reelected)" or Ceausescu - pace. But since you gave me a hint that Iliescu is a reformist, I think he's could be a Deng Xiaoping-type. A loyal communist wanted to resturcturing the economy to be more effective, a much more pragmatic person than the Conducator himself. Another person whom I thought interesting is Ilie Verdet, former PM. He formed the PSM which also anti-Ceausescu but also partially a reformist communist party.  Stefan Andrei was also a choice. Not a fan of Elena, he publicly said it already. (Of course I understand that you still let "House of Ceausescu" remain in power)
P/S: I don't know but if Ceausescu is humourous enough or just cold-blooded? Lenuta (Elena) was the only one he trusted, is it (the information) wrong? (Also he kinda look like Rowan Atkinson for me)
1234chernobyl (talk) 04:27, September 19, 2020 (UTC)
Brought up to my mind in GDR's agriculture is Werner Felfe, OTL Secretary of the SED in Agriculture. He was quite ok and got a speedy compare to other bureaucrats (of course not Krenz and even Honecker himself). He would be a good companion of Apel concerning in agriculture because he was a reformer, consider his quote "The restructuring process of GDR musn't stop", which led to his death (political struggle)
Is Horst Sindermann a reformer? Since de jure he was the third in GDR, but de facto he only appointed for much more minor task compare to other Politburo members. Harry Tisch also?
Well, here is an article about Paul Niculescu-Mizil (also about prawn cracker import from Vietnam, from his diary): 
https://adevarul.ro/news/politica/apostolii-epocii-aur-episodul-13-paul-niculescu-mizil-ideologul-partid-eram-inburta-mamei-fost-inchis-oara-1_56eacf095ab6550cb8f294e3/index.html
Is this actually true that Niculescu had more flexible stance than other Stalinists in power and prepared for the overthrown of his superior? Also with Vietnam is non-communist nation, how would Romania do with it's shortage? Import prawn crackers from Israel (desparation)? Well, for suggesting Vietnam during 1960-70's (if military-civilian law and order-type of dictatorship prevailed), Nguyễn Văn Linh (one of OTL victorious moderate reformers in CPV) would be a member of Transitional Council (return to democratic rule). You see he is a pragmatist (Truong Chinh was also like that but he's too leftist for TTL), moderate Bukharinist, but without Communism, he would be in moderate-right. Vo Van Kiet would be a liberal MP or even PM for sure. In OTL, he was pretty much popular and gained more public recognition than Linh. His protege Phan Van Khai (a liberal technocrat) was seen for me a viable candidate. 1234chernobyl (talk) 13:21, September 20, 2020 (UTC)
Well, in case of DR Vietnam (1945-1975)/SR Vietnam (early days, pre-reform era), you got a good variation of leaders:
Maoist faction (led by Hoang Van Hoan): explicitly pro-Chinese, after HCM's death, more flexible stance. In military: supported by COLGEN Chu Van Tan
Pro-Soviet conservative faction (led by Le Duan): pro-Soviet, explicitly anti-Chinese. Would prepared for any war, especially in the sea. Hard to reform.
Moderate conservative faction (led by Do Muoi): More conservative in internal policies, and flexible in foreign policy. Wanted to remained status quo in Party leadership (VIII Congress)
Flexible reform faction (led by Truong Chinh and later Nguyen Van Linh): Not so explicitly pro-USSR or China, just wanted peace and prosperity by reform. Also still more nationalistic than Mod-lib faction. Usually cooperate with the last one.
Moderate liberal faction (led by Vo Van Kiet): Open to the West, and the faction leader had visited Indonesia and used its' experience as a model. Would remained one-party state anyway.
Also about General Giap, he was an lower-class interllectual. Was a history teacher before, also a graduate of National High School in Hue (the former name), a student of Albert Sarraut High School (not graduated). He was marginalized in the politburo by became Dep. PM for Science and Technology and Chairman of the Birth Planning Committee. It's hard to say but he did a great job on that. When he retired, he became increasingly reformative. Most of the retired leaders were anti-Dung (Giap was afraid of national defense), especially in Aluminium/bauxite mining. Of course, it depends on you on how to control the birth rate in VN on ATL.
The reason I said about factions because I hope that it might helps you on how to fit Vietnamese politicians in your TL.
President
Wilhelm Zaisser was ok I believe, Moscow favored him because of his moderate reformist stance anyway, so, why not (idk if this position would improve his image)? Rudolf Hernstadt was also a good choice, because he's a reformist, anti-Ulbricht. Anton Ackermann was ok, of course, he's more conservative compare to Kirovian standards. And I guess the year was 1960/1962, before/after the party congress for a year. Stoph (I hate him) would be hanged (should he died in that way?) or fired. He's an hardliner. 
An extra question that non-related to GDR: What if Ceausescu family (pre-Nicolae dominance) had a career in Sibiu instead of Scorcinesti or Tirgoviste? How would Nicolae changed, both morally and his thinking? How would he changed if he decided to enter into politics? 

Well, if you need to write a biography about Apel, this one might help in making Apel's  death and funeral section (I'm too lazy to remove Ulbricht and Rau, sorry, also I am optimistic, so please don't mind if I send you some weirdo historical funeral) 1234chernobyl (talk) 15:04, September 29, 2020 (UTC)
Well, how does this presidential election work? A direct one or a inter-Party parliamentary election one? Well, IMO, there are benefits of it and problems of it. A direct one seems to be more democratic for the people, but would trigger the unification process and "European Cold War" (I mean France vs united Germany). Inter-Party election would sustain the leadership of the SED while made itself half-democratic, which IMO, a better choice. I had read about parliamentary election in Vietnam and it's seems a parliamentary one (of course it's CPSU-type) and not direct one, so it is ok, I guess. It depends on your decision, I only suggest.
Nationalism and Poland
Well, about the Vietnamese's opinion when it comes to other countries: nationalistic, but somehow welcome. It's like Janos Kadar's "Those who not against us is with us", which I could say applicable to tourism (except China). Vietnamese people could be easily angered when it comes to sovereignity. When Jackie Chan attempted to visit Vietnam as an goodwill ambassador of OSV (Open Smile Vietnam) or sth like that, Vietnamese netizens flooded to the charity's page because Jackie Chan supported 9-dash-line. Another one is the 2014 protests where people protests against China. With the Western and other Asian tourists, people welcomed them with curiosity, especially with the youth. I guess we learned from Thailand and Indonesia on economic affairs, culture, ... 
And in European Affairs, would Zambrowski, Kasman, Rapacki and Ogrodzinski of Poland could be good representatives of reformers in the Eastern Bloc? And if yes, would they be moderate like Apel or Brandler, or even like Nagy? Since the USSR was more moderate (middle between Brezhnev's conservatism and Gorbachev's liberalism), will they have a chance of getting power? Is Ochab a moderate also?
Well, when it comes to the populism and racism: I always think of the NSDAP. NSDAP was extremely racist but also populist. Mussolini was more moderate so I wouldn't take a look at it. And is Europe in 1930's, especially with cosmopolitan cities like Paris, they were more anti-Semitic? Well, Gomulka's wife was a Jewish, so he would be much more moderate compare to pseudo-Nazbol/Communazi Moczar? And I am trying to think Gierek as PM, not First Secretary or sth. Because he was more open to Gomulka, and could like "trying to be Apel"-type gentleman.  Other than that, there's nothing more about Poland... for now.
Well, when it comes to propaganda, it seems that Secretary for Propaganda and Education to be more conservative than Minister of Information (although the latter was a Major General and Head of the Army Telecommunication Industry Corporation, the 2nd largest telecommunication industry in Vietnam). This might help you on divided them into the Democratic Reassemble (liberal) or the National Unity (Putinist conservative approach) 1234chernobyl (talk) 15:31, October 4, 2020 (UTC)
Rumania
Just for Romania if you need. Here's my suggestion starting from March 1990:
March 1990: Ceausescu was reelected as president as usual. But his health was worsen, so he appointed his son Nicu Ceausescu as his Second Secretary. Nicu was a heavy, drunk person, so he didn't do anything much for Romania. Notable for his rape, most notably (probably) with Comaneci, he wasn't highly estimated. He didn't wanted to marry with Poliana (forced like we talked a few months ago)
April 1995: Ceausescu resigned from all positions (or died) due to his health. It was expected that Elena Ceausescu would be appointed as General Secretary, but Nicu, Elena's scapegoat, was appointed General Secretary. Nicu didn't do much, other than continuing his father's legacy. However, harsh restrictions was partially removed in order to recover Romania's economy. The old guards of Dascalescu and Bobu were removed. And Stefan Andrei became his second-in-command.
At this point, we can divided to 3 alternatives (when Nicu died):
Romania allowed Erich Apel's "socialist dirigisme" to be Romania's main economic structure. Increasing cooperation with the Western Bloc and other Eastern Bloc states would give Romania a oppoturnity to restore its' international prestige and economic development. The result was the improvement of living standards to the Romanian people and allowed more access to the Western goods.
Nicu Ceausescu died because of alcoholism. Stefan Andrei approved his brother, Valentin Ceausescu to became the leader of a isolationist country. Valentin would began to reverse some of his father's austerity measure, and began to open to the Eastern Bloc. However, he didn't allowed Erich Apel's "socialist dirigisme". Iulian Vlad was assigned to the Secretariat (idk if he is a reformer or merely a bureaucrat).
Stefan Andrei was poisoned (like Ceausescu did with Gheorghiu-Dej). Valentin Ceausescu became leader. Nothing changed. Romania became worse than Europe's North Korea. Increasingly isolated, no cooperation with other socialist state. No organizations to join. Surrounded him were deranged nationalists like Iovici and Vadim Tudor. Increasing prosecution.
That's all for now. It's like CYOAH, I guess. 1234chernobyl (talk) 15:44, October 9, 2020 (UTC)
New Changes
Alright, so there's the new UCP (United Community Platform). Instead of clicking messages, you have to click Source Editor. Just to remind you that. Also, to suggest other things: for the triumviate of Romania, we could introduce a moderate left of the PCR, Niculescu-Mizil. This would made a good variant: Andrei for the right, V. Ceausescu for the center and Niculescu for the left. Also, with the economy, is it a directive planning based on input-output balances in industrial production, agricultural taxation on agriculture and balance of trade in international trade (certain aspects of GDR/USSR's socialist dirigisme)?
Another one
Thinking of the Hungary, would Karoly Grosz a good figure for the leadership? I mean, he's a moderate Kadarist, a pretty much standard for any socialist leaders in OTL. Or should we think of Nyers and Nemeth as leaders (both are liberals in TTL standards anyway)? For Poland, I think that Mr. Jaruzelski would just remained as Minister of Defense. He's an hardliner and like Pieck, a Soviet-*ss licking official. Yakemenko could be like Shelepin or Andropov, Komsomol-based official or he could be in charge of planning instead. 1234chernobyl (talk)
I mean Yakemenko could get a high-ranking job before that (he was a conservative so a big no-no for economic planning, Kudrin or Medvedev would be better), like Chief Secretary for Ideological Matters (2nd Secretary) or Head of the Komsomol (TTL Nashi) and maybe, the first civilian Minister of Internal Affairs. Nazarbayev, I considered as half-hearted reformist, so Yakemenko must have the support of Tyulkin.
Community content is available under
CC-BY-SA
unless otherwise noted.