Hello and welcome to the Alternate History Wiki!

The Alternate History Wiki is a project for all communities concerned with creating fictional alternative histories. We hope you will feel at home here and wish you good luck contributing to our ever growing collection of alternative histories.

If you have no experience in editing wikis it is advisable that you first read our guide on making articles.
As an introduction to the phenomenon of Alternative History you can read our pages on Alternative History, Online Alternative History as well as Wikipedias article on Alternative History.
A list of all AltHists alphabetically sorted can be found here, a list sorted by Point of Divergence can be found here.
To sign your posts on talk pages use ~~~~ (four tildes). This will insert your name and timestamp. To insert just your name, type ~~~ (three tildes).
If you are in need of ideas to base your AltHist you might consider looking at our ideas page.
For an explanation of frequently used terminology please visit this page.
You can experiment in the sandbox.
All articles on this wiki take the following fomat: Name of article (Name of AltHist). This rule does not apply to the main article of your AltHist wich you can simply give the name of your AltHist.
For links to other Alternative History related sites visit our links page.
Please read the rules of our wiki.

Regards, -- Lordganon (Talk) 08:49, February 12, 2012
Wait
Thanks a lot about Maurer but wait, are these guys like Manea Manescu (Vice President), Ion Dinca (1st Deputy Prime Minister), Constantin Olteanu and Emil Bobu (CPEx Secretaries of the Central Committee), even Dascalescu (Prime Minister, I considered him a Ceausescu's servant because in 1969, he denounced Apostol) are also saner than Ceausescu (you said that any Romanian leaders are saner than Ceausecu) ? I thought these guys worship "the genius of the Carpathians" to the teeth? Or just like Beria, wait the time to come? 1234chernobyl (talk) 10:12, August 5, 2020 (UTC)
I guess you and I all know about the XII PCR's Congress Incident, when Constantin Parvulescu (84) denounced Ceausescu (61). Call it insanity was right, but sanity was also right. Of course, depends on what context. Well, concern about this, should we, you know, called Parvulescu "a man who was right at the wrong time"? 1234chernobyl (talk) 14:58, August 6, 2020 (UTC)
Well, I found something strange with the SR Romania (especially with Ceausescu family and supporters), so here's some questions:
Well, Manea Manescu, Ceausescu's brother-in-law, was one of the most faithful supporters in the government. So I though did he had some problem? And why he supported Ceausescu, the "Genius of the Carpathians, the greatest Lieutenant General and Political Commissar we ever had, better than literally everything on the 4 observable universe (the latter was made by me)", because of family thing or he was actually Stalinist? (I don't know if he is pragmatic or not)
Nicu Ceausescu, the man that every women love, married to Poliana Cristescu in 1983. Is that a forced marriage in order to get Nicu Ceausescu into politics (since she was head of Party Pioneer Organization)?
What if Bodnaras (Defense Minister) lived until late 1997? Would he changed sides to the reformist or just like Ceausescu's "bordello men" (I used bordello men because those guys are defiant supporter of Ceausescu, will do anything for Ceausescu, especially with the CPEx one)
Gheorghiu-Dej, a moderate communist in last years of his life, is not pro-Soviet as you think. Withdrawal of Soviet troops in 1959, abolition of SovRom are examples of anti-Soviet stance that he made. On the other hand, Ana Pauker (Stalin with a skirt, looks better than Elena Ceausescu tbh) was pro-Soviet but a hardliner. I would compare her to Todor Zhivkov. But if Pauker came into power, would be be flexible enough to be a "Janos Kadar-lite" (means reformist but still in Soviet Bloc)?
1234chernobyl (talk) 09:51, August 15, 2020 (UTC)
Population
Got the India (your timeline population). Using the 2018-2019 estimate, I would minus the populations of these region that you exclude plus the regions of Nepal and Bhutan, it would be 1,158,894,842 people.
Well, if Cockroach Revolution success, should it be a "Romanian" one or a "GDR" one? Should Sasha compared to Nicky - the greatest leader and shoemaker alive, hired by Gucci, Louis Vuitton (Nicolae Ceausescu, I am trying to think of my first ASB - Fictional) or Erich Feist (should Margot a male, Erich a female). Well, time to use "deepfake" to accuse them of extramartial affairs! 
Re:Uploading Issue
Thank you for bringing this up. Unfortunately, the issue lies with Wikia. I've made them aware of the bug, but they are taking the sweet time getting it fixed.
All I can say is feel free to upload a PNG/JPG version until this bug is fixed. Sorry their isn't more I can add to this situation. Hope this helps non-the-less.
Do take care. Great hearing from you again. -- NuclearVacuum
21:02, August 24, 2020 (UTC)
Well, giving some notable members of Communist Parties (other than characters we had talked about) like Alia (Albania), Togliatti (Italy), Berlinguer (Italy), Ciobanu (Romania), Marchais (France), Carrillo (Spain), are there any "preferrable" communists in both West and East? 1234chernobyl (talk) 16:33, August 26, 2020 (UTC)
Well, my apologies for not having information about your health. 
So yes, that's the Belarusian thing against "Luka(shenko) (and Ceau)sescu, with the former is correct" (Lukashenko said the only way he could be removed is to kill him, however, I am suspiciously felt that the army would still s*ck his oversized d***). And "preferrable communist" means pragmatic, have an independent stance, much more flexible than let's say Brezhnev and more hardline (is my grammar correct?) than Dubcek or Zhao (these guys are social democrats).  Of course, Groza is not a good choice (to be honest compare to other communist, he is more handsome)
Anyway, stay safe, your health is going to be better soon, I believe. In fact I was in constant sneeze for like 2-3 years before I could recently stop now. 1234chernobyl (talk) 15:11, August 29, 2020 (UTC)
"Re: Congrats" and also appreciations
Yes, how to accept that (just write I accept the nomination, isn't it)? You are right, I still need to learn a lot in writing (my parents and my English teachers also said my writing and my grammar still need to improve)
Also, I am trying to write a ASB - Satire Biased story of Ceausescu was found by Coco Chanel instead of Vasile Dumitrescu and became a fashion designer, after AVITE (my 2nd timeline abbreviation). This one won't need a lot of your advice.
1234chernobyl (talk) 11:50, September 3, 2020 (UTC)
P/S: I've just sent a flag nomination. 
Nomination
Thanks for the nomination and nice words. Read it and I am glad my ATLs helped and inspired your and other's work. -JorgeGG (talk) 13:45, September 3, 2020 (UTC)
Is this map ok?

Is this map ok?

 1234chernobyl (talk) 19:57, September 3, 2020 (UTC)
Hungary and books
Well, in my 2nd, my going-to-be Europecentric alternate history (not in writing), AVITE, (A Victory in the East), I am thinking of a viable president of Hungary without communism. Janos Kadar was a good choice after conservative Horthy when people are bored of socially austerity policies. But Laszlo Rajk would be a good choice? I mean he was accused of being a Titoist, which made me feel bad for him, but at the same time, he said "Long live Stalin! Long live Rakosi!", which made me vomit. Nagy would be a member of Liberal Party for sure. And about Russia, Gierek would be Governor of Polish Autonomous State. Jaruzelski would be pro-Gorbachev (like in late 80's) but more hawkish.
Also, well, in History (grade 8), published by Publishing House of the Ministry of Education, does it right when saying that CPUSA is a leading force of the U.S workers during Great Depression? (well, it's not a book to read)
1234chernobyl (talk) 15:11, September 7, 2020 (UTC)
Book
In case you find Vietnamese history books during Tay Son's and early Nguyen's era, try to take a look at "Civil War in Vietnam from 1771 to 1802" (Original name: Lịch sử nội chiến Việt Nam từ 1771 đến 1802) by Ta Chi Dai Truong. That might help you on alternate history and with the CPC's timeline happened, how would it change? Well, in case you use Amazon, this link might help you:
https://www.amazon.com/L%E1%BB%8Bch-Chi%E1%BA%BFn-Vi%E1%BB%87t-1771-1802/dp/604908789X
(hope it's ok)
books, potential for brandler's successors
Well, about books, I hope that with a future openess, maybe these book will be translated to English instead of blatantly banning it. And, about the pragmatic talk before, is the region that is "literally conservative to teeth" is Aceh? And about Ostdeutschland (Deutsche Demokratische Republik), I think Erich Apel was a good choice. However, because he was supported by Ulbricht, and Ulbricht weren't in power, so I think he needed a good patron. The best one is Heinrich Brandler (OTL Right Opposition's German representative). For external support, Kirov is ok but he died anyway so Ponomarenko is good? Another favourite was Lamberz, seems to be a Kirovian standards I guess?
Pieck died in 1960, so you can't bring a nearly sick, senile, 100 years old to a political conflict. Pieck would talk about how Ulbricht produce bananas if that happened. Arthur Pieck would be a good choice, but his (Wilhelm) daughter, Elly was even much more. She was a leading member of Marxist-Leninist Institute, and Arthur Pieck was just a head of Interflug. Brandler was also old so no fighting for 90 years old gentlemen. Instead it would be Lamberz vs Apel or Axen vs Apel. And if Apel died or resigned, Gerhard Schurer was also a good choice. In OTL, Gysi was a lawyer to dissidents, so a big problem for him. In economy Schlack-Golodkowski would be a depender on West German loans.
On political policies in 2000s or later, because Gysi was a lawyer for Bohley and some other dissents, I think people's democracy should be reformed and GDR became factional democracy (one party state with many factions to vote). Because in your ATL's USSR, you said that "It is described as the revolutionary vanguard of the working people to realize a communist society following the October Revolution. Anarchists, social democrats and other left-wing groups are allowed to participate in the elections of the soviets as independents, but are legally prohibited to organize themselves into political parties or any "counter-revolutionary organization"."
So, in your TTL, GDR would trade with other Western countries more (most important Western trading partner might be their Western neighbour?). And in OTL, Michael Muller was a SPD member, so he would be in liberal half of SED (SPD in East Germany)? And because Lamberz was too adventurous, I think he would be labelled "Nazist-Troskist" or maybe just send him to become an ambassador for some African or Asian countries, maybe Vietnam is the most probably. See this link: 
http://cand.com.vn/Quoc-te/Nhung-ky-niem-khong-bao-gio-quen-voi-dong-chi-Werner-Lamberz-197578/ (Ministry of Public Security's article about Lamberz, try to use Google Translate, but, to say in short, the author wanted to say that he's a good friend of Vietnam, Labour Party of Vietnam, and Vietnamese people. The author hoped that he would be Honecker's successor but with the accident of Libya, it ended. Also To Huu and Hoang Tung were also had positive opinion of Lamberz)
Here's my proposed short profile (1951-1971/76) of Erich Apel (part 1, could you fix anything for me if it is ASB):
1951: Minister of Machinery Construction. He was appointed because of his administrating talents and also because of his expertise in technology. He was supported by Otto Grotewohl, the leader of the liberal half faction of the SED. (4th Congress) 
1953: Member of the Central Committee (in TTL he's a party member, not a candidate). His 2 years term as machinery ministry's head is a part of it, but also his contribution to East German's industrial recovery. 
1956: Member of the Secretariat and candidate member of the Politburo. July 1953 incident would made other SPD members outraged with Pieck and Ulbricht, but the Soviets wanted a KPD member to remain. So Heinrich Brandler was chose. Apel was on one of the first group to chose to allied with Brandler. In exchange, the latter promoted Apel to member of the Secretariat and candidate member of Politburo. (5th Congress)
1957: Member of the Politburo and head of the Economic Commission. As GDR wanted to implement Imre Nagy's reforms to GDR's situation, Erich Apel was the good man to implement it. The Economic Commission was formed under his leadership. As such, the Five-year plan was reconcentrated to consumer goods and agriculture, while not forget heavy industry. The result was sucessful in accelerating GDR's economic standards and would just behind Hungary's GDP per capita. Brandler would proclaimed Apel a sucessor for him.
1961: 1st Secretary of the SED. At the 6th Congress of the SED, Brandler resigned due to his ill health. Apel, his second-in-command would be his successor. During the congress, he proclaimed that East-West cooperation was not impossible and the East should take oppoturnity to do it. (a speech in support of CPSU's 21st congress). He also promised to continue Brandler's foreign policy of detente.
1962: He began to allow private business to exist and when it is big enough, it will belong to the state as autonomous people's enterprises. This would be marked as a return to Lenin's NEP. He also allow to cultural reforms to liberalize the GDR's society. In Central Committee and Politburo, he demoted Willi Stoph, a fierce opponent of Apel, and Erich Mielke, the remain of Ulbricht's protege. He promoted Fritz Streletz, a patriotic but also a pragmatist general. General Vincenz Muller was reinstated as Chief of Staff.
1965: Apel visited West Germany, as an evidence to his speech in the 6th congress, to met with Willy Brandt, Chancellor of West Germany. Both signed Basic Treaty of Recognition. Then Apel visit to Scandinavia, Italy and Spain and signed economic treaty.
Thinking of some reformers in RSR
Finding a Romanian version of "Deng Xiaoping" is a little bit harder since party members of PCR have to say like: "CEAUSESCU REALES (Ceausescu reelected)" or Ceausescu - pace. But since you gave me a hint that Iliescu is a reformist, I think he's could be a Deng Xiaoping-type. A loyal communist wanted to resturcturing the economy to be more effective, a much more pragmatic person than the Conducator himself. Another person whom I thought interesting is Ilie Verdet, former PM. He formed the PSM which also anti-Ceausescu but also partially a reformist communist party.  Stefan Andrei was also a choice. Not a fan of Elena, he publicly said it already. (Of course I understand that you still let "House of Ceausescu" remain in power)
P/S: I don't know but if Ceausescu is humourous enough or just cold-blooded? Lenuta (Elena) was the only one he trusted, is it (the information) wrong? (Also he kinda look like Rowan Atkinson for me)
1234chernobyl (talk) 04:27, September 19, 2020 (UTC)
Brought up to my mind in GDR's agriculture is Werner Felfe, OTL Secretary of the SED in Agriculture. He was quite ok and got a speedy compare to other bureaucrats (of course not Krenz and even Honecker himself). He would be a good companion of Apel concerning in agriculture because he was a reformer, consider his quote "The restructuring process of GDR musn't stop", which led to his death (political struggle)
Is Horst Sindermann a reformer? Since de jure he was the third in GDR, but de facto he only appointed for much more minor task compare to other Politburo members. Harry Tisch also?
Well, here is an article about Paul Niculescu-Mizil (also about prawn cracker import from Vietnam, from his diary): 
https://adevarul.ro/news/politica/apostolii-epocii-aur-episodul-13-paul-niculescu-mizil-ideologul-partid-eram-inburta-mamei-fost-inchis-oara-1_56eacf095ab6550cb8f294e3/index.html
Is this actually true that Niculescu had more flexible stance than other Stalinists in power and prepared for the overthrown of his superior? Also with Vietnam is non-communist nation, how would Romania do with it's shortage? Import prawn crackers from Israel (desparation)? Well, for suggesting Vietnam during 1960-70's (if military-civilian law and order-type of dictatorship prevailed), Nguyễn Văn Linh (one of OTL victorious moderate reformers in CPV) would be a member of Transitional Council (return to democratic rule). You see he is a pragmatist (Truong Chinh was also like that but he's too leftist for TTL), moderate Bukharinist, but without Communism, he would be in moderate-right. Vo Van Kiet would be a liberal MP or even PM for sure. In OTL, he was pretty much popular and gained more public recognition than Linh. His protege Phan Van Khai (a liberal technocrat) was seen for me a viable candidate. 1234chernobyl (talk) 13:21, September 20, 2020 (UTC)
Well, in case of DR Vietnam (1945-1975)/SR Vietnam (early days, pre-reform era), you got a good variation of leaders:
Maoist faction (led by Hoang Van Hoan): explicitly pro-Chinese, after HCM's death, more flexible stance. In military: supported by COLGEN Chu Van Tan
Pro-Soviet conservative faction (led by Le Duan): pro-Soviet, explicitly anti-Chinese. Would prepared for any war, especially in the sea. Hard to reform.
Moderate conservative faction (led by Do Muoi): More conservative in internal policies, and flexible in foreign policy. Wanted to remained status quo in Party leadership (VIII Congress)
Flexible reform faction (led by Truong Chinh and later Nguyen Van Linh): Not so explicitly pro-USSR or China, just wanted peace and prosperity by reform. Also still more nationalistic than Mod-lib faction. Usually cooperate with the last one.
Moderate liberal faction (led by Vo Van Kiet): Open to the West, and the faction leader had visited Indonesia and used its' experience as a model. Would remained one-party state anyway.
Also about General Giap, he was an lower-class interllectual. Was a history teacher before, also a graduate of National High School in Hue (the former name), a student of Albert Sarraut High School (not graduated). He was marginalized in the politburo by became Dep. PM for Science and Technology and Chairman of the Birth Planning Committee. It's hard to say but he did a great job on that. When he retired, he became increasingly reformative. Most of the retired leaders were anti-Dung (Giap was afraid of national defense), especially in Aluminium/bauxite mining. Of course, it depends on you on how to control the birth rate in VN on ATL.
The reason I said about factions because I hope that it might helps you on how to fit Vietnamese politicians in your TL.
President
Wilhelm Zaisser was ok I believe, Moscow favored him because of his moderate reformist stance anyway, so, why not (idk if this position would improve his image)? Rudolf Hernstadt was also a good choice, because he's a reformist, anti-Ulbricht. Anton Ackermann was ok, of course, he's more conservative compare to Kirovian standards. And I guess the year was 1960/1962, before/after the party congress for a year. Stoph (I hate him) would be hanged (should he died in that way?) or fired. He's an hardliner. 
An extra question that non-related to GDR: What if Ceausescu family (pre-Nicolae dominance) had a career in Sibiu instead of Scorcinesti or Tirgoviste? How would Nicolae changed, both morally and his thinking? How would he changed if he decided to enter into politics? 

Well, if you need to write a biography about Apel, this one might help in making Apel's  death and funeral section (I'm too lazy to remove Ulbricht and Rau, sorry, also I am optimistic, so please don't mind if I send you some weirdo historical funeral) 1234chernobyl (talk) 15:04, September 29, 2020 (UTC)
Well, how does this presidential election work? A direct one or a inter-Party parliamentary election one? Well, IMO, there are benefits of it and problems of it. A direct one seems to be more democratic for the people, but would trigger the unification process and "European Cold War" (I mean France vs united Germany). Inter-Party election would sustain the leadership of the SED while made itself half-democratic, which IMO, a better choice. I had read about parliamentary election in Vietnam and it's seems a parliamentary one (of course it's CPSU-type) and not direct one, so it is ok, I guess. It depends on your decision, I only suggest.
Nationalism and Poland
Well, about the Vietnamese's opinion when it comes to other countries: nationalistic, but somehow welcome. It's like Janos Kadar's "Those who not against us is with us", which I could say applicable to tourism (except China). Vietnamese people could be easily angered when it comes to sovereignity. When Jackie Chan attempted to visit Vietnam as an goodwill ambassador of OSV (Open Smile Vietnam) or sth like that, Vietnamese netizens flooded to the charity's page because Jackie Chan supported 9-dash-line. Another one is the 2014 protests where people protests against China. With the Western and other Asian tourists, people welcomed them with curiosity, especially with the youth. I guess we learned from Thailand and Indonesia on economic affairs, culture, ... 
And in European Affairs, would Zambrowski, Kasman, Rapacki and Ogrodzinski of Poland could be good representatives of reformers in the Eastern Bloc? And if yes, would they be moderate like Apel or Brandler, or even like Nagy? Since the USSR was more moderate (middle between Brezhnev's conservatism and Gorbachev's liberalism), will they have a chance of getting power? Is Ochab a moderate also?
Well, when it comes to the populism and racism: I always think of the NSDAP. NSDAP was extremely racist but also populist. Mussolini was more moderate so I wouldn't take a look at it. And is Europe in 1930's, especially with cosmopolitan cities like Paris, they were more anti-Semitic? Well, Gomulka's wife was a Jewish, so he would be much more moderate compare to pseudo-Nazbol/Communazi Moczar? And I am trying to think Gierek as PM, not First Secretary or sth. Because he was more open to Gomulka, and could like "trying to be Apel"-type gentleman.  Other than that, there's nothing more about Poland... for now.
Well, when it comes to propaganda, it seems that Secretary for Propaganda and Education to be more conservative than Minister of Information (although the latter was a Major General and Head of the Army Telecommunication Industry Corporation, the 2nd largest telecommunication industry in Vietnam). This might help you on divided them into the Democratic Reassemble (liberal) or the National Unity (Putinist conservative approach) 1234chernobyl (talk) 15:31, October 4, 2020 (UTC)
Rumania
Just for Romania if you need. Here's my suggestion starting from March 1990:
March 1990: Ceausescu was reelected as president as usual. But his health was worsen, so he appointed his son Nicu Ceausescu as his Second Secretary. Nicu was a heavy, drunk person, so he didn't do anything much for Romania. Notable for his rape, most notably (probably) with Comaneci, he wasn't highly estimated. He didn't wanted to marry with Poliana (forced like we talked a few months ago)
April 1995: Ceausescu resigned from all positions (or died) due to his health. It was expected that Elena Ceausescu would be appointed as General Secretary, but Nicu, Elena's scapegoat, was appointed General Secretary. Nicu didn't do much, other than continuing his father's legacy. However, harsh restrictions was partially removed in order to recover Romania's economy. The old guards of Dascalescu and Bobu were removed. And Stefan Andrei became his second-in-command.
At this point, we can divided to 3 alternatives (when Nicu died):
Romania allowed Erich Apel's "socialist dirigisme" to be Romania's main economic structure. Increasing cooperation with the Western Bloc and other Eastern Bloc states would give Romania a oppoturnity to restore its' international prestige and economic development. The result was the improvement of living standards to the Romanian people and allowed more access to the Western goods.
Nicu Ceausescu died because of alcoholism. Stefan Andrei approved his brother, Valentin Ceausescu to became the leader of a isolationist country. Valentin would began to reverse some of his father's austerity measure, and began to open to the Eastern Bloc. However, he didn't allowed Erich Apel's "socialist dirigisme". Iulian Vlad was assigned to the Secretariat (idk if he is a reformer or merely a bureaucrat).
Stefan Andrei was poisoned (like Ceausescu did with Gheorghiu-Dej). Valentin Ceausescu became leader. Nothing changed. Romania became worse than Europe's North Korea. Increasingly isolated, no cooperation with other socialist state. No organizations to join. Surrounded him were deranged nationalists like Iovici and Vadim Tudor. Increasing prosecution.
That's all for now. It's like CYOAH, I guess. 1234chernobyl (talk) 15:44, October 9, 2020 (UTC)
New Changes
Alright, so there's the new UCP (United Community Platform). Instead of clicking messages, you have to click Source Editor. Just to remind you that. Also, to suggest other things: for the triumviate of Romania, we could introduce a moderate left of the PCR, Niculescu-Mizil. This would made a good variant: Andrei for the right, V. Ceausescu for the center and Niculescu for the left. Also, with the economy, is it a directive planning based on input-output balances in industrial production, agricultural taxation on agriculture and balance of trade in international trade (certain aspects of GDR/USSR's socialist dirigisme)?
Another one
Thinking of the Hungary, would Karoly Grosz a good figure for the leadership? I mean, he's a moderate Kadarist, a pretty much standard for any socialist leaders in OTL. Or should we think of Nyers and Nemeth as leaders (both are liberals in TTL standards anyway)? For Poland, I think that Mr. Jaruzelski would just remained as Minister of Defense. He's an hardliner and like Pieck, a Soviet-*ss licking official. Yakemenko could be like Shelepin or Andropov, Komsomol-based official or he could be in charge of planning instead. 1234chernobyl (talk)
I mean Yakemenko could get a high-ranking job before that (he was a conservative so a big no-no for economic planning, Kudrin or Medvedev would be better), like Chief Secretary for Ideological Matters (2nd Secretary) or Head of the Komsomol (TTL Nashi) and maybe, the first civilian Minister of Internal Affairs. Nazarbayev, I considered as half-hearted reformist, so Yakemenko must have the support of Tyulkin.
Well, to think another element of new USSR, that it would be more open to the internet than OTL Putin's Russia. Why? Well, the new Kirovian-Bukharinian era means that the Russia's society would be more liberal (liberalization in both socially and economy and still have a permanent effect to this day, could be compare to N.V.L's 1986 reform) and more prosperous. Like you said to me during our 2nd conversation (2019) about Gorbachev's reform "If the reform were so successful, then why they need a law and order candidate" In this case, Yakemenko would be much more liberal than OTL, because the market economy was so successful, and it couldn't be reversed. The censorship would be depends on you, since I didn't know much about Russia's society (I'm belong to gen-Z of VN, so Russia for us was some famous swear words, communism and gopniks). 1234chernobyl (talk)
Well, in fact, I had de facto removed my submission for translation because after a long consideration, I have to concentrate on my learning first before I could contribute anything to alternate history, but even if I have time, I would respect the timeline of original language. You see there's a "Russian import"-period of this timeline, they used Google Translate to translate the timeline, in which I concerned would removed the beauty of the original timeline (based on my reading of some timeline in CIS' version of Alternate History Wiki). (Edit: I fixed the grammar) Also, to add to the Internet liberty of the USSR, I should say it might go well if it is middle of China and some liberal socialist states. Maintain a hard censorship on political affairs, but in civil affairs, it is more relaxed. I believe the OGAS would took an important part in indicative planning and would be more successful in long-term (The best route for USSR is to go to the GDR's path in TTL, starting from the 70's). Also, to talk about presidential election in the GDR in 1960, Karl Schirdewan was a good candidate himself. Increasingly liberal, more humanistic, I think he would be a good President, both de jure and de facto. Brandler would just quietly retire and died in 1960's.
The OGAS's Improvement Committee and other things in Socialist Bloc
Well, I suggest that the British would help the USSR on improving on the OGAS, since the Cold War wasn't that even tense unlike OTL, or just make their own version of Internet. Should Berners-Lee on the committee also, that depends on the British government. Also, because the USSR's planned economy was more pragmatic (not dirigisme yet), so any attempt of recovery after Armenian earthquake would be more successful. For common policies in the Eastern Bloc, those countries will have less things in common but still have in common in things like economic structure (dirigisme), a more liberal cultural and political policies, and a more moderate censorship on the internet (somewhat moderate-critical-but-still-mostly-positive-about-the-government website is still allowed, especially in CSSR and GDR). The leadership wouldn't intervene on each other much. This will accelerate the Eastern Bloc's economy growth and more legitimacy as sovereign states. 1234chernobyl (talk) 05:40, 7 November 2020 (UTC)
Three-way Cyber Cold War it is. I just have some researched about French Minitel and I felt that it would made the Cold War of Cybernetics become more exciting and tense. In TTL, the Minitel would be more modernized and cheaper, distribute to some countries in Western Europe and also East Germany (GDR would the most friendly socialist state for France). This I can conclude, will make a three way Cybernetics Cold War: Soviet's OGAS, French's Minitel and British's Internet. (Link: https://en.wikipedia.org/wiki/Minitel) Back to OGAS, it will be debatable in the military. Proponents for OGAS's application to the Armed Force will be Ogarkov, who wanted a computerization and modernization of the military. Opponents will be Ustinov, as you can see, old blood hardliners. The modernization would have a long-term effect on the economy in general, since the budget were now reduced and more invested in economy, especially consumer goods. It also make the Soviet Armed Forces to be more professional. That's all for now.
Foreign and economic
Well, the article name was for the Eastern Bloc foreign and economic policies, depends on the countries (by I mean friendly, I mean more eager to have detente, Third World means minor one):
GDR: Friendly to the Western Bloc in exchange for not supporting unification with West Germany and would be more attractive for investment, especially with France and United Kingdom (Minitel). Socialist version of dirigisme.
Czechoslovakia: Moderately friendly to the West, ignore most of the Third World. Socialist dirigisme with more concentration of consumer goods and light industry.
Poland: Moderately friendly to the West, but also lend some support for Third World countries. Socialist dirigisme with some syndicalism elements, more concentrated on consumer goods.
Ilyria: Flexible and balanced foreign policy depends on the regional political climate, will not be too friendly to the USSR like in OTL. Full dirigisme.
Romania: Independent with more concentration on Third World, more cooperative with authoritarian socialist states. Centrally planned with some dirigisme element.
USSR and the Baltics: Balanced foreign policy, middle between co-exist and New Foreign Policy while maintaining as the 2nd pillar of the Cold War. Socialist dirigisme with more concentration on oil and light industry.
Cochlean reforms
The new government under Charkviani and Kosygin would have a cochlean position for sure. The reformative position of those leader would be expressed by introducing new reforms that resembled OTL 1965 Soviet economic reform, but with indicative planning in small scale (the largest could be implemented is in some certain, underdeveloped Autonomous Republics). The advantage would be the development of the economy, in which the stagnation process would be cut short (I think that's what you wanted to expressed about after Kosygin's death). It also have more liberal reforms in culture, and allowed more large-scale students exchange with Western European and Asian countries (I don't want to say the USA because if any large-scale exchange with USA was occured, this would be a final end to the Cold War). This, I believed, with judicial reforms (meaning restrict death sentences to an maximum extent, or to abolished it completely and replaced it with a modified prison-system), would introduced a smaller version of "Socialism with the Human Face"-reform.
That's all for now. See ya.1234chernobyl (talk) 13:27, 14 November 2020 (UTC)
Hello! what's happening now
What Happen
Texas (On Top of the World) Article issue
Hello, FirstStooge
I noticed someone has created a page about Texas in my timeline, can I know the issue? I was looking forward to writing the article, until I saw the template. I went to the history, but the user who wrote it has been somewhat removed. Can I remove the template and write my article?
CheesyDolphins (talk) 04:30, 20 November 2020 (UTC)CheesyDolphins
Japanophobia (and other things also)
Well, I want to bring back a conversation that we have discussed a few months ago. That is about Sino-phobia. The Vietnamese, who had a very long animosity towards the Chinese and will never stop, even the Chinese was divided in TTL. Japan, even they remained in a long time like in TTL, the Vietnamese would still have a great respect towards them. The Japanese would be much more humane than the Chinese (although still as harsh as hell), and also, to make things better, Vietnamese would likely easier to forget bad things about foreigners (an evidence was the Trump visit to Vietnam, as Vietnamese netizens lavishly praised Trump for his hardline stance. This would be the same thing with other US presidents if they visit Vietnam. Another one is the visit of French president Hollande where he received warm welcome from the people). The Japanese leadership would feel comfortable about this. So what can I conclude is Japanophobia would still exist, but still as small as OTL.
About the leadership in VCP (in your TL), Vo Van Thuong would be a Yakemenko-ish leader. I mean, he had the same energetic power that the former has, also young (compare to Tyulkin or sth like that). He's also more conservative. The IMCWP would be controlled by the USSR like they did with Comintern and Cominform, so a change in leadership to one allied with Yakemenko is imminent. But if you want Asiacommunism, someone that is liberal would be a better solution. Currently I couldn't find one yet, but when I find it, I will tell you later.1234chernobyl (talk) 14:19, 20 November 2020 (UTC)
It's like OTL Japanese Communist Party, or even Eurocommunism. The VCP had a lot of respect to Marchais due to his pro-Vietnam stance, so might be a majority of factions would follow his path. I don't know is there is any Politburo member have his admiration to Togliatti or Berlinguer (like from 1990's before), but he would be in the "Liberal Asiacommunist"-faction. Well, that led me conclude that V. V. Kiet (please re-order the Vietnamese name) could be in the latter faction. All OTL SRV Minister of Foreign Affairs were/are moderate reformist, this could be an advantage to secretary to the international cooperation. Guerilla faction would be slowly disappeared from 1970's, when Vietnam became a more liberal country. Therefore, to say short, I believe that is the only way that VCP could be a large opposition party is to follow the line of PCI. (still, Thuong would be a influential moderate nationalist leader).
Well, since Vietnam was Western-leaning democracy, I believed it should followed the Indonesia or Singapore path. This mean we need some changes on social behavior, that means more independent but still largely paternalistic. How could we do that? You know, Prince/Lieutenant colonel Vĩnh San was a pro-West but anti-colonial one. He was extremely popular with the Vietnamese, both left and right nationalists, so any decree on education would be nearly unanimously approved by the Assembly should he became head of the government. The first Indochina War could be avoid due to his close connection with General De Gaulle (or in TTL, General de La Rocque, he could remain in service for 10 years more), but he also need close relations with the British to avoid any attempt on his life.
Welcome templates
Hey, thanks for helping with the Welcome template for new users. It's a pain, but it will be less so if enough of us are watching. Benkarnell (talk) 03:11, 22 November 2020 (UTC)
Yes and 80's leadership
Yes, I agree about the society. Vietnamese in specific and Asian society in general are still parental, even though the younger generations are more independent after 90's (reform and opening). VCP would be prone to the Soviet line like in OTL. It will have a more populist stance. Vietnamese parliament would get more fierce arguments like the British.
About Europe, after Apel-Schiderwan leadership (probably end during early 80's), a more conservative politician would led the country (like after Charkviani-Kosygin-Andropov triumviate, they were replaced by Kirilenko). I suggest Kleiber would be the one who lead the country during 1990's. But if the SED want a liberal leader, then Felfe would be their favourite. Has his leaning to perestroika in OTL as an evidence, he would even liberalize the society in a larger extent than Apel (who was more cautious). I don't know if Eberhard Aurich, the former FDJ leader, would be more reformative enough to become a leader during 1990's or not (because I don't know whether his condemnation of GDR as Stalinist was a tactic of not to get in Politburo trial or not). The military leadership influence would not be as big as OTL, especially in 1960's if W. Stoph remained as Minister, due to his never-ending conflict with Apel. LTGEN Muller would have better opportunity to replace Stoph because he was more liberal, more prone in line of Schiderwan's foreign policy. He also had more experience than that Gefreiter. So, that's the GDR leadership.
Yes, Gorbachev would be too inexperienced or too dangerous for the becoming All-Union head. The best way to keep Gorbachev have a certain international recognition amongst civilians would be that of Secretary for Moscow or Ukrainian SSR (Moscow would helped him stay in touch with party leadership, gave him a more flexible stance; UkSSR would help him stay in touch with the people and led to the West wrongly predicted that he would succeed Kirilenko). Another position could fit him is Information Secretary with a secure support of Charkviani and Shevardnadze (Georgian liberals). Romanov would be a Minister of Industrial Affairs because of his experience in Leningrad, a developed industrial city that had and has been the economic center of the USSR, so he would have more experience in industry and would be regarded as a competent technocrat. I'm also thinking of Ryzhkov (Nikolai), who I believed would be the Soviet version of Grosz like Nazarbayev, who would completed the transition from partially central planning economy to fully dirigisme. Kudrin, well, as I think, would be head of the Central Bank or even promoted to Chairman of the Planning Committee. V. Putin would just be head of KGB and many leaders would wanted to minimize his political power. A. Yakovlev would be a potential candidate for Minister of Foreign Affairs. He's a skilled negotiator in the West, prone to the line of more liberal communists and also, energetic. I also afraid Yakemenko became more conservative and fanatic, made him a 21st Century Saint-Just (young, fanatic). In fact, Kudrin could also be a Politburo member to balance the Soviet's liberal internal policy in order to avoid a Ceausescu in the USSR.
Shinx99
Shinx's creations are definitely biased, but I don't think they reach the point of "trolling" - they're Republican victory fantasies, to be sure, and therefore not great AH, but nothing that would earn a block simply for their level of bias, in my opinion. Now it looks to me like Shinx is copying pages to use as templates, and then gradually adapting them to make separate timelines. That definitely does need to be addressed. Copying infoboxes for the code is one thing, but taking someone else's prose and making slight changes definitely is not an acceptable way to compensate for poor writing skills. At this point I'm willing to Assume Good Faith, but I think the copied text needs to be removed. Benkarnell (talk) 17:54, 22 November 2020 (UTC)
The reason I think it's not malicious is that Shinx did not try to hide it, like that Californio person last month who tried to take credit for someone else's work. I think this person is lazy, not dishonest. I think the stuff that's copied should be removed from the pages. And timelines with an obviously political bias like this one can get added to Category:ASB - Biased. Benkarnell (talk) 18:34, 22 November 2020 (UTC)
Hey do you mind if i edit something
on your timeline byzantine world, could i make a page called judea (byzantine world)?
Hey
Are you saying we're not free to edit on the wiki?
Re: QSS
I'm trying to think through those questions. The easy thing for me is to say, "You're good, we all trust you." But that's not very helpful.
It's probably worth noting that the actual page on QSS is flexible. As a timeline progresses, some things will always have to change to make everything consistent. Here are a couple of suggestions:
Always ask yourself, "If the missing user did suddenly reappear, would they be happy to see somebody using their stuff, or would they be angry that it's all distorted?"
If you had contact with the original writer before, you can try again to ask permission to make changes.
If you're finding yourself wanting to change things beyond all recognition, you can always "un-adopt" the timeline, revert it to how it was, and incorporate those new ideas with the big changes - maybe making a note that a certain part was "inspired" by the other timeline but is quite different now.
Are those helpful? They are just my initial thoughts, I didn't yet look into the details of anything that you asked about. Benkarnell (talk) 19:11, 23 November 2020 (UTC)
Yes, QAA, the "assumed" parts of the timeline, is even more flexible. It's a guideline, not a rule: that for the sake of everyone involved, assume that the unwritten parts of the timeline are basically like OTL unless there's a specific reason not to. It's designed to keep people's ideas in harmony with each other. But when new ideas come along, these assumptions have to change.
Do you think that we should add to the QSS page? Parts of it are probably not very clear. Benkarnell (talk) 17:17, 24 November 2020 (UTC)
Translation
Well, in this translation of military branches, according to official documents of SRVN, here are the original names and translation to English:
Lực lượng Vũ trang Nhân dân Việt Nam - Vietnam People's Armed Forces Quân đội Nhân dân Việt Nam - Vietnam People's Army Lục quân Nhân dân Việt Nam - Vietnam People's Ground Forces Hải quân Nhân dân Việt Nam - Vietnam People's Navy Không quân Nhân dân Việt Nam - Vietnam People's Air Force
So, therefore, if you want to translate Vietnam National Army as a whole armed forces, not a subbranches (ground force), the better translate is: Quân đội Quốc gia (with the name of the country)
Sidenote: Document means newspapers like People's Army and sth like that. Also, my apology for making a letter that is too hard too read if you use phone.
And about the Putin - PM of USSR (if), I suggest he would be the invisible leader like Charkviani during 80's and 90's (like Deng Xiaoping during his Southern Tour or like the Advisors of the Central Committee in Vietnam). He, of course, would be a Politburo and also a Secretariat member and also in part of All-Union leadership. The clique of moderate nationalist conservative (centre-right of the Party) would be in power together with the more liberal faction (center-left) of the Party like Symonenko. Nemtsov would be in the group of independent-minded politicians in the AUCP and he would remain in the position of Mayor of Novrogod. But still, would be one of the most popular mid-ranking politicians in USSR. Kudrin would in charge of the Gosbank then the Gosplan so that the USSR in TTL would reflected OTL Russia, the conservative dominate the political sphere. Well, Andropov would later have two phases (CYOAH time again): Being marginalized as Minister of Labor and Social Affairs and in charge of discipline of workers, or retired peacefully as Secretary of CC. The former would led to Andropov's legacy as a hardliner, while the latter would gave him a reputation as the leader of the people. A third option is well, you decide his fate.1234chernobyl (talk) 15:40, 24 November 2020 (UTC)
Japan Questions
Long time no see. Hope you have been doing well.
I was hoping you could help me out. I really want to finalize the timeline for Japan in the Russian America timeline. Since my knowledge of Japanese history is [nonexistent], mind if I ask you for a direction to go in.
Japan's history would remain unchainged (for the most party). The differance is that the Russians win the Russo-Japanese War. It wouldn't be a complete victory for them, but a technical one (akin to Japan in OTL). Japan would lose Manchuria and Korea (which becomes a Russian protectorate), but nothing more.
Here's where I could use some help. I've read conflicting opinions on what Japan's direction could be in such a scenario. Mind if I get your opinion on what you'd think would be a viable scenario in such a case.
What I currently have as canon is that militarism still rises. Japan still gets involved in the Russian Civil War (retaking Korea). But without the original victory against Russia and the rise of fascism in China, Japan would become more isolationist (if not reling heavily on the US and UK). When WWII happens, Japan is attackd by China, and the Sino-Japanese War takes place (more or less). After the war, Japan becomes a great power and becomes very active in Asian matters (especially against communist guerillas in China and Vietnam).
Any thoughts on this? Any ideas would be most apperciated. Thank you. -- NuclearVacuum
04:23, 25 November 2020 (UTC)
Thank you for the reply. I'm still don't completely understand, but I believe I gest the gist of it.
Suggesting new alternate members
Well, as I see, there are 4 fairly good options for liberals (Bukharinists), moderates and Trotskyists:
Ivan Silayev: He's a liberal technocrat, who have some competency compare to Yeltsin or Bocharov. In OTL he was the last de facto Prime Minister of the Union and was increasingly pro-Union.
Arkady Volsky: He's in OTL, senior advisor to Andropov, Chernenko and Gorbachev, and was increasing ally with the last one. He was also a leader in liberal movement after the dissolution of the USSR.
Yevgeny Primakov: A moderate conservative I believe, and also a pragmatist, he would come into power to reform the Soviet economy and military. However, this could let to the marginalization of Putin in some way, since Primakov's dismissal in OTL led to Putin's rise.
Eduard Limonov (this one I don't think he could have capable): a Trotskyist, but also a radical nationalist at the same time.
Well, that's 4 people that I can think of right now.
I'm also thinking of Mikhail Kasyanov, a technocrat Bukharinist I believe. He is competent in liberalizing the economy (like in OTL) by making the tax system less complicated, liberalization of national capital and foreign trade, reorganization of national infrastructure, pension reform and small and medium business encouragement. This will be need during the early Nazarbayev era because the Soviet Union would need a market reform to revive itself from the ruin of Era of Stagnation. In relationship with other politicians, he would be close both to Nazarbayev and Putin/Yakemenko in order to get a promotion into high-ranking office.
Re: Kim Il-sung
It depends, I will make few main paths as I could think of, here are the partial list:
Kim Il-sung become one of the main characters in the leadership. To begin, if you want him to be a Politburo he must be the leader of a large Soviet partisan group or to become an influential officer, either in NKVD or in Defense Commission. Well, in this case, at first Ponomarenko put him in charge in some Far East ASSRs (could be Khabarovsk) or become First Secretary at Vladivostok due to his prominence during his time as Soviet Partisans. He also need to have some support for Kirov and other factions also. Later on, he would be one of the influential leaders for more autonomy for Soviet republics due to his ethnicities.
Kim as a mid-ranking bureaucrat. Not so influential officer like in OTL. Would take some positions like Secretary of minor cities or provinces at at highest, a member of the Central Committee. He could be a middle between Kirovist (left pragmatism) and Trotskyist (left radicalism). Or if he become an ambassador for some Asian countries, he would express his anti-Japanese or even anti-West sentiment.
Kim was obscure. Retire after becoming a major. Or either become a general in some military district and becoming marginalized shortly afterwards. He would die somewhere in 1990s after writing some biographies about himself.
1234chernobyl (talk) 09:24, 28 November 2020 (UTC)
Featured TL
It's been a few months since I've looked at Terra Cognita, but it was definitely the kind of thing that seemed headed for Featured status. Anyone can make a nomination at any time, so I'd say go ahead and see what people think. Benkarnell (talk) 15:40, 28 November 2020 (UTC)
Well (this is for the second option), Major General Kim Il-sung (still head of the foreign volunteer partisans) would be a rising star in the Soviet Union between in the 50's and the 60's and will in charge of recovering the nation from the ruin of the Great Patriotic War (the position could be named: Chairman of the State Recover Committee). He would concentrated on industries, infrastructure and machinery, while led other like Polyansky in charge of agriculture and consumer goods recovering process. He would use some elements of indicative-planned economy and an increase of discipline to fasten the process of recovering. This doesn't make him a reformer though. He would still be a moderate conservative nationalist. He would later in charge as deputy minister of Foreign Affairs since he could be an hardliner against the interventionist in Asia affairs, and would be one of the most hawkish members in the Central Committee. He later conflicted with Kosygin and later, became marginalized as a result. Kim would later unofficially rehabilitated by Kirilenko during 80's. He died in 1994 in Vladivostok and buried in some cemetery in Moscow. 1234chernobyl (talk) 09:03, 29 November 2020 (UTC)
Re:Alaska Questions (and Japan Follow Up)
Happy to help.
I never heard about Liechtenstein being a potential buyer of Alaska (LOL). In all likelihood, the Russians weren't serious about selling Alaska to Liechtenstein (let alone Liechtenstein having the money to do so). It should also be mentioned that the reason the Russians were interested in selling Alaska to the Americans (or the British) was because they [both] dominated the continent. Had a war broke out between Russia and either of the two, Alaska would've likely been conquored and annexed without the Russians being compensated.
That being said, assuming that the Russians and the House of Liechtenstein (which was the real power) take the purchase seriously, and that both the Americans and the British (on behalf of Canada) agree to leave the territory alone, than a lot would indeed change.
For starters, Alaska would be the colony of the House of Liechtenstein. Funny thing, the royal family of Liechtenstein didn't reside in the country named after them. They would continue to live in Vienna, Austria, until the 1930s. If the house purchases Alaska, they would now have a massive and non-landlocked territory of their own. Perhaps in fear of losing it to either the Americans or the British, maybe the royals decide to fully relocate to Alaska (which has more benefits than the landlocked, European prinicipality). If they do this, I could see the Americans and British (more-or-less) recognizing the soverighty of Alaska, as it was not a colony but now the center of the Principality.
If this were to happen, anything is possible for Alaska. Perhaps the royals encourage (German) immigrants to settle there. The royals become wealthier upon the gold rushes of the late-1890s. If the royals remain supportive enough of the Ango-Americans, I could see the three becoming major allies by today. Not much would change during the World Wars and the Cold War. Whether Alaska/Liechtenstein would declare neutrality or join NATO would depend on how friendly they would be with the US/Canada and how threatening the Soviets would be towards them. The European territory may remain a part of the royal house/prinicipality, as Austria and Switzerland had little interest in seeing the territory dissapear.
So year, a German-speaking and monarchical Alaska (if the royals are smart about it). A very wild scenario, but fun to think about.
I also hope to follow up on my Japan question. So the current scenario I have (based on what you have described) would be that little changes from OTL Japan would happen. But that somepoint following World War II, a crisis happens in which a more left-wing faction takes control. Does this sound right to you?
Do forgive me as well. I'm currently getting over a cold and I do have a limited knowledge of Japan that I may not be understanding things as clearly as I could.
Thank you. -- NuclearVacuum
01:38, 30 November 2020 (UTC)
Im Not Mad, Just Disapointed.
I am heavily disappointed that I got warned, I wont go on anymore already made timelines and mess them up, I hope this will sensor my apology to you. RanchDressing24
Re:Vandal
Wow!
He's blocked. Sorry you had to deal with that. -- NuclearVacuum
00:13, 1 December 2020 (UTC)
Did you revert all the vandalized pages? Benkarnell (talk) 01:52, 1 December 2020 (UTC)
Do it or not?
If you want to save Kim's career, he would be ally with Andropov, since Andropov was more hardline (but still to the worst a moderate conservative, and to the best, a reformer) than Charkviani and the same thing (I mean hardline behaviour) could be applied to Kim as well. Kim would be a great person for Andropov to make the country more discipline (the reform in 1983-84 in OTL), which could be a key factor on full-scale economic and labor reform, which could accelerate the growth of the Soviet economy. He could also in charge of the educational reform of the country, which changed from Kirovist propaganda to a more neutral but still patriotic one (timid state propaganda) or just keeping it much the same. But still, these position could get him to the 2nd-powerful Secretariat position and in some case, alternate Politburo member (like with Furtseva or Demichev).
Recent Vandal
Hi. After looking at and comparing the edit history of the three users, I have come to the conclusion that they are almost certainly the same person, or at least people who know each other or have some association outside of the wiki - although, of course, I do not know for sure. This is my judgment. It may explain why the user persistently trolled and flew off the handle on several occasions, acting unacceptably. Their unstable behaviour was obviously going to get them banned, but they seemingly didn't care, perhaps because they felt they were secure with the other accounts to fall back on. The edits they made were creative and fairly interesting, if morbid, but were incompatible with the already established canon of Blooming Roses. I have transferred most of the new pages they created to a category entitled "Proposals (Blooming Roses)", and perhaps they could at some time be altered to fit in with the already established lore. Thanks. Marrybore (talk) 12:54, 2 December 2020 (UTC)
Yes, thanks, no problem. I think you and the other admins handled it all very well. Marrybore (talk) 20:53, 2 December 2020 (UTC)
Hi, FS, I wasn't online yesterday and I wanted to thank you for helping out with the mess. --Littletail
Someone named Sancha00 just posted this on Littletail's user page. I'm removing it for him. Marrybore (talk) 04:08, 4 December 2020 (UTC)
Also, I just glanced at the recent wiki activity bar and saw this Marrybore (talk) 04:14, 4 December 2020 (UTC)
They also vandalized your user page, I hope you don't mind but I changed it back for you. I have also told the admins. Marrybore (talk) 05:38, 4 December 2020 (UTC)
Thanks, no problem. Also, I did a little research on Archduchessalexa (just looked her up on Fandom etc.) and noticed she has been banned from several other wikis. And as Sancha00 she seems to have been active on other wikis just today. They also seem to have founded their own wiki, called Historymachine Wiki. Which is all very interesting, although let's hope she doesn't return and we don't have to think of her. Marrybore (talk) 12:07, 4 December 2020 (UTC)
Kim's career (Part 2)
The question is what position he is going to in when he became alternate Politburo member of the CPSU. I suggest he would be a Secretary of the Industry (in general) or Chairman of a Committee of the Council of Ministers. Most of the Andropov's disciplinary reforms were concentrated on the Soviet industry, not agriculture yet. And he could restructuring the economy in local areas also. About Kim Jong-il, he would be a moderate instead of a liberal because like you say, the Asian society is more paternalistic and more conservative, and Kim Jong-il was absolutely influenced by that via his father, so he couldn't be a neo-liberal Bukharinists. Either he learned in some East German university, I suggest in Berlin or Dresden, with a degree of economy and sociology, or his father's ideology have to be a moderate.
P/S: Sorry for late part 2.1234chernobyl (talk) 15:03, 3 December 2020 (UTC)
user rights
You've been doing a *lot* of administrative work lately. You've been around forever, is there a reason you don't have admin rights? Not interested? Benkarnell (talk) 16:06, 4 December 2020 (UTC)
Would you consider a nomination? It seems to me that activity has increased and we could use the help. Benkarnell (talk) 21:13, 4 December 2020 (UTC)

Different TSPTF member here, I'd like to nominate you if Ben can't. You've earned it I think. Curmudgeonly yours - Crim 00:20, 5 December 2020 (UTC)
I made it happen, now you have to officially accept it on the nomination page. And Crim, go vote. Benkarnell (talk) 14:15, 5 December 2020 (UTC)
I think it should stay up long enough at least for other admins to see it. I really don't know what the problem is. Benkarnell (talk) 15:42, 20 December 2020 (UTC)
Cultural changes
Hey...
Well, I'm going to try to write the cultural changes like this (in a press-ish way):
"In the early 1990's, during the process of East-West detente, a new movement of cultural liberalization began to appear in the Soviet Union, led by Yuri Irsenovich Kim. Yuri Kim was the Chief of the Cultural Department of the Central Committee during the late Charkviani's reign and a supporter of Charkviani's and Nazarbayev's reforms. Most observers seen him as a moderate, including long-time observers in the Soviet Union. It was also known that Yuri Kim was the son of the former Minister of Foreign Trade, Chin Cheng-chu, or Irsen Kim. Another supporter of the Soviet "New Wave" movement was Mikhail Gorbachev, Secretary of the Moscow Party Committee. Gorbachev, also an ally of Nazarbayev, was formerly the de jure head of the Russian SFSR and a member of Politburo in charge of supervising the transition to the market economy. The Soviet New Wave introduced Hollywood series to the Soviet television, which began from M*A*S*H, and the export of the Soviet films to the Western countries. The New Wave also introduces new ideas to the Soviet filming industry, which including the introduction of the Western-type of science fiction films. Not just that, it also began to introduce rap to the Soviet public, which received a warm welcome from it's citizens."
Well, double-check my grammar, and also how realistic the article that I made about Gorbachev and Kim, because as you said, Yuri Kim is not interested in the high-ranking decision, and Secretariat position in any post-Stalin communist countries is pretty high-ranking. Also, I suggest another leader in the New Wave-reform is Yavlinsky, who, although no experience in culture, but could in charge of the Soviet cinema's budget, who would led Mosfilm and State Taxation Committee to be partially privatize and relaxed from state control in order to get more profit for the state budget. 1234chernobyl (talk) 15:51, 5 December 2020 (UTC)
Continue
Yes, the Chairman of the Union of Cinematographers would be a powerful position, compare to any position like Deputy Minister of Culture or Secretary of the Ministry of Culture (in short, equal to a Minister position). Yuri would of course, become a Central Committee member. I will also try to find other influential liberal figures who could support the Moscow Spring/Soviet New Wave. This also including Shevardnadze, Yakovlev, Nemtsov (Nemtsov would be one of the most enthusiastic supporter of the Spring, along with Gorbachev). In cinematic affairs, a supporter to Yuri's New Wave could be Nikita Mikhailov (whose father wrote the anthem of the USSR), a influential actor and director (he was a supporter for the release of Oleg Sentsov so I believe he would be a middle between Kirovist and Bukharinist because this mean the release of a liberal petitioned by a conservative means he had moderated himself).
Continue (again)
Well, this liberalization process, in short, would have 3 phases:
Economically. This is from centrally-planned economy to a market, quasi-capitalistic, indicative planning one. These included: Encouragement to form small and medium private enterprises, computerization of the economy, and profit-making in the state enterprises, and could be, attract some foreign investments. I suggest the automotive industry should also be modernized by following Western way of production and creativity if you want to see AutoVAZ, one of the most important money-maker for the State, to survive. It would be introduced by Kosygin and Charkviani.
Culturally, educationally and socially. This also included the Yuri Kim's media and cinema reform (I am thinking of letting one of his potential ally in ATL, Nemtsov, to be Minister of Media and Mass Communication, and make the Central Television subordinated to the Ministry, so that hardliners could still in charge but de facto had no power). Remove the barrier between Western and Soviet culture, allowing new forms of cultural exchange. Allowing people to freely travel to other countries and somewhat encouraging students to have more student exchanges with other liberal socialist (like GDR) countries. Would began during Charkviani's time and mark a huge acceleration during Nazarbayev's era.
Politically. Introducing the State Committee of Popular Opinion, which conducted poll to see whether people satisfied with the current state of the Union or not. Yuri Levada would in charge of this. State propaganda would be reduced drastically, like you said, to be more timid. Internet would be introduced to the public and only some certain restrictions were introduced, like anti-Party activities (some of it, like BBC), while others would be freely conducted their own businesses. The process would began in the late 80's. There would be some independent (but still secretly connected to CPSU, but more liberal-minded) ministers in the government.
I also leave some suggestions to specify what could we write for liberalization of the USSR. 1234chernobyl (talk) 11:12, 9 December 2020 (UTC)
Yes, it is safer for the Soviet liberals/reformists to have some mild criticism rather than having VTsIOM that would made a dangerous Soviet Tiananmen, in which reversed nearly all the process of liberalization, in which nearly backed to the form of the worst, Trotskyism/Kamenevism. However, I would suggested some in the OTL VTsIOM to get into Central Committee, could be on Liberalization Department (for the Council of Ministers variant: State Committee on Liberalization, at a time it would be above-all committee in charge of the liberalization). Zaslavskaya would be a liberal of course (a democratic socialist to be exact), she would in charge of the political affairs to an extent that could be seen as acceptable for the USSR Government. Yuri Levada would also be an "OK" choice. He could be one of the advisors to the leadership, most probably: Gorbachev, and would in charge of the social, educational and public opinion (the public opinion would be limited to some policies) reform. The 1990's Secretariat (28th and 29th Congress) composition could be like this:
Nursultan Nazarbayev (1st-ranked Secretary, Prime Minister/Premier)
Nikolai Ryzhkov (Head of the Liberalization/Transition Committee)
Alexander Yakovlev (Head of the Economic Department)
Mikhail Gorbachev (Head of Moscow Party Committee or Head of RSFSR)
Mikhail Kasyanov or Boris Fyodorov (Head of the Planning Committee)
Vladimir Putin (Head of the KGB)
Yuri Luzhkov (Head of the Moscow Party Committee if Gorbachev is the head of the latter)
Leonid Kravchuk (Head of the UkSSR)
Anatoly Dobrynin (Minister of Foreign Affairs)
Grigory Romanov (Secretary for Industry)
Petru Lucinschi (Head of Moldavia SSR)
Leonid Korolkov (Head of Kazakh SSR)
Uzakbay Karamanov (Head of Administrative/Cadre Department)
Alexander Lukashenko (Head of Belorussian SSR)
Petro Symonenko (Head of Malorussian SSR)
Vasyl Tsushko (Head of Novorussian SSR)
This is an incomplete list, so could you please put some other head of some Soviet republics for me? 1234chernobyl (talk) 15:00, 10 December 2020 (UTC)
Replying to your message
I noticed you have made a lot of contributions to To the Red Planet! recently. Are you have formally adopted the timeline or you are actually the timeline's creator but with a new wiki account? --- FirstStooge (talk) 14:21, 11 December 2020 (UTC)
I am a friend of the original author and am authorized to make changes whether on his behalf or on my own volition.Tw4n5sm5 (talk) 14:39, 11 December 2020 (UTC)
Oh, if it is the case, you may put explanation to the timelines' talk pages or some disclaimers to the timelines themselves so we will not revert your edits over them anymore in future. It will also help others from refrain themselves from editing your pages. --- FirstStooge (talk) 14:58, 11 December 2020 (UTC)
Thanks for the advisory.Tw4n5sm5 (talk) 15:00, 11 December 2020 (UTC)
Democratic Afghanistan and Soviet-related things
Well, since you have adopted Democratic Afghanistan timeline, in which written about the transition of power from moderate Bukharinist Najibullah to a moderate Islamist faction. However, to make this country democratic, it need an cooperation between the Communists and the Islamists. Also if adopted to the CPC timeline, any Soviet attempt to intervene on behalf of the Communists would be nearly impossible, since most the leadership were fairly liberal and more leaning to cooperation with First and Third World nations (old definition during OTL Cold War times), not these senile old person in OTL (except for Andropov and some others, who regretted it somehow), the invasion (or as the socialist politicians said: brotherly help) would never happened in TTL. So I mean, a democratic Afghanistan is possible, but could be made earlier. There's another reason for this: the Soviet economy. The economic reform of Charkviani and Kosygin was considered to be more radical than in 1965, since this could be included reintroduce the Russian stock market (introducing Moscow and Leningrad Stock Exchange during early 1980's for medium private enterprises), so if the United States decided to embargoed the USSR (again), the stock market would be collapse, therefore, led to people's dissatisfaction, and therefore, collapse of the Eastern Bloc from within.
And also to talk about diplomacy and foreign trade, I suggest that Bessmertnykh should be the Foreign Minister and Irsen Kim to be the leader of Foreign Trade Ministry (if Soviet Union wanted to increasing her trade with the Third World country). Bessmertnykh, like Gromyko, had experience as Ambassador to the United States, so both of them knew the United States fairly well, this mean that they could some how made the Cold War relations between the First and Second World better. Irsen Kim, like you said, was fluent in Chinese, and China is still a big market for OTL, so he could use his fluency in Chinese to make an FTA.
The final thing I want to say in this letter/message about USSR is population. I believe the population of the USSR usually grow about 1 (by minimum) to 2.5% per month from 1980s. Therefore, the population should become 402,130,153 by 2010 and by approximately of 452,953,033 people by 2020. This would of course, made the Soviet Union one of the largest workforce in the world, but will concentrate on Siberia and Central Asia. 1234chernobyl (talk) 05:04, 13 December 2020 (UTC)
Well, you're right actually. Since 450 million would be impossible for the USSR since it would need a 4 to 5-child policy (which mean more "doing it", like Ceausescu did with Romania), and this would led to a monumental harsh consequences. 380-410 million people is more plausible. But still, that's a huge population. If you want the USSR's GDP per capita remain about $20,000 - $29,000; well then, a Virgin Soil campaign, and more modern agriculture methods should be introduced in all over Central Asia. In this way, the Soviet Central Asia would need to save the Aral Sea from excessive use, in exchange for long-term benefit. The leadership in Uzbekistan should be changed from a Kirillenko loyalist to a more liberal (or just competent) technocrats. Another problem is military reforms also. Also, with a larger population USSR, the military could be more divisive on the technology affairs. Some like Ustinov wanted to remain a technology-less army to (probably) increase the conscription's prominence/importance. Others like Ogarkov wanted to have a modernization of the military as a way to make the Soviet Armed Forces more effective. So, with the reforms on rise, Ogarkov's faction could won and the leading members could be Minister of National Defense or Secretary of Defense-related Affairs. 1234chernobyl (talk) 12:35, 13 December 2020 (UTC)
Hey, my trustworthy friend!
I'm thinking of the some main Soviet factions, while mostly difference from the ideology, but also increasingly because of common interests between people in those factions. It's like a Soviet version of Tuanpai and Princelings, and even including the Shanghai clique. Of course, this would not always be completely true. Usually composed by two factions, starting from 1970s:
Populist Kirovist youth faction (Leningrad Faction). Led by Andropov at the beginning of 1970's and currently led by prominent PM Yakemenko (most of them climbed to the hierachy by becoming head of Komsomol, others like Vladimir Putin came from the KGB). Strong leadership with a more confrontational diplomacy with the US. In internal and economic policies, it would concentrate on reduce the Gini rate (inequality rate), and a limited police state with an increasing amount of propaganda. To be more specific, while remain the dirigisme, the state would mostly spend it's own budget to support the people at the lower class and also concentrating on social harmony. On defense policies, it would be hard to define but they would concentrated on strategic rocket forces, since they always aware that if the US has more nuclear weapons than us, then we secretly build more. Would be supported by the KGB, Komsomol and MVD.
Bukharinist faction (Moscow Faction). Led by N. Nazarbayev or A. Kudrin. They were the most technocratic, most experienced and (probably) most academic faction in the CPSU. Reformative, who wanted a transitional period to full dirigisme (like in Hungary or Ilyria) and limited propaganda and censorship to an extent. Their diplomacy was to remain a status quo (more friendly relations with the West, but more concentrated on Asia and Japan relations) in Cold War. With economy, they would concentrated on accelerating the growth of the economy by attracting foreign investments and encourage the growth of medium and big enterprises, while also encourage small ones to increase and develop. Bukharinist would also introduce the 2-child policy in Siberia and Central Asia in order to reduce the consequence of giving too much children, especially with medical services. They also would concentrated on infrastructure projects since it would give a lot of jobs to the people. With defense policies, they would concentrated on modernization of the conscript forces, giving improvements of food quality and medical services to the conscripts. Would be supported by reformative faction of the MVD, Ministry of National Defense, and a considerable part of the Komsomol.
1234chernobyl (talk) 03:38, 19 December 2020 (UTC)
Soviet main factions
Hey, my trustworthy friend!
I'm thinking of the some main Soviet factions, while mostly difference from the ideology, but also increasingly because of common interests between people in those factions. It's like a Soviet version of Tuanpai and Princelings, and even including the Shanghai clique. Of course, this would not always be completely true. Usually composed by two factions, starting from 1970s:
Populist Kirovist youth faction (Leningrad Faction). Led by Andropov at the beginning of 1970's and currently led by prominent PM Yakemenko (most of them climbed to the hierachy by becoming head of Komsomol, others like Vladimir Putin came from the KGB). Strong leadership with a more confrontational diplomacy with the US. In internal and economic policies, it would concentrate on reduce the Gini rate (inequality rate), and a limited police state with an increasing amount of propaganda. To be more specific, while remain the dirigisme, the state would mostly spend it's own budget to support the people at the lower class and also concentrating on social harmony. On defense policies, it would be hard to define but they would concentrated on strategic rocket forces, since they always aware that if the US has more nuclear weapons than us, then we secretly build more. Would be supported by the KGB, Komsomol and MVD.
Bukharinist faction (Moscow Faction). Led by N. Nazarbayev or A. Kudrin. They were the most technocratic, most experienced and (probably) most academic faction in the CPSU. Reformative, who wanted a transitional period to full dirigisme (like in Hungary or Ilyria) and limited propaganda and censorship to an extent. Their diplomacy was to remain a status quo (more friendly relations with the West, but more concentrated on Asia and Japan relations) in Cold War. With economy, they would concentrated on accelerating the growth of the economy by attracting foreign investments and encourage the growth of medium and big enterprises, while also encourage small ones to increase and develop. Bukharinist would also introduce the 2-child policy in Siberia and Central Asia in order to reduce the consequence of giving too much children, especially with medical services. They also would concentrated on infrastructure projects since it would give a lot of jobs to the people. With defense policies, they would concentrated on modernization of the conscript forces, giving improvements of food quality and medical services to the conscripts. Would be supported by reformative faction of the MVD, Ministry of National Defense, and a considerable part of the Komsomol.
Edit: Sorry for disturb the sleep if you read it last night.
1234chernobyl (talk) 03:42, 19 December 2020 (UTC)
I'm an Alt.
Hi I'd like to point out I'm a reincarnation of Guminator1A.
Guminator1 (talk) 6:19, 20 December 2020 (UTC)
Re:I'm an Alt.
Yea thanks, but I'll be honest I first tried joining this wiki under the Guminator1A name. Guminator1 (talk) 11:42, 21 December 2020 (UTC)
Reforms and A Major
It's Christmas and I finally got time. So like the name of the article said, "Reforms and A Major/Lieutenant Commander", I wanted to say about the Soviet reforms and Valery Sablin (of course I only started to know him from The New Order), who organized a mutineer against the moderate conservative Brezhnev government and it's status quo stance when it comes to corruption. So, I wonder, was Sablin a libertarian Leninist (of course to Soviet standards) like Charviani in TTL or a moderate hardliner-reformer like Andropov, with the former option were more probably. If Sablin was a libertarian Leninist (could be if Cherkashin words were right), he would be protected by Charkviani or Nazarbayev and promoted to a high-ranking political position in Soviet Navy (to get rid of Gorshkov), or to get a mid-rank in the Central Committee and ally with Ogarkov in order to liberalize the nation, and to improve the soldiers' living during the modernization, as he was a former officer like in OTL. I would see the first one was more viable because he was a political officer of the Navy by 1976 (when he was demoted and executed), so could be by the mid-80's, he would in charge of the Navy's political department as the Soviet Union was going to be liberalized, and it could be the basis for him to be a member of CC. 1234chernobyl (talk) 14:14, 25 December 2020 (UTC)
Conviction of ideological purity of Sablin and comparison to Jacobinism makes me think of another person, Louis-Antoine de Saint-Just. Saint-Just, was a pretty young head of a department of the National Guard, just like Sablin was a political head of that frigate. Both of them were convicted ideologists and somehow got to prominence by doing some weird things (Saint-Just got praised by National Convention by burning anti-Revolutionary books, Sablin by an almost military coup), and finally they both being executed for their radical actions. One thing about Saint-Just was that if he even not trying to join National Convention, he could be like Babeuf, a radical who made big conspiracy and insurrection against the moderates (of course, the Thermidorians).
Now, back to the main story of course, Captain 1st rank (alternate rank) Sablin would be a leading figure in Trotskyism during late 70's and 80's, but not in the central committee (maybe only him and a few of his allies could go into the CC), since the CC-CPSU was composed by moderate-conservative like Andropov and liberals like Charkviani (who could took a Deng Xiaoping post-1989 way, an influential figure), and they both despised the fanatics like Sablin. However, if Sablin were allowed to join the Central Committee, it would be not for long. He could be booed and jeered by the majority of moderates (especially with hot-tempered person like N. Voznesensky) while making a speech during any meeting during his last years as a member of the Central Committee for his fanatic, ideological stance. 1234chernobyl (talk) 01:09, 26 December 2020 (UTC)
Dukakis
I will give you my predictions for the major cabinet members
Vice President: Paul Simon Secretary of State: Joe Biden Secretary of the Treasury: Jerry Brown Secretary of Defense: John Glenn
Dukakis would go heavy into welfare maybe even establishing a Single Payer Healthcare system. In Russia he would seek appeasement. Weekend passes would be made available to good behaving prisoners and rehabilitation would be top priority. State Farms might also be implemented to reduce Unemployment.
"You sound like a girl" everyone when I joined VC (2019) 01:25, 28 December 2020 (UTC)
Hey, Atli here with the Dukakis Campaign. Now not only would party fatigue be at an all time high but he also wouldn't have to worry about the south. He could also answer the question "If Kitty Dukakis would be raped and murder" as planned. Google it. He answered with his heart and lost here he might realise what is at stake and go with his planned answer. Alti The Nicest Asshole Around 11:29, 28 December 2020 (UTC)

Now this should convince you that the Dukakis/Simon could beat Rumsfeld/Quayle. Anything else Political or not I can help you with let me know. Alti The Nicest Asshole Around 15:51, 28 December 2020 (UTC)
German Loanwords
Kindergarten = Gamenscol Iceberg = Isfell Neanderthal = Walamen Diesel = Kraft Automatic = Instedic Hamster = Feldbolti Zeppelin = Loftskip Alti The Nicest Asshole Around 02:12, 28 December 2020 (UTC)
RE: Bush
Yes totally, I think you should have Prescott as Senate Majority Whip for a last Congress in 1961 until 1963. Herbert can be Senator from Massachusetts in 1954 and serve until 2015 and definitely be Senate Majority leader from 1979 up until 1989 during the Republican popularity. George Jr I say could be Governor of Massachusetts (1991-1999) and Senator (2003-2021). Jeb would go to the House of Representatives and if you want them über strong have him House Speaker for 1 or 2 congresses. Alti The Nicest Asshole Around 02:11, 29 December 2020 (UTC)

It would be 50/50 at least Bush had that Texas Charm and a Nice family plus a military background No Tank and the planned answer it would go slightly to Dukakis I feel Alti The Nicest Asshole Around 02:20, 29 December 2020 (UTC)
Some ideas on Discord
I've left some of the ideas about Vietnamese socialist on the Discord. I may add ideas later. 1234chernobyl (talk) 14:39, 7 January 2021 (UTC)
Stirling nominations
Benkarnell (talk) 04:48, 9 January 2021 (UTC)
Congratulations!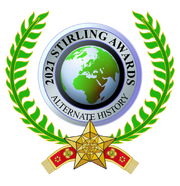 January 2021
Please remember to assume good faith when dealing with other editors. Thank you! Regards, Firestarthegodcat (talk) 03:32, 11 January 2021 (UTC)
2021 Stirling Awards
I vote for terra cognita by @DosDragones. PnutbatahSandwich (talk) 04:00, 11 January 2021 (UTC)
Iceland
I would like to tell you about the time Iceland had a Napoleon like figure. Jørgen Jørgensen was a Danish explorer but during the Napoleonic wars he seized power on the British side. Could I get information on the Napoleonic wars because I can't seem to find some.
Yours, Atli
Thank you
On Wikipedia there's a feature that allows you to thank editors for edits. I wish I could do so here... Firestarthegodcat (talk) 03:25, 14 January 2021 (UTC)

--
Hi FS, I am wondering if you could like me know where you found the photo of Benigno Ramos (1941)?
I am a graduate student and my advisor wants to reproduce the image for his book. Thank you very much for your help!
Frances (Sorry if this is not how to use the "talk" section).
--
Some reminder
Alright, so I would tell you some thing that Discord reply was not completed yet.
Regards to the 2001 (29th) Congress, S. Shushkevich would be kicked out of the Politburo (so my answer was YES), but only after a final compromise during the 30th Congress was established. Like the modern communist politics in any socialist states, if a non-ruling faction got a potential or even having the support of people, the ruling faction (or factions) have to make a compromise with the populist faction, either favourable or unfavourable. This would mean some of the top-ranking leaders could be removed or staying for their position for a longer time (8th Congress of CPV or 18th Congress of the CPC as examples).
The KGB. In this case, since the Soviet Union began the process of computerization, the KGB would also do the same thing. So I made a question, shall cyberwarfare became a part of the Cold War?
P/S: I got a book name "The Structure of American Industry" written by W. Adams and J. Brock. You and I shall read it since it would be about American's economy from the earliest time of Cold War to late Clinton administration. 1234chernobyl (talk) 09:07, 16 January 2021 (UTC)
French Revolution
I left you a document that I made regards to the French Revolution leaders, so that we could have a hint on making a POD on France with these good old, Hebertists, Robespierrists and Dantonists. And trying to make Danton survive and made Fouquier being executed earlier, what could happened?
Dear trusted friend...
As your island (if you are being suffered directly) and other islands are being suffered by the flooding, I just want to say good luck and be optimistic about your future, as I said. I wanted to expressed more but my language was limited, so I could only say that with you. May you and your family overcome the flooding. 1234chernobyl (talk) 15:08, 21 January 2021 (UTC)
That analyzation
Well, the 13th Congress has ended. Nguyen Phu Trong was elected General Secretary, Nguyen Xuan Phuc was reelected to the Politburo (probably to the position of President), Pham Minh Chinh was numbered 3rd in the Politburo (probably to Chairman of the Parliament) and Vuong Dinh Hue was numbered 4th (probably to the Prime Minister). As you and I can see, Vu Duc Dam wasn't being elected to the Politburo but still remain in the Central Committee (the reason I had told you, but to add more, he was increasingly humanistic, like Dubcek). The reason why I told you this because the question is: how could we made it in the reformist, liberal monarchy? Of course, you and I would fully agree that he would remained as Prime Minister in TTL, but who could be his ally? 1234chernobyl (talk) 13:55, 4 February 2021 (UTC)
Re: An Apology
hi i saw your message on Reximus55's page, and let me, an israeli jew, tell you something. i have read the quran, and i know this from experience: the quran teaches intolerance to all other religions. i have been wounded in a terrorist attack before, so i know.
Gorkic, the unknown
Well, I recently found a Yugoslav communist who was purged by Stalin (died in 1937, thanks to that report of Tito). His name was Milan Gorkic. A protege of Nikolai Bukharin, he would be essential, together with some other pragmatists like Tito or Edvard Kardeij to reform the nation into semi-dirigisme economy. On social and internal policy, a Bukharinist would take some relaxation on censorship as a compromise, and also a proponent of federalization of Yugoslavia in OTL. But unlike other Bukharinists, he was kind of a opportunist, since he also conducted purges against his party members in order to have support for Stalin, but later being purged by the great moustache himself.
Regards to the new congress, which should be conducted this month, I presume that the young conservatives (hardline) like Yakemenko will prevail, but together with the traditional ally of moderate reformers (who follows Charkviani ideas, led by Medvedev or N. Belykh), they will have to face a stronger faction of Trotskyists. Trotskyists will rely on popular support of the youth in some minor cities, and a significant portion (of course, a minority) of youth in Moscow. But still, I am also concern about Vladmir Putin in this congress. He holds that KGB Chairman position for too long, and is there any party decree on the maximum age of Politburo members in TTL?
For now, I will end this message here. See you soon. 1234chernobyl (talk) 10:55, 19 February 2021 (UTC)
CSA
I hope you are well Stooge. I was wondering since you've gotten so far with the US Presidents in was wondering if you had any plans for the 1901. I have some ideas all from Deep South Whigs to Costal conservatives if you are interested. Speak with me through my discord or mine or your talk page
yours, icelandicwriters
Golden Republic deletions
I see that we're doing deletions at the same time. I'm going to hold off on the deletion of The Golden Republic because the timeline has some 50 pages or more, plus all the images (many of which are also plagiarized); so I want to take the time to do it correctly. So let's please not delete the main page without tracking down all the sub-pages. False Dmitri (talk) 14:52, 3 March 2021 (UTC)
three worlds
Hi. I am proposing an article for the three worlds timeline, but i do not know how to label it a proposed article. Just know that the article Israel (Three Worlds) is not an approved part of the timeline, it is being proposed to add to the timeline. So dont ban me because of it, okay? And i dont know how to mark it as a proposed part of the timeline, so can you maybe find a way to do that? also is the link i put in here right?
Hogg's VP
After a long consideration I have reached a conclusion to the person I think could be both a likely VP for Hogg and a good President upon his death without being so good that you'd need 6 years. George Patton II, Attorney, from Virginia, son of Confederate Colonel who died in battle, a Major in the national guard, father of an Olympian (not yet but probably represents the CSA I. The 1904 and 1908 games). This is why I think George S. Patton II should be Hogg's VP.
Thanks for coming to my TedTalk
your mere advisor, Icelandicwriters
Eretz Yisrael Hashlemah
Hi, so I want to adopt the Eretz Yisrael Hashlemah timeline, but i do not know who the owner is. Can you see if I can adopt it? JH019596 (talk)
Question
Reesesistastylol2439 (talk) 20:48, 5 March 2021 (UTC) So, how do you like my A Better Tsar althist? Just asking 'cuz you voted in my recent post.
Romney
Dear Stooge
Trust me when I say the after 32 of the last 44 years in the White House and the time them being out was mildly successful Romney is not getting re-elected. The reason I think that Romney would win in 1996 ( I prefer Wilson but whatever) is that the aging Vice President Simon is nominated. Believe you me that the Progressives will nominate a Cabinet Member or a House higher up and win Romney. Like;
Joe Biden. Joe Lieberman. Clint Eastwood if you wanna be freaky. and some more you can ask about on Discord. Thanks for the opportunity to contribute. Yours, Alti.
eretz yisrael hashlemah
should i wait a week, or has it been long enough? JH019596 (talk)
Obama
I thank you Stooge for listening and I appreciate you taking my counsel. Now don't worry I am not here to debate on Obama but to rather support you decision on him. With the recession during Romney Dukakis could get off Scot free and this I do think would result in at least 2 2 term Progressives. I would've suggested Lieberman's VP but you cleverly put Wellstone (R.I.P.) and Bill Bradley. I look forward to discussing the 2020 election. Also are you thinking of having a 1 termer win in 16 before Sanders. Is Sanders a Liberal or Progressive. If Progressive I think you'd need a Donald Trump to take the Presidency in 16 in order to get Bernie as a Progressive in 2020.
Yours, Alti
CSA PP
I really like the progression beyond the needs for straight forward political parties and instead coalitions.
As I said on Discord I think that Bill Nelson could win on a National Reform and Citizens Progress Party Coalition.
I think Perry will win in 2013 on a new Party like the "National Moderates" or the "Reactionary People's Party"
Then maybe a Left wing coalition takes it 2020.
yours, Alti
New AltHistory: The Great Artian War of the 21st Century
I actually created a new AltHistory universe called The Great Artian War of the 21st Century. I however had made an article related to the universe. Here's a hyperlink. (Note: the hyperlink to said article is literally the word hyperlink) Along with this I decided to merge two articles that seemed related into the new universe; one being about a depiction of a 9/11 style terrorist attack on the fictional planet Artius (I'm not making fun of the attacks) along with one denoting the US Capitol in America. Guminator1 (talk) 08:52, 15 March 2021 (UTC)
I also took the events of The Great Renaissance of the United States and intertwined them into this new timeline but had to work a way around because the other timeline took place in the future. The way I fixed this was future events from the former timeline that are to be put in will be rejected or would be altered as past events, and their will be not that much since this new timeline is mostly focused on human history on an earth-like planet in another galaxy. Guminator1 (talk) 08:52, 15 March 2021 (UTC)

I too will start revamping the The Great Renaissance of the United States into a past history. Some things will be identical to the recently formed timeline, but a ton of differences are to be present.
France
In 1946 I think Gamelin, who would be the reclaimer of France would win the Presidential election and be re-elected in 1950 and retire in 54.
France has a history of Glorifying generals.
yours, Alti
Most intrigued
Read your West Germany (Cherry, Plum, and Chrysanthemum) and I most intrigued in the rise and government of the Republicans (2005-2013). I suppose The Republicans became a center-right or right wing party and not the extremist one like in OTL. Also ¿The president of West Germany is directly or indirectly elected? and I suppose the East Germany's SED became a more reformist party and not an orthodox Marxist-Leninist one. And congratulations on your timeline, very interesting. JorgeGG (talk) 12:44, 24 March 2021 (UTC)
Hey
Sorry that I didn't read the guidelines before hand, whoops. But would marking an characters death in the future such as 2048 be considered future history? because most of my characters died in the future and also on some of my lists of leaders there are some leaders in the future. Would that be breaking the rule? Thanks, once again.
Hey again
Does the future history community allow past history, actually would it be against the rules if I added in something in the future tense such as an future death but instead I linked the future history timeline such as John Doe was born in blank and died in link to future history in which it would contain the actual death? thanks again.
Hey Again Again
So would I be able to add the link to the future and past part of my timeline? If so it will take a while for me to change everything to be in the correct rules so don't ban them just yet, it will take me just 10 minutes, thank you! :)
Pascua Florida
Regarding your interest in adopting Pascua Florida into your own timeline - this is totally fine with me! Feel free to use any and all aspects of PF. Dieua-Artio (talk)
Hello and Sorry
Hello FirstStooge, and sorry for my unmannerly manners of stealing other people's content, I am simply new here and didn't know, I hope you forgive me for what I've done and still accept me into the community. I was just asking how can I ask permission to the owner of the Napoleon's World timeline, I would really like to make a article that is part of that timeline but I simply do not know how, if you do not know then how do I make my own timeline then?

All regards and sorry, MJ Abarca
Community content is available under
CC-BY-SA
unless otherwise noted.