Hello and welcome to the Alternate History Wiki!

We are a community for creating fictional alternative histories. We hope you will feel at home here and wish you good luck contributing to our ever-growing collection of timelines.

Please start by reading our Guide to Newcomers. It contains links to the important sections of the wiki.
If you're new to wikis in general, see How to Make Articles.
If you're ready to create an article, see Conventions in Use in this Wiki. It explains how to title and categorize your pages, what kinds of content are allowed, and other rules of the site.

Some other helpful reference pages:

Some general tips:

This wiki is for alternate history, not future timelines. What you write should take place before 2021.
All articles on this wiki take the following format: Name of article (Name of Timeline). This helps us know which pages belong together.
To sign your posts on talk pages, use ~~~~ (four tildes). This will insert your name and timestamp.
You can experiment in the Sandbox.

Regards, -- Mitro (Talk) 23:50, February 16, 2011
That map game is a defunct map game. Go to the Map Games page for info on games being made/already started. Thanks! PitaKang 01:07, February 17, 2011 (UTC)
Please Explain it to me, Thank You Alexanders 22:04, March 10, 2011 (UTC)
United States (1983: Doomsday)
Please do not remove other topics from a talk page when posting messages. I reverted your edits. Mitro 01:35, February 17, 2011 (UTC)
First, please sign your name when leaving messages on talk pages. You can do by adding ~~~~ to the end of your statement.
Second, that is not how we do things around here. You cannot remove other people's messages from talk pages. Messages can be archived once the talk page becomes larger, but that is not the case here. Mitro 01:55, February 17, 2011 (UTC)
Sorry,I am a horrible noob at stuff like this,so please forgive me.
God Bless the United States of America 01:57, February 17, 2011 (UTC)
better?
Also,I was curious about the US in Doomsday,is there any chance for it to achieve is former glory?
God Bless the United States of America 02:08, February 17, 2011 (UTC)===Check out my repsonse.===
Hi, GB. I responded to your proposal on my talk page, but thought I'd give you a "ring" over here. I usually answer "in line" in these "conversations." It gets hard to follow when I have to bounce between talk pages.
SouthWriter 03:51, March 14, 2011 (UTC)
Probably not. The likelihood of such cooperation between post-Doomsday American survivor states is implausible. At best the rump US will have to accept equal membership in the North American Union as the best option in reuniting the former American territories. Mitro 02:23, February 17, 2011 (UTC)
I was afraid of that happening,but it does make since after so much time has pass,and some nations forget our heritage.Maybe the Western Part of the US could reunite into the USA. I do see potential in the USAR,Commonwealth of Kentucky,East Tennesse,MSP,and the PUSA maybe reuniting.Perhaps more,but like you said,its improbable.I really do hope however,that we recover some glory,maybe on par with the Celetics or USSR.
God Bless the United States of America 02:51, February 17, 2011 (UTC)
Hi, GB. Hard to shorten your name, man! Anyway, I am one of the editors (and adminstrators) for the United States (1983: Doomsday) article. Mitro is right, the cards were stacked against the USA bouncing back early on in this time line. I joined the effort late in 2009 and only recently have I tried to revive the American Spirit among the editors. Most enjoy the independence of little "nations" all over the place. I resisted the unrealistic scenario for a while, but am going with the flow now. I have been working since last summer to revive the USA (taking away the "Provisional" status and even seeking to do something with the Dakotas to bring them in to the USA soon. Others, like my projects with South Carolina and south Georgia, could probably be worked into a union without much trouble. Florida may work as well, but my contribution there is mostly in editing grammar and fact checking. I have a like-minded American in Brian, and Zack (Kentucky editor) is friendly with moving towards some sort of union if this project can stay together long enough.
I decided to send this note when I saw the disrespect that Lordganon (LG) was giving you over at the United States Talk Page. According to his user page, LG is Canadian, living in the USA with his new American wife. He does not claim a single US survivor state as his own, but concentrates on tiny European states. I get the feeling that he has the same attitude as Yankovich270 ("Yank"), a fellow Canadian (editor and possessive creator of "Virginia"). I have corresponded with LG, and he has made small edits and suggestions in articles I follow, but all in all, I have not "worked with" him at all. He has not contributed to the USA, and it seems he is of the mind that in the 1983DD universe a revived USA is not possible.
Do not lose heart. The USA of this time line is the true USA - proud Americans wanting the glory back just like you would in this situation. I have a feeling that my own "Piedmont Republic" would vote to unite at the earliest opportunity now that the truth is out about the continuing government in the plains. Most editors resist this, and think that the North American Union (The USA plus a breakaway province of Canada, really) will prevail as a uniting force. I disagree, since that dilutes the loyalty of the citizens of the member nations. Anyway, you are welcome to join the USA editing team as long as you first discuss changes on the talk page. SouthWriter 03:10, February 18, 2011 (UTC)
Thank you for that,and I apologize for the editing,mainly trying to learn the ropes here by working on my favorite Page.Thanks again SW!
God Bless the United States of America 03:31, February 18, 2011 (UTC)
Hey, GB. I see where you got in hot water with Mitro when you struck out at Canada. I hope it is not because of what I said above. It was not my attention to stir you up against LG, only to let you know the climate in which this time line is developing. Of regular editors, at least three are Canadians, and their posted political views indicate a tendency towards a view of "Americans" that is not as patriotic as yours and mine might be. But Canada, as a whole, is not to be judged by two or three people. I agree, LG came across as rude, but to return that rudeness does not reflect well upon you or your country. SouthWriter 16:07, February 22, 2011 (UTC)
No,your message did not at all.I am 13,my anger gets the best of me sometimes.me and LG are cool now,althouh I am still laughing about how "Canada sucks" got me in trouble.Yeah,canadians can be preatty cool,but several I have been preatty snobby(No offense anyone!),so those meetings have blurred my judgement at times.Well,I thank you for stopping by,and your words of wisdom.God Bless the United States of America 03:42, February 23, 2011 (UTC)
I couldn't have not stopped by, ol' chap!
With a name like yours, I know you to be a red-blooded, football-watching, Steven Colber-praising American like myself, and my friend, those seem to be few and far between on this wiki (At least not in the magnitude that I would like) Anywho, just thought I'd stop by and say hello. Hello. You look reletively new, so if you want me to show you the ropes, or you need anything, come talk to me; as a bit of a veteran wikier, I have connections.
Hope to hear from you soon,
Jazon Naparleon 04:31, February 17, 2011 (UTC)
Thanks so much for that,and its good to know I am not the only proud american here! any help you and your friend can give me will be much apreciated! Maybe we could work on a project sometime?God Bless the United States of America 05:21, February 17, 2011 (UTC)
Naming Articles
I've renamed your map game so that it follows our conventions on this wiki. You can have a look at them here. Lordganon 01:08, February 19, 2011 (UTC)
Please Delete it, I messed up on it, and for some reason I cant edit it, thank you. God Bless the United States of America 01:14, February 19, 2011 (UTC)
All right. Kind of odd you can't edit it, though. Lordganon 01:17, February 19, 2011 (UTC)
My computer crashed while i was making an edit, kinda of weird thing. Well, since we are both online I want to apologize for what happened, kinda got to angry so I want to say I am sorry. God Bless the United States of America 01:23, February 19, 2011 (UTC)
Don't worry about it. Lordganon 01:25, February 19, 2011 (UTC)
Thanks, well now since that is over, would care to help me with a article? God Bless the United States of America 01:28, February 19, 2011 (UTC)
I'm always willing to offer advice. Lordganon 02:31, February 19, 2011 (UTC)
mainly grammer and spellingGod Bless the United States of America 02:51, February 19, 2011 (UTC)
Heh. Well, when you want it done just leave a note on my talk page. Lordganon 03:06, February 19, 2011 (UTC)
Thanks LGGod Bless the United States of America 05:14, February 19, 2011 (UTC)
Since there was already a timeline called "A World Divided" I moved your "A World divided" timeline to "Fascist French Empire." Change it as you desire. Lordganon 07:23, February 20, 2011 (UTC)
Age
Yes, I am in 7th grade. Just wondering, do you call your school Junior High or Middle School.
Also, trust me, I'm not a creepy internet guy, but what month were you born in? I think I'm the youngest person on this wiki, but I'm not sure. PitaKang- (Talk|Contribs) 17:57, February 26, 2011 (UTC)
Gate City Middle School,and august 97 God Bless the United States of America 18:14, February 26, 2011 (UTC)
Okay, then I am the youngest! I was born in May 98. PitaKang- (Talk|Contribs) 18:16, February 26, 2011 (UTC)
Haha,awesomeGod Bless the United States of America 18:43, February 26, 2011 (UTC)
Think you could help me start a Map Game?God Bless the United States of America 03:33, March 2, 2011 (UTC)
The Map
The map that you added four hours before I sent this is from that P&P world map. How did you get the map off the site? Bobalugee1940 16:27, March 5, 2011 (UTC)
I downloaded it :) God Bless the United States of America 18:59, March 5, 2011 (UTC)
Scramble for Africa
GB, you dont add to turns after they are done. Just add that to the new year. Lordganon 19:41, March 6, 2011 (UTC)
A reminder to make your move on the most recent turn without a map. Lordganon 09:48, March 18, 2011 (UTC)
Map Games
Unfortunately, I'ma have to decline - too much to do already, lol. But thanks for thinking of me. Lordganon 07:53, March 10, 2011 (UTC)
Just telling you, a 1983 DD Map Game just isn't possible, as that future history, including map games, is not allowed, and that would be one short map game. However, I'll help you with any map games you want to maake! PitaKang- (Talk|Contribs) 23:54, March 11, 2011 (UTC)
I would start it in 1983,and 1 turn would equal just a week,thereby allowing a longer game. God Bless the United States of America 00:08, March 12, 2011 (UTC)
Help with map games? I don't understand them Alexanders 05:04, March 12, 2011 (UTC)
Opps,sorry alexander! Completely forgot about your request! okay,the goal of map games is that you take control of a enity , and every turn do things with them such as War. Its like a mini TL every turn.God Bless the United States of America 05:16, March 12, 2011 (UTC)

Welcome to A Different History

Thank you for your interest in A Different History. We ask all would be contributors to this timeline to do the following (and in this order):
Please read QSS and QAA and the Editorial Guidelines. Understand them before contributing. If you have questions, feel free to ask a contributor. If you cannot abide by them, thank you for your interest in our timeline, and good day.
Please introduce yourself on the talk page of the timeline.
Understand the conventions in use in this wiki before editing.
Be nice!
All suggestions are welcome, but NO gay erotica, ASB, obscene images/text, etc. If someone writes "Augustus Caesar suddenly feels an urge to rape his son, Tiberius, and does so", then it will be reverted IMMEDIATELY!!!
Doomsday
Well, first thing I would do is ignore the current one you've made, GB - just make it obsolete and leave it be.
Past that, there's an American survivor state that has been put up for adoption, but is only barely started, at Gettysburg.
Other than that, all I can do is ask: Where in the US would you like to have a survivor state? I've a list for my own references, and there's tons of ideas mentioned in the state articles and the WCRB reports on the western and southern USA.
Lordganon 07:08, March 20, 2011 (UTC)
Somewhere with access to the Ocean, other that it does not matter.God Bless the United States of America 07:21, March 20, 2011 (UTC) (thanks a bunch!)
Any preference on the Ocean, or the area of the USA? While on the ocean helps, there's still a lot of space and things mentioned there, lol! Lordganon 09:43, March 20, 2011 (UTC)
The Pacific Ocean, somewhere near a Naval Base, the exact area does not matter. God Bless the United States of America 17:10, March 20, 2011 (UTC)
The only place on the Pacific Ocean is in northern California below the MSP and above the Republic of

California as it now exists. That area, though, has been pretty well established as inhabited by bandits and other bad guys. I have an area in mid-America that might be suitable for a small nation-state. It has problems (a lot of bombs fell just south of it, but city-states survived to the south). The area is northern Missouri. The main cities of Missouri along the Missouri River were all hit, as was western Missouri with its silos. However, the Mississippi River flows along the eastern border and no one has "claimed" the area as yet. Take a look at the map to the right, I'll support you on this, although I don't think I've floated the idea for a state there with more than one or two editors. It's not what you envisioned, but it's something to think about. SouthWriter 20:11, March 20, 2011 (UTC)
Thanks south! I am going to do a little research on the area, and see what I can find out. By the way, do you know if there is any chance of a coastal nation in the carolinas? God Bless the United States of America 20:29, March 20, 2011 (UTC)
Unfortunately, GB, south is correct. That's the only area of the coast not already established, and there's really no way it could be there and not have it violate canon, as it definitely would lean that way givne all of the canon exploration and history of the area. The Naval Bases are either already in territory controlled by survivor states, or the entire area around them is radioactive hell.
Hannibal is on my list of potential states as well, actually. Definitely could work, though it would have to be small and probably semi-dependent on Kentucky.
I'll get back to you in a couple hours on the rest of the Carolinas, except for New Bern. While the town itself would not be destroyed at DD, there are strikes within a short distance of it. Add in the very complete list on the North Carolina article of surviving settlements and the established history of the area, and it really can't be done.
I know there's a couple of these towns in the Carolinas that live, but I've got to hunt around to see which. Get back to you on that later.
Lordganon 23:57, March 20, 2011 (UTC)
Actually, I found the perfect area in Georgia. In Camden county, there is Submarine base, which is now the base for the US Atlantic Submarine Fleet, but back in 1983 it was a small base with no more than 1 or 2 subs there at a time, and was really unknown. That there by gets me my naval base, and also it is in a good position. The nearest nuke was savannah, which is a good distance away, and no one has claimed this area yet. I believe I might try to start something there, unless you think I shouldnt do it. Sorry for my complete butchery of this paragraph, and thanks for everything LG and South.God Bless the United States of America 00:34, March 21, 2011 (UTC)
GB, the American military, outside of Area 51 has never even tried to hide where their installations are located, and these things are announced in papers and things all the time. The Soviets knew the locations of just about everything in the USA, including that base.
At best, this base was under construction, but able to supply, etc. subs to a small degree. Most likely, however, it was just under construction, as it only opened in 1989 to subs. The base itself had long been an inactive Army base, meaning its use to the Navy until the construction was finished would be very minimal.
When it comes to nukes, GB, don't merely think that because a blast isn't mentioned that one didn't happen. The strike list is far from complete, and you always have to remember that, and research accordingly. Heck, until a couple weeks ago when I added more than a dozen California targets, that state was recorded as only being hit in about 7 places, which we all know isn't right. Says to research in bold at the very top of the strike list for a good reason ;)
I figure that the Soviets would hit this place with a small nuke just to take away a potential base for the Boomer Subs. Even in the event that they did not do so, it would be useless as a base as construction would not even be half done by that point.
Canon also has long held that Cuban and South American explorers found the coast between Florida and the Darien region uninhabited, which would include the area of the unfinished base.
Working on the Carolina data for you right now. I believe there's a juicy one there for ya.
Lordganon 03:53, March 21, 2011 (UTC)
Oh! One more thing - as the saying with Doomsday goes "When in doubt, nuke it." Lordganon 03:57, March 21, 2011 (UTC)
LG, I have to say you have been more than helpful lately, and I thank you for your extreme kindness. As I have said to south, if you ever need a favor give me a ring. The only reason I am picking these places, is because I want the nation to have a Navy. I am a big Navy man (Strange because my family is Army), and as such I would love it if the nation had a small ocean navy. This would be my goals for the nation
Population around 150,000
Ocean Navy around 15 ships, with at least 3 SSBN (minus most of their nukes) and maybe a recovered carrier (Like the Victorians did, maybe the carrier could be the Ranger or Kennedy), maybe 1 or 2 cruisers, and 3 or 4 destroyers/frigates.
A conservative government
Little to no Atheism, with a strong Protestant presence in the area.
Citizens consider themselves Americans
These would be my ideal goals, but its up to you to decide. Have a nice day!God Bless the United States of America 04:47, March 21, 2011 (UTC)
GB, I have to respectively disagree with LG. First, though we have to admit there were more nukes than listed so far, the addition of new nukes has not been the practice in well over a year. LG's addition of strikes in California were scaled back a bit after discussion (mostly size, but even some cities were "spared").
The report about the Cuban and South American explorers has been discussed elsewhere and it has pretty much been decided that it was flawed -- the explorers found and reported what they wanted to discover. As for Camden county, that area is covered briefly in the article on survivor communities of Georgia. The area is included within the borders of the nation-state known as Neonotia, though it has not been included in that unfinished article.
As for the Soviets taking out potential problem spots on a first strike, it is quite doubtful. This barrage would be towards population centers, transportation and communication hubs, and major military installations. As the original Russian hero stated, the result would have been about a third of he US infrastructure.
As for North Carolina, the most recent canon on the state is found at the 1983DD article on the state as a whole. There you will find two of the larger coastal towns listed and prospects for many others. Your original suggestion of New Bern works well, for the Inner Banks area was far enough away from the massive strikes in the center of the state and further down the coast toward South Carolina.
About your ideal republic, GB, this sort of thing is not just put together out of thin air. We go by statistics and history when creating alternate histories for the time line. The governments may very well be conservative, since the rural portions that would survive tend to be so anyway. But a purging of all but conservative Judeo-Christian influencing is not a good tact to take and should not be desired in an acceptable survivor state. Such a state, if developed seriously, would be more like a neo-Nazi regime. The strong navy you desire would most likely not exist in this time line at this point - especially in such a small nation. The energy sources, as well as other mineral sources, are also a big problem. I would say you have to scale way back on your expectations. SouthWriter 05:23, March 21, 2011 (UTC)
I understand, my suggestions were just some things I wanted to work with, maybe a few come true, but all in all just suggestions.By the way, what is Neonotia?God Bless the United States of America 05:29, March 21, 2011 (UTC)

Click on the link above to go to the article. Basically, it is the survival of my "hometown" based on the arrival of former president Jimmy Carter after escaping from Atlanta. Plains was (is) only about thirty miles from where I grew up. "Neonotia" is a coined word I made up from the Greek that means "New South" - a popular term during the time for the emerging culture in the urban south. It didn't fit the smaller towns as well, but with Carter at the helm (he's a navy man) it works. Carter uses his peace making skills to draw together different factions in south Georgia and part of south Alabama to form a coherent nation. SouthWriter 05:37, March 21, 2011 (UTC)

Ah.By the way, I looked up some the data you suggested, and I found that Neonotia, the article on Georgia, and Florida all contridict each other. Florida says that Jacksonville was hit with covent warheads,while georgia says nukes, and the very eastern tip of Neonotia occupies land said by the Georgia article to be un livable because of the strikes on jacksonville. Which should I believe,and what should be done? God Bless the United States of America 05:45, March 21, 2011 (UTC)
South, those strikes in California that I added were not touched at all, and the list has been updated a hell of a lot more than you think it has. You're as bad as Caer, I swear. Have you actually looked at that list recently? I doubt it.
The Jacksonville strike was a nuke. That Florida article should have been changed long ago, for it was decided elsewhere that that info was wrong. Thank you for pointing it out, I've changed it. As for the Neotia part, radiation goes away with time.
I'm well aware of the "discussion" that took place about the explorers. But if you will notice, it's not canon - what is there at this time, IS. You may not like it, but it's true, and you know it.
Now, the Carolinas.....
With the coast, you're a touch limited, but I'll start by saying there is definitely ones inland besides these. I'm also including Georgia in this since you seem interested in that area too.
Georgia: Darien, as mentioned on the Georgia article.
North Carolina: Colerain, as mentioned in the NC article. Edenton, as mentioned in the NC article. Washington, as mentioned in the NC article.
South Carolina: Georgetown, as mentioned in the SC article.
The Darien, "Inner Banks" area of the communities there, and Georgetown are the most promising, of course.
The North Carolina articles, unless you group the ones near the Outer Banks together - which would be quite obvious, and allow some sort of survivor thing in New Bern to still exist - are very limited, with rough (don't need to followed exactly, but.....) size limitations.
The South Carolina settlement was heavily damaged in a hurricane, but still exists.
As for your list GB, the first two are not possible. The subs are all under ANZC authority, or gone. Carriers, except the one in ANZC hands and the one that drifted out of drydock in the northwest now controlled by Victoria, are gone. None were anywhere near the region you discuss, either. Cruisers, Frigates, and Destroyers are either gone, or in the Virgin Islands/ANZC. In North Carolina, the population figures are roughly given for you. The other two states are implied to be small as well. 100,000 people, at most.
The other three points, as you wish. But the first two are not realistic. You might be able to manage a couple of PT boats, at most, but the fate of the rest has long been determined.
But, in my opinion, you should go for the Inner Banks (Colerain, Edenton, and Washington in NC) idea. South is being over-optimistic, like he always is when talking about that area of the world, but there's enough canon communities to make a good go of it, so long as you remember the population must be close to as written, without going against canon like South is telling you.
Lordganon 08:20, March 21, 2011 (UTC)
GB, it appears that LG answered the question about the conflict. I had not noticed the note on Jacksonville being just conventional weapons. The maps I used to argue against the very existence of "First Coast" (aka East Florida) make it clear that the area near the Georgia was a major target. That includes Camden county, Georgia. By the way, above I did not look up the location of that county, I was only countering the idea that the Soviets would nuke insigifigant targets.
LG, I distinctly remember the discussion in which "City Buster" mega bombs were used on several cities, only to be removed and replaced with smaller ones that could do the job. In the process of reduction of the size of the bombs, some areas were spared. I acknowledge the list has been added to, and was not denying that the bombs should have been used.
I have in many places confirmed my commitment to canon, so I do not know where I may have advised going against it. My mention above of the inadequacy of the foreign explorers reports stands. It was just the word of explorers with little to gain by disclosing what they had found. Articles were written around the early articles as to be viable without "violating canon," and that not without plenty of discussion.
As for my being "overly optimistic" about my area of the world, I suggest you check out what happened to the Peedee Nation, the article in which the condition of surviving cities of Florence and Georgetown are explained. The ravages of Hurricane Hugo were beyond belief -- in league with similar disasters to the coast of India. And then there is the terrorist attack in Greenville which killed over 4,000 people. And before that, the gasoline pipeline explosion and resulting fires in Simpsonville that killed over 500. An optimist would have overwhelmed the racists in NE Georgia and possibly even the Islamic Republic of Anderson to simplify matters. I took these city-states and incorporated them into my article even going as far as to explain why the WCRB explorers had not found evidence of Piedmont in their trip up the Savannah River. If you check my discussion on the article, you'll find that I was even willing to work around a nuke not mentioned, but was not required to (since the article on the Southeastern states was treated as canon).
Overall, though, GB, you can see that both LG and I suggest the Inner Banks. His inclusion of two towns I did not mention does not mean I did not know they were there. LG checked the list drawn up by Brian, an editor with whom I have colaborated many times, and who is in agreement with my philosophy of how the time line should flow. The three towns GB chose, while not mentioning the existing Elizabeth City or your choice of New Bern, work as representative towns of the Inner Banks. If I were to chose one to develop, I'd go with Washington which is sort of in the middle of the Inner Banks.
As for the other towns mentioned, Darien in Georgia is within the borders of Neonotia (as seen on the published map). Georgetown is part of the eventual jurisdiction of the reconstituted South Carolina but is open for development as a city-state having rebuilt itself after Hugo. Upstream, Florence is also rebuilding. The two cities were once part of the destroyed state of the Peedee Nation. The whole eastern part of the state would make a good area to develop as they try to re-establish themselves. Read the article (link above) to get an idea on what you would be working with.
In either working with the Inner Banks, check with Brian as to what would be appropriate. There is plenty of room for adjustments, since contact has not been "officially" made with most of the towns mentioned in the article. If you want to work with Georgetown or Darien, check with me, both are open to interpretation, though Darien will be subordinate to Neonotia by default. SouthWriter 16:03, March 21, 2011 (UTC)
Okay, I believe I am going to either go with the Inner Banks, or Darien. If there is no chance for Darien to be independent then I will go with the Inner Banks. God Bless the United States of America 22:28, March 21, 2011 (UTC)
I wouldn't say there is no chance of an independent Darien since I have not developed the Neonotia article lately, but I would state my preference that it be left alone due to the strategic importance of it being part of the Georgian state. Another reason I think that Darien is a bad idea is because it is far too small to support independence. It sits between bombed out Jacksonville and Savannah, supporting a population several times what it had before doomsday. It would have grown into a regional center as a county government before the creation of Neonotia and I have "plans" to develop that area as part of a larger state.
That being said, I am here to guide you in developing the Inner Banks according to whatever direction you want to take it. As stated above, the development of the area will of necessity mean working with the Outer Banks. It may also lead to whatever reconstruction of the state of North Carolina that the community deems plausible. However, you have almost twenty-four years of history to catch up on, so I'll leave you to that. SouthWriter 22:46, March 21, 2011 (UTC)
Thanks south! I will really need help catching up on the history, so if you could help me with that would be good. Also, if a chance for a independent darien is ever available, I would really like to scoop it up.God Bless the United States of America 23:15, March 21, 2011 (UTC)
South, you are now contradicting yourself with the explorers - none of that discussion, by your admission, is valid, but you brought it up anyways. I'm well aware of your work in the area, and that's not the optimistic part. Not going to explain why you're too optimistic again here. New Bern is not listed as a surviving community on the NC article, which is very explicit about what is there you advocate changing that, which is messing with canon.
Apologies for all of the flak between me and South on here, GB. He seems to be doing this to me everywhere as of late. If you need any help, or anything, feel free to ask.
Lordganon 11:16, March 22, 2011 (UTC)
I know I am starting to get annoying asking questions, so I will try to keep this short.My current idea is this; edenton,colerain,plymouth, williamston,windsor, and hertdford unite and form the Republic of Inner Banks. Pop would be around 45,000-70,000, peat mining,farming, and maybe some other stuff would be the economy, some national guardmen, and maybe a few PT boats for defense, and maybe later they could find a beached naval vessel.How does it sound?God Bless the United States of America 00:22, March 23, 2011 (UTC)
I'm wondering if you're still up for the project, since you haven't been editing for a while.
PitaKang- (Talk|Contribs) 22:43, March 21, 2011 (UTC)
Oh, sorry pita. other projects have popped up, so I have been busy, I will try to update the article some soon.God Bless the United States of America 22:47, March 21, 2011 (UTC)
Inner Banks
Well, Hereford is a touch too close to Elizabeth City to be realistic as one of the towns. Any sort of State would logically include Washington as well.
Just remember that the towns themselves - and a fair amount less for Plymouth, Williamston, and Windsor to roughly follow the NC article - are recorded by Blue Ridge explorers from local estimates as having "anywhere from 250 to 800 people apiece." Now, this estimate is definitely off, but not too drastically. To say that any of these places, except for Washington, would have more than 1,000 or so people would be not very right. Washington is the largest, so maybe 2,000 or so as a max. Use the otl populations as a guide.
For instance, the figure for... Colerein, if memory serves - is otl about 200. That will stay in that neighborhood, as an example. But the rest would drop, badly in many cases.
Overall, the population of your republic - concentrated in rural areas, of course, not towns to go roughly with the NC article - would, in my opinion, be at most around 60,000 people, likely more like 45,000, with around 3/4 of them in rural areas, if not more.
My note about PT-boats was not entirely correct, I admit - it would more so be PT-like boats, as the orginals are long out of service by 1983 and the known surviving ones aren't anywhere near you. About the only military vessels that could be discovered somehow would be coast guard cutters (one or two, likely one if any) from the base at Hobucken, NC beaching themselves in the area after the EMP. There's just no naval bases in North Carolina, and those Barrier islands more or less keep out anything from out in the ocean, which combined means no drifting in of any from outside.
Lordganon 14:41, March 23, 2011 (UTC)
USS Albuquerque
Not to beat LG to the punch, but if you look at the Wikipedia article, it says it was at sea from its commission in May, for the rest of the year. Chances are it survived, followed the gathering order, and was absorbed by the ANZC navy.Oerwinde 02:08, March 25, 2011 (UTC)
Thanks Oer! However, I did manage to find out it was back into port on september 14, so I am curious as to were it was on the Doomsday. God Bless the United States of America 02:10, March 25, 2011 (UTC)
Given that it was doing sea trials at the time, its time in port would have been short. Either way, it would have either been at the yards and destroyed, or gotten the gathering order. Myself, however, I would think it more likely to be with the Atlantic Remnant then anything, but the ANZC is a possibility too.
All in all, it would have been somewhere off the New England coast at Doomsday in at the yards.
Lordganon 09:32, March 25, 2011 (UTC)
Warning
GB I have lost my patience with you. Referring to editors of the 1983: Doomsday timeline as "communists" simply because they do not agree with your vision can be construed as a personal attack. I am not going to have this happen on this wiki. We maintain a level of civility here that we expect all editors to maintain. If you cannot conform your behavior to this standard then we have a serious problem. Mitro 04:59, March 27, 2011 (UTC)
Mitro, I was not calling anyone out. I simply meant, that as I bring my politics in the timeline, they bring "some" of theirs, and these politics make me call for the US, while their politics make them refuse it. I am not making a personal attack because they don't support my vision. Yes, I agree personal attacks should be kept out of this wiki. I God Bless the United States of America 05:07, March 27, 2011 (UTC)
Calling people "communists" for not agreeing with your politics is a personal attack, no matter how you look at it. Meanwhile, consensus is that the US will expand, but because the editors of 1983: Doomsday are not doing it your way you lash out. I don't want to see it again. Mitro 05:33, March 27, 2011 (UTC)
Mitro, I already said I didn't mean it as that. I did not lash out at the editors, nor do I hate the way its going. I did however state that I feel those that attempt to stop it do sometimes suggest they have socialist tendencies, and as such by those tendencies (although rare) seem to suggest they refuse the rise of the US, which would undoubtly be a Capitalist. Some of the stuff said to me when I first started here could be considered personal attacks, but I knew meant good, and were just stating their opinion on me and the facts on what I had said. If what I have said lately has been considered "Unwikish", then I regret it is seen that way. God Bless the United States of America 05:44, March 27, 2011 (UTC)
As far as I can tell no one is trying to stop anything. Last time I checked the US does exist in the 1983DD TL. Furthermore politics has nothing to do with this at all, do you understand? We are attempting to write a plausible TL and just because they do not agree with your opinion does not mean they are communists! Your logic is flawed. This is a fictional TL. Not everyone who writes TLs where America is weaker hates capitalism. Does a British author who writes a TL where the US loses the Revolution a communist? No, so stop making that assumption. You have a lot to learn GB about working on a collaborative project. If you don't think you can change your attitude you should leave. Mitro 05:51, March 27, 2011 (UTC)
GB, if you learned anything from this it is that joking does not go over well. Try not to do it again. With that said, good luck with your further endeavors. Mitro 07:31, March 27, 2011 (UTC)
Mitro, a quick note here. The note was TO me, on MY talk page, and GB explained himself at 04:52 UTC. It is quite unfair to jump down his throat for a passing reference, especially after you had a chance to read the whole exchange. You cannot act as "thought police" in your role as administrator. If such a statement had been on an article or the main talk page, action may have been called for, but not from a note on a personal talk page. --SouthWriter 21:17, March 27, 2011 (UTC)

I have to respond to this because South's statement is in completely opposite of how personal attacks have been dealt with since before my time as admin and I do not wish such a policy to be adopted following my retirement. Everything written on a wiki is public knowledge and can be seen by anyone. Personal attacks are not protected simply because they may be on a user talk page, blog, etc. Such a policy would allow trolls to attack other users without retaliation because it would have been done either on their personal pages or the page of someone they were not targetting with their attack. You can disagree with me on whether it was a personal attack, but do not create a technical exception that will allow future abuses by other editors. 64.213.188.134 15:11, March 29, 2011 (UTC)

My point was not that such attacks should not be dealt with wherever they may be (the talk pages really should be more private, but that's beside the point), but that Mitro responded to a remark I had already personally dealt with (asking for clarification) and GB had already explained. In offering this warning on GB's personal talk page he at least stayed out of the public square, but it was out of hand. I concur that GB should not have used the term "communist" so loosely and I will be the first to jump on such inflamatory speach on the main talk pages. That is, in its most blantant form, what the NCNC policy is all about. SouthWriter 16:02, March 29, 2011 (UTC)
Your new wiki
It is painfully obvious that you only made the thing because you are angry at the rest of us for the timeline. For the record, if you copy anything from this wiki to there you are breaking much more than the rules of our wiki, legally.
Also, do not advertise like that on anyone else's talk pages. You are breaking the rules of the wiki, and I will ban you, in light of your recent outbursts, if you do it, or anything like it, again,
Lordganon 07:55, March 27, 2011 (UTC)
Actually, I am not angry at anyone. Yes, I did base if off DD, but I changed it enough to be considered its own thing. I did not advertise, I wa strying to be nice and give you guys a invitation to see it. I am not trying to cause drama. How is it illegal? God Bless the United States of America 08:00, March 27, 2011 (UTC)
I beg to differ, based on what I can see in your recent posts.
You copied it almost word for word off of here, only changing the overall name and inserting "United States" in a couple of sections. Not different at all.
Posting on user pages like that is advertising.
Copyright, GB, copyright. Everything here has been written by someone, and without permission from them, you can't use it.
Lordganon 08:07, March 27, 2011 (UTC)
Yes, Me and Mitro had a fight, but I am not mad at anyone. Terms of Use beg to differ on the copyright, and what about the people who made articles on here based of DD? Tropes.com even listed this, are they in violation of copyright? God Bless the United States of America 08:11, March 27, 2011 (UTC)
Has nothing to do with you and Mitro. In that conversation you insulted each and every person who disagrees with you.
You really don't get how a free content license works at all. It gives you free reign to copy sections of things, and ideas, but not entire works. Tropes.com was actually added by one of us.
Lordganon 08:16, March 27, 2011 (UTC)
LG, I am not going to argue with you over this. I deleted it, and I made it clear in the conversation I was not insulting you, or any one else, please read my statements again. I also followed the content license, because I only copied the portal page, everything besides that was left out. I am sorry for the trouble. God Bless the United States of America 08:20, March 27, 2011 (UTC)
Not meaning to start this up again, but I thought I'd let you know that I contacted the Wikia staff and they said that you cannot copy things off other wikis like that without both getting permission from and giving credit to their creators. Lordganon 08:59, April 2, 2011 (UTC)
I understand, and by the way, how did you get them to mail you back so fast? I messaged them a while back, and I am still waiting for a response! (;God Bless the United States of America 17:42, April 2, 2011 (UTC)
Got me. I sent messages on their site to them about a few things and heard back from them on everything within a couple days. Lordganon 05:38, April 3, 2011 (UTC)
Scramble for Africa
So you actually see this......
How on earth is a company doing what dozens of companies did at the the time period, and for eastern Africa yet, interfering in the Russian Zone of influence? That's not interfering or anything of the like. The most you can do is ban the recruitment, as this is a private company, not the Swedish government, and the two have nothing to do with each other.
Lordganon 20:07, April 11, 2011 (UTC)
Not the point, GB. You can't threaten a government over actions a private corporation is doing. That's the point. Lordganon 21:11, April 11, 2011 (UTC)
By this point in time, it's been a hundred years since that occurred. I've changed your post to barring the company, and that is final. Lordganon 21:31, April 11, 2011 (UTC)
I gave you the reasons. Not my problem if you don't believe historical truth. As I said, end of discussion - and note that it's still not plausible even as it stands, as far as I'm concerned, but you're getting that much still. Lordganon 21:53, April 11, 2011 (UTC)
US Civil War Map Game
Are you still playing the US Civil War (Map Game)? Italy has been very quiet... VonGlusenburg 13:27, April 13, 2011 (UTC)
Well are you? A reply would be nice just to comfirmVonGlusenburg 15:58, April 27, 2011 (UTC).
Ah good to know :) VonGlusenburg 20:58, April 27, 2011 (UTC)
Picture
Done. Lordganon 23:13, April 22, 2011 (UTC)
Alternatehistory.com
GB, I'm going to put on my admin hat, in regards to what happened overnight, and speak to what I've read here and over at alternatehistory.com.
It's one thing to disagree with what they did, although that happens all the time on the alternate history website (usually to copyrighted works - Star Wars, Peshawar Lancers, Trek, DC Comics, et al). That doesn't bother me.
As I've said before, what would bother me is if they started taking articles wholesale off the wiki and claiming them as their own - which they're not doing. They're taking 1983:DD as a base for their own history....and might I add as I read those two TLs, I've come up with a few ideas of my own for DD that could help us.
I would not have written that response on those two threads, in the manner you did. You're certainly free to disagree with what they (and others) do, but you need to phrase it in a professional, charitable manner, and in a way that it's clear you are speaking for yourself.
Whether you realized it or not, you acted as a representative of the entire TL; I can't quote chapter and verse on this but if there's ever a situation where someone steals 1983:DD outright, it needs to be a member of the brass or at least a Lieutenant who speaks on behalf of all of the editors. This has happened once, when Owen copied portions of 1983:DD wholesale onto another wiki and Mitro asked that wiki's admins to shut it down.
I've been contacted by one of the writers and am now in the position of having to mediate something I never intended to start. As I've said, this isn't a hill to die on. It would have been sufficient for you to raise your concerns here, and let the admins handle anything that comes up regarding this situation. In fact, I strongly encourage you to do this in the future, so if situations like this arise again, we can handle it in the best way possible.
BrianD 17:01, April 23, 2011 (UTC)
GB, while I appreciate that you apologized, I also want to say a simple apology would have sufficed. Your remarks about complaints from other editors are not quite true. LG only said he'd prefer they not have done it. Yours is the only true complaint I have seen so far on the topic.
Also, you worded things in a way that you implied I was one of the complainers, and that is not true. And the part about you taking action because the others would do nothing was unnecessary. The admins, who oversee this site, did something. It may not have been what you wanted us to do, but we acted in the way we thought best.
It was not your place to take action, especially in the manner you did, and implying you represented the community. You are not an admin, and we have not authorized you to'take action' or otherwise speak on behalf of the brass, and the other admins. We certainly don't want you doing anything that might spark a totally unnecessary flame war.
Please refrain from such actions now and in the future. As far as your ISOT proposal, I hope you understand that, given some of your past actions, that may be something the other admins have more of an opinion about than what Ming and Mann are doing. --BrianD 23:10, April 23, 2011 (UTC)
Reply
First off, I agree with Brian. Nor was I complaining.
Anyhoo.....
Yes, that is indeed a bannable offense. Bigtime. I'm all for more editors on the wiki, but that's not the way to do it.
Lordganon 08:01, April 24, 2011 (UTC)
GB, I respect you too, and I wasn't looking to disrespect nor embarrass you.
What I meant by the simple apology was just that: apologize for the misunderstanding, which you did. Trying to explain your actions didn't really help things. The way you worded it implied that LG was one of the complainers, and could have led others to think I was one of the complainers...neither of which is the truth.
I'm not saying you can't disagree with what they do. You can even do what you did. I'm saying you shouldn't go on another wiki and "take action" when you're not an administrator, and say things that could have potentially caused a problematic situation that didn't need to occur. Dropping it and walking away wouldn't solve the issue either; there are consequences to actions, and I found myself in the position of having to deal with those actions.
Whether you realized it or not, when you posted on Mann and Ming's threads, and in the way your statement was worded, you cast yourself as the representative of the wiki. The issue I had was you did so not just as a non-administrator, but also how it was worded: you used the term we, not I. The creators and readers who aren't as familar with DD as we are aren't going to see it was your opinion, they're going to think it's all of us together.
Benkarnell and Francis C - both of whom have been here for a long time, and have contributed heavily to 1983:DD - don't have a problem with it. That's not to say that you can't, just that two veterans thoughts on the issue should be taken into consideration when forming one's own thoughts on it. Or, if they're not upset with it, maybe I shouldn't be either.
May I also remind you that I worked here and at althistory to fix this situation as well. And, may I also remind you of your previous attempt to replicate 1983:DD as a future history elsewhere, and the uproar that caused; that is what I was referring to when I said other editors here may have an issue. Of course, they may not; it's an individual manner.
I regret all this has happened, but I do not regret stepping in and doing what I believe needed to be done, given my responsibilities as an admin, the situation developing so quickly and no other admins being around at the time. BrianD 17:56, April 25, 2011 (UTC)
I got the message about group TL, what is it called?
"El Presidente" Map Game
Dude, game's starting. Enter Name 22:47, April 26, 2011 (UTC)
Apology
I know it was a month ago.. but I am sorry I was a such an ass about the Divergent History Wiki,
I would be willing to help on this project.
I will be more thoughtful of your ideas in the future. Alexanders 02:58, April 28, 2011 (UTC)
Godzilla
Heh. And here I was under the impression that he was your brother, for some reason, lol. No idea how that happened. I've warned him.
Not doing bad. My nomination for the Brass got approved couple days ago =)
Lordganon 07:42, May 19, 2011 (UTC)
Got me, GB. Wikia is messing with things again behind the scenes, and everyone is having one problem or another. King can't edit tables, and I'm having problems with categories when there isn't one already there, for example.
Glad to hear it with your brother - no need to have people being banned, as your description of him sounds like he'd end up, lol.
Yeah, AH.com is full of that. You should get Xeight to tell you some of the stuff they've done to him, it'd disturb you.
Lordganon 05:04, May 21, 2011 (UTC)
Map
I'll see what I can do, though it probably will be tomorrow before I can get to it. BrianD 02:13, May 25, 2011 (UTC)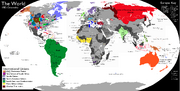 You know, you could have just asked me, lol. Here it is. Lordganon 11:36, May 25, 2011 (UTC)
Inner Banks Doomsday
I have recently started to take an interest in Doomsday I, the Republic of the Inner Banks is actually known as the Albermarle Region (I live in Costal N.C) therefore I changed the name of the nation. The Inner Banks is reffered to the Southern Shores of the State.
I thought I should let you know since you made the article
Alexanders 23:27, May 27, 2011 (UTC)
And none of that gave him a right to re-name it, or to touch it, at all, GB. Just because an area is known as that, does not mean that this would be called that. He tried re-naming the article without permission, and has been editing it (not really adding anything, but as an fyi) without permission as well. I've warned him about it, now. My opinion, however? Don't let him do much of anything to it. Lordganon 09:04, May 28, 2011 (UTC)
Well I'm sorry I was just trying to help out. Alexanders 19:28, May 31, 2011 (UTC)
Alright, sounds like a deal,
As for an idea I think the Inner and the Outer Banks should be unified into one state. Alexanders 15:18, June 1, 2011 (UTC)
Re:AH.com and Education
Sorry, I have no idea what you mean. (The fact that I haven't used this site in a while makes it hard to remember the context.) What did I mean by education where and when? Benkarnell 14:19, June 9, 2011 (UTC)
Massive Impact Strikes Back!
Hello. You are currently signed on to play as Britain and Canada in this map game. Unfortunately, the game never really started and I want to raise awareness of it and start it. Please reply to my message by July 21st or your nation will be up for grabs by other players.
-CrimsonAssassin
Norfolk Naval Base Article
GB, I understand you initiated the article regarding Norfolk Naval Base for the Doomsday storyline. Would it be okay if I took over stewardship of the article? I would like to bring into line with my Delmarva article and add research I have been doing on the area. Please let me know. Thanks.--Fxgentleman 21:19, August 11, 2011 (UTC)
Cross/Crown
I'm going to say this once: Don't pull a stunt like you just pulled on that heartland talk page ever again. Lordganon 20:46, August 29, 2011 (UTC)
What Yank did in the first place was well before my time, and Mitro allowed it at the time. You'll note that I removed it with your trash as well.
There was no reason at all for you to do that. Stating your opinion like Yank did would have been one thing, but you actually attacked Yank for his beliefs. There's a world of difference there.
Your page was fine, btw.
Lordganon 21:44, August 29, 2011 (UTC)
Your user page.
Yank did not attack you. He stated his opinion of conservatives in general. That is an attack on a political belief, not on you personally, no matter how you may take it - you taking it personally is on you, not him. Yet, you attacked him personally. It is indeed trash, sure, but what you posted is more of the same. And for the record, your "facts" are as suspect and wrong as his are.
Yank trolling? You're the one that responded to something from two years ago. That's trolling, my friend.
Far as I'm concerned, if Mitro let something go, then it passed the judgement of the admin team. I will not question that judgement. And, note that I think it should have been left there, being someone's opinion and not a personal attack, but you forced my hand.
Yank has done nothing other than give an unasked political opinion that was probably a touch too angered. You, however, trolled a response to a two year old post, and actually attacked him.
I will hear no more of this out of you.
Lordganon 22:21, August 29, 2011 (UTC)
You blanked your user page.
What part of "I will hear no more of this out of you." do you fail to understand?
Actually, I would not have done so to a general statement. Though thanks for that assumption.
I suggest you have a better look at everything you said, and look at news about it from somewhere besides right-wing news. On all three of those things, you have not done so, and have thus gotten only part of the story. Your facts are not "fake," true, but they are extremely biased.
No, GB. Yank was not being a troll. You, however, are, and the arguing proves it.
Let me make this simple, then: one more comment out of you and I'll forget your youth and the leniency I give you because of it. Understand?
Lordganon 00:11, August 30, 2011 (UTC)
From Wikipedia:
In Internet slang, a troll is someone who posts inflammatory, extraneous, or off-topic messages in an online community, such as an online discussion forum, chat room, or blog, with the primary intent of provoking readers into an emotional response or of otherwise disrupting normal on-topic discussion.
I don't see where stating one is offended is inflammatory, extraneous, or off-topic - even if it were 20 months after the fact. These talk pages, if not archived, are open to 'first time viewing' forever! I got a response from a blog I made in 2006 just the other day. The original post by Yank, though, was indeed inflammatory, though on-topic concerning a very provocative concept. The 'letter to the Red States' begged an answer, itself being inflammatory. The response was far less insulting and an attempt at balance. Yank's response was an angry diatribe and he should be likewise scolded if you, LG, are going to play the 'tough guy' again. This tone of 'one more comment out of you ...' is not good form. It is bullying to stop the conversation. It is, in its own way, 'inflammatory,' and verges on abuse of power. --SouthWriter 02:35, August 30, 2011 (UTC)
ADH
That project is kinda dead right now, after I went on my 2 1/2 month wikibreak. I'm disappointed, but it had a bad start to it an anyway- nation profiles before timeline, etc. Anyways, if you have any ideas, contact me.
PitaKang- (Talk|Contribs) 19:59, August 30, 2011 (UTC)
I would rather keep ownership of it but I will use any suggestions you have.
AH.com
Heh. Nothing new, but thank you for letting me know. Lordganon 00:10, December 16, 2011 (UTC)
your back?
GB your back? i havent heard from you in a while. where ya been hideing out?Wingman1 04:51, April 9, 2012 (UTC)
u still around GB?Wingman1 (talk) 00:30, July 24, 2012 (UTC)
we kinda worked together on some DD-83 pages a while back. i was going through my list of stuff i am folowing, i saw your name and thought i would drop you a line or two, and say hey.Wingman1 (talk) 01:41, August 13, 2012 (UTC)
Proposal?
Hello.
My name is Enclavehunter or Enclave for short and I have recently adopted the Blue Ridge article from BrianD, respectively. I have began to discuss the eventuall unification of North Carolina - similiar to what is occuring in Florida and Texas - and I was wondering if you would allow the Republic of Inner Banks to join other North Carolinan nation states in the near or distant future? Enclavehunter (talk) 05:38, December 18, 2012 (UTC)
1945: Bloody Berlin 
Hi thanks alot for your analysis on 1945: Bloody Berlin it was very helpful and i will soon be finishing it. Germanarmy17 (talk) 17:39, August 17, 2013 (UTC)
Future Map Game Revised
Dude, I hear u were once in Future Map Game no? Well, I gave Bfoxius the rights to Future Map Game Revised and it should be up and fixed any time soon(that is if Bfoxius comes online). Ratc3333 Here, Prepare for Combat (talk) 23:25, February 21, 2014 (UTC)
Medieval Age :AOK
The game has started, please post as soon as you can and i hope you enjoy the game and wish you good luck.
Dude, can you come back to the chat please?
I'm licensed to chill 19:49, June 26, 2014 (UTC)
Road to war
I don't know, Nkbeeching has not started it yet. I'll ask if the USA can be reserved (I'm after Argentina). Whipsnade (talk) 19:09, July 23, 2014 (UTC)
Gray
You mistake me not seeing something for "accepting" anything.
Simply put, Confederates cannot win like that. What you have, imo, is a Confederate-wank.
And no, not discussing it with you.
Lordganon (talk) 12:01, January 6, 2015 (UTC)
Good sites
I like the site. http://tinypic.com/view.php?pic=sv19oy&s=8#.VL6M1EesUXA http://www.sturmvogel.orbat.com/SovLendLease.html You found some interesting stuff.The River Nile-2 (talk) 16:23, January 20, 2015 (UTC).
I agree the Soviets would have needed it and would have not advanced with out it. The thing is that they would have rested behind the Urals and held out until the Western Allies had broken Germany. They also would built new factories in places like Kazakhstan and Irkutsk. After a few years they would be fighting again. 1947-48 = Liberation of Moscow? The River Nile-2 (talk) 16:56, January 20, 2015 (UTC)
The real Lend-Lease action happened with the UK. We were desperate for food, iron ore, oil, tanks and ships. The US gave us several WW1 era battleships, hundreds of Sherman tanks (later on) and dozens of 'Liberty Ship' freighter. We had nowhere to retreat to, except for annexing Ireland. The UK is an island and could be blockaded. The key to defeating the Allies was to starve the UK in to substitution. U-boats at the ready!The River Nile-2 (talk) 17:05, January 20, 2015 (UTC)
l  friend pls
Diamonnddx (talk) 03:40, February 5, 2015 (UTC)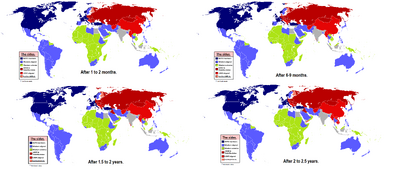 I agree the Soviets could not win the war in the long term. The West would have an initial advantage by betraying them- Prague, Erfurt and Magdeburg are liberated. The Soviets heave in and push back with shear numbers getting to the Rhine, Greece and Rome. After about a year, the USA has amped up and the Soviet's war machine still suffers losses from WW2 (0.3% of Americans, 10% of Austrians, 5.5% of Germans and 12.5% of Soviets had died, so we can tell who can't field a big army due to lack of potential factory workers and farmers if they did). In the end, the Reds either hunker or go in to hopeless decay and retreat like the Nazis did in WW2. Note that Karella in India, Iraq, Greece, Angola, Malaya, Vietnam and S. Yemen were rather commy and the Soviets would have helped them. China would also try and go for Korea and Vietnam, but with little success.The River Nile-2 (talk) 11:41, February 25, 2015 (UTC)
https://www.youtube.com/watch?v=epW5ktfYt9QI The video makes scene and it is realistic, at least until the fight back later that decade, which they convently don't explore. It is thus bias to the USSR's favor. The River Nile-2 (talk) 14:04, February 26, 2015 (UTC)
Аbout Donbass
Ukrainians use your helmets and bulletproof vests. But this is only the individual units. Personally, I got the first time today dragon skin bulletproof vest. And it struck me that this nationalist mercenary wore it, not regular soldiers 
You quickly left that I could not finish the answer))
Stalin 2 (talk) 20:59, March 16, 2015 (UTC)
Re: Your Question
Kame is turtle. KawaiiKame (talk) 06:58, June 25, 2015 (UTC) 
1983: DD USA
I think that the USA could potentially grow quite a bit. It seems the former Confederate States (ironically) are interested in rejoining, as is Kentucky, Florida, and the USAR. My nation, the Commonwealth of Susquehanna currently has no interest. It seems like in ATL American patriotism to the USA of old is beginning to bounce back up an CRUSA is growing. Daeseunglim (talk)
Is there a way I can get in contact with you? Like a Skype or email or something? Amuro Racer (talk) 01:18, January 6, 2016 (UTC)
Alt. RCW advice
I want to resume on my article for the alternate Russian Civil War. I still have Makhno in the cards, but I'm wondering where to go next: Voronezh or open the Baltic theater. Amuro Racer (talk) 03:04, February 10, 2016 (UTC)
I'm talking about a Third Reich USSR unification.Daibido1123 (talk) 12:26, March 16, 2016 (UTC)
Cross the Time Streams
Hey man we had to skip your turn on the game, so your second go around is up. We had to go through Eric as well. Please have your map up soon dude. ..... Because I'm Just... Too... SSSWWWEEEEEETTT!!!
Notice for RotA
You have signed up as a nation in the map game Rise of the Arabs (Map Game) this game will be opening at 9pm GMT Greenwich time. Please post your first turn within 24 hours. Person67 (talk) 13:41, December 27, 2016 (UTC)
Come on GBUSA, you picked USA please post as it. You were doing a good job and the USA is kind of important. Person67 (talk) 20:38, December 30, 2016 (UTC)
GBUSA, I put that notice up. Look if you wan tto contuine fine, I am happy to keep playing but I am not going to moderate for about 6 people. Person67 (talk) 16:58, January 5, 2017 (UTC)
http://althistory.wikia.com/wiki/American_Union_State_(Der_Weltkrieg) I don't think a civil war is possible maybe we should just delete the entire timeline because it's almost a copy of Kaiserreich- Orwell
im going to hold american,britsh and greek hostages
do your turn on Rise of the Arabs Bibleboyd316 (talk) 02:06, January 19, 2017 (UTC)
i like how you dont give a shit about you people in ROTA Bibleboyd316 (talk) 21:19, January 19, 2017 (UTC)
do your turn on ROTA BenWallace (talk) 00:35, January 24, 2017 (UTC)
do it now BenWallace (talk) 00:55, January 24, 2017 (UTC)
are you slow BenWallace (talk) 16:42, January 24, 2017 (UTC)
i just tole person so cut the shit out BenWallace (talk) 21:59, January 24, 2017 (UTC)
Stop wasting time and post your turn in RotA. Person67 (talk) 21:49, January 28, 2017 (UTC)
plz response  to me and turkeys dip LIMEBOY67 (talk) 23:12, January 28, 2017 (UTC)
Ok, Bear won't take peace. As you said either he accepts it or it can be 1827 borders. Person67 (talk) 19:29, February 1, 2017 (UTC)
i see a guy posting a essay long rant on ROTA should get rid of it TellTaleGirl (talk) 13:03, February 2, 2017 (UTC)
are you a MOD? last warning TellTaleGirl (talk) 13:12, February 2, 2017 (UTC)
if you was mod it whould say it but it does not you just power hugrey TellTaleGirl (talk) 13:19, February 2, 2017 (UTC)
whos this bibleboyd your talking about  TellTaleGirl (talk) 13:25, February 2, 2017 (UTC)
Come on I don't care if you just copy and paste your previous turn buy please post something. Person67 (talk) 17:44, February 3, 2017 (UTC)
lets play at 2 (PST)
Discord Confusion
GB,
I feel I didn't get any chance to explain the situation.
Can you please get on a mutual server so we can talk Oh, I didn't mean to push that button! † Oh, well leave a message I guess 21:38, January 13, 2018 (UTC)
The Great Peace
Hello GB! I came here to inform you that the Great Peace has begun! Please make your post while you can!
Adoption Request
Hey GB, I'd like to update Republic of Inner Banks (1983: Doomsday). Can I adopt?
Curmudgeonly yours - Crim 08:09, July 24, 2020 (UTC)
Community content is available under
CC-BY-SA
unless otherwise noted.