Hello and welcome to the Alternate History Wiki!

The Alternate History Wiki is a project for all communities concerned with creating fictional alternative histories. We hope you will feel at home here and wish you good luck contributing to our ever growing collection of alternative histories.

If you have no experience in editing wikis it is advisable that you first read our guide on making articles.
As an introduction to the phenomenon of Alternative History you can read our pages on Alternative History, Online Alternative History as well as Wikipedias article on Alternative History.
A list of all AltHists alphabetically sorted can be found here, a list sorted by Point of Divergence can be found here.
To sign your posts on talk pages use ~~~~ (four tildes). This will insert your name and timestamp. To insert just your name, type ~~~ (three tildes).
If you are in need of ideas to base your AltHist you might consider looking at our ideas page.
For an explanation of frequently used terminology please visit this page.
You can experiment in the sandbox.
All articles on this wiki take the following fomat: Name of article (Name of AltHist). This rule does not apply to the main article of your AltHist wich you can simply give the name of your AltHist.
For links to other Alternative History related sites visit our links page.
Please read the rules of our wiki.

Regards, Imperium Guy (talk) 18:17, August 17, 2013 (UTC)
Philippines
Hey i have claim to all the Philippine islands please stop setting up trade posts there The Wings of Freedom #FP
(Talk to Me)
Then just offer a trade deal with me and this will be solved. thank you for understanding/cooperating The Wings of Freedom #FP
(Talk to Me)
SE Asia Cambodia and Laos
Hey there. Im Ayutthaya and I would like to discuss the future for South East Asia. Seeing now that China has had a civil war and has broken into many smaller and weaker nations, I was wondering if we collectively should take advantage of this and claim these nations as protectorites/vassals under our empires. 
If you are interested in dividing the two new nations of Laos and Cambodia between us in a collective effort don't hesitate to give me a message. 121.220.65.19 12:48, August 19, 2014 (UTC)
Warning
You got off this time, but I warn you, your behaviour is trollbaiting and is inflammatory, and continuing it will get you a ban. Fed (talk) 02:27, October 13, 2014 (UTC)
Get out of Guns' Kick Free
For your services to the squirrevolution and Guns' sense of humor, I present to you this Get out of ONE Guns Kick Free card. Use it wisely, young Padawan...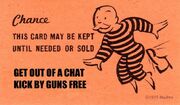 Following it's use, please delete the image but retain this message.

   Tonight the foxes will hunt the hounds!  02:52, November 3, 2014 (UTC)
Whats your steam name?
I wont tell my name as this iss for santa secret. message yourself and i will see it.
Last Warning
I'd better warn you. You and your group of friends has been acting extremely insufferably the last few days. Given the facts that 1) You have commited extreme amounts of trolling; flamebait; personal attacks towards other users; spam; and extremely irritable behaviour; 2) you have commited a lot of shady stuff with several of your allies coming back from the dead just to vote for your TSPTF nom; and 3) you have the longest ban log of alternate history wikia history, I'm warning you. Do anything, anything, out of line, and you're gonna be banned for a long time. Fed (talk) 01:48, January 20, 2015 (UTC)
I think it's pretty clear. Crim de la Crème 21:25, March 30, 2015 (UTC)
PM2.0 Nation Choice
Hello. You recently signed up for one of the nations marked by an asterisk. As said above the sign-up list, nations marked by asterisks are reserved for players with a reputation for being plausible. Since Tr0llis and I restarted, I have no idea of your reputation. Therefore, playing it safe, I'm going to ask that you claim a nation without any asterisks. Apologies for the inconvenience.
Crim de la Crème 20:59, September 4, 2015 (UTC)
Warning
PM is not yours and any attempt to make a successor for it without permission from the mods will result in a ban. Do not remake the page. Crim de la Crème 00:30, October 11, 2015 (UTC)
Reread above. This should not be difficult. Crim de la Crème 00:34, October 11, 2015 (UTC)
Argue all you want. Doesn't make it less of a copyright violation. Crim de la Crème 00:38, October 11, 2015 (UTC)
You say 'attempting' like your page will somehow not get deleted.
But thanks for reposting it and making my job easier. Three days. Crim de la Crème 00:42, October 11, 2015 (UTC)
Gov Sim II Constitution
It is not completely obvious under the current constitution how a law will be put into place, especially because not all of the seats are filled. The new constitution has been proposed, and it not only includes a detailed way that the government will work, but also it will have a more effective system for determining exactly when something has been enacted. The constitution by now has a bunch of people in favor and nobody against, so can you please determine how/when it will be passed? When it is passed, I'd suggest doing a new election. Also, this new constitution gives room for about 32 government position, so hopefully we'll eventually be able to fill all of those spots, and have it be more of an election-based government.
Vatonica (talk) 23:41, October 29, 2015 (UTC)
Community content is available under
CC-BY-SA
unless otherwise noted.