Hello and welcome to the Alternate History Wiki!

The Alternate History Wiki is a project for all communities concerned with creating fictional alternative histories. We hope you will feel at home here and wish you good luck contributing to our ever growing collection of alternative histories.

If you have no experience in editing wikis it is advisable that you first read our guide on making articles.
As an introduction to the phenomenon of Alternative History you can read our pages on Alternative History, Online Alternative History as well as Wikipedias article on Alternative History.
A list of all AltHists alphabetically sorted can be found here, a list sorted by Point of Divergence can be found here.
To sign your posts on talk pages use ~~~~ (four tildes). This will insert your name and timestamp. To insert just your name, type ~~~ (three tildes).
If you are in need of ideas to base your AltHist you might consider looking at our ideas page.
For an explanation of frequently used terminology please visit this page.
You can experiment in the sandbox.
All articles on this wiki take the following fomat: Name of article (Name of AltHist). This rule does not apply to the main article of your AltHist wich you can simply give the name of your AltHist.
For links to other Alternative History related sites visit our links page.
Please read the rules of our wiki.

Regards, -- Katholico (Talk) 21:53, September 17, 2011
Warning
As a new editor, I understand it may be intriguing to have the badge system, however according to this, "Unconstructive contributions and edits made only to get badges will not be tolerated. Editors suspected of editing for this reason will be warned first and then blocked from editing if they continue." This is your warning. If you make edits such as the ones you have made on 1983DD just to get a badge, or making blogs, commenting on blogs, etc., you will be blocked from editing on this wiki for an allotted amount of time. ChrisL123 00:59, September 18, 2011 (UTC)
Leave one more post anywhere that is spam, or for badges, and you are getting blocked. For quite a while. Lordganon 07:25, September 18, 2011 (UTC)
If you ever remove a warning and related posts from your page like that again, it will be a month. Lordganon 00:00, October 7, 2011 (UTC)
Excuse me? You honestly left a post like that on my page when I added a category to a page? Just how badly to you want to get blocked?
If I ever find you doing that again, you will be.
I'm not going to leave you any more warnings. Any more violations of any kind and it's a block.
Lordganon 00:15, October 11, 2011 (UTC)
Uh, yeah, what he said. All I did was add the category to the page. You never told me once not to edit your page, and it isn't against the rules. What is against the rules is another user adding any additional information that was not given permission to by the author. ChrisL123 00:25, October 11, 2011 (UTC)
Quit spamming. Seriously, you know better. Your behavior lately is wrong, and I'm tired of it. One more tiny bit and you're gone for a week. Lordganon 04:19, November 20, 2011 (UTC)
Re: HOW?
Hello there. Are you 76.21.104.140? If you are, I am sorry to say this, but I have protected the talk page from anonymous users and newly registered users. This is because I feel I have been being harassed and pestered by 76.21.104.140. --NuclearVacuum (Talk) 04:30, September 18, 2011 (UTC)
I have had enough
I have had enough of your disrespect and harassment. You continue to note me on every, little thing; You are talking to me like I am just a puppet for you to turn this timeline around in your image; and you continue to harass me even after myself and other have told you to stop. I am sorry to have to do this, but I am going to be blocking you for a week. I will hope that this will help you understand that this is a community, not your castle. --NuclearVacuum (Talk) 20:55, September 18, 2011 (UTC)
Re: My Apology
Thank you so much. I accept your apology. I too need to apologize to you. I didn't want to block you, but I felt it was the only option at the time. I really hope I didn't make you loose interest in the timeline. I know your heart is in the right place, you just need to know how to construct it (if that makes any sense). Plus, harassing and pestering isn't a good way to do this XD
I know I stated this timeline is open, but not in the manner as you have been doing prior. The only way I can explain it is... you see a cake at your friends house, and they say "help yourself." Do you really think they want you to eat two-thirds of the cake? I know a hypothetical situation isn't a good analogy, but that is the only think I can think of.
Too answer your questions:
The main reason I removed it was out of spite. This wasn't good of me to do, and I will revert it ASAP. But need to get a better understanding of it before I make it canon.
You can call this 100% my fault. I never read the rules either, so I had no idea Wikipedia copy and pasting wasn't allowed XD
Again, I really hope I didn't make you loose interest in the timeline. I will also be removing the block on the talk page, but I am keeping the block on the main page (until its time runs out). I blocked it not just of your actions, but because the page was getting too many edits from other users. --NuclearVacuum (Talk) 23:51, September 26, 2011 (UTC)
For the record, if I see any of that stuff out of you again, the block will be a lot longer than what Nuke gave you. Lordganon 00:13, September 27, 2011 (UTC)
United Democracies
No on all counts. There's a reason why it works in the President McCain article, which is not applicable in New Union. Lordganon 23:00, September 29, 2011 (UTC)
There's no reason for it, at all. At about 5:50 Server Time it will likely fix itself. Give it time, I guess. Lordganon 23:29, September 29, 2011 (UTC)
Stuff
I know you don't want anybody commenting on your section in the main talk page until it is complete. I hope you don't mind if I write you here. Overall, I love it. Very detailed, and pretty accurate for what I have had in mind all along. I only have two things I need to state:
I would like to stress out that the CSTO is in no way a "Reborn Warsaw Pact." It began as a military cooperation between the Soviet Union and Armenia. Georgia and Mongolia will join later on, but it won't expand beyond that. After doing research on it, I have decided to make Yugoslavia, Afghanistan, and Albania as observers (rather than members). I know that you are keen on the expansion of the CSTO, but I can't see it expanding beyond the four member that are in place.
Abortion illegal? Is this your personal opinion, or can you show me an article that shows this becoming a fact, or a quote that Gorbachev supported the abolishment of abortion? I am not an expert on the issue, but I am pro-choice, and Russia is in OTL. I dough the USSR would be too different from OTL Russia. Despite the fact that religious beliefs are becoming more widespread across the USSR, I would believe they would continue to have a secular view on these manners (as in OTL).
Other than those two, keep up the great work. --NuclearVacuum (Talk) 18:34, October 4, 2011 (UTC)
Categorization
You have no right to complain about other users following wiki policy by placing your articles into the correct categories (as you did to ChrisL123 and Lordganon when they added categories to the article "Think Before You Enact"); and you certainly can't accuse people of not following the rules when you are the one violating wiki conventions and they are only fixing your mistake.
You can control the content of your Timelines, but if you aren't following wiki policy, then other users have the right to edit your articles to fix that.
Mister Sheen 13:50, October 11, 2011 (UTC)
Don't worry about it, it wasn't a major infraction like using a sockpuppet or anything. Just remember to stick to the policies (they really aren't so bad), and if you do have any disputes, try to at least stay courteous, and you'll do fine. The fact that you apologized shows a lot – plenty of people would just have kept on flaming and gotten themselves banned. - Mister Sheen 18:20, October 16, 2011 (UTC)
Apologies mean little if similar actions continue to repeat themselves.
There is no need to respond to apologies.
Past that, you've been warned. And won't be getting another.
Lordganon 08:40, October 17, 2011 (UTC)
Yank
User:Yankovic270 is the controller of Vietnam. LurkerLordB 23:49, October 18, 2011 (UTC)
We
RWG, you were told by RvB to not touch it. To quote him: "So you are more than welcome, in fact I encourage, to suggest additions to the timeline or comment on what would likely happen next. You can even propose whole additions...but I'm kind of tentative to accept another person on as a contributor, if you can understand"
That is not permission to do anything at all to it.
Lordganon 00:43, October 21, 2011 (UTC)
Hi
Hi - my old McCain althist is pretty much abandoned by now, partly because I don't have time for it (I already focus on my Fall Grun and SIADD timeline when I get time to do anything). The New Union timeline looks interesting - I would perhaps like to do something to Czechoslovakia (my native country), as while my other native country Norway probably is the same as OTL, there is room in the former to do something, both politically (elections, politicians etc.) and culturally (sports - with the brilliance of Czech hockey players in the late 1990s and various points the 2000s, combined with Slovakia they would be a powerhouse like the Soviets, and the situation would look a bit like the Cold War, where the USSR and Czechoslovakia constantly fought for gold in the Olympics and World Championship).
--Realismadder 21:01, October 21, 2011 (UTC)
Principia Moderni
To conquer Kashmir you must withdraw to the area you control and then reattack in a few years. Also if Russia joins your side, Sweden and Denmark and their vassals will withdraw support as Russia is somewhat of an enemy to the Swedish interests. Scandinator
Did you realy want to invade Armenia? because Armenia is a puppet of Russia, the State I'm Controling. If you wanted someting from it then you could solve it diplomaticaly, but if you want a war its you choice, message me back in my talk page and label it Principia Moderni Persia please. thanks LxCaucassus 23:44, October 27, 2011 (UTC)
If you want armenia, I can solve that diplomaticaly. You shouldn't go on gian expansion sprees rightnow, you should focus more on modernizing your nation and making it more stable on 5 years so your overall power can increase and its easier to capture people. If i declare war on a Non-Player state, I'm almost guaranteed a win right now. TRy to recover militarily right now, then in 10-15 turns when your stability is higher, go for a war, and kick the hell out of your opponents!LxCaucassus 10:55, October 28, 2011 (UTC)
I suggest establishing colonies and taking on the Mughals ASAP to gain Hanthawaddian trade. Currently to survive economically you are relying on Russian and Chinese trade. Scandinator
Great Northern War( Principia Moderni)
Can you please Help me in this, If you dont I'll lose for sure but if you do help me I can win it and you can have parts of Armenia as compensation(I did help you conquer Kashmir, after All)LxCaucassus 17:55, October 30, 2011 (UTC)
Yes, Sweden does have a colony in IndiaLxCaucassus 18:21, October 30, 2011 (UTC)
Look at the External Territories page, that should show how many colonies they have unless they forgot to put someLxCaucassus 18:39, October 30, 2011 (UTC)
NOTE: Sweden helped to force Vietnam to stop the planned invasion of Persia and was the FIRST person to help in Kashmir. Scandinator
Sorry, but that is the way it is in wars on PM. Just declare neutrality.Scandinator
Axis vs Alies alies
Welcome! I would not minde if we restarted it. It became a bit ASB, but we could try and re-lanch it. Add a post today!86.29.69.146 15:53, November 1, 2011 (UTC)

Look through the history and archives. Have fun, think war and economics. Usual rules of map games apply. 86.29.69.146 (AKA-Billy) 15:55, November 1, 2011 (UTC)
With wars write as plausible type of assult and enamy responce, then do what you want there after with the captured land. 86.29.69.146 17:01, November 1, 2011 (UTC) (AKA Billy)
AvAr Japanese Mexico
The URA would probably be able to squash the whole of Japanese Mexico, not just 1 base (attack the whole colony). America and Venezuela were very developed and merged in to a superpower. Japan had apparently neglected it's American holdings in Mexico in favor a war to annex Malaya. 86.29.69.146 (AKA-Billy) 15:55, November 1, 2011 (UTC)
Thank you for joining the game.82.11.96.210 (AKA-Billy) 12:30, November 3, 2011 (UTC)
Just say you have finaly over-run Japanese Mexico and it's yours. I think Japan's user has quit, so it's easy pickings!82.14.49.186 03:37, November 5, 2011 (UTC)
Francaphone activity is opened up in Hindu held Yeman, :-)82.11.87.156 03:13, November 6, 2011 (UTC)
I'm sending troops to your aid.86.29.76.198 17:36, November 6, 2011 (UTC)AKA Billy
Return of the Kennedys
I have been busy lately..
I was begganing to be conviced that Return of the Kenndyies was implausible.. Thanks for your interest however,
you can start by adding descriptions to the 1984/1988 Elections.
Alexanders 23:42, November 1, 2011 (UTC)
I will get back to work on it too.
Expanding into India
The time is ripe. India is weakened by 3 years of famine. I suggest conquering Multan in 1706, Sindh in 1708, Rajputs in 1710, Gujrat is 1712 and finally Malwa in 1714 with knocking each out it one year and then developing your military. You have enough power to achieve this. Also Sweden can support you if you need it. This process will give you all the North Indian states by 1714. For the Muhals just jump on the bandwagon. Scandinator 05:26, November 2, 2011 (UTC)
Re: I finaly made my choice
thanks alot, i will sends some spetsnaz to help you(some of them will attack sweden and some will aid, sweden is my main concern now)LxCaucassus 22:06, November 2, 2011 (UTC)
Well attacking India evokes a second algorythm in which you will surely lose. Return the colony or else I will have to launch a full sale invasion of Southern Persia.Scandinator 04:52, November 4, 2011 (UTC)
I am a ally of both Sweden and Russia, but sometimes i tend to support Russia more.and i entered briefly on the war, but left.--Collie Kaltenbrunner 07:16, November 4, 2011 (UTC)
Sweden will return relations back to status quo if Persia supports Sweden against Russia in the next war. Also if you support a nation the other foe usually does not invade.Scandinator
re: HELLO THERE!!!!!!!!!
Well, thank you for your appreciation of CYOAH; it was designed to be a fun little thing that the entire community could support.
As for your new Alternate History, China's Decision, would you mind providing me with a link if it has been started? I couldn't seem to find in the search.
Thank you for contacting me, and feel free to make your own additions to Choose Your Own Alternate History, as many paths in the different Points of Divergence's have yet to be explored!
Lieut. Tbguy1992: Profile; Talk 01:18, November 5, 2011 (UTC)
Well, I will say it is an interesting concept, and, from my limited knowledge of Asian history (my area of expertise is Western History from 1800's to present), I would have to say the Point of divergence might have to go back a bit further than the mid-late 1800's, like when Japan decided to modernize. I would say sometime after the Opium wars (1840's) would be the better idea. Just my opinion, and I'm sure you can find other people who could help you more than I. Lieut. Tbguy1992: Profile; Talk 03:09, November 6, 2011 (UTC)
Ah, so you want to treat this as a CYOAH style timeline then? Hmmm... well, I would give the full blessing to you to do this, its just that their are already three still not yet fully developed ideas for CYOAH (and are on the main page). I was hesitant to just allow anyone to make a new idea for CYOAH, or else it would have ballooned the project to ridiculous heights, while at the same time insuring that none of them ever would be even somewhat developed, just like the Map Games when everybody here tried to make their own version, which resulted in so many different versions, and resulted in a lot of inactive and discontinued games that litter the Wikia (or have since been deleted). Lieut. Tbguy1992: Profile; Talk 14:12, November 6, 2011 (UTC)
Mughal Invasion
Lol not sure if you're prepared enough. You wanna start upgrading your military? I can weaken the Mughals at the borders. But you need to have a solid period of military expansion where there is no invasion whatsoever. Detectivekenny (Info; Talk) 18:52, November 5, 2011 (UTC)
Re: Napoleon's World Questions
Thank you for your interest in Napoleon's World!
To answer your questions:
1. Some countries (i.e. Denmark) were allies of Napoleon. Other parts of Europe were cumbersome to invade and control, such as Spain (mountains) and England (the channel). For the most part, Napoleon's empire stretches across the central European plain, which is easiest to travel across quickly and decisively. As for the Ottoman territories, again, mountains are cumbersome to cross, and in this TL his son does invade this territory and fails to capture it (See: War of Napoleonic Succession
2. Napoleon ceased his invasion of Russia as he advanced to the Urals and the difficulty associated with controlling wild Siberian territories beyond a high mountain range all the way from Paris or even Moscow when the people are mostly hostile
3. This is a good point I haven't thought too much about. I imagined a Russian survivor state in Siberia, as well as territories controlled by Alaska in Asia, and as you can see on the main map both Korea and Japan, as well as Persia, have absorbed considerable swaths of OTL Russian territory. This is something I would have to delve deeper into (or you, if you are interested in writing a history of Siberia and/or the fallen Russian Empire)
4. To an extent, yes, China does adopt some Western principles. France becomes an overland trading partner with Asia and there is no Opium War, and I imagined China's robust land trade with France results in technological trade. I'm not super familiar with Chinese history so the 19th century Chinese growth is a bit laggard, but there has been some established canon about China modernizing and westernizing in the first half of the 20th century (after a civil war from 1908-1917) to become a major power.
5. There are two reasons for the formation of Alaska. Most importantly, this is where hundreds of thousands, and eventually millions, of Alaskan refugees wind up. Secondly, the collapse of the British Empire leads to the partition of Upper and Lower Canada (Ontario and Quebec OTL) between the United States and France in the 1810's, but Rupert's Land and the HBC territories are less established in international law. The dispute over the Alaskan control of this territory leads to the Alaskan War, which is definitiely an article I recommend reading to get a sense of the TL's style.
6. I'm not completely sure what you mean by Pan-Americanism.
7. I always figured that Napoleon would be more concerned about controlling his European provinces than returning to Egypt. Besides, I have the Hapsburgs retreating to Egypt from Austria and forming their own short-lived state there in the early 1800's.
8. The Spanish colonies in Latin America eventually declare independence and are successful in these measures, breaking off from war-weary Spain in the late 1810's and early 1820's. Brazil peacefully splits from Portugal as in OTL. France absorbs some territory, but the colonialism of OTL is nowhere near as prevalent. England and Ireland compete for overseas influence, but the English are unable to completely conquer India, focusing their energies on Australia and Indonesia and Southern Africa.
9. Communism and Socialism do occur, but not nearly as prevalently as in OTL, and the Cold War is not a standoff between capitalism and communism. For the most part, Communism fails as an economic theory in the west by the late 1950's (due to England's civil war, called the Anarchy) and the communist regimes in Spain and Chile have failed by the end of the 1980's.
10. French naval power would have grown eventually, but again, Turkey controls the East Mediterranean, there are Hapsburg runt states in Libya and Egypt, and Spain controls Morocco. From southern France, Algeria and Gibraltar Napoleon would have control over most of the Mediterranean. France also develops a significant presence in West Africa.
11. No, not really. The Americans fight a much longer war at home against the Mexicans (a war fought on their own soil) and against Alaska (also fought on American land). America's overseas influence is still seen, but they do not capture any colonies per se while still exercising their might in Hawai'i, Vietnam, and Latin America.
12. I haven't thought of that yet. That portion is unwritten as of now. Thank you for pointing that out.
13. India never fell under control of England. Bengal was influenced by England and is an independent state. France colonized southern Pakistan and western India to form the colony of French Hindustan. Northern India is a Hindu-dominated county known as Gangestan, and southern India is a Muslim-dominated kingdom called Mysore and Hyderabad, the OTL name of the Kingdom in that area pre-British mandate.
14. To the same extent they did in this TL. Japan is well on its way to becoming a world power before the 1920's in this TL.
15. The technology is roughly analogous to OTL, though I often picture it being a year or two behind (f.ex. the iPhone released in 2009 instead of 2007, the smart phone revolution only now beginning).
16. There are multiple pages dedicated to popular culture (film, music, television, sports) in this TL. I'm a football fanatic so I've devoted a lot of energy to that. The Media and Sports categories are thorough in this regard.
17. There is one world war, called the Pacific War, in the 1920's. France fights a civil war roughly based on the European portions of WWII.
18. This is a difficult question since France has an all-mighty Emperor but a popularly elected legislature, and Japan is a military regime. Some former countries were dictatorships and no longer are. For the most part, I'd argue that the Cold War is defined more in terms of strategic interests and not "freedom"
19. It sure does! France reaches the moon first and America reaches Mars first. Owen Wilson is the first man on Mars.
20. Slavery dies a slow, long death. There is no civil war, but the economic benefit of slavery slowly vanishes thanks to an Industrial Revolution in many southern states. There is a compromise to phase slavery out (by grandfathering in current slaves) and eventually many southern states choose to abolish it. This may be optimistically positive on my part.
KingSweden 00:29, November 7, 2011 (UTC)
The answers to a lot of, if not most, of your questions can be found in the TL. There's 750 pages total, most of them cover a lot of the points you touched on. I also took some of your suggestions and created a few new pages to reflect some of the good points you brought up. The TL, of course, remains a work in progress.
KingSweden 19:07, November 10, 2011 (UTC)
The pages regarding the Suez/Sinai Canal and the Franco-Egyptian War are new, from what I remember. Umm sort of... I reserve the right to change/tweak/delete things I don't agree with/don't fit canon, and I usually prefer that people leave me suggestions on my talk page. Thats what Yankovic270 does, and he's contributed a lot of very good ideas to the TL, and I find a way to incorporate almost everything he suggests in one form or another. So in the classical sense, no, it isn't totally open. Pages like Alternate Destinies (Napoleon's World), Film (Napoleon's World) and Television (Napoleon's World) are more open-ended though, I usually don't turn into a TL-Nazi over those three.
KingSweden 15:28, November 11, 2011 (UTC)
AvA(r)
Honestly, the American's 20kt warheaded Honest John missile would be of use against your enamies in Mexico.86.29.76.198 01:47, November 7, 2011 (UTC)
I am still in alliance with the URA and Hindustan, so my atacks are only on Japanes troops, not Hindustanies unless provoked.82.11.108.217 (AkA Billy) 02:12, November 8, 2011 (UTC)
The 2nd Pluton missile is to be launched.82.11.108.217 02:16, November 8, 2011 (UTC)
French responce: Yes, the 40,000 French troops and 4 Pluton missiles in México are made available to any planed URA liberation planed for Hawaii. 02:35, November 9, 2011 (UTC)(AKA Billy)
Europe
Laptop Zombie wrote a bizzar rambleling poast clamed half the world was to be Soviet, Baltic or French. I was confused. He then made a map in which he swindled him self out of Transdanubia, Polish Galicia and part of Greece. Oxfordshire 1972 then enlarged the map. I think that is what happend to your European territories82.18.196.173 03:26, November 10, 2011 (UTC)
Re: Two Things
The reason I didn't mention the other nations is because there is no need for change. Either they are already moving towards reforms (like Vietnam and Laos) or there is no way for them to change in ttl without major ASB (China and North Korea). While I am not going to deny that I am intrigued at the idea of change in the PRC and the DPRK... we already have a consensus on the timeline... no major changes. The only way I would support any change is if LG goes with it.
Again... the Middle East is not going to change from what has been set up already. Plus... the fact that the USSR begins closer cooperation with Israel is MORE LIKELY to prevent any conflict (with the backing of both superpowers... it's pretty much just walking into a shooting range).
Nothing against the guy, but I never heard about Bao Tong until you have brought him up. I believe you mentioned him before. Again, nothing against him... but I dough he would be able to do anything. If you think this guy can do more than OTL, than why not design your own where he is successful.
Like I mentioned before... unless LG likes the idea... I am not going to be considering a second Korean War.
Both of those suggestions are ASB to me, and make no sense.
I would also like for you to leave my other timelines alone. I do not want you to be nominating any of them. Especially if you find my work "crazy"!!! --NuclearVacuum (Talk) 03:57, November 8, 2011 (UTC)
PM Algorythms
Please leave them to me. If you require an algorythm done just ask on my talk page.Scandinator 01:57, November 13, 2011 (UTC)
Re:Thank You
You're always welcome. The algorithms in fact have several errors, so judging by the above post, Scandinator will edit them for you. But I truly hope that you will decide that expansion is not what this game is about. For a fact, you are very soon in line to industrialize, so I would start modernizing and preparing. Honestly there is not much you will get out of Indian kingdoms that you do not have in your own country. Detectivekenny (Info; Talk) 03:56, November 13, 2011 (UTC)
Check out my post in AvAr. Doctor261 15:23, November 13, 2011 (UTC)
AvAr
A few countries have broken off from the URA, please don't try to conquer them again as this will tax your army to the limit. The new countries will attract new players. However, do try to liberate a few african colonies so you could form the United States of Libera!! ;)

Imperium Guy 22:47, November 13, 2011 (UTC)
Tnak you very much. I would advise you to take over Quebec as otherwise it could turn communist!! :/

Imperium Guy 12:33, November 14, 2011 (UTC)
FTBW Answers
Well, all the questions you just asked have been questions that have been asked of me before regard French Trafalgar, British Waterloo. However, I will answer them again for you:
1. The Battle of Trafalgar took place in October of 1805, long after Napoleon had already given up on trying to pull the Royal Navy away from the English Channel, and had already sent most of the "Army of England" eastward toward Austria to battle with the continental allies of Britain; Austria and Russia. That battle was three-four months too late, as the English Channel would have become nearly impossible for crossing with a large army: Even Hitler faced this problem in 1940, as September was determined to be the last month possible to cross before winter storms would have devastated the invasion. So, even if Napoleon wanted to, the weather, having the troops committed elsewhere and, even more simply, the fact that there where still many ships of the Royal Navy, just spread all over the globe at that time, prevented him from acting on the victory.
2.Most of the battles Napoleon fought after 1805 was mostly to keep his "allies" and the different protectorates he had under control, and to enforce the "Continental System," a blockade against England. That is the reason he invaded Spain in 1808, and then Russia in 1812: to try to starve out England (though this failed miserably, as even the French Army couldn't do away without British products, being the "workhouse of the world"). So, peace with England in 1806, and then finally finishing off against Austria, Russia and Prussia by 1807, would mean he would have no other reason to invade anyone else, nor enforce a blockade with Britain.
3.Yes, France does have large colonial ambitions. Napoleon was always a restless warrior, but with peace in Europe after 1806-1807, he couldn't direct his energies against the other European powers as they would all eventually gang up on France of which he would be the ultimate loser. Therefore, focusing on colonies gave him an excuse to send the army to Africa and Asia, which in turn would increase his power in Europe to eventually be able to rival the other powers.
4. China will westernize sooner than OTL, but it will take a serious drubbing in the 1840's by an allied Britain and France (and, no, that alliance does not last long) to force them to realize, but even then major industrilization will not take place until the later part of the 1870's-1880's, by which time Japan would have already had a huge lead, and Russia, having industrialized earlier as well, would be able to still take chunks of China at will.
5.Yes, but it will take almost another decade, as, without the crisis of the Peninsular War in 1808 distracting Spain, the Spanish will be able to keep a closer eye on the colonies. But it will happen, just it will be almost 10-15 years later than in OTL.
And, like I said before, I would rather that the other TL's be worked on first before starting yet another one. There are already three CYOAH's, but two of them had almost no work done on them. I'm afraid your idea will be just the same as them. If more work can be done on CYOAH, then I will gladly let you start another one. But right now, I'm still saying no.
Lieut. Tbguy1992: Profile; Talk 01:22, November 20, 2011 (UTC)
Revolutions 1750
I'm trying to get the game off the ground. I'm gonna ask some people to join the game. It's a pretty interesting map game. I really hope it picks up. Just remember that I'm keeping a leash on this. Moderators will be given Delete on Sight powers on implausible actions, the algorithms will be stricter, and so on and so forth. I don't want this to turn into one of those implausible map games. Once it gets implausible, I tend to leave for a while.
Anyway, feel free to log on and have fun! CrimsonAssassin 03:42, November 22, 2011 (UTC)
Re: Nasser of Arabia
Funny you should bring it up (been thinking about it lately). The timeline was actually the first timeline I posted here. In a nutshell, it is a timeline where Syria decides to rejoin the United Arab Republic (rather than remain independent), which leads to the entire Arab World being united under a single nation. I removed the timeline when I continued to run into ASBs in my series of events, as well as more of it being ruined with Arab Spring events of OTL. I have been doing more research on the matter, working on again, off again. I do have some intentions to bring the timeline back, but only if I can figure out how it can work without being too much of an ASB. I have several ideas, but I am keeping them to myself for now.
As for NU, I already replied to the most recent talk... days ago. --NuclearVacuum (Talk) 01:48, November 29, 2011 (UTC)
What posts? --NuclearVacuum (Talk) 03:34, November 29, 2011 (UTC)
First off, I can't believe you just got LG involved. For your information, I was the one who deleted the timeline, because I thought it was too ASB (not someone else removing it on me). Secondly, I never said I was bringing it back, but that I had intentions to MAYBE bring it back. Like I said, there are still bugs to work out. As for your questions about the timeline, I can't answer them, for the same reason I just wrote. I am honored that you like the idea, and I am happy that you have encouraged me to dig it up again, but let's take it one step at a time. K? --NuclearVacuum (Talk) 03:52, November 30, 2011 (UTC)
RWG, you need to learn to mind your own business. At this time, you have nothing to do with such a project. Don't try to pretend that you do. Lordganon 08:23, November 30, 2011 (UTC)
Timelines
No, not really. Mitro 18:55, December 1, 2011 (UTC)
You have two seconds to explain why did you delete the "Autumn" and un-strike me voiding the situation with Canada. Doctor261 (Talk to Doctor!) 08:14, December 4, 2011 (UTC)
Alright then, we're cool. Doctor261 (Talk to Doctor261) 04:23, December 5, 2011 (UTC)
Napoleon's World College Football Pick'em 2011
It's that time of year again! Time for the annual Napoleon's World college footbal bowl picks. For each game, pick which team you want to win and the results will be used to determine the winner of each bowl in January!
National Championship (Rose Bowl): 2 Cuba Spaniards (13-0) vs. 1 Pacifica Orcas (13-0)
Texas Bowl: (6) Alabama Crimson Tide (11-1) vs. (5) Iowa Hawkeyes (12-1)
Orange Bowl: (17) Peninsula Raptors (10-2) vs. (7) Florida State Seminoles (11-1)
Silver Bowl: (11) Washington Huskies (10-2) vs. (4) Sequoyah Braves (12-1)
Sugar Bowl: (14) Eastern New York Flying Dutchmen (10-2) vs. (3) Mississippi Falcons (12-1)
Peach Bowl: (16) Virginia Cavaliers (10-3) vs. (10) LSU Tigers (11-2)
Chicago Bowl: (12) Louisiana Pelicans (10-2) vs. (13) Michigan State Spartans (11-2)
Manhattan Bowl: (20) Notre Dame Fighting Irish (9-3) vs. (8) Massachusetts Minutemen (10-2)
Paradise Bowl: (9) San Diego Tritons (12-1) vs. (18) Northern Colorado Billy Goats (11-1)
Citrus Bowl: (15) Montana State (11-2) vs. (16) Nova Scotia (10-2)
KingSweden 22:23, December 4, 2011 (UTC)
Think before You Enact
Yes, I have few questions though:
How did this effect the rest of the world
What happens to Asia
Did World War 1 and World War 2 occur.
Enclavehunter 23:06, December 4, 2011 (UTC)
I got a think about it?Enclavehunter 23:46, December 4, 2011 (UTC)
Napoleon's World Talk Page
Ah yes. I usually don't check that talk page, to be honest, so if you have TL suggestions for me my user talk page works best, since I get updates everytime there's a comment there. China's modernization doesn't occur until after the turn of the 20th century in this TL, by which time Siberia is an established state, but the Pacific War is waged largely over China's desires to conquer the exact territory you are indicating.
KingSweden 23:07, December 4, 2011 (UTC)
Napoleon's World Talk Page
I almost never check the Napoleon's World page, so sorry if it's taken me a while to get back to you on that. The best way to reach me with ideas/suggestions/critiques is usually my user talkpage, which I check almost daily. I believe the Pacific War settled all territorial designs on southern Siberia by the Chinese, who did not begin to modernize until the 1910's and after, due to their Civil War.
KingSweden 23:09, December 4, 2011 (UTC)
Re: Asia
Chiang Kai Shek - a possible Chinese general and military leader in the Pacific War and the post-war recovery period, a great modernizer, anti-Communist and de facto leader of China during Second Sino-Japanese War
Sun-Yat Sen - a possible general and political ally of the Constitutional Imperialists during the Chinese Civil War
Hideki Tojo - a Shogun in the 1930's and early 1940's maybe, later replaced by Yamamoto
Mohadmas Gandhi - good question, since there isn't the same British influence in India during this time
Jackie Chan - Chinese 20th century intellectual, author and critic of the Imperial regime; currently living in exile in the United States for his opinions
Deng Xiaoping - Chinese military commander and top government official and advisor to Emperor Pujie during various international conflicts, like in Burma, Vietnam, and Siam from the 1970's through the 1990's
Hirohito - the Japanese royal line would be unbroken regardless, so he is still Emperor from 1926-1989
Hu Jintao - Chinese businessman and oil tycoon, maybe?
King Abdullah - If you are referring to the King of Jordan, he would be the King of Syria, where I have transplanted the Hashemite dynasty. If you are referring to the King of Saudi Arabia, then he is likely the king still until he is overthrown and Arabia becomes a republic and later an Islamic Caliphate (I obviously still need to embellish this in writing)
Chulalongkorn - still King of Siam, keeping it safe from those greedy Europeans just like OTL (maybe with Siam developing into a much more influential regional player though, and setting up its eventual allegiance with the United States prior to the Pacific War)
Corazon Aquino - maybe a Filipino resistance leader against the Japanese?
As for most Asian monarchs (including in Vietnam, Cambodia and Siam) I generally decided to keep them in power up until the 1960's or 1970's, when various anti-monarchical revolutions begin (opposed and pushed by the French, depending on geopolitical alignment).
And as for Siberia, I don't recall China being particularly expansionist in the early 19th century, or having particularly strong relations with the Europe. By the time China was in a position to invade Siberia, the Siberian state would likely have become fully formed. However, you will notice that China in this TL is already much larger than in OTL.
KingSweden 05:41, December 6, 2011 (UTC)
Re: UAR State Flags
Thank you, but I already have ideas for flags (just need to upload them, you know XD). But if you don't mind me asking, where did you find the flags for Saoura and Khaleej? --NuclearVacuum (Talk) 00:49, December 7, 2011 (UTC)
... Where did you type them in? --NuclearVacuum (Talk) 01:51, December 7, 2011 (UTC)
Reply
Thanks for the encouragements... :) As for the TSPTF, I guess i never really thought of it :)
PitaKang- (Talk|Contribs) 22:48, December 9, 2011 (UTC)
Re: Harassment
First off, stay off of my homepage. Bad enough I have you pestering me here, I don't need it there. Comment here, I believe you are still allowed to on your talk page.
Recently, you have:
Continued to make pointless and obviously unresearched proposals to a timeline which we have told you time and time again was not working in that direction.
Pestered me about an old timeline, and decide to put yourself in working on it without my permission.
Went behind my back and got LG involved in a discussion that was only between us.
Speaking on my behalf, telling LG that I wanted to bring back a timeline which I never said I was going to at that moment.
Reverted my edits you had no purpose or permission to do so, and than justify it by questioning why it was hidden.
And that is only what you have been doing to pester me. I can't imagine what else you could have done. LG and I have been telling you time and time again that you were on thin ice, and you still went there. At this point, I have lost all of my patience with you, and highly dough that you are capable of learning from your mistakes. I for one support LG for blocking you, and you should be thankful that you are not permanently blocked.
Wait out your two weeks. If by than you want to come back, I prey you look before you leap, or I will be the one to permanently ban you from here. I know you want to be friendly with me, but you need to learn from your mistakes. --NuclearVacuum (Talk) 05:01, December 10, 2011 (UTC)
In addition.....
Add to that all of the stuff you pulled with Owen - harassing him on a wiki he admins, and acting like you have a position on this one. And, giving us a bad name with another group of admins is a bad thing, even that bunch. And, to go even further, trying to get the admins to remove a block of that nature.
A permanent block would a be stretch, but if you pull any of this stuff again, it will be longer, by far.
Lordganon 06:32, December 10, 2011 (UTC)
Please forgive me. I was not trying to harass you, but somehow, what I did what I thought was not harrassing was harrassing.
Sorry about those ideas. You didn't have to accept them.
I did not work on the timeline. I was letting you take the lead. Beside, I was just backing you up.
Sorry about that. The reason I did it was because you greatly relied on LG for help, so I thought I bring help over.
Forgive me. It was an honest mistake.
Sorry. I did not know I was not allowed to do that. (At least you could have put a notice there).
I am trying to be nice to you, but what I did I was not aware it was bad.
All of that is for you Nuke, an for LG:
I swear I will never talk about Owen ever again nor harrass him. LG, I promise you that I will not stain the wiki's reputation ever again. And about the incident between the admins of the two wikis, is it the first time it has ever happen to this wiki?
P.S.: I needed to do some updates on my Map Game section on my user page. I will be quitting SPQR and States of America 3. Also, I will need someone to temporarily take control of the nations I play in the other map games until I come back.
RandomWriterGuy 03:35, December 12, 2011 (UTC)
China on GE is mine for caretaking :D

Imperium Guy 10:33, December 12, 2011 (UTC)
LG, Nuke, what is your response? I kindly ask to here it. RandomWriterGuy 03:44, December 16, 2011 (UTC)
I am still waiting for my response. RandomWriterGuy 23:29, December 16, 2011 (UTC)
This is the only time I am going to tell you, you were blocked for harassment. I don't care what it is called, but you noting me on my other wikia accounts would be considered super harassment. I have no response other than what I told you before, serve your two weeks. If you harass me again on another wikia account of mine, I will double the time you are blocked. --NuclearVacuum (Talk) 01:14, December 17, 2011 (UTC)
Re:Please Listen
I have been trying to forgive you for a while now. You have said this to me countless times, becoming a broken record.
First off, I have nothing against making ideas. I am only getting tired of hearing them over and over again. For instance, I love burgers, but you don't see me eating a McDonald's out of house and home. If you want my advice, do more research on the matter before posting it, and keep the ideas limited to one topic at a time. As for earlier, I was hopeful to get a new face on the timeline, and hoped you would eventually learn what the timeline is and isn't. But after so many failed attempts, blocks, and warnings; you seem to not want to cooperate with others. I am a very nice guy, and I always treat other the way I would want to be treated. But after all that has happened, I am exhausted and have had enough of playing "Mommy" to you.
I have no idea what you are talking about. But either way, it didn't feel like that.
Yes... I rely on LG for a lot. He is an expert on a lot more than I could imagine I can do. But he is not the "ruler" of me. I can make decisions on my own. But besides the point... I am more enraged that you when behind my back and got him involved. I never gave permission, and that is a HUGE insult to me.
Sure
I DID PUT A NOTICE ON IT... maybe the fact that I HID IT!!!!!!!!!!!!!! That was the last straw for me, and I am still very angry that you did that. This just proves to me that you have no respect for my work, and just want to do it your way.
After reading that you want to not work with me... at this point I say good riddance!!! But I am not that type of person, and I don't want you to think negatively about me, as I don't want to think negatively about you. But if you want my advice, do what I did when I first started off here. Work on your own timelines. They are 100% your ideas, and you absolutely can't get in trouble for that. Come back when you think you are ready to work with others and listen. --NuclearVacuum (Talk) 02:28, December 24, 2011 (UTC)
What he said. And a lot of that applies for the things you've done with regards to the wiki in general. Lordganon 02:44, December 24, 2011 (UTC)
Adoption
Can I adopt your Think Before You Enact TL? Enclavehunter 05:56, December 24, 2011 (UTC)
BTW, I read your new TL. It's looks like its going to be good. And Good Luck on it. Enclavehunter 08:09, December 24, 2011 (UTC)
HR
I remember you had shown some interest in my only TL, Hindustani Raj. Well, you asked me how India was going to look and I think somewhat like this:
How is that? :D

Imperium Guy 09:35, December 25, 2011 (UTC)
Here is how I hope to make the modern map of Southern Asia:
What do you think as I hope to make Asian history go on a different path. Your opinion? :D

Imperium Guy 07:50, December 27, 2011 (UTC)
Think Before You Act
I do like it, the POD is clearly well-thought out. I don't know if I have time to contribute though, I barely have enough time for NW as it is. I'm more focused on my other writing projects these days.
KingSweden 21:06, December 25, 2011 (UTC)
I like it, the POD is clear and well-though out. If you need help, just ask me. Good Luck. Enclavehunter 21:04, December 27, 2011 (UTC)
Oh, my bad. Yeah it looks good. Enclavehunter 21:42, December 27, 2011 (UTC)
I don't see any thing ASB. Good luck, and if you need help, just ask. =) Enclavehunter 22:08, December 27, 2011 (UTC)
you may be a mod and mapmaker on my new map game (american empire), if you wish.
DeanSims 22:00, December 28, 2011 (UTC)
Whare is Shazrur?Saamwiil 01:15, December 29, 2011 (UTC)
Re:Think Before You Act
Hello RWG,
You've done quite a lot of writing in a short time. I am impressed, and the quality isn't half bad. Good job so far!
I don't have much time to spend here, but I'll assist you if and when I can do so.
As preliminary advice, you may want to compress the timeline in terms of your writing. Not that detail should be removed, but adapt the headings and organization to make the writing less dense and the division by dates more obvious. And a short introduction to the timeline on the page would draw more positive attention to the page.
Feel free to ask me to look at your work, and I'll get to it when I have the time
Cheers
Red VS Blue 04:41, December 31, 2011 (UTC)
You are banned
You can't edit Principia Moderni from 1667 to 1669, the next turn you will be able to edit is 1670. LurkerLordB 00:30, January 3, 2012 (UTC)
FTBW Plans
At the moment, I really don't know what to do. I'm sorta going by the seat of my pants here now for everything past 1999, just trying to write in things that make sense and can help to support the past and the future of the story.
The "Liberation Wars" after the September 10, 1999 attacks will continue to drag on in various forms through out Sorelist France and Japan, but at the moment I don't know exactly how that will play out. The Red Sea War, starting in 2002, will end in 2003, maybe 2004, but I believe I will have to add in a couple other conflicts in the Middle East to other parts of the story, especially in the 60's and 70's. Political scandal is going to rock Russia and America (Russia's has already been briefly outlined, but the US version has not yet). An economic depression, stemming from the combination of the Liberation Wars, the Red Sea War and other factors will strike before 2010, much like the current economic crisis in the world, though I have no idea how that is going to play out. However, the "Dual-Powers Conflict" will be virtually over soon, for reasons I do not wish to go into yet (because I'm waiting until after I get to the end of the actual "History" and reach the "present" to actually reveal it).
Also, work is starting to go into the many, numerous Red Links that abound throughout the timeline, as well as the need for more detail in many hastily created pages, including most of the nation's and all of the American Presidents, as well as other figures in the Alternate Destinies page. I'm still very far from done the story (if I ever will be), though the main basis of the story in the "expanded timeline" is nearly caught up to the present.
So, that is the current state of FTBW. If you would like to help out with something that interests you that has not been covered, or only briefly touched on, please let me know, and I can help set you guidelines for the general direction, as well as as of yet unpublished background material.
Thank you for your support for French Trafalgar, British Waterloo, and I hope you will enjoy the eventual result! Lieut. Tbguy1992: Profile; Talk 02:23, January 3, 2012 (UTC)
They could have, but the idea of trying to avoid "entangling alliances" was really the only reason why that America did not actively seek French help in the First American War. And, Napoleon, despite his restless nature, wouldn't have been able to do much anyway, as the Royal Navy then still was strong enough to block any attempt to reinforce the Americans by the French, despite Trafalgar. It therefore was, from the very beginning, a war between America and Britain alone. Lieut. Tbguy1992: Profile; Talk 05:28, January 3, 2012 (UTC)
Doomsday timeline
There are many areas of the planet which, although habitable, have not been written about (Africa mainly, but some parts of inland Asia, Europe/North America-not the nuked bits obviously) so you could start new nations there. Just remember the largest nations have already been written so the new nations would likely be small and tech poor.
There are some articles that are only stubs, you could ask to adopt these and expand them (just remember to follow adoption protocal).
Some of the editors have lots more than one article (i have several) they may be willing to 'foster out' an article to you rather than you adopt it fully.
just remember the rules -
If in doubt, it was nuked.
Radiation's a killer - so any major radiation - no nation in that area.
Dont use your hometown as a basis of a new nation.
Take into account any nearby nations, as if the lands habitable its likely its already theirs.
If you're thinking of setting up a nation near others, talk to the editors of those nations to agree plausablity and/or borders.
If in doubt ask on the DD talk page we're all happy to help--Smoggy80 12:18, January 3, 2012 (UTC)
Re: Alt Dest
I've always felt there was about a 60-40 split, but what did you have in mind?
KingSweden 20:51, January 3, 2012 (UTC)
Also, typically important political types warrant their own article, as with US Presidents and various Prime Ministers and so on.
KingSweden 21:00, January 3, 2012 (UTC)
Re: Anarchy
Thank you, I'm glad you like it.
That's a good question. I think that by the 1950's, America is not seeking to expand land-wise and cause international criticism, or for that matter, to earn the ire of isolationists at home. I think I mention somewhere that Scotland was an ally of the United States (and if not, then I need to embellish it) and that stabilizing England would shore up their presence in Scotland. Also, by 1952 (when the first American soldiers are sent to Wales) there was interest by the Americans to play a geopolitical game with the French, and believed that maintaining a strong presence off the coast of France was critical to the evenness of the emerging Cold War, as France had Canada directly north of the United States.
Thanks for bringing that up! Got me thinking
KingSweden 01:27, January 5, 2012 (UTC)
Ireland is an ally of the French, if not their staunchest ally.
KingSweden 06:08, January 5, 2012 (UTC)
You mean unite with Scotland? (Ireland already controls Mann after all)
KingSweden 23:58, January 5, 2012 (UTC)
Hmm I suppose the (obviously failed) potential annexation of Wales could have been an Irish motivation for the invasion of Wales during the Anarchy, especially if they felt they deserved it after the Irish War but did not receive it in negotiations.
As for the second two, I think Scotland would have been too established as its own state and have too many potential allies for an Irish invasion (both the Americans and to a lesser extent the French), and the Scots would likely have resisted an Irish invasion even more fiercely than an anarchistic province like Wales. I'm not sure who Edward is, but if you're referring to Edmond, he lost the French Civil War to Sebastien, and whoever the victor of that conflict, no French emperor would ever, ever sell part of metropolitan France to anyone, even an ally. In my opinion.
I do like the idea of the dream of annexing Wales being Ireland's motivation for invading England in the 1950's, however.
KingSweden 00:05, January 6, 2012 (UTC)
I used your idea for a proposed Celtic Union Pan-Celtism. I liked the idea.
I don't think I have. Mister Sheen suggested (for irony's sake) making Rebecca Black a child piano or violin prodigy. I'm not much of a YouTuber anymore (though I did post some videos in high school) so I leave it to your discretion.
KingSweden 22:22, January 7, 2012 (UTC)
Puissance Réelle
Hey RWG. I was wondering, if you would help me on my TL. In exchange, I'll help you on yours, if you need it? Enclavehunter 01:47, January 7, 2012 (UTC)
Thanks. I appreciate it, alot. : ) Enclavehunter 02:37, January 7, 2012 (UTC)
Avaro
The game is starting now. Thanks for playing.
PitaKang- (Talk|Contribs) 21:56, January 9, 2012 (UTC)
Re: 2004 Indian Ocean earthquake
That's a good idea. Geological disasters would happen the same as OTL I figure. The Thai would be referred to as "Siamese" but other than that I like it. One possible suggestion for Oceania could be that the earthquake inadvertently shores up political support for Geoffrey Rush prior to the 2005 election, sort of how many natural or other disasters bring together people in a time of need (i.e. Japanese earthquake, 9/11, Katrina, so on)
KingSweden 00:44, January 11, 2012 (UTC)
Sounds good to me.
KingSweden 22:43, January 11, 2012 (UTC)
Because I'm ususally in a good mood. No smiley for serious issues though! ;D

Imperium Guy 07:32, January 16, 2012 (UTC)
Cold War in FTBW
Yes their will be an end. When? I'm still keeping that under wraps. It will be soon, I believe, but I do have it planned out but I do not want to give it out sooner that the time for it to happen. Lieut. Tbguy1992: Profile; Talk 14:07, January 16, 2012 (UTC)
Re: Tibet
I can't think of a better option, so I'll go with that. Thanks for the idea.
KingSweden 21:37, January 17, 2012 (UTC)
That's a good point. My thinking is that since Tibet is part of the Allied Powers in the Pacific War, it would have been a staging base for campaigns against China, and after the stalemate in 1929 the eventual Hilo Accords would have guaranteed Tibetan independence, and an American presence in Tibet after the war could have discouraged future Qing designs on the region. A Chinese invasion of northern and eastern Tibet could very well have been a byproduct of the war?
KingSweden 05:32, January 20, 2012 (UTC)
Russia FTBW
I have given thought to this, and I have kinda developed something that I haven't fully explained yet. Starting in the 1980's, and reaching a peak in the early 2000's, the various groups inside Russia began clamoring for independence. The politicians in Russia knew they would have to hold these areas by force, so decided to offer them a version of "Home Rule" instead, similar to how the Dominion system worked in the British Empire in OTL. Basically, the various groups (Lithuanian, Latvian, Estonian, Ukrainian, White Russian, etc., etc.) where allowed to form National Assemblies that would have control over the local affairs of the area that had been decided to represent them. However, the military, Foreign Affairs and internal trade would be a purview of the government in Moscow. The Federal government also modified the structure of the
In the years of the Dual Power Conflict, this would be for the best in order to insure that France could not gain a foot hold in these national minorities. They do have self-government to a degree, and this might lead to more independence in the future. Lieut. Tbguy1992: Profile; Talk 13:50, January 18, 2012 (UTC)
Well, the thing about it is that Gorbachev is not President when the negotiations with the other states happened: he's been out of office for a few years, having served a couple terms as Russian President already. And what I sorta detailed to you allows the minority nations to remain part of Russia, but at the same time have control in internal matters. It's not perfect, but its better than allowing the Ukrainians, the Baltic States and White Russia to break away and build their own nation states. Lieut. Tbguy1992: Profile; Talk 03:58, January 20, 2012 (UTC)
Avaro
Well, the first thing is your invasion of the Netherlands, and Belgium's invasion. The UK and the Netherlands are very, very friendly, and the UK would never invade the Netherlands, and neither would Belgium. So I'm going to have to roll back all those posts, I'm afraid . . .
PitaKang- (Talk|Contribs) 00:30, January 25, 2012 (UTC)
NW Version of Althistory Wiki
Can't help but notice your posts.
I'm going to tell you right now: This is not allowed, by and large.
And, another attempt to do things like this, and you're gone.
Lordganon 05:03, January 28, 2012 (UTC)
That you cannot figure out for yourself why such things are wrong is a great deal of why you've been blocked twice. Do the math. Lordganon 07:18, January 28, 2012 (UTC)
Do you mean the recent wiki activity feed, it's up in the right hand corner. Enclavehunter 02:39, January 30, 2012 (UTC)
I don't know, I created an page, and just kept adding parts to it. If you want it, I suggest try it on Think Before You Act TL, or something related to it.Enclavehunter 02:58, January 30, 2012 (UTC)
Re: Alaskan War
Help from who, exactly? Mexico is not an ally that would be interested in helping the United States in any way. Siberia would never go to war in the 1880's with a fellow Russian survivor state. France would probably have sold arms to the United States even though it was officially neutral, but France also sold weapons to Alaska. On that same note, France was served no strategic interest in conquering Alaska, due in large part to the likely popularity of supporting Alaska amongst the large Russian population within the Empire.
KingSweden 00:51, January 31, 2012 (UTC)
I don't know how attacking Alaska would be in Japan's interest in the mid-1880's, or why they would want to ally themselves with the United States. The Alaskan War was always visioned as a regional conflict with similar destructive tendencies as the Civil War (since there is no American Civil War in ATL).
KingSweden 04:54, February 1, 2012 (UTC)
Persian India
Recently, I have become concerned about your rule in India. I fear that there are so many people in your Indian territory, and with you new gains, there will be almost as many Indians as Persians. This is making me fear for your nation, that the Indians could revolt and cause chaos! Maybe you should make your nation dynastic union between India and Persia, two nations with one Emperor, or make Indian vassals, or if you want to keep one nation, make a commonwealth or something, so that your nation doesn't have civil war. Please act soon, I don't want Persia to be broken up into a lot of little pieces. LurkerLordB (Talk) 03:59, January 31, 2012 (UTC)
Re: Pounce
I don't really pay attention to badges normally but I'm pretty sure I got mine for editing 100 pages within a minute of their creation... I think.
KingSweden 06:24, January 31, 2012 (UTC)
Yes, 100 pages within an hour of their creation. I've got it, too. Lordganon 06:26, January 31, 2012 (UTC)
When you post as much as I do, it's pretty easy. Think of it this way: I make, most days, upwards of a couple hundred edits. Doesn't take much, and the badge itself is pretty new overall, imo. Though I'm surprised King has it. Lordganon 06:24, February 1, 2012 (UTC)
...What on earth are you talking about?
What I quoted is exactly the requirements for the badge. To quote the page where the admins can edit the badges: "for making edits on 100 pages within an hour of the page's creation!"
There is no badge even remotely like you describe.
Lordganon 08:28, February 2, 2012 (UTC)
Re: Flags
I don't believe so, so go ahead. There should be flags on several (most hopefully) nation pages.
KingSweden 00:16, February 1, 2012 (UTC)
I've got no clue how to make a gallery, unfortunately. :P
KingSweden 04:51, February 1, 2012 (UTC)
Next time you are going to do something with flags, please look and see if they are here already. Out of all of those, there was one that was not already here. Lordganon 06:31, February 1, 2012 (UTC)
RWG, you did it again despite my note. Seriously, all of those were already on the wiki. I mean, it'd even tell you that, often enough.
Please refrain from doing it again.
Lordganon 09:02, February 5, 2012 (UTC)
Not my problem if you're "too lazy."
Don't do it again. I'm not going to warn you, next time.
Lordganon 09:12, February 5, 2012 (UTC)
1200 ad
1200ad is up good uck
http://althistory.wikia.com/wiki/User:Waroftheworld
No
The Anon was ManofSteel, the Spanish player, who was attempting to add a new post about his nation but accidentally deleted the others. Scandinator's not an idiot, he would know he'd gain nothing to have tried something like that. I also doubt that he would delete posts for any reason as unimportant as a nation not liking his, he is a better person than that. LurkerLordB (Talk) 01:46, February 2, 2012 (UTC)
FTBW Flag Page
No, the closest thing to a flag page I currently have would be the Nations page, and the then the States of the US and (soon!) the Confederacy. But I think this might be a good idea, though I have never seen one to base it off of.
Would it be like "National", "Non-Governmental Organization" and such? Now that you mention it, I would almost want to make it, but I think I'll let you make the basis of it, which we can then fill. Lieut. Tbguy1992: Profile; Talk 17:02, February 4, 2012 (UTC)
Hey RWG, sorry about my earlier actions on my other map games, I have been fixing things best I can, but since my other games died, I set up a new game, States of America Revised and Reloaded (Map Game)
Re: Serfdom
I haven't thought about serfdom to be totally honest. I know Napoleon outlaws it in conquered Russia but I suppose it would be difficult for both Siberia and especially Alaska to maintain serfdom post-Exodus - it just seems hard to convince people to emigrate to a new country in shackles. I suspect serfdom would be ended in practice if not in name during the Russian Exodus and then formally banned once it was seen to be difficult to maintain in the New World.
I don't usually plan super far ahead. My only "plan" as of now is to have Brian Williams as the Nationalist and Steve Colbert as the Democrat face off in the elections after winning the primaries.
KingSweden 17:03, February 5, 2012 (UTC)
Buying a colony
Could I buy your Indochina colony off you please? :D

Imperium Guy 13:35, February 13, 2012 (UTC)
Its on TGA. :D

Imperium Guy 11:04, February 14, 2012 (UTC)
Inspiration
Actually, I never heard of that AH until you linked me to it just now. I personally started FTBW after a failed attempt at another Napoleonic era timeline (which I cannot remember the POD now), but I was inspired to see what I could do with a opposite turnout of Trafalgar due to the importance that had been placed on it for over 200 years. Lieut. Tbguy1992: Profile; Talk 05:42, February 15, 2012 (UTC)
Well, I'm surprised at how much the histories of this timeline and my own kinda line up, despite a much stronger Britain, a weaker US and a more militant European situation in mine. I do think that I might uses some ideas from here to expand my own story, but that will have to wait for later. Lieut. Tbguy1992: Profile; Talk 06:15, February 15, 2012 (UTC)
Are you talking about FTBW or the one you linked me? Lieut. Tbguy1992: Profile; Talk 05:16, February 19, 2012 (UTC)
I've actually stopped looking much at it becuase I don't want to plagarize ideas from it for mine. I like the premise, but there are some things I disagree with (espcially the fact that the maps with North America are not updated to what the story say sit is!), but otherwise it is an overall good story. Lieut. Tbguy1992: Profile; Talk 22:01, February 22, 2012 (UTC)
Some, becuase they worked within that story, but they would not work in mine, as I'm pretty much finished the story outline. Lieut. Tbguy1992: Profile; Talk 22:29, February 22, 2012 (UTC)
FTBW
Well, FTBW isn't exactly "closed", but its not open for anybody to edit either. I'm perfectly fine with grammar and spelling errors, as I'm horrible at both. But, if you do have ideas that will not conflict with things that have been added, feel free to let let me know, and if I like it, I will tell you to go ahead and add it. So, I guess it is more of a "semi-closed" timeline, as I'm not going to be tyrannical and delete anything made by anybody else. That is just not fair, as many ideas are so much better than what I could come up with (and may involve things I never even thought of or overlooked). I especially could use help with the Alternate Destinies (French Trafalgar, British Waterloo) page, as it is not really well developed. Lieut. Tbguy1992: Profile; Talk 23:29, February 15, 2012 (UTC)
Avaro
Hi. I have a little doubt. You request Chilean help for the wat. But since that Chile is only a observer member, if we begin to aid military, then, we will be a target for CNAT, right? --Katholico 05:53, February 17, 2012 (UTC)
I would love to take control of India, but in needs to include Burma, Pakistan and Bangladesh. :D

Imperium Guy 18:46, February 17, 2012 (UTC)
Cool. When do I join then? I really need the Emperor-King to visit to increase morale and calm rioters. :P

Imperium Guy 23:23, February 17, 2012 (UTC)
C.B.I reaserch has led us to believe that one of you own is double-dipping. Nuve Greene is formulating plans to invade your territories in the East Indies. With the Indian armies nowhere near as they were developed in AvAr, taking on the Soviet Union is going to be a challange. Thank god we have superior demographics!! :D

Imperium Guy 23:26, February 17, 2012 (UTC)
Spies manage to penetrate CNAT conferences. The republic is possible, its only going to be a constitiutional monarchy!! :P

Imperium Guy 23:42, February 17, 2012 (UTC)
Hey, you didn't post for 1950.5 Draycos 02:20, February 18, 2012 (UTC)
Hey im playing as Nueva Granada in Axis vs Allies reloaded im starting up a new alternate history and was wondering if you could help me out. its A Darker Place
Well, another member has arrived for the Axis, bye bye commies!! :D

Imperium Guy 18:42, February 19, 2012 (UTC)
Hey RWG. I'm Germany, and I'm starting to think about dropping out of the war and the CNAT, and join the Leauge of Neutral Nations or whatever its called. I was wondering what would happen to Germany, besides handing back the conquered territory. Enclavehunter 01:48, February 20, 2012 (UTC)
Qattara Project
Well, for any of that to work at all, you need to give them an actual reason to do such a feat. In DD, there is one. What's the excuse here?
No way the lake is going to be called "Nasser."
And, "New Cairo" isn't going to be a name. Unless Cairo gets suddenly destroyed entirely like in DD.
Lordganon 05:17, February 20, 2012 (UTC)
...The idea long predates DD. Lordganon 05:23, February 20, 2012 (UTC)
...Yes, RWG, I'm well aware of what it's for. And you just had your answer, lol. Lordganon 05:36, February 20, 2012 (UTC)
thanks for making the new page rwg, i aprecaite it. DeanSims 19:14, February 20, 2012 (UTC)
My Return
No Ownerzmcown 21:55, February 20, 2012 (UTC)
Your new pages
The extra code is being removed, which if you look at them, you'll notice. Lordganon 02:17, February 21, 2012 (UTC)
That is exactly why it happened. Lordganon 02:20, February 21, 2012 (UTC)
You shouldn't do it, for obvious reasons, but you can do whatever you want in that regard, truthfully. Lordganon 02:22, February 21, 2012 (UTC)
I will notice such things on my own.
As for overall... if you want to write something out like that, use a sandbox page of your own. Erases the problems.
Lordganon 02:26, February 21, 2012 (UTC)
Just add the link to your user page, and use as needed.
Lordganon 06:33, February 21, 2012 (UTC)
Think Before You Act
Hey RWG. I was wondering if there's anything I can help with on your timeline? It's really good, and detailed from the general pages. Enclavehunter 04:53, February 21, 2012 (UTC)
Okay. Too kick the Alternate Destinies page off: Here's my first suggestion: Harrison Ford becomes an casino owner, and owns many of the supercasinos in Las Vegas. Enclavehunter 05:25, February 21, 2012 (UTC)
Okay, an comedian. I suggest not to, as doing so will make the timeline, less orginial, but not doing so, will give the readers something different. Enclavehunter 05:39, February 21, 2012 (UTC)
I can make the map, tell me where each country is, and I can make it. Enclavehunter 05:45, February 21, 2012 (UTC)
I can do it. Also, do you need help on the map of your timeline's world. Enclavehunter 05:51, February 21, 2012 (UTC)
Love how your TL's turning out, if only mine (HR) went the same way!! I do think this could be a
better flag for Hindustan: Its just the Mughal Flag but the colours are different. I also have another similar flag which might suit your purposes: Please consider these!! :D

Imperium Guy
09:06, February 21, 2012 (UTC)
Welcome!! :D

Imperium Guy 20:12, February 21, 2012 (UTC)
Yes!!! You needed to ask? Lol!! :D

Imperium Guy 20:26, February 21, 2012 (UTC)
Himachal Pradesh will still be a part of India :P I think I might be able to create a map for this (Hindustan!!) :D

Imperium Guy 20:46, February 21, 2012 (UTC)
I don't want it lost, please!!!!!! :L

Imperium Guy 20:53, February 21, 2012 (UTC)
Yay!!! The map's almost ready, BTW!! :P

Imperium Guy 20:58, February 21, 2012 (UTC)
Here is a map you could use in Avaro to give pieces of Canada to the US for their full support. Yellow is remaining Canada while green in the "New US". It will be for the betterment of everyone as the west probably does want to be under English/American influence rather then French. :D

Imperium Guy
23:13, February 22, 2012 (UTC)
The America map is for Axis vs Allies. As for the India map, don't worry about it, I'll upload a new version of the country when you figure out how big you want India to be. For the template, in visual mode, you add a proposal template and when it asks you for the parameters, you type in Think Before You Act. :D

Imperium Guy 17:47, February 23, 2012 (UTC)
I definately don't think the old PoD was ASB, I quite liked it. The new PoD is also good. :D

Imperium Guy 17:58, February 23, 2012 (UTC)
I was looking over your profile page and I just saw that I am there in the people you like to work with! YAY!!! :D :D (2 smileys, never happened before!!)

Imperium Guy 18:53, February 23, 2012 (UTC)
BTW, finish the war in the Caribbean. Propose the land deal with Ameeica. And in SE Asia, offer half of Malaysia to Indonesia while keep the other half which is bordering Thailand or give it to Thailand. You can get another headache off your head then. This could also make Indonesia another crucial ally against the Soviets. BTW, give me military equipment and aid please!! Build ammunitions factories in the UK itself provide equipment while we use them. We don't have the manufacturing capabilites yet!! :D

Imperium Guy 20:08, February 23, 2012 (UTC)
Both of them, infact, do have players!! :P

Imperium Guy 20:15, February 23, 2012 (UTC)
Are you a trekkie?? :D

Imperium Guy 20:27, February 23, 2012 (UTC)
As in do you like star trek? :D

Imperium Guy 21:25, February 23, 2012 (UTC)
Well, I think a Star Trek section in your TL as a TV series would be good. :D

Imperium Guy 21:41, February 23, 2012 (UTC)
I think you should first complete the timeline. Then we should make a page on ST!! :D

Imperium Guy 21:48, February 23, 2012 (UTC)
Re: Terrorism in New Union
Sorry for the delay. As I mentioned before, I don't have a strait answer at the present. My focus has been on other matters. Just be patient. Suggestions are welcomed, as long as they fit with the timeline. --NuclearVacuum (Talk) 17:20, February 22, 2012 (UTC)
Re: Alt Dest (TBYA)
I'm not sure I understand what you're asking. If you're suggesting that because the POD is similar (still extremely different though, from what I read) that the Alt Dests could be more or less copied from one to the other, then I think that's not a good idea, for several reasons (most prominent being that I didn't write about 2/3rds of the entries on that page). Besides, once you start getting up towards people born in the late 19th century and forwards, there'd be that sense of randomness that makes Alt Dest so appealing. So no, if I'm getting your question right. You're an imaginative guy! You can do good work (and you have) without needing to base it off of something that already exists.
KingSweden 21:52, February 22, 2012 (UTC)
That sounds very plausible!
KingSweden 22:46, February 23, 2012 (UTC)
Hmm well I do suppose that the Joseph-Isabella marriage is a very plausible way of maintaining peace in Spain. That would make Spain either a client state or part of France based on how marriages worked back then.
KingSweden 23:05, February 23, 2012 (UTC)
I think there'd absolutely be a war of independence, the question is how successful it would be. Spain was so exhausted in OTL that it didn't have the manpower to quell the rebellions. This could be different with the full might of Napoleon, however one has to wonder whether the New World would be Napoleon's 100% focus, though it very well could be.
KingSweden 01:31, February 24, 2012 (UTC)

Hay rwg, I didn't do anything wrong on the NATO page did I? I wanted to get more point's. So I added a globe of the NATO countries. If I did anything wrong, I am sorry, and I won't edit anymore pages. ima firin ma lazar!!!!! o(@@@@@@@@@@@@@@@ 19:25, February 23, 2012 (UTC)
About Axis vs Allies:Reloaded
Thanks for the offer, but no thanks. I did, however, originally joined as China in the beginning, but then decided to leave after about 4 turns. -Kogasa


20:28, February 23, 2012 (UTC)

I just saw that after I edited the NATO page, you edited it, so I thought I did something wrong. ima firin ma lazar!!!!! o(@@@@@@@@@@@@@@@ 20:32, February 23, 2012 (UTC)
Reply
First, let me say that most of that is none of your business, though I will answer some of it.
I do like my work. Admin-work suits me in a lot of ways.
I do have several timelines on my drawing board. Though, most are more geared towards a book-type thingy, long-term.
I've always enjoyed NW, as a timeline.
My favorite historical topics are geared towards the Long Eighteenth Century. More so, semi-economic matters. Though, that's not it, by far, and the list of things I've studied historically would surprise you, lol.
Lordganon 06:43, February 24, 2012 (UTC)
No, not going to post one anytime soon. Lordganon 07:10, February 24, 2012 (UTC)
hay I was trying to put the brazilian flag on the brazil page and the link was gone, but it looks like nothing is wrong with it. What should I do? ima firin ma lazar!!!!! o(@@@@@@@@@@@@@@@ 18:03, February 24, 2012 (UTC)
nevermind I got it. ima firin ma lazar!!!!! o(@@@@@@@@@@@@@@@ 18:03, February 24, 2012 (UTC)
...RWG, he was asking for help, not bugging you, lol. Lordganon 23:03, February 24, 2012 (UTC)
If he asks again, I'll say something to him. Lordganon 23:16, February 24, 2012 (UTC)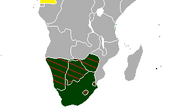 Sorry about the map, that was me!! :/ BTW, in Africa, give the two countries north of SA to it as well as the countries it surrounds, like this.. I think I have become your perosnal declonization advisor (India). :D

Imperium Guy
01:15, February 25, 2012 (UTC)
No country does, you can give it to SA. Even though SA is a NPC, you can still give land to them! :D

Imperium Guy 08:54, February 25, 2012 (UTC)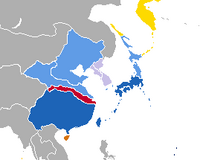 BTW, are you fine with British China going like this? :D

Imperium Guy
10:10, February 25, 2012 (UTC)
TBYA
1 word: Superb!! But I think you are overstretching the French. They will have nothing to do in Afganistan, so that might need to be removed. France will also never be able to ever expand in India, the 7-years war saw to that. They lost all incluence then, so there will be no French India. What you should have is the British, after conquering Burma, should conquer Indochina and Thailand. Therefore, you will have OTL India, Pakistan, Bangladesh, Lanka, Thailand, Indochinese countries, Malaysia and Indonesia all under the British Empire. When the Sepoy Revolution happens, all of South and SE Asia will rebel and come under one superstate. The Union should stay and no Irish independence. Thats it and well done!! :D

Imperium Guy 14:29, February 26, 2012 (UTC)
Afganistan: you need to see that they only invaded to protect the British Raj, not because they felt like it, lol!! ;D Plus, they had a land boundary with Afganistan and so logistics was not a problem.
Scotland: the thing is, France cannot dream of mounting a Scottish invasion. The French might improve their navy, but the English would still have 250 years of seafaring experience as well as the credit of defeating the Spanish Armada. on top of that, the UK has a land army and would repel any invasion with ease.
India: oh, I thought you had a point where India was given independence, but oh well. What could happen is later on Britain captures Thailand and then maybe after a few skirmishes with Indochina, war breaks out and they conquer it. Forget the part about the Sepoy Revolution.
Your turn for round 2, lol! :D

Imperium Guy 20:22, February 26, 2012 (UTC)
Okay about India. But for the UK, you need to see the French won't even be allowed to get anywhere near the coast of the UK in general, the British navy would be this strong. :D

Imperium Guy 10:44, February 27, 2012 (UTC)
I forgot Ireland, didn't I? Well, you need to see is the Irish were agitated at the time the the treaty was signed. If there was unrest, then it is possible that Southern Ireland could be given independence, not North Ireland as it is mostly Prodestant. The famine would be a good reason for unrest in Ireland. :D

Imperium Guy 07:40, March 1, 2012 (UTC)
Okay about Ireland, but I still think the UK would have huge patrolling. Plus, if Scotland is invaded, don't soubt the Scots, they will repel any inavsion, even if the have to use English help. :D

Imperium Guy 22:53, March 1, 2012 (UTC)
Pahang War
The Pahang war ended in 1819, before the Persians couldn't send any help these past couple of years. For your help during the last year of the war, however, Naples will still send you as much supplies as they can. LurkerLordB (Talk) 12:14, February 27, 2012 (UTC)
TBYA
Okay, I don't want to sound rude right now, but I'm actually getting tired of you constantly bringing up this TL. Don't get me wrong, I like it, but I have moved on: I've read it, I enjoyed it, now I'm ready to get back to my actual stuff.
Thank you for showing it to me, but I would prefer if you didn't message me about it any more. Please? Lieut. Tbguy1992: Profile; Talk 13:49, February 27, 2012 (UTC)
Hidan43vr's TL
Well, since I have more than one POD each one is different.
The Rome was was inspired by a book i had read at that time which marked the reign of Emperor Commodus as the start of the fall of the Roman Empire, so I decided to get rid of him. I started with Rome because I thought it would be the best place to change the rest of the world but I needed to address the other parts of the world.
My next place was Asia where I extended the Han Dynasty and this led to a more powerful Japanese Empire.
I moved to North America next, I think, where I used the Iroquois nation in Northern New York to start a more modern and developed group of chiefdoms along the East Coast and the Great Lakes.
The same thing went into Mesoamerica, which I originally intended to work on with Alexanders but that didn't work out like I wanted to and eventually after learning more about that region I was able to add to it on my own. Their inspiration was from all the advancements and power that they were known for that eventually became more solid states.
Africa was an afterthought that was caused by the European Timeline and Asian Timeline, I did not expect to make it at first.
I tried not to be biased in any of these but I like Japan and that might be why the Japanese had such an important role in my Timeline. The same thing with the Natives starting their development in Northern New York, which is where I am from. I don't think any of those decisions were unjustified though. Hidan43vr 23:33, February 27, 2012 (UTC)
First I want to say that I love your questions and I wish more people asked questions about my timeline. :)
Christianity won't be a religion in the Roman Empire, sorry to say, it never spread as it was going to in OTL. In our history Constantine makes Christianity the official religion but Constantine never takes power, at least not the Constantine that we had. I hope that answered your question well enough. Hidan43vr 23:54, February 27, 2012 (UTC)
Christianity died out as a religion. The official Roman religion is a Polytheism that is run much liek the Catholic Church is today. There is an Archbishop of Rome who leads the church and several other important positions in major cities so its not as though there is no religion. In Asia there is also Zoroastrianism and the Gnosticism which extends from Judaism. I havent made a decision on Islam is you were wondering that but it probably won't grow either.Hidan43vr 00:14, February 28, 2012 (UTC)
Persian Vassals
Firstly your stability is negative, should anyone attack you your territories wouldall collapse. Secondly from the PM Rules page: "You may have vassal states subordinate to your nation, but contiguous to your nation. They are ruled by your first nation's government, but are allowed to keep their own interests. You may have up to two vassal states, and they are in the category of colonies. Size rules do not apply, nor do limits on the number of total colonies, except within plausibility." This means Brueni and Yemen are puppet states or colonies. Yemen could be part of Persia if you tried though as it is not too far away. Scandinator (talk) 05:36, March 1, 2012 (UTC)
yes they are both still running DeanSims 15:02, March 3, 2012 (UTC)
Annexing Canada (TBYA)
Hey, RWG, I was just reading your sandbox for the new timeline and I had a question about it. You say the Americans annexed all of Canada. Which parts of "Canada" do you mean, since Canada wasn't a country back then? Upper and Lower Canada, along with the maritimes I could see, but the only other real colony they had was Rupert's Land, and the rest (the OTL Yukon and NWT part) was pretty much uninhabited by settlers so they can't really annex that. Is that what you meant by "Canada"? I assume if they only annexed those, the rest could be settled by Alaskans.
Also, if you need any maps I'd be more than welcome to help. Regards, ChrisL123 16:29, March 3, 2012 (UTC)
Yeah sure :P ChrisL123 04:26, March 4, 2012 (UTC)
Mexican INdepedance
would New Spain join the Anglo-American allaince agaisnt Spain, you would lose some land obviously, but gain parts of South America and would be given some starter colonies in Africa. DeanSims 16:39, March 3, 2012 (UTC)
the wqar will start next turn, and Mexico can ither become a new antion, or be colonized by other countires or taken over by the Americans. DeanSims 18:56, March 3, 2012 (UTC)
Mexico can have part of OTL Peru in South America for its cooperation. Can Mexico begin to feel anti-Spanish feelings in this turn we are currently on? And when the Pact of Iron declares war on Spain, Mexico will be asked to declare independance. DeanSims 19:02, March 3, 2012 (UTC)
I knew about it for ages, and I don't think it is Justin Beiber (I hate that prick!!) :P

Imperium Guy 22:02, March 3, 2012 (UTC)
How can anyone "LIKE" him? He is such a weirdo and his voice is sooooo irritating!! :P

Imperium Guy 10:34, March 4, 2012 (UTC)
the war has begun. Please declare war on Spain, or in your case declare independace. DeanSims 17:47, March 4, 2012 (UTC)
Beiber is... as Dean put it on my talkpage!! :P

Imperium Guy 20:01, March 4, 2012 (UTC)
PM
I do read the messages, I just didn't see the need to reply as I have already said how I intend to act. For the record I have forgiven you its only a game after all, but its just if a country was messed about like that in real life they would be a bit wary of dealing again with that nation again, so I'm just acting how I think a real country would in those situations. Hence Persia is at the bottom of the pecking order for the division of Hanathwaddy territories. Its nothing personal really, VonGlusenburg (talk to Von!) 17:41, March 7, 2012 (UTC).
It means you get last pick, so when Hanathwaddy is divided, Persia is the last nation to pick what territories to get. E.g. if both Persia & Finland wanted Bengal, then Finland would get it as it is higher than Persia in the pecking order. It originates from birds and comparing society to that of a Chicken society. VonGlusenburg (talk to Von!) 23:25, March 7, 2012 (UTC)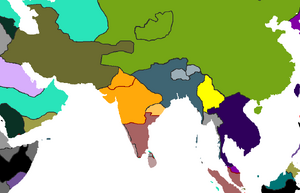 Here is a map showing what I want from Persia. Its not a lot, but its mainly what is mostly hindu and most likely to rebel. They will come under my control and won't be much problem to you. How's that? :D

Imperium Guy
10:20, March 8, 2012 (UTC)
Nice, deal done! :D

Imperium Guy 22:32, March 8, 2012 (UTC)
Just give the link to the page where u have written this rather than putting it onto my talkpage next time, lol! :D

Imperium Guy 23:42, March 9, 2012 (UTC)
What did I say About the French in India? Britain vs Sikh Kingdom = Anglo-Sikh war. Remeber if India becomes independent from Britain in the 1850s, it will include Burma. The Mughal Empire was disbanded, so you will have republic in charge of the country earlier than you have it. Plus, in the riligious conflict between Muslims and Christians, Christians are going to be persecuted in India/Bharat as well. To explain the war for Pashtuistan, you might have the government stating that they invaded to help the natives enjoy the benefits of Bharati civilization. Love the last sentence of 1879!!
Easternization Map game
I had been planning that map game before I adopted the timeline, because I liked the idea but I didn't know if I should adopt it or not. Since I adopted the timeline, I had no reason to make it.
I wanted to give the Eastern nations a head start, although now that I think about it, I could have given them colonial expansion earlier and faster and an algorithm bonus and they would still have the advantage, but people could play as other nations. Doesn't matter now.
I didn't want to rip-off the timeline, as it wasn't part of it then.
Not according to the rules of the game. In theory for other games though, it would depend on the circumstances, the Spanish conquered them easily through a combination of factors, including disease, better technology, horses, and tribal rivalries. If there was some scenario where contact was made a century or so before conquest, and the Aztecs gained horses and other techs from the trade and already had the disease and time to rebuild their population after disease, they wouldn't be so easily conquered.
I wasn't really planning on ever going back to that game. If there is great interest, it could be made though. LurkerLordB (Talk) 04:59, March 10, 2012 (UTC)
Re:
The 20th century stuff seems pretty solid for the most part. Where I'd tread more carefully is the 19th... A lot the things you mentioned in the 1820's and 1830's seem awfully "modern," in that they sound like events that would make sense in contemporary times but perhaps not back then, if you follow.
KingSweden 23:13, March 12, 2012 (UTC)

From Legotron, can't you give me back the orignal edit of my article "League of World Empires (LWE) before you made your change to it.
Vary it up please
All of your posts on Principia Moderni are incredibly boring to read, because at least half of it is just copying and pasting the above post. Please stop copy-pasting. LurkerLordB (Talk) 21:13, March 14, 2012 (UTC)
Despite the fact that I often disagree with his moderator decisions, Scandinator has contributed an invaluable amount to the map game, so removing him from being a moderator is unfair. His nation will lose territory to revolts when plausible, as well pretty much every player nation in this game. If there are more complaints about biased moderator events, I may make a motion to divide powers upon the moderators more strictly so that he couldn't do any more non-disaster events, but I doubt and hope it will not come to that. LurkerLordB (Talk) 00:15, March 15, 2012 (UTC)
Scandinator
A final decision on what? LurkerLordB (Talk) 00:08, March 15, 2012 (UTC)
Persia
Have a new, Islamic Shah come to power, or have the old Shah convert to Islam. Then have him totally overhaul the government so that it is a new government (state that the government is totally new in the post, and maybe message Scandinator too). Then the Islamist revolts will stop, and your stability will be able to go up again. If you want to remain Christian, you could, but then you'd have to give up at least half of your country, so I'd recommend reconverting back to Islam. LurkerLordB (Talk) 01:09, March 15, 2012 (UTC)
Now that your government has been changed. I have no reason to induce more revolts in your nation. If you had listened to me in the Yemen, Brunei fiasco this latest round of revolts would have been avioded. Scandinator (talk) 04:34, March 16, 2012 (UTC)
New game
Fancy joining in? Africa, Indo-China, Canada and Central America all have nations avalable for a new player[[1]].82.11.88.223 04:09, March 16, 2012 (UTC)
Hot Cold War - France has a new freind.
South Africa is giving aid to France to accelerate your recovery. Canada has broken up in a civil war and the USA is in a mess, so you may want to annex French speaking/pro-French Québec while you have the chance.Oxfordshire 1972 01:57, March 17, 2012 (UTC)
Mexico
first of all, calm down, I know i just pissed you off realy bad, ive been there, you feel like you need to scream but you cant because its just on the internet. I will relieve some of the problems and allow you to keep the Republic of Chihuahua. Also, I will return some more lands. DeanSims 18:18, March 17, 2012 (UTC)
i cant. heres the new map: DeanSims 18:26, March 17, 2012 (UTC)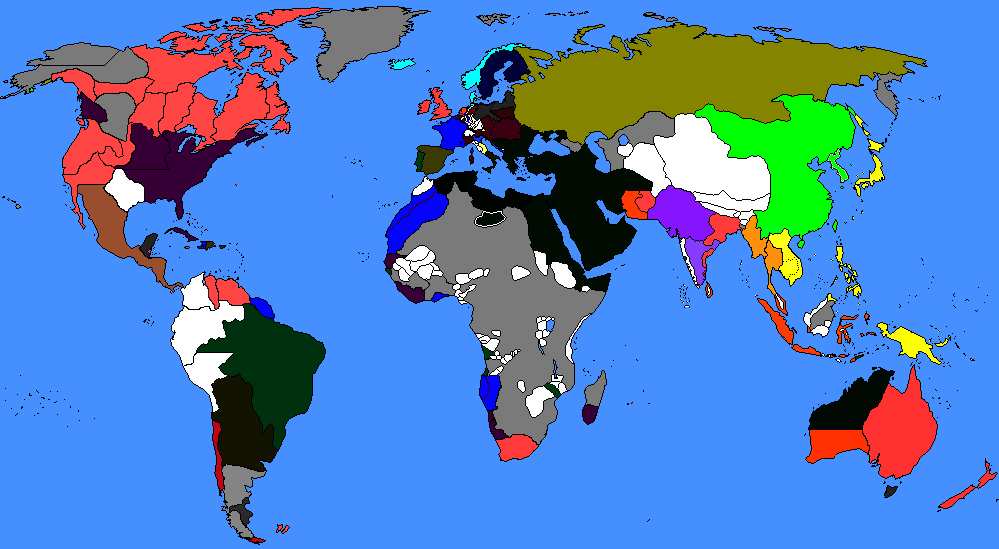 ok, i am being nice, Britain has a past of annexing entire countires that go agaisnt its interests. i can try and get you and America to split Texas up, also, I am inflciting upon you the following terms:
All expansion before 1845 must be approved by the United Kingdom.
The United Kingdom will not expand into any Mexican territory unless sold honestly and legaly by the Mexicans to the United Kingdom UNLESS the Mexicans declares war on the United Kingdom, in which the United Kingdom will be forced to act.
Hot Cold War
Fancy a trade deal with Genada?82.2.68.180 02:14, March 19, 2012 (UTC)
Congo
Congo has made France a trade deal and alliance. The Lithuanian rebels Mexico fostered in the USSR have Congo's support to.The River Nile-2 05:19, March 22, 2012 (UTC)
The game says you can have 2 counties, so you could pick a second nation if you want. Many servive in Europe, Africa, Indochina and the Middle East.The River Nile-2 05:23, March 22, 2012 (UTC)
Finland and Food in 1983: Doomsday
Actually, only the Finland one was reverted - and yes, that one was vandalism.
The food one was making your edits, quite honestly, legible.
Lordganon 23:01, March 22, 2012 (UTC)
And if you'd have actually looked, you'd have seen that it had been adopted. Lordganon 08:22, March 23, 2012 (UTC)
RWG, "vandalism" is a relative term; but the fact is, you ignored the fact that the "Up for Adoption" template had been removed. Checking the history would have shown that Godfrey had adopted the article 10 days prior to that. Though Godfrey has done nothing with the article yet does not mean you can step in and do it for him. Instead, run it by Godfrey first and let him post it. SouthWriter 15:50, March 23, 2012 (UTC)
Triple Alliance vs Central Powers
No, I have quit (or since I never posted, never joined?). I guess I should post that, I have just been busy and didn't have time to do that.TacoCopper 00:12, March 23, 2012 (UTC)
Flags
RWG, while I'm all for you adding more of those flag pages, you need to quit uploading all of those extra flags. Seriously, a large portion of them are already on here, if you take the minute to look for them.
And, quit adding ones that have nothing to do with the nation in question to them, lol.
Lordganon 00:32, March 24, 2012 (UTC)
Seriously RWG, you need to cut that out. Now you're even uploading exact copies of custom flags already on the wiki and adding ones to these pages that are without question having nothing at all to do with the nation in question.
Lordganon 23:58, April 2, 2012 (UTC)
Triple Entente vs Central Powers
Hey RWG. I'm the player of Japan, and when or if the war with Spain comes, can Japan keep Macau? Enclavehunter 23:32, March 26, 2012 (UTC)
Don't know. Wait until we see what Spain does. Enclavehunter 23:36, March 26, 2012 (UTC)
Principia Moderni
You need to stop copy-pasting your posts and start reading what other people posted. You cannot expand your Andes colony, because if you looked at the map, you would see that it cannot expand at all, it is boxed in by other colonies. You cannot tell Naples and Bharat to stop fighting, because they already stopped fighting. And I am tired of reading the exact same thing for half of all of your posts. Please cease and desist. LurkerLordB (Talk) 21:22, March 27, 2012 (UTC)
Think Before You Act
First of all, I don't have time to read the whole thing, lol. However, from the little bits I did read, it appears to be realistic (though some of the pictures not so much... Canadian Confederation standing in for St. Petersburg Accords?)
As for the Turkish War: unless their is a massive shift in the way they do things, they will loose the war. They will fight hard, but with both French and Russians attacking them, they will not win unless Britain or other European nations come in to distract both of them. Even then, Turkey will be devastated, and will face a long, hard road back to even secure their position, much less Great Power status. Lieut. Tbguy1992: Profile; Talk 02:25, March 30, 2012 (UTC)
It looks like it, but I think making that war six years long is WAY TO LONG. Two, tops, as Turkey most likely would collapse or have a coup d'tat way before then, as it seems they are facing defeat after defeat after defeat. No nation as unstable as Turkey in the 1820's, with two of the most powerful nations in the world attacking, can withstand that long. Lieut. Tbguy1992: Profile; Talk 02:25, March 30, 2012 (UTC)
Alright: details are fine. I don't go into many details with my main timeline because I will be trying to go into detail in more specific articles. I will give you my general and very broad scenario for a Turkish War, based on what happened OTL, and how it will be resolved. It is not set in stone: one particular Russian, French or Turkish success or blunder can completely throw it off.
Well, I would say anywhere between 12-18 months. With four fronts, two of them (Greek Independence and Balkan Revolution) basically internal unrest that will tie down soldiers that would be needed to fight France and Russia, another (Egypt) that will be difficult to resupply and hold in the face of a forceful naval assault, and then the French-Russian intervention which is basically two of the strongest powers marching onto Constantinople.
The time table (in my opinion) would be more along the lines of Russia attacks right off the bat, and marches on Constantinople. This, plus the siege of Sofia (I remember that!) would take about five to seven months months. Then French intervention, most likely in the form of naval blockade, and landings in either Anatolia, Greece or the Dardanelles. All three can be defended easily if the Turks are given time to prepare due to their hilly, sometimes mountainous terrain, but Greece will be the more unstable with the Independence movement, so perhaps the best choice. French troops and Greek freedom fighters will eventually wear down, if not outright defeat the Turkish garrison there, allowing them to then join up with Russia toward Constantinople. Later landings in Anatolia or the Dardanelles (perhaps better if in Anatolia) can help circle Constantinople from the Asian side while Russia holds the European part.
Though, perhaps before the French intervention in Greece or the Balkans, this would be the time to attack Egypt, and draw Turkish troops and resources away from the Defense in the North. So long as France maintains a force in Egypt, and not even necessarily pressing an attack, it will tie down Turkish troops, which is the idea to help Russia.
The Balkans is a tricky situation. Russia, Austria and France will have an interest in making sure either that the Balkans is out of Turkish hands and therefore an unstable tinderbox of religious, cultural and political unrest no matter how it is divided; or stabilized under a power, but Austria, France nor Russia will want the other two controlling it, so it would revert back to Turkey. I include Austria because, although they may not be in the war, but this unstable area is on their door step and they have minorities that can be roused to cause instability in the Hapsburg Empire, so will want a seat at the negotiating table to decide what to do with them.) It might almost be in everyone's interest to leave them in Turkish hands despite the nationalist sentiment, as they can at least make sure it won't spill over into another, even bigger European War (look what happened in World War One).
So, with France in Egypt from about a month-six weeks after hostilities start, and Russia knocking on Constantinople's door in about six-eight months after fighting through OTL Romania and Bulgaria, plus French help in the form of Grecian Independence, and then lands in Anatolia and marches to help the Russians, arriving perhaps a few weeks later after they do, and then a siege of Constantinople can begin in earnest.
Now, depending on how long the Turks can hold out (with supplies, morale and political will), this can drag the war on for a long time. Russia can remain in the war almost indefinitely , but France is a different story. After all, the French Revolution, while nearly gutted by Napoleon, is still influencing the public and they will either demand results, or demand to get out. If it becomes to expensive, I could see France trying to get out of it anyway they can.
So, I say the Turks hold on for about four or five months. However, with no visible end in sight, the military generals may take matters into their own hands, overthrow the sultan, and end the war anyway they can, or else go out in a blaze of heroic, courageous, fool hardy and ultimately doomed glory. So, either after a failed battle or after a coup, the war will end.
What will change? Not much. France will get extraordinary rights in Egypt, all short of outright annexation and colonization, perhaps even with the ability to build the Suez Canal. Greece becomes independent, as does Romania (Rumania, however you want to call it). Bulgaria becomes an autonomous state still nomally under Turkish control.
The biggest losers will be Russia and the Balkan states. Austria, Russia and France will get together, and after long, strenuous negotiations, the Balkans is reverted back to Turkish control with more Home Rule. Russia, with their big goal to ultimately control the Bosporus Straits, will be denied by France and Austria (and even Britain, aloof of what is going on in the Eastern Mediterranean). If Russia is ever allowed to get control of the straits, they will be a threat to everyone, not just Turkey. So, France will get what it wants, Austria will be safe and secure, Turkey is defeated, but will be propped up as a counterweight to Austria and Russia, and Russia will be furious at, yet again, being denied the Bosporus Straits.
Now, this is how I would do it. Feel free to modify it to your hearts content, but this is the reasonable solution: France get what it wants, Turkey is propped up by the powers as a counterbalance, Austria tries to secures its southern border, but Russia will, yet again, not get what it wants. Lieut. Tbguy1992: Profile; Talk 04:42, March 30, 2012 (UTC)
Hey, since your are now the owner of Macau, on the next turn, can I purchase Macau from you. Enclavehunter 22:39, March 30, 2012 (UTC)
Well, battles are battles. Wars can be decided in one, a couple, a dozen, if not hundreds. There is no set number of battles. And, for the rest: TL;DR version at bottom.
However, I think six years is too long. Anything longer than two or three years at this time is too long for me unless it is a life and death struggle, religious or ideological, or what have you. And in the late 1800's, they usually lasted no longer than one or two campaigning seasons, often times months or a few weeks. Don't get the idea that the wars at this time was one long, single continuous event from 1789 (if you add the French Revolution) to 1815. The French Revolutionary/Napoleonic Wars are merely a series of conflicts stretched over a long time (there was seven Coalitions by the European powers created to confront France, not counting multiple, "single" wars like against Prussia in 1806, and Russia in 1812. Nations fight, battles are fought, wars are won and lost. Even the War of 1812 lasted just over 2 years (the Battle of New Orleans was fought in early 1815 after the Peace Treaty was already signed), and only because neither side had the power or the will to continue.
It's not until the middle of the Industrial Revolution that you start seeing nations fighting until the bitter end: Total War, if you will. That is only possible because factories and improved farms could feed, clothe and support the armies. The American Civil War is an early example: both sides fought until one could not summon the industrial might or political will to resist. And that took from 1861 until 1865 for the South to finally give up.
HOWEVER, this is only true with an industrialized society. Ottoman Turkey (and for that matter, the rest of the world) did not have the strength to carry out industrialized war that you would see in the 1850s and 1860s and up to World War 2. Enough defeats in a campaigning season or two when you cannot easily replace an army (or, at least making sure they have weapons, feeding and paying them) will mean you cannot go on. If Turkey's trade is cut off, they will have no income coming in that they could use to pay for their army. Soldiers will then either desert or revolt.
You seem to be trying to either put a WWI or a modern insurgency in the 1820s. Its not going to work. Wide scale mass production is at least 30 (more likely 60) years in the future. Superior armies (France and Russia) will crush inferior (Turkish) armies, no matter the dash, the elan or the courage. And, yes, there may be a guerrilla war campaign against France and Russia in occupied territory, but it will either fizzle out or be suppressed.
Lastly, have you ever heard of the Russo-Turkish War of 1877–1878? Well, brief rundown: Russia absolutely dominated the Ottoman Empire. However, British non-military intervention forced the Russians to eventually agree to peace, but when they tried to impose a peace treaty on Turkey that nearly destoryed Turkish power, all the other Great Powers (France, Britain, Germany and Austria) all stepped in and scrapped the proposed Treaty of San Stefano in favor of a more restrained Treaty of Berlin. They did this because, otherwise, the rise of Russia at the expense of Turkey would upset the balance of power. Remember, even in a French dominated Europe after a Napoleonic victory, Austria and Britain are still important, if not able to directly challenge France. And France will not want to see even their nominal ally Russia become too powerful, because then that will upset the balance of power. At this time, and ever since the rise of civilization, powerful nations that do not seek war with each other will keep a balance of power, such as the Concert of Europe that lasted by the Congress of Vienna in 1815 until the outbreak of WWI, and the Cold War between the US and the USSR.
TL;DR: the economy, military and technology of the time means that wars will not last longer than one or two years and a balance of power must be maintained. If one nation becomes or is on the way to becoming too powerful, then the other's must step in and try to restore the balance in some way, either through diplomacy or force. Lieut. Tbguy1992: Profile; Talk 06:50, March 31, 2012 (UTC)
sorry
look, im sorry i accused you of changing the gme, i though I saw someone post that Colombia was being invaded. Then it was gone. Im sorry, ive had my fair share of being falsey accused, and i know it sucks.
my apologeze,
DeanSims 16:32, March 31, 2012 (UTC)
im not banned, ica n vote to, and its still a tye, so im not leaving the game. and the only reason your even mad is becasue i kicked your countires ass into the dirt, and you dont want to lose. DeanSims 16:11, April 1, 2012 (UTC)
dude, you have always tried to get me banned, waht is with you. and i can play on any map game i like if you dont let me, thats discrimnation, adn then you get BANNED.DeanSims 16:15, April 1, 2012 (UTC)
fine, your banned from 476 AD: Decline of Rome DeanSims 16:19, April 1, 2012 (UTC)
un ban me from your game and make me a normal mod and i will unban you and make youa normal mod on my game, and i will try to be more plausible on ALL Games. DeanSims 16:26, April 1, 2012 (UTC)
anyone can change if they want to change, and as of right now i want to. DeanSims 18:06, April 1, 2012 (UTC)
My compromise
Here's my compromise, both of you don't ban each other from each other map games. Dean looses his mod status on the game, both of you can still play VlRR (Vive la Revolution Revised) and whatever other map games you guys are on. And the mods will watch Deans (and all of ours for that matter) turns very closely. Enclavehunter 18:17, April 1, 2012 (UTC)
your last message staed, COVNERSATION OVER! DO NOT TALK TO ME ABOUT THIS AGAIN!!!!
ring any bells?
DeanSims 18:21, April 1, 2012 (UTC)
I guess. I hope this settles it. Enclavehunter 18:22, April 1, 2012 (UTC)
DeanSims
Stop this mini-war you two have going on, or face the consequences for turning the wiki into a drama-fest. LurkerLordB (Talk) 19:08, April 1, 2012 (UTC)
He'll block, as in WIKI block, as in USER BLOCK and IP BLOCK. UNDERSTAND? Me, Lurk, MP, and Enclavehunter are tired of this.


Syngraféas Enallaktikí̱ Istoría, Dic mihi lingua Anglorum. 19:53, April 1, 2012 (UTC)
Yeah.
http://americanalternation.wikia.com/
Please don't do anything there.


Syngraféas Enallaktikí̱ Istoría, Dic mihi lingua Anglorum. 20:32, April 1, 2012 (UTC)
RWG, you don't need to spam up this wiki with what DeanSims is doing elsewhere. Just because he's banned doesn't mean you've "won" or anything. Continue the drama here and you'll join him. LurkerLordB (Talk) 20:34, April 1, 2012 (UTC)
Just don't do anything like this again. LurkerLordB (Talk) 20:40, April 1, 2012 (UTC)
I'll see what I can do? Enclavehunter 01:20, April 2, 2012 (UTC)
Um! Do good, can you please give me exact borders of the world, mostly in Europe. Enclavehunter 04:56, April 3, 2012 (UTC)
Rough Draft.
Enclavehunter
05:14, April 3, 2012 (UTC)
New draft. Enclavehunter 05:34, April 3, 2012 (UTC)

Thank you so much for the interest in my ALT!!!!! It is really cool to see your series of questions :>) I'm not going to get to them tonight because I will finish presidents list first then go to bed. :>) BUT, what I will do is answer all the questions and make it apart of an FAQ page. If you see me on again, remind me to get to the questions, there is a small chance I'll just forget about doing it. to collaborate with you about one thing there, I will gladly take the feedback and change the 9/11 parallel to something else, rather than a nuclear device (I was worried it might be a bit too harsh). What would you suggest for the disaster?
CassAnaya 05:39, April 3, 2012 (UTC)
Anything else, I missed? Enclavehunter 22:33, April 3, 2012 (UTC)
Okay. You'll most likely get it tomorrow, or thursday. Enclavehunter 22:54, April 3, 2012 (UTC)

But random, the whole point is that idea is too close to the real thing. it seems lazy. like i just changed the name of the city and that's it. I have it now described a little more that it exploded outside of the city. causing major damage and death, a HUGE disaster and security failure, but doesn't take down the government or the center of the city. Hows that? I think that solves both problems, is different enough from OTL and still very dramatic.
CassAnaya 05:56, April 4, 2012 (UTC)
Re: TBYA
I think it looks good. Definitely a lot cleaner with dedicated pages than the full timeline you posted on my wall which was a little hard to read.
KingSweden 21:46, April 4, 2012 (UTC)
Realistically, I'd say France supports Algeria, then strikes across Tripoli to free Egypt and hammer the Ottomans from the west, opening up a new front. It could result in French hegemony over North Africa with Egypt the crown jewel of this new addition to the Empire, of course.
KingSweden 22:02, April 4, 2012 (UTC)
I'd have it started by someone else but other than that it seems good to me.
KingSweden 22:42, April 4, 2012 (UTC)
Visigoths and Suevi
Currently, I fear that by the algorithm, it will take you a long time to take the Suevi. However, if you spend but two turns sending threats of a second war and/or pan-German propaganda, you could probably turn the Suevi into a vassal state of the Visigoth kingdom (and later the kingdom of Vasconia, which is in northern Iberia, as well) and then in 15 turns after that, they can be absorbed into your main nation with no algorith. How about that? LurkerLordB (Talk) 01:23, April 5, 2012 (UTC)
If you agree to Prussian demands this is what map would look like.
I made the FAQ page to answer those questions you gave me. Thank you for the input. :>)
CassAnaya 05:59, April 6, 2012 (UTC)
NE
Plans for a new world
Bobalugee1940 15:38, April 8, 2012 (UTC)
Good, I estimate I'll be done tomorrow or Tuesday, maybe Wensday. Enclavehunter 04:33, April 9, 2012 (UTC)
WHATS WITH THE MAPS? DeanSims 18:37, April 15, 2012 (UTC)
Persia on Principia Moderni
I have several complaints about how you have been playing this game recently
Your nation does nothing but try and gobble up territory. Almost all of your posts are solely colonial expansion, talking about joining wars, or making alliances for future wars. You almost never do anything with your nation that is not territory-related. Every other currently active player in the game creates characters to be their leaders, talks about the ups and downs of their economy, has failures and bad leaders, and generally does more than just copy-paste colonial expansion and try and gobble up more territory in wars.
Your nation acts in a spastic manner. Out of the blue you start rallying people up to attack Sweden, then back down with nothing done. You ask Vietnam for an alliance and then you join the French for no apparent reason. You attack Ricasolia out of no where. Your nameless, faceless leaders must be insane to act like this, switching sides and alliances and going to war and never giving a single reason for any of it
You copy paste a lot. The first several lines of all of your posts are pretty much the same thing every single turn. You often ignore what is going on in the game around you.
You barely interact with the other players in the game. When you decided to retcon your pointless war against Ricasolia, you just deleted it from the page. You didn't leave a message saying "Sorry, I thought it was part of Naples, NVM" . You didn't notify anyone. You can't just retcon things like this and not tell anyone, this causes confusion
(this applies to your actions wiki-wide)You use the caps lock too much when you are angry.
Please address these concerns, for these are making it unenjoyable to play the game with you. LurkerLordB (Talk) 20:22, April 14, 2012 (UTC)
Hey Random! I think to shake it up a little, you should go into a coup in '74, supported by the Bharatis and the rebels who come to power will be wanted to unite with Bharat in a Dynastic Union. With this, we will be able to expand our influence much more easily and counter-balance the Capilate. You still owe me the Australian colony. Did you know that you can work on Economy and colonial expansion at the same time? Look at my posts to see how!! Here is an expample as well how:
(you write about the main nation) Persia focuses on building up industry this year, making many factories. (Other info about your country here, like army buildup etc etc)
(you write about the colony/colonies) New Tehran expands 100x100 sq km. The populace elect a new leader and he focuses on building roads. etc.
I hope this helps, and I really hope you accept my proposal as my government is changing in '73!! :D

Imperium Guy 21:50, April 18, 2012 (UTC)
You haven't answered to the proposal I presented (on the union) !! Please accept!! :(

Imperium Guy 09:18, April 19, 2012 (UTC)
So I am guessing that you won't accept the union? Could I atleast get your Australian colony, as you seem to have no major plans with it? :(

Imperium Guy 12:23, April 21, 2012 (UTC)
YAY!! But what are you going to do about the Capilate, who you have said you will join with? I don't want them in a dynastic union with Bharat-Dravidia as they are not nice. If it will lead up to civil-war, Dravidia and Bharat will definately win for the Persians rather than the Capilate side.
P.S Do I get your Australian colony? ;D

Imperium Guy 17:42, April 21, 2012 (UTC)
If the Cailate decide to invade you because they became angry with you, don't hesitate to give me a shout to help!! You know what, you can keep the colony but just don't expand too much toward the Australian Kingdom. I am trying to make them our allies so that relations in Australia are good. :D

Imperium Guy 17:58, April 21, 2012 (UTC)
Vive la Revolution (Revised!)
Hey, its Taco! Anyways, I will be gone until Saturday, and I need people to take care of my nations. Anyways, could you take care of Russia 'til I get back. I will understand if you can't. TacoCopper
hello RWG. DeanSims 18:07, April 15, 2012 (UTC)
still wont reply? DeanSims 18:23, April 15, 2012 (UTC)
sorry about the argument, i hadnt slept the night before and was agravated becasue my bike seat broke off a mile from the house and the library. DeanSims 18:35, April 15, 2012 (UTC)
New Map.
Enclavehunter
23:16, April 18, 2012 (UTC)
Advice
Hey RWG. I going to make an second and last attempt on an Napoleon-victory. I'm was wondering if you think about this:
In OTL, the French fleet lost the Battle of the Nile, after the gap in the French fleet was used by the British as an advantage to catch the French fleets in an crossfire. In this ATL, the POD is that the French ship that caused the gap is in the correct location, closing the gap, and protecting the unprepared port side. This would later lead to the death of Nelson, as his ship is heavily damaged and he is killed by chrapnal. Following his victory at the Nile, Napoleon was able to continue his series of major victories, and finally claiming victory at the Seige of Arce, which he lost in OTL.
When Napoleon returns to finish the War of the Second Coalition, and after two major victories against the Coalition (as in OTL), the Treaty of Lunneville and Amiens, which would lead to the French annexation of Malta and led to the removal of British forces from Egypt, the annexation of Egypt, Syria, and OTL Israel. Following this aquisition of territory, in 1803, the First Great War would begin, after the British break this treaty by landing forces in Egypt. The war would later expand to include Prussia, Spain, the Ottoman Empire, Russia, Batavian Republic, and eventually the United States after the Cheaspeake-Leopard Affair leads to tensions between Britain and the US, and later the US would declare war upon the request of Napoleon.
This is all I could come up with so far, what do you think? Enclavehunter 05:04, April 22, 2012 (UTC)
Thanks. Is there that should be changed so far. Enclavehunter 05:13, April 22, 2012 (UTC)
Re: TEvsCP
Don't worry about the mod event thing, lol. Just don't do it again without consulting me first.
About the number of mods: To be honest, I don't think that all of them are paying attention, and I don't even think Russia posted once. Over the next few days we might add some more...dedicated players to the mods list. Monster Pumpkin 02:23, April 25, 2012 (UTC)
Colonial Expansion
Nothing was decided yet, your proposal was rejected as being totally ASB. Anyways, can you please post your colonial expansion like everyone else (ex. 5600) instead of the way you do it (100x100)? As having one number makes it easier to make sure you are not expanding too much, and it just looks more... well-written I suppose, than having all the multiplication things. LurkerLordB (Talk) 21:36, April 26, 2012 (UTC)
Slowness
I'm sorry. Yes, you can have these powers, but you may also want to ask Ian, since he is the creator. Also, I will try to keep up! :)


Syngraféas Enallaktikí̱ Istoría, Dic mihi lingua Anglorum. 21:59, April 27, 2012 (UTC)
Triple Entente Algorithms
Ok. What nations are you?


Syngraféas Enallaktikí̱ Istoría, Dic mihi lingua Anglorum. 23:25, April 30, 2012 (UTC)
Sorry
I am sorry that Persia got split in 2, but don't worry I have a long-term plan on how to get it into 1 country again. :/

Imperium Guy 21:45, May 3, 2012 (UTC)
Hey want to revive "Vive La Revolution Revised" ? Answer back on my page! AwesomePeruvian 23:00, May 4, 2012 (UTC)
Its quite simple really. With West Persia out of the union with the Capilate, we can easily dominate over it. How, by sending hindu missionaries!! If Afganistan (change the name, too muslim - how about Pharsidesh?) and Bharat both send in missionaries in large numbers, we will be able to re-unite Persia in double quick time!! BTW, is Pharsidesh (yeah I'm using the name I suggested!) in a personal union with Bharat because I thought it was. :P

Imperium Guy 22:34, May 5, 2012 (UTC)
Since you are still Persia, you could break off from the union with the Capilate saying that the populace was unhappy with their leadership in the war against Bharat want to be completely independent. :D

Imperium Guy 19:19, May 6, 2012 (UTC)
God Save the Queen
I hear that God Save the Queen has been nominated for conversion into a real map game. Does it have a page yet,and could I play? I signed up, before I changed my signature that is. SPQR 03:34, May 6, 2012 (UTC)
Fractured Europe
I just created a map game called Fractured Europe and I was wondering if you wanted to play and/or be a mod. CommanderOfTheFourthReich 18:40, May 6, 2012 (UTC)
Re:No Napoleon's Elba
Aha, actually, I'm working on No Napoleon, not No Napoleon's Elba. I'm not even sure that the timeline's owner is working on it anymore. Not sure why the main page has been deleted, though... ChrisL123 22:54, May 7, 2012 (UTC)
Hey. I really don't want to switch. Sorry. It's just that there are no bigger and badder countries out there. Have an good day Enclavehunter 23:11, May 8, 2012 (UTC)
Oh yeah. My sister deleted every picture (plus music and document) off my computer, and along with it the map, so I have to start an new one. Sorry for the delay. Enclavehunter 23:20, May 8, 2012 (UTC)
Bolivar's Dream
Heh, I didn't adopt it, I started it a year or two ago. But your point still stands, lol. Right now, since the TL is so devoid of content, I'll start with establishing a proper TL for Colombia. Then comes the rest of the world. Fed (talk) 00:13, May 11, 2012 (UTC)
Foods
RWG, though I appreciate your recent additions to the open "Food" page, I was tempted to revert them. The "Nuts and Berries" section was covered above and the additional botanical information is out of sync with the format found on the page. As for the changes to the Dairy section, that info is spurious. Cattle are found throughout the world and the death by radiation is information generally found in other places. Goats would suffer just as much in bombed out areas. Again, good information, but not particularly helpful. I was the one who wrote the sentence about liquid milk being a rarity, so your changing that to "variety" changes the meaning of the sentence. Such a change should only have been done after disussion on the talk page.
I am going to change the line about variety back to rarity until we can discuss the change. Thanks again for your input. SouthWriter 00:16, May 15, 2012 (UTC)
Aztain
Aztaln will agree to become a Dominion if Aztaln can still control its domestic policies while having a unnited foriegn policy with Spain. DeanSims 01:38, May 20, 2012 (UTC)
The Map Game
Can you take the 850000 dollars? That's more than a million dollars today.


Syngraféas Enallaktikí̱ Istoría, Dic mihi lingua Anglorum. 23:41, May 24, 2012 (UTC)
Flags
I'll see what I can do, but I'm not good with flags. An few I know can be found in different pages, such as French Algeria. Enclavehunter 04:01, May 28, 2012 (UTC)
Here's French Mexico:
As I said, I'll see what I can do. I also suggest to ask somebody else to do the flags as well, so if I give up, or can't do it, you'll have backup. Enclavehunter 04:17, May 28, 2012 (UTC)
Proposal Flags
Here's an few. I went by your guidelines, and I hope these are correct. I'll do the rest sometime this week, hopefully tommorow.
Enclavehunter
05:01, May 28, 2012 (UTC)
Humaniy, Awake!
It has started!
Re:No Napoleon Nations
Thanks for noticing. Well, I was planning for a break-away nation in eastern Russia, as a result of their constant losses in the World Wars, but I'll have to look up on that.
Also, I could try the map, but I would need a general idea of what the borders would be. Just let me know and I should be done in the next few days. ChrisL123 13:57, June 9, 2012 (UTC)
Southamerica, Humanity
Hi RWG, Im Brazil, I offer you a alliance, with the only condition: you kept every brazilian territory you already have but you won't continue expanding in the old Brazil map, any other place is all yours to invade or whatever. And Brazil promise to help you with any civil war, external invasion and economy. Bauglir Zero 04:33, June 22, 2012 (UTC)
Uploading files that already exist
I believe I have told you this before, but if I didn't than my apologies. You have just uploaded several flags which already exist. You even re-upload a file which was already from this website. Please remember that we do have most of the flag files already uploaded onto the website, with all of them having the same links as does Wikipedia. Think before you act. Thank you. --NuclearVacuum (Talk) 17:13, June 23, 2012 (UTC)
GE & Archives
Hey. Can you come back / join Greater Europe, RWG? D: Also. You should archive your talk page. It's huge. Doctor261 (Talk to Doctor261) 04:55, June 24, 2012 (UTC)
Offer of Secret Military Uprising and Political Unifacation
Brazil would like to form the Federated States of Latin America with Argentina. I twould be a full political union with only one nation being controlled by every member state. We would take turns posting for our nation.
Or we can form the Confederated States of Latin America, which would essentaily be like the old CoLA but with more communication between the member states, which would still beindividualy controlled by each nation..
I WILL NOT BE SILENCED!!! DeanSims (User talk:DeanSims) 20:16, June 26, 2012 (UTC)
HELP!!!!!!
Aztlan begs for your help as the Americans are going to invade Aztlan in order to take over the country and destroy Aztlan into nothing more than dozens of colonies. We beg for your help.
Sincerely,
Aztlan (-Dean DeanSims (User talk:DeanSims) 23:59, July 2, 2012 (UTC))
Oriental Napoleon
Well. I decided to base it around Napoleon's conquering of India with its ally - Mysore - and establish control over the region, and kick the British East India Trading Company out of India. And instead of making articles, why not salvage them from my old timeline Enclavehunter 06:05, July 4, 2012 (UTC)
Offer of Secret Military Uprising and Political Unifacation
Brazil would like to form the Federated States of Latin America with Venezuela. I twould be a full political union with only one nation being controlled by every member state. We would take turns posting for our nation.
Or we can form the Confederated States of Latin America, which would essentaily be like the old CoLA but with more communication between the member states, which would still beindividualy controlled by each nation..
-Dean DeanSims (User talk:DeanSims) 19:44, July 5, 2012 (UTC)
Map
Well, after some map-searching, I've come up with a pretty detailed map of the world at the time, and I've done the changes you've requested (there didn't seem to be many Dutch colonies at the time). If you need anything else, just ask. Regards, ChrisL123 (talk) 04:30, July 8, 2012 (UTC).
That's alright. Sorry about the late reply, the wiki's changes must have screwed up my ability to post on the talk page or something, there's been some error messages. Anyway, Portugal's fixed (I hope), Spain is fixed, Dutch Guyana is fixed, and the map should be good now. If anything's wrong or you want me to make another map, just ask. ChrisL123 (talk) 02:11, July 10, 2012 (UTC)
Doing well on it so far, but I have a few questions:
You say British Canada is given to the US. I assume that means the Ontario area, perhaps with the maritime colonies, but does it also include Rupert's Land?
Does Italy include the lands that France claimed in it? And does Italy include the Two Sicilies and Sardinia?
Does Prussia join the ethnic-German Confederation?
In OTL, from what I read, Liberia was started in 1822, not 1820. Does TTL deal with its early appearance or no?
Thanks, ChrisL123 (talk) 18:26, July 10, 2012 (UTC)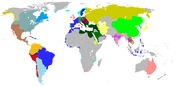 Sorry for the delay. I've been pretty busy lately and the map wasn't going well for a bit. But I think I've gotten everything down. If I've made a mistake or overlooked something, just let me know any I'll change it. Thanks, ChrisL123 (talk) 01:30, July 15, 2012 (UTC)
There we go. I might have made an error with Sicily and Sardinia because I'm not sure who you meant they belonged to. Also, I didn't make the French African colonies as large, considering that map would have been 9 years in advance. If you need a map for 1830, though, I will make them larger. Regards, ChrisL123 (talk) 19:06, July 15, 2012 (UTC)
Well, I'm glad my TL sparked some inspiration. Anyway, I've thought it over, and here's what I've come up with:
You're probably right about Brazil. They wouldn't welcome french sovereignty lightly. I'd assume they would rebel, perhaps as soon as Portugal was dismantled.
About the Fifth Coalition, I can see the coalition ending sooner, with Austria wanting to sue for peace with France and exit the war, but that's all I can think of really. I haven't learned much about that war, so.
It's a great timeline overall. But I just had a few questions that I couldn't find the answer to:

Why does Britain lose all her colonies in the Americas? I could understand the OTL Ontario area, but taking Rupert's Land and having them stomach it is questionable.
Why does the US take Guyana, a colony that was mainly French?
Does France ever get land in India? Seeing as how Britain loses most of her American colonies, I can see France moving her interests there. Maybe even Australia, but that may be a stretch.
If I can think of any more as the time passes I'll bring them up. But just have fun with it, it really has potential. ChrisL123 (talk) 17:16, July 16, 2012 (UTC)
Re: sup
What are you talking about? --NuclearVacuum (Talk) 02:04, July 11, 2012 (UTC)
190.153.214.90
...He removed a comment and replaced it with "That's a sbulte way of thinking about it."
Troll, no question - which you'd have seen had you looked at the edit.
Lordganon (talk) 08:08, July 12, 2012 (UTC)
PERU CRISIS 2013
Why do you want to take down Peru so much? :P Doctor261 (Talk to me!) 17:04, July 13, 2012 (UTC)
All right what happened, who assassinated who and what happened to East Germany's last post. I am lost, everybody is mad about something. I was only gone for a few hours and now I'm lost please explainAndr3w777 (talk) 03:47, July 14, 2012 (UTC)
Whoa you WHAT?!?! That would lead to WW III I would make sure Paris would burn under the fires of Russian ICBMS. Why did you do that, we didn't attack France or assassinate anyone. We are trying to toe the line between being a good commie lacky and being free. Do you have any idea how much our people would love to be on the otherside of the iron curtain. Killing head of State. Are you deranged?(NOT REALLY MAD AT YOU, JUST PLAYING MY ROLE)Andr3w777 (talk) 05:01, July 14, 2012 (UTC)
I messaged him earlier this morning, I haven't seen a reply or him on an part of the wiki today, maybe he is busy?Andr3w777 (talk) 23:06, July 14, 2012 (UTC)
I'll try, but I am overstretched as hell! :/

Imperium Guy 21:46, July 17, 2012 (UTC)
7 Years War
Hello RWG. I've been observing your game for a while and i'd like to make a suggestion. If i were you i'd watch the player Vivaporious and his Kingdom of Ashanti. He's been known to believe that African nations are super rich and that they can create huge African empires(i'm talking like literally 1/4 or even more). He thinks he has all the money in the world for those nations and frankly its annoying and it's gotten him banned from i believe 2 map games already. Just letting you know, watch him or Africa will be taken over by an implausibly huge empire with European technology(sarcasm). If you want, i could be an unbiased 'watcher' of your game, but once again it's just a suggestion. Get back to me.Thanks,AP (talk) 16:45, July 19, 2012 (UTC)
Defo on this one. Me and AP speak in experience. He tried to conquer the French and Portoguese colonies in one game and requested the help of the Crown!


Syngraféas Enallaktikí̱ Istoría, Dic mihi lingua Anglorum. 02:03, July 20, 2012 (UTC)
I need an answer on that last request, i could patrol your game without any bias seeing as how i didnt sign up to play.AP (talk) 02:06, July 20, 2012 (UTC)
Don't take my actions from game and try to apply them to all the others. --"Truth fears no questions..." 02:46, July 20, 2012 (UTC)
I read and I understand. Check away. --"Truth fears no questions..." 04:51, July 20, 2012 (UTC)
I'm aware. The Oyo Empire was closer, and the Benin Empire behind it. The rules don't allow me to edit previous posts. Can I for the sake of plausibility? --"Truth fears no questions..." 04:57, July 20, 2012 (UTC)
Dahomey and Oyo are right next to each other, so I have a slight chance as I'm focusing my forces at the same area. And better still is the fact that the population of Dahomey was slightly larger than the size of the Ashanti military in OTL and ATL. This means that the potential military stength of the Dahomey military, if all the able bodied men were assembled, would be no greater the 80-100,000, less than half the size of Asanteman's current and OTL military strength. Oyo is my only true issue. --"Truth fears no questions..." 05:30, July 20, 2012 (UTC)
So what would you have me do? I got nothing. --"Truth fears no questions..." 06:02, July 20, 2012 (UTC)
I just explained the figures and population deal in the game, and I renamed Benin to Oyo. --"Truth fears no questions..." 06:12, July 20, 2012 (UTC)
Yes sir. --"Truth fears no questions..." 18:53, July 20, 2012 (UTC)
Random guy,What happened with the Seven Years war 1758.5 events,You posted the Date over an hour ago.just asking Sine dei gloriem (talk) 02:51, July 23, 2012 (UTC)
France in PMII
Hi RWG,
As you may or may not know, I am remaking the map for PMII. Just a heads up. In 1450, France was invading Normandy and defeating the English in order to get them off the continent and Burgundy still existed in the Flanders region. There are also a few states within France and in the Brittany Region. Therefore France's size is about 1/2 of what it is on the map.
Scandinator (talk) 08:26, July 25, 2012 (UTC)
Hey RWG. As you might know, the decentralized German states plan on conquering Europe. BUT we can check them by formulating a plan between our nations. I propose that, once i unify Spain(either through warfare or marriage) and you unify France(once again through war or marriage) we could enter a dynastic union to create the dreaded Spance that wars were fought to prevent its creation out of fear of total dominance by them. Doing this will surely keep the Germans at bay and check their potential dominance. They will do it too, they even threatened on my page ha. And maybe later on we could include Italy and maybe even Great Britain. The point is to become colonial and later world powers.AP (talk) 04:20, July 27, 2012 (UTC)
It's PM II.
Another question who would control the new country of Spance? Surely it would be a hassle to do it at the same time. Maybe one of us chooses another nation and we'll help each other out? Or whatever's best. And the name won't be lame like Spance it'll be the United Kingdom of Iberia and France it will however be colloquially known as Spance or the UK.AP (talk) 00:19, July 28, 2012 (UTC)
France was not united for a long while. There are royal branches of the same house competing for the French throne. Scandinator (talk) 07:53, August 3, 2012 (UTC)
Spelling and Grammar
What on earth is wrong with you? If someone wants to fix the spelling and grammar on an article, they are always allowed to do so.
Don't speak like that to people. We've been over this before.
Lordganon (talk) 08:12, July 29, 2012 (UTC)
Re:Latin American Independence Concept
Thanks for asking me. Let me give a little insight:
I figured the Monroe Doctrine would be reason enough to aid any American independence wars. Not saying it's the most likely, but it makes the most sense to me.
While I may not have read much about French Trafalgar, British Waterloo, the scenario doesn't seem that plausible to me. There is a whole coast that Spain can send ships from, so I doubt that raiding a few ships can cause the meltdown of Spanish-Latin American communications and reason for independence. It's not as if the country was in total chaos.
I think yours may be the most plausible. If the Spanish will revolt after crises, invasion, and revolution, there's doubt they'll revolt when full control of their mother country is taken. I could see the French trying to help keep sovereignty over the region for a while, but it probably won't work.
Hope this helps, ChrisL123 (talk) 01:06, August 2, 2012 (UTC)
Vive la Revolution Reloaded
I know you're interested in expansion. I have the perfect palce for you to invade. It's also somewhere you'll win. Poland-Lithuania.


Syngraféas Enallaktikí̱ Istoría, Dic mihi lingua Anglorum. 01:14, August 10, 2012 (UTC)
Call to Arms!
Comrade, you have been selected by glorious Lord Scrawland.
Fowarded: We go after the world together! Yes, let's be imperialist!
We've already taken care of Poland. I can secure an alliance with France (easily) and also we can make an alliance with Scotland.
Then we have to take care of the new Scandinavia. Not exactly a threat, but I WANT THE BALTICS! So I take the Baltics and Sweden, you can have Denmark and the southern Swedish coast, and Norway and Sweden can become two new nations, powerless, war torn, etc etc. The two of us should be able to take care of that if we can get France in on the act. Maybe Scandinavian colonies for France.
Anyways, then I'll be busy in the East, trying to reach the Pacific Coast. Just a few years (six or seven should do it) and you can keep yourself busy with German states.
Then our three-part mega alliance can attack the HRE (what a pain in the rear.) You take the Germany states, I'll take parts of the East, France can have French regions, Burgundy, etc etc.
Then we can do other stuff, the Ottomans, China, Persia, Central Asia, and we can colonize the New World together! I'll start in Alaska, you in Florida or Canada, France in OTL.
Up to it? If yes forward to RWG.
--"Truth fears no questions..." 03:24, August 24, 2012 (UTC)
Imperialism II my good lad. --"Truth fears no questions..." 04:19, August 24, 2012 (UTC)
glorious allaince
were did you wat russia to attack ? octiman10 18:32, August 26, 2012 (UTC)
Help??
Hi, I'm new to map games and they seem pretty good. I was just wondering if it was possible to join 'Lobositz's Lamentable Loss' and if so, how does one go about it? Ozymandias2 (talk) 23:16, August 29, 2012 (UTC)
Lobositz's Lamentable Loss (Map Game)
In Lobositz's Lamentable Loss, how is the map altered when you take over more territory? Ozymandias2 (talk) 14:02, August 30, 2012 (UTC)
Avare
Hey RWG! I was wondering if you would be interested in an alliance with Germany and Argentina? In return, we will support you in conquering Columbia and Equador. Would you become fascist as well? If you don't want to become fascist, that's ok but people could you agree to to the alliances? :D

Imp (Say Hi?!) 19:17, September 3, 2012 (UTC)
Principia Moderni II Moderator
This is not a game where people just declare themselves moderator. Moderators are appointed based upon their performance on the last game, and I am afraid that your performance in the last game was rather implausible, resulted in you getting briefly banned, and involved you eventually quitting the game. Not the record that I would want for this game. We have enough moderators now, and if we need more, I will choose more committed and plausible members who can better show that they can follow and enforce the rules. LurkerLordB (Talk) 02:47, September 4, 2012 (UTC)
Well, there will be a mod event next year ending the war. No algorythm required. Scandinator (talk) 05:44, September 7, 2012 (UTC)
RE:TBYA Help
Well, I will be honest: South America is NOT my strong suit in history lol. However, I can see South America try to fight for their freedom, especially if its against the colonial rulers. Brazil would be independent of whatever the Spanish colonies do: after 1808, the Portuguese Royal Family traveled there and set up an independent Empire. If the POD is before 1808, they would still be a different case, but maybe not quite as much as the other colonies. It mostly depends on what you want to happen, and to what colonies, and how exactly it happens.
I would recommend talking to User:Katholico for all your South American questions: he's much better at it than I am. Lieut. Tbguy1992: Profile; Talk 22:59, September 5, 2012 (UTC)
TBYA Answer:
Hi Random. First of all, the french invasion of Spain in OTL was a key event, but was not the main reason for the Independence wars. Since many decades before the Latin Americans wanted independence or more autonomy from Spain. The french occupation give to the independentist groups the opportunity for doing it. Without invasion, still this groups would try to obtain the independence; is inevitable. However, this "fight" probably had been postponed many years (one decade or a little more), while the tensions between the government and the crillos would increase and the independentists would continue gaining more support for begin revolts. Regards! --Katholico (talk) 05:15, September 6, 2012 (UTC)
Probably around the mid 1820s. The firt revolts begin in Rio de la Plata, Chile, New Granada and New Spain, lead mostly by the same men like OTL, with victories and defeats for the Latin American revolutionaries, during many years. I mean, probably the spanish-french forces sent from Europe forced to them to retreat several times, but they hid and strike back later. Like OTL, the monarchist repression against the criollos eventually lead to the population to increase his support to the independentists, and probably after one decade of fight, the Latinamericans would gain the control of enough territory to force to the government to accept the independence of each country. I hope this serve you. Regards! --Katholico (talk) 04:09, September 7, 2012 (UTC)
Well, i think that if Napoleon want to make something in favour of criollos (and avoid the risks of revolts) the option are political reforms, to grant more autonomy to the colonies and more representation to the criollos. If not, soon or later the wars will begin. Regards! --Katholico (talk) 05:05, September 7, 2012 (UTC)
Not much more i can says :/ I still believe that they would win his independence, after a 10 years guerrilla-style war. But maybe the spanish-french government can retain part of Peru and other territories and later the new countries and the former metropolis can begin new trade relations... but well, depends of you. Regards! --Katholico (talk) 19:43, September 8, 2012 (UTC)
Peace?
I don't want to fight anymore, in PMII, I'm talking about. Let's make peace and end the Hundred Years War. I don't want to pull you out of the game or have you onto a disadvantadging position so early, and I trust so do you with me. So, let us sing a peace treaty. I¡ll give you Nromandy if you allow me to retain the island in the Channel (just as in OTL) and sign a peace truce for at least 15 years and a trade agreement, and any other traty if you want. Also, I'm planning to be the first in colonizing America and I think it could be better for us if we both form a commercial, military and diplomatic alliance and become the greates colonial empires at first, but I need youy support, as England has better chances to discover America than France has. Also I'll talk to Jaeden so, when he attacks Aragon, we can have it distributed between we four (Castille, portugal, England and France). What do you say? Let's forget old hostilities? --Galaguerra1 (talk) 19:56, September 7, 2012 (UTC)
I won't return Calais,s orry, but I have plans for that city. If you want, Yo can colonzie one of the civil-disarrayed zones of Ireland just inside muy own territories. I'm offering to yo the opportunity of have a future colonial emprie asured in America, I can't take more.
Done, but just countring this alst period of war, not the last 117 years, obviously.
Done. Also, if you want, we can arrange a royal marriage, I have a daughter and two sons yet "fresh" XD.
BTW, do you have any messenger, skype or any other way to contact you? I would like to talk to you about some plans I have. --Galaguerra1 (talk) 04:41, September 8, 2012 (UTC)
Nationalism doesn't exist at the time, so it's english, but, if it isn't, then it's burgundian by proximity.
Done.
Well, not everything its possible, at least not at once. In the future, may be.
I have no Facebook nor Twitter. If you have no other communication tools, I suppose I can create one.
--Galaguerra1 (talk) 05:03, September 8, 2012 (UTC)
Ok, then, please give me your Facebook adress and I'll create one tomorrow (now there are 2:17 PM in Argentina). Please tell me when I could find you (not necesarily in argentinan time zone, jsut say what country you are from and some time, or a time in UTC). --Galaguerra1 (talk) 05:18, September 8, 2012 (UTC)
Eloy Vera? Well, that's not me, I have no Facebook. Just give me your adress so I find you. --Galaguerra1 (talk) 18:26, September 8, 2012 (UTC)
Ok, done D_D --Galaguerra1 (talk) 18:53, September 8, 2012 (UTC)
Ok, I don't find you :P Couldn't you give me a link or something like that? Sorry, I'm new at this.---Galaguerra1 (talk) 19:01, September 8, 2012 (UTC)
Ok, done, thank you very much. --Galaguerra1 (talk) 23:08, September 8, 2012 (UTC)
China vs. Japan LLL
hey random there is no need for a algerythem in this war, Lurker, and I planned this conflict. check my talkpage. we will be playing it out for a series of future events and it will be lasting several years. Nkbeeching
LLL
please tell me what you think of the circumstances of eithopia and the ashanti empire getting involved in the war of china and japan i find it highly impossible if it it were one of the european powers i coulsd understand but not the newly arising african states, on logistical, political, and cultural grounds of those nations. ayleast for a few more decades i find it impossible.but this is only my opinion. Nkbeeching
TBYA
I am not aware of doing anything on your pages other than spell check. The best I can find is I spelled checked
on the Big Three (TBYA) and France (TBYA). You un-did the one spelling change on France and "founding" is once
again miss-spelled "foudning."
So please let me know what I did wrong, so I can understand what I did. Or what foudning means.
Iwaschris (talk) 02:26, September 17, 2012 (UTC)
The box that you removed was added BY YOU on August 11 at 4:59. All I did was fix the one word. Check your history!
Iwaschris (talk) 04:24, September 17, 2012 (UTC)
Tis my brilliant mind at work again. The Allies (which includes YOU and CHARLES DE GAULLE'S FRANCE) are signing a treaty with Japan, Germany, and Turkey which basically means we all gang up on Italy, the Soviet Union, and the South American Axis and every other Axis country. You're France, right? You get Belgium, Luxembourg, and Northern Italy for their treacheries.


Syngraféas Enallaktikí̱ Istoría, Dic mihi lingua Anglorum. 19:14, September 22, 2012 (UTC)
Hahaha lol I can't believe you noticed that... Ya I'll post but I have to think first. Thanks for the heads up.
Le Two Years
Hey RWG! Quite a lot, and not much really. We are into the third incarnation of the PM series, while Doomsday seems to have died down. There are other, new collective TLs now out there though so if you hang around chat you should find out which ones they are and you can see if they interest you!
I got promoted to Brass - SO BOW DOWN TO MEH! Only kidding though, about the bow down to me thing.
So what's been happening and how is life? :) 

Imp
(Say Hi?!)
13:21, July 27, 2014 (UTC)
Community content is available under
CC-BY-SA
unless otherwise noted.