RE: Undoing Categories
- Take away categores, when you edit the page, there is a categories tap on the top tool bar, select from a menu on the right side.
Take a look at this picture, go to the red circle.
Stepintime (talk) 15:59, July 26, 2017 (UTC)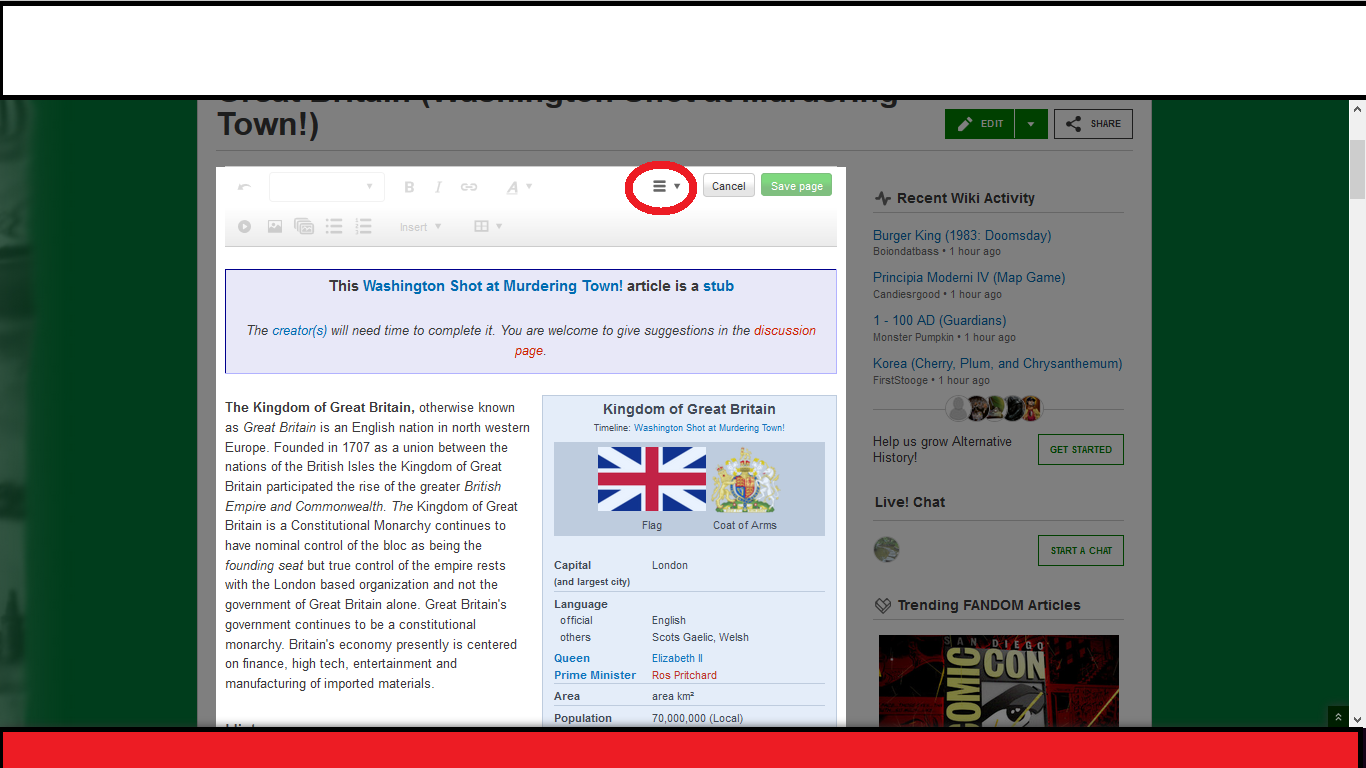 Thank you! By the way, do you know where are the pages with the images of country maps? I found the pages with flags, but not maps. (JMC Red Dwarf (talk) 19:35, July 26, 2017 (UTC))
Re:Flag
I removed your flags because you uploaded/named them incorrectly. Both files came straight from Wikipedia. You did not upload them in their original format and you renamed them. Please remember to properly upload, name, and license them in the future. -- NuclearVacuum
20:06, July 27, 2017 (UTC)
I can somewhat understand the deletion of the flag of Japanese Communist Party, but why was the flag of the Communist Party of the Russian Federation deleted? (JMC Red Dwarf (talk) 21:56, July 27, 2017 (UTC))
SVG is a separate file type (different from PNG or JPG). You can't change the file type using the upload manager here (hence why you couldn't change the name). You need to upload the file as an SVG file.
I removed the CPRF flag because already uploaded it for you (please use it). In the future, do not re-upload files that were deleted. -- 

Nuclear

Vacuum

19:07, July 28, 2017 (UTC)
RE: Upload Delete
I didnt know your upload had been deleted, I dont remember messing with your Japan article and if I did it was a mistake.
On this wiki we have an images policly to prevent duplications, most likely yours was a duplication of a image already on this website
But usually the user Nuclear Vacume notifies you in this case and gives you a warming.
If that is not the case than I am not sure.
Stepintime (talk) 18:24, July 28, 2017 (UTC)
Pictures
As you add to your articles I reccomend adding a picture for each section, to make your story more visiual, if you like I would be happy to look up and add/modify some pictures for you to represent article content.Stepintime (talk) 19:04, August 15, 2017 (UTC)
If I find appropriate images, I'll certainly add them. (JMC Red Dwarf (talk) 19:15, August 15, 2017 (UTC))
Re:Assistance
I just uploaded the file you requested. I had no issues with it. Perhaps it was just a fluke on your end, or perhaps a bug on Wikia's behalf. -- NuclearVacuum
18:15, September 19, 2017 (UTC)
Thanks. The reason I asked was because this was a repeated problem I had dealt with. Most notably when I tried to upload images of the flags of the Russian and Japanese Communist Parties. Hopefully that's over now. (JMC Red Dwarf (talk) 02:16, September 20, 2017 (UTC))
I just tried to upload File:Flag of the Philippines (1919-1936).svg from Wikipedia and got the same message. What happened? (JMC Red Dwarf (talk) 03:21, September 20, 2017 (UTC))
Leaving
I am sorry to see you go, is there any particular reason why you wish to leave? Could anything had been better?
Since you have left, I may assume command of your timeline to clean up and tweak, but if you return you can certainly have it
Stepintime (talk) 19:01, January 3, 2018 (UTC)
I'm fine with you taking full control of my timeline. I'm allowing you to assume full command over it. To answer your question, though, there isn't any particular reason I'm leaving. I've just lost interest in the project, and don't have the free time I thought I did. (JMC Red Dwarf (talk) 09:49, January 6, 2018 (UTC))