Hello and welcome to the Alternate History Wiki!

We are a community for creating fictional alternative histories. We hope you will feel at home here and wish you good luck contributing to our ever-growing collection of timelines.

Please start by reading our Guide to Newcomers. It contains links to the important sections of the wiki.
If you're new to wikis in general, see How to Make Articles.
If you're ready to create an article, see Conventions in Use in this Wiki. It explains how to title and categorize your pages, what kinds of content are allowed, and other rules of the site.

Some other helpful reference pages:

Some general tips:

This wiki is for alternate history, not future timelines. What you write should take place before 2021.
All articles on this wiki take the following format: Name of article (Name of Timeline). This helps us know which pages belong together.
To sign your posts on talk pages, use ~~~~ (four tildes). This will insert your name and timestamp.
You can experiment in the Sandbox.

Regards, NuclearVacuum (talk) 17:19, March 14, 2014 (UTC)
For the Motherland
The game has startted! you may post now. User:Likercat (talk) 09:30, September 13, 2014 (UTC)
Congress of Vienna
Feel free to do so. Regards, Laptop Zombie 12:10, October 28, 2014 (UTC)
A Question of Romanis Bellum
http://althistory.wikia.com/wiki/Thread:160790
For ye magesty,
"Albo-greek riots"
Hello Yes I will not allow you to take independence as I see no ally that will help you... Sorry this is how it gona be, I already Marched troops into your Capital And my Navy is in your ports, This is not gona be easy to make independence sorry..                              

Can We all agree on this?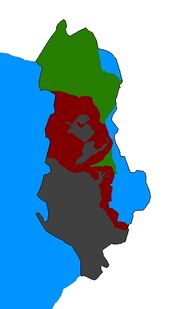 Blue: Controled Area Of Ottomans
Green: Effected area of Albo Riots
Red: Left Out of control by Ottomans (Ottomans Retreat)
Grey: Controled fully By Albania
You need an algo to prove that you did, you just can't say you defeated a nation... Saturn (Talk/Blog) 18:04, November 11, 2014 (UTC)
Forgot about that! :3  

SergiW

(Talk to Sergi!)
Attacked on Montenegro
You cannot make an algo for a war you have not declared.
You do not have a valid reason to attack, as the Ottomans have yet to agree to the offer, you can join that alliance, and with foreign backup (you have various and numerous allies) you can protect yourself anyway. It's not rational to attack Montenegro,  as many nations are already allies of Montenegro anyway, and even great powers are interested in keeping Montenegro independent from both Albania and th Ottomans.
So don't do that. Albania has never, ever, OTL or ATL, has hostilities with Montenegro.  So stop.
Regards, Laptop Zombie 16:15, November 15, 2014 (UTC)
If you insist on attacking Montenegro,  Northern Italy will support the Montenegrin with 15,000 army forces (we currently have 50,000). Add us to the algo. Regards, Laptop Zombie 00:21, November 16, 2014 (UTC)
The Ottomans offered vassalization, which means the Ottomans have control over the Montenegrin government,  but this was rejected.
Montenegro offered the alliance,  and the Ottomans have yet to respond. You mmisunderstood the situation. Regards, Laptop Zombie 01:12, November 16, 2014 (UTC)
With such powerful allies (Russia and Spain) you would 99% not be taken over by the Ottomans (whose powers are declining) + Montenegro + Northern Italy. Don't be fearful. Especially when VictorMolinaro offered to be the Greeks and revolt.
As per the peace treaty, you cannot support the Greeks. But either way the Ottomans will be weakened, so you should not be that fearful. 01:57, November 16, 2014 (UTC)

How exactly are the Nehilaw contributing to the Mexican front? Now I know you have connections with France and everything, but I doubt you really need to be in the war as I don't see you gaining anything from it.
As a friendly suggestion, I think you should consider backing out.
Cheers, SkyGreen24(P,Q) 11:40, January 7, 2015 (UTC)
Diversa Pars
It's your turn in the Diversa Pars map game, just as a reminder.

Upvoteanthology (Talk | Sandbox)

Quietly into the Night
The Game has started please post and enjoy the game The Wings of Freedom #FP
(Talk to Me)
Don Republic
Myself and another had it. He's long gone, so it falls to me.
Answer is no.
Lordganon (talk) 11:47, January 28, 2015 (UTC)
Looking to adopt?
Hello, Krasnoyarsk.  I am largely inactive, but still hold the rank of "Brass."  I saw your request concerning adopting a "nation."   Perhaps you would like to adopt the existing state of Georgia (formerly of the CSA).  As it stands now it is a state in a loose connection with the former states of the CSA.
Read the article on the 1983DD version of the CSA, and consider the course of events as they would have unfolded since the dissolving of CSA in 1999.  Look for local leadership drawn from NW Georgia in OTL for inspiration.  I am presently caretaker of that article. Again that is the state of Georgia (Rome).  If you are interested, it is yours.  SouthWriter (talk) 17:20, February 8, 2015 (UTC)
I believe you have misjudged the dynamics of politics of north Georgia in the mid-80's.  There would not have been a merging of the two major parties, and if they were, it probably would be the Georgia Republican - not Republic - Party.  To name it the "Republic" party would be declaring the state an independent nation, which it would only become (to an extent) after the dissolution of the CSA in 1999.
Second, Zell Miller, as Lt. Governor, would have only been governor for a little over a year -- and acting governor of an interim government at that -- and so would be fully eligible to be governor again.  And as for Maddux, the constitution did not prohibit a former governor from being elected to the same office later.  In fact he did run again in 1990 in OTL.  I fully expect that the race might have been between Miller and Maddux -- IF Maddux had escaped the attack on Atlanta, near which he lived and worked.
Finally, concerning Ronald "Bo" Ginn, he started a lobbying firm in Washington, DC, in 1983, so he most likely would have been in DC when the bombs fell, since the Congress was in session.  It is highly unlikely that he would have made it back to Rome by 1985 if he had survived somehow. 
Thank you for bravely going where no one has dared go before.  However, I appreciate your attempts to keep the conservative flavor in the new state of Georgia.  I just don't think it would have been quite as united in a time when socialism would hold sway by necessity.  You mention the "more liberal" southern Georgia.  That might well be, among the black community, but that is a moot point, for they were incorporated in Neonotia.  The Georgia (Rome) article clearly states that in was a state made up of survivors of the region near northwest Georgia. SouthWriter (talk) 03:35, February 14, 2015 (UTC)
AVAR
Venezuela agrees to Guatamala's trade deal.The River Nile-2 (talk) 21:06, February 17, 2015 (UTC)
Venezuela Dip' to Guatamala: We will sell 25 old Colt M1873 revolvers we got of the USA years ago to Guatamala.
Boralia as independent
Hi, my name's Nathan. I'm the player for New Austria in PMIII, and so I'm the guy who gave you those buffalo some turns earlier. 
Hypothetically, there may come a day when the people in Boralia would wish to throw off the influences of Europe and forge a future of independance. When that time comes, I wonder if people like Algonquia would be interested in joinging such an effort, and thus create a joint system of protection similar to the OTL Monroe Doctrine. 
Not in the near future, obviously, but possibly an idea to shelve for future thought. Nathan1123 (talk) 21:49, February 21, 2015 (UTC)
I completely agree; however, I may be accidently going to war against France anyway :P Nathan1123 (talk) 04:06, February 26, 2015 (UTC)
I'm absolutely flabbergasted that Crim has suddenly invaded Algonquia. Were you aware of this at all? I'm definitely going to send my full support to protect the Nehilaw. Nathan1123 (talk) 03:14, March 17, 2015 (UTC)
I was just reexamining the algorithm, and I think if we can get Arcadia to help us we can partition all of Scandinavia's American colonies within 3-4 years. Such a counter-strike would make sense in this situation in my mind. Nathan1123 (talk) 23:11, March 23, 2015 (UTC)
Now I'm confused. Who won the war? It seems that Scandinavia won, it's just going to take until 1830 to claim victory. Nathan1123 (talk) 21:12, March 25, 2015 (UTC)
When is the earliest time you can meet me on the chat? Thanks. Nathan1123 (talk) 01:13, May 23, 2015 (UTC)
If you want to want to take the Scandinavian colonies at any time, you better do it now.
BTW, are you going to make a page for the peace conference with Hamburg or should I? Nathan1123 (talk) 13:44, May 23, 2015 (UTC)
I'm on chat now Nathan1123 (talk) 13:44, May 26, 2015 (UTC)
Treaty of Amiens reminder
This is a reminder the the treaty of Amiens map game starts on Saturday the 16th of May at 22:00 UTC (or 17:00 EST). Dreamcaster1 (talk) 08:27, May 15, 2015 (UTC)
Re: PMIII things
I would be more than happy to take the land, so long as it won't adversely affect Oldenburg's relationship with other countries in the area. Maybe send me a diplomatic message in-game? Thanks! Callumthered (talk) 00:13, May 18, 2015 (UTC)
Treaty of Amiens is back
Treaty of Amiens is back on under new management. Please posts your turns again if you wish to keep playing Erizium (talk)
Treaty of Amiens
Hello, Krasnoyarsk! I've noticed that you have not been very active on Treaty of Amiens. Please do return to the game — we would really appreciate it if you came back and helped its survival! Thank you, and we hope to see you back at ToA soon! —The Tim Man (IH • GC • TSW • AH • Contribs) 02:42, June 12, 2015 (UTC)
Second Duplication
You have recently uploaded a second duplication onto this site.
You have previously been warned about adding duplications. Since it has been over a year since your last offense, this message will simply be a second warning and will not be counted as a second strike. Please try not to let this happen again. Thank you. -- NuclearVacuum
01:11, June 29, 2015 (UTC)
Algos
Hey Kras. The people in Global War say that you have the algo results from World War 2. Could you kindly post them or say their results? Thanks. Erizium (talk)
Third Duplication (No Block)
You have now uploaded a third duplication onto this site.
This duplicate will be counted as a second strike (as mentioned to you months ago). A fourth duplication will now result in the temporary suspension of your account. Please try not to let this happen again. If you require any help, I'm more than happy to assist. -- NuclearVacuum
01:02, October 2, 2015 (UTC)
Mesopotamia
I was actually thinking about selling you that land a lot sooner but my nation has been caught up in a lot of wars lately and, just between you and me, I'd like to leave the Middle-East as fast as I can. But anyways, how much will you be willing to pay for the area? OMGdidiwin
12:56, October 9, 2015 (UTC)
I think 30 million is a good price, especially since it is prime land. I'll sell it to you in today's turn. OMGdidiwin
14:39, October 9, 2015 (UTC)
Near Eastern Union (Dawn of War)
Hi,
I've noticed you're playing as Kurdistan, and I was wondering if you'd like to join a possible political and economic union of mine, the Near Eastern Union. I'm playing as Turkey, as you probably know due to our alliance and trade deals, and I was planning on brining several of our neighbors under this possible organization to promote anti-imperialism, democracy, modernity, and essentially, bring us to the world stage.
I also want the NEU to be welcoming to those governments who are wary of the militaristic European Union and the autarky that is the Southern Defense Pact. I am a member of the SDP and an observer of the EU, thus I get a first hand look at the goings on of those organization, so I have a bit of experience in organizing a econo-political union.
Are you interested in the NEU? If so, message me OR post on the Dawn of War page saying you accept the invitation I sent out in 1953.5.
Thanks,
Cookiedamage (talk) 19:12, October 13, 2015 (UTC)
Presidential Election Game
Hello!
You're receiving this message because you either register in the most recent polls or because you're a Republican in the game (no polls out for them). I recognize that the game hasn't moved very quickly or as much as most players would like. I am working on that with Vatonica, since I have a lot of ideas but it's his game so I can't change anything on my own unless I become a mod. That being said, are you still interested? This is a unique game and has the ability to be very fun with the right adjustments! For now, I am putting on an unsanctioned candidates' forum that will either be today or tomorrow, where candidates can come and discuss their ideas/answer questions. Would you be interested in that? Let me know if you are! I'm sure this will be a fun idea for the game. If you yourself have any ideas, please let me know! AP (talk)
PMIV
Now that you agreed to become my vassal, anything you need, just tell me. Wrto12 (talk) 19:07, July 17, 2016 (UTC)
PMIV
Just to tell you I have left a response to your offer last year. Basically, I must seek approval from KK to marry one of your princesses as you are a Japanese protectorate and thus under their suzerainty (they can interfere with your foreign relations, even if you're internally autonomous). – † ⌒⌒⌒\(;ᄋ;\)三(ノ>ᄉ<)ノ ~ ("니가먼저키스해!")
Rise of the Arabs
Kras? You do realise I was already sending aid before you posted your turn, correct? Regardless, I am sending in extra aid now. Through Stars We Rise. (Welcome to the Universe). 23:12, January 6, 2017 (UTC)
Pm iv question
Hello ,i come to ask since you joined pm iv as a tribe in my area
if you could give a map of near where you are located exactly and some basic information about your nation
Greetings  Vinnyus Proletariërs aller landen, Verenig u!
14:26, August 1, 2017 (UTC)
​Discord
hey, here is a link to the althist Discord, DM me when your on please.
the great lord of swift birds (talk) 00:07, August 8, 2017 (UTC)
PM4 Pantagonia
Hey Kras, I am so happy to see you back in playing map games as PM4!
I just thought I'd stop in and make sure that you knew something about PM4 Pantagonia that is somewhat near and dear to my heart, just in case you didn't know already. 
Basically, Morocco while it was a vassal of the Caliphate colonized the Pantagonian peninsula throughout the 17th century, creating a sizable Muslim berber population there. The originaly Arauacian people were reduced in population via diseases. So in theory, there should be a sizable Muslim berber minority within your nation, which should be interesting if you incorporated that in your nations history somehow. 
Anyway, keep up the good work! Oh, I didn't mean to push that button! † Oh, well leave a message I guess 03:34, June 9, 2018 (UTC)
Adoption
I would like to adopt the page called Georgia (Rome) (1983: Doomsday). Thanks Gerriandour (talk) 06:29, 29 December 2020 (UTC)
Community content is available under
CC-BY-SA
unless otherwise noted.