Hello and welcome to the Alternate History Wiki!

The Alternate History Wiki is a project for all communities concerned with creating fictional alternative histories. We hope you will feel at home here and wish you good luck contributing to our ever growing collection of alternative histories.

If you have no experience in editing wikis it is advisable that you first read our guide on making articles.
As an introduction to the phenomenon of Alternative History you can read our pages on Alternative History, Online Alternative History as well as Wikipedias article on Alternative History.
A list of all AltHists alphabetically sorted can be found here, a list sorted by Point of Divergence can be found here.
To sign your posts on talk pages use ~~~~ (four tildes). This will insert your name and timestamp. To insert just your name, type ~~~ (three tildes).
If you are in need of ideas to base your AltHist you might consider looking at our ideas page.
For an explanation of frequently used terminology please visit this page.
You can experiment in the sandbox.
All articles on this wiki take the following fomat: Name of article (Name of AltHist). This rule does not apply to the main article of your AltHist wich you can simply give the name of your AltHist.
For links to other Alternative History related sites visit our links page.

Regards, -- Katholico (Talk) 22:33, September 7, 2011
Venice vs. Hungary
Sorry for declaring war on you. anywayy, according to the algorythm, you would have right to almost half of the Hungarian territory and additional concessions could be made via treaty.and i'm trying to make a treaty here.in the map, the pink part is the territory which would be given to you.--Collie Kaltenbrunner 22:23, September 9, 2011 (UTC)
I am afraid I will have to take land, only in the Adriatic due to Furioso's lack of mercy and my semi-pissedness at such an early war. But no hard feelings, war is war and it was a valiant try with ok motives. so here are my demands: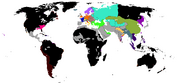 the Adriatic coastal Territory
and one south american colony
Kunarian 23:50, September 9, 2011 (UTC)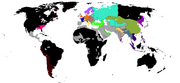 A quick revision of demands, to include more Venetian areas.
With the correction of the algorythm, you would have right to up to 1181 px.the third proposal probably exceeds that. So, I think that the second proposal would be okay, since i need a coastline to have a colony.something like; all Hungarian coastline up to Ragusa (OTL Dubrovnik).or to Montenegro.However, Hungary is not willing to give one entire colony, but we can split Öböl, like the northern part is yours and the southern is mine, with the line of division being near OTL Salvador, in the northern direction.i know that the southern would give you more territory, but the fact that the northern is more sparsely inhabitated (with Hungarians) and you could move your colonists to there without much confrontations, i am looking forward to unite the colonies of Uruguay and Öböl.Hungary also offers a mutual non-aggression pact.--Collie Kaltenbrunner 07:37, September 10, 2011 (UTC)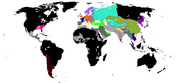 I approve of this, its generous and kind. I did find it strange how I managed to in one war take more from you than any other power. I like the strip of land I have been given in the adriatic and I like the colony. By the way I also accept the mutual non-aggression pact. Kunarian 10:11, September 10, 2011 (UTC)
One third of all the Army. the Prussian uprising led to half of the army being moved to Poland and one third of it was relocated to the Venician front, but Béla's paranoia and ambitions led him to keep most of his troops in the borders with Russia, which claims Warsaw since they made Lithuania a vassal state, as well as in the borders with Wallachia and Moldavia, which despite being pretty harmless, he wanted to conquer in the future to avoid any risk of being invaded.in my accounts, 31% of the Hungarian army was in alert to attack Venice.most of the warships were either in OTL Albania or in the Adriatic. i think that Hungary lost roughly one third of the navy (all of it was available, but just the warships.the merchant ships weren't counted, but most had to got to the Albanian ports after they were freed, but i think that you captured some of them in the time that you controlled the whole coastline.) and one tenth of the army (one third of it was sent).--Collie Kaltenbrunner 13:14, September 10, 2011 (UTC)
András accepts the offer. i suggest that you give support through resources and put some units of your army at our disposal.Now tell me, you think that you could make a colony in Greenland work?--Collie Kaltenbrunner 16:18, September 11, 2011 (UTC)
These are the rules for colonial expansion with this union in the Holy Roman Empire-style are that;
Don't matter how many states your confederation has, your expansion is only sped up by other colonies and vassals.
The states on your confederation doesn't count as vassals.
So, you have three states on your Confederation (Modena and Mantova), aside of Venice.then, you only would have right to 1550 sq km-maximum if these two were vassals, which is not the case.--Collie Kaltenbrunner 21:41, September 16, 2011 (UTC)
Can you please let me post the map?now that we both posted maps, mine is viewing only in display, but the full resolution is yours.this makes the map extremely confusing.when i post the map, if i miss something, let me know. --Collie Kaltenbrunner 14:15, September 18, 2011 (UTC)
Sorry, i'm remembering of other users in the time of posting the map. last years, somebody always complains over a mistake that i have made and even some that i did not made. (P.S. - i had to post this on your talkpage to keep the game's main page presentable)--Collie Kaltenbrunner 21:56, September 23, 2011 (UTC)
Principia Moderni (Possible Venitian Expansion Offer)
Dear Venice. We have been watching the rapid Russian expansion and are incredibily concerned. We send an offer to join arms in the period between 1673 to 1682 where we will reveal ourselves. We are currently not an ally of yours but will extend an alliance shortly before the start of the war. Venice has the chance to gain huge advantages in land. We are also approaching the nations of Vietnam, Joeson, China (to hit Russia in the east) and Naples and Sweden (to help you block Hungary, France and Anglo-Germany if they get involved). You have a vast territory open for possible expansion if you take this deal. Respond on this talk page if you are interested.
I am interested however Venice and Russia have always been allies, while Russia did not directly assist us, we remain on very good terms, so for now it is no. I will tell you if anything changes. Kunarian 09:23, September 24, 2011 (UTC)
You do not have to directly fight Russia. Just hidering an ally or supporting the main invasions is fine.
I will continue to observe for now, if cetain events come to be then I may support however direct invasion is out of the picture. Kunarian 12:02, September 24, 2011 (UTC)
Will it be possible?
Originally i would stay out of this Vietnamese-Venetian War, but i am thinking of only economically support Vietnam in trade for the Irish colony in Újfundlandi. (no mainland and colony armies except for Újfundlandi will get involved unless you invade).and in fact, i highly doubt that they still have full control over their colony.is possible to do this and keep peace around Hungary's borders?--Collie Kaltenbrunner 20:30, September 24, 2011 (UTC)
I can simply swap over colonies and give them some Venetian land if I win, so it would be preferable if you supported me. Considering that I'm pretty sure its viable that Ireland would accept having a simple resource rich south american colony rather than the newfoundland one. Kunarian 20:38, September 24, 2011 (UTC)
Vietnam
Well, to Naples this looks like Venice is just attacking Vietnam with no provocation. Vietnam is also very popular among Naples for bringing them out of the recession, so chances are that they will not help Venice. LurkerLordB 22:19, September 24, 2011 (UTC)
Understood, will make do Kunarian 22:20, September 24, 2011 (UTC)
Spain
I will offer all I can to help you. I have been building up a massive army for about 10 turns nows. I am well off money wise and will help you defend your land and fight with you if you want me to. Just let me know.
Your Ally Spain
Eldwolf 14:16, September 26, 2011 (UTC)
Proclamations
The Savoy Proclamation
Venice officially claims the south half of Savoy for Venice. It also states that the claim is non-negotiable. The claim may be negotiated with Savoy or may be enforced through war.
Venice would like to work with France to enforce its claim and after Savoy is occcupied it can be divided into French and Venetian claims.
The Italian Proclamation

Venice officially claims the Italian states of Florence, Siena and Asli for Venice. It also states that the claim is non-negotiable. The claim may only be negotiated with the states however the claim may be defended by force.
The Colonial Proclamation
Venice officially claims the islands of Bahamas for Venice. It also states that the claim is partially negotiable. The claim may be negotiated with other colonial nations however the claim may be defended by force.
This claim may be changed soon to only the five currently colonised islands.
Your claims are starting to become ridiculous. How do you conquer 3 nations in one turn, with almost no resistance mentioned, as well as expand your Bahaman colony in that same turn? And you have increased your size by almost 6 times your original size as well since you instantly revolted and overthrew an occupying force. Needless to say, Naples refuses to recognize any of your claims. LurkerLordB 00:15, September 27, 2011 (UTC)
These are only claims, they have not been conquered yet, simply annnounced that they are of great interest to Venice. Kunarian 06:50, September 27, 2011 (UTC)
Ottoman War
I need support to get more territory from them (i would wait more 7 years, but then i realized that somebody would start a war before, so i had to go for mine.) so, let's make a according; I can't give the Peloponnesus.Hungary has interests of making a Greek vassal extanding from their border to Constantinople (although it will accept bigger or smaller things, but not lesser than proper Greece.).it would be quite inspired on the Byzantine Empire, and the Peloponnesus is essential for them.You can stay with Cyprus, Hungary has no interest on it, since it's too far away.I also want the island of Rhodes, and we need a agreement about Crete, since Hungary wants the island (how about half of the island for each?). you can definitely stay with the rest of your claims, even the Ionian islands.and i'm willing to give you most of the Aegean sea islands.(the ones away from OTL Turkey's coast) So, can i count in your support? --Collie Kaltenbrunner 16:15, September 27, 2011 (UTC)
Both algorythms finished, we have 55,9 percent of the Ottoman Empire. we successfully overthrew the empire, according to it.now, how will we divide it?i am already making the map of 1680, and i'm adding to my gains the Mediterranean coast of the Ottoman Empire.now, in your algorythm you got 8629 pixels.--Collie Kaltenbrunner 07:40, September 29, 2011 (UTC)
Papal state
Sorry that I may seem confrontational due to jumping in right after you to claim that the new Pope is closer to Naples and is probably going to fall under Naples' protectorate. I had been planning this ever since Altair went inactive, which was why I had jumped to question when he would be removed from the player list. It was not a response to you, if anyone had acted to attempt to control the new Pope I would have acted. I have provided a good RP reason I hope, as I have been continually stating that Naples donates ridiculous amounts of money to the Catholic Church, so it makes sense they would have more influence than the state that recently broke away from them and was uniting other Italian states out of opposition to the old pope. I am dropping the challenge to you owning Savoy and those two little states whose names I can never remember, hopefully that will be good enough compensation.LurkerLordB 21:47, September 28, 2011 (UTC)
I planned to try and unite with the Papal States ending tensions, btw you must be able to see that with Genoa and Venice being the big players, Papal being Venices enemy and Naples being Genoas and the whole union being based on resisting the Papals States expansion that tensions will only leap forwards. I understand your RP reason and it is good and well played out. Kunarian 21:52, September 28, 2011 (UTC)
This will probably build more tension for the Cuban/Ricasolian/Bahaman war. LurkerLordB 23:04, September 28, 2011 (UTC)
Ottoman War Part II
Both algorythms finished, we have 55,9 percent of the Ottoman Empire. we successfully overthrew the empire, according to it.now, how will we divide it?i am already making the map of 1680, and i'm adding to my gains the Mediterranean coast of the Ottoman Empire.now, in your algorythm you got 8629 pixels.--Collie Kaltenbrunner 07:40, September 29, 2011 (UTC)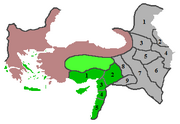 This is my idea, you get a huge area of land to establish a byzantine state and also Hungarian lands, I get islands and crusader states then the east is broken into several small kingdoms. Btw heres the key : Venetian Green, 1: Principality of Amernian Cilicia, 2: County of Edessa, 3: Principality of Antioch, 4: County of Tripoli, 5: Kingdom of Jerusalem. Neutral Grey, 1: Astrakhan, 2: Daghestan, 3: Georgia, 4: Shirvan, 5: Karabagh, 6: Azerbijan, 7: Shahrzur, 8: Kurdistan, 9: New Mesopotamia. Also the Ottoman empire still exists its just weak. Btw I suggest creating new states as doing so encourages people to play and is more realistic, for instance, we wouldn't be able to control all of the east and so its much easier to make them small and divided. note: the lines showing the seperate crusader states will not be included in the final map.
Kunarian
19:00, September 29, 2011 (UTC)
Is the Ottoman Remnants the bright green thing in the middle? l LurkerLordB 19:08, September 29, 2011 (UTC)
Yes, that area is logical because there are mountains in a circle like area, we can say that lots of Ottoman loyal citizens moved there after the war closed, to reduce resistance in our lands. Kunarian 19:22, September 29, 2011 (UTC)
I also had two ideas.i won't achieve to control all Balkans, so i will create the Duchy of Dobruja and the Kingdom of Bulgaria as satellite states.it also will be the Greek kingdom.but, from where did tyou got this idea of New mesopotamia?--Collie Kaltenbrunner 19:52, September 29, 2011 (UTC)
Change it to Assyria, new mesopotamia is too cheesy and I found out their last name was Assyria. Mesopotamia is just the name of the area. Kunarian 19:59, September 29, 2011 (UTC)
How i'm gonna get all that territory extending to Armenia if in my editing, which is pretty similar to yours, there are only 986 pixels left to use?--Collie Kaltenbrunner 20:11, September 29, 2011 (UTC)
My assumption was that if you win the war, then their land is your playground, you can even annex them completely. However if you cannot reach it then make the territory up there thinner and give the areas you don't get to Georgia. Kunarian 20:15, September 29, 2011 (UTC)
Nowe, in what color should i put the Crusader states? if i put in Venetian green and with their borders, they will look like vassal states or colonies, because of their distances.if they will be subordinate to you, but not vassals, i should put them in light green.--Collie Kaltenbrunner 20:45, September 29, 2011 (UTC)
they are subordinate but not vassals. Kunarian 21:20, September 29, 2011 (UTC)
So it will be light green.--Collie Kaltenbrunner 21:44, September 29, 2011 (UTC)
The Russians want in on the ottomans too. My only goal is the Caucasus mountains, or areas 1, 2, 3, and 4 on the neutral grey if possible mabe Abhaszia if hungary doewsn mind.LxCaucassus 14:17, October 2, 2011 (UTC)
You would have to wage war against them now, I have already RPed that they have broken away and they are not going to be pro russian, I can gaurantee that if anything ottoman has worn off on them its that. Kunarian 14:59, October 2, 2011 (UTC)
Those nations are so small, Russia could probably defeat them easily. LurkerLordB 17:34, October 2, 2011 (UTC)
I would like to see you try with Venice defending them. Kunarian 17:38, October 2, 2011 (UTC)
Venice couldn't protect them, at this rate their resources and manpower would be drained after being involved in so many wars, as well as having to reorganize the Crusader states. Venice can gain nothing from going to war over those little states. LurkerLordB 17:45, October 2, 2011 (UTC)
Venice can and still will go to war over those states beside the Crusader states are already practically organised due to the current Doge being an administration wizard. Besides this game isn't just about conquering every state that you get a chance to. Venice will benefit by having stopped another nation from benefitting. Kunarian 17:50, October 2, 2011 (UTC)
You cannot just conquer your way across the world Kunarian. It is unrealistic to set up like 10 new vassals and still be able to wage several wars against powerful nations at once. Saying "the Doge is an administation wizard, he can create whole new nations out of nothing in a couple years" is unrealistic to an extreme. LurkerLordB 22:23, October 2, 2011 (UTC)
The other nations are not under my control they are simply going to be forced into christianity and be protectorates under Venice (as in protected by Venice nothing further), I am planning to slow down after the Bahamas/Cuban war is over but there is always another war round the corner it seems. Kunarian 22:27, October 2, 2011 (UTC)
But you think that the Crusader states would be the only ones that the Venetians would directly influence, the others would just be various ethnic groups previously oppressed under the Ottomans that broke away when the Ottomans lost their power. Only the ones in dark green on the map would have any Venetian control over. LurkerLordB 22:30, October 2, 2011 (UTC)
In the end my plan was for the other nations to become Christian kingdoms that had their own agendas and also they were a way to get more people to join. Invade if you want but I will help them, I mean somebody needs to be anti-imperialism here or else the world will end up being 3 superstates called Oceania, Eurasia and Eastasia. Kunarian 22:34, October 2, 2011 (UTC)
Anti-Imperialist in 1674? The only people against empires then were the ones being invaded. There are many nations if Africa, and Asia, that are open, and with the new ones, there will still be plenty of slots without having to declare an unrealistic war against people because they want to take over a couple tiny nations. LurkerLordB 22:51, October 2, 2011 (UTC)
Anti-Imperialism has always been present in Empires, if they do try to give resistance to other empires then how can they assure their position in the future. The spanish war of succession is a well known example of Empires being anti-imperialistic. Kunarian 22:54, October 2, 2011 (UTC)
I just don't think that this war would be realistic to enter. The Caucasus area provides no great resource to Russia that would be worth entering yet another war to prevent them from getting. Not counting all the new nations from this war they could join as, there are still about 40 or so open nations, so there is not danger of slots being filled up. Looking at maps of the imperialist age, you will see that the number of nations was vastly reduced. As long as there are more than three players, there probably will be more than three nations. LurkerLordB 22:59, October 2, 2011 (UTC)
true however it could provide you with a trampoline to jump into other lands and will give you more population to be a malleable force in the future in economics or military. There is no way to define, but as I said if you wish to invade then go ahead, I have plans for both whether my protectorate wins or loses. And yes I get your point there was barely any nations in imperial times, however in OTL 1701 europe there were a significantly larger amount of nations than there are in our game. Kunarian 23:08, October 2, 2011 (UTC)
OK, this is what I was thinking: Russia gains All the other parts of the Empire+ Abkhazia because...well Its bordetring Russia, Russia gets the Remainig 40% of territory to do as it pleases with... or mabe more bcause I can actualy annex 60%... Either way the only states that will be there is Hungary, Crusader States and Russia and the Caucassus is especialy fertile land... that is a great resource indeed. An mountains may bring gold and stuff like the Urals, so there are the Russians' resource reasons for the War.LxCaucassus 00:31, October 5, 2011 (UTC)
Take the ottoman lands, grey nations 1, 2, 3 and 7, 8, 9. Ok the others survive due to their further off proximity, the fact that they were established and that crusaders had a larger presence there. Kunarian 00:36, October 5, 2011 (UTC)
Radioactive Tides
Hey, I'd like to say I am really hoping that this map game goes well. I went ahead and added a nation in the list. Do you want help making the game, running the game, or promoting awareness for it? CrimsonAssassin 16:36, October 4, 2011 (UTC)
AvAr
Sure!
PitaKang- (Talk|Contribs) 19:14, October 4, 2011 (UTC)
Fancy an aliance with Venezuela?Oxfordshire 1972 00:09, October 5, 2011 (UTC)
I just tough of selling you oil and keeping the USSR out of your land. If Your attaked call on Venezuela or it's allie Yugolslavia to help.Oxfordshire 1972 00:29, October 5, 2011 (UTC)
The UASR offers Austria an alliance agaisnt the Sviets, if accepted, the below map will becom the world map: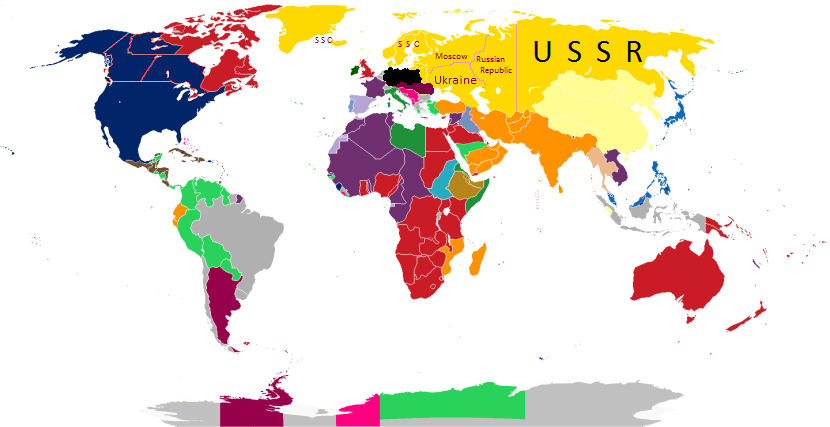 Your terms are acceptable, but I think the USSR should become a true Socialist Republic if not physicaly taken apart. DeanSims 15:39, October 8, 2011 (UTC)
ps, please sign your messages, its hard to get to your talk page.
DeanSims 15:39, October 8, 2011 (UTC)
your smart, and thats a good thing, I accept your terms. I would like to turn Iraq, Persia, and Afganistan into the Union of Arabian Islamic Republics (UAIR) and possibly give the Mecca area to it as well. It would be a true democracy like yourself. DeanSims 15:56, October 8, 2011 (UTC)
I have a plan, but I would like you make a deal over helping Yugoslavia and Ruthenia. Yugoslavia is an Allie of mine and if it loses Hungary then I would like to see it get part of Greece as compensation. I was looking towards annexing more Greek lands to. I created Ruthenia out of what survive the Soviet crushing of Poland in the early 1940's and wish to keep it. It will not interfere with your plans. Oxfordshire 1972 16:04, October 8, 2011 (UTC)

Be more careful in the future please, thanks. Kunarian 16:19, October 8, 2011 (UTC)
I was motivated by saving the Oberlander Jews and stopping the Soviet takeover of Europe. You're not the Soviet, so that is OK and as for the Jewish Question… Free passage to Madagascar or even an independent neutral (grey) Zionist state in part of Palestine or the Jewish Autonomous Arkrug near the USSR/China border. Feel free to give Oberlichtenau to Germany once the Commies are out. The compensation could be part of Greece going to Venezuela and Yugoslavia. The part directly south of Bulgaria could be annexed to Bulgaria as in World War 2. Poland is a good offer, I'm thinking it over.Oxfordshire 1972 16:59, October 8, 2011 (UTC)
Yes Independent Jewish State however it cannot build an army and is protected by the UN security council. Take Greece and Bulgaria will be happy giving Yugoslavia some western lands in return for northern and southern lands I'm sure. Kunarian 17:04, October 8, 2011 (UTC)
O.K.Oxfordshire 1972 17:19, October 8, 2011 (UTC)
What do you mean by it won't work? I'm confused!! :/ Oh, all European Jews are in Madagascar and are happy to be there. :D

Imperium Guy 17:08, October 8, 2011 (UTC)
oh, BTW, your in the EASA, congrats!! :D

Imperium Guy 17:11, October 8, 2011 (UTC)
Kunarian is now in control of the UASR until I can get to a computer again. DeanSims 17:14, October 8, 2011 (UTC)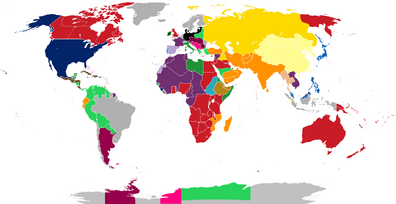 YES! the EASA! good stuff and UASR? will do! but how to play? is pacifist fine? only resorting to military in times of need? Kunarian 17:18, October 8, 2011 (UTC)
Like the new coastlines of the Aegean Sea? Poland is an acceptable offer.Oxfordshire 1972 17:19, October 8, 2011 (UTC)
:-)Oxfordshire 1972 18:46, October 8, 2011 (UTC)
Germany has no player, You can take all German territories and become the Union of Austro-Germany. Hows that?? Take help from me when needed to govern the UASR as it can get very pressurizing having to maintain two countries!! :D

Imperium Guy 17:23, October 9, 2011 (UTC)
Here's where having two nations comes in handy. We don't need to go to war. Germany might be part of the Comminturn but they are not coloured Yellow like Poland. What you could do is say you walk into Germany where you were met with open arms (more than likely). Pull a reverse Anschluss without even needing to declare war! Also, if you ever go to war with the USSR, use the UASR last as they have just recovered from a war on their homeland and in Iraq (use them if the coalition fails).

Imperium Guy 17:41, October 9, 2011 (UTC)
I was looking over the flags you designed and I would advise to mearge the second and third variants. You can change the flag as you are the Union of Anglo Sovreign Republics for a week. :D

Imperium Guy 17:45, October 9, 2011 (UTC)
If you have one super plausible way, that would make things a whole lot easier!! Random.org, reseve it for if you can't think of a plausible way. :D

Imperium Guy 17:47, October 9, 2011 (UTC)
By the reverse Anschluss, i meant that you could become the Union of Austria-Germany but you still controlling the country as Austria. Are you goung to pull this off tommorow?? :D

Imperium Guy 21:34, October 9, 2011 (UTC)
Well executed, well done. :D

Imperium Guy 17:28, October 10, 2011 (UTC)
He's attacked you, what are your plans? :/

Imperium Guy 18:26, October 10, 2011 (UTC)
Austria-USSR war.
Fruit, oil and coal supplies are offered to Austria. If the Soviets dont agree to a peace deal I have put forward then you will get some Panzer II and KV-1 tanks in 1958. Oxfordshire 1972
The Soviet's player is known, like Finland's player and the Baltic States' player for not being entierly fair. Hold on mate, I'm planning a secret UN press release in 1938.6 concerning Finnish, Nazi, Soviet and Baltic war crimes. I'm trying to out think him. Oxfordshire 1972 19:55, October 10, 2011 (UTC)
I agree about the players.Oxfordshire 1972 20:04, October 10, 2011 (UTC)
If you keep him busy enough, I might be able to get the Eastern Powers to declare war on him. We have some unfinished business with him. :L

Imperium Guy 09:58, October 11, 2011 (UTC)
And he somehow found out that people were calling him cheat so he went and quit!! I don't like it when there is no power to fight against! :/

Imperium Guy 10:04, October 11, 2011 (UTC)
I have a load of tanks for you next turnOxfordshire 1972 18:36, October 11, 2011 (UTC)
The Soviet's player has gon!?Oxfordshire 1972 18:49, October 11, 2011 (UTC)
Oberlichtenau-Niederlichtenau-Pulsnitz (now an Austrian client)
Population (1958)-1,990 Oberlichtenau-Niederlichtenau & 4,550 Pulsnitz
Location- Eastern Germany.
Capital- Oberlichtenau.
It has voted to leave Venezuelan protecton anslush in to the future Austrian/German state.Oxfordshire 1972 18:36, October 11, 2011 (UTC)
Mantova (Principia Moderni)
About the game, you are a bit "unavailable for reply" there, so i went here to ask Venice if the Marquess, or Duke of Mantova has any daughters.Since Mantova is part of the Confederation that Venice made, i assumed that i would have to talk to you first.--Collie Kaltenbrunner 16:12, October 9, 2011 (UTC)
AvAr
I'm going to write the UASR post about the middle East. Hoe you don't mind as you can write to your heart's content on what the UASR does in Europe :/. Hope you don't mind!! :D

Imperium Guy 21:50, October 11, 2011 (UTC)
Posted it, what do you think?? :/

Imperium Guy 22:25, October 11, 2011 (UTC)
Ok, but better get all your territory before Azecreth returns. No advance into Russia proper as you said to me. Now all we need is the map updated. I don't like Chezoslovakia in the middle of Austria, please conquer it. Ta!! :D

Imperium Guy 22:32, October 11, 2011 (UTC)
The USSR agrees to the peace treaty with Austria.Oxfordshire 1972 16:47, October 12, 2011 (UTC)
GASA is recognised!! What are your plans for 1959?? :D

Imperium Guy 21:49, October 13, 2011 (UTC)
RT
You know the maps, are they to show the territories in 336 or 340??

Imperium Guy 19:28, October 14, 2011 (UTC)
Okay, so every year expanding how many px?? :/

Imperium Guy 19:33, October 14, 2011 (UTC)
Okay, so if I expand to Bhopal (a city in India) and Multan (a city in Pakistan) is 1 year, would that be alright?? :/

Imperium Guy 19:41, October 14, 2011 (UTC)
So I can expand that much every winter to summer (half year)? :D

Imperium Guy 19:49, October 14, 2011 (UTC)
RP (meaning)?? So expand as much as you can until 340 then, lolrl ;)

Imperium Guy 20:07, October 14, 2011 (UTC)
Role Playing other nations as in becoming another nation and eventually being absorbed into the Federation?? :/

Imperium Guy 20:14, October 14, 2011 (UTC)
So I can just say that they was "this nation" where my diplomats talked before the agreed to become vassals to "my nation" before eventually mearching with "my nation"?? :D

Imperium Guy 20:32, October 14, 2011 (UTC)
I have used the oppurtunity and through former vassals (you need to read the Hind-Bharat posts) I have control of northern India, Pakistan, Nepal and the northern half of Mynmar. Cites below Aurangadad, Nagpur and Raipur are not in my control, neither are those 3 cities. :D

Imperium Guy 22:41, October 14, 2011 (UTC)
Flag Reply
I love the star flag, thats my choice. You did an awesoem job on them.
DeanSims 14:05, October 15, 2011 (UTC)
Could you actualy mix the last two falgs that would be better, but if ytou cant the stars will work great.
DeanSims 14:22, October 15, 2011 (UTC)
The flag rocks! Nice job dude. That is now the officail UASR flag. Could you help me make a Union of Arabian Islamic Republics flag please, whatever you make I will defintly check out.
thanks a lot,
DeanSims 16:01, October 15, 2011 (UTC)
I didn't. They were first vassalized in one turn and then incorperated. Most of those vassalized are less than 25px as well. :D

Imperium Guy 16:20, October 16, 2011 (UTC)
When I leave you are in control of all of my nations in all of my map games (Principia Moderni:Incan Empire, AvAr: UASR and UAIR, New Ottoman Empire, Germany, and the Third Riech Stands, Brazil)
DeanSims 17:20, October 16, 2011 (UTC)
Thank You!!
DeanSims 17:24, October 16, 2011 (UTC)
My new map game begis today, please help me. All of the countrioes excpet for Germany are open
ps I need a base map please
thanks
DeanSims 17:41, October 16, 2011 (UTC)
Fair enough, fair enough, and thanks a lot.
DeanSims 17:54, October 16, 2011 (UTC)
You need to take into accout the Treaty of Versailles for the new map!! :D

Imperium Guy 20:12, October 16, 2011 (UTC)
Oh, and I swear I'll try to behave in RTs!! :D

Imperium Guy 20:16, October 16, 2011 (UTC)
NOE
You don't need to quit NOE. The PoD has not been changed. :D

Imperium Guy 17:35, October 17, 2011 (UTC)
I don't think they were trying to influence it for their own gain or anyhting but ok. :D

Imperium Guy 18:01, October 17, 2011 (UTC)
Ok. Cool.

Imperium Guy 18:38, October 17, 2011 (UTC)
PM Expansion
If you do come back I offer to split Itsaygahi with you, it is set to collapse by 1721.Scandinator
Axis v. Allies (R).
Still vacant Germany/Austria/Denmark would apericate your help in the Balkans. The UK, Hungary and Croatia are part of the Austrian Union. Bulgaria and Romania were lost to Russia.82.18.194.46 02:53, November 19, 2011 (UTC)
RT
Come on it (quickly)!! :D

Imperium Guy 16:19, November 19, 2011 (UTC)
You are unbanned
Your ban is up, so you can post now. I would recomment posting on Principia Moderni as Venice soon, or else they will be rendered inactive and probably attacked by Hungary. LurkerLordB 15:31, November 23, 2011 (UTC)
You've returned! Good! By the way, I had taken the Crusader state of Jerusalem due to the fact it made sense the Papal states would own it. However, I felt sort of bad of taking advantage of you not being here, so I had part of the Italian Papal states break away to form Fuzolia (it is the small grey nation which is on the adriatic sea that is between Venice and the Papal states. Countess Giovanna Fuzoli would gladly make her nation a vassal under Venice like how Milan is, so you can take that as compensation for the loss of Jerusalem (the other Papal states and Venetian territories were untouched) LurkerLordB 20:15, November 23, 2011 (UTC)
Welcome Back!
Im glad your back. I made a new wiki. I will make you an admin if you join.
i would also like you to join my newest map game; States of America 3 (Map Game)
glad your back dude.DeanSims 21:13, November 23, 2011 (UTC)
Hungary
How about this; i get the territory pictured on the map that i'll post, and you get a part of India, also pictured here.--Collie Kaltenbrunner 14:36, November 26, 2011 (UTC)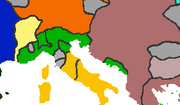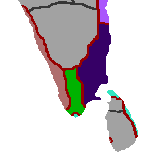 This is my counter proposal: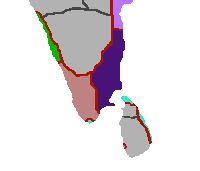 i don't know. particularly, i wouldn't like to give up Goa.Calicut neither.now about you give me the region around Goa back, and you get more land south of it.(whatever will be your counter proposal, don't claim Calicut.)--Collie Kaltenbrunner 15:35, November 26, 2011 (UTC)
Just give me everything north of Calicut and I'll be fine. An extra colony would be great and the land I am giving you is not of major importance. Kunarian 15:39, November 26, 2011 (UTC)
That is the problem. Goa is north of Calicut.--Collie Kaltenbrunner 15:41, November 26, 2011 (UTC)
Then we shall do like this: You get the land I counter proposed with and I get the land you proposed orignally. Kunarian 15:44, November 26, 2011 (UTC)
Deal made.--Collie Kaltenbrunner 15:46, November 26, 2011 (UTC)
Radioactive Tide
Hello, I was wondering if your going to come back to your country on Radioactive tide? Enclavehunter 23:20, November 26, 2011 (UTC)
No, I will not, radioactive tide is not my game anymore and neither is the country. Kunarian 23:23, November 26, 2011 (UTC)
Okay, thanks for playing though.Enclavehunter 23:27, November 26, 2011 (UTC)
Please tell me how to do the "most powerful country" thing please!! Many comments have beed said on having one but I don't know how to!! :D

Imperium Guy 22:37, December 9, 2011 (UTC)
Its taken from the nation stats. Kunarian 22:43, December 9, 2011 (UTC)
And how do you administrate nation stats?? :s

Imperium Guy 22:46, December 9, 2011 (UTC)
read the rules. Kunarian 23:00, December 9, 2011 (UTC)
Wgy are you not coming back?Whitesight 23:26, December 9, 2011 (UTC)
Went too far off track, not really my game anymore and how Empires like Hind-Barat expanded that far in such a short time defies my rules and logic. Kunarian 23:27, December 9, 2011 (UTC)
I agree i began super expanding as well due to the fact everyone else was why dont you just make revolutions in
the countries thus making them smaller?Whitesight 23:35, December 9, 2011 (UTC)
Hey, I only grew because it has been 30 years and I am a Federation, accepting warlords into parliament. >/

Imperium Guy 22:06, December 10, 2011 (UTC)
Yeah but where was that in the rules? anyways its your game now, feel free to do it the way you like. Kunarian 22:47, December 10, 2011 (UTC)
Your vendetta against Yankovic
I am not kidding. You and your nation are acting irrationally whenever Vietnam is involved. I don't know how you came to hate him so much, or maybe if you hate Vietnam the country for some reason, but it is obvious to me that you possess some sort of grudge against this user. You might not even realize it, but you have something against Yank. This is borderline harrassment, as your nation seems to be continuously scanning conflicts, its sole purpose being to cause Vietnam trouble in the world. As a moderator on Principia Moderni, I'm telling you that you need to stop your vendetta against Yank/Vietnam, now. LurkerLordB 16:12, December 11, 2011 (UTC)
You should remember that I was Swedens ally and Frances, so I was going to be involved in this war, Yank was the meddling one this time. You should also remember that it was I who tried to rebuild relations and then it was Vietnams who broke them down again. You need to realise that it goes both ways, it is not as simple as "Kunarian has a vendetta against Yank" its more like "When Yank and Kunarian meet, they do not agree 99% if the time" these things happen in life. Plus I'm not the one who throws the first stone most of the time, it was Yank who dileberately attacked me on the talk page when I didn't do what he wanted and it is he who complains when I am involved in any sort of situation that he is. Kunarian 16:16, December 11, 2011 (UTC)
No. You get involved in unneccesary conflicts whenever he is involved. When that Ireland thing occured, you made up a relation with an NPC nation (which by the way all NPCs are neutral, so Ireland was not trading with you or anything) just to oppose him. You carried out your little act of genocide against any Vietnamese in Venice on account of him attacking another isolated NPC, and you made up lies that he was destroying the Japanese culture and lies that he was destroying the Irish one. Now you totally reverse your positions solely because you don't want him to even come out on the winning side. You are acting in a totally hypocritical way (Vietnam should not subjugate the Irish-Sweden should subjugate the Scottish). Furthermore, you are currently siding only with Russia. There are Swedes fighting on the side against the Russian Clergy as well, so you can't say you are helping your ally Sweden, both sides are Swedish, you are not just using your alliance with Sweden, you are deliberately switching sides because you hate Yankovic and want to see his nation fail at everything it does in this map game. I am sick of your actions, I know he is too, and I bet that LordGanon is as well. So no more excuses-next time your nation acts irrationally for the sole purpose of damaging Vietnam, I am reporting you for harrasing a fellow use via map game. This has gone too far. LurkerLordB 16:23, December 11, 2011 (UTC)

I'll give you Ireland, the problem there was that I am desended from Irishmen so I geuss that was where my pride got in the way. Also this is a game of fantasy politics, if anything those "lies" where propoganda, I'm sorry if you or yank took them personally but that's what they were. I reverse my position because Vietnam has become an enemy of Venice, and unless we both work together (like we almost did before) we will have a hard time solving that, plus we can most likely expect wars were we find each other on the opposite side in the future and so we need to solve the problem before then so it is "just a war" not a chance for one of us to get a one over on the other. Frankly the reasoning behind Venices change is: the Russians have more common goals with the Venetians than the French. Frankly I bet that if we have a war in the future and Venice happens to be on the opposite side to Vietnam then you or yank will wave the "harassment" flag but until then I will have to wait and see.
If you want to solve the problem, it will require effort from both sides, I am happy to work towards a common goal if yank is, so that our nations are less opposed and more neutral towards each other. Kunarian 16:34, December 11, 2011 (UTC)
Vietnam became an enemy of Venice for no reason. Face the facts: when you take a disliking to someone, you have your nation do irrational things to try and stop them. When Naples opposed Venice claiming Savoy for itself, you did the totally implausibly action of them helping Mamluk rebels for no reason. The only thing the Russians have that the French don't is a lack of "Vietnam" in their algorithm, the only reason you switched sides was because you hate Yank. No wonder he doesn't want to work with you, you hate him for no reason other than your micronationalist pride in Ireland. When we tried to work out a deal to end the war, you attempted to stop the deal by declaring only Russia and France had valid sides because you hated Vietnam. And those lies were stated as fact, you can't say "I was only pretending". You are on some sort of campaign against Vietnam, you cannot hide this fact. LurkerLordB 16:53, December 11, 2011 (UTC)
So when you opposed me in Savoy, that means that if I were to try and oppose you elsewhere so that I can get something for Venice is irrational? Besides I'm going to call off the war effort, defeat is pretty obvious and because nothing would have come out of it for Venice anyways, I think I will simply fight a war elsewhere. You cannot continue saying I hate Yank when I tried to co-operate with him and that it was him and him alone who broke it off, before the swedish war so its hardly an excuse. I don't even hate him, you seem to have conjured this out of actions in a game. If I was on a campaign against Vietnam then surely I would have done something more against him already? next thing you know you'll say that I'm trying to attack Vietnam if I expand a colony on the same continent as one of his. Kunarian 17:01, December 11, 2011 (UTC)
My accusations of you hating him are based on you refusing to even fight on the same side as him because he would get what he wanted (not even benefitting his home nation!). You are the one who began genocide against his people, you are the one switching sides in wars just to oppose him, you are the one joining wars that do not involve you in the slightest just to stop him from benefitting, you are the source of the animosity. I am not making anything up, your nation is acting irrationally and implausibly whenever Vietnam is involved, for no reason whatsoever. Making up hypothetical scenarios of the future of the game doesn't help your case at all Any more harrassment of Yank will be dealt with. LurkerLordB 17:05, December 11, 2011 (UTC)
based on two events you think I hate someone? so based on the savoy situation and the opposition your leaders in the past have had to Venice I should assume that you hate me? Also hardly genocide if its against around 5000 or so people. I have put a situation on which we may co-operate, I will see then whether it is you who will act irrationally or whether it is possible for future situations where you may accuse me of things to become much less likely. Kunarian 17:10, December 11, 2011 (UTC)
By the way, the current turn is 1745, that should be apparent from DetectiveKenny posting that new turn last night and ending 1744, you aren't allowed to change passed turns, even if you miss them. LurkerLordB 17:15, December 11, 2011 (UTC)
Collie would have posted a map if that was true, I remember that Detective Kenny put a message up to stop people posting in 1745 til tommorrow, it was ignored by quite a few, including you. Kunarian 17:17, December 11, 2011 (UTC)
He posted that he was sorry for beginning 1745 because it would cut people off becuase 1744 began apparently late. I deleted 1745 thinking it was early the first time it appeared, he remade it again. LurkerLordB 17:21, December 11, 2011 (UTC)
look at my evidence and see that Flagmania deleted DK's and Collies attempts to stop people posting there until tommorrow. Kunarian 17:23, December 11, 2011 (UTC)
Sorry for misinterpeting the situation. From what I see, someone (maybe Flagmania) started 1744 several hours early, so 1745 began on the normal time and that is how the confusion began. Sorry, although it may be too late to change back a whole turn without causing even more confusion. I'll just wait for Kenny to deal with whatever is happening. But anyways, maybe this conflict can be the final one to end the Venetian/Vietnam enmity? For it has gone on for too long, no matter who is to blame. LurkerLordB 18:21, December 11, 2011 (UTC)
I have made the proposal: The Keltic-Venetian general acts as the common ground upon forming Scotland. The Venetians can hardly hate one of their best generals even if he did desert. We can agree to a defencive pact joining together Venetian/Vietnamese interests so that conflict is much less likely. Kunarian 18:40, December 11, 2011 (UTC)
I guess he could be the temporary leader, but since its a "republic"(in the 18th century version of the term) he wouldn't be guarenteed to stay in power. LurkerLordB 18:54, December 11, 2011 (UTC)
He will probably stay in power for 2 terms (if terms are 4 or 5 years) he may be only 30-35 but I doubt he will live beyond 45. Kunarian 18:57, December 11, 2011 (UTC)
I would be personally thrilled to have cordial relations with Venice once again. It's not fun to play a game and have to constantly worry about one of the players retaliating for some slight (real or imagined). Next time you have issue to one of my actions the best thing you can do is tell me before it becomes a conflict.&nbsp
Yank 19:21, December 11, 2011 (UTC)

Glad to hear that. Besides I'm going to go colonial for a while, expanding my overseas empire. something nice and easy and without stress. Kunarian 19:23, December 11, 2011 (UTC)
Attitude
While I would say the block was a bit harsh, you are not innocent. In general your actions have not been for the purpose of cooperation, but you have just pursued your own ways, and been difficult for others who wish to solve the problem. You do not need to be told this. Wait out your block, and hopefully you will understand this by the time you return. Detectivekenny (Info; Talk) 02:42, December 13, 2011 (UTC)
C.P.Snow
Are you writing on the Wikipedia under the name C.P. Snow? It's your style and about Innisbruk. Good Edits.82.11.84.87 20:42, January 5, 2012 (UTC)
I hope you return soon. :-)90.244.87.231 03:35, April 18, 2012 (UTC)
Yeh, cirlin. :-)90.244.85.54 00:50, May 3, 2012 (UTC)
RTr is calling!
Kun, WE NEED YOU. Me and Enclave just started the revised version of RT and we really need your help for all the rules of expansion. Heck, its more complex than PM!! But I finally get what you meant about 100 px on the map (after playing PM you learn these things!!). So, its a loud call for you to please come back!! :D

Imperium Guy 23:09, July 4, 2012 (UTC)
I think I'll claim the map, but yeah you can do the rulles, lol. Could you make some aspects slightly simpler as I don't really get quite a bit of it. But its great having you back on board (we increased starting px to 300 so we have slightly larger and a bit more plausible starting sizes). :D

Imperium Guy 11:52, July 5, 2012 (UTC)
That is a good idea. We need to keep the basic function of the game, but keep it simple so people understand it and can abide by it. :D

Imperium Guy 13:43, July 5, 2012 (UTC)
Yeah, that's what I was thinking, but for this I don't think they can just appear. I mean that when a nation sends out explorers, that is the time they will find new states. In mods events, we can also have it visa versa, an undiscovered nation sends out explorers and finds a player nation. It that a good idea? :D

Imperium Guy 14:30, July 5, 2012 (UTC)
How on EARTH did you manage that so quickly!! D:

Imperium Guy 19:13, July 8, 2012 (UTC)
Ok. BTW, Hind-Bharat is in and around OTL Mumbai. Its two vassals are Goa (slightly south of Mumbai) and one above Mumbai. :D

Imperium Guy 19:57, July 8, 2012 (UTC)
Have you got the map ready yet? :D

Imperium Guy 20:54, July 8, 2012 (UTC)
Done!! :D

Imperium Guy 15:13, July 9, 2012 (UTC)
I'll keep that in mind and post (probably at 12 if I'm still awake, lol!) :D

Imperium Guy 21:22, July 11, 2012 (UTC)
RTr
The Melanesian Republic is based in New Guinea and shall make its way east. So start from the west and fit as much in as possible. Willster22 (talk) 21:54, July 8, 2012 (UTC)
Hello
Hello. I thought you didn't want to come back. RandomWriterGuy (talk) 01:34, July 11, 2012 (UTC)
Aztecs in PMII
Hey Kunarian,
As you may or may not know I am remaking the PMII map. Just a heads up, the Aztecs are a little too large in the current map and are about 25% smaller. They do not yet have a coastline. However you are still the leading power of Central America.
Scandinator (talk) 09:14, July 25, 2012 (UTC)
I just wanted to put a thought in your ear from your friends at Chichen Itza - we are regional powers, but the whole civilization is not under our control. Would you be interested in some kind of pact that we will not go to war (and even possibly support each other in the future) so that each of us can focus on expansion and less on war with each other? America is plenty big for the both of us, and the larger our nations are, the better chance they stand of countering any unforseen incidents *cough cough Europeans*. CourageousLife (talk) 21:04, September 5, 2012 (UTC)
That should work I mean after all the current Aztec empire is made of a triple alliance of three city states. We could work together, however I would like it if the Zapotec city states would be mine, which would mean your first expansion choice would be to go to the islands north and east of you, is that okay? or would you prefer mainland holdings? Kunarian (talk) 06:10, September 6, 2012 (UTC)
You can totally keep the Zapotec city states, I wouldn't ask you to do that. My plan is basically to up my navy and take over the Carribean Islands, and probably the Gulf Coast. Do you want to make this formal in-game? CourageousLife (talk) 20:31, September 6, 2012 (UTC)
Sure just let my Aztecs discover you a bit more okay? Kunarian (talk) 21:04, September 6, 2012 (UTC)
Okay, whenever you're ready. CourageousLife (talk) 22:17, September 6, 2012 (UTC)
Don't mean to be rude, but are you still playing? CourageousLife (talk) 01:19, September 13, 2012 (UTC)
Hey man!! :D 

Imp (Say Hi?!) 20:41, July 6, 2013 (UTC)
Heeeeeey! I'm back, hopefully for a longer stay! :D KunarianTALK 20:43, July 6, 2013 (UTC)
Are you still playing as Bulgaria? We need you to keep this game alive!!!
PitaKang- (But here's my number|So call me maybe) 19:49, October 3, 2012 (UTC)
Arabian Failure Mapgame
i don't know if you are interest but would you like to join this map game i've made Arabian Failure (Map Game) Sine dei gloriem (talk) 04:11, October 23, 2012 (UTC)
So
Well. I see you have chosen Prussia. I would just like to tell you that was a bad choice. Now I have a nation called Rajputana which I had been saving for Sawdog but he just vanished. Therefore, I would like to offer it to you to control. Tell me if you are interested and I will explain further! :D 

Imp (Say Hi?!) 20:46, July 6, 2013 (UTC)
I'd like to struggle onwards for the moment but thank you! :D KunarianTALK 20:48, July 6, 2013 (UTC)
If you do get invaded/don't last long (I hope you don't, but if you do), and you want to play as a secure German nation, I have a nice vassal, the Principality of Anhalt, which is free and very safe. Callumthered (talk) 10:02, July 7, 2013 (UTC)
I should survive, I'm making my peace with Brandenburg and will espouse further co-operation with other nations however thank you for the offer. :) KunarianTALK 10:25, July 7, 2013 (UTC)
RTII
...Seriously? The basic concept alone is ASB. Lordganon (talk) 13:36, July 11, 2013 (UTC)
No need to be specific when there's nothing about it that isn't ASB. Lordganon (talk) 06:02, July 12, 2013 (UTC)
Earliest time for a nuclear war with any destruction that is on any real level is the 1960s. Earlier than that and most of the Americas gets off scot-free, along with Africa, Oceania, and parts of Eurasia, with the effects getting scaled back the further you go backwards.
Lost technologies of the kind you mean would be more or less ASB no matter how it's written.
About all I can really do, Kun, with regards to ideas, is give you another twenty or so years on DD.
Lordganon (talk) 05:50, July 18, 2013 (UTC)
PMII
Hi, do you wanna join me on chat?Cookiedamage (talk) 21:24, July 24, 2013 (UTC)
Sure. I'm online now. KunarianTALK 21:40, July 24, 2013 (UTC)
All that is left on our side currently is France. The table is almost done.Trust Me, I'm The Doctor (talk) 17:44, July 28, 2013 (UTC)
I know but Scraw's side is still bare bones. KunarianTALK 17:45, July 28, 2013 (UTC)
I'm thinking about declaring a draw, yes I may win, but at this point I do not think it will be enough for it to matter, I am still waiting for a finished algo, but it just seems to costly a victory, Even if we did win, you wouldn't really gain much, me and Saxony have gotten hit pretty hard economically and politically. What do you think? Not trying to be negative, especially with Maya out, we can win, it just eont be much.Trust Me, I'm The Doctor (talk) 23:18, July 29, 2013 (UTC)
I would almost certainly agree, and i almost never back down. But in this case, in game, niether side is getting anything good. I have already accomplished my goal of not looking weak. Bavaria and her allies showed how we can hold our own. It's been a stalemate for years, because we are evenly matched. There is something called a Phyrric victory, that is a victory that came at such a high cost, it is akin to a failure. If we win, we show people that we mean business, yes, but we also weaken ourselves very badly, on all sides. This does not bode well. Convince me not to.Trust Me, I'm The Doctor (talk) 23:34, July 29, 2013 (UTC)
get on chatTrust Me, I'm The Doctor (talk) 00:10, July 30, 2013 (UTC)
Okay so Von says the war must go on. so I will fight completely for you. I will give Danzig if we win then. I am sorry for last night, I had no idea what I was doing was impossible.(I am currently quite medicated)Trust Me, I'm The Doctor (talk) 21:27, July 30, 2013 (UTC)
You can have the city of Danzig and nothing more, if that suits you.
    SCRAWLAND INVICTUS || REX IMPERATOR   15:42, July 31, 2013 (UTC)
No, I cannot give you the whole area. However I hope you consider taking the city.
    SCRAWLAND INVICTUS || REX IMPERATOR   15:50, July 31, 2013 (UTC)
Deal.
    SCRAWLAND INVICTUS || REX IMPERATOR   16:11, July 31, 2013 (UTC)
This is what you would call metagaming Kun. and to think you accused ME of this. HypocriteTrust Me, I'm The Doctor (talk) 16:26, July 31, 2013 (UTC)
Can I please ask youto not just follow the crowd, a large portion of people are on holiday, and voting as other people have because other people have is not particularly useful. Do not change your votes unless you want to


"Sleeps with the fishes" "An Offer you Can't Refuse." "Make a wish. It'll be your last"

Italy PMIII
I would highly suggest choosing a different nation in PMIII. There are already a ton of people in Italy and it's going to be a bloodbath. Unless you want a really short tenure in Italy, I'd advise choosing a non-Italian nation. 20px

CrimsonAssassin- "I have special eyes" 23:25, December 30, 2013 (UTC)
Kunarian, hi! You are, I am sure, aware of the threats of annexation and conquest you have received from both Italy. I would like you to turn around, however, and notice the Hungarian lion poised at your backside. A close alliance between the two can mean your end. Your very future hangs in the balance.
Will the greedy Italians gobble you up, or will the hungry Hungarians attack first? You are at the peak of your strength, but you cannot do it alone. I am also in a position where, if Hungary gets a few more states, I am in trouble.
To prevent this, I am trying to build a coalition that can stand up against Hungary. We are both Catholic nations with an interest in south-east Europe. Through systematic royal integration, we can become stronger together.
I am proposing a coalition against the Hungarians to you, Bosnia, Wallachia, and maybe Austria to see if we can create a solid defensive pact to throw the hungry Hungarians off-course. Reximus | Talk to Me! 07:37, January 16, 2014 (UTC)
I am happy to sign up to support the coaltition in a fully defensive manner, Hungary's choice of foreign policy will see to whether I feel aggressive or co-operative with them however. KunarianTALK 10:22, January 16, 2014 (UTC)
Have you ever seen flour burn? It isn't even an explosive, and you can still create a reasonable fire with it. Powder is in fact rather dangerous when you force it down a pipe at high pressure. It will go shooting out the end, and if there is fire there, it will ignite. It will not immediately stop moving when it ignites, that isn't how physics works. It will go shooting forwards, on fire, and hit people. It will then stick to them, as powders are wont to do, and they will burn to death. Local Mafia Boss (Talk) (Blog)
I have and gunpowder could be dangerous but not to the degree I think you are hoping with this, as in deadly flamethrower, more likely it will be a funny poofgun that is more likely to kill the operators that who they are aiming at. But more importantly than the idea that the concept works, which isn't really the big dispute here, do you really think that Irish people even will think of that? I'm sorry but just because you know it does not mean that people in the medieval ages do. KunarianTALK 14:39, February 1, 2014 (UTC)
I am ready and willing to talk. Meet me on the chat if possible.
"This is not your grave but you are welcome in it." 21:00, February 1, 2014 (UTC)
Chat pls?
"This is not your grave but you are welcome in it." 21:50, February 3, 2014 (UTC)
We should meet on chat to sort this Athens mess out, among other things.

CrimsonAssassin- I have special eyes 22:55, February 3, 2014 (UTC)
PM III trading and banking
um Kun im more then willing to share trade with you but please dont steal the castillian finances from me i got it last turn and it is the largest account my banks have, we can work out a deal on splitting europe into areas of banking, but i cant afford to lose castille please.
Nkbeeching (talk) 11:06, February 5, 2014 (UTC)
thank you Nkbeeching (talk) 11:23, February 5, 2014 (UTC)
Chat plz.

OCT MARIUS, HAIL HIM

HRE vs Venetia
Hey someone said you are at war with the HRE. Which possibly means i can
1. Bring some western support hopefully 2. Help you personally 3. Lay off on your request.
Its up too you let me know what youve decided. I most certainly can help you can probably bring a couple friends with me. The Wings of Freedom #FP
(Talk to Me)
All help is appreciated. Every last drop of blood poured into this war will bear long-lasting fruit. After all, if we win while the enemy is merely a pup then they will not have the chance to develop into a fearsome beast. KunarianTALK 08:52, February 13, 2014 (UTC)
Let's Go
I'll post later on in the day. Your ally will support you - let's go. 

Imp (Say Hi?!) 10:41, February 13, 2014 (UTC)
pm iii
comr on the chat and we can discuss in details. Nkbeeching (talk) 15:27, February 13, 2014 (UTC)
Re: PM3: Call to War
I'll provide what I can. You have my support. im playing the economy card and the fact that i have several allies should austria not back down they will lose all their funds , and if they try to atack me they risk war with all of my allies. Nkbeeching (talk) 18:43, February 13, 2014 (UTC)
You want me to sign this? I'm afraid I can't do that

Good job. :) KunarianTALK 18:44, February 13, 2014 (UTC)

Prague (and Moscow) Delenda est, methinks.

   Flectere si nequeos superos- Acheronta Movebo!  00:43, February 14, 2014 (UTC)
Chat please Kun. 

Imp (Say Hi?!) 17:07, February 14, 2014 (UTC)
Get involved on the UNC war. We're beating em already- need you and Imp to make it a knock out punch.

   Flectere si nequeos superos- Acheronta Movebo!  00:48, February 15, 2014 (UTC)
Pmiii
chat pls~unknown
Chat Kun man. I'm there too lol. :) 

Imp (Say Hi?!) 00:29, February 16, 2014 (UTC)
Would you want Florence joining Venice at some point?

CrimsonAssassin- I have special eyes 12:57, February 19, 2014 (UTC)
Yeah that'd be awesome. I mean we're already interlinked via the Italian League so... yeah. :) KunarianTALK 13:19, February 19, 2014 (UTC)
Venice, it's the Knights of St. John. I will promise to send you military support of some of the best knights in Europe: The Knights Hospitaller. Although I will need a deal to be made. Your old nemesis: Genoa is now playing as Cyprus. Once again Cyprus has attacked you and Naples (your ally) and frankly my closest ally (Roman Empire) and I would like Cyprus to be gone of the map. So, as Cyprus is a crusader state I should have no trouble annexing them into my Order. Although they will put up some sort of resistance. With your ships and Naples' ships we can blockade them. The Roman Empire has already given me full military support so with the best knights in Europe, the Roman Empire, and two navies; Cyprus will surely fall to its knees. I will help you in your civil war by supporting the Doge. I will give you my finest knights. I already have a reward for the Romans, and Naples and I can make a deal. Please reply swiftly.
SwankyJ (talk) 19:17, February 19, 2014 (UTC)
Sounds good Venice, I will not only let you have a port, but a naval base. The Knights of St. John, Roman Empire, you, and the Kingdom of Naples have a very strong alliance that I would like to continue. My men will be on your side. Also I am joining the Christian League to take down the Mamlukean Empire.
SwankyJ (talk) 22:57, February 19, 2014 (UTC)
Invitation.
This is a formal invitation for you, sir/madam to come join Look Out, Sir! (Map Game) ! It is a WW2 alternate history map game, set in the year 1943. The rule system is set after Principia Moderni III (Map Game) and some other major map games. The battle algorithm is a modified version of the one used by The War That Came Early (Map Game) . We have a lot of room and I am hoping to make this into another one of those successful map games. So if you could come on down and pick a nation to rule and see what happens, that would be much appreciated. - Sincerely, Blocky858 (talk) and the rest of the LOS staff,
Ionian Islands in PM3
Hey Kun,
Now that your civil war is over, I figured I would take this chance to ask you about the Ionian islands in PM3. I ask this as I might want to vassalize them in game, but I don't want to screw with my ally's land, so here I am.
I only ask this because I have received conflicting information regarding the ownership of the islands at this point. On Wikipedia, one page says they were owned by Venice at this time, but another says that they were not. The PM3 map suggests that you do not own them, and since you have never mentioned it, I want to assume you believe likewise.
Either way, I would like to know what you think on this, so let me know when you have the chance.
"This is not your grave but you are welcome in it." 02:58, March 2, 2014 (UTC)
I would certainly be in on such an operation, but for the sake of security, I have to ask, wouldn' we be messing with the Ottomans in doing so, because of the Treaty of Aegina?
"This is not your grave but you are welcome in it." 14:57, March 2, 2014 (UTC)
While this is true, I want to be sure, as I don't want to gain some land in Greece if it means losing my capital and much of the progress from the last 20 years as well.
Would the Ottomans perhaps allow us to do it if we don't officially de-throne the ruler there, since that is all the treaty states.
"This is not your grave but you are welcome in it." 15:27, March 2, 2014 (UTC)
That was what I was figuring, but I annex it and let the guy "reign" with the assistance of a Roman "advisor."
And what you say about the Ottomans is true, but that is only on the assumption that the other nations would join in, and I know Naples doesn't want more war until 1430 at least.
Anyway, I must leave for now, but we can continue this conversation when I return.
"This is not your grave but you are welcome in it." 15:51, March 2, 2014 (UTC)
up for joining road to war?
i need a player for the uk, for france, or you can pick any country you want. im looking for plausible veteran players please join. Nkbeeching (talk) 15:03, March 5, 2014 (UTC)
I'll take a look but I'm pretty swamped with Principia Moderni atm. KunarianTALK 15:04, March 5, 2014 (UTC)
dealing with the egyptian problem
we will eventually have to put the mumlak state in its place, i highly recommend once colonialism begins a war against them is waged over trade ,and colonial interests a joint effort will put them in there place. Nkbeeching (talk) 17:48, March 6, 2014 (UTC)
Morocco
Hey we have Beef in Morocco. You undercut the hell out of my influence and thats not okay, you seized three prime areas without consultation and thats a problem. Morocco was my agreed area of influence and i gave you gold and whatnot to make up for your involvement. We need to talk out the areas of influence because what you did is really not okay and theres multiple issues dealing with this that im not about to let stand. Morocco is Castile influence and none of your gains against morocco have been recognized on the map. That entire sector you labelled next to Gibraltar heading south is not yours to claim regardless of war footing, you saw my previous map and knew exactly where i wanted to claim and want to try and claim there. Can we come to some sort of acccomodation? but reagrdless of you blatantly ignoring my influence in Morocco you taking all the prime portions of Morocco when I INITIATED TWO OF THE THREE WARS against them doesnt fly. The Wings of Freedom #FP
(Talk to Me)
Trade issues
Hey can we please chill with you usurping my trade in the west africa and Atlantic area. I spent a long damn time working on that and now your trying to undercut me. Im not trying to mess with your trade in the Mediterranean and i dont expect you to be totally subservient but i have spent alot of money and time working on this trade network over here and i dont feel like watching it collapse in on itself. If we could work out something like we did with Morocco i wouldnt be against it. The Wings of Freedom #FP
(Talk to Me)
What do you know
Im just curious what last turns diplomacy was about... seemed a bit weird... Regardless if its cause you think i have some hostile intent thats not it. If its some sort of joke i really didnt get it The Wings of Freedom #FP
(Talk to Me)
PMIII Chat
Sorry about that. Internet died on me, had to handle that. So what do you think about my request?
Vivaporius: "I don't need a slogan" 01:06, March 20, 2014 (UTC)
Yo Chief, it is the Swankiest of J's. I need help with making an algo. SwankyJ (talk) 14:09, March 26, 2014 (UTC)
Population Statistics-Albion
Where on Earth do you find this information? I mean I spent hours and could only find rough estimates for just England. I have taken your estimated numbers and figured them in, but seriously how did you find that information??ALLONS-Y! (Basically, RUN!) 17:09, March 20, 2014 (UTC)
Population help.
Can you help me with the poulation of the Northern Aymaras?What is this????Is this a signature??? (talk) 19:35, March 20, 2014 (UTC)
I am Cuzco, the region I need help in is the Northern Aymara's around Lake Titicaca.
Could you help me with information on the Ashikaga Shogunate please?  Ozymandias2 (talk) 22:33, March 23, 2014 (UTC)
Bankrupt Venice
Don't worry, that moderator event has been removed for now. Scan likes to collapse nations for no reason, and has done so to many others. Rest assured though that this will be fixed, and I beseech you not to quit the game because of that. Mscoree (talk) 01:44, March 24, 2014 (UTC)
War
A war I was planning with Fed and Yank against Novgorod went terribly wrong. Yank betrayed us and Austria and their cronies have joined too. If any time was a time to coalition Austria, now is the time.

CrimsonAssassin- gib clay 10:57, March 25, 2014 (UTC)
Mughal population
Hey Kun, could you tell me how much population would the Mughal Empire have considering that there was also a drought in the west making villagers move east? And the southern Chagatai Khanate (also in red on the map)?.
And also, how many soldiers would I be able to send considering that? Since I'm in a war with Benghal now so I need to know. Thanks in advance SkyGreen24 15:47, March 31, 2014 (UTC)
Damages to Map- PM3
Can you come into chat so we can talk about this? SwankyJ (talk) 14:38, April 2, 2014 (UTC)

Is this a joke? I literally said don't undo everything I did. You undid the expansion of the Americas which was way over due. You made the Mamelukes disorganized. You messed with other things. SwankyJ (talk) 16:56, April 2, 2014 (UTC) I need to keep looking. But don't ever do this again, as it was all legal.
You took Guns' nation away, and many others' nations expansion. I will be updating a new one as soon as I get the chance. I am really upset as I made it very clear you shouldn't overdue my expansions. SwankyJ (talk) 16:59, April 2, 2014 (UTC)
Fine then. Here is a list of what needs to be done if you insist: Aztecs wrap around the north. And Soconusco hasn't been added. Look at my maps on my page to see the updated expansions as they were on the previous 1460 map.
UNC doesn't have that much land.
Zapotecs expanded down the south now coasting along the Mayans.
Mayans gain 25px, spar wants 100, but that is ridiculous.
Cahokia expansion is on the previous map; which is on my talk page. Their most southern vassal: Moundville, are also broken in two.
The Mameluke reminisce is mostly organized, not disorganized, especially the coast mainly being organized. Use my previous map to see.
Aytthuya needs to be added (Guns).
Ica-Nazca expanded largely same with Cuzco, check previous map.
The flower blue (Bengal Sultanate) has an island which has expanded.
Can't remember but Date is owned by Ashikaga.
Oirats expand 550px north.
Banu Saluyum expands a lot. I think 105px, they are also owned by Hungary, not Aragon.
SwankyJ (talk) 17:23, April 2, 2014 (UTC) Sorry for lashing, but it looked like you undid just about 70% of all the work I did.
If you are unable to do the expansions I will work on the map when I get home. But the whole Western Hemisphere was completely undone if you compare my previous map to yours. SwankyJ (talk) 17:26, April 2, 2014 (UTC)
Please use the maps from my previous map, you're more than welcome to hand draw it. I use GIMP. Also the deal with Mamelukes, me and MP did some research and decided what is what. Also with the Mayans expanding that much: Feud directly said that a nation cannot expand 100px in one year. Unless they are in prime state/condition. So we American civs do not have horses, so we can't expand at that rate, especially after a fallout and break up and revolt of your civ, which is what happened to the Mayans. SwankyJ (talk) 17:39, April 2, 2014 (UTC)
The reason there hadn't been any Western Expansion is because it is way past due. Most Americans haven't expanded since 1445. And the map had yet to be updated. Please just check my maps on my talk page as they show what it should look like. SwankyJ (talk) 17:43, April 2, 2014 (UTC)
Potential personal Union with Aragon
So as of recently i managed to gear an heir that has claim to both the Throne of Castile and Aragon, France has already backed my claim to this and im requesting that you do the same if you dont mind please. Im hoping im able to pull this off since im going to get alot of recognition of that claim and potential gain a Personal Union. I would however like to point that if for whatever reason a war breaks out or i do gain Aragon personally then Monaco will be sold to you in event of a peaceful union and given to you in the event of a war. This is an very unprecedented situation which i didnt exactly expect to plan but its a good one nonetheless. Let me know what you think The Wings of Freedom #FP
(Talk to Me)
Bavaria PMIII
Hi Kun,
So yeah, the civil war in Bavaria has (initially???) ended this turn 1462, but since you'd like to get involved, I'm totally open to creating more events and such.
As of now, Jacqueline is imprisoned and Eleanor restored to the throne, but I could inspire several pro-Jacqueline nobles to intermittenly rise every few years, or perhaps culminate in another large conflict?
I'm open to any ideas and am glad you brought it up.
Regards,
Cookiedamage (talk) 01:18, April 5, 2014 (UTC)
I definitely like your ideas. They might be a bit too similar to OTL war of the roses, but I'm still going to start some of your ideas in 1463. Come on chat sometime soon so we can keep talking.
Cookiedamage (talk) 18:31, April 5, 2014 (UTC)
Map update (wrong map tho lol)
heres the map. Changes are a section of Cyrenaica to Italy (yes its that big i spent alot of time runnign through all the turns for it) Monaco to Venice, Sardinia to France, the rest to me. (which is all of aragon proper and Baelarics)
Other change was that Tangiers is part of the kingdom of Morocco currently Updated map
Map updates from SwankyJ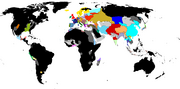 SwankyJ
(
talk
) 22:40, April 6, 2014 (UTC)
Chat please
Come back from away so we can discuss what you mentioned on your turn please I dont believe i have too much time today and i would like to get this discussed before i may have to leave The Wings of Freedom #FP
(Talk to Me)
Hey, i havent caught you on chat , did you stillhave interest in the canal? g greg e (talk) 14:14, April 22, 2014 (UTC)
I'm Sorry
I just wanted to say that I'm sorry for what I said to you. I sincerely wish that we could have got along better in PMIII, and I wish you luck in whatever you set your mind to do now. --Yank 16:43, April 22, 2014 (UTC)
Kun, you are all around one of the best players in the game. Plus you run Venice, the economic superpower of this time.
So you lost a war, I've lost my fair share of wars (has Karelian War flashbacks). What we do is pick up and move on.
I am that guy (talk) 16:54, April 22, 2014 (UTC)
PMIII leaving
So, word on the wiki is you'll leave PMIII, I hope you don't, since you're not only winning the algo, but I really need your help in it. SkyGreen24 19:59, April 22, 2014 (UTC)
Hey, hope your not leaving PMIII, if you are i hope you return soon. g greg e (talk) 20:01, April 22, 2014 (UTC)
A Message from Milan
Hi Kunarian,
So about our war. I are obviously not going to get anywhere arguing about the algorithm, so I propose that we just end this war. I will take no gains and we'll just leave it at that. From there we can work together to change the algorithm rules so this doesn't happen in the future.
You are a very good contributor and I'd hate to see you quit the game over something so silly. Even if the war continues, do not let one mishap make you quit the game. Even in real life the best superpowers are not immortal. Sometimes you win and sometimes you lose. With that said, I hope we can just end this and go back to the good old days when Milan and Venice were at peace and were prosperous. Thanks,
Tr0llis
(
talk
) 20:25, April 22, 2014 (UTC)
Community content is available under
CC-BY-SA
unless otherwise noted.