Hello and welcome to the Alternate History Wiki!

We are a community for creating fictional alternative histories. We hope you will feel at home here and wish you good luck contributing to our ever-growing collection of timelines.

Please start by reading our Guide to Newcomers. It contains links to the important sections of the wiki.
If you're new to wikis in general, see How to Make Articles.
If you're ready to create an article, see Conventions in Use in this Wiki. It explains how to title and categorize your pages, what kinds of content are allowed, and other rules of the site.

Some other helpful reference pages:

Some general tips:

This wiki is for alternate history, not future timelines. What you write should take place before 2021.
All articles on this wiki take the following format: Name of article (Name of Timeline). This helps us know which pages belong together.
To sign your posts on talk pages, use ~~~~ (four tildes). This will insert your name and timestamp.
You can experiment in the Sandbox.

Regards, Seiga Miyako (talk) 01:05, September 29, 2015 (UTC)
Duplication
Greetings. Recently, you have uploaded a file on this site that is a duplication of another. Please keep in mind that many of the files found across Wikimedia have also been uploaded to this site — all under the same names and types. These files can easily be found by searching for the file's name in the search bar. If you are using the "visual" mode for editing and uploading, please be advised that you will be required to use underscores (_) instead of spaces when searching for a file (e.g., "Flag_of_Canada.svg" and not "Flag of Canada.svg" [do not forget to add the file type within the name]). In the event that the file you require is not already uploaded to this site, it would be very appreciated that you upload the standard file used on Wikimedia as a courtesy to current and future users.
The following uploads have have been removed from this site, and have been replaced with the following correct files:
Please try not to let this happen again. Do not re-upload this file or remove this message from your talk page. Be advised that while this message is simply a warning, continuing to upload duplications will result in the temporary suspension of your account. Thank you for your cooperation. -- NuclearVacuum
20:21, January 9, 2016 (UTC)
Regnum Bueno template
I have added a template for your timeline under Template:RB to help you out in your timeline.

Matt121 ??? Matt125 (Talk)

23:38, January 28, 2016 (UTC)
Your welcome

Matt121 ??? Matt125 (Talk)

01:37, January 29, 2016 (UTC)
Imperial Machines help
Hi! I just wondering. Your mission: Can you make these pages if you has enough time on following pages:
These are former countries in Imperial Machines and I need you creating more IM articles quicker. During creating these pages, please add a infobox and overview text, then add categories Imperial Machines and Former Nations (Imperial Machines). If all these pages are created, you completed the mission.
Game of Nations 2
Hey, thanks for joining the game, I appreciate it!
However, I noticed that you made a nation as opposed to the culture, which doesn't work on the first turn - you can only make cultures the first time around. So, I'm going to have to ask you to modify it so it becomes a culture rather than a nation. In the meantime, I'm taking your turn down, but I've pasted it below this message so you can update it. (though you may need to make a new map, in case someone makes a culture before you.)
thanks for understanding, Fires
and here's your turn:
The Monith Kingdom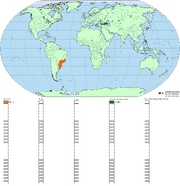 Country Name: Monith
Capital: Lovania
Largest City: Lovania
Other Cities: Nalla Eyre, Turassamaya
Religion: Astrolaism
Language(s): Monith, North Falish
Ethnic Groups: Monites, Falishes, Thupinamas
Government: Despotic Monarchy
Literacy Rate: 64.5%
Currency: Lith
Population: 3,200,000
Economy: 9
Military Strength: 5
Anthem:
Motto: Monith, Eller Aith, di Vannis
Hey there, I'm compiling your Soft Machines albums, and I was just wondering what song is "Hey Babe" from?
Dungo1989 (talk) 20:39, February 9, 2019 (UTC)
Thank you very much! Hope you get time to finish the Pink Floyd albums!
Dungo1989 (talk) 03:40, February 13, 2019 (UTC)
Hello
First of all I'd like to say huge fan of TaC good shit.
Second thanks for letting Lnobse know of the rogue writer, as his goon I'd like to protect his timeline.
anyways that's it.
Your fan and hopefully friend Icelandicwriters (talk) 23:45, August 6, 2020 (UTC)
Temuco
Hi! I was reading the page of Patagonia (Triangles and Crosses) and I noticed that you put Temuco as a city of this country, but according to the map, the territory of Araucanía remains under chilean control. So, is the same city like OTL or you refer to another one? Regards! --Katholico (talk) 19:44, September 26, 2020 (UTC)
Stirling Award nomination
It looks like you already saw it, but I'm sharing this with everyone who was nominated.
Benkarnell (talk) 21:18, 14 October 2020 (UTC)
Nomination
Hi! Sure, you're welcome :) Your work has been great. Regards! Katholico (talk) 19:25, 27 October 2020 (UTC)
Name and origin
Hi again Massacote :) I hope you are fine. I was reading the page of the patagonian election and I noticed you named Gabriel Ascencio as Gabriel Mansell, but that is his second surname Mansilla. This was correct? Also seems to me curious you made Carlos Kuschel as patagonian, given in OTL he was born in Frutillar, Chile. Regards! Katholico (talk) 22:35, 7 November 2020 (UTC)
Triangle and Crosses map
Hello. May I ask you what software you used to create this map? Thanks. - Lnobse (talk) 23:40, 12 November 2020 (UTC)
Stirling nomination
Benkarnell (talk) 04:50, 9 January 2021 (UTC)
Community content is available under
CC-BY-SA
unless otherwise noted.