Hello and welcome to the Alternate History Wiki!

We are a community for creating fictional alternative histories. We hope you will feel at home here and wish you good luck contributing to our ever-growing collection of timelines.

Please start by reading our Guide to Newcomers. It contains links to the important sections of the wiki.
If you're new to wikis in general, see How to Make Articles.
If you're ready to create an article, see Conventions in Use in this Wiki. It explains how to title and categorize your pages, what kinds of content are allowed, and other rules of the site.

Some other helpful reference pages:

Some general tips:

This wiki is for alternate history, not future timelines. What you write should take place before 2022.
All articles on this wiki take the following format: Name of article (Name of Timeline). This helps us know which pages belong together.
To sign your posts on talk pages, use ~~~~ (four tildes). This will insert your name and timestamp.
You can experiment in the Sandbox.

Regards, -- Fedelede (Talk) 19:15, January 14, 2012
Secret Santa Giveaway
If you are being contacted it means that you won a free game in the Secret Santa Giveaway. To redeem your free prize reply back to me with your steam username, email, or some other form of contact information, or find me on chat as soon as possible.
Also if you have not already done so, make sure you send your gift to your designated target.
Thanks, Mscoree (talk) 00:06, December 24, 2014 (UTC)
Secret Santa Gift!
Merry Christmas, MP. I got assigned you as a Secret Santa Partner, so I decided I wanted to do something PM3-ish for your present. I know you're really proud of Rome, so I painted you an MS paint painting: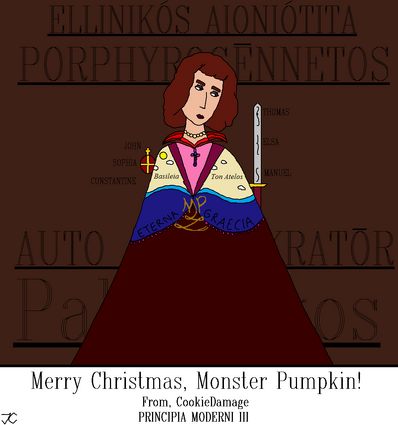 I really hope you like it, and I wish you a Merry Christmas and a Happy New Year AND MERCILESS GREEK DOMINATION UNTIL THE END OF HUMANITY.
--Cookiedamage (talk) 03:04, December 24, 2014 (UTC)
About PM3 
next turn in the year 1724 I would like my king's son to marrie on of your daughters if it is alright with you. - Scarlet Outlaw
About Our Marriage
I put out a depomicy so that our nations could talk about it also i put a mod responce to see if it could work out. It would be great if things can work out. Message me when you replyed to my turn. - Scarlet Outlaw
PMIII
Hey, MP, you wanted to talk to me? Something wrong? Daeseunglim (talk)
American revolts in PMIII
Hi,
You may not know me, as I haven't been around here a while. My name's Nathan; I run the colony of New Austria for CookieDamage in PMIII. I notice that there are revolts for independance in the former Spanish colonies in South America. In your expert opinion, would it be plausible for New Austria to join their revolt as part of greater Hispanic independence? If so, how likely do you think that would succeed? I wonder, because I know we're in the 18th century, and so it would make sense for the Age of Revolutions to begin at some point. I ask you because I'm very new at this, but I know you are a veteran moderator.
Thanks, Nathan1123 (talk) 17:09, January 23, 2015 (UTC)
Alright, thanks for the input! :-) Nathan1123 (talk) 22:30, January 23, 2015 (UTC)
Hi, me again,
At this point, it seems that the colonial situation in Boralia is really breaking down. I see that there are major signs of rebellion and nationalism among the colonies of France, Scandinavia, Bavaria, among other. Hypothetically, if one of these colonies were to completely declare independence (like New Austria), would there be a lot of support among the other colonies as well (considering that most of them are NPC's)? If so, would there be any nations in Boralia that would not aid in a war of independence? 
Thanks, Nathan1123 (talk) 05:55, February 27, 2015 (UTC)
PMIII Galicia
Did Galacia revolt back to Castile or Portugal? Since the area was Spanish to begin with, I'd presume it was Portugal. But message me when you get the chance. Saturn120 (Talk/Blog) 23:05, January 28, 2015 (UTC)
Colonies in PMIII
MP,
Unless you consider my current borders for New Austria implassible, it really needs to be updated on the map. The colony has been constantly expanding (albeit in small increments) in the last 20 years.
The southern border runs along the 40th Parallel from the Pacific to the Great Salt Lake. The eastern border starts at the Great Salt Lake and runs first along the Bitterroot Mountains, then curves upward and follows the Columbia River as far as Lac St Anne in Alberta. The northern border is pretty much as is, except for an arm that reaches up the Columbia River to Lac St Anne. Nathan1123 (talk) 18:17, February 7, 2015 (UTC)
Alright, so how exactly do I create/edit maps here? Nathan1123 (talk) 18:17, February 7, 2015 (UTC)
Thanks. Nathan1123 (talk) 18:57, February 7, 2015 (UTC)
IPs
Depending on the school and how the network is set up, very possible. "Are" is ok, "Were" in that context is another thing, and a problem in light of the IP check, as the result would be different if that were the case.
Basically, while I agree that there is something odd about it, we have no real proof. It's not even like they all act the same, or are not on at the same times, you know?
Put it this way: While it is true that where there is smoke, there is normally fire, we haven't found the fire yet. Can't act until we find it, in the end.
Lordganon (talk) 12:07, February 9, 2015 (UTC)
Maximum Systema Again!
http://i.imgur.com/dNblVar.png?1 Here's the new map I'm working on. I'm going to add a few islands in the Caribbean and the Pacific, a lake in the Sahara and in "Australia", make Terra Australis (Antarctica) larger, and scatter some islands in the South Atlantic. I am still open to moving Britain back to its proper place, moving Thule closer to Hyperborea, closing the Mediterranean, and whatever else you think we should change. Here's a basic rundown of the continents:
Europe/Asia: Basically the same. However I think Eurasia should be treated as one continent.
Africa: Africa
North America: North America. Does not include the displaced Caribbean islands. We need a name for North America too. I'm partial to Antillia or something native.
South America: South America. Also needs a name. I like Amazonia. Thoughts?
Atlantis: Atlantis is the group of "Caribbean" islands placed in the middle of the Atlantic. It can include Thule, or we can move Thule closer to Hyperborea.
Hyperborea: Self evident. Can include Thule or not.
???: This continent which needs a name includes the rotated Indian plate and the island of Kerguelen.
Australis/Australia: The continent due north of "Antarctica". Could potentially be grouped in with Antarctica.
Antarctica: Antarctica. Needs a better name. Also if we group it with Australia, it's just Australia then.
Oceania: That group of islands on the right side of the map and what looks like real life Australia.
Mu/Zealandia: What you call Mu and the Zealandic continent. These could potentially be part of Oceania.
Anyway just write back to me with your thoughts. I hope we can finally settle on a map.
    SCRAWLAND INVICTUS || REX IMPERATOR   23:24, February 10, 2015 (UTC)
Proposal map
Here is a rough starting point for my peace proposal to you: the inland ~1/2 of the New Hamburg colony is ceded to you, thereby connecting your north and south halves. If you want the corridor thickened, the border can be moved towards the coast another pixel or two. I am that guy (talk) 02:40, February 17, 2015 (UTC)
I added MS to the wall of shame like we disscussed last night. If things changed then notify me please. This is Edge, He is a cool guy when he isn't too lazy to sign his real sig. Hit him up. 23:46, February 19, 2015 (UTC)
I have a Problem
Hello I am Bob I have suffered a problem, I have began an Account the problem is that when it say´s you need the confirmation Email, for some weird reason it doesnt send it, it doesnt appear on the main Page neither in the Spam folder, the thing is that I whant to create an account the problem is it doesnt send it. I hope you can help me
Sinceralely. Bob 190.106.221.27 20:15, February 22, 2015 (UTC)
The problem is that I tried it on February 14th but it didnt send it, I think it most be some kind of Glitch because I have tried it 2 times and it didnt work, I am gona Try on a different platform instead.
Sinceralely Bob 190.106.221.27 01:03, February 23, 2015 (UTC)
Re: MS
At this point, length is irrelevant - he was told the next one for be for this long, and it is. Offense means nothing with regards to him at this point. He refuses to listen. Lordganon (talk) 03:33, February 26, 2015 (UTC)
Can I talk to you over chat for a minute? Crim de la Crème 22:15, February 26, 2015 (UTC)
Deletion
http://althistory.wikia.com/wiki/World_war_3
For pages like this, I don't think you have to actually nominate it before deleting.
PitaKang- (Talk to me | Kill count: 6)
World war 3 really has deleted by PitaKang because its is Future History.
Eric von Schweetz T C IM]

08:47, March 3, 2015 (UTC)
Nominating future histories for deletion is generally done to give the author a chance to scale their time frame back a little (if possible), before outright deleting their work. MP's nomination seems justified, although a title as generic as World war 3 at the very least warranted a move. --NFSreloaded (talk) 14:33, March 3, 2015 (UTC)
AVA
if your willing to overlook my invasion i would eventually withdraw from the eastern war, isnce i was talked into it by severla parties. i have come to realize that my main enemy is france. ill leave all of eastern europe to you except for the pre 1918 german borders and ill sign a non aggression pact for 20 years sound fair enough? 
With Blood and Iron (talk) 10:54, March 4, 2015 (UTC)
MP, I recommend you kick/ban Alexander of Volzhsky, the Greece player. He has ignored every mod warning from the start. He has been forced to suffer the consequences(a massive revolt), and now he ignores that very revolt. He has been implausible this entire game. I am not in the position to kick/ban him, but I am sure you are.

Hail Sean! (Get a free potato here)
15:16, March 5, 2015 (UTC)
Thanks for the Ban
Thanks for the Ban, I finished what I needed early so you can lift it now. In dust you began....... and in dust you shall end........
Chat
so can you come on chat soon, im not now, want to talk-Lx (leave me a message)

00:03, April 1, 2015 (UTC)
MP, I know I haven't exactly been active in PM3 lately (ok, that is a teensy bit of an understatement), but I was wondering if I could take over a rebel movement in Cuba, following up on the mod event? Thanks for your consideration, and I will try to fit myself back into this community after my sabbatical. (Oh, and congrats on apparently becoming Brass!!!) Reximus | Talk to Me!<font color=red">Talk to Me!​ 11:41, April 11, 2015 (UTC)
Inactive TSPTF members
Thanks for taking care of the inactive Constabulary. Benkarnell (talk) 15:21, April 12, 2015 (UTC)
Chat
I'm there right now if you would like to speak. Saturn120 20:39, April 13, 2015 (UTC)
Congratulations!
Welcome to the Brass! I have entered your name and user file into the august and exclusive roll. If you don't like your title, you are welcome to change it. It's Mongolian. Benkarnell (talk) 00:01, April 21, 2015 (UTC)
About the Black Sea thing in AvA R
So I have this idea, I connect my national railway to yours and we can import/export to each other as much as we want? If you have other ideas please tell me
pinecones!
Sand trooper 22:58, April 26, 2015 (UTC)
Deleting Pages
At least three days.
As for MS - I don't buy it. Might have had MS not started editing right after, but he did. He's lucky I only added a month.
Lordganon (talk) 09:20, May 14, 2015 (UTC)
Favor
Hey MP, I will be gne or the next coupe days, so if you can, please copy omy turn below. Thanks.
Reme: Reme begins to build up its military and economy. After a long, heated discussion of how Reme would be governed, the tribal representatives (as well as notable Byzantine-Borealians) decide to create a republic, with a basic constitution that would be given basic rights to citizens of Reme. After these discussions, a rich Byzantine-Borealian named Stephanos Shawnee, and becomes the first President of Reme. Shawnee starts to upgrade trade and military services. However seeing Reme, a new nation, vulnerable to foreign attack, starts to encourage militarization of the west, and opens up to military alliances with other nations. Meanwhile, trade is improved on, with industrialization, mainly former Byzantine areas slowly being introduced to populous areas. Lumber, cash crops, and other goods become a major export of Reme, and starts getting Reme a jump-start into the European economy. Shawnee also commands the creation of a couple new navy ships, to help modernize the outdated Remian navy. Reme continues it's current expansion into the Michigan peninsula, expanding another 150 pixels into it. Meanwhile, the idea of building coal mines come into mind, especially in the OTL West Virginian area. Coal mining plants are started to be worked on. Reme also starts very slowly changing it's focus to industrial things, with a nation wide railroad being considered to be built. Reme incorporates the French territory of Rouenelle as a province of Reme, with Cahokie being designated as a territory of Reme. With this, French is now declared an official language of Reme, with Greek and French made mandatory for children in Reman schools. Construction in the railroad continues, with the two native states being declared war upon to fix the track and to oust from that area. Jayson Chistakos, a politican, gains popularity, and gains influence thorugout the Republic. He eventually wins the election called for by the population and becomes the first Emperor of Reme. Jayson's first action is to immediately start industrializing river areas, and to mass produce textiles to cheaper the price of Reman cotton products. Jayson also demands that the Mexica border be fortified, since the nation poses a threat to the safety of Reme. Jayson also demands that Reme starts militarializing these areas, as well as the border with Arcadia. Meanwhile a Socialist-based party starts to gain seats in parliament, with plans to make Reme a more self-sufficient state. Reme, seeing its fellow New Munich members not caring for the Reman economy, considerers re-signing from the New Munich Pact.
Again, you wll only need to post until Tuesday. Thanks again. Saturn120 17:54, May 22, 2015 (UTC)
Two Fronts
Remember to add them whe your not so tired, lol. Saturn120 22:05, May 31, 2015 (UTC)
Chat plz
I'm available to chat right now. Yank 00:19, June 4, 2015 (UTC)
Hi! 
So I've just started an account here to work on several projects I've been throwing around. I want to use the nation template but I'm having a hard time figuring out how to insert my own information. If you could help I would greatly appreciate it.
Redeemer21 (talk) 00:21, June 15, 2015 (UTC)
Redeemer21
M.P.
I wanted to thank you for the response. I am currently having issues with a gentleman by the name of Eric4e who keeps attempting, successfully, to delete my content. He doesn't seem to understand my situation as a new member to the site and continues to tamper with my page. How should I go about the situation? Is there a way to report? Anyways, I will keep working and hope to improve my page. Thanks again for taking the time to response.
Sincerely,
Redeemer21
About PM3
I was told by Rimp that Ace is invading me, so can you help me please fight the French. - Scarlet Outlaw
Chat Ban
Really? Explaining my actions in past games gets me a ban? Really? I was going to follow it up with an apology to Lx. I really was.Yank 22:33, June 21, 2015 (UTC)
I got hotheaded and lost my nerve. I guess I should own that. Hopefully I wont come back to recieve a death cirtificate in two hours. The wait's going to be a pain-Lx (leave me a message)

22:54, June 21, 2015 (UTC)
hey, umm,I still cant get on for some reason...-Lx (leave me a message)

00:51, June 22, 2015 (UTC)
Hello Dear Sir!
Can I kindly ask you for a tutorial on how to play map games.
Sorry I am still new in this site.
Sorry to disturb you, Thanks!
AdrianClicks (talk) 13:19, July 10, 2015 (UTC)
Hello again.
I have another question, 
How did you make those phrases/sentences that are like signatures
It is like hyperlinked to your profile
AdrianClicks (talk) 02:35, July 11, 2015 (UTC)
Well, I feel like I should be doing something. Apparently, Germany isn't well liked. What's up with that? Spartian300 (talk) 08:57, July 29, 2015 (UTC)
Time for us to get on chat. BTW, I'm doing an auschluss. Okay? Mainly, it's a test. Course, should it backfire, say, Scar goes to war, you stay out. Please? I whip his ass, and just be on my marry way. Besides, given the pact's strength, I would prefer to drive them out of the Middle East and set up a nice little protectorate.Spartian300 (talk) 22:53, July 29, 2015 (UTC)
Ready for war. I will invade Germany next turn, if you want. Spartian300 (talk) 23:23, August 1, 2015 (UTC)
PM3 Algos
I was waiting in chat, but I guess I missed you. Edge wanted you to know that there is a problem in PM3. Specifically he was trying to fix the WW2 algorithms, and made it so that only moderators could edit them. Even with permission from moderators, users were not allowed to edit. This was because he kept getting edit conflicted and there was edit warring. I was waiting in chat for hours trying to fix a simple mistake in the algorithm, namely the names of certain nations in one of the algorithms, but instead of editing I waited until Edge finally fixed it. Meanwhile Guy, allegedly with permission from Sky (who hasn't been on the wiki in two weeks anyway and has no idea what is going on) repeatedly undid Edge's edits, and then threatened Edge with a ban from PM3. Guy repeatedly edited the algorithms even though editing was banned, while I waited for hours for that edit, only to have Guy undo it. And in Edge's defense he mostly just fixed simple mistakes, and even removed bonuses in his favor and left controversial sections blank. Regardless, with Guy now threatening to ban Edge via Sky and others, Edge is unable or unwilling to fix the algorithms. So I ask you for help in looking over the algorithms, since you outrank both Sky and Edge alike. Edge said he'll be back later tonight, but wanted someone to relay this information to you, which is why I was waiting in chat. Thanks, Fritzmet (talk) 00:50, August 4, 2015 (UTC)
Pm3 algos part 2
Sky's warning is idiotic because he isn't here to do the algos, Crim showed on chat that he doesn't fully understand the new algo, and I was told to stop for no reason other than I was doing things players told me to do. if by the time I wake up tommorow the algos aren't done, I am doing them. it's been nearly 3 days now since war broke out, and we aren't even close to being done with the algos. If sky wants to make threats and be a mod, he needs to be here on the wiki. #PraiseRoosevelt.
Russia
can you tell me about Russia as i am clueless about them because i am playing as them in PM3?Edge told me i should talk to you abou that...
Wrto12 (talk) 05:32, August 6, 2015 (UTC)Wrto12
Hey
Hey MP, I'm finally back from my busy summer vacation. You can stop posting for me as of this PMIII turn. Again, thanks for doing that for me. Saturn120 15:41, August 29, 2015 (UTC)
PMIII Map
Okay, that's cool, so you're just going to revert my edits? *cries* No but seriously I thought about it and I probably overstepped some bounds since I'm not technically part of the game anymore, and I wanted to say sorry. I apologize for that. Cour *talk* 16:54, September 12, 2015 (UTC)
No you're fine, I just cleaned up some borders in the Americas. I'll compare the edits and merge the two. Is that okay? Cour *talk* 17:23, September 12, 2015 (UTC)
You might need to look on the map's source page, but I did a lot with the borders in the New World. Let me know what you think. Cour *talk* 17:32, September 12, 2015 (UTC)
Sure thing. Sorry, I only noticed the southern Africa one. But I definitely can do that. Cour *talk* 17:40, September 12, 2015 (UTC)
The Great Lakes
Hey MP, long time no see. A while back Imp and I came up with this, an idea involving some timeline/map game hybrid. That was a while back, and it never got on the road. I intend to kick it off again, but we're a bit low on people, so I was wondering if you'd be interested in contributing. It's a kinda community timeline, but we want to keep it invite-only to avoid unruly users. The basic premise of it is already laid down, and the structure is in the talkpage. Gimme a message if you're up for it, and if you have any ideas, questions or suggestions, just throw 'em in the talkpage. FP(Hand of the Imp) 19:01, September 28, 2015 (UTC)
Mod response request
Could you please respond to my mod response request in my 2008 post, it's kinda important for my country.
Thanks and have a good day,
Hi, I'm new to this Wiki, I just saw a new Live History page not being mentioned by Live History, so got it edited.
Logged on using my office PC so maybe not this IP next time.
Pardon for my poor English.
Transfinite1021 (talk) 16:00, October 19, 2015 (UTC)
Re: Great Lakes
Hey MP, the project I mentioned a couple of months back, The Great Lakes, has kinda failed to get off the ground due to my general inactivity and lack of organisation. So in attempt to revive it and tie in with wiki reforms, I've decided to convert it to a community timeline (it works better than the previous idea anyway). So I know you're busy with reforms and all but if you're wanting to contribute just post on the talk or message me or whatever, you know the drill. If you don't want to, that's equally okay.
I remain,
Presidential Election Game
Hey MP-
I saw your comments on the main page of the game. I agree, but there needs to be some kind of daily content (or every two days) just to keep things going in the game. I've made tons of proposals but they've fallen on deaf ears. I'm not sure what Vatonica is doing, but it seems like he can't be the only mod. I thought it was because he was MIA but he edited some pages today, which seem to indicate that he's lost interest in the game, since we've missed several deadlines already (Iowa for example). All I'm saying is that the game is not getting the proper attention and that it needs additional mods. I get that it's his game but there must be something that can be done. AP (talk) 08:13, February 9, 2016 (UTC)
I've proposed many solutions to the stagnation of the game. They can be found either in the talk page or on Vat's talk page (none of which he's answered). The issue here is that I don't want to be an ass to him and commandeer his game, but I also don't want it to die. There's also the issue of you or I taking over while both of our candidates are leading in the polls, which could look bad. I'm all for getting new leadership and I'm sure I could provide it, but I'm not too keen on giving up my candidate in order to mod the game. This is a difficult situation. Maybe you could message him and light a fire, given your admin status and whatnot? AP (talk) 19:29, February 9, 2016 (UTC)
Yo so Vat's been MIA for many, many days now. He's been on since he last posted on the game page, so he must not really care. How can I take over the page? AP (talk)
Presidential Election Game
Congratulations!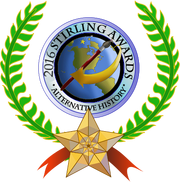 Well deserved, MP. Would not have nominated you otherwise ;)
Lordganon (talk) 15:58, February 11, 2016 (UTC)
Re: Concerned
Thank you very much for your concern, MP. I've been going through a lot of mood-swings for the past few weeks as a lot in real life has been going very poorly. My friends are acting cold towards me and I'm constantly dealing with bullies and jerks at school; not to mention some people here just get a thrill out of antagonizing me. But it feels like literally everything is collapsing onto me all at once. But I do think I will be sticking around more often since you reached out to me. I very much appreciate that you see my timelines as being good in quality; really means a lot to me.
But again, thank you very much for your support.
95T Mod Document
Hey MP at your earliest convenience could you check the 95T mod document? I realise you were brought on when Sat abandoned the game, but we need to start acting as one and not crossing out each other's words. Thanks a million, speak to you on the DOc, Simmy1993 (talk) 18:30, March 4, 2016 (UTC)
Just a Heads Up
Just letting you know that a new user uploaded tampered with one of your files. I've reverted this, but thought you should be aware. -- NuclearVacuum
03:20, March 12, 2016 (UTC)
Requested Deletion
Josh here, just wanted to post some of the links I wanted deleted, in case you didn't come on chat.
Everything in these categories, including all the pictures, maps, and such.

Consul Ioshua (Talk)


14:31, May 15, 2016 (UTC)
Hey there!!
Could you help me out with the page Leicester (Leicester Becomes Independent) Im trying to find out how to put a nation information box thingy Im new here. Is there like a template I have to find?
Cheers! 
BroccotropolisGov (talk) 15:39, May 27, 2016 (UTC)
Mr.Orwell
I really appreciate you taking the liberty to deal with Mr.Orwell duplication. However, I believe this would've only been his second offense. I usually do three strikes and than a suspension. But that being said, I'm not fully aware of the situation. If you don't mind me asking, could you please reply the details Mr.Orwell's duplicated uploads. How many did he upload (aside from the South Africa one). I'm mostly curious so please don't think anyone is in trouble or the like.
Once again, thank you so much for your assistance. -- NuclearVacuum
03:51, May 28, 2016 (UTC)
Seven? Wow! I had no idea.
Viva issues pre game... seriously
So we have an ongoing argument in which i realize its Pre PMIV viva is already kicking off arguments to the overinflated abilities to his Maori. It semi escalated and now other people are involved and its getting a Tad Personal. Its including ad-hominem attacks and referencing back to other debates that have come up. Figured id say this is behavior in general you were trying to prevent and you said to notify you of anything of the sort (even though at that time it was Candies and other users) Feudalplague (talk) 02:28, June 29, 2016 (UTC)
Too be fair, all I said was that the Polynesians may have had contact with the Machupe. However, you have yet again read into my words what you wanted to hear and not what I actually said. And my "ad hominem" attacks were attacks on the behavior of the mods, and not their persons, but once again, you are reading into my words and not reading what I actually said. Remember, if you can constantly bring up Ethiopia for everything that I do in another game, don't be surprised when I bring up Spain or Edge's acknowledgement that he didn't research anything he was responsible for fact-checking.


Vivaporius: "I don't need a slogan" 02:43, June 29, 2016 (UTC)
Thanks
Thanks a lot m8 Wrto12 (talk) 05:38, July 20, 2016 (UTC)
Августовский путч
Why it is forbidden to use other non-Latin scripts. Hokton (talk) 19:17, July 24, 2016 (UTC)
MPIV
MP, can we talk in chat? Its important.

Ungern von Sternberg A man's GREATEST joy is crushing his enemies
14:46, July 26, 2016 (UTC)
About the Antipope
I've asked you for multiple turns what you'd like to be done with the Antipope, who is currently in Aragonese custody. Could you please give me a response as soon as possible? Thanks. — T I M (TSW • AH • MGW • Contribs) 01:10, July 27, 2016 (UTC)
PMIV
Sorry about continuously mentioning rifles and muskets, it's just that China said it has them and introduced them to me. – † ⌒⌒⌒\(;ᄋ;\)三(ノ>ᄉ<)ノ ~ ("니가먼저키스해!")
As the Mod for Eastern Europe and the Balkans, could you please do the blunder for the Invasion of Epirus on the talk page. Thank you! NathanialPrice (talk) 23:00, August 12, 2016 (UTC)
Elections
Hello, fellow Libsoc Member!
As the Head of Public Relations, I would like to inform you that today is polling day in Althistoria! Please head to your nearest polling booth and place your vote for the Rainbow Coalition and/or the People's Front! We must make sure the Dirigists do not achieve victory, for if they do, Althistoria may never be free again!
Thank you for your time, may the Coalition successfully defend freedom in our great country!
— T I M (TSW • AH • MGW • Contribs) 01:35, August 19, 2016 (UTC)
in Principia Moderni 4 can play as your vassal?
I was wondering if I could play as your vassal the Roman Empire in Principia Moderni 4? Thanks. The.Brick.Battle (talk) 15:06, August 21, 2016 (UTC)
Yes I already know this because of my research on the 4th Crusade and the effects it had. I will follow your lead however do except possible rebellions if you abuse your power. The.Brick.Battle (talk) 21:55, August 21, 2016 (UTC)
Well the Roman Emperor is going to ask the Pope to ask crusader forces from to withdraw Constantinople in hopes that with the forgien crusaders gone that the local population will stop their riots and protest against the reunification of the church. Thus being a win win situation for both the pope and Roman Empire. I hope he will accept. The.Brick.Battle (talk) 22:05, August 21, 2016 (UTC)
LibSoc voting time!
Vote for each position in the new internal LibSoc elections
PMIV - Naxian Invasion of the Morea
Hi, I was wonding if you could help me with the algorithm for the Invasion of the Morea. 50,000 of the Ottoman troops are fighting the Bohemians and 30,000 were killed at the Battle of Mosul. As the most troops the Ottoman Empire can have is 70,000, how many Ottoman troops should be at the Battle of Sparti in the Morea? NathanialPrice (talk) 00:52, August 28, 2016 (UTC)
Could you also do the blunders for the Invasion of the Morea and the Invasion of Cyprus? NathanialPrice (talk) 00:33, August 29, 2016 (UTC)
Complaint regarding PM4
I was told to inform you about the following: http://althistory.wikia.com/wiki/Talk:Principia_Moderni_IV_(Map_Game)#Grivances_with_Certain_Actions
Thanks. Blocky858 (talk) 22:22, August 30, 2016 (UTC)
PM4 Papal States
Hey mate,
Shame that you'll be leaving the gamer part of PM4, in my opinion you've done an excellent job playing the States. As someone who's already playing as a Catholic theocracy, I would like to put my name forward to take up the pontifical mantle. Also, I would like to take you up on your very kind offer to enovate the College. 
Hope your busy life doesn't wear you downtoo much :) Callumthered (talk) 22:42, August 31, 2016 (UTC)
JoshTheRoman
Just letting you know that JoshTheRoman has been altering site-specific articles. I've informed him to stop this, as I viewed these actions as being unilateral on his part. However, he has informed me that you gave him permission to do these alterations. May I confirm that these allegations are true? If so, I will gladly leave them be. If not, than I would suggest a review on Josh's admin status.
I have asked him to refrain from further edits until I receive word from you. I look forward to hearing back. -- NuclearVacuum
00:14, October 10, 2016 (UTC)
Was the "dammit Nuke" really necessary?
Please understand the situation from my end. There was no mention of any upcoming or otherwise suggested alterations to any site-specific articles. Nothing was mentioned on the TSPTF talk page. No conversation as had been for years.
Because of this, I believe Josh was acting unilaterally. By no means did I intend to cause any harm.
An Article for Duplications
Thank you for your reply and understanding (I really appreciate this).
You mentioned that if I had anything else to add that you would like to hear it. I was wondering if you would give me permission to create a site-based article on duplications and file uploads. I also intend to start a conversation on the TSPTS page some point in the future to gain a new consensus on duplications in general, but I would love to get your input before I do so. -- NuclearVacuum
00:24, October 24, 2016 (UTC)
No worries. I'd be happy to explain further. What I have in mind would focus on the following issues:

Why I (for the most part) have been working to curtail duplications on this site.
Why uploading file duplications are a bad idea in general.
What does and doesn't constitute as a duplication.
A step-by-step process on how to locate desired files (especially for non-source editors).
How to properly upload vector files if they don't exist already.
The system of "punishments" that I've used against users who continue to upload duplications.
How other users can assist against duplications.
see below
Chat soon.
    SCRAWLAND INVICTUS || REX IMPERATOR   22:11, February 26, 2017 (UTC)
MaxSysa (...again)
Aight? So me and Scraw were talking about it, and we are very close on our world map. You wanna get back into it? 
Imp (Say Hi?!) 15:20, March 21, 2017 (UTC)
Sure man I shall. How is Mongolia anyway? If I'm honest my abilities to add will also not be significant, exam season is almost on me.
Our map still isn't quite done but soon, hopefully, soon. 
Imp (Say Hi?!) 02:49, March 24, 2017 (UTC)
Guardians (timeline)
I have been enjoying your Guardians timeline. I have a question though, realizing that Zoroastrian becomes a major religion, does the Sasanian Empire form in your timeline? 
Best Regards,
user talk: Warrioroffreedom123 22:30, March 23, 2017 (UTC)Warrioroffreedom123
More questions about Guardians
Hello.
I was wondering the situation of Ethiopia in Guardians. 
Today, Ethiopia is quite fairly divided between Christinaity and Islam. However, there is no islam in your timeline. In addition, I noticed that Zoroastrianism has spread to East Africa. Has it spread to ethiopia?
Also, I was wondering the general situation of post colonial Africa in your timeline. 
This is a great timeline, keep up the good work. 
user talk: Warrioroffreedom123 11:07, March 30, 2017 (UTC)Warrioroffreedom123
EoGuy Memorial Copy Writer Award
Name me Copy Editor Emeritus and take me out of the running.
That will give someone else a chance.
Bil EoGuy EoGuy (talk) 20:58, June 19, 2017 (UTC)
Link for discord
https://discord.gg/FsvBVy works for 24 hours, hurry up boi
SkyGreen24 21:51, July 6, 2017 (UTC)
will you please explain to me what is going on in this I don't know how to acess the discord if its still up the link doesn't work and I don't know how to if I even can join the map games
(JacksonHitchcock (talk) 20:29, July 10, 2017 (UTC))
it worked much love <3
Discord
Hi do you think I could have a link to the discord chat? Thank you Malthree (talk) 17:23, July 21, 2017 (UTC)
Do you think I could get a new link, the one you gave me is expired. Thanks, Malthree (talk) 18:55, September 12, 2017 (UTC)
Hello
I got your message on my talk page, and I was wondering if I could have a link to your wiki's chat. Also am I allowed to play Principia Moderni IV the map game? Thank you K50XQU1029theCYPHER (talk) 04:00, August 26, 2017 (UTC) 
~~DoubleClef~~
Hi there what is the code for Discord?
Discord Invite
Hi, I was told to ask you for an invite to the discord server. I haven't been able to log in to my old account, so I made a new account but just need a new invite. Thanks, Hquvfrioyle Lilenofryn (talk) 00:19, October 11, 2017 (UTC)
May I have the link to discord?
Re: The Cross Issue
Hey, MP.
I do apologize for the confusion and frustration.
I would be more than happy to add a new reasoning to the deletion notifications to inform users about this. If this is not enough, please don't be shy to let me know.
I do hope this helps. -- NuclearVacuum
21:54, December 25, 2017 (UTC)
The Return
Hey MP, Steph here, I managed to recover my old account, and I think I have time in my schedule to rejoin the wiki. I guess I could use the discord link, and also now that I have control over my old account (Found the passowrd to an old email address) I would kinda like to return to it. Stephanus Rex II (talk) 00:58, January 24, 2018 (UTC)
I would like to go back, but I have been blocked. So a swift unblock, followed by closing this account would probably be the best course of action. Thanks MP, and its good to be back. Stephanus Rex II (talk) 20:37, January 24, 2018 (UTC)
I'm BACK! Do as you will with the new one. Stephanus rex (talk) 06:46, January 25, 2018 (UTC)
2018 Stirlings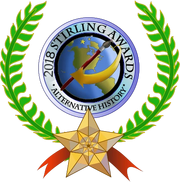 This is to remind myself that I won, tied with Scraw, the Lifetime Writer of the Year for 2018.
"This is not your grave but you are welcome in it." 02:35, March 19, 2018 (UTC)
Furthermore, congrats to you for winning the Best Article and Best Map awards.
Scrawland Scribblescratch 02:39, March 19, 2018 (UTC)
I took my name out of the running.
Someone else should have a chance to win it.
Bil EoGuy/EoGuy99 EoGuy99 (talk) 07:19, March 19, 2018 (UTC)
Discord
Can somebody please give me the link to the discord? 2Hats (talk) 23:56, March 19, 2018 (UTC)
Re:Restriction of Editing
A troll has been vandalizing the Wiki for the past week (as you've seen). I have been in contact with Wikia to resolve the issue.
I'm not fully sure (since they haven't informed me), but I do believe Wikia has implemented a program which limits user's abilities. I have been told that this program has a 12 hour limit (they won't allow any more time), so I'm hoping it will be resolved soon. They have also implemented range blocks on specific IPs to prevent the vandal from creating additional accounts.
However, I'm not sure that the specific issues taking place are in relations to this. The protection program is limited to 12 hours and is only programed to block the full activities of new users. This is clearly not the issue, as the users in question are not new and they are still able to edit articles. I also don't believe the IP blocks are the issue.
I will do a double-check to be sure it has nothing to do on my end, and I will contact Wikia about this to see if it's a bug or their doing. -- NuclearVacuum
16:07, April 4, 2018 (UTC)
Link for the Chat
Hello,
I'm a user and admin from the map game wiki, and I tried to join your discord server but the link is not working. I wanted to let you know, and request a new link so that I can join.
Thank you,
Vandenhoek (talk) 01:06, May 2, 2018 (UTC)
Revive Map Game Application
It is very tragic that new map game applications are indefinitely suspended, and I would like to understand the rationale behind this decision. For the interest of the Alternate History Wiki community, you should lift the rule that says that map game applications are permanently suspended, because the wiki community could gain many more editors like me, editors who join/start editing because of a heightened interest in map games. Emperorkangxi (talk) 19:10, May 22, 2018 (UTC)
TGN
Straight off the bat, I'll allow you co-ownership. Man wants to know your ideas! Impishly yours, Imp (Say Hi?!) 04:49, June 14, 2018 (UTC)
Tbh, I had a few issues with present canon - mainly the fact the Spanish have a colony while the Scandinavian nations seem to lack that much area or influence. I tried to plan out an alternative colonisation of Greenland in my Sandbox (have a look) but LG said that wasn't really allowed. Chris did give me permission to change what I saw fit so I feel its a little bit of a grey area I'll not lie to you.
After talking to LG, I saw a lot of my ideas in the sandbox were rubbish so that's not going to be incorporated. Basically the American state on Greenland will be going to the Danes, so that nation needs to be removed from canon. Donskya also is  most likely not going to exist - it will instead be a part of Romanova - even with better climate, it makes sense that land will not actually be holding so many people that it would eventually become its own nation. Its more likely that the island would have a few outposts here and there and more likely be a territory, before becoming incorporated into Romanova. It would most likely see population expansion in the twentieth century itself.
In regards to the British colonies on the island, I actually have a few ideas in that regard. I reckon Rossland could potentially be a kingdom of the UK, rather than a dominion. In my head it would make sense for the nation to be part of Britain mainly because it is closer than Canada or America, Of course, it would have to be well written as to how this happens, but such a resourceful land and (relatively) close to Britain means it probably have a solid chance of joining Britain as long as it doesn't significantly diverge culturally.
New Dorset on the other hand I could see being a dominion mainly because of the geographical terrain which allows it to develop a culture differing from the home islands. I could see a culture similar to Canada develop - a part of me wants it to join Canada but it might be too out there for that to be possible. I also think it might be quite the spot for Irish immigrants during the potato famine, because even tho its a British colony, I could see it being a much cheaper alternative to moving to Australia (where a lot of them went to OTL, along with America - I'm not sure if immigration into America would be affected). And if they trek to New Dorset to get away from British control and influence then New Dorset could be heavily catholic influenced and the nation may be a dominion or may be totally independent.
Another important point I want to make is the fact that with this larger Danish colony, I could definitely see a stronger Denmark on the continent and around the world. I think there is a unique chance to solve the Schleswig-Holstein Question before it becomes a thing - the Germans there could be encouraged to help populate the colony because Denmark does not have that many people so sending German speaking folk to help populate the colony would not only allow the population to bloom it would also allow Denmark to strengthen the control over their region. Larger number of people means more money flows into the Danish coffers due to the resources of the colony which could allow for the trade missions in Africa to succeed and perhaps allow them to exploit the Gold Coast (tho I am not sure if it is viable economically as the colony could still be sold). If the Gold Coast is not sold, I think it would be initeresting to see emigration from the Gold Coast to Danish Greenland which would mean the dependency could actually be an electric mix of people and a melting pot - which might allow for something like America to arise with Danish being the uniting language (I would want to see if it would be possible to have more than half the population be ethnically German but be speaking Danish because that would be cool).
Considering Manuela would still probably (I am still quite proud of that flag) exist, that colony will probably just be around. LG mentioned it was larger previously so I could see that the colony lost land to France and Loiusville and maybe the Danish colony too - tho I am not sure about Denmark gaining land. 
In regards to WWII, Chris orginially had the Nazis in Greenland, and I had the Communists in the Russian colonies, but both of them seem to be quite implausible. For one the Nazis would definitely not be able to get anywhere near the island. You know, it would make sense for the French to flee to Louisville during WWII and as a result there would be a high number of refugees from France itself. I could also see the French navy flee to the colony thus saving their naval force from destruction by the British. It might also make sense for the Free French forces to be raised in the nation rather than Africa (tho that is still a possibility).
I definitely want to hear your ideas about the alternate colonisation - soundboarding is definitely something this timeline could use well. And the reason why the countries do not have pages yet is because I still hadn't worked out how canon played out. But yea, I definitely think the Russian Revolution didn't really lead to any fighting in Greenland as most of the Whites who were able to get out and the Royal Family themselves fled to the island - which would have definitely significantly boosted the population at that time so I could see slums arising and all the politics with that playing out too.
Sorry for the text wall just been a while since I seriously thought about the tl, and I keep forgetting how much research you have to do lol! Impishly yours, Imp (Say Hi?!) 00:11, June 15, 2018 (UTC)
Research is alright, but I was surprised the amount I had to look into languages on the Indian subcontinent because I wanted to see how languages on the subcontinent were affected by rule under the Muslims (more specifically the Mughals) and then subsequently the British. I've also come to the realisation (shoud've been pretty obvious) that the British helped reinforce the caste system by giving a lot of administrative positions to Bhramins (who are top caste) which meant the caste system was reinforced. Hemu, on the other hand, was said to not be from a high caste so that could have interesting ramifications.
If you are interested to see what I mean just check out the main Samrat page and go to OTL vs ATL differences, where I have mainly written about the differences in language on the sub-continent, especially the northern half. I still need to see how the south would differ and develop with a continued Vijaynagar empire!
When I spoke to LG, he pointed out Sweden was always more focused on gaining power in the Batlics, which I doubt would change all that much if I am perfectly honest. I doubt we would need to check with Scraw, mainly because I'm basing the changes off conversations with LG which I reckon is the right way to go about things.
I definitely agree, a commune or two would not be out of the realm of possibility. With such large-scale immigration into the nation during the Russian Revolution (which I reckon the allied powers, especially the British, would initially be quite happy transporting refugees onto the island), and me previously having mentioned shanty towns arising, it could seem logical to have communist indeas spread in the new shatys going up willy nilly. Perhaps this could be the spark which leads to the weakening of the powers of the Tsar and leading to a form of government more aligned with the British parliamentary model (I'm a little biased toward the model, with me being a Brit and all), as LG suggested previously. Would definitely make for some drama during the Revolutionary period and perhaps the inter-war period too. In my head, Romanova would generally end up aligned with the British block in major matters.
I honestly do not see a problem with Franz-Josef land, my only major qualm is the fact the islands may be discovered sooner. If they are not, then it would make sense for AH to have a hold of those islands upto WWI. I'm not sure what might happen later, seeing as Russia is under Revolution and the allies were in the habit of taking over CP colonies. Mayhaps somehow this colony might survive the chop? I could see it going to Austria or more likely the Weirmar Republic as it has access to the coast (if it isn't taken by one of the Scandinavian nations). It's population could be comparable to something like Shetland by the modern day (so some 15-20k folk). It would definitely make for an interesting quirk of history. But I think AH might still arrive on the scene a bit too late to impact the colonisation of Greenland, I'm afriad.
I definitely agree, a New Dorset aligned with Canada or a part of Canada would definitely make things initeresting. Not to mention that the transportation links required would provide a good deal of jobs in Labrador and Newfoundland so that would be another positive. Oh believe me I too really wanted a united British Greenland but had to grudgingly admit splitting them up would make a lot of sense. The way I saw it, was as previously mentioned a lot of Irish immigrants would come to New Dorset (which is why I am considering a name change for the colony), along with a good deal of Scottish immigrants because in my head the lands share similarities with Scotland and Ireland while Rossland has climate that is closer to England, which was why I saw premoninantly English emigration occur to the colony tbh.
We definitely could manufacture some sort of crisis, especially if we say the Soviet Union still looked at Romanova as rightfully their territory and perhaps even has some sort of Romanovan SSR thing set up but which for all points and purposes is moot. It would be interesting to have a Britain that is still looking outward, so there could be British garrisons in Romanova along with American ones (and ofc Romanovan garrisons in New Dorset and Rossland). I think all of the Greenlander nations would be founding members of NATO - I cannot see any of those nations going any other way.
I'm also curious as to what the fate of Louisville might be. Would it be a French Dominion, or mart of the metropole like French Guyana is? I will need to read up on the timeline to see what Chris had written about the colony but its an initeresting one to consider. I think Manuela is more a country in personal union with Spain than anything else, so an independent Prime Minister but the head of state remains the monarchy. I think we could add in a bit of culture and have the colony be the summer retreat of the Royal Family or perhaps have something like the Prince of Wales situation where the heir to the throne is regarded as the Prince of Manuela or something along those lines. Just something to consider.
I too am saddened by the lack of Nazi Greenland. Would have been something interesting but unfortunately I doubt the Nazis would have the strength at sea to carry out something of the sort.
I honestly doubt we would see any brass action, especially because we are not (majorly) altering colonial boundaries and infact fleshing out points which aren't all that clear or well defined. Impishly yours, Imp (Say Hi?!) 17:40, June 15, 2018 (UTC)

I'd say shoot. If you have more ideas I'd love to hear them, but yea feel free to delete and mark obsolete. Probably about time the timeline got some love. I also like the citation thing we have going on so after you feel satisfied with the article feel free to add citations for the aesthetic. Impishly yours, Imp (Say Hi?!) 03:29, June 16, 2018 (UTC)
Godspeed. Another thing that came to me (lol) was the fact that due to its distance, Rossland would have to have some sort of devolution, so it could be the first place to have a First Minister so to speak, and could serve as a model for future devolution in the British Isles themselves. I'm also thinking of an alternate emigration and settling of Ireland, so let me know if you are interested in hearing me out on that. Impishly yours, Imp (Say Hi?!) 06:29, June 16, 2018 (UTC)
Just had a look at the article you just put up and goddamn you work fast lol. I am loving it, tho I do think perhaps the Soviet numbers are slightly too much (by only 1k mind). I'll defer to your judgement if you think it correct however. Impishly yours, Imp (Say Hi?!) 06:35, June 16, 2018 (UTC)
I will not lie to you, I actually have no idea. I reckon the most sensible date would be just after the collapse of Russia into civil war. We could have a different date for declared and recognised, perhaps with the King has Head of State which could be one of the key British conditions for recognition.
I also have a request, would you mind reading through my additions to Rossland land see what you think? Impishly yours, Imp (Say Hi?!) 15:33, June 16, 2018 (UTC)
Cheers! I might go the LG route and have a competing company establish settlements further north, but for all intents and purposes they would still be one colony until they are split. I also think it might just be better to have New Dorset as a dominion rather than part of Canada (still not set on what to do lol).
Yea the process you mentioned is logical and makes sense, so a wait and see attitude I feel would work quite well. Also, somehow I had Donskoya have 12 mil folk and Romanova have something like 10, which doesn't make sense because Romanova would definitely be a more populated than the islands which formed Donskoya. So I am thinking the combined population of that realm to be somewhere bettwen 15-18 mil in the modern day. Thoughts? Also, need to figure out how the church would tie into all this, because I can see the church fleeing Communist Russia and setting up shop in Romanova. Might give a lot of weight to the nation to have both the head of state and the spiritual head of religion both in one city. Impishly yours, Imp (Say Hi?!) 17:00, June 16, 2018 (UTC)
I'm still not sold on an independent dominion of New Dorset. Which one do you think we should do, or should we just leave it for now?
Yea fairs, tho give me anything which can make it have a higher population and I'll be fully onboard believe me lol. I've been looking into the fauna of Greenland, and I think Polar Bears will only manage to survive in Romanova, tho I may be wrong. I have also found things like muskoxs and reindeers and the fact that reindeers have already been domesticated (though it is closer to semi-domestication in OTL) and with the fact that Chris had written about a few Norse settlements which manage to surivie for around 3-400 years on their own as well as local Inuit tribes who were more long-lived so probably had a good shot at domesticating both the musk oxen and the reindeer.
I thought religion was banned in the Soviet Union? I'll have to read up on it, my knowledge of the era is not quite up to speck I think.
Yea that could work. I was tempted to have an alternative Russia, but honestly I really could not see how that would be possible. Would there at all be a shot of the monarchy making a return post-fall of the Soviet Union? And another thing me and LG talked about was the fact thst modern day Ukraine, Belarus and West Russia may have lower populations due to the emigration to Greenland, but then this may be countered out by less deaths in famines in Ukraine in the 1930s for example.
Imma go take a look as soon as I finish writing this lol. Impishly yours, Imp (Say Hi?!) 18:22, June 16, 2018 (UTC)
Just finished reading it, its brilliant. Feel free to edit all the respecitve articles like Romanova so they match up to the article and so it lacks contradictions.Impishly yours, Imp (Say Hi?!) 18:40, June 16, 2018 (UTC)
No worries my dude. So sorry for the late response, rl caught up with me again hahaha. I shall have a look at Romanova immediately and let you know what I think, tho I'm sure it'll be good lol.
I think we could play this off as Portugal having established an outpost on Greenland, but maybe when the Iberian Union broke up the colony went to Spain, or perhaps either Spain or France seized it by force? Considering there isn't much mention of this colony, I feel having it become owned by another power would probably be the most probable outcome.
Also, I have done some (more) reading on Denmark. I actually feel, since Denmark is already focused on the region, their colony on Greenland might actually be one of the more populous ones initially. What I can see is, basing this off what has currently been written on the article, that the Danish establish initial control on the most populous of the remaining Nordic colonies - who are grateful for the support and supplies the Danish can provide because they were facing aggression and expansion from the local Inuit tribes who had united under one banner. The page also had the Danish finding silver deposits fairly quickly which made me think that the Danish region is probably one of the regions with the best resources.
I foresaw the booming of the settlements, and the remnant Nordic peoples migrating to the region of Denmark control/influence (during this time the Norwegian colony had not yet been established), along with the initial Danish settlements, which led to a high population density in a fairly small region. The next century or so was spent fighting and subjugating the inuits, who were the strongest in this region - which is why we can say the Danes did not manage to expand as much as you would expect with them having good resources and all.
Now, the region the Danes do control, they are able to exploit well, and thus I could see this having a butterfly effect in the fact that their other colonies have more funding and thus do better. I can still see them selling their colonies in India as that would have been sold before impact from the Danish colony could be felt, but I could actually see the Danish being able to fund themselves better in the Gold Coast, and seeing as to how the Danish only really left the region in 1850 in OTL, and then the Dutch subsequently did and Britain came to dominate the region, it would be interesting to see the Danes manage to win supremacy in the region. The Danes were quite egalitarian, so there may be a high chance that slavery is never implemented in Danish Greenland. Some Nordic scholars may also notice the similarities between slavery practised in Ashanti and by the Vikings.
With increased wealth, and eventual growth of the colony to claim more lands, we could see the Danes implement their program of encouraging German settlement to the colony - mainly to combat the Inuits and take their land in a manner sorta similar to the forced migrations the natives of America had to experience, as well as to alter the demographics of the Schleswig-Holstein region and to nip the growth of people speaking German which began in the 1820s. A wealthier and more powerful Denmark may still lose Norway to Sweden, but may be able to fight off the Prussians in a defensive war and keep the territories that ended up German (a consequence of this would be Denmark may have around 3-4 million more people, because of its new borders).
In regards to the German immigration into Danish Greenland, we could see founders effect take place, so the immigrants end up adopting most of the culture of the founders of the colony - in the same way German immigrants did so in America.
So by the late 19th century, Denmark could actually control all of Danish Greenland, Iceland (I've presumed there would be a great deal of migration from Iceland in this scenario too), OTL Denmark plus Schleswig-Holstein and the coast of what would eventually become Ghana.
Sorry for the long ramble lol. Thoughts? Impishly yours, Imp (Say Hi?!) 16:51, June 23, 2018 (UTC)
I've had a look, and honestly the amount of work you have done is commendable. However, I do think that perhaps we are toeing the line quite closely with the breakup of the Union in regards to OTL - it could've definitely gone in a different manner. For one, Belarus was quite hesitant to declare independence, so perhaps through butterflies we could have it remain within Russia. Maybe a smaller Ukraine, with the predominantly Russian speaking parts part of Russia from the get go? So Crimea and a significant chunk of eastern Ukraine? Admittedly this removes the conflict element from the modern day, but then there is always something else we can play about with in regards to Russia (encroachment into Kazakhstan instead perhaps?)
Ah, if you have a look at the Rossland page, I have already sorta established its roots. However, we could have a colony to the east or west of initial British settlement which is Portuguese and then becomes Dutch and then is finally knocked out and taken over by the Brits who incorporate it into Rossland. Might be interesting to explore this sub-culture, especially because it'll be a part of modern day Britain.
In my research, a large portion of S-H did not begin to speak German until the 1820s, which maybe could be attributed to the rising power of the German states? Here, I see the Danish encouraging as many people from the region as they can to emigrate and establish new lives in Greenland or even join up and explore the Gold Coast.
In the long term, I see the region becoming more Daneified as German speaking doesn't pick up and replace Danish as the main lingua franca within the region. That would make it less appealing to the Germans, but I don't doubt there would be an armed conflict/war. Maybe the Danes might've managed to forge some alliances that they had not in OTL? After all, butterflies are a given, and the Danes would be able to call up a small but significant number of soldiers from their Greenlander colonies.
I definitely think that Iceland would stay with Denmark - the current nation has a population of 300,000 and so it isn't hard to envision significant Danish and German immigration tipping the scales. I actually like the idea of Free Denmark. I actually felt that perhaps the Danish Royal Family may manage to escape the nation during Nazi invasion and set up a government it exile so the nation would not have to be taken like it currently is within Romanovan history.
And the reason why I think Danish Ghana might work well is because the Danish were quite egalitarian, more so than the Brits and others mainly because they did not greatly profit from the slave trade. Therefore, the Danes may be the kindest colonisers of the region and given Ghana is a stable nation in OTL, I'm just thinking how much more of a difference this might have on the region if the rulers are kinder than the British. Also, with the Gold Coast Denmark would have solid silver reserves due to Greenland and gold reserves due to the Gold Coast lol.
I actually do have a few ideas for a more updated map of Greenland. Essentially, what is Donskoya is part of Romanova, and Romanova's western border is marginally more southern. Grinella also does not exist and instead is part of Danish Greenland. Also, using Danish Greenland is slightly irritating, and if the region has as many people as Denmark proper (I see this being the case due to various sources of immigration) then perhaps it may have a proper name - something like Denland (it was one of the alternate names Chris has up on the article page).
I'm still unsure about Olavia if I'm honest, a part of me thinks the Danes would buy off the colony from the Norwegians at a later date, but another part of me thinks that it may actually survive if it is rich in resources and with a little Swedish immigration into the nation too during the union of the two nations. So perhaps it may still be around.
Indeed it is. Who do you intend on them marrying? I will be honest and admit I have not given it much thought! Impishly yours, Imp (Say Hi?!) 18:44, June 23, 2018 (UTC)
Again, sorry with the delay in replying!
Your idea for Karelia is very initeresting. Honestly, do as you see fit because whatever course you take it would be very interesting to see how it plays out. As for Kaliningrad, is there no way to save Konigsberg? Maybe butterflies mean it could be kept as a special SFSR or something, and then during the breakup sold to Germany for some (much-needed) cash?
In regards to Germany, perhaps a division more along the lines of the section titled "Two Large Germanies" in my sandbox could be had. I don't have a better reason other than butterflies but would be interesting (perhaps a "Prussian" SSR instead of a German one - but that might be too great a stretch).
Alright, let's leave S-H for the time being. And I agree on your thoughts on Free Denmark - definitely seems likely. And also, definitely feel free to go for the map yourself, I can always edit that map at a later date to show what I mean.
Alright, the Norwegian colony stays!
Ooo, I am definitely interested in Tatiana and Alexander I getting married. I'll have to look into Alexander I's reign but him surviving would be great! I also think that perhaps there is a way for Yugoslavia to make it out of the war in one piece. It would involve Yugoslavia pulling a Bulgaria and declaring netrality and allowing the Nazi soldiers to pass through it's territory/join them. Then when the tides of war change, they declare for the allies and immediately open up their borders to allied soldiers and the British fight hard to keep Yugoslavia free and allied. This is definitely an interesting avenue.
Ah, but give Mountbatten the chance to woo the woman, and we may be in business! I definitely think him and Maria could marry, and that would also be interesting. It would allow for close contact with the British Monarchy which would allow the Romanovans to thrive. Olga and Anastasia associating with British aristocracy would make a lot of sense I believe, and could serve to keep relations between the two nations strong. Olga marrying Edward VIII could work well too, but again I'll leave it up to you lol. It might be interesting to see him getting married to Olga, then wanting to marry the American and then going back to his marriage with Olga. Or perhaps he might meet Olga later on, and marry and settle in Romanova (now that might be an interesting quirk). Those are really my only ideas with Olga lol, so do what you see fit!
I'll probably send another wall of text soon lol. Impishly yours, Imp (Say Hi?!) 09:28, July 1, 2018 (UTC)
Yea, that makes sense in regards to Karelia. Even an independent SSR would be interesting nonetheless.
I like the sound of having Kaliningrad as an ASSR. And the forced internal movement of people seems something that is exactly up the USSR's alley. Did you know for a few decades that Russians made up half the population of Kazakhstan? This is why I wanted to explore an alternate crisis but instead of it being Crimea, it would be land in Kazakhstan where a significant chunk of Russians have managed to stay and thrive. Perhaps the best time for this forced internal migration may be just after the war to a decade or two after the war, because it would give the Soviets an excuse to move people about. Due to their long history in Russia, they may not fit in "East Germany" but could do well in Kaliningrad.
I would definitely be very interested in an alternate division of Germany so I'm quite pleased you are interested in exploring the idea further!
I have just seen the Free Denmark article and I cannot wait for the additions lol. I look forward to the map.
Sky would be a very good source, I agree. It could be impossible, but I would love to see a Yugoslavia held together by the monarchy who perhaps have more power than their other European counterparts. Perhaps they could be some sort of gateway to where the east and west meet or something of the sort. Now I know tensions between the Serbs and the Croats were high, so if we can find a way of somehow solving this problem so tensions would not boil over and instead a sort of co-existance/mingling could be achieved then this would be incredible.
Indeed, good relations with the British would put it firmly within the British sphere. Perhaps this might also allow for a British sphere to emerge after WWII, instead of OTL where they basically began to follow the Americans. With Rossland part of the UK and New Dorset a close dominion, and Romanova essentially being in the British camp, Greenland would have mostly British influence. Is there a chance that due to this, cryllic is dropped as the script of the USR and instead they adopt a latin-based script? Also, with the resources and extra population base of British Greenland, could this butterfly into still maintaining close relations with Canada (tricky) or ANZAC (more possible). An implication of this I could see being a joint space program (which the Brits tried in OTL but failed) and so the Space Race might be more diverse as a result. Impishly yours, Imp (Say Hi?!) 02:24, July 2, 2018 (UTC)
Indeed. Have a look at the historical demographics of Kazahstan, really is quite an eye opener in that regard I have to say. I agree, the Soviet Union should definitely be looked at very carefully, because we are talking a lot of significant changes (a Karelian SSR, Kaliningrad being home to the Soviet Germans etc). I think we can have great fun mapping out this alternate union.
Rather than being restored, we may actually just see them continue as monarchs. Perhaps there is a way to work around this. We could maybe have the Croats and Serbs have their own individual parliaments with equal power for their respective nations. Perhaps the only thing they may share with each other would be an armed forces, the legal codes, the education system, the currency, and of course the monarchy. I think if there is a chance to essentially make the two being countries in personal union rather than being a unified nation so some sort of unity survives should not out of the question. This would actually be akin to what would have happened if Scotland had gone independent - so there would be a "Prime Minister" for the Croats and one for the Serbs. We may actually be able to use The unity of the Realm model that the Danish employ, seeing as how I reckon the Danish would continue to use the model and as more nations are a part of the Kingdom of Denmark (like Iceland for example), the Yugoslavs may be able to employ the same method in an altered form.
British power may wane, but maybe there is a chance that decolonisation is less rushed due to a richer UK (especially post-war) due to Greenland. A more stable Africa benefits the whole world. India I reckon would still get independent around the same time as OTL, perhaps a year later which would mean partition may be less bloody. Maybe, however, the British territories in the Caribbean could become part of Britain or at least unify under one banner rather than splintering like they did in OTL.
No change in cryllic is fine, it was far-fetched anyway lol.
The best link for this I reckon is the wikipedia page on the British space programme. As you can see, although it is relatively a small program compared to other nations, it has had some success. Perhaps with more funding and a larger resource pool, we have actually achieve the spaceplanes the Brits seem to be very keen on developing.
Ooo, I look forward to the lore of "the daughters of Romanov"! Impishly yours, Imp (Say Hi?!) 16:46, July 2, 2018 (UTC)
We definitely should. I think we can get away with most things being largely the same until the early 20th century but things will change following that. We should probably focus on that after what we are currently focusing on, but it might be useful to leave a lot of history past WWII vague because how do we know we will still get the same set of leaders that we did in OTL? For one, I really do not want Churchill around as much as he was in OTL, especially after WWII, because he was the reason the Mau Mau conflict in Kenya escalated. If, e.g Clement Atlee had still been PM perhaps he would have looked for a peaceful solution and had a set timetable for Kenyan independence which might have allowed it to have local police and armed forces gain positions of power after they had come through the system instead of rebel leaders appointing people who would be prone to coups and instability as OTL has shown.
The people in power do greatly impact other things, which is why butterflies are so important lol. I am having the colonisation of Ireland be butterflied in a different direction just because of Greenland affecting how Charles I decided to go about his colonisation of Ireland. I also plan for the majority of Anglo-Irish peoples of The Pale to either end up with the establishment or migrating to Greenland instead of OTL where they just became part of the local populace.
Ah, sorry for the confusion. I was referring to post-war Yugoslavia, not pre-war, since it would have been impossible to change things even with Alex still in power and with a wife. When I talked about them continuing to be monarchs, I was referring to the post-war Yugoslavia. As I mentioned before, my hope for Yugoslavia was to pull a Romania and allow the Axis to march through their territories by staying neutral. Ofc, the Germans may still turn and invade them, in which case it would be useful for the Yugo monarchy to side with the Brits and claim support.
Actually, I think it might be quite simple for the split to emerge. Say that even with Alex I still alive, the Yugoslavians act as OTL and refuse the Germans their offer of alliance. So they get invaded. The Nazi's created a huge Croat state, which was rife with partisans. What we could have is Tito fighting the Ustashe fiercely within Croatia due to their ideals clashing heavily, while have Royalists in Serbia engage in fighting on that front - and an unholy alliance between the two (like the Commies and Nationalists in China). It would be very quirky to have the alt-Peter I to be fighting as a partisan in the nation instead of fleeing the country. Could we have Alexander perhaps deciding to stay in Belgrade when the invasion happens and become a rallying symbol for Serbians and monarchists alike, when he gets killed by the invading Nazis? It would be an increible tale to write of a King and Queen sending off their children to safety but staying to lead the army and the people in a futile last stand against the Nazis. They would be immortalised. It might be even better for them to have been currently visiting Zagreb and be killed by the invading Nazis (or the Ustashe, but that might lead to Croat backlash too).
Following this, we could have an alt-Peter be trained up by the British forces and perhaps be one of the first SAS soldiers trained up - with the purpose of his squadron being to use the partisan support and the view of the monarchy to land in occupied Serbia and take charge of resistance. I could see the regiment that drops him in being composed of a mix of Serbs and Brits. The alliance between the communists and royalists could be agreed upon with Tito and Peter in person. From there both of them would resist in their respective nations. The soviets would funnel support to Tito while the Allies (mainly the Brits and Romanovs) would support the Royalists. I could see the Romanovs make their co-operation in the war conditional on the support to re-establish Yugoslavia as a kingdom due to the loss of the King's sister.
Then, at the end of the war, Soviet tanks roll into Zagreb, and seem to be set on rolling into the rest of Yugoslavia - but the Allied forces make amphibious landings and roll in from the south starting from Greece. I think Romanova would redeploy the majority of its army from the war in Germany to Serbia to ensure as much as Yugoslavia can be saved for the Royalist cause and from there we may see a split of East and West Yugolsavia, with Tito being supported by the Soviets and (reluctantly) toeing the line. Whether he keeps toeing the line or pulls his OTL moves can be discussed in the next round of discussion lol.
I also think we could add on Albania to post war East Yugoslavia. Peter could use the British model of kingdoms and make the countries within constituent nations within his kingdom, with some level of autonomy. Safe to say, in the rest of Yugoslavia he would be looked on as a great hero, even though Tito would be respected in the West Yugoslav section. I'll talk about where I envision the division of East and West to lie, again, in the next round of messages.
Impishly yours, Imp (Say Hi?!) 05:25, July 6, 2018 (UTC)
Hello
hello MP can you help me out im pretty new and i need help on doing articles
thank you.
ROAball (talk) 20:26, June 18, 2018 (UTC)JEVD
hello MP
I need help getting started in this wiki i really love alternate history and i would be glad to make an entire alternate history articles with you if you can
ROAball (talk) 17:58, June 19, 2018 (UTC)JEVD
Hello MP hey how can we post images in the image part of the infobox?
thanks again
ROAball (talk) 14:32, June 21, 2018 (UTC)JEVD Hello MP,
i just created my own series of articles.
this series is called "For Glory".
you can check them out if you want.
ROAball (talk) 22:03, June 28, 2018 (UTC)"We Are The Liberators Of Our Motherland"
Hello MP,
I dont know what POD is.....
i know I didnt create that......
ROAball (talk) 01:36, June 29, 2018 (UTC)"We Are The Liberators Of Our Motherland"
Hello MP,
hey how is the media in the age of kings?
17:45, June 29, 2018 (UTC)ROAball (talk)"We Are The Liberators Of Our Motherland"
Re: TGN
Hey there! So I'm going back to The Green North, which I only got interested in once again after I got some notifications about your conversations with Imp about it. Not really sure how much I can contribute to it overall other than giving some people names. I might leave the other aspects of building up these nations' histories to you guys.
I don't think I might change a lot of what I had written down for Romanova except maybe just making Alexi an honorary officer instead of someone actually involved in combat during WW2. Also, Khariton Melnik died when his ship was sunk while he was pursuing the Romanovs during Operation Savior of Man so he wouldn't be able to escape to the Soviet Union with Dendarov and Zubrov after the Romanovan War of Independence.
And I didn't know that you had plans for yourself about Vasily Maklakov. I just thought it would be interesting for him to get a government position in Romanova. Do tell me what you had in mind for Maklakov; I'm very interested to know.
And I will eventually change President of Romanova to Prime Minister soon enough. I'm happy to help out on this timeline! Godfrey Raphael (talk) 04:20, June 28, 2018 (UTC)
In that case then I will just keep Maklakov where he is at the moment. And I do think that it is high time for Alexi to have an older photo of himself, so to speak. I had tried to give him some but discarded them for odd reasons. The photo for Tsar Alexander IV was supposed to be old Alexi but I decided to give it to another royal because the photo looked a bit too modern to be Alexi in 1998. I also have a photo of Vasily Zaitsev that I used to depict Alexi during World War Two but I decided that that wouldn't work as well especially given that he won't be in the frontlines anymore.
Anyway, that's all I have for the moment. Maybe I might start on contributing some First Ministers for Rossland as well. Godfrey Raphael (talk) 08:52, June 29, 2018 (UTC)
Hey MP,
I just noticed a really interesting coincidence regarding Maria Nikolayena (aka Maria Mountbatten). I had put down Maria's death date as being August 30, 1979, when The Green North was not really that fleshed out and I had no idea as to who could have been Maria's spouse. But now that it appears that Maria will be married to Lord Moutbatten, I saw that his assassination happened on August 27, 1979. Maybe it's possible that Maria was also injured in the assassination and then died of her wounds three days later? Do let me know your thoughts about this. Godfrey Raphael (talk) 13:58, July 11, 2018 (UTC)
To be perfectly and completely honest, I haven't had much plans for the other Romanovan children at all, other than just random death dates (although I did think that they would get to live a lot longer in TTL as a bit of a counterpoint to their early deaths OTL.
And that would be really interesting that the assassination could be butterflied away by virtue of Mountbatten marrying Maria meaning that he could have spent that vacation in 1979 in Greenland instead of Ireland. I've never been that good in delving into the butterflies of any timeline other than what's already written there by the other contributors (if there are any). Still, it was a pretty interesting coincidence. Maybe Mountbatten died naturally during said vacation and Maria succumbed to grief three days later? Interesting thought.
Oh, and I'd probably roll with whatever you had planned for the Romanovs. Godfrey Raphael (talk) 14:26, July 11, 2018 (UTC)
Hello MP,
ok its just that i see a lot of potential in this series
ROAball (talk) 00:51, June 30, 2018 (UTC)"We Are The Liberators Of Our Motherland"
Hello MP,
The POD of "For Glory" is when the axis are avail to take down the UK and establish puppets in Scandanavia,The Balkans,Africa and Asia.
there is more but currently thats the POD of "For Glory"
ROAball (talk) 00:59, June 30, 2018 (UTC)"We Are The Liberators Of Our Motherland"
Hello MP,
The way the Axis win is complecated. 
First of all, Italy is competant, Germany accualy uses winter clothes for Barborrossa. Iraq is able to win the Anglo-Iraqi War. In 1942 the British Free Corps(BFC) are formed. the germans win in stalingrad and leningrad however the fighting is reduced to the urals mountains which the soviets are winning but can't retake moscow. there is more but this is it for now.
ROAball (talk) 03:12, July 1, 2018 (UTC)"We Are The Liberators Of Our Motherland"
Hello MP,
can you please go to my page "Georgios Poulos(For Glory)" and add the borders.
the Border will be the flag of the Kingdom and the flag of the Hellenic State.
Thanks!!
ROAball (talk) 05:56, July 1, 2018 (UTC)"We Are The Liberators Of Our Motherland"
Hello MP,
how do you do the Belligerents thing and the war thing. 
You know that thing that you see in the World War one(Age Of Kings) infobox.
ROAball (talk) 04:16, July 2, 2018 (UTC)"We Are The Liberators Of Our Motherland"
Hello MP,
Have you heard of the alternate History series: Germany Wins?
Cuz the pages there are empty though i gonna revive it.
Thanks!
ROAball (talk) 00:19, July 8, 2018 (UTC)"We Are The Liberators Of Our Motherland"
Hello MP<
heres the thing i got my first and second strikes for quote-on-quote "Been using redundant templates and been duplicating files".
first of all how am i using "Redundant templates" when there is no template that offered what i needed so i made up my own to help me explain everything in my pages.
Second how can i use photos in my pages? Thats the problem cuz i need help on putting photos like maps, flags,etc and thats when the Duplication of files comes in, your just triyng to insert photos in your pages but then they end up duplicating. 
so can you tell me how to insert photos without duplicating them. When i try to insert it takes me to the upload photo.
ROAball (talk) 03:48, July 14, 2018 (UTC)"We Are the Liberators Of Our Motherland"
Hello MP,
how can i insert images? cuz no one really told me how to insert images. 
ROAball (talk) 19:18, July 14, 2018 (UTC)"We Are The Liberators Of Our Motherland"
Re:Congrats
Wow! Thank you guys so very much. -- NuclearVacuum
02:42, July 25, 2018 (UTC)
The Great Peace
Norway (my nation) has sent an invitation to you for a meeting in Bergen. Remember to respond to the invite. Emperorkangxi (talk) 18:00, July 31, 2018 (UTC)
hey MP,
What do you think of Zombie Alternate Histories?
ROAball (talk) 21:04, August 6, 2018 (UTC)"We Are The Liberators Of Our Motherland"
Hey PM,
I want to do another WW2 scenario but I was inspired of this Video is that ok if a scenario is a bit alike its inspiraction? In this timeline the Soviets invade Gernany in 1942.
ROAball (talk) 02:41, August 9, 2018 (UTC)"The Saviors"
"it's" vs "its"
"it's" is only the contraction of "it is" or "it has"
In all other cases the word is "its"
Bil Mesa AZ EoGuy99 (talk) 01:23, August 22, 2018 (UTC)
Deletion of

Hitler gets 2nd chance through a journey through time
I do not think that my story is based on the future, since the POD begins in 1914. This is just the foreword and does not act in the future.
Splatster November 1, 2018 17:42 (UTC)
Sorry
That account was me also.
Bil EoGuy Mesa AZ EoGuy99 (talk) EoGuy98 (talk) 07:14, November 10, 2018 (UTC)
Hello, I noticed that at 21:34 of 6 December 2018, you added my timeline to the category ASB - Biased. I would like to politely request to be informed as to why it was added in said category.
Althistorian 2005 (talk) 07:18, December 7, 2018 (UTC)
Ok, so even if Sweden itself might not have had the economic/military strengh to hold colonies so far away, Germany could've helped until it did. After all, allies help each other.
Althistorian 2005 (talk) 14:32, December 9, 2018 (UTC)
Right, but just Germany had a bad experience with Austria in OTL doesn't mean he'll have a bad time with Sweden in this ATL. Sweden would already be pretty strong by the end of the war, so the most they would need would be buying a few ships from Germany and sending troops to the new colonies. Besides, Sweden and Austria are two different countries, so just because one of them is weak doesn't mean the other is as well.
Also, while the Germans in OTL only considered giving Ireland independence, it also made sense to split off Scotland and Wales as this would reduce the power and influence of England to a level the Central Powers would've been comfortable with.
Althistorian 2005 (talk) 01:57, December 10, 2018 (UTC)
Ok, so about Germany facing public starvation during the war: that would not have happened in this timeline because the blockade was lifted in 1915. Without public starvation and with big breakthroughs on all fronts, there would not have been any reason or incentive for domestic revolution.
Regarding Austria-Hungary, you can see that Germany did deal with that later on. As for Eastern Europe and the Allies, Eastern Europe was eventually dealt with in the background as the timeline progressed and the Allies basically had even less choice than Germany in OTL 1919. Germany in OTL 1919 had Allied troops massing along the border and was facing domestic revolution, public starvation, etc, but the Allies in this timeline were already completely occupied by the Central Powers. They had to comply without any other choice at all.
In the face of everything else that was happening, surely Germany would've been able to sell a few battleships and tanks to Sweden.
Now, about splitting the UK up, the Central Powers would've wanted to make sure the Allies were weakened enough, even in our timeline. Splitting them up into separate countries would've provided a fitting method to weaken them in addition to reducing their militaries, taking away their colonies, etc. France, however, was not split up because Germany had already taken tons of land from them.
Eventually, as time went on, the Germans found themselves caring more and more about ethnic boundaries, eventually culminating in selling all that land back to France and also becoming the Allies of WW2.
I rest my case.
Althistorian 2005 (talk) 16:10, December 20, 2018 (UTC)
Thanks. I could redo the whole timeline, but I've gone too far to go back. It's ok, the timeline can be unrealistic, but it's all in fun, right? You can keep the label there, but it doesn't really matter as long as we all have fun on this wiki.
Althistorian 2005 (talk) 00:01, December 24, 2018 (UTC)
Thanks for understanding. I hope we meet again someday.
Althistorian 2005 (talk) 09:54, December 25, 2018 (UTC)
thanks
but there's nothing anyone online can do.
EoGuy99 (talk) 19:58, February 25, 2019 (UTC)
0luap_ (talk) 20:52, May 28, 2019 (UTC)Hello, can I create a timeline and put my countries in it?
Hello Monster Pumpkin,
Thank you so much, I will follow the laws of the community.
I have a simple question, can I start my timeline in any century? Type: 21st century, 20, 19 and etc
0luap_ (talk) 00:29, June 11, 2019 (UTC)
Hey!
Hey MP! I honestly don't remember the last time I logged online here, so bear with me.
I want to try to get myself back into the community here, since in retrospect, since Althing really did set up a lot of great things for me. I'll be on the Discord (and I'll try to see what's happened since I left), so please, if you have a moment (we're all busy, I get it) let me know. I'd like to try and see a couple people I still recognize around here lol.
Also, Reme was completely ASB. It was the best thing that ever happened here for me, but it was still ASB.
Sat (Talk to me!) 18:11, July 19, 2019 (UTC)
Ok, got it, thanks so much for the help!
0luap_ (talk) 20:33, August 15, 2019 (UTC)
Hello,I would like to ask you a question.(or some)
-Is it possible(to have a scenario with a completely different world)eg:different land masses,but it's still on earth.
-Is it possible for this scenario to not have anything in common with our world(except languages, human and living stuff)
-Is it possible to have the scenario go from eg:1500s-2100s and more?
Thank you,wolftheryot
TGN (Again?)
Sigh.
It has been nearly a year and a half. Deepest apologies my friend.
Lemme try to get back into the groove!
See the problem I have come to realise is that there are actually going to be a large amount of butterflies with almost everything, but I guess we are making the decision to keep things more like OTL. See the thing about hashing this thing out is the fact that with a talkpage it is easy to read up on things even if having been away from the wiki for a year and a half, although I do understand just chatting one on one.
You reckon we could resurrect the chat? Ngl I am not a fan of discord.
I do see odd butterflies here and there. For example I have found out Britain ditched the gold standard for a few years there before it was readopted. Were the gold standard remain unadopted, Britain would not be nearly as broke on the onset of WWII. It is a small tidbit but it has important applications post WWII - considering the fact Britain was the only nation to actually pay off its lend-lease debt to the US. This had the double effect of making Britain more reliant on America post-war while also accelerating the end of British influence across the globe which served American interests. Thus having this as a butterfly would give Britain more weight in the post war world and I do want to play with that a little.
Alternate in the sense that the British hold on Ireland is a little stronger and larger in the sense both Dublin and Belfast would fall under the pro-British realm while the rest of the nation remains as OTL - so an East/West split instead of North/South. The only real objective here is to explore how a stronger British Ireland affects events. In my head there is a greater depopulation of Ireland and a greater colonisation of other parts of the empire and of course the US.
Yea, thinking about it, it feels fairly unlikely Yugoslavia could have avoided the war coming to its doorstep. I do like the sound of this third faction. I think we can engineer it in such a manner that Alexander leads the monarchist partisan movement while his son Peter may be in charge of leading the monarchist government in exile. I imagine the Royalists fighting as brutally as the rest of em - just with the key element of being suppied by the British and then Americans.
We could tie in the whole Yugoslav campaign with the Greek equivalent. Seeing how Greece erupted post-war into a civil war, a greater scope of intervention coupled with the Tito-Stalin split being earlier due to the existence of the K. of Yugoslavia could see the monarchy remain in power in Greece and grow friendly relations with the Yugoslavian Monarchy. As for where the border would lie between the East and West, I imagine the OTL Serbo-Croat border makes up the northern part of it, while the rest of the border lies along the western portion of the Republika Srpska, specifically the part of Brčko District.
I do not think Albania would be a part of Yugoslavia either, but mayhaps we could have Kosovo end up part of Albania instead? Would work out for the best I feel.
Also, have a look at this. I think this would be really nice to implement, seeing as we will be having a greater number of monarchies anyway. I adopted the TL when I guy called Feg left the wiki, and athough it would be a lot of work - it might be quite interesting to consider.
Hope you still gotta a little interest left in the tank for this! 
Impishly yours, Imp (Say Hi?!) 05:39, November 23, 2019 (UTC)
Hey man, good to hear from you again!
Sometimes I honestly feel that we should just ditch the concept of WWI and WWII in the OTL paralell sense and actually just work up to the 1900s and see where the timeline takes us. Honestly with all the butterflies around who is to say which way history actually develops until we have written a lot of it lol. 
So, with Ireland, I am not sure if you know but before the potato famine the nation supported a population of around 10 million (and when you consider the modern day nation only has a population around 5 it puts things into perspective). The cities of Belfast, Dublin and Cork were the only places in the nation which gained people while the rest all emigrated. So what we might consider is either butterflying the effects of the potato blight or altering its impact so as to reduce the damage onto the island.
This would inevitably give rise to Cork as the capital of an independent Ireland, but you are correct, maybe Ireland in this TL may not go independent at all. There is a lot to think about. 
If I remember correctly, the focus on Greece was really Churchill's doing, as he did not want the "bastion of civilisation" to fall into communist or Nazi hands. Churchill might not be even born or be leader in this alternate war, so perhaps the British might have focused their forces on more useful fronts such as the Northern Africa campaign which could have significant impact. Again, this is if history goes like OTL.
An allied invasion could have the desired impact of installing monarchs, I agree. Kosovo is ethnically Albanian so perhaps that could be a factor.
I think the timeline mentioned a Prince George that died in 1942, but more importantly mentioned a Polish General that was quite important to the Polish Government in exile.
At this point, I am beginning to think it may be more useful to figure out how Greenland affects colonisation and the rise of powers in Europe because we might have a completely different continent by the 1900s. I definitely think the butterflies from Greenland being colonised might lead to quite big changes even by the 1900s. 
Look forward to hearing from you again! Impishly yours, Imp (Say Hi?!) 20:26, January 28, 2020 (UTC)
Questions/Suggestions
1. How large is the Age of Kings German colonial empire at its height, what colonies and protectorates?

2. Will Mitteleuropa reform post war into something similar to a early European Union?

3.Will the Soviet Empire be dismantled as a result of WWII?

Also,for the suggestion, I think the Eastern European and Mitteleuropan states in general would have their militaries reformed along Prussian lines as a break of "Tsarist occupying legacy" as well as convenient (same bloc, effective given all the nations otl that adopted, show of unity.) Another worhy factor to note is even countres outside of the german sphere OTL (chile, bolivia) adotped these due to their effectivness, and with the Mitteleuropa firmly in the German sphere, adoption seems a no brainer. The nationalists in these countries wouldn't care as Germany isn't exactly a historical enemy of Ukraine and Belarus, yet Russia is, so they will be eagle for de Russification in terms of military doctrine. 
Granted, they would have their own unique colors to show their independence
Here would be an example, in this case being Belarussian uniform: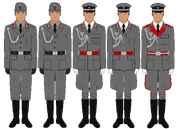 Of course, given that the coloring is red, and white on the trims, it delegates it is a Belalrussian uniform, especially the insignia on the cap. Ukrainan would probably have blue and yellow trims, Polish white and red but certain changes to differntiate it from Belarussian and German, and probably Crimea being influenced by its national colors as well.
This might actually be a better example for Belarus 

Granted I know nobody can find specific examples of these for actual pictures, I am more talking about Canon in general, even if it is in our heads.
Hope you can response, sorry for this but I love your timeline btw
Warrioroffreedom123
Hello. I have noticed that one of the pages I have created has caused some controversy with this community. It says on the page that it could be deleted if the issues with it are not corrected, but my problem is I don't know what I need to correct and I don't know how to correct it. However, the problem is that it says on the page that I cannot edit it without permission, so I am confused on what I am supposed to do  
Thanks for the information. It for some reason won't allow me to edit the template. 
Ok sorry. I didn't know that I couldn't use other timelines as references. Can you please allow me to edit the template so I can change a few things on it please? Let me know when you do  
Stirling nomination
Hey MP, forever ago you nominated The Green North and the Flag of Romanova for Lifetime Achievement stirling awards. So you know that the 2019 awards never happened, and then we did the 2020 awards late and skipped the Lifetime ones. So that nomination is active now. Voting is open through January 25. Benkarnell (talk) 05:20, 9 January 2021 (UTC)
Benkarnell (talk) 05:47, 9 January 2021 (UTC)
Been a while but just wanted to pop in and say ty for the nomination lad. Impishly yours, Imp (Say Hi?!) 06:45, 2 March 2021 (UTC)
israel (age of kings)
i am an israeli jew. can i help you with the israel page on the age of kings timeline? JH019596 (talk)
Discord
Hello, i saw you first on the admins list so I please for a new discord link 'cause the old's expired.Титус (talk) 10:47, 26 April 2021 (UTC)
TSPTF list
Hey MP, I'm checking in because we just added to new TSPTF members and I want to make sure the list is up to date. You're still editing here, but nothing really admin-related in some time. Do you still want to be considered active? Either way is fine, don't take this as pressure to do anything in particular. False Dmitri (talk) 18:52, 2 August 2021 (UTC)