Hello and welcome to the Alternate History Wiki!

We are a community for creating fictional alternative histories. We hope you will feel at home here and wish you good luck contributing to our ever-growing collection of timelines.

Please start by reading our Guide to Newcomers. It contains links to the important sections of the wiki.
If you're new to wikis in general, see How to Make Articles.
If you're ready to create an article, see Conventions in Use in this Wiki. It explains how to title and categorize your pages, what kinds of content are allowed, and other rules of the site.

Some other helpful reference pages:

Some general tips:

This wiki is for alternate history, not future timelines. What you write should take place before 2022.
All articles on this wiki take the following format: Name of article (Name of Timeline). This helps us know which pages belong together.
To sign your posts on talk pages, use ~~~~ (four tildes). This will insert your name and timestamp.
You can experiment in the Sandbox.

Regards, -- Lordganon (Talk) 02:55, December 30, 2012
.
Hayah!When Claudine's fire ball hit's Claudia's walls! (talk) 23:29, 27 April 2022 (UTC)
Welcome Back
Welcome back Ms, good to see you again. KawaiiKame (talk) 21:23, October 10, 2015 (UTC)
Merveilles du Monde
Hi,
I've noticed you've signed up for Merveilles du Monde (PM's spiritual successor) as a nation in East Europe, and recently removed it.
Due to your performance in PM3, and the opinion many have of you, the mod team of MdM have decided that we will not allow you to play.
We're sorry that it has come to this, and if you have anything to say, please contact Crim on his talk page.
Cookiedamage (talk) 23:53, October 10, 2015 (UTC)
Government Simulation II
I'm a bit confused about the format for this. It mentions both a President and a Prime Minister, in addition to a monarch. It seems that the Prime Minister is a bit useless, as he can be fired by the monarch. Also, I have heard that the elections are tomorrow. Is this true, and if so, what is this for? Are parties fielding candidates for both President and Prime Minister, and are the seats in the House of Representatives and Senate being revealed?
Vatonica (talk) 00:38, October 23, 2015 (UTC)
Hi Ms! Can I found a new party in Government Simulation II that's simpler to Gun's The Squirrevolution party, but with more goals and different ideologies.
Hey ms.
I haven't been on this wiki in years.
Short and simple, I want to ask if you would be able to start up another NOTLAH game. I particularly enjoyed playing it and wanted to try the same scenario from a different, more local perspective.


OreoToast555(Talk)(Sandbox) 09:01, December 27, 2015 (UTC)
Hey MS I have a idea for a new community TL and if you could get you and your friends onborad it would be great.
OCT MARIUS, Hail Marius
Hi, I've been wanting to join the night of the living alternate history roleplay, but I've been unable to put my signature, despite my effort on multiple (2) devices. I'm not sure why I can't, and me being new to wiki doesn't help, but I would like to roleplay as futura. Could you some how help me, or maybe put my info for me? Tenderloin345 (talk) 17:33, October 17, 2019 (UTC)
Stirling nomination
You've been nominated
So you're long, long gone, but who knows, maybe you still get alerts when something is posted here. An article that you started, Mongol Invasion of Europe (Knightfall), is up for a Lifetime Achievement award for an article. I thought you'd like to know. Voting is open through January 25.
Benkarnell (talk) 05:25, 9 January 2021 (UTC)
And who'd have thought it.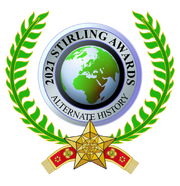 Page Adoptions
Hello Canuck, just popping by to request a few page adoptions from you. There have been some sweeping changes to DD1983 of late that have not had a big picture approach that is necessary. To combat this i am hoping to become caretaker of the region of china and her articles. With me at the helm im hoping that people will continue to update china but in a way that considers all the neighbouring states that may need to be considered. In effect this would mean I am requesting adoptions from many people. You were that last significant editor of Manchuria. I hope to hear back from you but otherwise thankyou for the amazing foundation you have built with your work.
Respectfully,