Sri Lanka
I'd like to welcome you to the wiki, and I hope you have a good time playing PM3. For more information on Sri Lanka and the Indian Subcontinent as a whole, I recommend you contact EiplecOco, one of the main players in the region. He may be able to give a more detailed explanation of the region. Originally the island was divided between Jaffna in the north and Raigama in the south. I think Vijaynagar (the large nation in southern India) may have taken a part of the island, making up the third part. I will double check this and try to get back to you soon. I hope that helps, and once again welcome to the game. Thanks, Mscoree (talk) 17:49, July 30, 2014 (UTC)
Principia Moderni III
Hey I am SwankyJ, I play as the Damascan Sultanate (Maroon) in PM3. I am one of the more powerful and successful Islamic nations in the game. I'd like to welcome you to the Alt Hist wikia and to Principia Moderni III as a whole. You will find a lot of postivie members here, and a lot of weirdos. If you ever have questions or need anything please, feel free to let me know on chat or on my talk page. SwankyJ (talk) 01:21, July 31, 2014 (UTC)
Protectorate
The Treaty of Sri Jayawardenepura Kotte looks finished. Let me know if anything needs to be changed or if we're ready to sign. Thanks Tr0llis (talk) 14:02, August 1, 2014 (UTC)
Here's the link to where you need to post the algorithm: here. All you need to do is click the link, click source mode, and paste it in. If you do it now, the war will be over by this evening. Also a note on your new gains, I recommend you make the state a vassal. Having vassals is important because it provides you with some local security and will help you heavily in the algorithms. Try to have at least two vassals at all times (so once you get four vassals you could potentially annex the two other states in Sri Lanka). Tr0llis (talk) 18:09, August 1, 2014 (UTC)
Tripartite Pact
With the recent disintegration and end of the Indian League, it is important for the major Indian states to once again sign an agreement to protect their interests and to work for a better future. Basically, Urdustan, Sri Lanka and Punjab shall sign a pact. Both Urdustan and Punjab are keen on bring this pact to existence and the approval of Lanka is needed at the moment RexImperio (talk) 09:40, October 14, 2014 (UTC)
TEvCP
In TEvCP could you give me a bit off the Ionian Sea?. IrishPatriot (talk) 21:09, October 24, 2014 (UTC)
Congress of Vienna - Reinstalled
You received this message because you have signed up for this map game.
The map game has started. However, because too few people have posted, we are keeping the first turn at 2 days. From the second turn onwards, it will be one turn per day. Please post as soon as possible.
I look forward to seeing your first post.
Regards, Laptop Zombie 03:57, November 9, 2014 (UTC)
I was looking through your page for Greece and I was about to offer you a deal between you and myself (Denmark) to work together in the development of our navies, but then I noticed you apparently already were. How did you acquire some of my ships? This is probably just some sort of misunderstanding, and regardless I'd be happy to work with you and probably sell you some ships or their designs. If you wouldn't mind just return the Copenhagen-class ships and I'll sell you some officially. After all, it's what brothers do. Mscoree (talk) 14:18, November 9, 2014 (UTC)
Also while we're on the subject, where did any of these foreign nations give you these ships? Italy for example probably does not have any dreadnoughts at all, let alone enough to be giving out. Mscoree (talk) 14:24, November 9, 2014 (UTC)
AVAR
nederlands pm 3
sure go for it man. With Blood and Iron (talk) 11:40, March 17, 2015 (UTC)
Request
could you give myself and Callumthered a heads up when the dutch King dies, because that's when we'll need to have an imperial election.
Regards, I am that guy (talk)
Netherlands
Newfoundland, Luxembourg, basically all of the African stuff (except South Africa and the islands near Cameroon), and the Pacific Islands aren't Dutch, they are Westphalia. Tr0llis (talk) 17:23, April 5, 2015 (UTC)
bradenburg
i wanted to ask you if there is any chance i can get bradenburg i originally requested that country but i was unaware of the calling of countries. if you dont want to i can understand but i had an idea if your up to hearing what i have to offer With Blood and Iron (talk) 15:13, October 6, 2015 (UTC)
Sorry
Hey, sorry I couldn't help. I have a demanding job here at a summer camp and I either had no time, or was too tired to post. It's winding down and ending in a couple days, so it's shouldn't be a problem much longer.
-Guy
Much Ado About Scotland
So I (Scottyland) decided to launch limited sea raids against England in order to help out with the war effort, and right after he signs a peace treaty with you, he declares war on me. Meet me on chat sometime, we need to discuss this.
Your new ID Card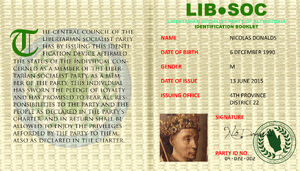 Here you are~
— T I M (TSW • AH • MGW • Contribs) 14:43, August 15, 2016 (UTC)
Pm4 Egypt
Just so you know, Nate and Josh are also plotting for war against me. I hope that our alliance will stand in the event of coflict with Egypt. Me rn.#BRINGBACK THESQUIRREL
Elections
Hello, fellow Libsoc Member!
As the Head of Public Relations, I would like to inform you that today is polling day in Althistoria! Please head to your nearest polling booth and place your vote for the Rainbow Coalition and/or the People's Front! We must make sure the Dirigists do not achieve victory, for if they do, Althistoria may never be free again!
Thank you for your time, may the Coalition successfully defend freedom in our great country!
— T I M (TSW • AH • MGW • Contribs) 01:32, August 19, 2016 (UTC)
LibSoc voting time!
Vote for each position in the new internal LibSoc elections
PM4 Map
The purple nation next to Bohemia to the west is Thuringen on the link i gave you if you can add that to the map i would like that thanks. - Scarlet Outlaw
Luba(Rwanda)
Hello. On the 1450 map, you forgot to include the lands I conquered when I was Rwanda. (I conquered the majority of Bugandan lands. Please fix the map. I expanded a bit, and it shows no expansion, and it would be great if you could include my expansion.
Thanks,
Warrioroffreedom123 (talk) 19:56, September 5, 2016 (UTC)Warrioroffreedom123
PMIV
So Nk, Bear, and I are intervening in the Italian war, if you could provide pressure from the western border we'd appreciate it.
If you agree, if you could have what naval forces you can spare to link up with mine, that'd be appreciated.
I am that guy (talk) 02:10, September 9, 2016 (UTC)
Benin's territory growth
Hey, I forgot to give you the map for Benin's growth over the last decade. Since I don't feel like color coding the growth of the empire like last time, I'm just gonna give you the final growth for Benin for a good while. You can just copy and past it over the old area if you want. Thanks ahead of time.


Vivaporius: "I don't need a slogan" 22:48, September 14, 2016 (UTC)
Chat
Sorry my phone died but can I talk to you on chat soon. Tomorrow morning I will proabley be on around 10-11 ish eastern time, Prince Octavian , of Jerusalem, Sicily, and Swabia, and Duke of Amalfi.

Chat
Can you come to chat please? Thank you.


Vivaporius: "I don't need a slogan" 23:13, October 25, 2016 (UTC)
Nic! Come back to chat!


Vivaporius: "I don't need a slogan" 18:05, October 26, 2016 (UTC)
SCRAWLAND INVICTUS

 || 

REX IMPERATOR

 
18:37, November 8, 2016 (UTC)
unban me From PM3 Bibleboyd316 (talk) 18:15, November 18, 2016 (UTC)
you forgot my nation the illnois condefredtion on the maps ISSACANGEW (talk) 04:15, October 1, 2017 (UTC)
oh its ok mate atleast i know that its not you then ISSACANGEW (talk) 04:22, October 1, 2017 (UTC)
PM4: Royal Marriage
Hi, I was just wondering if you'd be interested in a royal marriage of some kind with one of the members of the Hawaiian royal family. I have a pretty long list of family members if you'd like to take a look. The main people of interest would be the children of Kekūanāoʻa; Alexandre ʻIolani Liholiho, Marie Antoinette Kamāmalu, David Lot Kapuāiwa, and Marie-Thérèse Kahoowha, who are 36, 33, 28, and 23, respectively. I plan to have Alexandre ascend to the throne next, so you could potentially marry the future king or one of his siblings, with either a member of the Bresilian royal family or some other important person. Anyway let me know what you think. Thanks, Hquvfrioyle Lilenofryn (talk) 21:52, October 6, 2017 (UTC)
PM4 Map
Hi, I've been trying to get my changes onto the map for quite a while now, and I noticed you uploaded the last PM4 map. If you are making the next one do you think you could add some things for Hawaii?
http://althistory.wikia.com/wiki/File:PM4_Pacific_1750.svg
As per that map I should own everything that is in orange, plus the area labelled "Tu'i Tonga Empire". If you want you can add the Polynesian Confederacy as well, which would be a protectorate, and they look like this:
http://althistory.wikia.com/wiki/File:PM4_Polynesia_Map_1815.svg
Let me know if you have any questions. Thanks, Hquvfrioyle Lilenofryn (talk) 18:26, December 12, 2017 (UTC)
​Best of Luck
Back when I played PMIV, I ran the Swiss for a short time. I just wanted to give my best reagaurds and hope that you do a better job of this than I ever did.
TheOneMadman (talk) 03:17, January 12, 2018 (UTC)
Now a proud member of the Conworlds Wiki
Link to discord
Heard you need this? Colgan dog (talk) 01:38, March 16, 2018 (UTC)
Community content is available under
CC-BY-SA
unless otherwise noted.