I should've known Lenin/Trotsky was yours.... Louisiannan
Not mine at all! I merely moved it over from where it had been mistakenly placed, in the How to make articles page
well, by the quality, it could be yours...so compliments to the true creator.
A user 221.141.222.53 vandalized the "The Andean Wars" page. I removed the obscenities but think the user should be barred. --AirshipArmada 16:55, 14 Jul 2005 (UTC)
Mirror universe
Hey, douchebag. The mirror universe timeline I posted was a copyright infringement.
Which is excatly why he deleted it. Unless you meant "was not".
Although the concept of the mirror universe is from Star Trek, I created that timeline myself.
The thing it, its way too close to be called "distinct". At best, it could be considered a fanfic. Wiki are not supposed to include conpyrighted meterial.--Marcpasquin 00:06, 29 Jul 2005 (UTC)
You're an asshole for deleting it. Fuck You!
You know, if you had politely brought it up, I'm sure me and others would have tried to help you make it acceptable. Not the best way to bring up a grievance mate.--Marcpasquin 00:06, 29 Jul 2005 (UTC)
-- Jetli 13:38, 28 Jul 2005 (UTC)
to Jet Li
You know, I was being polite here. Erasing someone's comments like you just did looks to me like the equivalent of plugging your ears and going LALALLLALAL. --Marcpasquin 02:26, 29 Jul 2005 (UTC)
A question
How does one add images to the wiki so they can be used in an article (I'm mainly concerned with flags) and how does one add articles to a category? --Aero 19:07, 6 Aug 2005 (UTC)
Othertimelines Warboards
Hey Nik
This is Crisco, from an Alternate History site named Othertimelines.com.
The members of my site occasionally have a little bit of fun by starting what we call "Warboards", in which we pick an era and a country, and generally fight the biggest war that we can.
We've had a few good ones that I was thinking we could stick on here (complete with country descriptions, etc), but since it's more for entertainment purposes rather than a serious, well-planned althist, I figured that I should ask someone around here first, rather than having the full weight of an admin land on my head.
If there's a problem with it, please message me (or contact me somehow) so I can delete it and know not to put any more on. Right now, the only one I've done is Othertimelines: Eye of the Storm.
Thanks, Crisco
--Crisco 02:46, 3 Sep 2005 (UTC)
Thank you for contacting me first. I'm not sure if it fits or not. I think I'll move your question to the main page's talk page, let others chime in Nik 07:28, 3 Sep 2005 (UTC)
Category creation?
Hey, how did you create your category? I put links at the bottom of my No Gettysburg pages for a new No Gettysburg category, and I guess I assumed it would be created automatically. (I think I somehow got that idea from Wikipedia's main site.) Do I have to manually cut and paste articles into the new category??? Nhprman 18:33, 18 January 2006 (UTC)
Copyrighted Material?!
Christlam is pulled direct from Arthur C. Clarkes book, Hammer of The Gods. I think it should be deleted, as it IS copyrighted. Louisiannan
Qwika searches you \ Asking for permission to use the logo of the page
Hello
My name is Daniel Kery. Me and my collegues formed a site called qwika, which is a search engine aimed to list all of the wikis that are accessible in english and in other languages as well. We recently lsited althistory.wikia.com as well. We would like to make some interface improvements to our site such that our users can see a small edition of the logo for each WikiCity/Wikia. We would like your permission to use this, and also a small version on the homepage, just as part of a list of wikis we cover. Example searches:
http://www.qwika.com/find/third_global%20war http://www.qwika.com/find/Keio_Restoration
If you have any questions or comments, I'd love to hear them.
Daniel Kery danielk@rapint.com ICQ: 98954107 Y: daniel_kery
Map Help?
Can I help with any maps? Let me know if you need help, mon ami... Louisiannan 01:51, 15 April 2006 (UTC)
logo pic license
can you say me under wich license you published the logo of the the alternative history wiki?--Borisbaran 07:53, 17 May 2006 (UTC)
It was created by User:Louisiannan
Editing code
How come a lot of the code on pages cannot be edited? For example, adding to category: history: country (or something similar) adds to the top. How are new proposals for articles added to the bottom? Exp.Fl.Cmndr. Mitth'raw'nuruodo 05:57, 10 September 2006 (UTC)
New members of categories are added by placing [[Category:XXX]] to the article itself. That will add that article to the category named XXX Nik 02:36, 17 September 2006 (UTC)
User name Change?
I'd like to know if its possible for me to change my username to "Hashemite" (current name ggw). Thanks in advance. --Ggw 10:41, 24 November 2006 (UTC)
Administrators
Greetings, Nikster,
How many administrators does this wiki have other than your good self? If I wished to become one, would you be willing to hear me out as I spruik my credentials? You should know that this isn't something I'll lose sleep over - it's just that I've contributed so much to this wiki I've been wondering if I can get myself promoted. What's the situation? Am I in with a chance? Cprhodesact 09:32, 15 December 2006 (UTC)
Removal
I was wondering if you could remove the page titled "Along The River Marne" for me? I want to start over fresh, and have removed the content from the page, but I would like the page to be removed until I have actual material to post instead of filler. Thank you. Switaj 22:15, 28 January 2007 (UTC)
Don't worry. I've done that myself. --Sikulu 08:38, 29 January 2007 (UTC)
Building an Italian Version?
Hey Nik! I'm involved in an italian mailing-list project about alternative history, and I'd be keen to build an italian version of this wikia in order to upload our works. How can I do it? If it's just to add page to this Wiki, I've started with the Italian homepage Thanks!--Dans 14:18, 23 March 2007 (UTC)
Discuss

this

page
Someone has put up this page. I'm not quite sure if we should keep it. --Sikulu 12:24, 18 April 2007 (UTC)
flag for Scotland and Wales (Toyotomi)
Have you given any thought about if you want to use any flag proposal seen here ? --Marcpasquin 06:57, 7 September 2007 (UTC)
trouble with User Roberto Boberto
Hi Nik,
seems we have trouble with User Roberto Boberto. He posts highly offtopic content on his user page (deleted by me) and randomly vandalizes pages.
PS: If you give me mod powers, I could stop such users earlier in future if I see them. I have quite some experience as a forum moderator on www.alternatehistory.com--Max Sinister 00:49, 7 October 2007 (UTC)
Proposal
I'd love to know your opinion on this. --Karsten vK (talk) 15:14, 12 July 2008 (UTC)
, maybe used someone like this or some in here category [1] [2] --Fero 06:01, 16 August 2008 (UTC)
Proposal for Toyotomi Japan
I was thinking about doing a page for a British government-in-exile that would inevitably be formed thanks to all the revolutions my homeland has had. What do you think? Bob 22:12, March 2, 2010 (UTC)
Florida Map
The map of florida in Toyotomi may I please use it for my TL Aviva, Florida Española?
Hello There
Hello there. I did not know you founded the timeline. Are you still here? RandomWriterGuy 05:55, December 25, 2011 (UTC)
Nik
I am new to this wiki for about 4 months. I think that you should come back ad see hoe it has growen. Just hop on chat somtime when you see me and u will see how it has changed in the last 6 years. THanks for making this wiki!.

Octavian, Hail Marius (Play With Oct!)

00:00, September 25, 2013 (UTC)
Congratulations, Nik!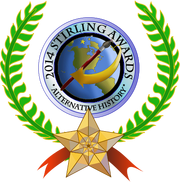 May you grace us with your presence once again in the future.