Hello and welcome to the Alternate History Wiki!

We are a community for creating fictional alternative histories. We hope you will feel at home here and wish you good luck contributing to our ever-growing collection of timelines.

Please start by reading our Guide to Newcomers. It contains links to the important sections of the wiki.
If you're new to wikis in general, see How to Make Articles.
If you're ready to create an article, see Conventions in Use in this Wiki. It explains how to title and categorize your pages, what kinds of content are allowed, and other rules of the site.

Some other helpful reference pages:

Some general tips:

This wiki is for alternate history, not future timelines. What you write should take place before 2021.
All articles on this wiki take the following format: Name of article (Name of Timeline). This helps us know which pages belong together.
To sign your posts on talk pages, use ~~~~ (four tildes). This will insert your name and timestamp.
You can experiment in the Sandbox.

Regards, --Benkarnell (Talk) 00:55, 25 July 2009
I'm not accepting commissions or requests at this time.
Thank you.
The Reply
Well, Máipw is really the only form of the word though basically it is dually Gaelicised and Brythonicised form of Mapu which is basically the Mapuche word for country. The history deviated around when the Bar Kokhba revolt death toll was even more destructive in this alternate history and the repurcussions harsher resulting in the destruction of Rabbinical Judaism with Jerusalem becoming a primarily Christian city and Islam not coming into existence with Christianity and Zoroastrianism being the predominant religions in the Middle East and history deviates from this timeline more from there. For now I will keep the title of the alternate history the same until I think of a better name if I do.
Hi i have been on this wiki before, but am returning after a long hiatus. Last time I created lots of bad and ASB timelines but now I have more experience and hope to create better timelines.
Kingtattletale (talk) 10:46, January 2, 2018 (UTC)
Categorizing Articles
Will do! My apologies for any inconvenience. AltHistoryVibes (talk) 21:29, January 3, 2018 (UTC)
Regarding what you said on my profile.what do i need to change?--DRAFIGO13 (talk) 14:45, January 5, 2018 (UTC)
im sorry for any inconvinience i have created,im from sweden so my grammar is not the best but ill try my best --DRAFIGO13 (talk) 14:55, January 5, 2018 (UTC)
PDS_logo
The PDS image is from the de.wikipedia.org page Partei des Demokratischen Sozialismus, which can be found here - [1]. It can also be found here - [2]
The original file name is PDS-Logo.svg. When uploading the original svg file, the message "The XML in the uploaded file could not be parsed." appears.
The Wikimedia Commons page lists a 500px png file of the image. I tried to upload this image, which can be found with this url - [3] I received an upload warning saying "The filename begins with 500px-. It seems to be an image of reduced size (thumbnail). If you have this image in full resolution upload this one, otherwise change the filename please." Consequently, I removed the "500px-" from the file name.
The file name PDS-Logo.png had already been deleted with the deletion log description of "Misloaded File [Wikimedia Version Available]" So I again attempted to upload the original svg file, but the message "The XML in the uploaded file could not be parsed." still appeared. If you could clarify what this means, it would be greatly appreciated. It is preventing me from uploading the original wikimedia file without using one of the png files offered.
For this reason, I decided to once again upload the available png version of this file, which can still be found with this url - [4]
Since the file was once again deleted with the message "Misloaded File [Wikimedia Version Available]", I decided to sift for answers in other articles. I took a look at this page, which also features a logo from a left-wing political party in Germany - Die Linke (A Reich Disunited). From the history log, it says that you uploaded the file Die Linke logo.svg, replacing File:Die Linke logo.png. If you would be able to upload PDS-Logo.svg or PDS Logo.svg in the same fashion on my behalf, without the "The XML in the uploaded file could not be parsed." message appearing for you, that would also be greatly appreciated.
Lastly, you added the article Party of German Socialism (Die Mauer Steht) to the category Political party articles using deprecated parameters – the category page appears to have been deleted March 23, 2017 by Imperium Guy. Since new articles are still being added to the category, would it be helpful if I recreated the category page?
Thanks! AltHistoryVibes (talk) 17:05, January 5, 2018 (UTC)
were can i find templates?--DRAFIGO13 (talk) 23:41, January 5, 2018 (UTC)
EoGuy
Nuke, I am writing you to talk about the block of EoGuy, whom you blocked for abusing multiple accounts. First of all, I'm not convinced EoGuy=EoGuy99. All we have is the word of the EoGuy99 account, which could just be someone trying to frame EoGuy. Second of all, I think Eo forgot his password or got locked out of his original account, and then switched over to his backup account, EoGuy99. Many people have backup accounts. The EoGuy account stopped editing on November 1, and a few days later the EoGuy99 account became active. This is not sockpuppet or abusing multiple accounts and therefore is not worthy of a block. Finally, I would like to point out that merely possessing two accounts is not a crime, the problem is "abusing" multiple accounts, operating both accounts at the same time for nefarious or otherwise illicit purposes. This is not the case here, as EoGuy appears to be continuing his old work on a new account (not simultaneous, not abuse). As such I have unblocked EoGuy. I hope you understand my reasoning.
Scrawland Scribblescratch 05:32, January 7, 2018 (UTC)
As far as I know, we do not ban simply for having more than one account. Many years ago, I informed LG that I had a backup account and he didn't do anything about it.
Scrawland Scribblescratch 07:18, January 7, 2018 (UTC)
Nuke, I've sent you a friend request on Discord and a link to the server so we can discuss this further.
Scrawland Scribblescratch 22:13, January 7, 2018 (UTC)
Sockpuppeting
I thought it was posting without an ID.  Both of my accounts bear my name.
Bil
EoGuy
EoGuy99
EoGuy99 (talk) 17:45, January 7, 2018 (UTC)
are you good at creating custom maps`?--DRAFIGO13 (talk) 00:38, January 8, 2018 (UTC)
i need a map of austria and hungary for my republic of austria-hungary--DRAFIGO13 (talk) 09:49, January 8, 2018 (UTC)
The XML in the uploaded file could not be parsed
This is the error message that appears when I attempt to upload .svg files. Could you please let me know how to address this problem, without having other people upload the files I would like to upload?
Nate just uploaded it for me - a blank map of the US with territories. But again, I'd rather not have to rely on others to upload these files. AltHistoryVibes (talk) 00:48, January 9, 2018 (UTC)
I'll use the blank map as an example. Following your instructions on duplication, I made sure that the file name "Blank USA, w territories.svg" or "Blank USA,_w_territories.svg" didn't exist already on the wiki.
I'm on a macbook pro, using Firefox. I right-click and go to "save image as". It offers to save it as "Blank_USA,_w_territories.svg.png" so I delete the .png and save it as "Blank_USA,_w_territories.svg"
When I go to upload it on the wiki, though, I'm unable to upload it. That's when the error message "The XML in the uploaded file could not be parsed" appears. To the best ofmy knowledge, I haven't had this problem before.
Flag of the World
Hey would it be ok for me to use the flag of the world on the Luna: Earth II countries list? It makes sense in context is all as the country list is split into the world and moon. I assume the issue was I had uploaded it incorrectly previously? Still new to this whole editing thing haha! Cheers Trainor90 (talk) 05:44, January 9, 2018 (UTC)
Buffalo Bisons (LAlt)
Not to be counter to the deletion of the Buffalo Bisons page, but I have tried to learn how to use the sand box and do not know how to do so on several occasions, so I construct these pages as I go. I was in the middle of editing a lot of content for this particular page and when I tried to put it all in, you had deleted it. I wouldn't have had a problem with it except the original didn't get saved (amateur mistake) after a power outage and this time the modern version of Wikia editor doesn't let me copy and paste so I have to do it all over again.
Respectfully Submitted,
Norman Wild Landrover (talk) 20:53, January 10, 2018 (UTC)
Montreal Expos
I have made a sufficient amount of edits to the Expos page I created for my eternity. If upon your review of it that my edits are sufficient, I would request the removal of deletion as such. If you would like further edits be made at your request as before, I will continue to do so.
Regards, 
Norman Wild Landrover (talk) 00:43, January 11, 2018 (UTC)
Permission and Idea for Russian America
Hello NuclearVacuum,
I am here to request permission to expand and create an Australia article and backstory for the Australian Nation and the Continent as a Whole. My idea would be to have an Aboriginal Nation on the Australian continent, and maybe even an independent Tasmania (tasmania is very different from Australia, and I believe they have their own distinct Tribe, commonly called Tasmanians, oh and not to mention the OTL Tasmanian independence movements. The history would be added in the article, but the basic jist would be that the British were unable to fully colonize/control the Australian continent and aborigines peoples, with many tribes banding together to form their own nation/nations, being tired of the way they were being treated by the British, and not to mention being used as a place to send criminals. So yeah, that's basically all I wanted to talk about, I hope to hear your response!

~Signed The History Nerd

You bring up a very good point, why would the presence of Russia in North America effect Australia? Well, one thing is for sure, the aborigines of Australia hated the British settling their lands, and basically ignoring their territory. Many wars were fought in Australia against the aborigine people, and as I've read your timeline, and have seen that Russian-Native relations were realivly passive, and the Russians were very tolerant of the Natives in Alaska. Now I understand that this doesn't mean that Russia would start opposing European Expansion into Native territory, but it could be possible Russia could try to use the aborigine people in Australia as a counter to the British presence already well established in North America. Russian support for an aborigine rebellion or a massive war against a massive aborigine tribe isn't too far fetched, especially since they supported the Mexicans in their fight for independence. Russia could see great benefit from having a friendly aborigine Nation state, as it could be used to present Russia to the native populations of their colonies, and to other peoples struggling against Russia's rivals that are colonizing them with little representation, that Russia is a liberator of people. Though I won't just talk about Russia appearing as a liberator of natives without mentioning the downs of this, as this could also be terrible to Russia's image to other European Empires (and later on, Asian empires, such as Japan), as seeing Russia supporting native uprisings in Australia could bring a sense of a threat, especially the United States, as they obtained most of their territory by forcing native Americans off their territory, along with massacring their people. Russia would very much be seen as a threat to European empires and their colonies, and its very possible war might break out, which would lead to an interesting scenario. Sorry if this got a little out of hand or if I got side tracked, but this is my basic explanation how an independent aborigine state, and possibly a Tasmanian state could work out, possibly by Russian intervention, and how it would effect Russia's image globally. This also could have major changes to the Cold War, as the aborigine state would sort of be a "Neo-Colony" of sorts at this time (if you know anything about The history of Cuba and how the US treated Cuba, you will understand what this means for the aborigine state), and could become a socialistic or at least a Soviet sympathetic nation in terms of foreign policy, which could lead toward a very different situation on Australia, and for the western bloc. Anyway, this is my basic reasoning, I hope it's a reasonable one. ~ The History Nerd
I see, well I agree to your proposal, and agree to your final decision and reasoning. I came across the exact point that with Russia and the US moving in on the Americas, and Britain losing its grasp, its more likely for Australia to stay realitivly the same. My idea for an aboriginal state still could actually work though, just later on in the timeline. There is actually a modern day attempt at creating an aboriginal state: [Murrawarri Republic] is a micronation which was formed by a band of Aboriginals who actually want independence, but haven't done anything so far, which is one of the reasons the Australian government is keeping a close eye on them and hasn't acted yet. This happened in 2013, but can happen sooner if a larger group of Aboriginals protested, but again, i digress, your idea seems more plausible. ~The History Nerd
Tennessee 1983 doomsday
The East Tennessee article is seriouly out of date. It sys that East terseness was going to unite with several neighbors on janaury 1 2013 and that was over 4 years ago. I feel that a page for the republic of tensece should be made. Lordganoon agreged but he said I shouldn't be the one to write it. Are any of the authors of the individual tenencee surrivor state articles still around and willing to make a page for a united TennesseeGoldwind1 (talk) 15:04, January 12, 2018 (UTC)
Coat of arms
Why has this been renamed with a capitalised a? I specifically named it that why to coincide with almost all references of CoAs online. Is it different here?
Thanks
ArmsSpaghetti (talk) 16:57, January 12, 2018 (UTC)
Re:Re:CoA
Okay thanks for the clarification. Will use this in the future.
ArmsSpaghetti (talk) 17:04, January 12, 2018 (UTC)
Dear NuclearVacuum,
I have also come up with a suggestion, what if the Russian empire supported the confederate states? I mean, the Russian empire itself still had surfdom during the time of the American Civil War, and it's not too hard to imagine them supporting the confederate cause, especially if it meant access to the cotton trade, since this was a important resource to have at the time. I understand that it would be difficult to actually send troops or supplies, especially since there wasn't a Panama Canal at the time, so it might just be limited to political support rather then physical support, maybe just a formal recognition? It's up to you, but I do find plausible that since Russia has a more colonial presence in North America, and being more powerful, that it would have some opinion on the American civil war, I mean, they do share a border in this timeline. I'm not saying the confederacy would win because Russia is cool with them, I'm just saying, it would be interesting to see what a stronger Russian colonial empire would do in the American Civil War.
~The History Nerd

Alright, you clearly no more about Russian history then me.
Nah it's alright, anyway, so what about the Australia thing?
Alright, I'll contribute to the research as well, I'll report anything I find that could have any major effects to the Australian continent being divided.
Problem with another picture
Hi Nuclear,
Sorry to be a pain but I think another one of my flags I've uploaded may be broken. Its called the flag of the punjab.  For some reason my svg's aren't playing nicely. Thanks for the heads up about the Vietnam flag too. I get so ahead of myself and it was in my files on my pc! I'll be more vigilant now! If you could delete the punjab flag that would be great. Thanks and sorry one again Trainor90 (talk) 21:27, January 12, 2018 (UTC)
Dear NuclearVaccum,will you please let me upload the same file as PMINDIRAGANDHIMEETSSAMMANEKSHAW,FIELDMARSHALOFINDIA.png.
I don't want something like the time when you last blocked me when the file I reuploaded was slammed for duplication, ok?Bender123 (talk) 07:54, January 14, 2018 (UTC)
Country data
Hey I'm a little confused about Country data. From what I understand, specific country data pages are generated from country showdata which is a template you use in order to make the page. Is it allowed to create these pages for countries (that may or may not existed) specifically for your timeline? i.e. Russia (Mannerheim's Finland) or something simliar so I'd end up having a Template:Country_data_Russia_(Mannerheim's Finland)?
Thanks,
ArmsSpaghetti (talk) 12:28, January 14, 2018 (UTC)
Sorry
I would just like to apologize for leaving all those questions on your talk page about a year ago. I didn't realize how much I had asked of you, and did so in a moment of self-doubt.
I am figuring out how to navigate alternate history now, and how to create my own images using Sketchbook men Photoshop. I also have more of a handle on history which should help.
I look forward to collaborating with you and everyone else on the Wiki in the coming years!
Thanks, Canuck2012 (talk) 02:24, January 16, 2018 (UTC)Canuck2012
Russian America Question: Why Such a Different Canada?
Hi NV!
I have a question about Canada, specificly, why it's so different? I understand that the POD is around the Upper and Lower Canada rebellions, but how are they different from our timeline? I don't see a Russian America owning more territory and being more stable and populated to cause Canada to be so different (yet, as I say this, I'm trying to divide Australia up, so I guess I can't say much), so could you please explain what was the POD in those Upper &a Lower Canadian Rebellions?

Though I do like the change in Canada. - The History Nerd
Hawaii in Russian America
Hello Nuclear Vacuum,
I am here to ask you if I could edit and work on the Hawaii page. I see that since the US doesn't have access or is trying to expand its influence in the pacific due to it not owning the west coast, Hawaii is independent, and I do know a lot about Hawaiian history and how it fell from a kingdom to a US state. I hope to gain your permission to create a detailed page on Hawaii.

May I please help work on it? I'll follow the already created timeline of Hawaii, and maybe, if I get approval, add my own twist to their modern situation, but that is only if you accept my proposal to do so. I hope to hear your response! -The History Nerd
Alright, understable. Are there any more pages that aren't off limits that I could help expand?
Athabasca Assiniboia oil Pipeline 1983 Doomsday
The Athabasca page says that they plan on building a pipeline ti Assiniboia. The earliest date that consturiton can start was 2015. It is way past 2015. I think it would be idea to add a WCRB NewHour Headline saying that ground has broke on the pipeline this year or maybe last. Do you agree with me. If the anwser is yes then we should ask Yankovic270 what he thinks. However he been gone for over a year so i doubt he will respond. Perhaps you and me so adopt some his pages.
Athabasca and Assiniboia were doomsday survivor states based in Maniatobia and northern Albertla. They were both made by Yankovic270. Both mention that the two states were negotiating to build an oil pipeline and they that 2015 was the earliest that consturiton could have begun. I feel that it would be a good idea to WCRB NewHour Headline saying that ground has broke on the oil pipeline this year or maybe last.
The reson I brought the Athabasca Assiniboia oil Pipeline to your attention was because you baned the last person who updated the CRB NewHour Headlines. I figured he must been baned because he didn't consult with who ever his monitoring the timeline in Lordgannon's abebsce. Since you banded the guy who updated the headlines I thought you the one ask. Do you know any active moderator who is still interested in doomsdays before i make my plans to request adoption of Athabasca Assiniboia and then update the headlines.
Yemfolk
Just wanted to say I saw a Yemfolk banknote and I am so exicited! 
Stepintime (talk) 15:41, January 17, 2018 (UTC)
My flag was deleted
I just started to translate my TL and uploaded a flag, but you deleted it because of "Inappropriate/Misleading Name". This actualy doesn't make any sense. What the hell is "misleading" or "inappropriate" with name "RJU_flag.png"? TheKlash (talk) 08:44, January 20, 2018 (UTC)
why did you delete my brunei war article?--DRAFIGO13 (talk) 22:50, January 20, 2018 (UTC)
I will do my best.but my grammar is not as good as yours.--DRAFIGO13 (talk) 09:51, January 21, 2018 (UTC)
i named india correctly so why did you delete it?--DRAFIGO13 (talk) 13:33, January 23, 2018 (UTC)
map creation needed
i need you to create a map where america is split in three--DRAFIGO13 (talk) 14:28, January 23, 2018 (UTC)
1983: Doomsday
Hi Nuke! I'm here to ask you how I can create a nation in 1983: Doomsday, as it looks like there isn't really anyone who owns the timeline who is active today to ask, so I'm asking you since you probably know as I see you have made your own nation and since you are a moderator, you probably know. Please respond -The History Nerd
Thanks, it does.
Naming convention re: ARUF
Hi, sorry if I bother you. I just want to ask for some help regarding the naming conventions for my ARUF timeline. More specifically, what am I doing wrong? I read through the rules of this wiki and I am rather confused about making a template as well as the naming of my timeline. If you could help me find out what I did wrong then I'll try to correct them. P.S. I haven't been active on the wikia community for a long time (some 3-4 months) so I am a bit behind the times. Cheers. Deathblade 100 (talk) 01:51, January 25, 2018 (UTC)
Okay thanks. If I was to rename the timeline something like "Asian Revolutionary United Front" would that be correct? Deathblade 100 (talk) 22:10, January 25, 2018 (UTC)
Thanks. And sorry for causing you hastle. Deathblade 100 (talk) 23:55, January 25, 2018 (UTC)
What happened with the renaming problem was I was in the process of editting the older pages when you renamed them so it was an editting conflict. Sorry about that. Deathblade 100 (talk) 00:15, January 26, 2018 (UTC)
Naming
Why French Republic (Cromwell the Great) is not well? Would it be OK to have something like theis?
Kingdom of France
French Republic
--JorgeGG (talk) 18:21, January 25, 2018 (UTC)
Yes, the two are different polities of France in my ATL. First the Kingdom of France and later (with sound and fury) French Republic.. --JorgeGG (talk) 18:47, January 25, 2018 (UTC) Yes it does make sense now. It is the second option (...related to a former nation...). So there will two articles: a) Kingdom of France and b) France (the one presently named French Republic). --JorgeGG (talk) 18:58, January 25, 2018 (UTC)
R.A
I am so exicited, thank you :) ! To see them cannoized, the Natives have just a little more work to due (I think I will write about an enviromental issue) Other that I want to get around by making some demographic or historical maps for them. And mabye making a list of recongized tribes (with Russian style names).
Stepintime (talk) 21:04, January 25, 2018 (UTC)
As you may had noticed I am still working on the Chinese Empire Article and I have started a stub about espinoge a little while ago. I have the impression that at some point a WWII article by itself will be best. As with the Chinese Empire article I think will focus more on the homefront/society than the war-details alone.
I have noticed I really like many articles about sub-cultures and minorties. Personally I think we should put all the ethnic pages such as (Ukranian, English Alaskans as well as Cossacks, Buddhists and Natives under an Alaskan Culture Category. 
I look forward to seeing an Alaskan Culture article from you, as I contiune to stalk your sandbox.
Stepintime (talk) 21:04, January 25, 2018 (UTC)
I am sorry about that, it was just an organzation move that made sense to me. I didn't think of it as claiming owernship but I see how that is a problem. It won't happen again.
Thank you for your permission to add more to these ethnic articles, I admit that is something I have wanted to do for some time. Dacha Disscusion is always welcome :)
Bringing up those people is pretty cool, ethier by incooperating them to the article's text or by having a people's list there.
One thing I think about is developing the web of Alaskan Society between all these different groups. I have concluded for example that Enivormentalism at some point in the late 1900's would explode from the liberal cities of Alaska. Remember that Alaska is built on raw materials and the fur-trade (at least in its early history). Now lets think about Buddhism- traditonally very enviromentalistic (but does adjust for certain countries, think modern China for example). But New World Buddhists are likely to be very forward with their causes. Native Alaskans who otherwise might be more left leaning may be dissauded by angry activists chasitizing them for hunting practices or working in Oil drillling plants. However some of these native Alaskans will also be unhappy to see their old tribal lands put to industrial use regardless of whether some of their kin are employed or not and would still face tensions from Conservative groups like Dougs, Cossacks and ordinary Scandanavian protestants.
Meanwhile middle-way voters (such as Ukranians, Russians (and possibly Cossacks) may feel threatened by the changes of the 21st century. However ethnic groups are also very divided based on geographical lines. Imagine the feelings and life of an upper class Ukranian in Validkaday as opposed to the Russian logger of Idaho. 
The best way to organize all of this seemingly disorganized jarble coming out of my head is that Alaska's society would be one of the most socially complex first-world countries. Alaska has a European origin in North America- but also comes from a unique Slavic Origin which was more conservative than say the English or even the Spanish and by itself gives a more asiatic tint (because Russia does have its own Asian background)
Alaska was built on raw materials but now-a-days would be a financhial and tech capital of the world.  
Couple this with many recent immigrants from the traditional East-Asia (as oopposed to Russian-Central Asia and Manhcuria) that would become their own upper class.
Also couple this with Alaska being the real capital of the Orthdox Church after the Soviet Union's attacks on Russia's historic religions.
Alaska in some ways would resemble the U.S, Canada and Austrlaia but its society despite apparant North American and English influence would still have its own qualities- perhaps unusual for a typical developed European-based country.
Stepintime (talk) 01:25, January 26, 2018 (UTC)
I almost want to make a concept map.. to see how different factors and groups influence each other
If I am making any sense.
Mexico in Russian America
Hello Nuke!
I am here to ask if I may expand, or at least make proposals for the Mexico article! As Mexico's territory and history are drastically different in this timeline then they are in our timeline, I would like to expand on Mexico and maybe talk about how Mexican society is different from ours. I will explain this to you if you accept my request for a proposal or to do the article.

           ~ your's truly, The History Nerd

Oh sorry! I was trying to fix a spelling mistake in the first sentence, I guess It must of changed the heading's location when I did that! Sorry, I didn't mean too. The History Nerd
Thoughts on Mexico Proposal
Hey Nuke, so I just finished up on my Mexican Proposals for the Mexico Article for Russian America, and I wanted to see what your thoughts on it were (if you have read it yet, I know you are working on the Alaska article right now, and ideas are pretty long), so yeah! -The History Nerd
Deletion of all files I have uploaded 
I have been having concerns about copy-right infringement and wonder if you could delete the files from my following accounts:
user:walkerbull (old defunct account)
user:Scerus (current account)
Most kind regards,
Scerus (talk) 07:10, January 26, 2018 (UTC)
Hi
Hi just out of interest, why did you change my timeline "divided France" you deleted a lot of work. Englishangle (talk) 17:12, January 29, 2018 (UTC)
Renaming
Hi, I just wondered why you renamed this page Emperor of South France (Divided France) from List of Emperors of South France, just because it fit well with the nationinfo template, also why did you delete my pictures of pictures?
English Civil War
Greetings, I noticed the removal of the English Civil War category from 'English Civil War (Monarchist World) ' and 'English Civil War (The Calvary Turn) '- I can understand such a category being absent from 'English Civil War (The Failed Conquest) ' due to that conflict not being an alternation of OTL's English Civil War. However the English Civil War of Monarchist World and The Calvary Turn are, just like articles in the 'League of Nations ' category alterations on subjects of OTL; alterations of events or organizations. As such I'd like to read your reasons to acquire an understanding behind the action :) Baron Joshua (talk) 02:52, January 30, 2018 (UTC)
Linking on Nationinfo template
Hello, sorry to disturb you, I was just wondering about the Nationinfo template. On South France (Divided France), Is there a way to make the Emperor link turn Blue? Thanks in advance for your assistance.
Englishangle (talk) 08:27, January 30, 2018 (UTC)
Hi2
Hello, I have encountered a problem with the template found at Rulers of Finland (Agadir War). When you create a second heading, the template moves Down weirdly. I'm not sure if you can help, but if you could, it would be very appreciated. Thanks. AlthistWriter (talk) 19:51, January 30, 2018 (UTC)
Sir, the article in question is for the timeline known as 'The German Century ' and has been discussed as a proposal with that timeline's administrator DasBull$. It has however taken me 9 days to notice the invitation to work on the timeline and it's been my choice to present the article as a proposal as it's the first I'll be adding and I only went into basic detail regarding it via the talk page. I hope you'll reconsider, especially upon viewing these links; link 1 and link 2 as I feel the 'delete' label may give the wrong impression of the articles intent causing DasBull$ to assume that something is fundamentally wrong with the article in regards to site rules. Baron Joshua (talk) 02:42, January 31, 2018 (UTC)
I realize my mistake, and have renamed the article I will wait for you to confirm the name change to be acceptable. I do appologize for my short sightenedness. Baron Joshua (talk) 02:48, January 31, 2018 (UTC)
I realize that now and have applogized hoping to have gotten my appology up before you could notice my ill timed and ignorant reaction. With the utmost remores I reiterate my appology with a greater expression of humility. *sees with relief that the alteration in name has been approved* I can not express in words how thankful I am at your mercy. Baron Joshua (talk) 02:59, January 31, 2018 (UTC)
Immature
you just destroyed my day. i spent 15 hours looking for information.so ban me i beg you becuse JUST DO IT--DRAFIGO13 (talk) 17:31, January 31, 2018 (UTC)
if you want me to add info i only require one thing:i need 10 days and if its not fixed then you can deleta all my articles okey--DRAFIGO13 (talk) 17:37, January 31, 2018 (UTC)
Personal Template
Hi there. I wanted to create a template (code is found at User:AlthistWriter). I was just wondering whether I could upload it.
Thanks. AlthistWriter (talk) 17:33, January 31, 2018 (UTC)
I have added information to some of the articles could you check them out?--DRAFIGO13 (talk) 19:33, January 31, 2018 (UTC)
im sorry for being anmature yesterday i had a bad day. I have fixed all the aricles and added information and other things.--DRAFIGO13 (talk) 10:24, February 1, 2018 (UTC)
Sandbox
Hey Nuke, I'm wondering how I can create a 'Sandbox' for my alternate history scenarios, you know, so I can put any ideas down and copy off of them later. ~~The History Nerd
Help
I would like for you to use the moderator roll back-edit ability. In editing the template for the Mongol Invasion of Europe article I somehow deleted all of the content of the page. Undoing the edits did not help, and being that the article is massive I think rolling back edits is the best way to restore the article. Please roll back to the: Revision as of 20:15, February 5, 2018 version.
I am sorry for the error and the inconveince. 
Stepintime (talk) 20:57, February 5, 2018 (UTC)
EDIT:
I was able to resolve the issue of clearing out the page.
But the problem began when the template started spewing weird code on the page, when I tried to tinker around with the  template's source code to  I unkowingly deleted most of the page. 
Then after asking for help I realized I could solve the problem with the source editor. 
Stepintime (talk) 20:57, February 5, 2018 (UTC)
My page Republic of America is going to be deleted for a incorrect timeline or title. But the name is correct, unless for some odd reason the American Republic should be used, and is in the correct timeline. DimondTrident (talk) 23:11, February 5, 2018 (UTC)
The delete link doesn't seem to be working. Have had many problems with editing recently hence why I have unintentionally been messing things up. 
(En.Historian (talk) 03:29, February 7, 2018 (UTC))En.Historian
Picture deletion
Greetings, why did my map got deleted? it says that it was Inappropriate/Misleading Name, could you please tell my what of both I did wrong? The picture is just a map so I don't see how it can be inappropiate and I don't know the problem about the name as it is just "Treaty of Moscow"
SerAbianI (talk) 09:47, February 7, 2018 (UTC)

Hello,
May I ask why you removed ALL the images from the Maxorata Empire's alternate history pages? Is having your own flag wrong? And maps? And basically all historical images? Because unless it is I find your act of deleting them extremely disrespectful. Last time I checked it isn't a crime.
http://althistory.wikia.com/wiki/Maxorata_Empire_(The_Maxorata_Empire)
http://althistory.wikia.com/wiki/Ache_III_(The_Maxorata_Empire)
http://althistory.wikia.com/wiki/Eraoranhan_I_(The_Maxorata_Empire)
http://althistory.wikia.com/wiki/Emperor_(The_Maxorata_Empire)

Kind regards, and I expect a response ASAP.
Nay Mate Woody (talk) 16:08, February 20, 2018 (UTC)
Personal Images
Hey there, I'd like to upload a image of my map of Europe for a timeline. What would be the best way to do this?
Help
Could you see what the problem is with this page? http://althistory.wikia.com/wiki/Middle_Eastern_Coalition_(Revolutionary_Front) If you can't fix it then just delete it. Deathblade 100 (talk) 01:56, February 8, 2018 (UTC)
Ah. Right. Sorry about that. Deathblade 100 (talk) 03:10, February 8, 2018 (UTC)
Images and Infoboxes
Hello NuclearV,
I'm having some trouble with uploading the flag image on the nation Nationbox template so can you help since your in a moderater like status, if can't help then can you direct me to some one or some people.
Leonidas huh (talk) 19:41, February 10, 2018 (UTC)
Deletion?
I keep trying to edit my source code on my Russian Empire page and edit out the links to nowhere however you keep deleting the page before I get a chance. I would like to edit it without it being deleted. 
MrBloom001 (talk) 20:02, February 10, 2018 (UTC)
The whole right title thing makes sense but each time I intend to upload a image into the infobox it makes a whole new image page and when I look back at the page that I intended the image to go to its not their and the same red writing on the NationBox saying Location of Russia.
You may not need to change it but if so then do
Leonidas huh (talk) 21:18, February 10, 2018 (UTC)
Why did you remove my pictures?!?!
Sorry about that page with no tl on the end which I made. The one about the november budget. Thanks for deleting for it and keeping the wiki clean or whatever. Person67 (talk) 15:56, February 11, 2018 (UTC)
Photo Problem
Hey Nuke,
Recently I've been having some problems with adding photos to certain pages. I've looked at other's President/war/whatever pages to see what they did and it looks like they do the exact same thing I did! It seems to only be happening with non-svg photos, and infoboxes that aren't Nation Boxes. To be honest, it's pretty annoying. If you need to see the pages that have this pages, then Here they are:
President of China (A Free China
Chinese Civil War (A Free China)
President of New Orange (The British Ain't Coming)
For the New Orange Page, it's the Portrait that won't show up. I don't know why it won't work for me, though I will say that I do most of this on my phone, so incase you can't figure it out, that could be the issue. Anyway, I hope you can solve this! ~~The History Nerd
Well what do I do when they aren't uploaded here? Cause I've tried many different things to try and make these dang files show up.
Okay then, can you tell me/link me to where I can upload my files? ~~The History Nerd
Thanks, but This just tells me how to avoid duplications, which I don't need at the moment. Sorry if this is getting irritating, but I need to know how to upload a file to this wiki, like the link you sent me suggests.
Alright thanks ~~The History Nerd
I though by that you meant the file I was uploading had the same name, not the name of it when you upload it. Do I have to change it now? ~~The History Nerd
Wow, okay....
Alright, thanks ~~The History Nerd
Page name changed
Hi, why did you rename my country page? It is from an alternate country so I don't see why the name should be changed.
SerAbianI (talk) 21:22, February 15, 2018 (UTC)
Election Infobox issues
Heh Nuke,
Yeah I'm back again, with yet another problem, the election Infobox for this Article: [General Election 2017 (A Free China)], it's acting all weird. I deleted some of the sections I didn't need such as the homestates and party colors, but I don't know if that's the problem or not. I hope you can fix it, and sorry if you are getting annoyed with me coming back with these problems, I am not that professional. ~~The History Nerd

Thanks! It looks good! ~~The History Nerd
Can you not delete the photos I'm uploading 
Leonidas huh (talk) 19:04, February 16, 2018 (UTC)
Athabasca Assiniboia oil Pipeline 1983 Doomsday
I remamber that when i told you about my plans to make a 1983 doomsday WCBR News Hour headline about ground breaking on the Athabasca to Assinboia pipeline, that feelt is probbly all right but you wern't an expert on doomsday lore and that I may be risking some delteing it if they felt it went against cannon. I don't think my post violated cannon because the Athabasca and Assinbodia page said that there were plans for an oilpipeline and that construction could start no sooner then 2015. Did you deleted my post because of a formatting error. I thought that i was following the I WCBR News Hour headline formatting guideline that were posted on the WCBR News Hour talk page but i guess i could have misinterpreted them. It it wasn't a formating error did you delte my headline because it mentioned provincial canada and didn't and didn't consult with mitro.
Spam
Hi there, just wanted to report a case of spam by User:Terranical. On the This page. I have added the delete tag.
With Regards
AlthistWriter (talk) 08:31, February 17, 2018 (UTC)
You have really angered me this time Nuclear Vacuum, I had images on the 2 newer pages of my alternate history and want them back now!
You are ruining my pages with your deletion of the images and I had only placed them once so get of my case and let me have the image!
I have a passion for this and you are ruining it.
Leonidas huh (talk) 20:41, February 17, 2018 (UTC)
Chinese Election Map request
Hey Nuke,
So I heard that you are a map maker and you can make maps for people if they asked, so I wanted to try this out. Do you think you could make an Election map for the 2017 Chinese General Elections in my timeline: A Free China? Keep in mind that Tibet and Xinjiang (known as East Turkestan in this timeline) are independent nations, so please remember that if you do make the map for me (also include Taiwan as one whole province). All provinces of modern day China excluding Tibet and Xinjiang will be the same in this ineline, so its mostly the same. When you're making the election map, the election system with the provinces will resemble the US way, so the provinces will have colors (Blue and Green) that represent which party is currently holding it. You can make any province a certain color, but just remember to have the Democratic Progressive party (the green on the election map) have the majority of provinces. I hope you accept my request, and if you can't do it, then it's fine. Colgan dog (talk) 02:17, February 18, 2018 (UTC)User:Colgan dog

Naming of Timeline Pages
Hi there,
Sorry to bother you, but I was just wondering about something. If I Want to Have a detailed timeline page, with a simple timeline on the Main page of the timeline, would I have to name it "Timeline (Timeline)" or "Detailed Timeline (Timeline)"?
Thanks in advance for your assistance.
AlthistWriter (talk) 19:46, February 19, 2018 (UTC)
File Deletions?
Hello,
May I ask why you removed ALL the images from the Maxorata Empire's alternate history pages? Is having your own flag wrong? And maps? And basically all historical images? Because unless it is I find your act of deleting them extremely disrespectful. Last time I checked it isn't a crime.
http://althistory.wikia.com/wiki/Maxorata_Empire_(The_Maxorata_Empire)
http://althistory.wikia.com/wiki/Ache_III_(The_Maxorata_Empire)
http://althistory.wikia.com/wiki/Eraoranhan_I_(The_Maxorata_Empire)
http://althistory.wikia.com/wiki/Emperor_(The_Maxorata_Empire)
Kind regards, and I expect a response ASAP.
Nay Mate Woody (talk) 16:05, February 20, 2018 (UTC)
Fixing of pictures
Hi, sorry to bother you, (I seem to be doing that a lot recently), but do you think you could fix the image on Northumbria (1989 War)?
It is labelled: "The Current Monarch, George I" Thank you. AlthistWriter (talk) 17:34, February 21, 2018 (UTC)
Removing Categories?
My wrong. --JorgeGG (talk) 19:35, February 22, 2018 (UTC)
about my strike
when i used the photo it did not warn me about it being a duplicate of that photo already,if i had got that warning like it usually does i would have used the already existing photo,i think i dont deserve another strike.this time i wont be immature. --DRAFIGO13 (talk) 21:47, February 22, 2018 (UTC)
noted,but i cant understand how to know if its asvg or pvg fileand to be sure im only gonna upload from this site.--DRAFIGO13 (talk) 22:52, February 22, 2018 (UTC)
okey i will think about trthat, and do you have anything against me<?becuse everytime we speak you sound so rude--DRAFIGO13 (talk) 23:06, February 22, 2018 (UTC)
im new to editing on computers and im sorry for all the times i been imature and rude,i also look forward talking in the future--DRAFIGO13 (talk) 00:01, February 23, 2018 (UTC)
Christian VIII of Denmark/Christian Frederick, King of Denmark (The Danish North Sea)
Hi, since I am unable to change the name of Christian VIII of Denmark (The Danish North Sea) back its original name (I don't seem to have the option) and I have nominated Christian VIII of Denmark (The Danish North Sea) for deletion. As I have stated before, Christian VIII of Denmark (The Danish North Sea) is meant to be named Christian Frederick. Christian Frederick is based off of the real King Christian VIII, but this Christian Frederick is still a fictional character. His ancestry for example is different than the real Christian VIII and so is his biography. I used the portrait of the real Christian Frederick to represent this fictional monarch. I basically used portraits of real life royals to represent my list of Kings. Yan Hoek has done this for his list of monarchs in his timeline The Kalmar Union (for example, King Frederick II of Wessex-Normandy is represented by a photograph of the real life OTL Prince Albert Victor, Duke of Clarence and Avondale). A similar thing was done for the timeline Jacobite Glory, were the fictional monarchs of Scotland are represented by portraits of real life British royals. There are many other examples. Please note that I am not angry in anyway shape or form, but I just want to know as to why the name was changed. I hope that this doesn't leave me on the wrong foot.DasBull$ (talk) 00:50, February 24, 2018 (UTC)
Excuse me, why don't I have the "protect" right to republish Christian Frederick, King of Denmark (The Danish North Sea)DasBull$ (talk) 00:54, February 24, 2018 (UTC)
Hello. I changed the name of the Westralia Timeline to the Setting Sun Timeline like you asked. Can you please remove the candiate for deletion now?
Nolanishere (talk) 03:57, February 25, 2018 (UTC)
Hi! I noticed that the flag and coat of arms are missing on a page called Maxorata Empire. Has this been removed by vandals? If it was maybe I could make a new flag for the page (if it's okay to do that without the creator's permission).
ElegantLife (talk) 11:35, February 25, 2018 (UTC)
I need my message to be seen and understood, i just don't understand.
Hello
I'm really confused, why was my PROPOSAL for a flag deleted before the main writers approved it or not ? I was using it finely, not puting it on the canon page like a selfish person (i mean in a alternative history scenario made by a community, the community should approve changes and not a single person) and ready for a verdict after a wide discussion with a community wich, from the outside, look lovely to be part of. But if it's deleted for "housekeeping" without anyone in charge of the Lawrence Raiders seeing it, i mean it's worthless to just participate (and if i made a mistake on that my bad i did not know). The scenario is on a certain stalemate without a real conclusion and many parts parts needing to be expanded. Could we have a positive constructive way of continuing it?
With my best regards
SigmaHero045
SigmaHero045 (talk) 01:37, February 26, 2018 (UTC)
I pretty much agreed with what you had to say(you do just your job after all) but there's just one little detail that bugged me
In this talk page i used it, the flag i mean. http://althistory.wikia.com/wiki/Talk:Lawrence_Raiders_(1983:_Doomsday), waiting for approval of people that sadly aren't aware but hey i've gotta stick to the protocol (and why i uploaded it in the first place, not for vandalism or self autocratic rule like accidently in January). It was that thing that bugged me the most in the first place and why i talked with you : I didn't understood why( for a picture that really wasn't used in anything i would have understood but i used it)it was deleted even if i used it like the system wants it to (or are you saying this isn't a talk page despite the big "talk"? In that case i'm sorry). SigmaHero045 (talk) 00:27, February 27, 2018 (UTC)
timeline reviev
Hello there nucclearvaccum!ive comee to ask you to reviev my timeline (Fascist Reich) check what could be improved/added/changed--DRAFIGO13 (talk) 09:30, February 26, 2018 (UTC)
Commonwealth of England...
thanks for spotting this thing. Saw the convention and its recommendation for shorter names. No problem if and when necessary for its name change. Thus Commonwealth of England, Scotland and Ireland (Cromwell the Great) can be changed to Commonwealth (Cromwell the Great). Colloquially it's the most used form (will add a few lines later explaining this point). Liked your cue on the name. Britannia, Britain or British Commonwealth are shorter forms and are not suggested nor should be used as colloquial.
On the same topic and checking other country names in CtG I spotted a few other issues (any suggestions?):
Regards, --JorgeGG (talk) 13:52, February 27, 2018 (UTC)
Why are you deleting Sanders Presidency Timeline?
I just came on here this morning and saw that you put a deletion warning on my timeline "Sanders Presidency" because It either to simiar to the "President Sanders" timeline or It had correction errors. What do I have to do so It doesn't get the Timeline doesn't get deleted. ---- EnderAlan04
Accidental Duplication
Before I get blocked for the umpteenth time, just leaving this message (assuming you read it) to let you know that New_ussr_flag image and the Alt_ussr_flag images was an accident deletion, I intended to recover the former with a new name but it the app seems to re-cover the page with the original name.  The Alt_ussr_flag page was uploaded because I didn't know if the original had been re-uploaded or what was going on.
FilipinoMan (talk) 05:54, March 1, 2018 (UTC)FilipinoMan
I was blocked for a couple hours
Hello nuclear Vacuum,
So today I discovered some issues when I attempted to edit some map game pages, or edit my own timeline.... it said I was IP blocked! Now I don't know why I would be blocked, but the reason for it was apparently for Vandalism. Now I know you and me both know I have done no such act on my days on this wiki, and don't know why I wasn't messaged about any unneeded edits. Now I was out an about, so it really didn't interfere with me as I was busy throughout the day, but when I got back on, I looked into it more. Now funny thing is, when I sent a message to FANDOM I could suddenly edit pages and send messages again! XD

Anyways, I just wanted to ask you and see if you ever authorized or know of any such blocks, but it's most likely the wrong IP was blocked. Anyway, I hope to hear back from you, goodbye!
Colgan dog (talk) 21:52, March 1, 2018 (UTC)
Nope, I don't have any other accounts. It must of been a glitch, as it dated I was blocked until March 16th, then suddenly I'm unblocked, it's weird. Well anyways, thanks for your help! Colgan dog (talk) 12:36, March 2, 2018 (UTC)
Afghanistan in Russian America
Hi Nuke,
So I am very familiar with Afghanistan history, now I wouldn't say I am an expert, but I do know quite a bit, and so as a chance to actually contribute something to this timeline, rather then making a page for a nation that has no relivence or change in this timeline at all, I have come to ask what is Afghanistan like in this timeline? I imagine that with America not having a coast, it doesn't have a huge launching point in the pacific, nor did they get to install pro-American capitalist governments in Asia, since they don't own Hawaii or the west coast in this timeline, but I imagine they still have a great deal of influence. Now, my discovery of the Democratic Republic of Afghanistan, and to see Afghanistan be a releativly propertious, equal, and somewhat stable state (there was still a lot distaste for the secular, but not quite atheist stance of the Communist government, and this did eventually lead to all out conflict, so not completely stable), which inspired me to search more into afghan history, which is quite fascinating. So, I am here to ask what Afghanistan is like in this timeline, is it still Communist? If so, is it relatively stable and united? Or is it basically the replacement for the northern alliance in Afghanistan in our timeline, and the Taliban is still fighting the government and international coalition? Is it basically the same? Is it no longer communist, but still a stable, somewhat democratic Islamic Republic? I am interested and eager to hear your ideas and theories!
Colgan dog (talk) 03:55, March 3, 2018 (UTC)
I've fixed the issue i've had in my creation. Can I delete the template now? --Inky100 (talk) 20:47, March 3, 2018 (UTC)
Ah alright. Well thanks anyways. Colgan dog (talk) 04:52, March 4, 2018 (UTC)
Thanks! I'll take this advise! You do a good job at keeping this fandom from falling into madness 👌🏻. Colgan dog (talk) 05:13, March 4, 2018 (UTC)
About the picture deletion
Greetings. I've noticed that you have deleted the File:Location of Vietnam AVEON.png. However, I must inform you that the file was not misloaded. As you can see, in my alternate timeline, Laos and Cambodia had united and I erased the border in the picture. Bhutan and Nepal has also united with India, and I also erased the border. I believe that was just a misunderstanding, and I want to clear that. I would be pleased if you revert the image or tell me how can I fix that image so it sn't marked as "misloaded". Thank you.
FroopyZombie (talk) 13:54, March 5, 2018 (UTC)  
my article and flag
I fixed the article is it alright to remove the deletion thing or not and also why did you delete the flag for misleading name when it was not misleading
Re:Map Naming
Is there wiki policy stating this? I can't find one. Is this just you imposing an arbitrary preference? If so, please stop deleting it. Krasnoyarsk2 (talk) 22:25, March 5, 2018 (UTC)
Really? I read Alternative History:Rules and there's no mention of it. I saw it in Alternative History:Conventions in use in this wiki, but a convention certainly isn't a rule, which brings us back to arbitrary preference. Incidentally, before rushing to delete things, it might be worth considering that you should mention it to the people who uploaded them, particularly if you're doing it based on a convention rather than a site rule. Krasnoyarsk2 (talk) 02:00, March 6, 2018 (UTC) Definitionally, a convention [[5]] is not a rule. Furthermore, these conventions have not been applied with any degree of consistency as recently as the last Principia Moderni game, as a cursory glance at a few of the many articles associated with it demonstrates. This, again, leads me to believe that you're just enforcing your own preference arbitrarily, and without any explanation to the users involved.
If you want to ban me for complaining, do so, but be assured that I'll bring up the fact that you, a wiki admin, seem to respond to any questions by new users about you indiscriminately deleting their material without explanation with hostility, and by immediately leaping to threats of bans, to the community at large. Call me naïve, but that doesn't seem like the way admins ought to behave. Krasnoyarsk2 (talk) 04:52, March 6, 2018 (UTC)
Re:Categories and "The Conspiracy"
Ah I see, my bad! I'll make sure not to add personal categories again. And thanks for telling me my error, I guess I read somewhere that said he was president elect at the time of his assassination, ill fix this error right away! Thanks for your feedback! Colgan dog (talk) 18:52, March 7, 2018 (UTC)
Kenya Map
I looked for this map on this site and found only a bunch of flags, and an orthographic projection, so it's unique. Why was it deleted? The log is very terse in reasoning. JJohnson (talk) 03:41, March 8, 2018 (UTC)
Formal Dispution about Flag Duplication =
You deleted one of flags and called it a duplication however this is not true as my flag had a different shade of green. Thank you for your help.
Regards,
DylanHK02 18:34, March 8, 2018 (U
I want to use my flag with my preferred shade of green. They are quite different. How exactly do you expect me to use my flag if the fairly different shade of green isn't illiminous or your greyish green?
DylanHK02 22:34, March 8, 2018 (UTC)
Tannu Tuva in Russian America and A Free China
Hey Nuke!
So I was just searching up stuff, when I remembered about this federal subject of Russia called the "Tuva Republic". What's so fascinating about it is that it used to be its own independent communist state before the they agreed to peaceful annexation into the Soviet Union. So I was wondering if Tannu Tuva could possibly regain its independence after the fall of the Soviet Union, since it staying independent throughout the Cold War seems really implausible.

So I was also thinking if I should include Tannu Tuva as an independent state in my own timeline "A Free China", as apart of one of those many butterfly affects of China being a democracy.

I hope to hear your thoughts and response! Colgan dog (talk) 22:40, March 8, 2018 (UTC)
Greetings,
My page "Austria (Wiser Kaiser)" seems to have had part of it deleted or reverted to my penultimate save of the page. I would like to ask if you know what might have happened to  my page.
Regards,
DylanHK02 22:46, March 8, 2018 (UTC)
Good Afternoon,
Considering that you stated that you were being a control freak again and changing the name of my pages and deleting them, I  request that you fix the page or revert the changes and restore my page.
Regards,
DylanHK02 12:20, March 9, 2018 (UTC)
Maps
Hi there, I was just wondering, what software do you use to make your maps for Russian America? AlthistWriter (talk) 16:10, March 9, 2018 (UTC)
My Talk
BTW I responded to your responses in my talk page GR1995 (talk) 21:22, March 9, 2018 (UTC)
Business
Hello, man. I'm sure you not know me but i'm spanish user and reader out of your stories and i'm asked if you allow me make traductions of your stories Great White South and Russian America. I really love your stories and I will be happy to translate your stories to spanish, if you allow me, sure. I'm sorry if I was being a little expressive, I'm really shy about speaking foreign languages. Thanks. --Aleksandra Lionheart (talk) 16:18, March 10, 2018 (UTC)
Naming laws in Russian America
Hi Nuke,
I am here to bring up an idea for an interesting topic in Russian America, especially for Alaska: Naming Laws. Now in the US, as you might already know, each state makes their own naming laws, and in Alaska, you can name your child anything you want. But now since Alaska is very Russian, and an independent country, do you have any ideas for their possible naming laws?

Stop
Please stop deleting files with notifying the people who uploaded them. It's needlessly rude. Krasnoyarsk2 (talk) 00:52, March 12, 2018 (UTC)
Question
Do you speak Spanish? --Wiki1776 (talk) 17:18, March 12, 2018 (UTC)
Ok, I wanted to ask you if you could create a map for a story that I'm working on. My story is about the United States covering all of North America, Central America and the Caribbean and includes Hawaii, San Pedro and Miquelon, and Bermuda. At the moment the sub-divisions would be the same as in NLT (they would be the subdivisions of the 13 provinces of Canada + 50 states of the USA including Washington DC + 32 federal entities of Mexico, for the Caribbean and Central America, only the national limits should be added.). There is a similar map but I want it to be SVG and have the same style as File:Atlas of Alaska (Russian America).png or Texas in United States (US48).svg. Could you do it? --Wiki1776 (talk) 18:16, March 12, 2018 (UTC)
Tuva
Okay, I'll see what I can do in Tuva, oh and thanks for the links! I've been looking for documentraries and stuff about Tannu Tuva for a while now! And thanks for your response on the Alaskan Naming Laws, if you want maybe I can help you, or make a page on the naming laws? Anyways, thanks for your response! Colgan dog (talk) 22:18, March 12, 2018 (UTC)
Question
Hello, I noticed that you are trying to delete my wiki page on Jesse Ventura Presidency. What can I do so this doesn't happen. I am doing this for a school project and I want to make sure it doesn't get deleted. Thank you!
Thank you sir! I have renamed it The Body President. I like that a lot better too! Hopefully it is all up to code now. How does it look?
Thank you sir and no problem. I'm glad you let me know that there was already an althist on Jesse Ventura being president so now the two are distinguished. Have a good day!
Slavs
Thanks for the heads up, I was referring to the pie chart. It made sense to me that the government might count Slavs that originated from the Russian Empire as one group, sense they would have far more in common than all of the other groups.
I am going to be talking about the rise and decline of ethnic Russian society in Alaska. Russians holding most authority until the 1917 Revolution, than the on suing chaos allows the large and discriminated Ukrainians to realign society to their interests. I imagine the Cold War would be a critical turning point with the government in some ways emphasizing the Ukranian parts of culture to separate themselves from the Russian Soviet Union. I could even see a movement to create Ukrainian as an official language in the late 50s before the Alaskan Missle Crisis and its aftermath causes the country to become non aligned.
Russians are kninda in a weird place in this Alaska, often middle income and better off than many others but not holding many positions of high power as the Ukranians do. However modern social interaction and intermarriage would still make the two indistinguishable to outsiders in the 2010s --Stepintime (talk) 04:55, March 14, 2018 (UTC)
Could this guy, be a Ukrainian Alaskan https://en.wikipedia.org/wiki/Nestor_Makhno --Stepintime (talk) 23:41, March 16, 2018 (UTC)
Thanks for your explanation, makes sense
I do see still some Ukranian-Russian tensiosn taking place in colonial days being that Ukranians felt subujgated at home. But living in the New World could definently reduce those tensions. 
By the time independence comes around your model of natives v,s new comes would be likely. Definelty the immigrants would have vidsions of empire while the natives would really just want a happier indepndent life perhaps asking  "why can't we be like the United States?".
I guess you envision Ukranians and Russians both seeing each other as Aaskans after independence but I still think about economic differences. I cant ignore the fact that almost every Alsakan President is Ukranian and none are Russian- this says something about the two groups and the choices they make. Ukranians seem to come out on top as the most Alaskan of all Alaskans (as they are Ukranaians speaking Alaskan Russian espically) 
. I get the feeling that ethnicities even if they didnt know it would have some statistical differences in gdp per capita and would be more likely to have different jobs. Judging from other parts of Russian Ameirca it looks like Ukranians would be overall be more skilled and creative (though some Russians would be to- think about Sergi Brin) . Perhaps Russians would then have middle class occupations like teachers or accountants.
I do imagine Russians also being more conservative overall in all governates (though where lthey live would also make a difference. Southern and Shielklov Russians would be liberal and leftist respectively. 
Independence looks like it helps Ukranians a great deal, though ethnic Russians who had been there for two generations or more will also be happy.
Most importantly is that post independence is that we would see heavy Russian Ukranian intermarriage which would solidfy a unique Alaskan Identity.
I guess the Celts are a good analogy, because in American Irish had impacts to varying degrees. In the South many claim Irish ancestory but they are too omany 'Irish Neigbrohoods' but in the Northeast America Irisih enclaves still exist.
Stepintime (talk) 22:34, March 18, 2018 (UTC)
About the Wiki's Discord
Sorry to bother you, but I believe that the invite link to the wiki's discord is broken, or the wiki's discord server was deleted. Is there a new wiki discord server that I could join?
FroopyZombie (talk) 08:12, March 18, 2018 (UTC)
2018 Stirlings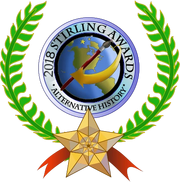 Congratulations Nuke for your success as the Best TSPTF member of 2018. Keep up the excellent work!
"This is not your grave but you are welcome in it." 02:10, March 19, 2018 (UTC)
Wikimedia files
Hi, I'm obviously being an idiot... you're deleting my uploads saying there's a Wikimedia file available... so how do I actually use that Wikimedia file if it's not on our Wikia yet? Is there a magic coding out there?
i.e. 'Ermesinda.jpg' or 'Kiejstut seal 1379.png' which I thought were faithful takings from Wikipedia and not renamed (which I know I've been extremely guilty of in the past, hence my recent tidying spree).
Thanks! Yan Hoek (talk) 20:52, March 21, 2018 (UTC)
Wait... ignore me... it's because I can't spell isn't it? I shall go away and hang my head in shame. Yan Hoek (talk) 20:56, March 21, 2018 (UTC)
Protecting Articles
A couple of my articles were edited by someone else in a way that conflicted with the storyline I have set up, and I saw that you corrected it - I just wanted to say thanks!
Deletion
Hello Nuke,
I saw you deleted Communist-Controlled Ameirca
I relaized the author had requested deletion but I then asked him for adoption and he gave me his consent. I then worked on cleaning up the articles months ago. (They certainly did need to be cleaned).
I suppose its fine, what's done is done. I had planned to flesh out the concept.
But I suppose all things are temporary, I could always make my own timeline with a simliar premise at a later date.
This is certainly not accuastory, there is so much work you do here  but I thought I should let you know about the situation. I have too much to do in life then to play with yet ANOTHER timeline.
In the meantime I want to finish the proposal for Zheng China, as well as get around to the espinoge article. Ethnic groups will be coming around too :). 
Stepintime (talk) 23:05, March 25, 2018 (UTC)
Looking forward to the suprise!
I didn't know it was possible to 'undelete' things, I think that would be a good idea.
Stepintime (talk) 15:21, March 26, 2018 (UTC)
Image deletion
I've noticed that a lot of my images are being constantly deleted as soon as I upload them by yourself; I'm not entirely sure why, so I'd like to ask if there's something I'm doing wrong - images will play an integral part to setting the scene of the timeline and I am going to be using some furhter down the line. Please do let me know why they've been deleted and what I need to do to prevent any more deletions of imagery. ScienceGuy44 (talk) 11:44, March 26, 2018 (UTC)
I quite appreciate you getting back to me. Wasn't sure what I'd done incorrectly, so it's good to be informed. So, if I were to get a picture from google of, say, US soldiers in Korea, would it be best to leave it as the file's original name or to rename and edit it? ScienceGuy44 (talk) 17:35, March 26, 2018 (UTC)
Righto; most everything I've re-uploaded following our chat is heavily edited by myself, but now includes the name of the article with them and thus, I hope, no longer violates the naming rules. Thanks for the clarifications. ScienceGuy44 (talk) 17:54, March 26, 2018 (UTC)
U added a template to my page. did i spell some wrong?Freezer Generator (talk) 00:34, March 27, 2018 (UTC)
nvm. why are you deleting my images? neither are inapporpriate and how are they misleading?
Freezer Generator (talk) 00:49, March 27, 2018 (UTC)
oh wait. nvm. did you delete them because i spelled region wrong? ill fix it now but thats no reason to delete an image in my opinion Freezer Generator (talk) 00:50, March 27, 2018 (UTC)
dont delete my images which have fine names that are easy to remember! their not inappropriate their not misleading and their not capitatlized (but hows that a problem) so they should not be deleted. please give me the images back and not be cruel to me. Freezer Generator (talk) 00:54, March 27, 2018 (UTC)
File deletion
Greetings, NuclearVacuum,

I have noticed you are continuously deleting my image files. As a reason, you give that the images are "unacceptable" .May I know what you presume to say with "unacceptable"? I would also like to ask you to stop deleting my image files, this to give me the opportunity to continue contributing to this wiki.
Regards, FoxMaps (talk) 07:25, March 28, 2018 (UTC)
Somehow I stumbled across this wiki, and then I stumbled across your userpage, and I've made my own wiki, and I'm asking (if you know how) how does your lieutennant (I'm guessing is admin) not say admin? Wallnutyguy 01:45, March 29, 2018 (UTC)
Greetings NuclearVaccum
I see you nominated my scenario for deletion. I see why you did so and I changed the name of the scenario to something more appropriate. If that doesn't get you to reconsider, I'll re-write it in third person view. When I wrote the article, I was impatient, and now I see the error of my ways and made the necessary changes. I hope it gets you to reconsider. If it doesn't, I understand. If it does, thank you for your open-mindedness.
Signed
Don't forget to be awesome (DFTBA) (talk) 13:10, March 29, 2018 (UTC)
Gaming with Adam
i made a bad flag picture of aaktuin and deleted it after posting it here and it follows the correct naming sustem and then i made a beter picture and out it here but it has defalt "-0" at the end. is this allowed? if not i cant do anything about it
can we improve this wiki anymore? i hadnt done an overload and wasnt even in source editor the only source-y thing i used was infobox (NationInfo) and an image (File:Seal of Aaktuin (The 1456 Incident).png). then i tried to add a heading and it glitched out. it stopped typing and i wondered what was up so i checked in source mode. i thought id fixed it but then the options at the top disappeared. i couldnt click cancel save new heading or anything. so i deleted the tab to try again. have you ever come across this problem? do you know how to solve it? tell me on my talk page Freezer Generator (talk)
Template:NationInfo cannot let lang_official and language be different. unless theres a thing where you can do it (almist like a hack) you are an active lieutennant and if there is one id think youd knowed it. ASAP
a very unneeded question from ansa: how do you do the avatar thing? i try to upload (the seal of aaktuin) and either two things happen: 1. nothing: it justs goes on like i never changed it or 2. it says sorry we had trouble processing this request please try again later. i need help. Template:Freezer Generator
Is there something wrong with Category:Icelandic Overseas Territories? If so, please tell me.  FreezerGenarator :D
Wikimedia file uploads
Hey Nuke,
I went ahead and fixed the files that I created myself, adding the timeline name.
As for the wikimedia files, I do not know what I am supposed to do. I did not change any of their names or file extensions when I uploaded them to the wiki, nor were those files already on the wiki. I know I didn't specifically select the Wikimedia license, but that is because I was uploading them using visual editor and not Special:Upload. Of course, I intended to go back later and give them wikimedia liceneses. Now, if that was the only issue, I would expect you would just add a Wikimedia license and not delete it. If, however, there is something more to it than that, I would appreciate it if you let me know so I can fix it. 
Thanks,
Nathan Oh, I didn't mean to push that button! † Oh, well leave a message I guess 18:06, April 1, 2018 (UTC)
Re:Files
Hello Nuke,
The specific reason why I use preview of the files was for space managment. The full version of each image is sometimes very large, on the order of megabytes. Idk if that is permissible on the wiki, but it certainly would be a concern for my computer's speed and efficeincy. I utilize smaller versions of each file, based on how large I need it for the article. Do you know a way I could preserve the proper standard while maintaining space efficiency? Or do you believe it doesn't matter and I overthink it?
Thanks,
Nathan Oh, I didn't mean to push that button! † Oh, well leave a message I guess 18:40, April 1, 2018 (UTC)
Re-Uploading Files
Ah, so it was using the cropped version that was the problem, I was somewhat confused seeing as I was using the Wikimedia version originally. Things have certainly changed on that front since I was last around --Vegas adict (talk) 22:14, April 1, 2018 (UTC)
Uploading Problems
Hey Nuke,
So it seems now I am having uploading problems! I really don't know what's wrong with the uploading thing as it was working great when I first started using it, but now it fails to upload things.
Since I can not upload my Flags, may you please upload this one?

https://commons.m.wikimedia.org/wiki/File:Flag_of_the_EZLN.svg
Sorry for the trouble, It is really incovinient for me to have to do this.
Templates
hello! i need a template for a military person so can i use one from wikipedia?--DRAFIGO13 (talk) 12:21, April 3, 2018 (UTC)
Uploading Problems 2
Hi Nuke!
I have been having problems with uploading images to the wiki. It says that I don't have permission. Also, I can't create pages. Any ideas what's going on? AlthistWriter (talk) 16:02, April 3, 2018 (UTC)
Not as much editing pages, just creating new pages has been a problem.
(As Well as Not uploading images).
AlthistWriter (talk) 18:49, April 3, 2018 (UTC)
Can't upload files?
Hi NuclearVacuum,
Is there a reason why I can't upload files? Seems like I only get this message: "You do not have permission to upload this file, for the following reason: The action you have requested is limited to users in one of the groups: Administrators, FANDOM Staff, FANDOM Helpers, Content Volunteers."
Kind regards, Realismadder (talk) 21:17, April 3, 2018 (UTC)
I somehow lose permission of creating pages?
Why bother you but, I start realized now that I can't make new pages anymore and I don't even know it's this restriction for all users except moderators like you or just me and/or maybe site bug that I'm getting for last four months? Chad Roberts II (talk) 00:08, April 4, 2018 (UTC)
Permissions
Hi, I'm assuming there's some ongoing issue as I'm getting permission errors when I try to create a page. Do you know when this will be resolved? I have a few new pages I'd like to add. Thanks so much. Oneohohohone (talk) 03:00, April 4, 2018 (UTC)
If possible, it would be great to have these created while the trolls are being dealt with:
http://althistory.wikia.com/wiki/Karafuto_National_Oil_Corporation_(Treaty_of_Saint_Petersburg)
http://althistory.wikia.com/wiki/Karafuto_Energy_Group_(Treaty_of_Saint_Petersburg)
http://althistory.wikia.com/wiki/TK_(Telecom_Karafuto)_(Treaty_of_Saint_Petersburg)
Oneohohohone (talk) 03:34, April 4, 2018 (UTC)
Images
I don't seem to be able to upload images anymore. I'm guessing this has something to do with the last file I uploaded; I renamed the file by accident when uploading it, thinking I was putting in the caption. The original image title is "Budapest_1956.png". I've still got it and I'm looking to use it again, this time with the proper title. I'm hoping I'll be allowed to upload it and other images. ScienceGuy44 (talk) 10:44, April 4, 2018 (UTC)
cant create articles
i was on my way of creating a new article when it said that i need permission,why is this?--DRAFIGO13 (talk) 11:11, April 4, 2018 (UTC)
Restriction of Editing
Hi Nuke, 
Multiple people have complained to me that they are unable to create pages or upload images. Some have pointed to you, saying that you spoke with Wikia about dealing a vandal and this being one of the side effects. Can you clarify the situation and when users can expect to be able to publish articles again?
Thanks, 
"This is not your grave but you are welcome in it." 15:51, April 4, 2018 (UTC)
Page Creation
Nuke, what in God's name is going on? You seem to be the only one with any information about the current situation. Please explain ASAP.
Scrawland Scribblescratch 15:54, April 4, 2018 (UTC)
Nuclear please let me create pages I can't do anything and I want to create new country pages for Hillary Wins.
Hey Nuke,
It's Baron Joshua. I've read the communication between you and Pumpkin regarding the current page creation issue. I do hope that after 12 hours or sooner the issue is resolved. Baron Joshua (talk) 20:24, April 4, 2018 (UTC)
Deleted Image
Hello, I have a question. May I ask why this was deleted? I have looked through the rules, and I don't know what rule I am violating by uploading that image. I have heard from the others you might've deleted it because there is another image like it already on the wiki, or that there is a better file from the Wikimedia. Could you tell me how am I able to upload the specific image (under a different name) without it being deleted? Batran99 (talk) 21:10, April 4, 2018 (UTC)
Spammer
Hi, just to let you know, that has been a spammer called User:Um Tal de Otário Aí who has destroyed all of my pages. More fun for you, eh? AlthistWriter (talk) 14:45, April 7, 2018 (UTC)
Canary Islands in Russian America
Recentlly at my school a Spanish exchange student came, he was from the Canary Islands. Being the ethnic group obsessed person that I am I asked him if there was any berbers or arabs in the Canary Islands. He asked me what a berber was, and said there was no arabs. Anyways I see no way that the Canary Islands would be part of Morrocco. Keep up the good work, am really enjoying the rest of RA!
Prince Octavian , of Jerusalem, Sicily, and Swabia, and Duke of Amalfi.

Ah ok, I think that it is a little confusing to call it Western Saharha because the Canary islands would have the majority of the population. Have you considered Franco doing something similar to what he did OTL except with the Carlist claimate who would have kept it a dictatorship and made it still similar to OTL Tiwan. {{Octs Sig{{