Hello and welcome to the Alternate History Wiki!

We are a community for creating fictional alternative histories. We hope you will feel at home here and wish you good luck contributing to our ever-growing collection of timelines.

Please start by reading our Guide to Newcomers. It contains links to the important sections of the wiki.
If you're new to wikis in general, see How to Make Articles.
If you're ready to create an article, see Conventions in Use in this Wiki. It explains how to title and categorize your pages, what kinds of content are allowed, and other rules of the site.

Some other helpful reference pages:

Some general tips:

This wiki is for alternate history, not future timelines. What you write should take place before 2021.
All articles on this wiki take the following format: Name of article (Name of Timeline). This helps us know which pages belong together.
To sign your posts on talk pages, use ~~~~ (four tildes). This will insert your name and timestamp.
You can experiment in the Sandbox.

Regards, -- NuclearVacuum (Talk) 02:20, March 25, 2013
PMII
Actually no, Ceylon/Lanka has been under Bengali and Scandinavian influence for several decades now.AP (talk) 00:07, April 4, 2013 (UTC)
yes i will, i will send troops as will my vassal DS|Fear the Mutated Dean Sims Bomb, Fear It 21:28, April 24, 2013 (UTC)
ok, i will help you, and also i propose marriage to your king Mawilda (talk) 17:25, April 25, 2013 (UTC)
Hi! I will assist you in your war against Wales, by sending military aid and supplies. For doing so, I will accept your offer of alliance and trade agreement, as in using you trade routes and ports with a diminished cost and such. I would also like some land in Wales. Not a HUUUUGE chunk of it, because it's your war and your land to gain, but I would like some land access to Britain. Cookiedamage (talk) 03:14, April 26, 2013 (UTC)
i will aid you. but as france i would like to get the area of London and part of the channel sea coast. if you agree to this you will have aid from france and its vassals. Sine dei gloriem (talk) 15:44, April 26, 2013 (UTC)
well your already winning actualy. Ill add my other allies. DS|Fear the Mutated Dean Sims Bomb, Fear It 17:38, April 26, 2013 (UTC)
I did the algorithm, you can annex 7% of Netherlands after a 5 year war. If you want to really beat them id wait, but 7% isnt that bad actualy, you can annex some of there colonies or ports and use them in the next war. DS|Fear the Mutated Dean Sims Bomb, Fear It 17:49, April 26, 2013 (UTC)
I would be very interested in joining the war with you, and woulde be glad to be a leader along with you. I also accept the suggestion that we divide the land between us. Shawnguerra (talk) 16:11, April 27, 2013 (UTC)
can i add you to my algorithm since your my ally as a coalition partner? then you get land. DS|Fear the Mutated Dean Sims Bomb, Fear It 20:13, May 7, 2013 (UTC)
ok im adding you the algorithm DS|Fear the Mutated Dean Sims Bomb, Fear It 20:38, May 7, 2013 (UTC)
Kuwait is all yours. DS|Fear the Mutated Dean Sims Bomb, Fear It 21:45, May 7, 2013 (UTC)
Come on chat and we shall... chat, I guess :) Reximus55 (talk) 20:51, May 8, 2013 (UTC)
Can we talk on chat please? I have something i wish to discuss with you. Hailstormer (talk) 21:40, May 9, 2013 (UTC)
Hi Netherlands! I just wanted to ask if you would be willing to possible assist York in case of a Welsh-Yorkish conflict, which might happen maybe in the future. Shawnguerra (talk) 21:17, May 12, 2013 (UTC)
Hi! Join me on chat please?Cookiedamage (talk) 19:35, May 17, 2013 (UTC)
TOTAL WAR
Declare war against Orissa below the Koori post and declare war against Venice below Rome's post. Hailstormer (talk) 20:52, May 13, 2013 (UTC)
Please... Declare war and join the Koori Coalition. We are on a tie right now, and we need you guys to help secure that. Hailstormer (talk) 00:57, May 15, 2013 (UTC)
If you could give Kuwait back that land in your Persian colony that it used to own (see a map from 1665 or something) then I'll allow you to join the war fully and can have as much land as you'd like, after I get what I want of course. Which isn't all of Persia, I just want to expand my borders a bit. VonGlusenburg (talk to Von!) 11:46, May 23, 2013 (UTC)
Well at the moment, we'd need to join the war fully as a coalition member if you want lots of Persian territory. As the territory I want amountsto 2,388 pixels and we've so far can only take 3,140. Meaning if you want more than 752 pixels I suggest the Netherlands join the war properlly. But here is a mock map of what the outcome would be: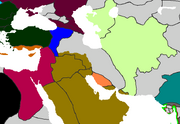 Basically as you can see in the map, I have highlighted the land Baghdad will gain and the Kuwait border change. Depending on how much else we win in the war, the Netherlands can have as much as Persia as they can get - you may have to negotiate with Dimurats and Germany/Georgia. If I get this land from Persia, I have no more claims to their land, and I'm even willing to help you get more in future wars. VonGlusenburg (talk to Von!) 19:34, May 25, 2013 (UTC)
Okay name your price for the rest of Kuwait. You want to be the exclusive importer of Arabian goods for Northern Europe? You can be if you just agree to the Kuwaiti Sultan's demands and sell him the rest of Kuwait which your Dutch Persia colony controls. VonGlusenburg (talk to Von!) 21:36, May 29, 2013 (UTC)
Seriously do it and negotiate with me, before my Kuwaiti Sultan gets annoyed and starts a war to promote his nationalist ambitions. VonGlusenburg (talk to Von!) 00:06, May 31, 2013 (UTC)
Yeah that's great. Thank you. Anyway I'll give you support in any future wars in which you invade Persia to try and vassalize it or whatever. TBH though if you control the coastline then you control their international trade which would make you lots of money, so you could just force Persia into your sphere of influence. But whatever its your choice and I'll support you in it. VonGlusenburg (talk to Von!) 19:08, May 31, 2013 (UTC)
Hey wanna join my war against Ethiopia/India? India seem rather hostile towards you and want your colonies but join me in this war and you can take their colonies. VonGlusenburg (talk to Von!) 19:45, June 2, 2013 (UTC)
Do you want to join this war as a coalition leader or just sending military supplies? You'll get more land if your a coalition leader but risk losing land if our side loses. However judging from the algorithm, I can't see us losing any time soon. VonGlusenburg (talk to Von!) 14:06, June 4, 2013 (UTC)
Orissa never stated it wanted Dimurats' colonies? Imp even said that he doesn't want to overexpand anymore. So how is India hostile toward a nation they have nothing to do with? Von, your lying. 
Vivaporius: "I don't need a slogan" 14:27, June 4, 2013 (UTC)
The posts in 1720 and 1721 are evidence. Plus the Netherlands is my ally anyway so I don't see what the problem is. VonGlusenburg (talk to Von!) 14:42, June 4, 2013 (UTC)
Imp expanded in response to the Dutch trying to close him into his small colonial areas. That wasn't a sign of aggression against the Dutch. In fact, Orissa voice no signs of hatred toward the Dutch, and never showed any signs of interest in taking the Dutch colonies, only expanding the Orissan ones. So Imp wasn't trying to take the Dutch colonies, and wasn't hostile toward them. Therefore, you lied.
Vivaporius: "I don't need a slogan" 14:47, June 4, 2013 (UTC)
PM2 independent mod check
Hello, okay I've completed our algorithm to the best of my ability and hence I am locking it and leaving it to an independent mod check to decide if its correct. Hence there is a new separate discussion in which you are to raise any problems with the algorithm if you find them. No not edit the algorithm and instead put your problems with it in that discussion and we'll reach a consensus on the issue. Hopefully this will stop the arguments. VonGlusenburg (talk to Von!) 00:00, June 7, 2013 (UTC)
I've put you in for Orrisa's South American colony and Ethiopia's colony in OTL Gabon. VonGlusenburg (talk to Von!) 11:25, June 12, 2013 (UTC)
Yeah Wale's does have a lot, but they can't really expand their stuff like you can. I mean you basically have all of Northern Argentina / Chile now. But then the Confederation of the Rhine would kick off if you get Gabon Tell you what, I'll make it up to you and next time you have a war I'll send military aid from all my nations. If the war is happening close to me, doesn't look like political suidice and I can get a bit of territory (but you get the vast majority) then I'll support you in future coalition wars.
But my appoligises about you not getting more land. Would a trading post in India please you? You can get another 10 pixels if you want it. VonGlusenburg (talk to Von!) 22:15, June 14, 2013 (UTC)
I'm sorry, but I will not give up Gabon now I have been given it. My reasoning is simple: if you get it Saxon West Africa will be completely surrounded. I know you have none but the best intentions, but there's nothing to say that in a century or two a World War or the like may place us on opposing sides, and I do not want to lose my oldest colony. Tell you what, I don't really want Khmer Koch that much; if it would be some kind of condolence, I would be willing to give it to you. As well as that, if there is ever a colonial conference (like otl Berlin Conference) I would support Kongo getting the vast majority of the immensely profitable Congo region. Callumthered (talk) 07:14, June 15, 2013 (UTC)
I also advise you to expand Kongo inland some more. That is an easy option. VonGlusenburg (talk to Von!) 12:27, June 15, 2013 (UTC)
PMII
The DImurats ask if we can buy your persian colony.Yay an Edit conflict (talk) 12:57, June 23, 2013 (UTC)
Iceland
Hey Quashi. As you may have seen i have decided to rejoin PMII. I was curious, are you in control of Iceland, because it is marked as free on the map? If so, would you be willing to let me play as them as an independent state? Hailstormer (talk) 11:49, July 26, 2013 (UTC)
Thanks Quashi :) How near future are we talking? As i was hoping to have a surge of Icelandic nationalism as soon as possible Hailstormer (talk) 20:30, July 26, 2013 (UTC)
I would like to ask for your aid in gaining Independance, and our survival is uncertain without Your help. Thank you DS|Fear the Mutated Dean Sims Bomb, Fear It 15:56, July 30, 2013 (UTC)
Romae Delenda Est Begins
The first turn has started for Romae Delenda Est , LET THE GAMES BEGIN! Eiplec - ಠ_ಠ (talk) 15:45, August 5, 2013 (UTC)
Willing To Help
After talking to Von, reading up on algos, and spending a fair amount of time with a calculator, i have decided to join the ongoing war on your side, so that we can topple Great Brython and secure the future of our two states. Please message me as soon as possible, so we can confirm this plan of action. Hailstormer (talk) 12:11, August 13, 2013 (UTC)
I have declared total war on Wales with all of my states launching full invasions to aid you. I hope that this shall be rememebered fondly by us both. Hailstormer (talk) 14:02, August 13, 2013 (UTC)
Hey sorry I missed you - free to chat and would love to discuss whatever needs discussing tomorrow (I'll be around most of the day). Actually I have a number of things I'd like to discuss with you - some immediate, but some in the broader context seeing as Brython is now out and there's not a logical reason for our people not to communicate and you're now my next door neighbor (Since my main conduit to development was Wales I naturally had to keep a distance from their rivals). Also I have an idea that I want to pitch to both you and Rex if he stays in the game  Commandante Lemming (talk) 04:34, August 14, 2013 (UTC)
May i buy your Texas colony? DS|Im Coocoo for Cocoa Puffs!! 17:15, August 17, 2013 (UTC)
Romae
im wondering if you planned on posting and also making good on our alliance... --#LivinLikeFeudal (talk) 02:24, August 21, 2013 (UTC)
World Rivalries Resumed
Hungria sobrevive pero aun puede lograr mucho mas, Podrias ser tu quien conquistes los balcanes o alemania de los Ottomanos y los Habsburgo ? el juego ha reiniciado. Sine dei gloriem (talk) 00:44, October 3, 2013 (UTC)
Naples (PMIII)
Hi, Quashi, this is CrimsonAssassin. I control the nation of Florence in PMIII. I noticed that you joined Naples, an (obviously, lol) Italian nation. I intend to unite Italy under one banner, which may prove problematic for people currently signed on as other Italian nations. I have many allies and I will be recieving help while uniting Italy, but I would rather not trample over yet another indigenous player in my quest to unite Italy. I'm going to try to cut to the chase here; I'm asking you to please leave Italy. In exchange for leaving Italy, if you choose a Christian nation, I will grant your nation Papal favor, which will include assistance in wars and other hairy situations as well as favor with other Christian nations, which bring their own rewards as well. 20px

CrimsonAssassin- "I have special eyes" 04:55, January 5, 2014 (UTC)
Join me on chat Mawilda (talk) 02:33, January 19, 2014 (UTC)
I have an idea as to how to do what we plan to do. Message me if you are on chat and i will convey to you what we can do! 

Imp (Say Hi?!) 20:07, February 1, 2014 (UTC)
Hey, ya te puse lo del evento planeado Mawilda (talk) 20:50, February 2, 2014 (UTC)
Training for my men.
Hey, Do you think you can throw some Bosnians into your rank to assist in North Africa. I think the real thing will be good training for my millitary officers. LefthandedLunatic (talk) 02:13, February 6, 2014 (UTC)
PM3: Call to War
Seeming as the Austrians have finally decided to find a way to attack, it is time to crush them.
I need you and all your vassals to join the war full on so we can crush Austria.
Anything you want in return just ask of me and I shall make it my job to grant your request.
Also don't be threatened or bribed by Austria, they told three different nations (probably more) that they'd get all of Italy by working with them so they can't and won't fulfil any of their promises. As for threats, once we've dealt with them now they won't be a threat, we'll win and we already are winning.
Thanks for all help.
Talk on my page or on chat for more info. KunarianTALK 09:39, February 13, 2014 (UTC)
Hey Quashi i got a deal for you. It's the Knights of St. John. I will need a small number of your ships, and a moderate size of any spare troops. I wish to take a nation under my control as a vassal, message me.
SwankyJ (talk) 00:49, February 20, 2014 (UTC) talk to me for more
Hey, ya he creado el evento, sobre lo que ya hemos discutido lo dejo en tus manos, intentare estar presente regularmente para postear y ver si no pierdo mi nacion. No me falles! Mawilda (talk) 03:57, February 20, 2014 (UTC)
Well I guess it is a good thing I joined then. But yes if you can supply any spare troops I am going to take down Cyprus, Rome has agreed with full military support, and Venice has agreed to send ships to blockade Cyprus. if you would like me to help in a war or you want something in return let me know - SwankyJ
Okay Quashi my man, we (Romans and Hospitallers) have taken down Cyprus, killing Oct. So we did it without you. But you have supplied me with economic treasure so my reward will be given later, when you're in a time of need. Talk to me if you need anything SwankyJ (talk) 22:15, February 22, 2014 (UTC)
Pope events
Over the last turns, i have been making some mod events about the Papacy, mostly about the succession of the popes.However, some other mods are complaining because i am doing this without asking for nobody's permission, so, since you control the Papal states, i am asking you whether i can continue making these events about the Papal succession.If you think you can handle the Papal succession yourself, i'll stop making them.--Collie Kaltenbrunner (talk) 10:45, March 10, 2014 (UTC)
So, this is a list of planned popes until 1501.Entries after 1501 will be added later.
Felix V (Gabriele Condulmer - VEN) (1383-1447)
Pius III (Juan de Cervantes - CAS) (1380-1453)
Calixtus III (Alfons de Borja - ARA) (1378-1458)
Benedict XV (Pierre de Foix - FRA) (1386-1464)
Clement VIII (Giacomo Tebaldi - NAP) (?-1465) [will reign for only 27 days]
Marinus IV (Juan de Torquemada - CAS) (1388-1468)
John XXIII (Basilios Bessarion - TRE) (1403-1472)
Celestine VII (Latino Orsini - PPS) (1411-1477)
Clement IX (Guillaume d'Estouteville - FRA) (1403-1483)
Celestine VIII (Jorge da Costa - POR) (1406-1501)
--Collie Kaltenbrunner (talk) 21:28, March 11, 2014 (UTC)
Well, now there are mods complaining that the Popes are lasting too little, so, in order to fix this, Victor V, Urban VI and Leo X have been removed from the list, and i added.--Collie Kaltenbrunner (talk) 17:03, March 13, 2014 (UTC)
PMIII Bavarian Marriage
Hi Quashi,
So basically, the marriage in PMIII would join Princess Eleanor with whomever you select in Italy. My plan is to eventually make Eleanor the Grand Duchess of Bavaria, and her husband would solidify the relations between Italy and Bavaria. Seeing as how she would someday be grand duchess, I'd like the marriage to be under the House of Wittelsbach (that is, a matrilineal marriage). So yeah, that's it.
Cookiedamage (talk) 21:00, March 12, 2014 (UTC)
Chat
Chat, if you could, to talk, asap. From Venice. KunarianTALK 19:23, March 13, 2014 (UTC)
Provence and allies PMIII
Ehm i've seen you've called provence a county and began to essentially bring it closer to you, which would be an intrusion with my future plans,so i was wondering if you were up to giving me provence and their vassals within france and provence itself if possible, in return i will give an open aid for the next 50 turns in any war you may need or until the end of the game if fighting against small nations needed defacto, meaning that you won't need my permision to add into algo's as well as recognitions of several landclaims in the future (which we would need to discuss). Sine dei gloriem "Ex Initio Terrae" (talk) 05:24, March 24, 2014 (UTC)
May i be the Vatican City?
Okay, so, i think i should go back to being the vatican city, as i know nothing about the mayans, and just can't seem to make them work. Plz, may i be the Vatican?
Chat later
Hey i need you to hop on chat when you can today i have something important i need to discuss with you The Wings of Freedom #FP
(Talk to Me)
Could you hop on chat? g greg e (talk)
Quash
Hey quashi I was wondering if i can play as the Vatican untill 1500 or untill you say stop, thanks in advance, I have many plans for improvement of the churches power.
OCT MARIUS, HAIL HIM
Popes
Alright, since the 15th century is ending i think it's time to give you the list of popes for the 16th.--Collie Kaltenbrunner (talk) 07:31, April 22, 2014 (UTC)
Alexander V (Rodrigo Borja - ARA) (1431-1508)
Celestine IX (Oliviero Carafa - NAP) (1430-1511)
Nicholas V (Tamás Bakócz - HUN) (1442-1521)
Marinus V (Bernardino López de Carvajal - CAS) (1456-1523)
Clement X (Giulio de' Medici - TUS) (1478-1534)
Telesphorus II (Alonso Manrique de Lara - CAS) (1476-1549)
Leo X (Miguel da Silva - POR) (1480-1555)
Marcellus II (Marcello Cervini - PPS) (1501-1555)
John XXIV (Gian Pietro Carafa - NAP) (1476-1559)
Clement XI (Clemente d'Olera - GEN) (1501-1568)
Theodore III (Michele Ghislieri - MIL) (1504-1572)
Telesphorus III (Ugo Boncompagni - PPS) (1502-1585)
Gregory XIII (Vasco de Quiroga y Vela -CAS) (1512-1595)
Cornelius II (Tolomeo Gallio - MIL) (1527-1605)
Inactivity
COme on chat, you are becoming close to inactive and italy will probley loose some of its power if you dont com on chat.
OCT MARIUS, HAIL HIM
Community content is available under
CC-BY-SA
unless otherwise noted.