Hello and welcome to the Alternate History Wiki!

The Alternate History Wiki is a project for all communities concerned with creating fictional alternative histories. We hope you will feel at home here and wish you good luck contributing to our ever growing collection of alternative histories.

If you have no experience in editing wikis it is advisable that you first read our guide on making articles.
As an introduction to the phenomenon of Alternative History you can read our pages on Alternative History, Online Alternative History as well as Wikipedias article on Alternative History.
A list of all AltHists alphabetically sorted can be found here, a list sorted by Point of Divergence can be found here.
To sign your posts on talk pages use ~~~~ (four tildes). This will insert your name and timestamp. To insert just your name, type ~~~ (three tildes).
If you are in need of ideas to base your AltHist you might consider looking at our ideas page.
For an explanation of frequently used terminology please visit this page.
You can experiment in the sandbox.
All articles on this wiki take the following fomat: Name of article (Name of AltHist). This rule does not apply to the main article of your AltHist wich you can simply give the name of your AltHist.
For links to other Alternative History related sites visit our links page.

Regards, -- Benkarnell (Talk) 22:59, December 6, 2010
Hi rougejedi I finnaly found your profile. what's up
ok i got on late so i"ll fix it
Rebirth of the World 3
We are now starting the Rebirth of the World 3 (Map Game) PitaKang 05:02, January 16, 2011 (UTC)
Nuclear Devastation
The Nuclear Devastation (Map Game) is starting now PitaKang 05:15, January 16, 2011 (UTC)
Advanced Map Game
Please check out my comment on your Advanced 1500 map game rules article. BlackSkyEmpire 16:16, January 18, 2011 (UTC)BlackSkyEmpire
Principia Moderni
Hi. It appears as if you signed up as the country England in Principia Moderni. As you may have seen, the game is scheduled to start on 21 January (tomorrow), despite the owner's absence, and progress as he intended it to. You may observe the map has been renovated and the page has been tidied up. Please respond to secure your position as an active player. —Detectivekenny; (info, talk) Preceding text certified by R. Xun as of 01:07, January 20, 2011 (UTC)
I'm In Roguejedi 03:08, January 20, 2011 (UTC)
What is England's religion in Principia Moderni? Woogers - talk 06:55, February 9, 2011 (UTC)
Protestant Roguejedi 15:41, February 9, 2011 (UTC)
Technology Wars
The game is starting now CrimsonAssassin 16:30, January 21, 2011 (UTC)
Roguejedi, I was wondering if you would like to join this game I made, set during the late dark ages in Britain and Ireland. Feel free to join, just follow the rules. We'll be starting next Friday.
BoredMatt 17:11, January 23, 2011 (UTC)
Thanks!
I would like to thank you for participating in the first week Principia Moderni (Map Game). It is definitely a milestone for a map game to last for a week, and thanks to your help, it is now a reality. As a token of thanks, I am allowing you to pick out a single colony which you may take, with certain limitations. Here they are:
The colony must be within 1,500 miles of your country. This may help.
The colony must begin as one to five coastal towns. It may not expand larger than 30 miles long and 5 miles inland until 1500.
It may only be in an area labelled as "small states" or unorganized tribes on this map. Small states require four turns or more to conquer, two of which must be solely dedicated to war.
You must send exploration before colonizing. The first exploration should be at least three years before first colonization.
It is recommended you reserve your colony now to avoid conflicts.
Favourable colonies are on strategic waterways.
When you colonize depends on the first letter of your country, in order to maintain realism. This means actual colonization or war, exploration is okay outside this time period. Keep in mind you may always colonize after this time period, but not before:
A and B: 1431-1433
C and D: 1434-1436

#E and F: 1437-1439

G and H: 1440-1442
I and J: 1443-1445
K and L: 1446-1448
M and N: 1449-1451
O and P: 1452-1454
Q and R: 1455-1457
S and T: 1458-1460
U and V: 1461-1463
W and X: 1464-1466
Y and Z: 1467-1469
—Detectivekenny; (info, talk) Preceding text certified by R. Xun as of 01:43, January 28, 2011 (UTC)
Europe 1100
I have already moved troops into Hungary. And yes, France is playing very implausibly. France has already conquered almost half of Europe in 25 years. I worry because they are overly aggressive and they seem to have ideas to take over our nations. We should form a Mega-Alliance of Muscovy, Norway, Persia, Poland, Wallachia, and Hungary, sort of like the Axis of the Triple Entente, or Central Powers to oppose French imperialism. PitaKang 18:46, February 3, 2011 (UTC)
Also, there is Sweden (puppet state of Norway), Serbia (forgot to add them to alliance, right beside Hungary), and the Mongols. China is protecting against a Mongol enemy attack, and I was wondering if you could fund African resistance in Africa if France attacks. Roguejedi 18:58, February 3, 2011 (UTC)
I'm sure France won't attack. Read my full reply on your talk page. Crimson isn't trying to take you guys over. He actually thinks Muscovy is being implausible. I think both of you are being extremely implausible and you both should calm down. 1000Monkeys 19:23, February 3, 2011 (UTC)
Actually, I kind of agree with 1000Monkeys. This is turning into the Cold War 1000 years early, East vs West, Warsaw Pact vs NATO .PitaKang 19:33, February 3, 2011 (UTC)
I think he should calm down also. I jsut dont want there to be four of five superpowers taking over the world. That's why I made the Mongol tribes that dont like me so that a war for 10 or so years could slow me down. I was also planning a revolution, but then France comes in and takes all of Northern Africa, Spain, Germany, and now Hungary. Roguejedi 20:49, February 3, 2011 (UTC)
I think it would be best if I kept my forces in Norwegian Germany; there's only so many troops you can keep indefinitely in a foreign country and I think Poles, Hungarians, Muscovites, Mongols, and Persians can take on France. It would also allow us to excecute a two-pronged assault on France if they ever get uppity (plus Norway's the only player nation that both borders France and opposes her other than the CU). I'm gonna be France's main opponent on the high seas, so it would be best if I had my troops in a position to defend my ports. BoredMatt 20:59, February 3, 2011 (UTC)
This has nothing to do with teh arguement, but would everyone like to join my Europe 1500 Advanced Map game. You buy troops with points and make advancements and its made so nothing like this can happen. A few people are signed up but it never really got off the ground. Roguejedi 21:02, February 3, 2011 (UTC)
The game looks cool, but ut just seems overly complicated to me, especially as it's all text-based. If you want to play a game like that, then buy EU3 (Europa Universalis 3) and battle up some people on multiplayer. BoredMatt 21:18, February 3, 2011 (UTC)
I just thought that a map game was needed that could sustain plausibility. I am not going to spend my money on another game,, I am already getting something else Roguejedi 21:37, February 3, 2011 (UTC)
Paint Program
How exactly do you make maps on paint? Maybe I can help you. PitaKang 21:02, February 3, 2011 (UTC)
I just select a color and color in the map. Roguejedi 21:05, February 3, 2011 (UTC)
Really? Try to fill the continents in this
then post it on my talk page.
PitaKang 23:26, February 3, 2011 (UTC)
Go to colour picker tool.
Right click the area that you want to change the colour of.
Ctrl+A (Select All)
Ctrl+X (Cut)
Fill in the background the colour you want to change it to.
uhhh...I dont know what this is supposed to do. When I do it, the colors stay exactly the same. The problem is the blending of the colors Roguejedi 15:17, February 4, 2011 (UTC)
I think I know why. Go to the select tool and there are two choices in the box under the tools. Select the other one. —Detectivekenny; (info, talk) Preceding text certified by R. Xun as of 18:42, February 4, 2011 (UTC)
In my verson (6.0) it doesn't have options for the tools when you select them except for size or shape and whatnot Roguejedi 20:19, February 4, 2011 (UTC)
Hmmm. Yours is the New one, right? Not the boxy one but the new roundy one, right? I'm betting there's something wrong with that. Also, just wondering, is Vista okay? I'm thinking of getting it. PitaKang 21:19, February 4, 2011 (UTC)
What do you mean by "boxy" and "roundy"? And yes I think Vista is very good. Never have had any problems with it (except for the paint thing but that not important) Roguejedi 21:39, February 4, 2011 (UTC)
This is boxy: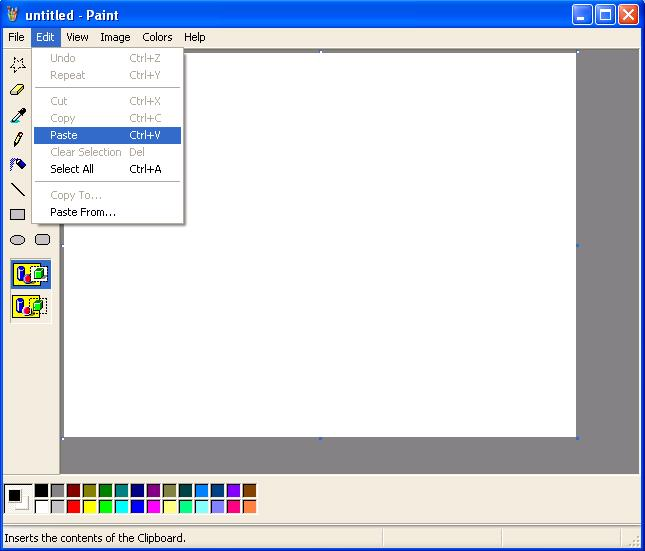 This is roundy: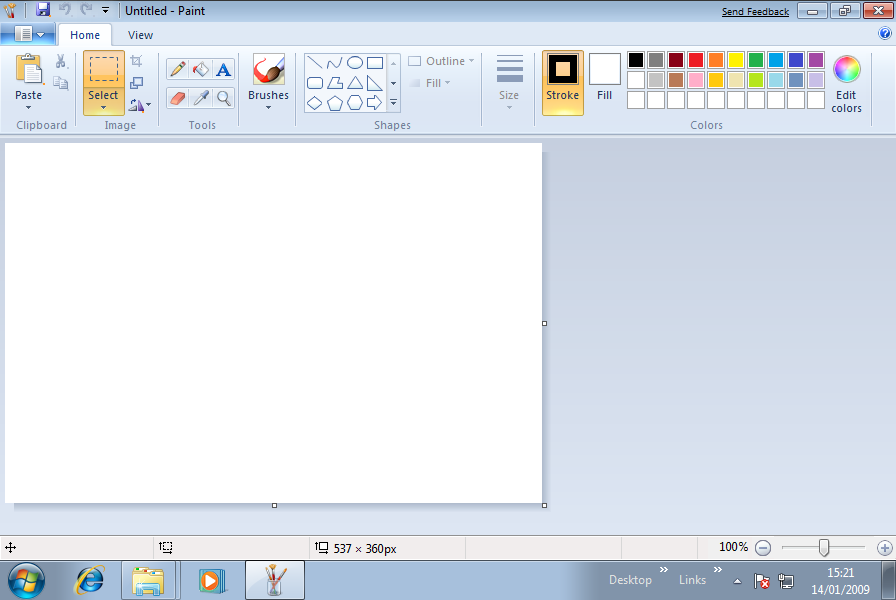 PitaKang 21:42, February 4, 2011 (UTC)
Mine is "boxy" but looks a lot nicer than the other "boxy" one. It has the colors on the top and the items on the side look a lot better. I cant find a screenshot of it thoughRoguejedi 21:50, February 4, 2011 (UTC)
Is it this one? PitaKang 21:54, February 4, 2011 (UTC)
http://www.file-extensions.org/imgs/app-picture/1971/microsoft-paint.png
Yes. That is the one I have Roguejedi 21:55, February 4, 2011 (UTC)
WWIII
The game is starting.

CrimsonAssassin 14:32, February 4, 2011 (UTC)
the new map game
Soooo, do we just pick a region to focuse on or must ALL our post be like said, which is that they involve the entire world???That Guy 18:20, February 4, 2011 (UTC)
That is not my map game. I was just adding categories to it. Ask the maker Roguejedi 18:33, February 4, 2011 (UTC)
Bulgar Victoria
My timeline is not a copy of yours. I you want I'll remove the Gunpowder delay, but mine is firmly based on my PODs, my ideas, and how I think things might have turned out. I'll admit that I did like your timeline, but saying that I should change mine because of that is patently ridiculous. My timeline is currently more developed then yours, even! So its not like I'm copying you at all. I just took a similar starting point. Its like saying Star Wars should be banned because Star Trek came first. Michael Douglas 03:06, February 6, 2011 (UTC)
All I want you to do is remove the gunpowder thing, because I spent a long time figuring it out. It does not make any sense to have a delay in gunpowder. The mongols brought cannons on their invasion and thats where the idea is from, so all of Europe would find that out like normal. It does not matter that your TL is more developed, it matters that mine came first Roguejedi 03:09, February 6, 2011 (UTC)
Sure! I'll join in. This TL looks like it has a lot of potential. PitaKang 01:21, February 7, 2011 (UTC)
Imperial Europe 2 Map Game
Hey were taking a vote on whether Crimson's extremely fast expansion was plausible. Please vote on the page. Thank you for playing in the IImperial Europe 2 (Map Game). PitaKang 00:26, February 8, 2011 (UTC)
Is Crimson allowed to vote (he is a mod but scince it is of his actions, he will vote plausible no matter if it is or not) Roguejedi 00:58, February 8, 2011 (UTC)
Actually no since it is his actions. That should be a new rule. PitaKang 01:11, February 8, 2011 (UTC)
Then we have a majority. there is only one other mod, and we will have the 2/3 s no matter what. Also, I think that we should have a vote from everybody on whether Crimson should be a mod or not. Roguejedi 01:14, February 8, 2011 (UTC)
That is a little harsh. After all, he wasn't going ASB or anything. I'll wait him out. PitaKang 01:17, February 8, 2011 (UTC)
Yeah, that might be a little to strict. Anyway, I think if this happens again then he should not be a mod. Roguejedi 01:18, February 8, 2011 (UTC)
How long until the vote is over? I think either 12 or 24 hours for people to vote Roguejedi 01:20, February 8, 2011 (UTC)
Massive Impact 2
The Massive Impact 2 (Map Game) is starting. Have a great map game! PitaKang 20:46, February 8, 2011 (UTC)
Its a deal. BlackSkyEmpire 20:50, February 8, 2011 (UTC)BlackSkyEmpire
Roguejedi, I would like to help you with a nation page for the TL Balance Point. I have some ideas of nations in the americas.

Chicagoan 21:35, February 8, 2011 (UTC)
Hey Roguejedi, I'm making a new TL called Imperial America where all the founding fathers are killed, and due to their absense, America turns into an Empire. I'm wondering if you can help make the TL with me. PitaKang 22:38, February 8, 2011 (UTC)
Axis vs Allies (Map Game)
The Map Game is starting now. Have a great map game! PitaKang 23:06, February 8, 2011 (UTC)
Axis vs. Allies Map Game
I believe we are on 1934 in the Axis vs Allies Map Game, not 1933.6
I didn't change the years, ask PitaKang. Also, sign your posts on talk pages with four tildas (~), or use the "signature" button on the menu bar Roguejedi 21:34, February 18, 2011 (UTC)
Would you mind helping me out on Seoul (1983: Doomsday)? It is on Seoul, South Korea. Thanks! PitaKang 23:35, February 16, 2011 (UTC)
Could you sort of look at Seoul ? It's my article on 1983: Doomsday. Thanks! PitaKang 23:32, February 17, 2011 (UTC)
Hey Rogue would you like to help me on this TL concerning the location of power? PitaKang 00:35, February 20, 2011 (UTC)
Balance Point
I updated the Nations. Turns out, Benin was a European name.

We still doing this? Michael Douglas 21:57, February 22, 2011 (UTC)
Hey, can I take South America and Southeast Asia? I can also do East Asia if necessary. Detectivekenny (Info; Talk) 23:16, February 22, 2011 (UTC)
Revival
Would you like to revive the original Massive Impact (Map Game)? I really want to finish that game. PitaKang 01:31, February 23, 2011 (UTC)
Crisis
Message from USA to USSR, Canada, UK, China, Sweden, Turkey, Siam:

Currently, the US is at the center of a conflict with Mexico, Italy, Finland, and Germany. We need your help in defending from them, to preserve freedom and to make the world a better place. If you are with me, say so on my talk page. Thank you. PitaKang- (Talk|Contribs) 22:34, February 23, 2011 (UTC)
Where are you..? Alexanders 15:11, March 21, 2011 (UTC)
Welcome Back
Hey! Saw you came back. I was wondering if you would still be interested in participating in Principia Moderni as a mod. Detectivekenny (Info; Talk) 01:33, June 30, 2011 (UTC)
I don't know. The new algorithims and stuff are a bit confusing (I am only 14), and I tend to get drawn into Map games, but Principi Moderni seems to be very plausible so i'll think about it.Roguejedi 02:48, June 30, 2011 (UTC)
Haha don't worry, I'm 14 too. The algorithm is confusing but I will do my best to make it automated. Also if you're going to rejoin, I'm afraid you won't be able to take over England again unless you communicate with User:Zagoria, but feel free to take any of the other nations I have listed. Detectivekenny (Info; Talk) 03:41, June 30, 2011 (UTC)
If I could get a decent explaination it would be better. And also, I would not expect you to be 14 by how much you know. I thought you must be in college or something. Roguejedi 20:12, July 1, 2011 (UTC)
Ahaha I was pretty surprised to hear you were 14 myself. Basically Brandenburg joined personal union with England. Scotland declared independence and took over Ireland. Vietnam created a colony in Poitou. Really I would suggest taking a new country. Luckily you didn't have any colonies last time I checked. Detectivekenny (Info; Talk) 23:27, July 1, 2011 (UTC)
I think I am going to take Spain. Itn is a very solid country that could become very powerful. Also, can I spatter a few small towns (only a few pixels) along a small area of the coastline and call it one colony? I would slowly grow them into a larger colony. Roguejedi 02:12, July 2, 2011 (UTC)
Also, I decided to revive the Balance Point TL, I was wondering if you could help with it again. Roguejedi 02:15, July 2, 2011 (UTC)
Okay, that's fine. Right now it's called Castile, the player went inactive, and then there were sockpuppet problems, which we mostly pretended never happened. They changed the name to Spain but it should be still Castile. You may do so, just don't piss people off by creating colonies on two different sides of someone else's colony, or take up excessive space. You can combine small settlements into a larger colony, but don't expect to pass random settlements from the Kuril Islands to New Zealand to the Maldives as "Spanish East Indies." I would be happy to help with your timeline, I am working on one of my own and am otherwise pretty busy but I may be able to provide assistance with maps and stuff. Detectivekenny (Info; Talk) 05:11, July 2, 2011 (UTC)
I was wondering if you could help with the Americas a bit, scince you know more than me about most things in history. (When I take my AP Human Geo. in High School next year I hope to gain a lot more knowledge). The scattering of small towns would be on a very small area of the coastline, like maybe one island in Indonesia. Roguejedi 16:59, July 2, 2011 (UTC)
I suppose I can do the Americas, but I am a little weak in some areas. I can also help with China. A couple summers ago I read through a study-help book on AP Human Geo and I would say it is a very general course about geopolitics and cultural diffusion and stuff (I didn't actually take the course). It's invaluable as a way to understand the world but it doesn't deal with specifics like AP World History, AP European History, AP History of the Americas. Detectivekenny (Info; Talk) 23:29, July 2, 2011 (UTC)
I need to learn more about those topics, and I am especially interested in Geopolitics. I will take AP Human Geo. this fall (9th grade), and the year after that I will be in AP World History (10th grade), and who knows what after that. I am very weak in knowledge about the Americas (I am more of a European person), and so any knowledge is better than mine. Roguejedi 23:36, July 2, 2011 (UTC)
I've taken World History and next year I will take Psychology and then two years of IB Americas possibly, so yeah, I'm best in Asia, but I also know a bit about the Americas. So what have you done on the timeline so far? Detectivekenny (Info; Talk) 05:34, July 3, 2011 (UTC)
The main thing is a timeline of Europe and Asia that currently goes to 1720-ish. It is pretty basic for now, just getting the main events. Soon, I will go back and break it up into different pages and add detail. I Used to have a lot of other editors working with me (I will soon contact a few of them). Roguejedi 17:03, July 3, 2011 (UTC)
Kk. I will look into it. I am currently working on my own timeline, and I'm working on doing everything up to the year 1680 (year is the ascension year of three monarchs which will challenge Spanish dominance of Pacific trade). I would appreciate any help, I've been attacking the timeline at different angles, but really the only good content I have is a few maps and some photoshopped pictures. Let me know for any comments. I'm away from home so I may be delayed in fully seeing your timeline. Detectivekenny (Info; Talk) 05:26, July 4, 2011 (UTC)
I like your TL, it is very interesting. I will be gone for the next week, so, if you want to, you can start working on the Americas iin the timeline. I am currently reorginizing the entire TL. Roguejedi 16:47, July 4, 2011 (UTC)
TLD
Simply put, not one bit of that technology is possible. Alien Space Bats, not even Counterfactuality. Lordganon 07:08, June 30, 2011 (UTC)
On that note, only the main page of the timeline should have said tag. Lordganon 07:10, June 30, 2011 (UTC)
My New Map Game
Hey,
I just started the Imperialist America (Map Game), and I would like some players to help me out and to start it, tell your friends, I tink itll be interesting. DeanSims 15:52, July 11, 2011 (UTC)
That would be great, could you update the rules and do that, I realy want it to become a good game DeanSims 16:03, July 11, 2011 (UTC)
Thanks
I realy apreciate it, thanks a lot, do you think you could update some of my other map games as well? DeanSims 16:18, July 11, 2011 (UTC)
I aprove all of your suggestions, by the way, what timeline is that nazi map from? DeanSims 16:36, July 11, 2011 (UTC)
I checked it those are sweet!! DeanSims 17:03, July 11, 2011 (UTC)
sorry won't do it again
sorry for editing your TL I won't do it again
Sorry, I don't want to bud in or anything, but all he was doing was fixing a few spelling errors, he didn't change anything. ChrisL123 01:39, July 25, 2011 (UTC)
Again sorry
Again I would like to say sorry for editing your TL without your permission.Empire1994 00:32, July 26, 2011 (UTC)
Beginning of the End
I'm well aware of what your timeline is - I'm not an idiot.
Counterfactualities are ASB, however.
Lordganon 17:45, July 26, 2011 (UTC)
Actually, ASB is a type of counterfactuality, and not the other way around. IF aliens came and interfered, that would change things. That sort of outside of history event, though, is forbidden in writing for this wiki. However, counterfactualities are not forbidden as a whole. I have removed the ASB category tag, having been a 'victim' of this type of category myself. It should be a rule that the categorizer present the reasoning behind his decision when it comes to controversial calls like this.
As for a world in which atomic and nuclear physics did not take off, or just where the technology never was applied to weaponry, is fully within normal perimeters. You were wrong, though, in suggesting that this is a 'secret history,' for that is a history in which things happen behind the scenes and eventually end up changing a bit of history as we know it (like John F. Kennedy surviving in a private hospital somewhere, for example). Such secret histories only diverge from ours when the secret is out. Or when the narrator reveals the 'real' reason behind the things that have happened and, are happening, behind the scenes. Such a history, which only diverged from what we THINK happened, would not be 'alternate' at all.
By the way, if you find an article of yours has been labeled unrealistically, go ahead and remove the category label (I think anyone can do it, for I don't think I was an administrator when I removed the label off my article). Conversely, I believe you are able to add categories to your own articles as well. --SouthWriter 19:29, July 26, 2011 (UTC)
PS I am not sure that a perpetual state of world-wide war would have begun without the threat of nuclear annihilation. You would have to flesh out the proposed time line a little to justify that. In all probability, though, the proxy wars around the world since WW 2 would certainly have intensified as the major powers vied for dominance. --SouthWriter 19:29, July 26, 2011 (UTC)
Maps Reply
Yes, I do ave a program called paint DeanSims 16:54, July 27, 2011 (UTC)
Thanks. But I ave one more question, how d o you make it so the entire thing is one single color and not a different color around the edge, that happens to me a lot of the time. DeanSims 17:25, July 27, 2011 (UTC)
Thanks for your help. here my latest map, yow does it look so far? DeanSims 18:12, July 27, 2011 (UTC)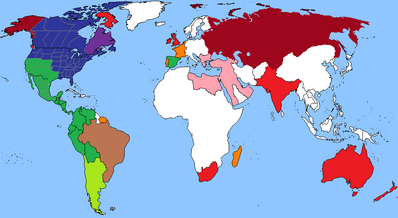 Welcome back!
Welcome back, Rouge. Long time no see.
PitaKang- (Talk|Contribs) 23:35, September 21, 2011 (UTC)
Oooh. What grade are you in?
PitaKang- (Talk|Contribs) 23:53, September 21, 2011 (UTC)
Imperialism (Map Game)
OK, since you're Poland-Lithuania and I'm Russia and we've just entered this whole Union thing, I thought we should discuss somethings.
When Peter the Great comes to power, I'm thinking he should be liberal, creating the Russian Empire out of the fading Tsardom of Russia. What do you think about Poland-Lithuania being a full part of this? It would be a constitutional monarchy, and you would be one or more provinces of it, sort of like OTL's US states.
Also, I think you should start a little colony in North America, around OTL British Columbia. Expand north and east, while Alaska will expand east. Eventually the two will meet up and we should have most of OTL Canada before the British can.


Syngraféas Enallaktikí̱ Istoría, Dic mihi lingua Anglorum. 22:04, June 17, 2012 (UTC)
I think semi-autonomy should be kept, or it could be said that there are two peope playing as one country. I think that he should create a Polish Empire out of PL, while different in name in reality very closely tied. I agree with the idea of a colony in British Columbia, however my fleet is limited. I could establish a small colony next turn if I recieve help from your fleet. additionally, I would like to invade Prussia, as we are very opposed to them and the ports to the Baltic Sea would be very beneficial to both of us. i would like support in this invasion, as my armies will be hard-pressed to earn a victory in themselves. In return i will provide a division (20,000) of soldiers to help with the Mongolian campaign.Roguejedi 22:20, June 17, 2012 (UTC)
OK, my fleet will help your fleet.
Let's get France's help in invading Prussia. It would be appreciated if you could help against Mongolia. I intend to take over the whole nation.
Also, are you a Star Wars fan?


Syngraféas Enallaktikí̱ Istoría, Dic mihi lingua Anglorum. 22:33, June 17, 2012 (UTC)
I am definately a Star Wars fan! Roguejedi 23:40, June 17, 2012 (UTC)
STAR WARS FANS OF THE WORLD, UNITE! This is evident in my signature. The second one is the Old Republic flag.


Syngraféas Enallaktikí̱ Istoría, Dic mihi lingua Anglorum. 01:07, June 18, 2012 (UTC)
Bah, Old Republic. The CIS is where its at Roguejedi 15:30, June 18, 2012 (UTC)
Potential Algorithm for Spread of Communism
This is actually pretty good, much better than anything I could've planned. Any additions or ideas I've put in italics.
Production: (the amount that the country can produce)
15- only US and USSR can have a value this high
12-only major nations (France, China, ect.) can have a value this high, or superpowers suffering from recession (I don't know about you, but I think someone should put up a list somewhere recognizing which ones are major countries, and which ones are minor countries.)
9- limit to minor nations (all others), major nations with recession, superpowers in revolt
6-Minor nations in recession, major in revolt
3-minor nations with revolt
Military:
size: (1-10) minor nations limit 6, major nations limit 8
technology: (1-5), up to mods
I've thought of something, what if technology represents the type of equipment that the nation has, mixing this with size. How does that sound?
1-2: Depending on the size of the army, without tanks, a navy or air force.

(Or at least a minimal size)
3: Some Tanks, A Navy
4: Many Tanks, An Air Force
5: State-of-the-Art Tanks and Artilery, Fully Modern Navy and Air Force
training: (1-5), smaller nations will have higher values typically (To justify Israel's massive success I see? Though it's nice to give the smaller nations an advantage somewhere.)
Motive:
10: survival of country (defense only, when the country has a large chance of being defeated)
7: idealogical (Capitalist vs. communist)
5: moral (persecution, genocide)
3: economic (embargo)
1: no reason (invaders attack without cause)
Climate:
Thiese are values for armies not used to fighting in certain conditions. So, scandinavian countries will not have any penalty for cold regions but will for all others, Middle East countries have no penalty for desert regions, but do for the others)
I'm guessing that the Soviet Union will have a hard time being invaded. Just like WWII
-2 for heavily forested
-3 for tropical regions
-4 for desert of cold regions
-5 for very mountanus regions
Attrition:
initally zero for both sides. every turn that the defending country survives, they get +1 points, up to +5. every turn the attacker is in enemy territory, -1, up to -5 points.
I fully agree here, again. Most people tend to forget that even small countries can fight back, hard. Just look at Belgium from World War One, and 'they made it difficult and weakened Germany's army during the war.
Allies:
This goes for all allies of either side in a campaign
+2 for each country sending money or supplies
+4 for every minor country sending troops
+6 for every major country sending troops
+8 for every superpower sending troops
I've gotten an idea for algorithms for countries (if we're doing milestones like Triple Entente vs. Central Powers), but I got to work on it. However, I fully agree that this Algorithm should be used for Player vs Player Combat. Stewdio333 08:14, June 20, 2012 (UTC)
I don't think I put an algorithm up yet. So I will accept proposes, but will probably create a moddified plan of it to cover everyone's proposals. TacoCopper I developed this proposal. (Sorry for it looking too big, I worked on it with Google Docs)
Similar to the Algorithm for Triple Entente vs. Central Powers, this algorithm will determine how powerful a country is, and determine what's a major and what's a minor country.
Major Country: 6-10 Minor Country: 0-6 The United States and Soviet Union are Superpowers, but may still get an algorithm.
The way this will work is the numbers will be added (or subtracted), and the numbers will add up to a number between 1-10. (In case anyone is wondering, a perfect score (without having to subtract anything) makes a perfect 10).
Location
(Based on the geographical locations, important resources and influence. Justification follows.)
Justification:

One of two most established continents, massive part of the Cold War, but weakened after World War Two.

North America (United States and Canada) +2
Justification:

Other most established continent, home of United States and Canada, two of the largest economies after World War Two.

South and Central America and Caribbean; +1.5
Justification:

Recently modernized, growing economies.

Africa; +0.5
Justification:

Poverty,

very

undeveloped.

Oceania; +1.5
Justification:

While little land, and small population, Australia and New Zealand have developed their economic well.

Middle East; +1.25
Justification:

Mainly desert land, but oil gives them more power and influence.

East Asia; +1.25
Justification:

Massive land, and high population.

South Asia; +0.75
Justification:

Poverty, not very developed, tons of ongoing wars.
Resources
(Only add most available national resource) This replaces milestone, as anyone can pretty much share technology by this point.
Agricultural: +1

Freshwater: +1.5

Weapons Manufactuor: +1.5

(No spell check on Wikia -_-)

Uranium, Other Nuclear supplies: +2

Metal/Mining: +2

Oil: +3
Alliance
Neutral: +1

Member of Another Pact: +1.25

Member of NATO or Warsaw Pact: +1.5

Leader of Pact/Alliance: +2
Ethics
Minor Revolts: -0.25

Revolts: -0.5

Massive Revolts: -1
Wars Won
Only if war is against another player
One: +0.5

Two: +1

Three: +1.5

Four: +2

Five and Up: +2.5
Wars Lost
Only if war is against another player
One: -0.5

Two: -1

Three: -1.5

Four: -2/Massive Revolt breaks out.
Population
Look up a country's population after World War II, however, this may need to change each 10 years, due to the Baby Boom. Use amounts in 1950, 1960, etc.
More than 200 Million: +3

100-200 million: +2.5

50-100 million: +2

20-50 million: +1.5

5-20 Million: +1

Less than 5 Million: +0.5
The number given to the country, can determine how many soldiers can be drafted into the Armed Forces.
8-10

: Up to 30,000 soldiers can be drafted a turn.

7:

Up to 20,000

6:

Up to 15,000

5:

Up to 10,000

3-4

: Up to 5,000

1-2

: Up to 1,000
Forgot my signature by the way. Stewdio333 21:20, June 30, 2012 (UTC)
On another note, you brought up those being low amounts for drafting by country. (Which is true, the Soviet Union and the United States have way higher amounts of soldiers in the Armed Forces.) I figure those are low, even for peacetime.
Adjusted Numbers for Drafting: (These can be doubled during war time, USA and USSR can be 2.5-3x the amount)
8-10: Up to 100,000 soldiers per turn.
7: Up to 80,000 soldiers per turn.
5-6: Up to 50,000 soldiers per turn.
4: Up to 25,000 to 35,000 soldiers per turn. (Depending on Size of Nation)
3: Up to 7,500 to 30,000 soldiers per turn. (Depending on Size of Nation)
1-2: Up to 15,000 soldiers per turn. (Depending on Size of Nation)
I've adjusted the amounts, and given a higher number of soldiers, including a doubling factor for wartime, and a triple factor for the superpowers. I've also factored the size of a nation for those 4 and under. So that poor but massive countries like Ethopia or Thailand don't have tiny militaries, while tiny but developed nations like Iceland or Luxembourg don't have huge militaries of hundreds of thousands.
On a side note, I've done an example for both your's and my country.
Europe: +1.75
Mining: +2
Member of NATO: +1.5
5-20 Million: +1 (7,014,000 in 1950)
Total: 6.25

Poland

Europe: +1.75
Weapons Builder: +1.75
Member of Warsaw Pact: +1.5
Minor Revolts: -0.25 (Revolts slowed down after Communist victories around the world.)
20-50 Million: +1.5 (24,824,000 in 1950)
Total: 6.25

Congratulations, both Sweden and Poland are both considered major countries, which will give us a higher amount on production and military size. Also, we will be able to draft 50,000 units per turn during peacetime (with up to 100,000 soldiers per turn during war time.) Stewdio333 21:20, June 30, 2012 (UTC)
Methinks it's time to introduce the two algorithms, to shake up the game, and the fact it sounds like war is a coming. Stewdio333 20:52, July 3, 2012 (UTC)
Columbus: First Contact?
Game starts on the 23rd of June. Please see updated page.
Many thanks for sticking with it, David Rain (Sometimes...) 15:48, June 21, 2012 (UTC)
ps. Great goals. Basicaly same here. Know any other christians on the wiki, other than PitaKang?
War With Sweden
I was thinking more along the lines of this: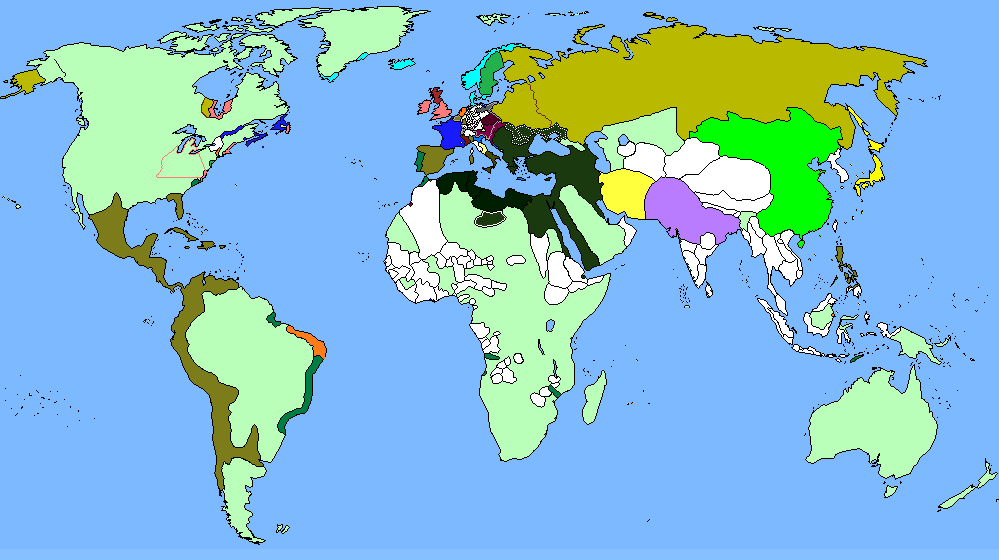 Syngraféas Enallaktikí̱ Istoría, Dic mihi lingua Anglorum.
OK, you can have Riga, because I do not know where or what that is. lol at that.
Forcing Sweden into the union would not be the greatest of ideas because Denmark-Norway is also at war with Sweden. Denmark-Norway would not like this, and, Denmark-Norway, a French ally, would be turned against us.


Syngraféas Enallaktikí̱ Istoría, Dic mihi lingua Anglorum. 18:41, June 21, 2012 (UTC)
I actually misnamed the city I wanted (Riga is in Latvia or Estonia). I would actually like the island of Gotland, as it could be a great start-off point for building up a massive navy
Roguejedi
02:49, June 22, 2012 (UTC)
Community content is available under
CC-BY-SA
unless otherwise noted.